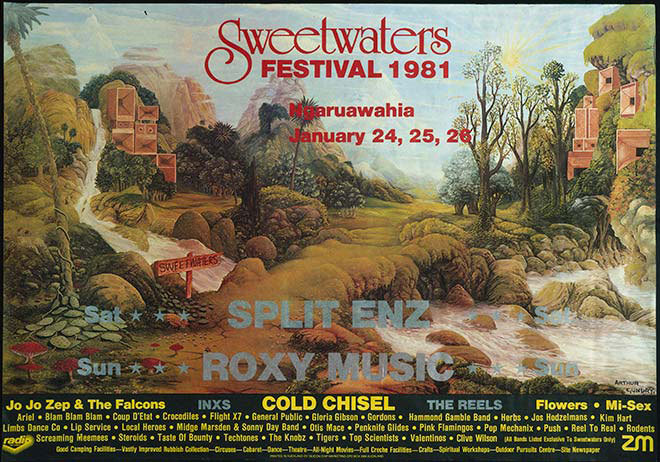 Sweetwaters memories - Pukekawa 1982
It's late January 1982. Friday 29th. High summer. A burnt orange Datsun makes its way slowly down a thin gravel road to the sold out Sweetwaters festival's new site at Pukekawa, south of Auckland and north of Hamilton.
The car's crammed. Pete and Roger are in the back. I'm up front with Gerry, who has taken time out from shearing and farm work to indulge a fleeting passion for rock music.
This is it, the first big independent gesture. The breakout. Late in 1981, we'd finished up at Paeroa College to the east and were now either starting apprenticeships or soon to depart for university in the nearest city, Hamilton. Tickets to the hot near-new festival have long sold out. The district controlling body, Raglan County Council, capped the number available ensuring they were an in-demand item. I'm not sure where we paid the $28.90 for ours. Mail order was available as were counter sales from 54 ticket outlets nationwide.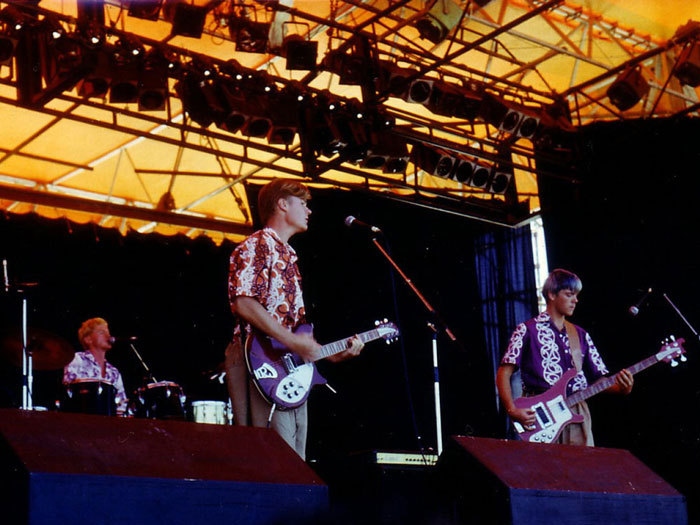 I'd slapped Mum and Dad's suction-capped roof rack on the tin lid of Gerry's thin-skinned Datsun and piled the family tent and gas cooker on top of that. The rest of the gear was in the boot. We bought enough beer to last a year even though none of us were big drinkers. We ended up bringing most of it back.
Tried to get hold of some pot too. It seemed the thing to do and was readily available at college parties in Paeroa. An old friend, likely the best source was tapped out so he offered up some purple barrels instead. Purple whatsits? LSD, he said, before climbing back on his huge road bike and heading home to Thames. Acid. That was definitely a step too far. I'd need those brain cells soon enough.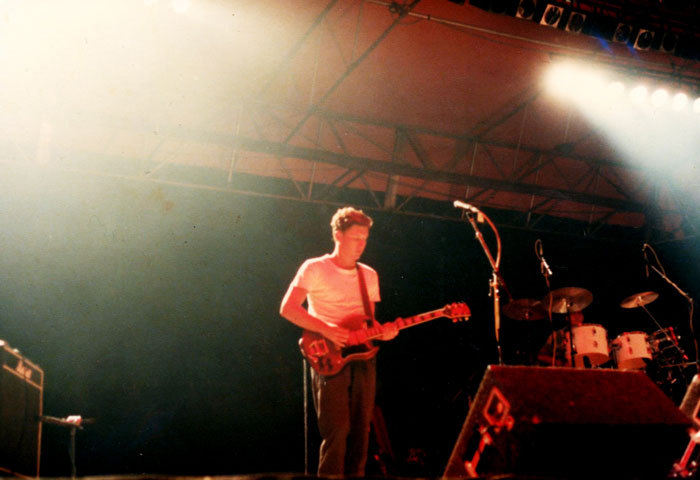 It was mainly the music that drew us to Sweetwaters. The 1981 pop charts were alive with quality singles and albums from the British post-punk groups and the rising New Zealand equivalent, and we were dead keen to see as many of those groups as possible. Too young for pubs, this was as close as we'd get to the live experience for a few years yet. Or so we thought. Sneaking into band bars proved remarkably easy, but we weren't to know that until we tried.
The festival's countercultural element had no real appeal. Nambassa played out just down the road from Paeroa in the Karangahake Gorge for several years in the late 1970s, but I'd only half-noticed the line of cars snaking back through the old town.
We lugged the tent and bags into the camping paddock behind and to the right of the stage and set up among the rest of middle New Zealand's young and not so young. The experience was pretty familiar so far. Summer camping holidays were as New Zealand as gumboots and rugby.
The Sweetwaters trio of organisers, Paul McLuckie, Helen McConnachie and Daniel Keighley, had only just shifted the festival from Ngāruawāhia in 1981, north to a farm beside the Waikato River. New Zealand's longest watercourse was to prove a mixed blessing, providing water and a good place to cool off, but also some risk. In each of the two previous years, a festivalgoer had drowned and despite the roped off swimming area and motorboat patrols, the river would take another life this year.
With the glossy festival programme firmly in hand, we headed en masse to the natural amphitheatre above the stage. The Sunnyboys from Sydney were on. They had at least one great song in 'Happy Man' and didn't lack for energy although the set was a little samey overall. Auckland's Herbs were better.
INXS sounded cool on paper and shared a record label with Toy Love, but failed to show. They manipulated Daniel Keighley into sending them a deposit for Sweetwaters in 1981 and 1982, but didn't turn up to either. "Their fairly obnoxious manager crowed to me in London that it was the best marketing he'd ever done without lifting a finger," Keighley recalled in April 2015.
The Angels headlined the evening. Their full on Australian rock burned brightly and left no secrets. But it was The Newmatics I wanted most to see. 'Judas', 'Five Miseries' and the Broadcast O.R EP, especially ''Doobie Do Boy' and 'Riot Squad' had been constants on the tape deck in 1981.
As had Danse Macabre's Between The Lines EP. The Auckland quartet walked on in the early hours of Saturday morning and didn't finish until 2am, when they were rudely cut short before playing their big song, 'Between The Lines'. Danse Macabre appeared again on the smaller Aerial Railway stage that evening and knocked out an intense version of 'ECG' with percussion help from Penknife Glides' Steven Gravelle and Stefan Morris.
The Aerial Railway stage was the place to be, I'd later discover, with No Tag, The Dabs, Smelly Feet (three times) and The Gurlz stepping out there on Saturday. The Mockers followed on Monday.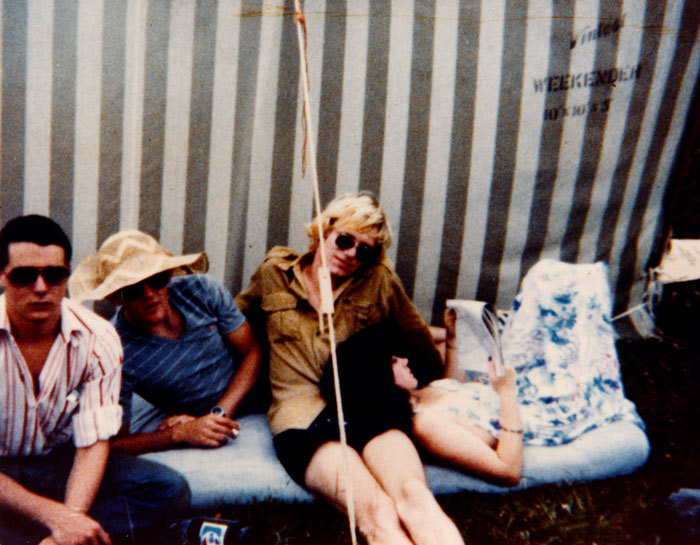 Mid-morning Saturday, we checked out the cultural, political and spiritual stalls, but found little of interest. At least one fan amused himself and the gathering crowd by sprinting naked through the Hare Krishna tent, but they seemed like nice enough folks. We took a good look at the food and recognised nothing. "Don't touch the grey stuff," Gerry joked. The Woodstock movie had recently run on late night TV and variations on the "don't take the brown acid" stage announcement would be the weekend's running joke.
The pickings on main stage that day were thin at first. The Spaces had a good song in 'Got Me At A Disadvantage', which was another college party regular, but it was The Screaming Meemees that drew me down from the slope into the crowd near the stage. The young Auckland group hadn't released a dud song yet. 'All Dressed Up' off Class of 81 was a slinky shaker and their first two singles, 'See Me Go' b/w 'Till I Die' and the even better 'Sunday Boys' b/w 'At At', were furious tuneful pop songs of the highest order.
Then it was Pop Mechanix, who'd been early indie favourites with 'Now' and 'Jumping Out A Window' but were now slicker and more of a rock band. Better were Penknife Glides, whose records often fell short although their live shows never did. When they played the Hillcrest in Hamilton a few months on I was out there in the audience.
The contrast between the rising New Zealand groups and the Australian visitors was marked.
The contrast between the rising New Zealand groups and the Australian visitors was marked. Without Mi-Sex and Split Enz holding the local candle, it was the reverse Tasman hoppers who showed a more ready familiarity with the requirements of the big concert stage. Mental As Anything had a number of effective, slightly loopy pop songs and Cold Chisel, who we loved to hate, were a gut punch of a live group with some neat and moving ballads. Enough already, it was time for bed.
Blam Blam Blam managed to keep me there just a little bit longer on the back of a truly strange EP and brilliant singles in 'No Depression' and 'Marsha'. They looked tiny down there on the wide stage. We left before The Knobz came. They'd already fired their best shot with 'Culture' in 1980.
Of Daggy and The Dickheads, Rank and File and New Entrants on Sunday afternoon, I remember nothing. Ross Wilson's Mondo Rock, ditto. Time to check out the unisex showers and wash off some grime.
I was no big fan of the new electronic pop music starting to assert itself in the pop charts, but still I found a place on the hill for Ultravox's headline set on Sunday night.
The festival's main act was originally meant to be the large-lunged Meatloaf and I was, it seemed, one of the few people who didn't have a problem with that. It made a strange sort of sense. Bat Out Of Hell's best songs still played on pop radio and bombastic follow-up Bad For Good, while less endowed with hits, had a long chart run in 1981.
Ultravox proved the better choice. Just as well. The rumour was the organisers only had enough money for one big international act after buying the festival's farm site. The stunning platinum selling Vienna, with its compelling title song, had taken up residence in the NZ album charts for most of 1981. The single of 'Vienna' did almost as well. Before the album fell out in November, Ultravox's gold-selling follow-up album Rage In Eden chased them both up the chart to No.4.
Ultravox is the group I remember best from the weekend. Their mysterious edge appealed, as did the sharp creased clothing and the chill European tones of their sound and cool blue lighting that gave the dark summer night an otherworldly grace.
Music listening fatigue set in by Monday and Gerry seemed in a hurry to beat the traffic out. The Instigators took to the main stage as in the pit below a drunken boot boy wrestled out his latent desires on a mate and a small gaggle of their kin tried to get a sing-a-long of 'White Riot' going. We later learned of a near-fatal stabbing in the crowd that weekend.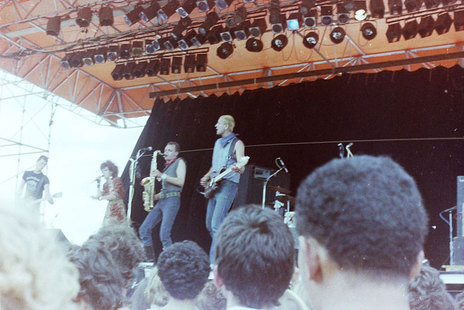 The Mockers showed they had the songs and Andrew Fagan the stage presence. Teenybopper fan mania was just around the corner.
We lingered long enough after that to confirm Men At Work were a competent Australian group with an annoying signature song. The car was packed up and ready to go. Thirty five thousand concertgoers would leave the site that day.
The three-day instant city, with its own onsite newspaper, hospital, police force, friendly security guards, food, and social, cultural and political groups, dispersed as quickly as it had gathered.
It'd be 17 years before I attended another Sweetwaters. Having feasted on the smorgasbord of New Zealand's new talent, you'd now find me taking smaller bites in more elite environs.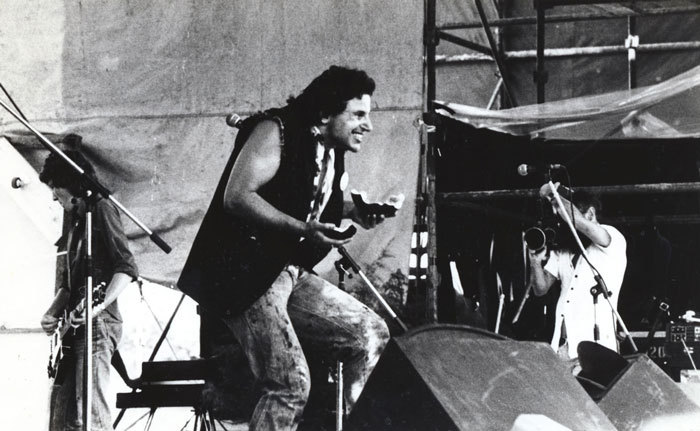 First Sweetwaters - Ngāruawāhia 1980
Spurred on by the breakout success of the massive Nambassa festival in Golden Valley between Paeroa and Waihi, Daniel Keighley, a former Student Arts Council tour organiser with recent experience in the British music industry, took advantage of Nambassa's recess in 1980. The tens of thousands who swarmed over Nambassa in 1979 was a mass market difficult to ignore.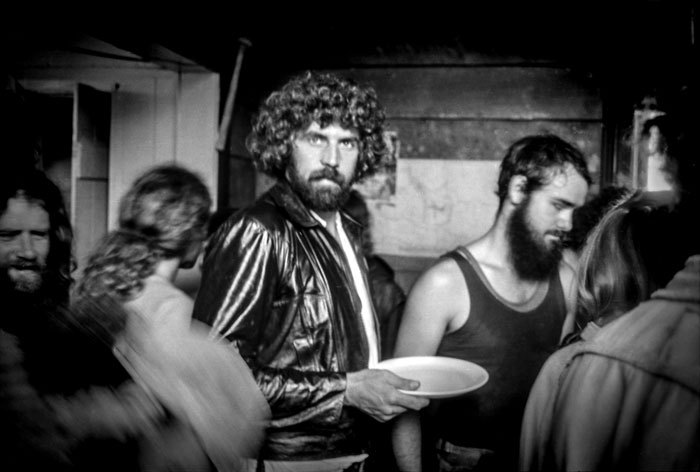 The son of a King Country farm manager, Keighley had worked at The Great Ngāruawāhia Music Festival in 1973 and gained life experience helping out at Nambassa in 1979 after returning from England.
He teamed up with Turoa Ski Lodge owners Paul McLuckie and Helen McConnachie as Golden Valley Productions and grabbed Nambassa site manager Mike Taylor and Split Enz lighting director Raewyn Turner, along with sound system coordinator Frank Greer (brother of Maurice Greer from The Four Fours and The Human Instinct) to help launch the new festival. Poet Gary McCormick would MC the festival, as he did in all the following years.
Tweaking Nambassa's formula with a view to improving on site access, sanitation and water, Keighley located a new site on the other side of the Waipa River near Ngāruawāhia, between Auckland and Hamilton. Cornering Ray Little at a stock sale, the Sweetwaters organiser secured a six-month lease on Little's farm for the equivalent of what the Waikato farmer would earn in a year. The new venue would have the stage on the flat land running to the river with the inland hill facing it providing a natural grandstand.
With New Zealand's live circuit picking up pace from 1979, and large one day rock concerts an ongoing reality after a moribund mid-1970s, the long tail of the post-war baby boom was exhibiting a hunger for less traditional pursuits.
Bannered as "Sweetwaters – A Festival of Music, Culture and Technology" and booked for Auckland Anniversary weekend (January 26 to 28) in "The first hot summer of the 80s" the tickets went on sale at 28 outlets nationwide. Twenty-dollar gate sales were flagged and buses organised from all the main centres.
Early full-page Rip It Up ads highlighted Australian R&B singer Renee Geyer and New Zealand's Split Enz, who were the hit band at Nambassa. Mi-Sex, Hello Sailor, Th' Dudes and Street Talk, who all had albums out (all apart from Street Talk had recent Australian live experience) made up a strong local bill, indicating the robust nature of the country's rock music.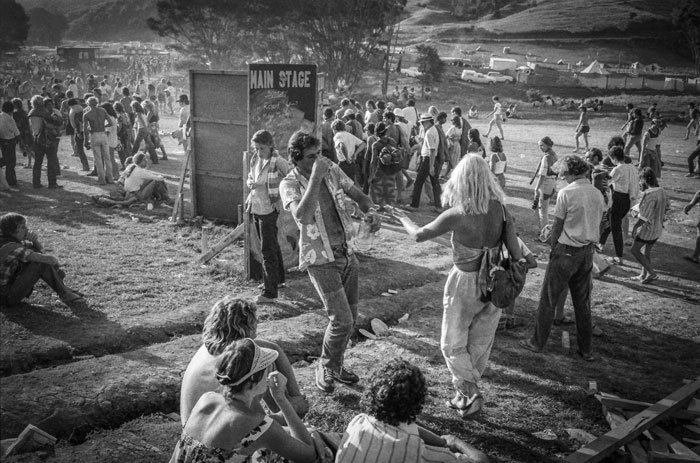 With new wave's biggest group, Blondie, in his sights Paul McLuckie left for New York to secure them as the main drawcard. The group declined, so Keighley set out for London. He still had some contacts from his days there and managed to book the punchy new wave rocker Elvis Costello and his backup group The Attractions as the festival headliner. A coup that pushed the festival's image closer to the new. Scots folkie John Martyn, who'd last visited New Zealand for the 1977 Students Arts Festival in Wellington, was the fourth headliner.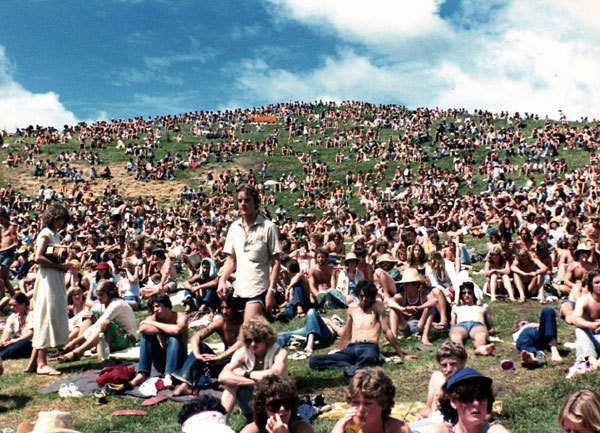 The Sweetwaters organisers were determined to upgrade the status of local bands by giving them the same staging and production as the headliners.
The New Zealand line-up continued to grow. The Sweetwaters organisers were determined to upgrade the status of local bands by giving them the same staging and production as the headliners and paying them four times the accepted fee.
Alongside the more traditional rock groups Billy TK and Powerhouse, Midge Marsden Kiwi Connection and Schtung, and punchy new pop and rock groups such as Hello Sailor, Th' Dudes, Citizen Band, Lip Service, Wide Mouthed Frogs and The Crocodiles, a seam of bands inspired by the punk explosion and its aftermath filled out the bill.
The Whizz Kids, Sheerlux, The Swingers and Toy Love were all central to the indie boom that was just around the corner. All up there were 40 New Zealand bands onstage at the first Sweetwaters.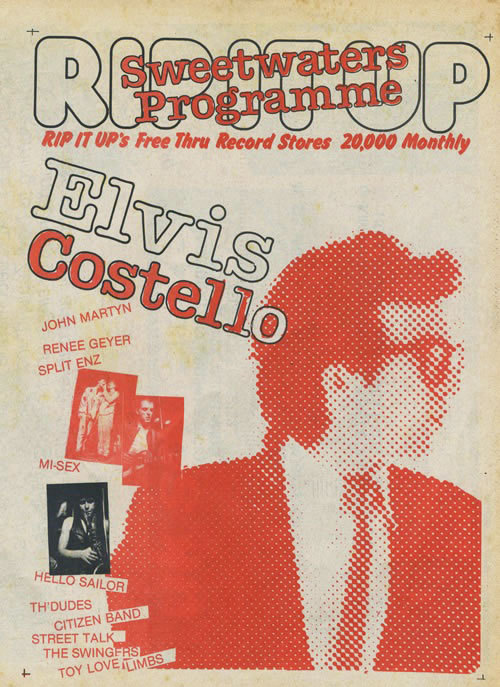 Rip It Up published a special Sweetwaters issue in January 1980, highlighting the groups, the Cerwin Vega sound system and lighting design by Raewyn Turner, and laying out the site plan and running order of the groups.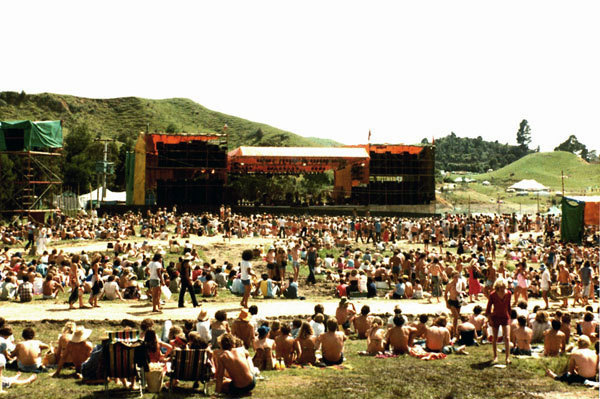 On Saturday 26 January the stage highlights were The Swingers (4pm), John Martyn (7pm), Citizen Band (8pm), Split Enz (9pm), Limbs (10pm), Hello Sailor (11.30pm) and Flight X7 (12.30am).
Sunday 27 January had Midge Marsden Kiwi Connection (11.30am), Sheerlux (1pm), The Crocodiles (2.30pm), Toy Love (4pm), Street Talk (7pm), Th' Dudes (8pm), Elvis Costello and The Attractions (9pm), Mi-Sex (11pm) and Renee Geyer at 12.30am.
Monday 28 January presented Wide Mouthed Frogs (12.30pm), The Whizz Kids (1.30pm), Lip Service (4pm) and Red Mole's Punk Evangelical Show (9pm) with Billy TK and Powerhouse closing out the festival.
The 40,000 fans Rip It Up estimated as being there over the long weekend (Golden Valley Productions declared 29,000) warmed quickly to Rick Steele early on Saturday afternoon. The short Dylan Taite helmed Sweetwaters documentary that was to follow on TV's Radio With Pictures had the country rocker on the main stage performing 'Ballad of Arthur Allan Thomas', a song that Taite claimed resulted in PolyGram Records destroying all of the LPs on which it first appeared.
Phil Judd's rising trio The Swingers gave the crowd a taste of the near future although RIU's Duncan Campbell thought the trio were unsuited to the venue. "Their adventurous, organised cacophony sounded hard and brittle in the open air and they left to scattered applause." Surviving concert footage from Taite's Radio With Pictures special depicts the colourful new wave act snapping out a spare but full version of 'Can't Say No'.
The evening's headliner John Martyn cracked jokes and shared joints with the crowd as he augmented his folk sound with an array of electronic filters. A tough rock set from Citizen Band followed. With bass player Mike Chunn soon to depart, the popular quartet seemed determined to leave NZ ears ringing with a muscular take on 'City Slitz' from their 1979 album, Just Drove Thru Town, captured again for posterity by RWP.
Split Enz was up next. 1979's Frenzy had been a reasonable sized hit and 'I See Red' a notable single, but better was to come with True Colours, the brilliant pop album whose songs would predominate that night. With the crowd baying for the familiar, New Zealand's best festival draw obliged them only in the closing numbers. Split Enz's massive worldwide hit 'I Got You' was just days away from release; with it they would finally transcend their art-rock beginnings.
Hello Sailor, back from a drug blighted Australian stay, had Dragon's Paul Hewson on keyboards for a few numbers, but generally fell short on the big stage. Flight X7, who released a decent single in 'I Lose Control', ended the night.
Midge Marsden was having something of an early to mid-1980s revival with his Kiwi Connection and their electric blues set the early mood for Sunday. Sheerlux had recently lost singer Paul Robinson to The Valentinos, but still cut it live. They'd toured New Zealand extensively in 1979 and released one of the great-lost singles of the era in the tuneful, upbeat 'Lonely Hearts' b/w 'Chinatown', an early Auckland skank.
The Crocodiles had yet to release their classic ballad 'Tears' and despite the talented Jenny Morris upfront were trapped between the new and the old. Toy Love had no doubts where they stood as Chris Knox destroyed a watermelon. Rows of fans a dozen deep applauded loudly and demanded an encore.
Then it was back to the pop blues of Street Talk and pop rock of Th' Dudes, two strong NZ groups, who had racked up their share of great songs already. Th' Dudes were pelted with eggs and a little stroppy on it, dishing out insults and a powerful no-steps-backward set capped by 'Bliss', the drinking song tailor-made for festival audiences.
Elvis Costello and The Attractions had already proved a handful. Helicoptered into the site to dodge the congested roads, a band member leapt the last few feet to the ground and sprinted to the edge of the muddy, flood-swollen Waipa river, where he dived straight in. "Go and get him," an angry Costello told Keighley, seizing him by the shirt. The festival organiser and his pick up van driver jumped in after the errant musician and with some difficulty managed to drag him to safety.
More drama was to come. Dylan Taite's RWP piece wryly documents the turmoil of trying to track a pissed off and uncooperative Elvis Costello around the closed in site. Eventually a truck and van wall is moved to separate the headliner from the camera.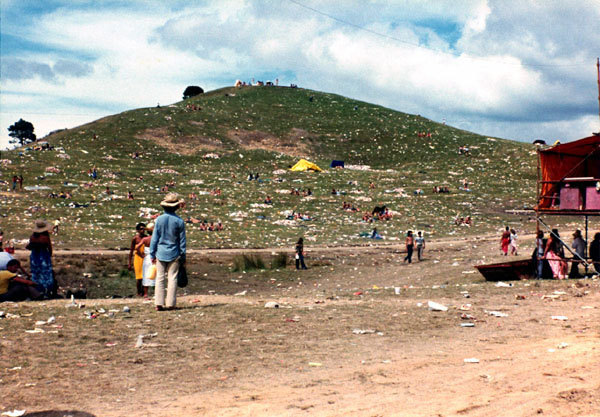 Elvis Costello and The Attractions went on to deliver an aggressive two and a half hour set full with covers including the other Elvis's 'Little Sister', The Merseybeats' 'I Stand Accused', Jo Jo Zep and The Falcons' 'So Young', Jim Reeves' 'He'll Have To Go' and a fine version of Sam and Dave's 'I Stand Up For Falling Down'.
Costello's own bulging songbook provided 'Lipstick Vogue', 'This Year's Girl', 'Watching The Detectives', 'Less Than Zero' and 'Pump It Up', before encoring with 'Mystery Dance' and Nick Lowe's 'What's So Funny 'Bout Peace, Love and Understanding'.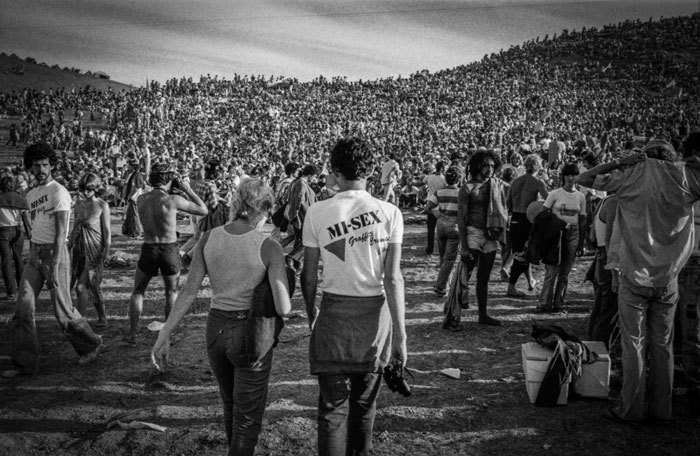 Duncan Campbell's festival highlight was up next. Mi-Sex, back home for a triumphant New Zealand performance after cracking Australia with Graffiti Crimes and 'Computer Games', showed the locals their powerful toned set. Renee Geyer closed out the evening. Monday was for the stayers.
The three-day festival hadn't managed to turn a profit, but it took in more than enough to guarantee the strong prospect of a surplus on 1981's event and calm the creditors. With the site's set up costs now absorbed, planning for 1981 began.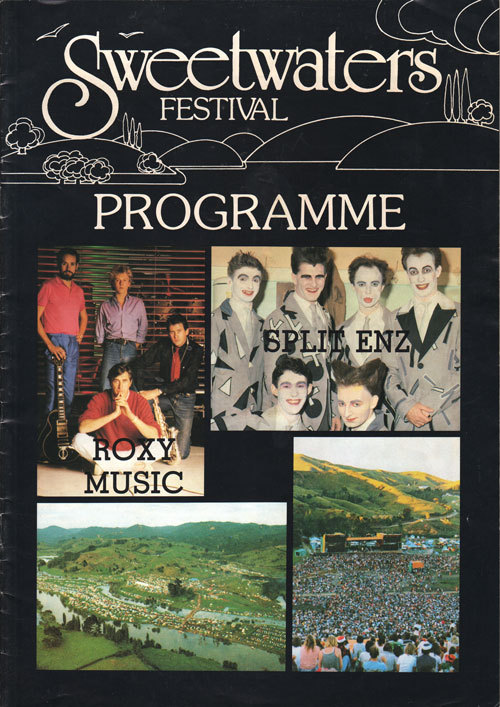 Sweetwaters - Ngāruawāhia 1981
Having had a clear run at the nation's festival going masses in 1980, Sweetwaters faced a rejuvenated five-day Nambassa astride the same Auckland Anniversary weekend (January 24 to 26) in 1981. With groups booked exclusively for one event or the other, a choice clearly had to be made.
The original mass festival piled on the countercultural activities, but its retro musical choices lacked the appeal of the more immediate sounds that Sweetwaters offered. The nation's pub, café and club live scene had exploded in 1980 and the groups that fired the eruption were playing mostly at Sweetwaters.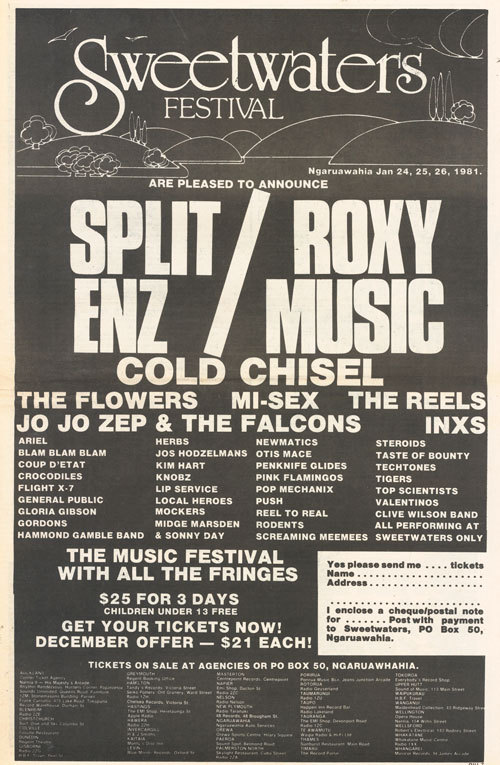 The festival calendar began to look a little more cluttered as well with events such as Brown Trout Festival planned near Norsewood in the Tararua District. There had already been the one day Cedar Park Music Festival at Hinuera on the Sunday of Labour Day weekend in late October with festival regulars Flight X7, Citizen Band, The Tigers, The Crocodiles, Lip Service, Creole, Push and Midge Marsden on deck. Tickets were presold in record stores for $18.50, and attendees invited to "bring a tent and lots of warm clothes and stay the night. B.Y.O.G (bring your own grog)."
Large stadium concerts at Western Springs in Auckland featuring Thin Lizzy in late October and Elton John and Kiss later the following month helped to seed the air.
The advertising for Sweetwaters in 1981, cleverly and subtly changed tack. It was now "The Music Festival With All The Fringes" despite the countercultural happenings, dance, theatre, lectures, late night film festival and spiritual workshops being more numerous in 1981 than 1980.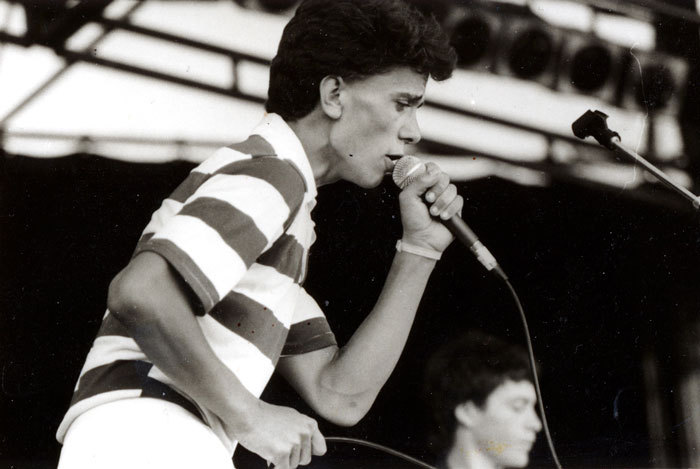 The Sweetwaters craft market had 50 stalls planned, taking in sandal making, metal work, woodturning, weaving, airbrushing, wood carving, spinning, jewellery making, leatherwork, pottery, cane ware, candle making and glass blowing. The Healing Arts on display included homeopathy, iridology, nutrition, bach flowers, osteopathy, psychoenergetics, zone therapy and herbalism.
In The Valley of Public Awareness, socially conscious groups including Friends Of The Earth, Civil Rights Action Group, Univ Environment Group, Education Fightback, Tenants Protection Society, Gay Rights Coalition, Beauty Without Cruelty, Society For Overseas Development, Greenpeace, Waikato Women's Alliance, Workers Communist League, Corso, HART, N.F.A.C, Coromandel Watchdog and Anti Smelter Group hung up their banners and set out the pamphlet tables.
A full crèche, playgrounds, circuses and children's stage were provided for the youngest attendees and their parents. A festival newspaper (also good for back up toilet paper) kept everyone informed and better rubbish collection was promised.
The headliners for 1981 were the English art-glam group Roxy Music, who had recently taken a turn to the soulful, and Split Enz. Roxy Music had a solid chart life in New Zealand and Split Enz were on an Australasian high after True Colours. Their sterling follow-up album Waiata was just around the corner. The new album's lead-in single 'One Step Ahead' had charted Top 10 in late 1980.
All the second tier draws outside Mi-Sex were Australian. Cold Chisel, The Flowers, INXS (who didn't show up), The Reels and Jo Jo Zep and The Falcons were seasoned live groups with strong records out in a demanding market where energy and passion often came at the expense of subtlety.
You'll more likely find that in the 37 New Zealand bands. Blam Blam Blam, The Gordons, Hammond Gamble Band, Herbs, Kim Hart, The Crocodiles, Rhythm Method, Penknife Glides, The Mockers, The Newmatics, Pink Flamingos, Pop Mechanix, The Screaming Meemees, The Steroids, The Techtones, Coup D'Etat, The Rodents, Top Scientists, Midge Marsden and Sonny Day Band and Lip Service pointed to a national music scene in rude health. The trusty Aerial Railway stage was back as well, showcasing music, poetry, theatre and all night movies.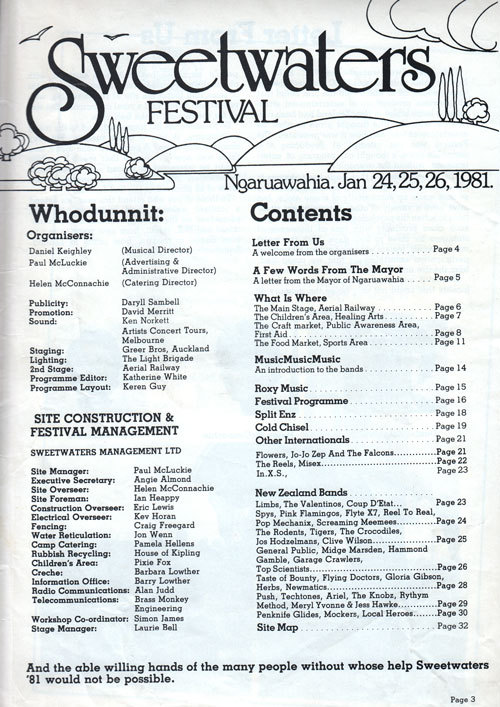 Twenty-five dollars got you a ticket in 1981 from one of 50 outlets in the nation's radio stations, counter-cultural businesses and small town and city record stores. "I don't care if Muldoon thinks it's not culture!" the mail order ad declared.
Rip It Up had Mark Phillips, Duncan Campbell and George Kay on the job summing the festival up with crisp observational reporting. While strong on more straightforward sounds, the coming indie music seemed to leave them a little stumped.
RAM's then novice rock writer Stuart Coupe stowed away in Split Enz's luggage and chipped in an Australian point of view that ran as a full page piece in the Australian music paper under the not quite correct headline Sweetwater '81: New Zealand's Weekend of Rock N Roll and Total Excess. The second part was right.
Coupe spent late Friday evening crawling in a four car Split Enz convoy towards the Ngāruawāhia site from Auckland. "The idea of leaving late was to miss the traffic on the roads to the festival. This was part successful, but still there's cars banked up for miles, kids drinking and talking and lounging around as they wait for the queue to move forwards. Rumours say there's already about 10,000 people camped out."
Frustrated with the delay, Split Enz headed for the Country Club Motel 10 km away. Lighting director Raewyn Turner couldn't wait and grabbed a ride on the back on a motorbike only to get stranded at the site for the night.
On arriving at Sweetwaters the following morning, Coupe spied the "tents surrounding the general stage area and a huge hill that becomes a swarming mass of people as the night progresses."
"Behind the stage, there's tents, trucks, caravans and cars belonging to bands, record companies, radio stations, newspapers and general hangers on. The security is tight. [There's] stalls, tents for each band, free Space Invaders and surprisingly few people – all looking like they have a reason to be there."
Rip It Up mopped up the early acts on Saturday in typically economic and incisive style. The Newmatics impressed with 'Judas' and 'Five Miseries', Flyte X7 had a new line-up and spelling and Ariel pointed backwards to hard rock with 'Won't Get Fooled Again'.
There were 20,000 fans out front for The Knobz, whose provocative and insanely catchy 'Culture' prompted a crowd sing-a-long. The Mockers left the travel-shy Gary Curtis behind, substituting him with manager Don MacKay on bass. Their musical highpoint was first single B-side 'Murder On Manners Street.'
Early Sunday performers Penknife Glides were better suited to "small intense places rather than wide-open spaces" and failed to spark the small non-responsive crowd. Auckland's Rhythm Method performed their album compilation tracks – the giddy 'Carousal' and 'Mad' – but lacked stage presence. The Crocodiles had two albums out and had gone through multiple line-up changes.
Come the evening and The Techtones impressed with "a superbly cool set and meticulously "fool proof pop songs" like 'Make You Mine', 'Love In A Window', and 'Same Old Game', the last of which Radio With Pictures would capture for their festival report. Pop Mechanix was "too well oiled, too pat" although Neil Finn praised them the following day and the crowd response was good.
RAM"s Coupe rated The Crocodiles highly and agreed on The Techtones' worth. "They move well, write mostly original songs and provide my first real feelings of festival excitement," he said, summing them up as "jangling guitars [and] hooklines."
His take on Pop Mechanix was more positive than Rip It Up's. "[They] turn on a blistering set of rock n roll that earns them the most enthusiastic reaction of the weekend." CBS Records and Split Enz's Eddie Rayner certainly agreed with him, the label signing the rising Christchurch group and Rayner producing.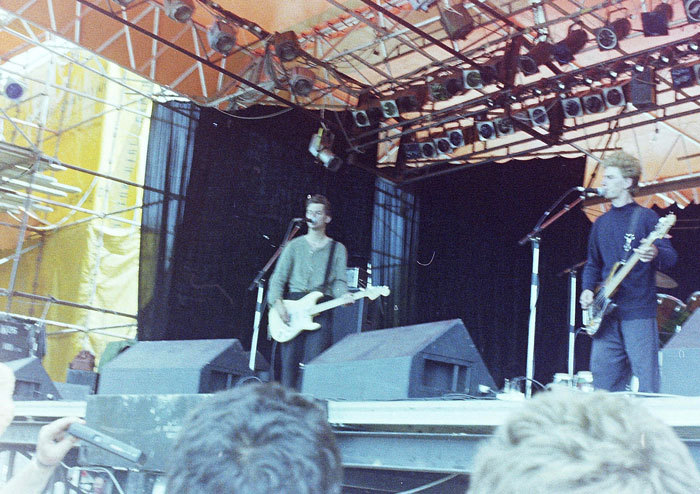 You couldn't have a successful festival without Split Enz in the early 1980s, it seemed. [Their] performance proved a "complete and deserved triumph," Rip It Up raved. In a set that highlighted most of True Colours, RIU singled out 'Poor Boy' and older gems' 'I See Red' and the encore of 'Frenzy' and 'Charlie', noting new songs' 'One Step Ahead', 'A Hard Act To Follow' and 'Ghost Girl'.
Other Split Enz songs that night were ''I Wouldn't Dream Of It', 'Missing Person', Ghost Girl', 'Clumsy', 'My Mistake', 'Nobody Takes Me Seriously Anyway', 'I Don't Wanna Dance', 'I Hope I Never', 'I Got You', What's The Matter' and 'History Never Repeats'.
In their wake, Jo Jo Zep and The Falcons knocked out an "inspirational" set before The Tigers finished the evening in an "uninspired" and "tired" way.
On Sunday morning RIU saw The Screaming Meemees as "spiky" and "arrogant evolving punks" who managed to draw an encore from the crowd. Blam Blam Blam were dismissed as "The Whizz Kids with a new drummer" and although their "honesty and belief" was admired, the post-punk trio "had the ideas, but not the tunes." "If they can't write songs they might as well be poets." Ouch.
Some "good clean fun" from blues man Midge Marsden and a dash of "best made rock n roll" from Top Scientists was clearly needed to close out the afternoon.
The evening brought an "uninspired" Pink Flamingos and "error filled" Coup D'Etat, Mi-Sex, while strong and popular onstage, failed to repeat the previous year's success. Stuart Coupe on the other hand, pointed to The Flamingos' "tough, urban rock n roll with a very Dragonish feel." That wasn't surprising, with Dragon's Paul Hewson in the line-up.
It was 45 minutes before Roxy Music appeared and turned in a limp set that failed to connect despite strong renditions of old faves 'Do The Strand' and 'Love Is The Drug'.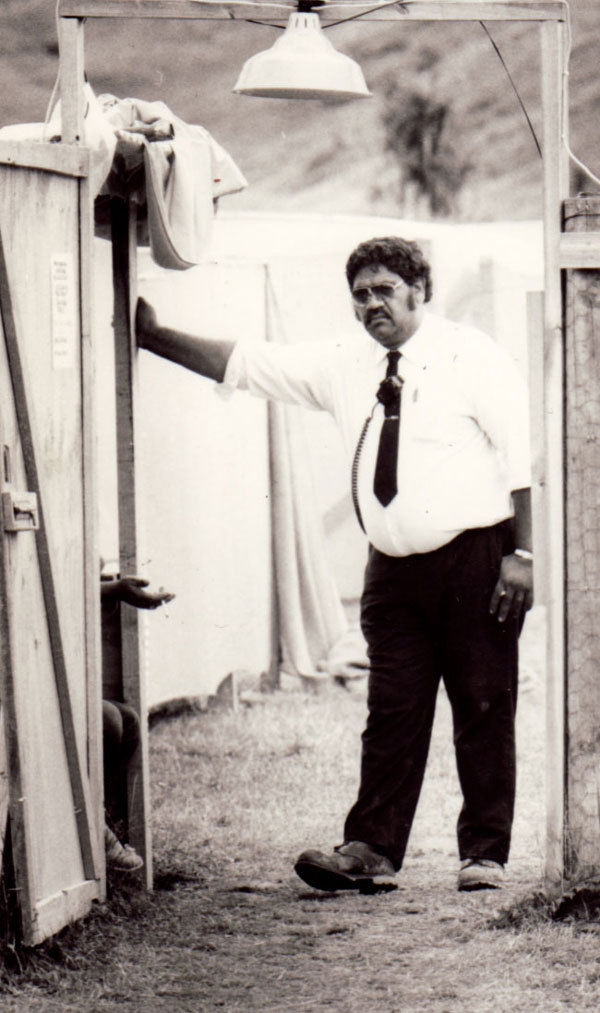 Hammond Gamble's bluesy pop entertained the insomniacs who got an unexpected treat when the late cancellation of INXS pushed The Reels onto stage in the early hours of Monday morning. Dressed in "yellow and black inner space outfits" with headset mics, the guitar pop of yore had now been replaced with more a contemporary sound that had RIU's George Kay raving.
Duncan Campbell didn't rate The Gordons' Monday morning set. claiming they'd taken PiL to their hearts (a bad thing?). The Christchurch trio's "depressing dirges" drove fans away, he said. Next up was the sunny reggae of Herbs and the soon to be redundant Reel To Real, Taste Of Bounty and The Spys.
Sweetwaters 81 finished off in fine fashion on Monday evening with the still rising The Flowers (soon to be renamed Icehouse) chopping out new single 'Walls' and leaving with a parting shot of Iggy Pop's 'Funtime'. The storming Cold Chisel went on to sear what was left of the crowd's brain cells with a raw throated 'Knocking On Heaven's Door', 'Star Hotel' and 'Cheap Wine'.
All up the festival had been a roaring success. Over 40,000 fans turned up, capping the large turnout of the previous year. A profit was made and with some restrictions on numbers and minor adjustments imposed by the controlling local authority, 1982's event looked a goer. Daniel Keighley wouldn't need to hunt possums to raise his stake this year.
There was some crime, sure. John Dix estimates $200,000 worth of property theft. But that was way less than you'd get in a city that size over the same period.
Stuart Coupe observed that the "… urban street gangs and bike gangs from around Auckland like the KC's, Stormtroopers, Headhunters and the boot boys [who] decided their heads were better suited to Sweetwater[s]," generally kept it on the down low.
Keighley had resisted council attempts to ban patched members. He'd given the gangs their own fenced in areas. When a young girl went missing, he even drafted in the Hells Angels to help find her.
Site security had been handled well by the BFD's – the Big Friendly Dads – who were mates of Keighley's brother John. This group of rugby club and farming men, mainly family guys from up North, raised enough money from their involvement in the three early Sweetwaters to build a large community sports complex in Kaiwaka in the Rodney district.