Prior to 1967, there was an explosion of New Zealand talent inspired by the early 60s British folk, pop and rock explosion, but performers were faced with very few potential gigs. Choices were often limited to cabarets, dine-and-dance restaurants, coffee bars, folk clubs or school, campus, community and Bible-class dances.
While non-licensed music clubs hosted a variety of musicians, the only beverage available was soft drink. Bouncers often turned a blind eye to flasks in jacket pockets or brown paper bags passed around under the tables.
The tyranny of the six o'clock swill had created an hour long orgy of good keen blokes drinking until the call – "time gentlemen please" – told them to stagger home so the concrete floors could be hosed down. But change came with the 1967 New Zealand licensing hours referendum. Some 64 percent of voters were in favour of opening hours being extended.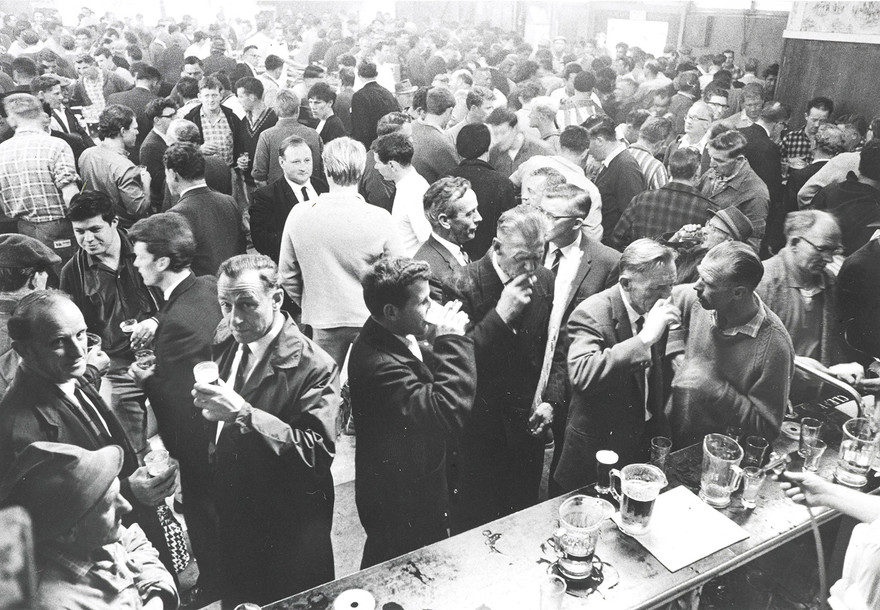 After 58 years of beer barns closing at six o'clock, New Zealand had caught up with the rest of the world and demanded a more civilised approach to licensing hours at hotels and taverns. A more relaxed approach to imbibing and dining in turn helped to reshape the live music culture of our towns and cities.
Licensed venues were now able to open until 10pm if they provided food, an environment suited to men and women. This opened the floodgates for a new era of accessible live entertainment. Groups and guest artists played three to six nights a week, in some cases Saturday afternoons, forever expanding their repertoire of mainly cover songs and getting paid a decent wage by the breweries.
The live floodgates open
Both major breweries began buying up and adapting hotels and creating taverns around the country. New, carpeted lounge bars attempted to break the booze-barn stigma with enticing marketing offering "a pleasant refreshing drink in in relaxed atmosphere". Some pubs chose to stick with resident bands and occasional floorshows while others showcased new artists every few weeks.
Only a few Dominion Breweries pubs hired bands, essentially giving New Zealand Breweries (Lion Breweries from 1977) a seven-year monopoly on developing a circuit. Consolidation of the nation's breweries meant that by the early 1970s the duopoly now controlled who sold their beverages and booked their bands.
Dine and dance musicians finally had more adventurous options and club bands could have larger audiences. Jazz, studio and semi-professional players who had long paid their dues were glad to see more regular income. TV stars and those with some national exposure were in hot demand: Bobby Davis, Ray Woolf, Bunny Walters, The Rumour, Hogsnort Rupert, The Hi-Revving Tongues, Craig Scott, The Underdogs, The La De Da's, Larry Morris, The Chicks, Mr Lee Grant, Shane, The Fourmyula, The Avengers.
The tavern template
NZ Breweries even had its own architectural department. In late 1971 the concrete block and timber Lion Tavern in Wellington's Molesworth St opened on the site of the old Metropolitan Hotel.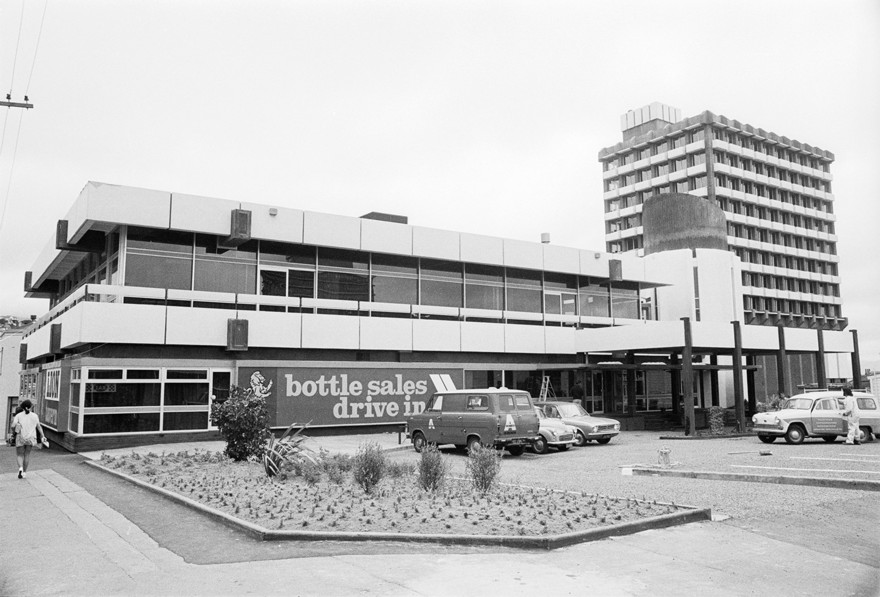 This "fabulous new tavern" and " discotheque" was a template for many other constructions and conversions around the country and was described in a February 1971 Evening Post article as the "first of its kind in New Zealand" and part of the capital city's new-look entertainment scene.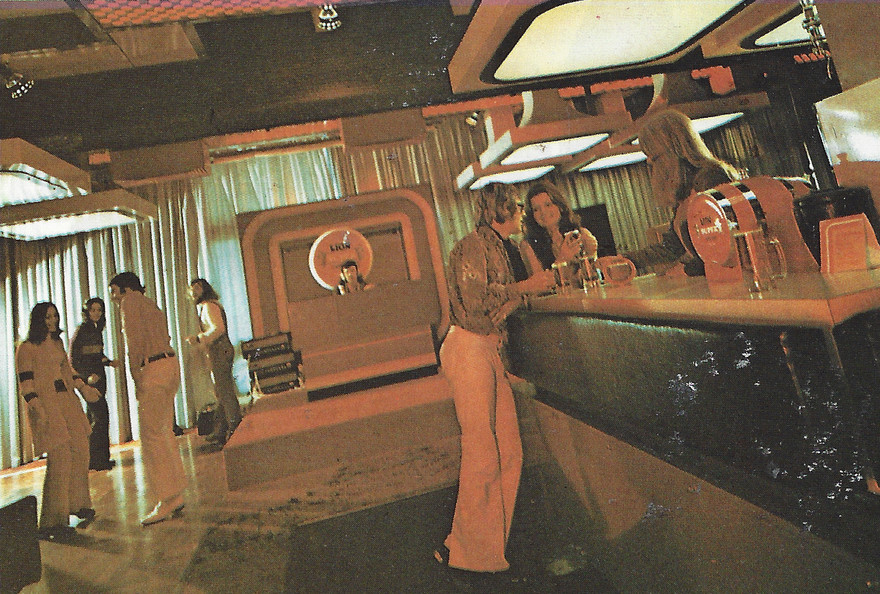 The three-level building was fitted out with a ground-floor public bar and TAB, an upper-floor Lion headquarters, a steak bar and the 400-capacity Spectrum Room entertainment and conference venue, with two dance floors featuring purple and red fluorescent lighting.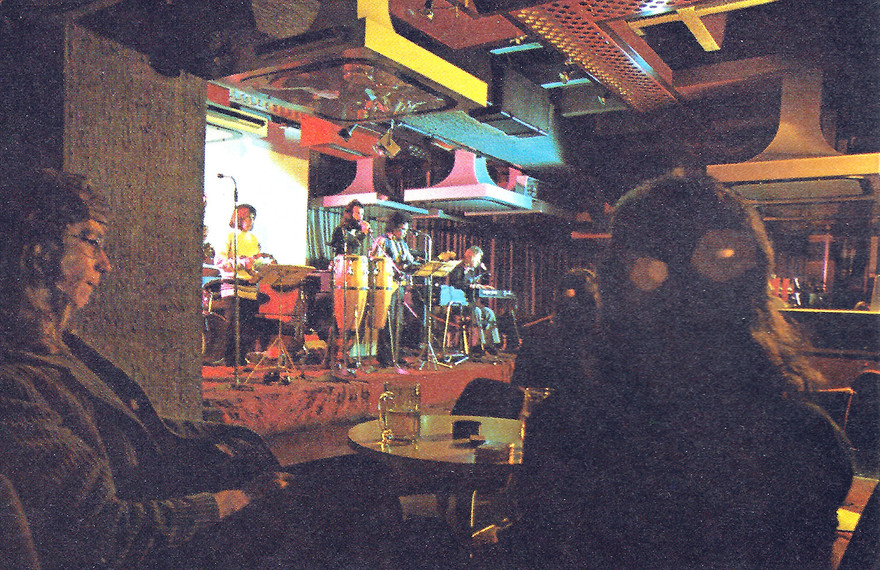 There was entertainment Monday to Saturday with initial resident band Taylor playing Thursday to Saturday and NZBC DJs spinning the hits between. Next in line was Ticket. The cover charge was 75 cents.
Booking the acts was Richard Holden, former display and merchandising manager with Lion Breweries, now promoted to national entertainment manager. The first bands he contracted were Triangle, featuring the piano skills of Dennis O'Brien, and then Tapestry, a slick covers band fronted by Dave and Wayne Feehan.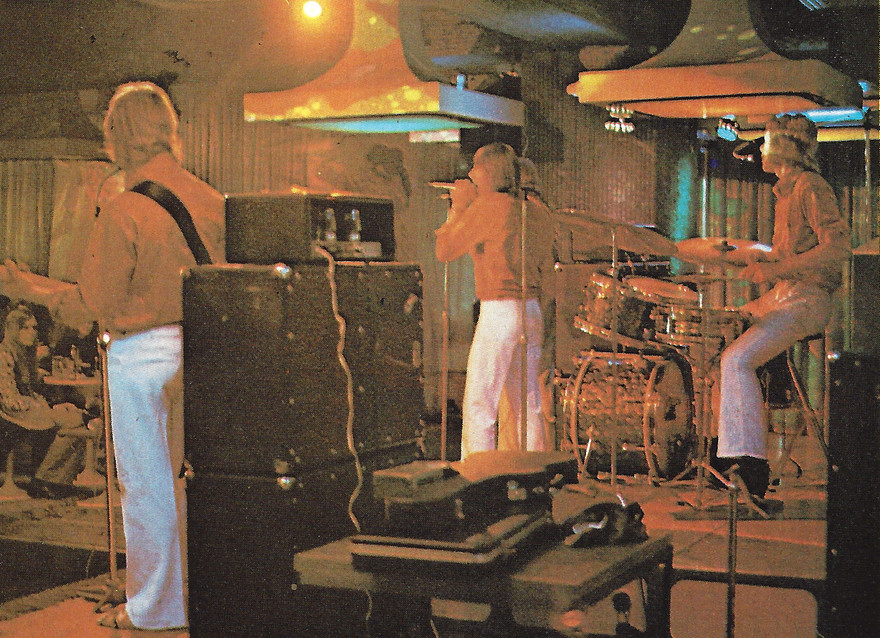 Courting the Conserve
Casting his eye around for crowd-pleasing talent, Holden couldn't get past Quincy Conserve led by vocalist Malcolm Hayman. The band featured a tight brass section and performed covers from Chicago, Blood Sweat & Tears and Ides of March. They were HMV's house band, appeared on TV shows and were resident act at the Downtown Club managed by Roy and Joy Young, playing up to five sets a night. Members were paid a weekly salary of $55.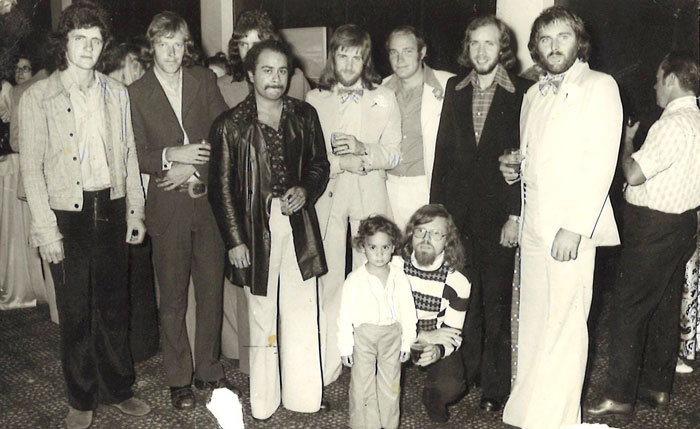 As Nick Bollinger writes in his book Goneville, Holden lured them away late in 1972 promising better pay, shorter hours, smarter dressing rooms and legal booze. The Downtown Club never recovered, but it was reborn in 1973 as glam rock venue Ziggy's.
At the Spectrum Bar the Quincy Conserve backed well-known guest artists, including Mr Lee Grant, Ricky May, Deane Waretini, Steve Gilpin, Ray Woolf and Rob Guest. Their professionalism and broad-ranging musical appeal was perfect for the circuit.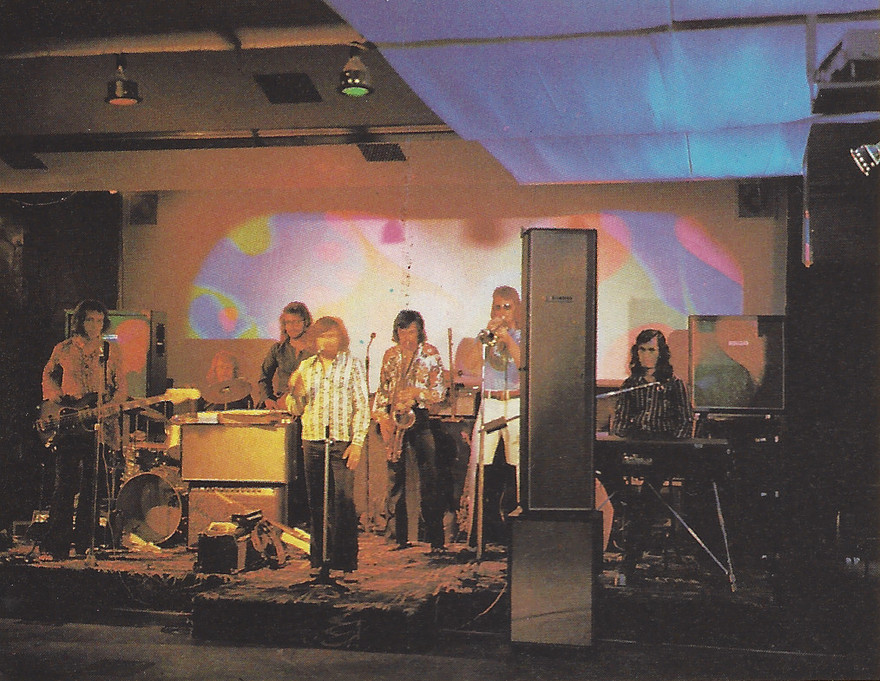 Malcolm Hayman's legacy continued with his next band, Captain Custard, featuring Fred and Murray Loveridge on guitar and bass, and Peter Walker on drums. They played soft rock and chart songs, and were resident at the Royal Tavern on Lambton Quay.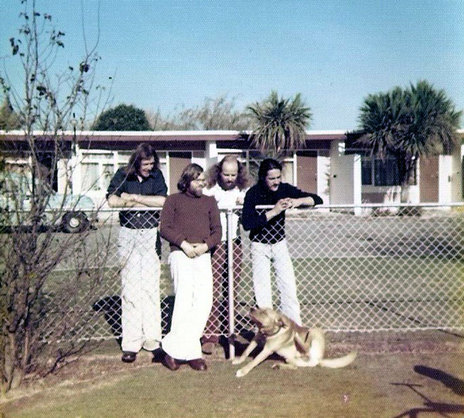 Fred Loveridge, still gigging 40-something years later, recalls those residencies, Tuesday through Saturday and then Friday nights when the 1860 Band wanted time away or at Spatz nightspot. And then there were the tours to Gisborne or Nelson opening for a "strung out" Hello Sailor on their return from the US. He admits that he took pub circuit work for granted.
"I thought it was going to be like that all the time. The money was good. I remember doing three gigs in one night, finishing our stint at the Royal at 11pm then [ending up at] the Malibu Club in Vivian St, finishing around 3.30 am.
"We were lucky in Captain Custard as Malcolm Hayman had a side hustle working for the breweries. His job was to distribute band equipment that the breweries had stored for many touring acts from the Philippines and other places."
That meant on those multi-gig nights, sets of equipment were ready to go at the different venues. "It was a bit of a luxury, now that I think about it."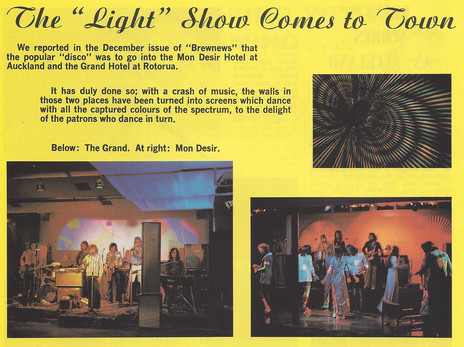 The Lion Tavern model was replicated across the country, mainly on the outskirts of cities and towns with large carparks so people could drink and drive after catching the latest bands Holden and his team had contracted.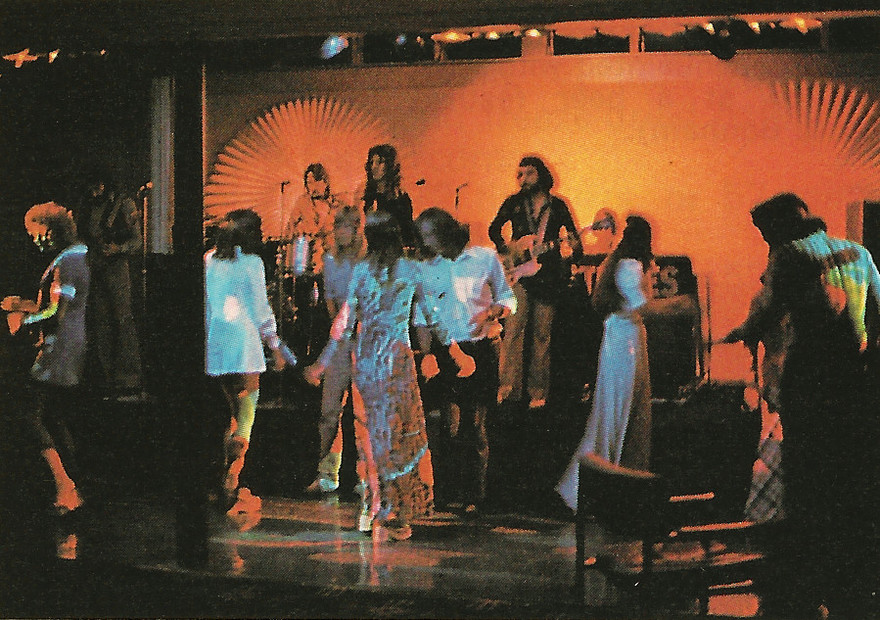 Holden explained to the NZ Herald that people no longer wanted to just sit and drink a jug of beer – they wanted to be entertained. There was no shortage of local bands wanting a chance but he had firm ideas of what they should play, how they should dress and how they should conduct themselves on and off stage.
"We have to get away from the idea of four guys getting together and forming a group just because they like each other, and instead get guys who are getting together to do a job," he told the Herald. "Musicians have to realise they are a product that can be sold."
He told Herald columnist John Berry, "There has been a tendency for musicians to play for themselves instead of the customers. There has been some good original music but a lot of original rubbish. They will have to realise that we're not in the musical genius business. We're in the entertainment business."
Million-dollar budget
By the mid-1970s Richard Holden was managing an entertainment budget over $2 million a year ($26 million in 2020 dollars). At one point Lion had 300 musicians on its payroll, and the breweries' circuit reached well into the provinces. Two well-known "ports of call" for bands that Bob Smith of Redeye recalls were Sandown Park in Gisborne and the Westown Motor Hotel in New Plymouth.
In 1975 Wellingtonians looking for live music were attracted to another of Lion's concrete and timber taverns, the Royal Tiger lounge with residents Midge Marsden and the Country Flyers. Soon after it opened the place got so crowded the publican complained that people couldn't get to the bar.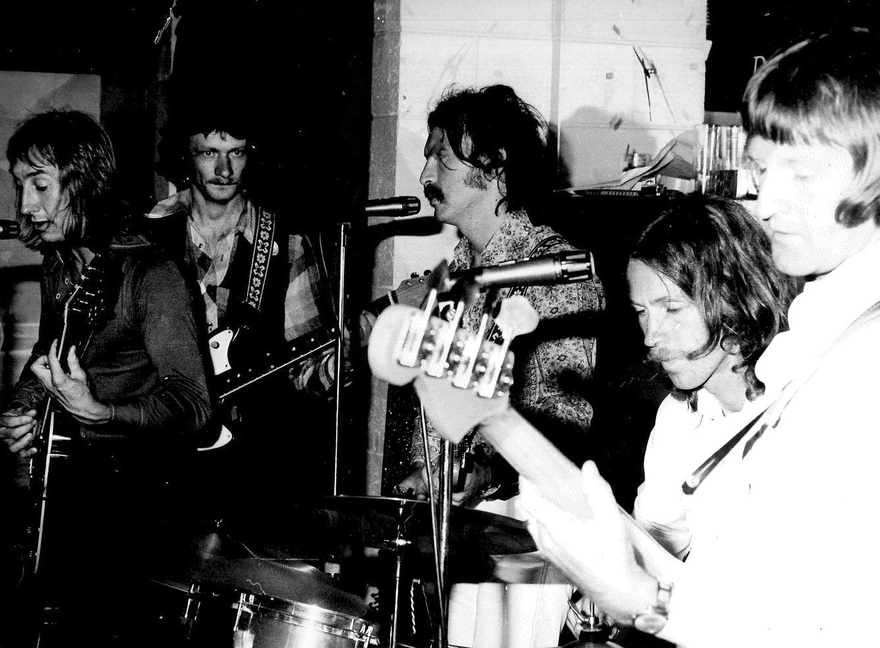 Rick Bryant's Rough Justice and the Windy City Strugglers were always on the road in some form or other during the mid-70s and wereoften booked at the Royal Tiger, as were Spats featuring Bruno Lawrence, Fane Flaws, and Jenny Morris (the band evolved into The Crocodiles). Also at the Tiger were Crazy Mama with Kemp Tuirirangi on guitar, Red Hot Peppers and the Andy Anderson band.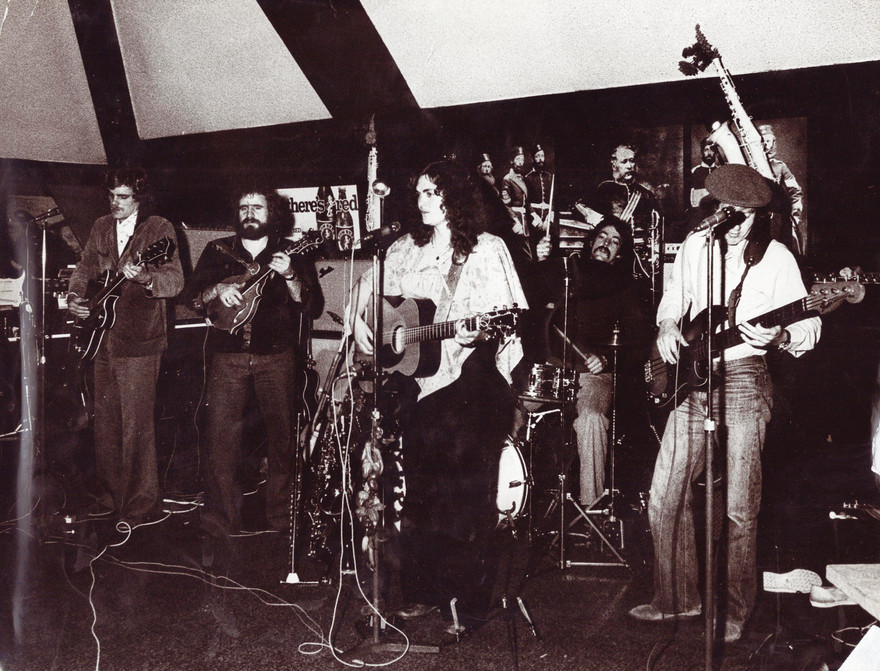 Holden needed others who fitted his formula for Lion's growing stable of venues and was quickly in the import business, favouring cabaret acts, top 40 cover bands and slick showbands from Asia.
These artists, like modern day seasonal workers, had the discipline to do what they were told, go where they were sold and play as long as required. Among them were Filipino showbands including the Constellations and Royal Flush, who were on the circuit for six months at a time. Fire & Ice, a Filipino brother and sister team of Bong and Chelynne Sotto, toured for Lion between 1983 and 1991 with their blues-based sound and sweet vocals.
Brewery-branded bands
Holden auditioned and recruited acts in London and Australia and formed his own brewery-branded bands, handpicking the musicians and dictating their style of music and outfits.
For example, the alcohol themed, Christchurch-based Beam (originally Beam Unity) spent most of their career on the road playing top 40 covers across Lion pubs. Mainstay members were Phil Whitehead on guitar, his brother Chris on drums, Don Mills on keyboard, and Harry Lyon on bass. When the unit began to crumble Mills joined prog-rock unit Think, Lyon formed Hello Sailor and Phil Whitehead joined Human Instinct.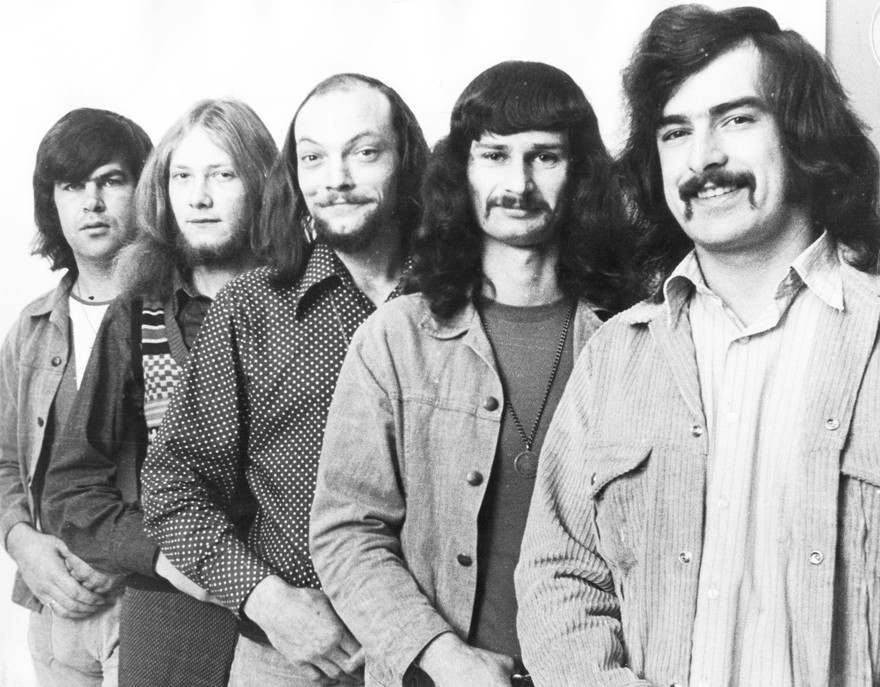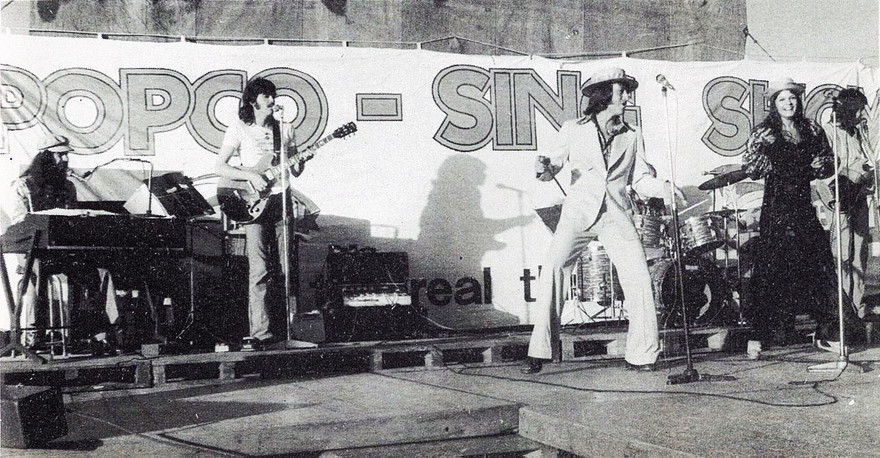 Another alcohol-themed unit was Distillery with Steve McDonald (ex-Dizzy Limits, Timberjack and Taylor) on keyboards and singer Peter Caulton (Country Flyers), formerly the resident act at the Royal Oak Tavern. Nick Bollinger says that Paul Davies from Tamburlaine, resident at The Woolshed licensed restaurant, was recruited on drums for Distillery. In this clip from the 1974 final of NZBC's New Faces, Caulton – using the pseudonym Clint Clitton – and the band perform their product-placement satire 'Supermarket Superstar':
Holden offered him the job and told him the band was playing in Hamilton that night so he'd better get on the road. The gig was backing trumpeter Eddie Calvert. Holden required them to dress in 1920s-1930s theme outfits playing the music of that era and backing guest artists such as Ricky May. McDonald was greatly relieved when he was asked to join a new line-up of Maurice Greer's Human Instinct.
Another unit Holden used to promote Lion's new lager was a six-piece from Wales. Holden named the band "Pilsener".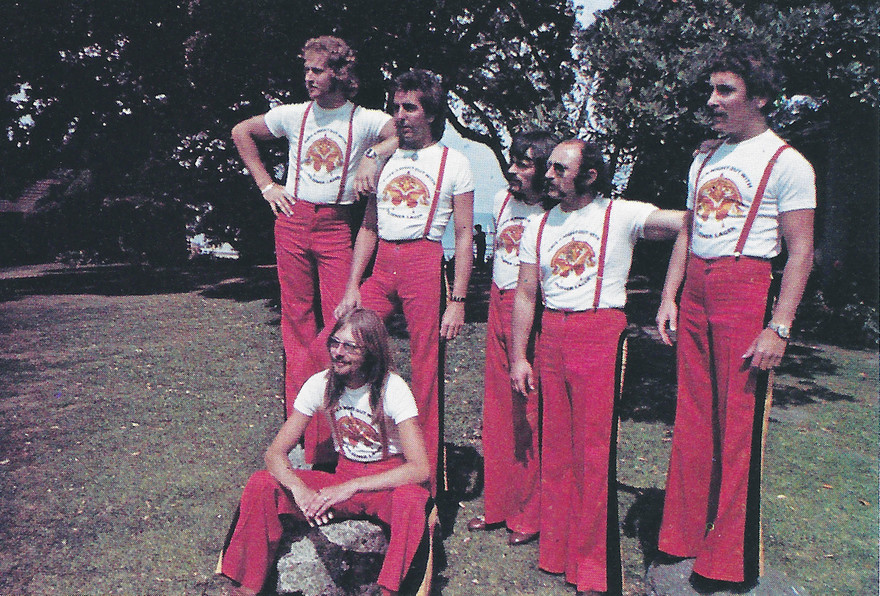 The sounds of Hawke's Bay
I started my first music column for the Central Hawke's Bay Press in Waipukurau in 1972 where I often hung out with local band Theme, which morphed into Sir Duke during their long residency at the Leopard Hotel, with regular spots at the Leopard Inn, Napier.
Founding members Neil Sloan on drums and keyboardist Barry Robertshaw were still performing concerts and private gigs as Sir Duke 45 years later.
The Cabana hosted many better-known circuit bands and artists over many years. I saw Freeway from Feilding there, having watched them rehearse on my way home from high school several years earlier. Their members fed into Father Time, Skylord and Mi-Sex.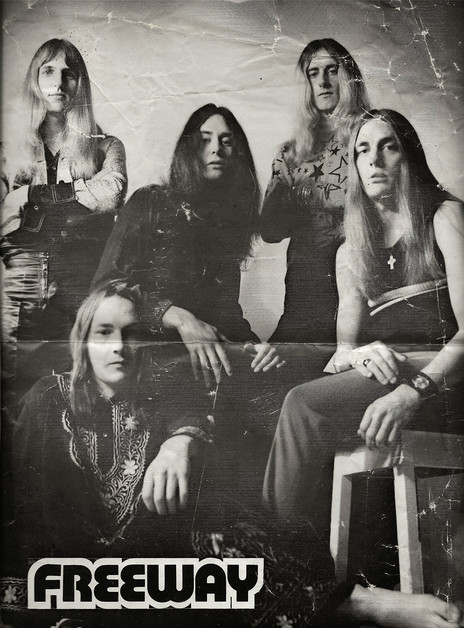 Another Hawke's Bay haunt was the Mayfair Hotel in Hastings where I was a regular watching the tight and talented Abraxas and other circuit bands in the lounge bar, or Prince Tui Teka in the public bar.
Back in Palmerston North as a radio and TV news reporter, in 1974 my local was the Fitzherbert Viking Bar where Soundproof held a long-running residency, playing Thursday to Saturday – including the more jam-friendly Saturday afternoon sessions.
Soundproof was a merger of two bands, 100 Proof (that name also fitted the alcohol-themed naming convention) and Sounds of Four. Like Quincy Conserve their various brassy, funky, line-ups kept up with the funkier covers. Players included former QC members Johnny McCormick and Barry Brown-Sharpe.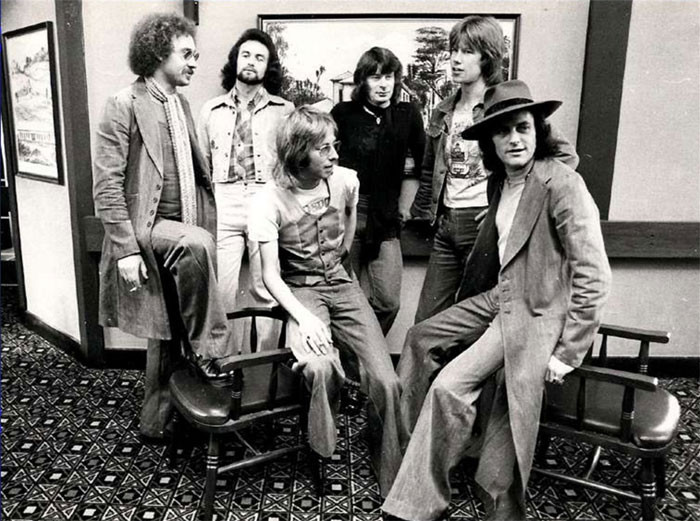 They'd move around occasionally when a guest band would fill their shoes but local crowds always welcomed them back like they were part of the family. Various units shared their members over time including Snatch, Raw Silk and Alley Oop, and a number are still playing in various units today.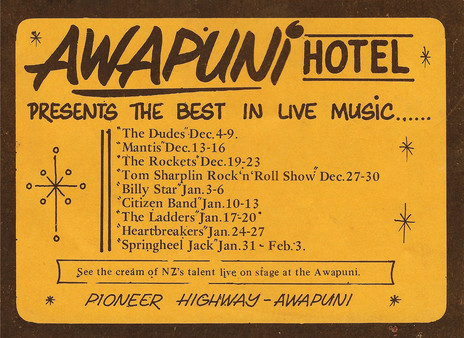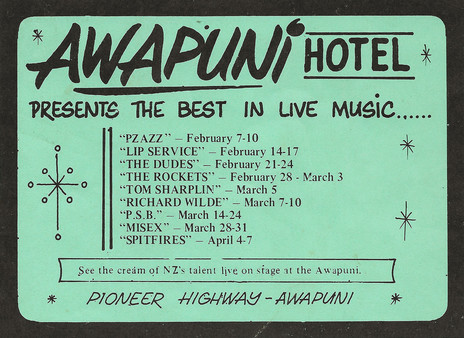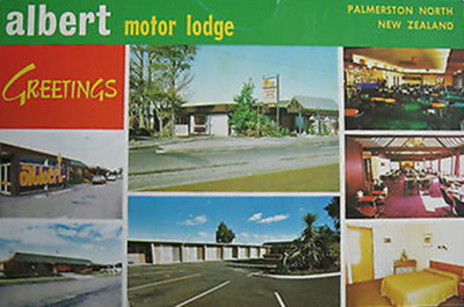 Palmerston North was well covered for entertainment. The Awapuni and the Albert Motor Lodge had a steady stream of circuit bands over the years. Some of the names I recall seeing as editor of entertainment magazine Get Up 'n' Go were Think, Sheerlux, Golden Harvest, Th' Dudes, Mantis, Citizen Band, Tom Sharplin, Sphinx, The Knobz, Mi-Sex, The Crocodiles, Lip Service, Street Talk – and that was just 1979.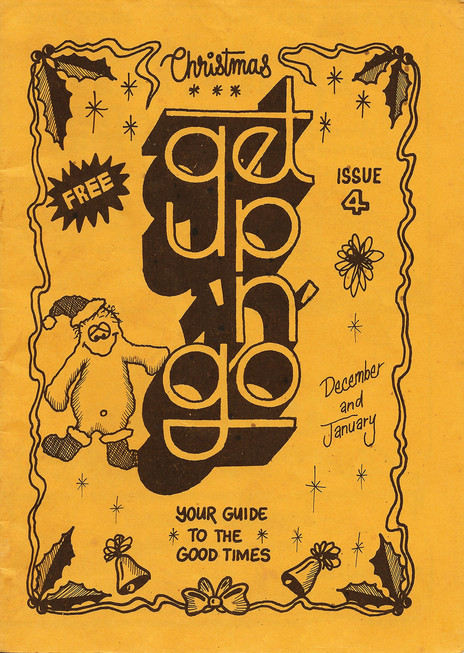 Circuit memories
Drummer, keyboard player, singer and serial band member Rick Warren made a long career from residencies at top Auckland pubs and clubs, playing every style of music and touring with so many line-ups it would spin your head. He lists around 100 forgotten, fanciful and full-on artists who graced the nation's venues, many of them from the Lion circuit.
Warren's website Circuit Bands and Musicians first appeared in 2001 and is dedicated to 30 years (1965-1995) of "unsung heroes of the brewery circuits of New Zealand, who played covers for the drinkers and diners in pubs, hotels, clubs, restaurants and spent their lives on the road."
He suggests enthusiastically that these were the "glory days" for musicians, who could sign up for renewable six-month contracts with regular incomes above the average worker.
Warren began playing with Christchurch band The Heritage in the mid-1960s. The four-piece had Vern Park on vocals, Martin Brooks on bass, Mark Loeffen on lead guitar, and Warren on drums. They were later joined by Fred Kradolfer on rhythm, lead and vocals and changed their name to Destruction in 1969.
Loeffen and Park joined Canterbury band Soul Distinction, playing covers at dances and youth clubs until 10 o'clock closing opened the way for pub gigs. Kradolfer and Brooks joined Christchurch's Cage, popular on the South Island circuit.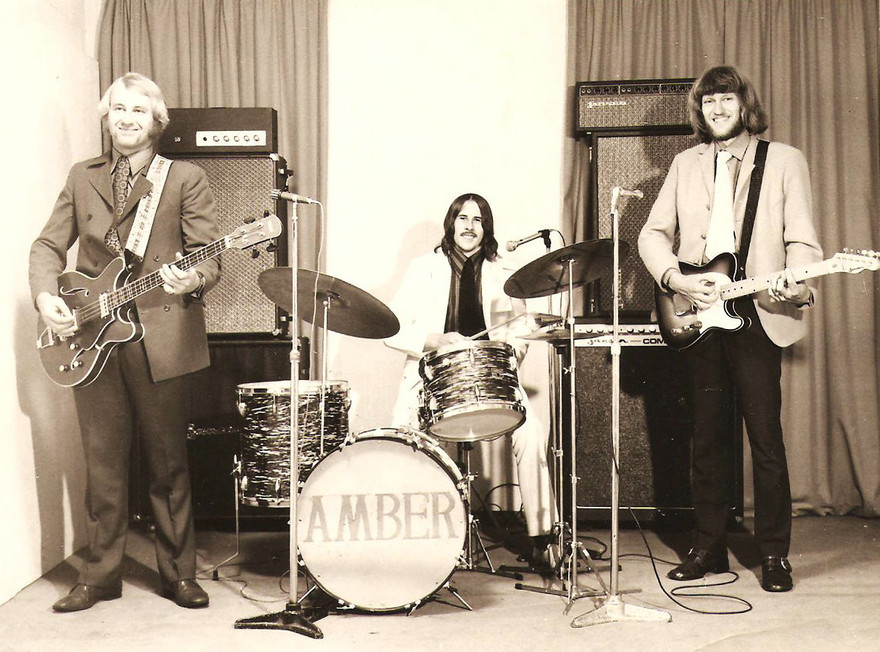 In 1970 Warren joined Auckland band Amber with Tony de Jong on lead, Bruce Beesley on bass, and Max Brown on flute, working many of the major venues with some long-term residencies until they split in 1973. They recorded a single at Stebbing Recording Studios in 1970 but it remains unreleased.
On the Nightshift
Tony de Jong formed country rockers Nightshift Band and in 1973 Warren replaced Dylan Taite on drums, complementing a reformed Tanglewood (previously Methylated Sandwich, with Gordon Joll on drums and John Arrol on lead and vocals) who were renamed as Friar Tuck.
The pub circuit was humming and with the right combination there was plenty of work. From 1973 to 1975 Warren was part of the four-piece Shade Band led by Billy Heremaia on vocals and guitar (Heremaia was formerly in the Columbians with Charlie Tumahai). They had residencies at the Te Atatu Tavern and the Royal George Tavern in Newmarket, playing cruisy good-time music with four-part harmonies and a little bit of rock'n'roll.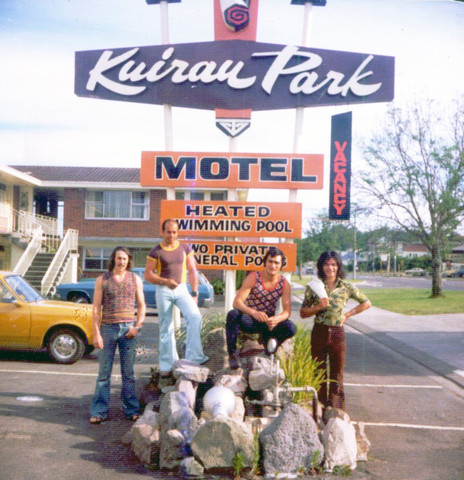 There was little time between units. He went on to form City Limits, who were on the circuit from 1977, and then the Topaz band from 1978-1981, still playing a mix of popular music at a series of residencies including the Glenfield Tavern. Warren also worked at Lion pubs and Cobb & Co with guitarist and singer Gary Orme as Rick & Gary. They played a selection of Santana, Beatles, and general rock 'n' roll covers, and easy-listening instrumentals.
From 1982 he joined Mark Wenski in Nightshift replacing Gary Orme on keyboards and vocals, playing residencies, Cosmopolitan clubs, and bars and restaurants from Dargaville to Auckland.
Warren joined the Lion Breweries circuit in 1988 on six-month contracts, in which performers would not only get a weekly wage but petrol allowance, food and accommodation.
Bright lights, big city
Bob Smith points out the differences between cover bands playing in provincial pubs, and more professional bands – also playing covers – in metropolitan nightclubs. "I started playing at the Mayfair in Hastings in the late 60s with a couple of different bands and the pub entertainment scene was well underway, at least in the provinces.
"When I moved to Auckland at the end of 1969, the big difference was that all the professional players played in nightclubs, which competed by virtue of the pulling power of their bands. The few pubs that had entertainment then were venues for part-time players and the standard was noticeably lower. Most nightclubs had bands playing for 4-5 hours each night and the constant work kept the skill level high. The differing standards between clubs and pubs gave rise to a phrase that would become common among the professional players who began to drift into pub work, 'It's just a pub gig man!' Rehearsals could be kept to a minimum and a more lackadaisical attitude taken.
"This situation had to change and gradually more and more bands made the transition into the pubs as the bars began to be issued with 'entertainment licences'."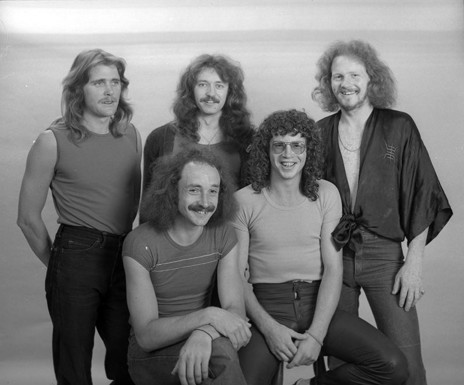 Band in every pub
A 1980s newspaper advert on his website lists one week's bookings at Lion's pubs across the Auckland region. A wide range of live music was on offer, at the Brown's Bay Motor Inn, the Poenamu in Northcote, the Wade Hotel in Silverdale, the Mon Desir in Takapuna, the Gables Tavern in Herne Bay, the Alexander Tavern in Parnell, the Ellerslie Motors Inn, the White Horse Inn in Pakuranga, the Bell Bird Tavern in Manurewa, and the Jolly Farmer in Drury.
Artists performing that week included Simon Hanny, John and Paul, Fire & Ice, Mike McGregor (solo guitar and vocals, recorded on the Warrior label), Rich and Gary, Tony Bee, Simplicity, Tony Crawford, KB Glider, Dawson Rata, Becky Bush, Shiner, Al Santos, Lou Pihama, Doc Savage and Sunday Drive.
John and Paul, with keyboards, Roland sequencer, and guitar and vocals, were recruited from the UK by Richard Holden and Ernie Garnier. The unit played covers and 30 percent originals and were so popular they returned 13 times in eight years, keeping one set of equipment here and another in the UK. They had prime-time TV appearances and helped Lion Breweries bring other entertainers of a similar calibre.
Hailing from Louisiana, Becky Bush was originally part of a duo with her brother Charles. When he left she formed part of Hi Heels with Dana Sulikosky (formerly in Topaz); Bush later joined Gentle Annie. Solo act Keith Churchill from the UK played piano and vocals and worked between 1984 and 1987, then became part of the Joke duo.
Some of the notables covered on Warren's site include Reggie Ruka's Classic Affair, The Zarks and The Itch featuring Gary Powell on guitar and Graeme James on bass (James later joined Soundproof).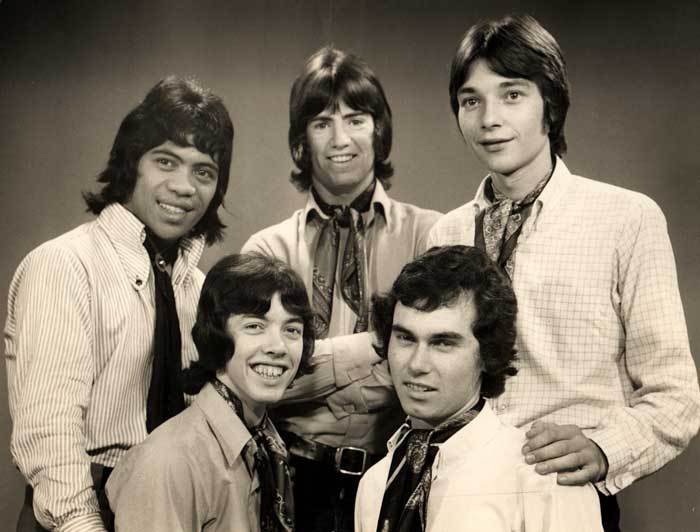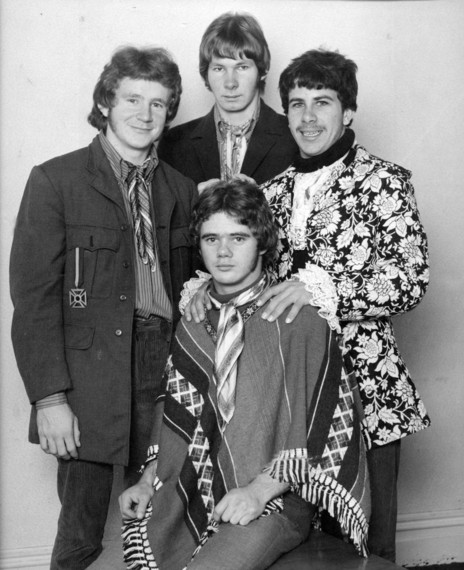 The Itch featured twins Gary and Paul Hunt. They played around the lower North Island supporting top acts and had a residency at Ricci's nightclub in Palmerston North. They morphed into The Forgiving, playing mainly original music around the North Island until the Hunt brothers went out on their own, even producing the eclectic and collectible Mouse in A Teapot LP.
Judge's non-stop record
Judge Hoffman, the seven-piece Hamilton band that won the 1972 Battle of the Bands, created a world record on Labour Weekend when they played non-stop for 72 hours at the Tabla 2 nightclub in Hamilton.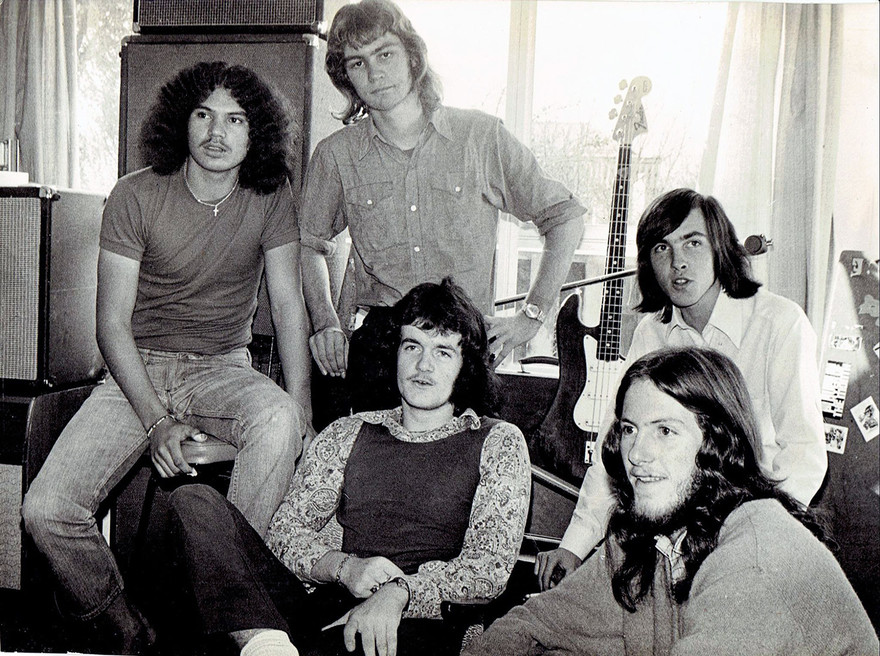 Showdown with John Arrol on guitar, Lynne Arrol on vocals, Rob Riley on drums, Tony Ragg on guitar and Lloyd Williams on bass, frequently toured the North Island between 1978-1981. They had residencies at the Birkenhead Inn on Auckland's North Shore and The Prospect of Howick Hotel and would be called on to back the likes of Brent Brodie, Rob Guest and Billy T James. John Arrol joined the Sonny Day Blues Band for their residency at the Family and Naval on K Rd.
Midnight Drive (Derek Jacombs and Peter Matthews) played rock and blues on the Lion circuit from 1980 to 1983. Jacombs went on to form jazz blues unit Kokomo, based in Tauranga.
Torque, a duo with Mark Jackson and Andrew London, toured between 1980 and 1982 including the Ski Steinie Show, which played for six weeks from Invercargill to Whangarei for the launch of the original Steinlager. Andrew went on to front several units, including Hot Club Sandwich.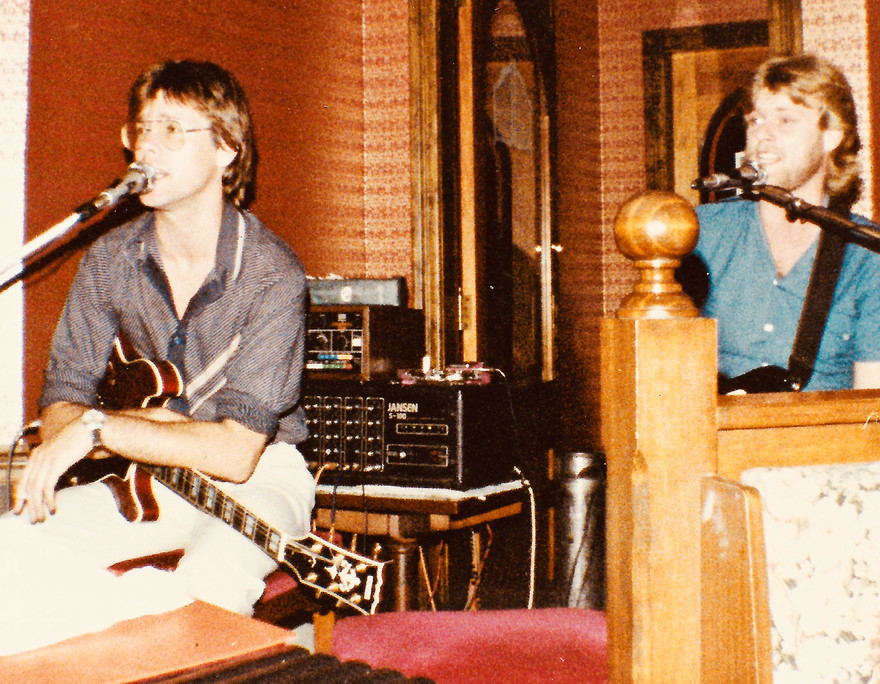 Shane & Nick (Nick Elton) were discovered in their hometown Blenheim playing the pubs and clubs and were brought into the circuit by Lion Breweries' Aline Denton around 1983. She booked them for a North Island tour where "they played all the Cobb & Co bars with their trusty Roland 808 drum machine," says Warren.
"Nick Elton went on to teach music and mentored many young students and jazz bands who went on to have success."
On the road again
After winning the 1970 Battle of the Bands and going through a major line-up change, Dunedin's Inbetweens made a mark on the Auckland club scene. With two lead guitars and a Hammond organ they broke away from their dual residency at Johnny Tabla's Shantytown and Gatsby's clubs. Instead of playing four nights until 3am, on the pub circuit they now typically played three nights until midnight, and were full-time on the road with their trusty truck.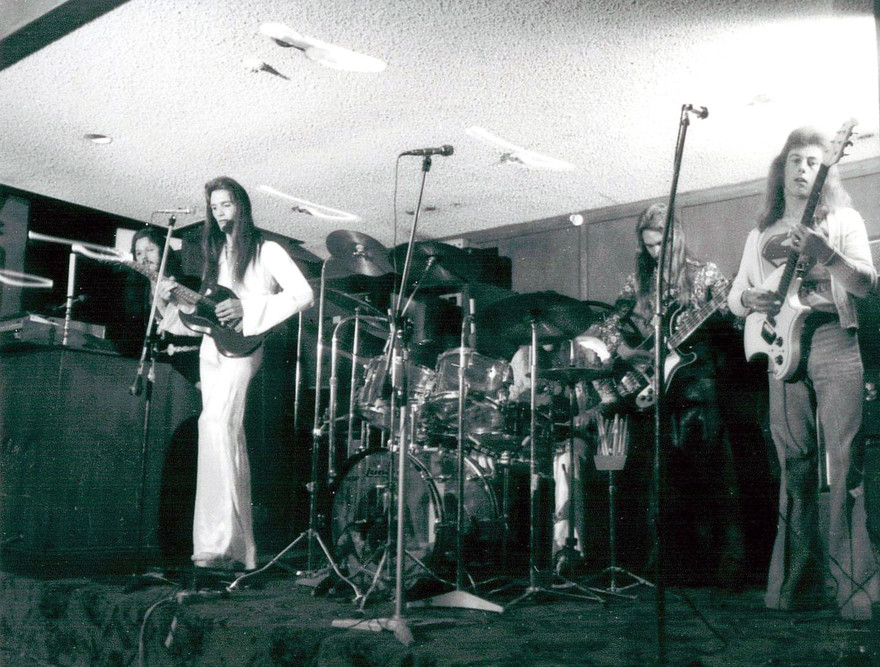 They played one week in Dunedin and two weeks in Tokoroa, Rotorua and around the country, then back to Christchurch's Aranui for three months, playing to around 500 punters a night. Then they did it all over again. "For the first time we started to make some decent money," says singer-guitarist and founding member Tony Rabbett.
That lasted until the end of the 70s when the breweries began selling off their pubs and offered bands a percentage of door takings. "We knew our time was up," says Rabbett. After a 12-month crack at the LA market, that was it.
Steve McDonald was with breweries band Distillery in the early days, and returned from the Australian pub and RSL club scene in 1983. Now a master of the one-man band, he sat behind an impressive bank of keyboards, playing popular songs to please the punters while working on his first solo album. "The first gig I did was the Glen Innes hotel, which in those days was very much a public bar. You had to keep an eye on yourself. There would be fights every night and bottles flying."
And he had to keep focusing on all the slides and buttons, playing bass pedal with his feet, chords with his right hand, and soloing melodies with his left. "I felt like a four-armed paper hanger," he confesses. His talent and fame spread widely and he was soon in demand on the local and international circuit.
Circuit superbands
The pub circuit sustained a professional career for many groups, and some gained recording contracts and chart action, including Dragon, Th' Dudes, DD Smash, Think, Taylor, Hello Sailor, The Crocodiles, The Exponents and so many more.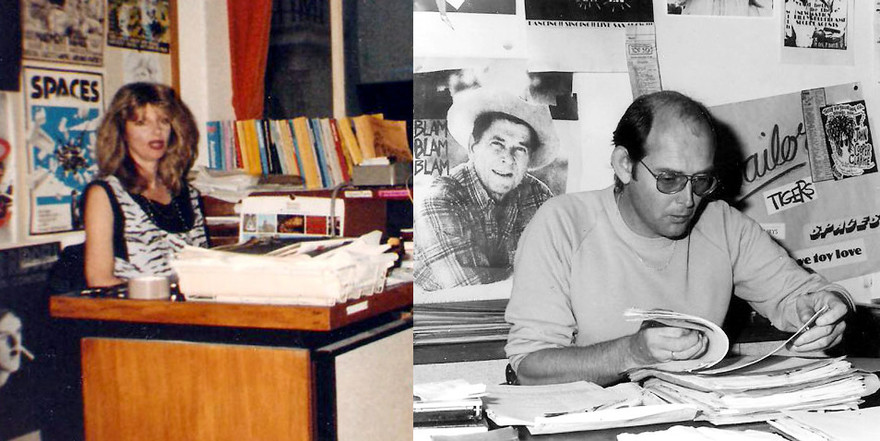 Over the decades, between their high points, there was often a merging of musicians in "super groups" playing their own hits alongside cover versions for the punters on national tours.
In the 80s, GM And The Cyclones were musical royalty punching out rock classics and originals around the Auckland scene. Backing George Munroe on vocals and harp were Harry Lyon and Dave McArtney on lead guitars, Darryn Karaitiana on bass, Campbell Hapi on keys and Paul Dunningham on drums.
There were various All-Stars line-ups with Hammond Gamble and Sonny Day, featuring the cream of talent from Midge Marsden and Beaver to Josie Rika, Annie Crummer, guitarist Mike Farrell, Neil Edwards, Paul Woolright, Stuart Pearce, and Walter Bianco. They could pack out the iconic Gluepot in Ponsonby and drew strong crowds whenever they toured around the country.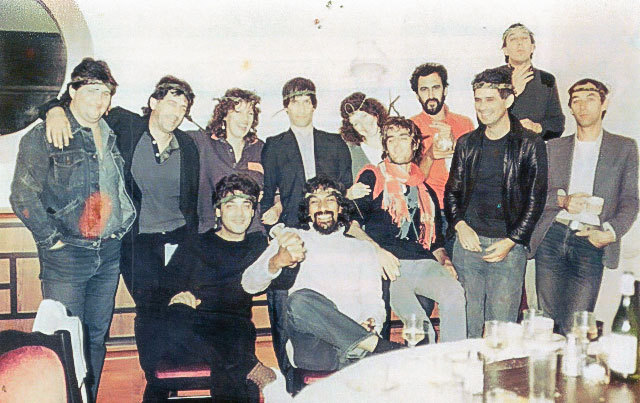 The pub/covers band era reached a peak with a short-term super group that was like a tribute act to the genre. Formed by New Music Management in 1984, emulating an Australian act, The NZ Party Boys saw well-known musicians play cover-versions of well-known hits. The irony was that the musicians had broken barriers just a few years earlier to playing original songs in pubs. The first NZ Party Boys toured the main centres and the provinces, with Jenny Morris, Dave Dobbyn, Peter Warren, Mike Chunn, Graham Brazier, and Dave McArtney. In September 1985 they returned, without Morris or the ex-Sailors, instead adding Neil Finn to play the first pub gigs of his career.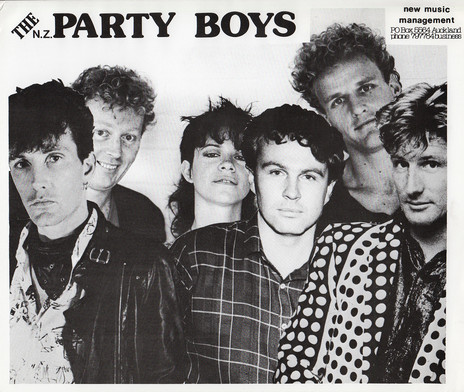 Over 30 years the live scene thrived and peaked, but times were changing. There were more distractions, multiple TV channels and soon discos run by local personalities playing their favourite tracks between band sets became the main act. Smaller bars were filled with slot machines or jukeboxes and many of the big venues closed down or transformed into sports bars with big TV screens. In the 1990s, dance culture took hold, and original music found other, smaller venues.
Perhaps it was tougher drink-driving laws and market economics that made it harder for bars and bands to maintain the rigours required to keep the circuit open. Regardless, good times were had, memories were made, and an awareness of the marvellous breadth of local talent was stamped on our collective consciousness.
Indeed, many of those who pioneered in the pubs in those seminal days are now the nostalgic mainstay of the New Zealand summer concerts and winery circuits, alongside their 21st century contemporaries.
--
Recommended reading
Rick Warren's Kiwi Circuit Bands and Musicians page
Goneville: a memoir, by Nick Bollinger (Awa Press, 2016)
Hotel Cabana: thru the decades, by Lee Pritchard (Lee Pritchard, 2007)