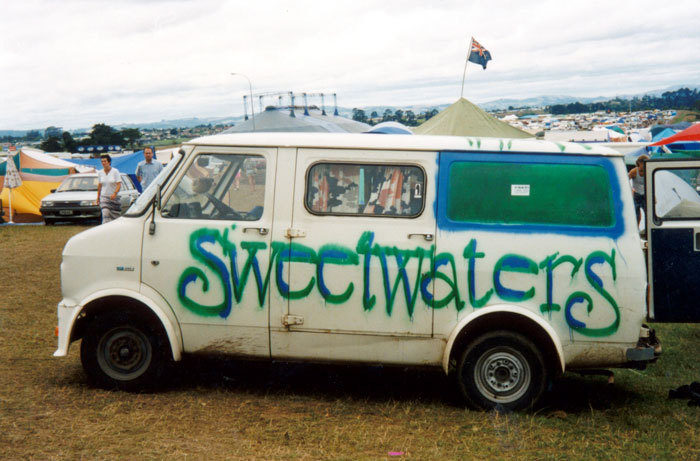 Sweetwaters 1983, Pukekawa
With three increasingly successful Sweetwaters festivals under their belt, Paul McLuckie, Helen McConnachie and Daniel Keighley set about gathering the acts for a fourth. There was no precedent for four consecutive successful rock festivals in New Zealand's popular cultural history. Nambassa bottomed out after three.
With Sweetwaters' heart still beating strongly, the stage was set for an event that could potentially roll unhindered into the distant future. The organisers just needed to keep the fans engaged.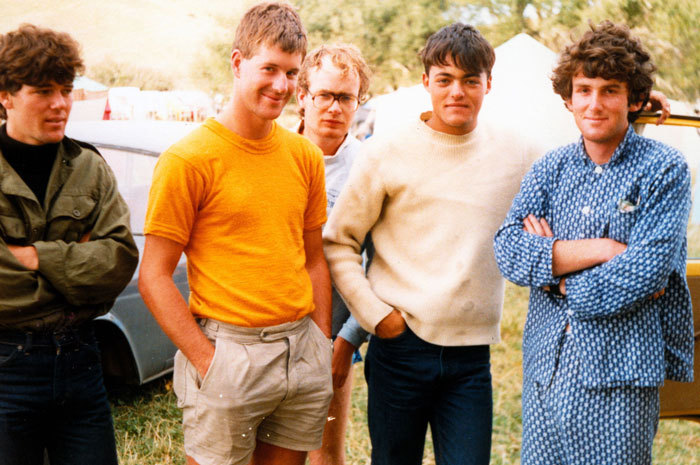 Two key changes marked out Sweetwaters 83 (held January 28 to 31) from previous festivals. There'd be four days of action instead of three with a full bill on the Friday preceding Auckland Anniversary weekend. And for the first time alcohol consumption would be restricted to an onsite bar severely constricting the free flowing boozy nature of festivals past (and many of the problems that resulted).
The star acts for January 1983 included an inspired choice. English post-punk band Psychedelic Furs were very much a group on the rise. Their first two albums, The Psychedelic Furs and Talk Talk Talk (a Top 10 hit in NZ in late 1981), were edgy and mysterious with a unique sound propelled by the seductive power of Richard Butler's smoky throaty voice, sleazy sax and post-punk obstreperousness. David Bowie was tossed around as an influence. No bad thing in the early 1980s with the British superstar resurgent.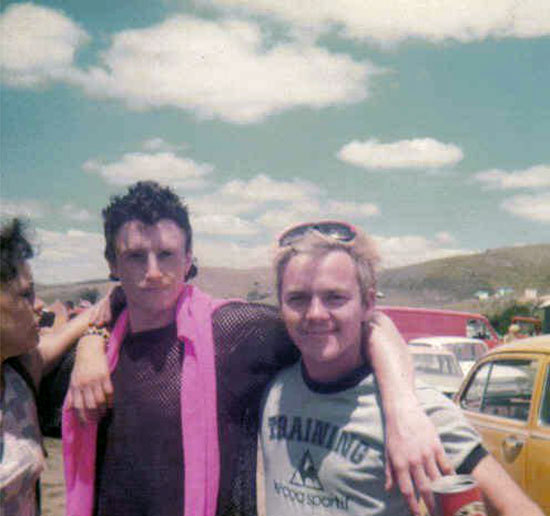 Daniel Keighley secured the band's consent by crashing in on them unannounced at the Gramercy Hotel in New York.
Daniel Keighley secured the band's consent by crashing in on them unannounced at the Gramercy Hotel in New York. It was to be a new experience for the British group. They'd only once before tackled an outdoor show and that had been an afternoon appearance.
Even better, the group's international breakthrough album Forever Now entered the New Zealand charts confidently in late October 1982 and climbed to No.4 during a 24 week stay that ran well into 1983. The album's lead-in single 'Love My Way' was similarly enduring, peaking at No.9 after release in late September 1982 and sticking around in the pop chart until January 1983.
UB40 joined Psychedelic Furs on the festival main stage. The popular English reggae band had two Top 20 albums in NZ including the late 1980 gold-selling Signing Off. A huge No.1 hit in August 1980 with 'Food For Thought' was chased by the No.6 charting 'I Think It's Going To Rain Today'. The highly political Top 20 hit 'One In Ten' from September 1981 pointed the finger at chronic unemployment in Great Britain.
Also billed were Jamaican reggae pioneers Toots and The Maytals, who spent five weeks at No.1 in mid-1982 with the infectious 'Beautiful Woman' from their No.11 charting album Knockout. American bluesman Taj Mahal added a varied set of influences and roots credibility.
Just as vitally, Split Enz were back to celebrate 10 years as a New Zealand cultural institution after sitting out Sweetwaters 82. The Church hopped the Tasman and so did Midnight Oil and Australian Crawl.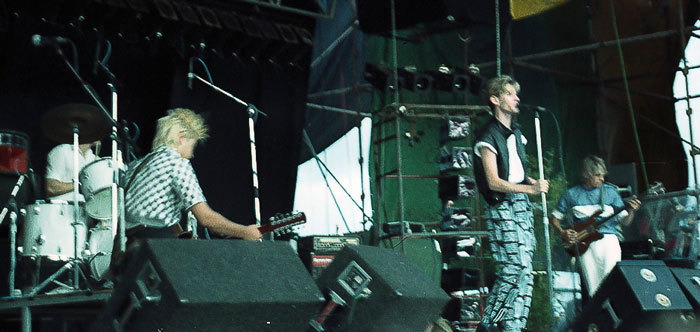 None were strangers to the New Zealand pop charts. Split Enz's platinum selling Time and Tide and Enz Of An Era compilation climbed to the top of the album charts in 1982. New singles 'Dirty Creature' and 'Six Months In A Leaky Boat' went Top 10.
The Aussies hadn't fared quite as well. Australian Crawl placed two albums in the Top 30 in 1980 and 1982, including the irresistible Boys Light Up, which climbed to No.14. The Church's sublime 'Unguarded Moment' hit the Top 20 and lingered a long while in the charts in mid-1982. Midnight Oil's profile was high after regular NZ tours.
The New Zealand under-bill better reflected the rapidly changing musical times. Pretty boy (and girl) acts with great pop songs predominated. Dance Exponents, Netherworld Dancing Toys, The Mockers, The Gurlz and The Screaming Meemees all had credible post-punk roots, but as that movement turned to pop, their past had been quickly submerged. Auckland's stylistic fracturing (and enrichment) could be further seen in Big Sideways, Miltown Stowaways, The Dabs and No Tag. The South Island's indie guitar scene sent up Sneaky Feelings from Dunedin and They Were Expendable and Not Really Anything from Christchurch.
The line-up that remained was typically eclectic. You had established festival groups The Neighbours, DD Smash and The Legionnaires and their contemporary kin The Narcs, Daggy and The Dickheads and Hip Singles. Heavy Metal, a rising chart presence, chipped in with Wellington's Rose Bayonet and Mantra.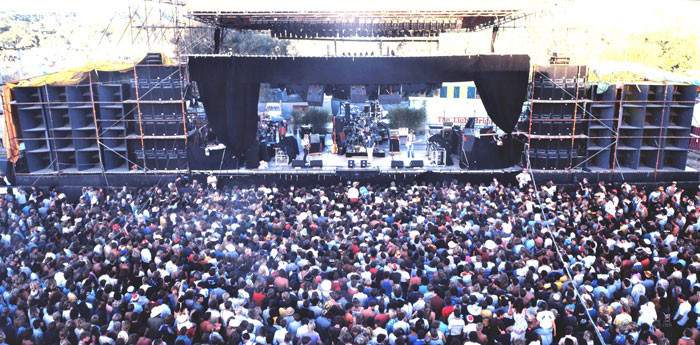 While Auckland's frantic live scene ebbed quickly in early 1982, there'd been plenty of summer touring activity to whet the musical appetite. DD Smash, The Legionnaires, The Neighbours, Netherworld Dancing Toys and The Narcs had all stepped out on substantial tours as 1982 met the New Year.
Tickets in 1983 were $34.60 a piece, available from 42 outlets in 34 cities and towns nationwide. There would be no gate sales. Roll on the punters.
Tickets in 1983 were $34.60 a piece. There would be no gate sales.
The Mockers opened Sweetwaters 83 on Friday 28 January, stepping onstage before touring mates The Dabs. The bad stage sound couldn't obscure the rising pop group's obvious gems, 'Trendy Lefties' and set closer 'My Girls Thinks She's Cleopatra'.
Auckland's The Dabs ended their The Jam influenced set with The Yardbirds epic hit 'Heart Full of Soul', the first of many groups that weekend to dip back in the rich catalogue of the 1960s for live material.
Netherworld Dancing Toys crossed the Cook Strait for the first time at the end of an extensive South Island tour. The seven-strong Dunedin group with three-piece horn section moved forward from Monday after INXS cancelled for the second year in a row. No matter. Dunedin's Midnight Runners kicked out a tight, snappy and motivated set studded with old soul nuggets. Taihape rockers Daggy and The Dickheads had Th' Dudes' Lez White on bass and Ian Morris (by now an in-demand producer) on guitar.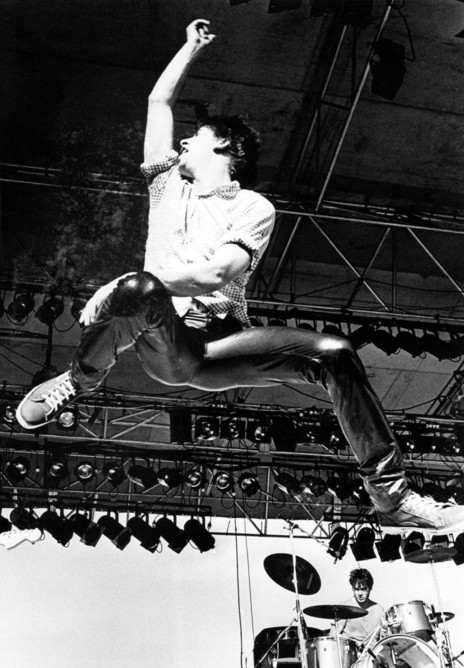 Christchurch's The Narcs followed in the early evening light, punching out The Who classic 'I Can See For Miles' as an encore. Dick Driver and Hip Singles' music "didn't quite match the delivery" although the crowd loved 'After The Party', their best song, which unfortunately had been relegated to the B-side of the 1982 hit single 'This Is Goodbye'.
Rip It Up complained of a little too much politicking from Midnight Oil's front man and future parliamentarian Peter Garrett as the Australian heavyweights pumped out their full on Aussie pub rock with a political conscience. Rose Bayonet stepped up and showed heavy metal was a rejuvenated form. Thousands demanded an encore. Auckland synth pop newcomers The Diehards closed out Friday evening with a catchy set.
Saturday found Auckland collective Big Sideways spread over aptly on the large main stage. The sprawling ensemble came together first as a PEP employment project and drew on new songs and a few still glowing gems from previous bands including The Bongos' 'Falling'.
The old school were up next with samba and "fruity" blues from Hattie and The Havana Hotshots, tried and true R&B from crowd pleaser Midge Marsden, reggae, calypso and soul from Taj Mahal and soul-ish reggae from Toots and The Maytals, who encored with 'Beautiful Woman'. Early February New Zealand shows and an Auckland drug bust awaited.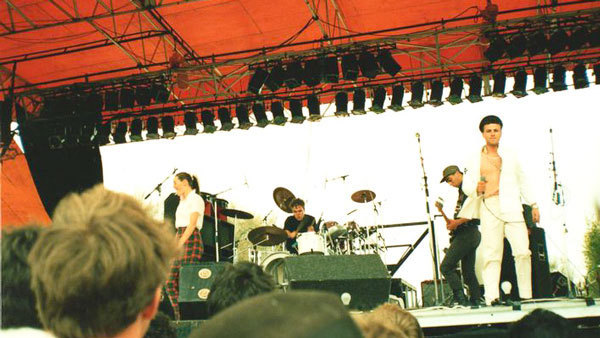 John Martyn was back again with his jazz-tinged folk preceding a set from The Screaming Meemees and seasoned New Zealand rockers The Legionnaires, who grabbed the crowd by the proverbial with Graham Brazier's epic ballad 'Billy Bold' standing out.
The Psychedelic Furs had The Birthday Party's Phil Calvert drumming, affected Bowie-ish personal touches and gathered up a good crowd rapport. They drew on a strong recent back catalogue with 'Sister Europe,' 'Dumb Waiters' and 'India' impressing amidst more contemporary hits. Next stop, Melbourne for six pub and club dates.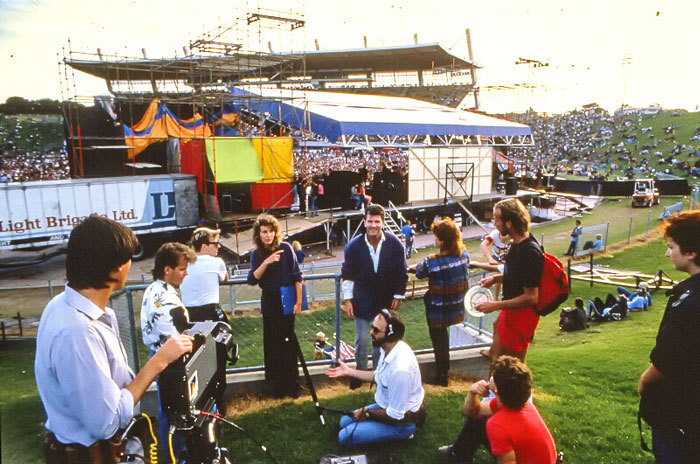 Sunday had a distinctly mellow vibe. Miltown Stowaways were upbeat and funky although a little too urban for the sunny country afternoon air. The Gurlz's humour and twin vocal attack impressed and Herbs delivered as usual, promising much for their coming album.
A stoned out UB40 cut up the night with dub effects. Herbs joined them for an extended 'Madam Medusa' and 'Food For Thought'. The Neighbours were tight and apt as always in this sort of environment. Dance Exponents, two hit singles in but not yet the crowd pleasers they would become, struggled. DD Smash grabbed the crowd. The Church followed with a depressed take on classic 1960s guitar tropes.
Split Enz celebrated a decade as a major New Zealand group with help from old boys Robert Gillies, Mike Chunn and Paul Crowther in front of a trellis and toetoe stage set. The festival regulars dusted down old chestnuts from Mental Notes, but skipped 'I Got You'. At one point a spotlight picked out the Finn brothers' parents on the stage as the group played 'Haul Away'. Fine versions of Creedence Clearwater Revival's 'Proud Mary', 'One Step Ahead' and the crowd-demanded 'Charlie' followed.
The wind howled across the main stage all day Monday, battering The Royales and heavy metallers Mantra. Auckland punks No Tag, who were more used to blowing away audiences than being blown away, knocked out a good set regardless.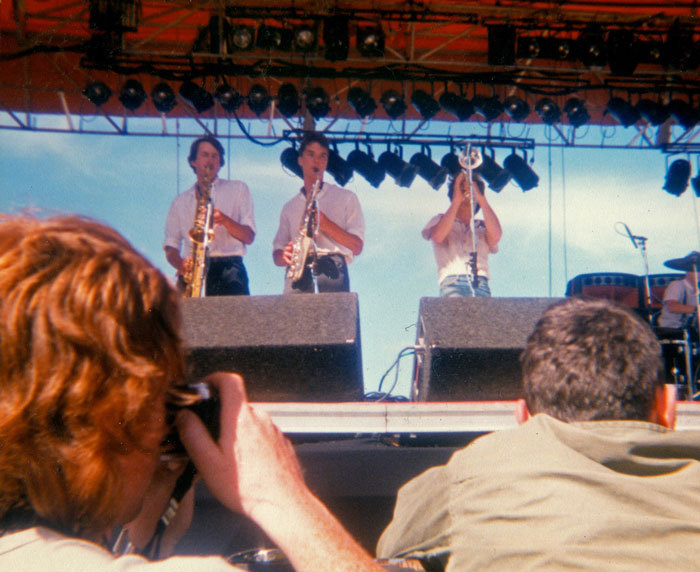 Of the other stages (six in total) Aerial Railway presented Not Really Anything with The Gordons' Brent McLachlan as one of two drummers and Frank Stenjees from The Androidss on bass and They Were Expendable with Jay Clarkson, Nick Strong and Dave Toland. John Martyn and the Top Scientists reunion were the other small stage highlights.
Rip It Up's 'arry had something to say about the wider ambiance in his King Shag column.
"The on-site pub was rather slack
It' ad 'ion Red, cold but flat
The clientele was just the pits
Ninety per cent male – more tatts than tits…"
No Steinlager then? Was 'arry the RIU writer too drunk to turn in review copy?
Steve Kilbey, The Church's bass player and singer was less than impressed with the Sweetwaters experience Asked if he enjoyed the event, he replied, "No, I didn't. I didn't mind the crowd throwing things at me so much, but I think the things that were going on in front of me were like something out of Dante's Inferno. There were guys hitting each other over the head with fucking cans and guys hitting each other with poles. It was just hell. I've played around the world and I've never seen things like that going on."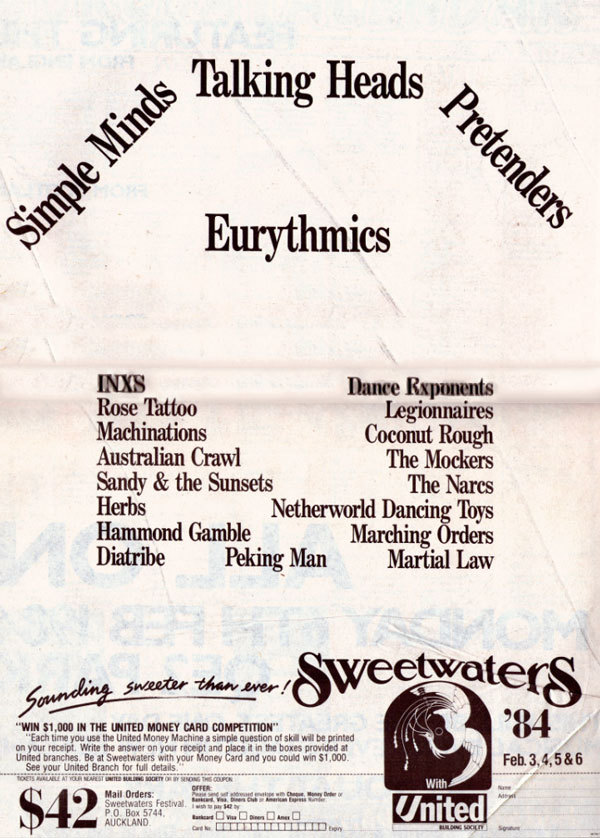 Sweetwaters 1984 - Pukekawa and Christchurch
Why did the fifth Sweetwaters fail? Was it the fault of new corporate backers United Building Society, who climbed onboard after the original Sweetwaters collective literally sold the farm with Keighley retained only as an advisor?
Did the financial impact of staging the one-day spin-off Sweetwaters South in Christchurch kill the chance of future events? Daniel Keighley certainly had his doubts about the add-on show. He believed the new format "doubled the production and artist costs and halved the revenue."
And what was the effect of generational change? Could rock and roll's place in the identity of young New Zealand be evolving? The countercultural linkage of earlier festivals lessened in 1984. With the post-war baby boomers' kids starting to have families of their own, had personal focus shifted to home and career?
Did the turn in emphasis from New Zealand's traditional heartland to the rising cities have an influence? The noticeable absence of the rising and largely South Island based indie groups left a yawning gap between the mainstream and the critically favoured future of NZ music that had been more effectively spanned at previous festivals. Or could it simply be changing pop tastes and festival fatigue now that technology was beginning to provide other alternatives?
Likely it was all of those things.
There's no doubt the 1984 Sweetwaters was a markedly different affair from the four events that preceded it. To start with there were two New Zealand Sweetwaters in early February – a three-day festival at the established Pukekawa site in the North Island on February 3, 4 and 5, and Sweetwaters South in Christchurch the following day, February 6.
Both events featured the stunning line-up of Simple Minds, The Pretenders, Eurythmics and Talking Heads.
Both events featured the stunning, contemporary superstar line-up of Simple Minds, The Pretenders, Eurythmics and Talking Heads.
While not made clear at the time, there was a strong connection between the impressive overseas line-up and the change of date that moved the New Zealand event off its traditional Auckland Anniversary weekend spot.
There was now a Sweetwaters inspired festival called Narara held at Somersby on the New South Wales coast over the coinciding Australia Day long weekend, which shared the NZ event's musical and cultural format and time span. Sweetwaters had been moved on a week to enable the four big festival drawcards to play both shows.
Narara had debuted as a multi-day festival the previous year, playing out at Somersby in front of 25,000 fans, there to catch Australian Crawl, Moving Pictures, Mental As Anything, Jo Jo Zep and The Falcons, Dragon, Mi-Sex, Cold Chisel, Rose Tattoo and The Church.
Before Narara 83 there was no Australian equivalent to Sweetwaters outside the October 1981 Tanelorn Festival near Stroud in NSW on Labour Day weekend, which featured Split Enz and Midnight Oil.
1984's banner acts had real resonance in New Zealand. Simple Minds took out every top spot in the Rip It Up Readers Poll in January 1983. The Scottish act had already laid the popular groundwork in NZ in September 1982 with two successful shows at Auckland's Mainstreet.
Simple Minds' 1981 album Sons and Fascination was a No.7 hit in late 1981 and lingered in the NZ chart for 16 weeks. 1982's platinum-selling New Gold Dream stayed twice that long, climbing to No.2 for three weeks in October. Follow-up album Sparkle In The Rain had its world premiere in NZ in late 1983 and was in shops the week before Simple Minds arrived, hitting the top spot soon after. You want a hit single to go with that? Try the Top 10 'Promised You a Miracle' and 'Glittering Prize' in 1982 and two-week No.1 'Waterfront' in early 1983.
New Zealand knew Talking Heads just as well. The New York quartet toured the main centres in support of the No.11 album, Fear Of Music in June 1979. The gold selling More Songs About Buildings and Food (1979) peaked at No.4 in earlier in the year. 1980's Remain In Light and 1982's This Band Is Called Talking Heads added two more Top 10 records. Talking Heads' single at the time, 'Burning Down The House', was at No.5 when the band arrived in early 1984.
Chrissy Hynde's The Pretenders were popular visitors to NZ, having toured once already. Learning To Crawl may have only made No.21 as the festival dawned, but that was on the back of a classic gold selling debut in 1980 that hit No.2 and the chart-topping Pretenders II in September 1981.
Annie Lennox and Dave Stewart's Eurythmics were no slugs either, with two platinum selling albums in 1983 in Sweet Dreams Are Made Of This and Touch. Top that off with four recent Top 20 singles.
You'd struggle to find a better concert line-up on paper anywhere in New Zealand's busy music history. If anyone still had doubts about the country's appetite for big outdoor shows, David Bowie broke worldwide attendance records, drawing 82,500 fans for a single performance at Western Springs stadium in late November 1983 with the Serious Moonlight show.
The summer touring circuit pre-Sweetwaters was typically robust. The Angels returned for a pub tour in December and Robert Plant and Elton John staged large outdoor concerts in Auckland in late January.
Split Enz's Conflicting Emotions national tour kicked off on New Year's Eve at Mt Smart and took in seven regional centres before finishing up at QEII Park in Christchurch on Saturday January 21, 1984. Its proximity to Sweetwaters must have worried festival organisers. There were quite a few folks saving pennies for another Western Springs show – The Police on February 29 1984 with their strong supporting cast of Bryan Adams, Australian Crawl and Coconut Rough.
Forty-two dollars got you a Sweetwaters ticket in 1984 from one of the many United Building Society offices and a few of the usual outlets. The new organiser was Geoff King, who after expanding the festival south and beefing up the headline acts, encouraged better onsite food and allowed fans to camp next to their cars for personal security.
Those small changes aside, the bulk of the festival's successful formula remained. As always, Gary McCormick was onstage linking the organisation to the crowd below. "I have to be the vicinity of the stage the whole time," the down to earth poet told Rip It Up. "I'll be working in jokes and yarns. What I like best is to-ing and fro-ing with the crowd. If there's a good crowd out front you can just have a bit of banter and its ideal."
The crowd for Friday was thin and rain soaked with the weather worsening as the day went on. Having the Māori Concert Party open the festival was a nice touch, followed by trad rockers Martial Law and The Neighbours. The Body Electric brought the new electronic sound and started out "a bit pompous, but by the end they'd had hit a genuine electric dance groove." Auckland's art rockers Peking Man proved popular as did Graham Brazier's Legionnaires.
Second tier headliner, Japanese "electro funk" band Sandii and The Sunsets, preceded The Eurythmics. Despite Annie Lennox and co. being delayed an hour by the rain, the "rich full blooded sound" of the group powered a memorable set with highlights including 'Cool Blue' and 'Jennifer'. Gisborne's Marching Orders were up next with some neat pop songs. The same was said of the "articulate and amusing" The Mockers.
Netherworld Dancing Toys, who'd broken into the New Zealand pop charts in 1983, were relaxed and in high spirits on the second day, going on before The Narcs and Australian Crawl. Then it was the "tough but a little reserved" turn of The Pretenders.
The festival highpoint had to be the expanded Talking Heads, who presided over their two-hour plus set, which was soon to be immortalised in the classic Jonathan Demme concert movie Stop Making Sense.
The popular and fast evolving group's quirky guitarist and vocalist David Byrne slipped quietly onto stage with just a beat box and an acoustic guitar, then preceded to knock out a solo version of early Talking Heads staple, 'Psycho Killer'. One by one the nine piece augmented band joined him before reaching a full quorum on 'Slippery People'. Along the way Byrne changed into the enormous outsized suit that was a symbol for the new enlarged and funky New York band.
Talking Heads' long set list included 'Once In A Lifetime', 'I, Zimbra' and ' Take Me To The River' with an encore of 'Life During Wartime'. Then it was the turn of drummer Chris Frantz and elfin bass player Tina Weymouth's Tom Tom Club and their recent hit, 'Genius Of Love'.
London's Jo Boxers (Dig Wayne fronting a band that was four fifths of 1982's Vic Goddard and the Subway Sect) overcame an indifferent start, but were rescued by their sole hit 'Just Got Lucky.'
Diatribe and Herbs brought the sunshine on Sunday, with Hammond Gamble Band, The All Stars and Australian's Machinations following up. An energetic and well-received Dance Exponents upstaged them all.
Simple Minds warmed the audience's hearts and pulled out 'The American' and 'Love Song' off Sons and Fascination and more recent fare 'New Gold Dream' and 'Someone, Somewhere In Summertime' for the appreciative crowd. Rose Tattoo's "sustained bomb blast" proved "ideal festival fare".
The advertising around Monday's Sweetwaters South one-day event had been especially heavy. The two-page gold, white and black spread in Rip It Up promised "The Biggest One Day Musical Event Ever Staged In New Zealand." Tickets were $28.40.
South Islanders Netherworld Dancing Toys and Dance Exponents warmed the crowd up cutting through the "grey weather torpor" of QEII Stadium in Christchurch and providing some local colour. Jo Boxers relied again on their only hit before The Pretenders' "aggressive guitar attack" made better use of the large stage. Simple Minds could do no wrong and peaked with 'New Gold Dream' and encore 'The Kick Inside Of Me'.
Talking Heads set stuttered when two Māori women stepped up to explain the implications of Waitangi Day at the behest of the group, an interlude that was not appreciated by the Christchurch crowd. The show resumed and New York's finest replied with a fierce encore of the apt 'Born Under Punches'. Tom Tom Club's brief northern appearance was then reprised.
All up fewer than 30,000 people attended Sweetwaters in 1984. Not enough to prompt the new owners to stage another in 1985 despite early talk that they would. Young New Zealand was bored with the annual music and piss fest. So bored that the country would be unable to hold another successful multi-day outing for nearly a decade.
When the Big Day Out re-introduced the mass rock music festival to New Zealand in the 1990s the event would bear a remarkable resemblance to the last Sweetwaters, although it was condensed down to one day like Sweetwaters South.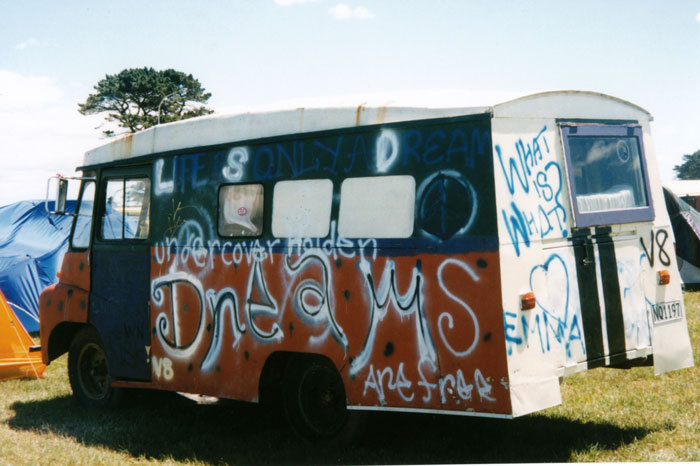 Sweetwaters bows out - Manukau, 1999
Whatever small dramas attended the 1980s Sweetwaters, they were well and truly eclipsed in late January 1999 when Daniel Keighley resurrected the festival for generations new and old.
Keighley's attempt to bring a much-needed peaceful vibe into increasingly selfish and polarised times was a noble gesture. But the very times he sought to counter would ultimately defeat him.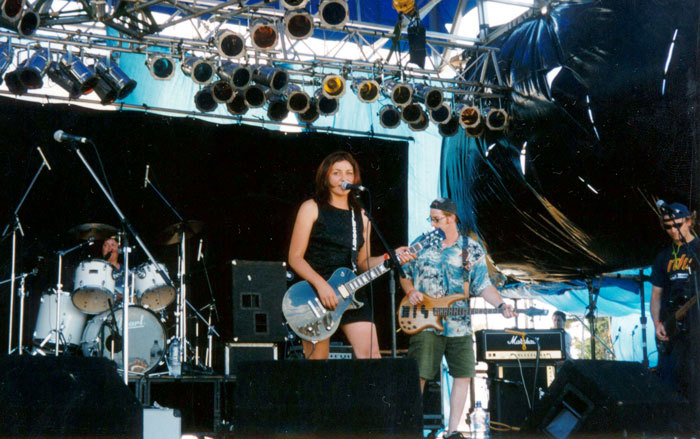 Having spent the middle of the 1990s in England managing The Mutton Birds, the veteran organiser returned to New Zealand in 1997 after a short time in Sydney. With Auckland's popular one-day blowout the Big Day Out cancelled in 1998 and in doubt for the next year, he pencilled a revived and reinvigorated Sweetwaters for the valuable Auckland Anniversary Day long weekend in 1999.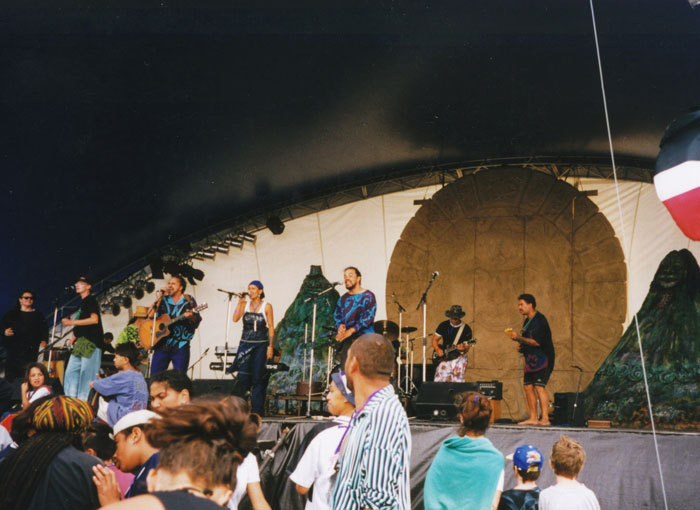 Keighley spent some time searching for a new location but when Manukau City Council indicated they'd forego the usual council charges if he used the Puhinui Reserve between Manukau City and Auckland Airport, the new location was set. The bucolic reserve looked to be a good compromise between the far-flung locations of Sweetwaters past and city centred festivals of recent years. The green fields site provided good beach access and views of nearby Manukau Harbour. It was close enough to Auckland to encourage single day visits and walk up gate sales, but rural enough for those wanting to camp and take in the original festival vibe.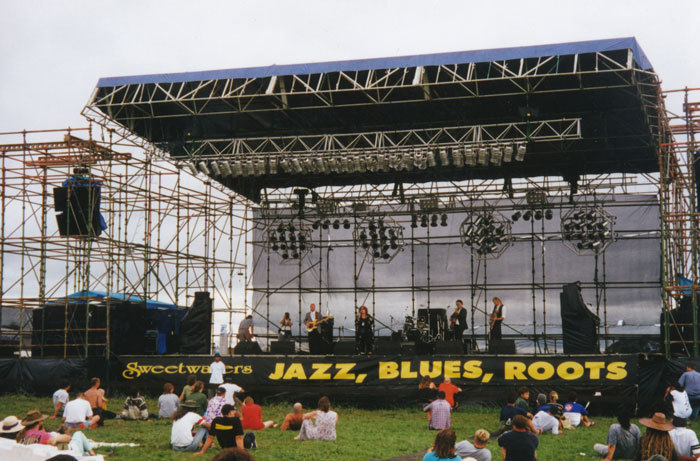 As Keighley gathered up what would be one of the largest festival line-ups ever presented in New Zealand a modern slanted media campaign began. The festival had its own website. This was early days for what is now a common commercial-public interface.
Every six weeks in the four months running up to the festival Sweetwaters News was published and made available in record stores, health food outlets and craft stores nationwide by Phantom Billstickers. All up, 100,000 papers would be printed.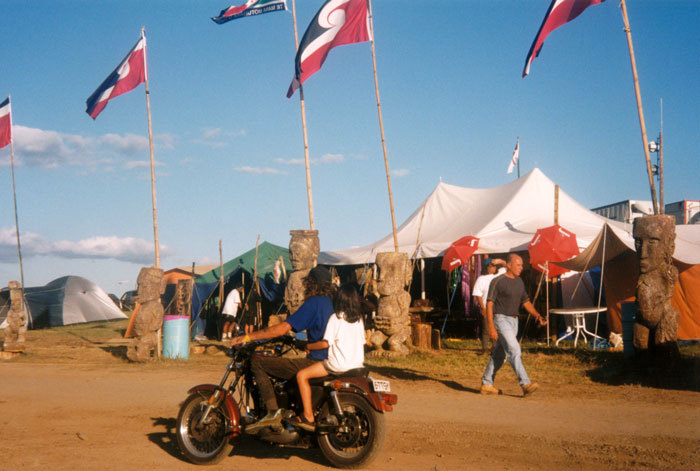 Thirty five thousand plastic card tickets were made available through NZ post outlets throughout New Zealand. None had bar codes so it was difficult to estimate how many had been sold at any one time, a deficiency that would have serious consequences in assessing the festival's viability.
The music acts cued up for the four-day event (held over January 23 to 26) were staggering in their number and diversity. Thirty-four New Zealand groups and solo acts would perform on the NZ Music Stage. The Jazz and Roots stage hosted 29 performers. The Aerial Railway, 61. The H2Go Dance Tent had 32 DJs and dance acts slated. The main stage lined up another 27 NZ groups.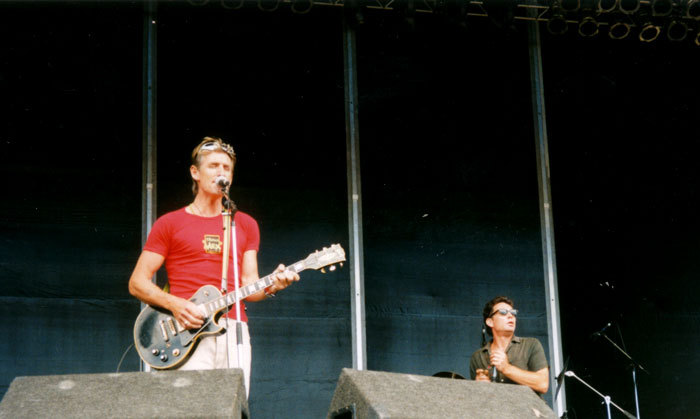 Sweetwaters outdid itself with the headlining acts. UB40 and Elvis Costello were back to reprise successful past appearances, as were Men At Work and The Finn Brothers. Run DMC, Grant Lee Buffalo, The Melvins, Paul Kelly, Paul Van Dyk, The Stranglers, Pere Ubu, The Mad Professor and Cowboy Junkies rounded out the impressive, if eclectic, top bill.
This time at least Sweetwaters didn't have to obtain Reserve Bank permission to okay paying an artist over $4,000. Nor did the festival need permission from the Musicians Union before immigration could issue the performer's tickets, as had been required at previous festivals.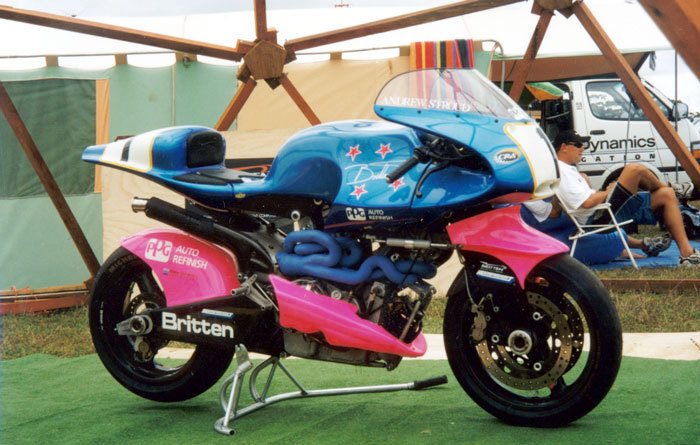 The site itself was well thought out and designed with clear separation between the functioning areas. Arts, crafts and cultural and political groups had stalls and there was a Children's Fair for the youngest ones and a Comedy Tent for the older kids.
All was not well, however. The Big Day Out returned in January 1999, splitting the potential audience. Behind the scenes trouble was brewing. Manukau City Council's benevolence had a price after all and unexpected utilities bills began to arrive. Keighley's festival organisers were also spending up large. Extra money had to be borrowed at a high interest rate.
Then there was the gang threat outlined in Daniel Keighley's revealing 2005 book Sweetwaters: The Untold Story. Unbeknownst to the veteran organiser, his initial site manager had lined up an Auckland gang known for violence and drug deals as security.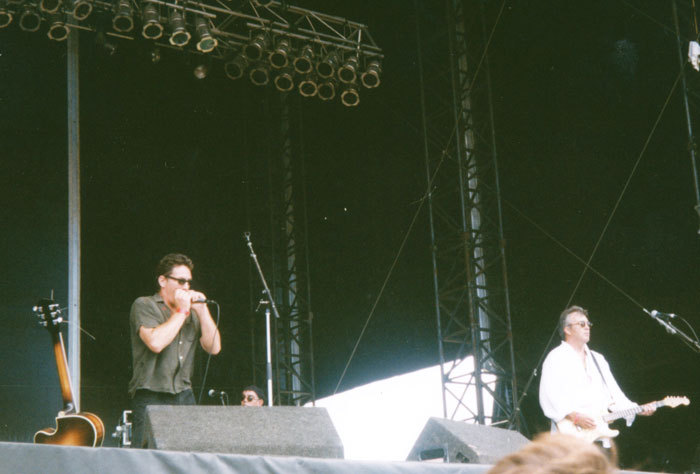 When the Sweetwaters kingpin found out, he tried to dissuade them, setting up a meeting and attempting to buy the gang off with a $10,000 cheque (it bounced) and thousands of dollars in event tickets. To show how seriously angered they were the gang waylaid and badly beat a site builder.
As the media was running hot with stories about the event's financial troubles after a belligerent Elvis Costello went public, thousands of festival patrons began to filter into the Puhinui Reserve off Puhinui Rd.
Getting onto the site proved remarkably easy. There were no gates and the eight ticket booths weren't functioning as they were meant to. The gang had taken over and were more interested in those paying with cash. Tickets were collected and resold to people in waiting cars. The pink wristbands that patrons were supposed to issued with lay on the ground nearby and EFTPOS machines went unused.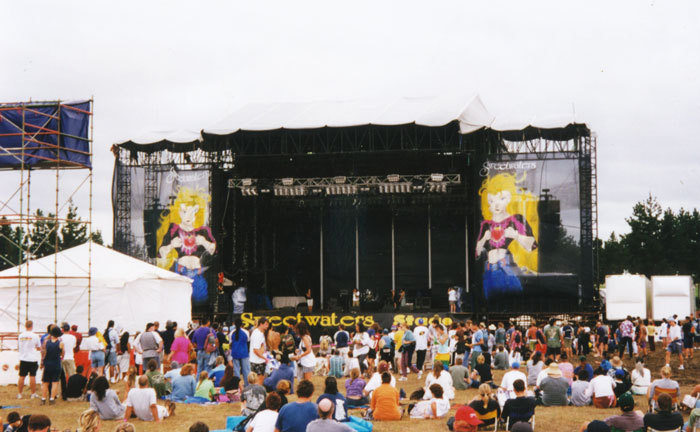 A panicked Daniel Keighley arrived at the site on Friday night and rushed to the entrances with a hastily assembled group of volunteers to try to stem the flow. When he got there he recognised at least one gang member in a security uniform.
Arriving on Saturday morning for my second Sweetwaters experience with yet another hometown crew (most of us lived in Auckland by then), we found getting in was still alarmingly casual.
My brother Stu had scored free tickets for services rendered and he gave me one. As a Sweetwaters survivor of 1982 I felt I had to go. I'd rapped on the previous experience enough. But we didn't stay long.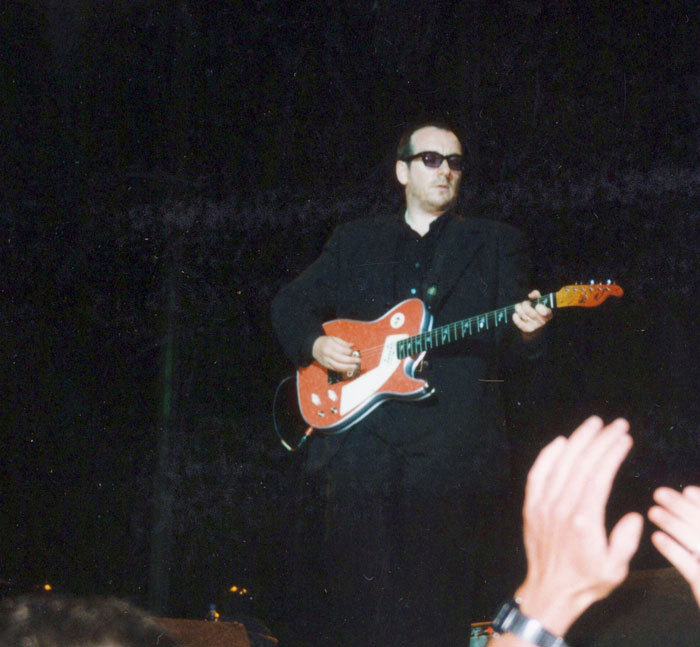 We headed straight for the nearest bar. In order to placate production crew fears over not being paid, they'd been given control of the booze with any extra money going back to the organisers. Suffice to say the service was surly and perfunctory.
First stop was the New Zealand Stage where we caught Peter Jefferies and Anita Ankar. Hardly anyone was there. It was the same in the food area. Eerily empty. We watched Neil Finn, Eddie Rayner and Tim Finn stitch together some casual genius. Then went home before dark.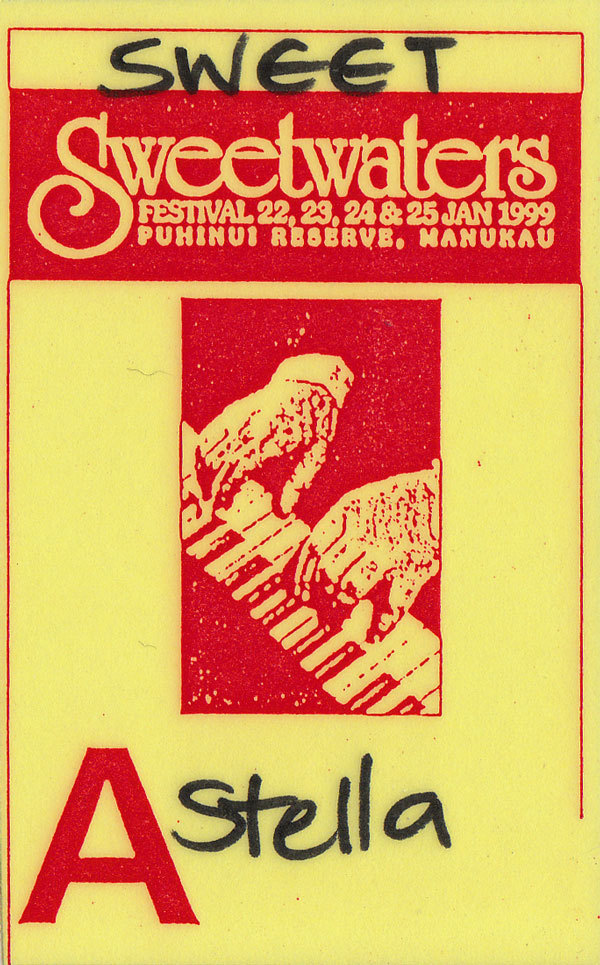 Later that night and after some hesitation UB40 took to the stage. Elvis Costello also performed that weekend, somewhat reluctantly, after extracting a personal guarantee from Daniel Keighley over his remaining assets. Only Run DMC failed to show. Most New Zealand bands went unpaid although Daniel Keighley shifted money from T-shirts sales to help some get home.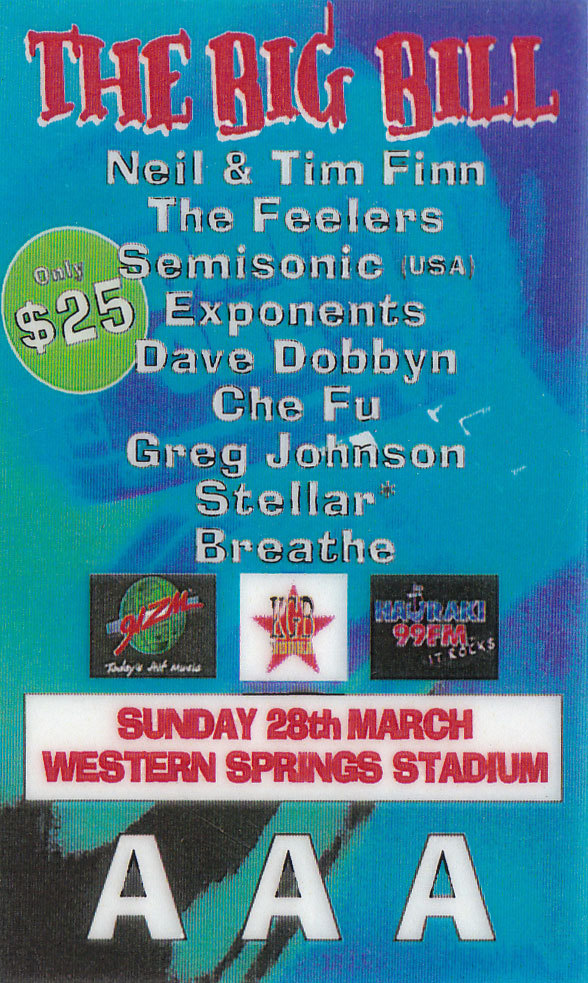 This could have been the perfect Sweetwaters. It was close to Auckland, but still in the country. Well laid out. But musical tastes had shifted. The all-day rave was in power. It suited the new attention span.
A liquidator was brought in to make sense of the festival's finances. During the assessment period a contract was taken out on Daniel Keighley's life by the gang and his Coromandel home was invaded by a threatening man. He lost everything except his family. Eventually fraud charges were laid.
Some questions about the event were never answered. Who took the $200,000 gate takings that was unaccounted for and what about the key organiser who was found leaving the site with $15,000 in cash? Rumours of gang intimidation and her son being held captive appear in Sweetwaters: The Untold Story. Then there was the interception of a truck driven by gang members who attempted to leave the site loaded with stolen quad bikes and gas water heaters.
Daniel Keighley would be sentenced to 18 months on fraud charges to be served at Waikeria Prison, during which his front teeth were shattered by another inmate. He took full responsibility for his actions and was well supported in court by friends from the music industry. For every Woodstock it seems there is often an Altamont.
Daniel Keighley passed away on 18 September 2015.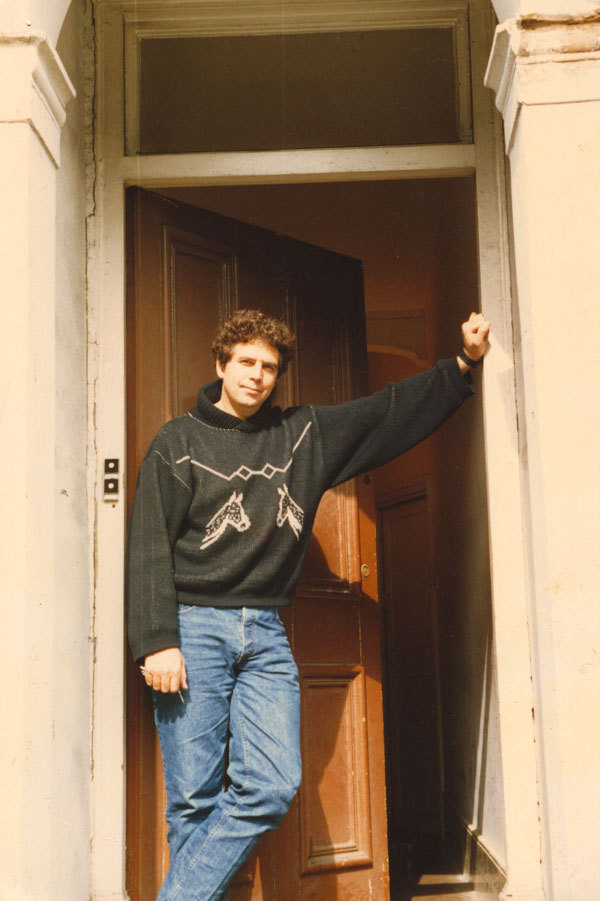 –
The photos on this page taken by Laurence Erstich are courtesy of Real Far North.