It had been building for a while: an impatience with the linear rock and pop, black American forms and album-orientated rock of the late 1970s and early 1980s. That's why the rhythms breaking up New Zealand's live rooms and pop charts became increasingly angular and wrong-footed from 1980. It's why they skipped, stumbled and slammed, wide-eyed and weird, shaking the local scene out of its 1970s pop chart stupor into its rejuvenating and decade defining post-punk phase.
Auckland in 1980 was ground zero for that post-punk project. The young groups, who would light up the sky in 1981, rose that year to inhabit a tier of venues able to carry them from nervous support act, to multi-band line-ups at bigger venues, to their own headlining shows.
New Zealand's belated punk scene still had something to say as well. The AK79 compilation issued in December 1979 summed up the Zwines generation aptly with song after classic song on an album compiled by the country's first punk-era independent label, Ripper Records.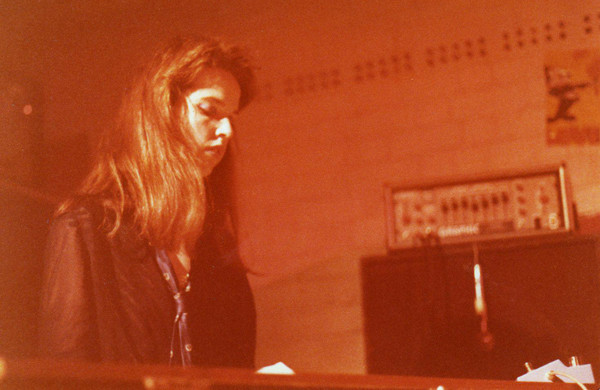 Look closely at the time and you will see many of the key figures of indie New Zealand were short or long-term residents in the Queen City in 1980: Chris Knox, Alec Bathgate, Paul Kean, Jane Walker, Mike Dooley (Toy Love, in other words), Jed Town, James Pinker, Chris Orange and Karel Van Bergen, Hamish Kilgour, Nigel Russell, Harry Ratbag, Bevan Sweeney, Norm Williamson, Anthony Norman, Phil Judd, Bones Hillman, Buster Stiggs, Don McGlashan, Tim Mahon, Mark Bell, Michael O'Neill, Peter Van Der Fluit, Rowan Sheddan, Adam Holt, Ronnie Recent, Johnny Volume, Des Hefner, Alister Parker, John Halvorsen, Brent McLaughlin, Dick Driver, Andrew McLennan, Michael Lawry, Ben Staples, Mark Clare, Brent Pasley, Jeff Smith, Wes Prince, Roddy Carlson, Cliff Gravelle, Kevin Hawkins, Brent Hayward, Andrew Boak, Gill Civil, Geoff Hayden, Mark Webster, Denieke Jansen, Paul Scott, Chris Moore, Paul Mason and Kevin Emmett.
Then there are those whose contribution was more fleeting, but in the short term, no less potent.
The spaces that were opened up and filled with life and art by those groups, musicians and fans are now legendary. The records produced – and more often than not placed in the pop charts – by emerging independent labels Ripper and Propeller Records are New Zealand cult favourites. They are part of a new cultural infrastructure built that year by Simon Grigg, Doug Hood, Jon Doe, Charley Gray, Bryan Staff, Paul Rose, Paul Luker, Steve Kennedy, Paul Streekstra, Doug Rogers, Mike Chunn, Radio B, Rip It Up, In Touch, Barry Jenkin and sympathetic record stores.
All this in an era shaded both ways by the violent and divisive Springbok (South African) rugby tour, even though that didn't happen until the seventh month of 1981.
It is just one of many distortions that time has allowed. Songs that were forged on the fraught streets of teen and post-teen Auckland in 1980 have since been recast as Springbok Tour influenced. Key television music shows such as Radio With Pictures have been relocated in popular memory as Sunday night couplings with classic horror movies – despite RWP occupying a Tuesday evening slot on TV2 up until February 1981.
Barry Jenkin, the era's most influential DJ, gained a much wider audience in June 1980, when he was pushed from private station Radio Hauraki, whereas myth has him more firmly placed to the midnight-to-dawn shift on the publicly funded ZM national network.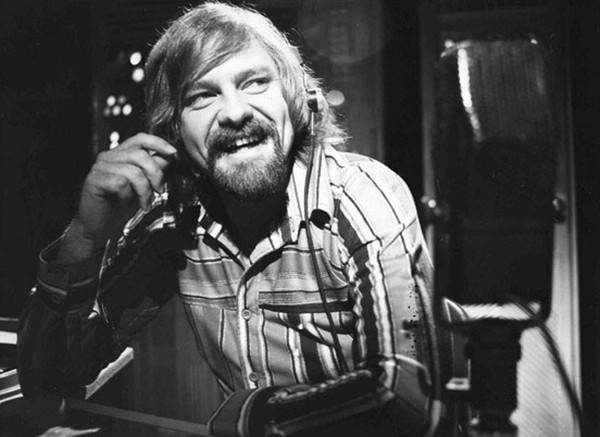 For many younger fans of the new way, that second fusing of deep night with radical music would be a life-changing juxtaposition and prove way more influential because Jenkin's ZM Network period ran until mid-1983.
Elements of private and public radio fuelled the realisation that great sounds were happening overseas and in New Zealand in the early 1980s (student radio had yet to firmly establish itself).
The very real stylistic divisions that came so quickly in the late 1970s and early 1980s have also been distorted through time and telling. The subcultural flux was so rapid that for the first time since the second half of the 1960s, groups found themselves evolving through a number of sounds and associated beliefs in their short lifetime. And while fans often chose to stick with a single focus, the groups themselves were quick to disavow previous ties as the critical tides turned, further muddying future perception and interpretation.
When the new indie records finally arrived in 1981 many were indelibly linked to that year rather than the time of their gestation and initial realisation in 1980.
Auckland's role as the hub of a national cultural movement has also been diminished by subsequent city-centred interpretations of our pop cultural history that largely place the Queen City in opposition. The influx of groups and fans from the South Island and Wellington into Auckland has been misread and overlooked, as has the power of Auckland's studios, record buyers and gig-goers.
Historically a trading centre where Māori and more recent settlers commingled, Auckland had always been a city of new possibilities and new arrivals. In the late 1970s and early 1980s, it was a complex urban space of distinct suburbs and races, classes and gangs, barely discernable to the eye of the newcomer.
It was out of those pockets that bands emerged from colleges and high schools and came together at the city's all-ages and pub venues, and shared inner city houses and flats, the cultural mix leavened further by new arrivals for tertiary study, work or simply drawn by the excitement and possibilities unleashed by punk.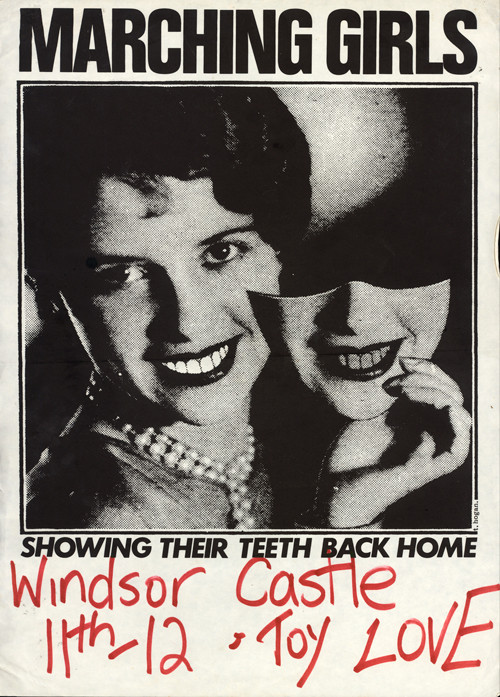 ,,
Here We Come
The early wave of New Zealand punk still had legs in early 1980. Marching Girls arrived back in town in late 1979 after a less-than-successful spell in Sydney and Melbourne. Pairing up with Proud Scum, The Features and Toy Love for a run of shows – at The Liberty Stage, the post-punk hang out in the rough-as-guts Edinburgh Castle Hotel at the top of Symonds Street, The Gluepot on Ponsonby Road, Island of Real in Airedale Street, Mainstreet on Queen Street and The Windsor Castle in Parnell – Marching Girls made the most of whatever allure their overseas spell had cast.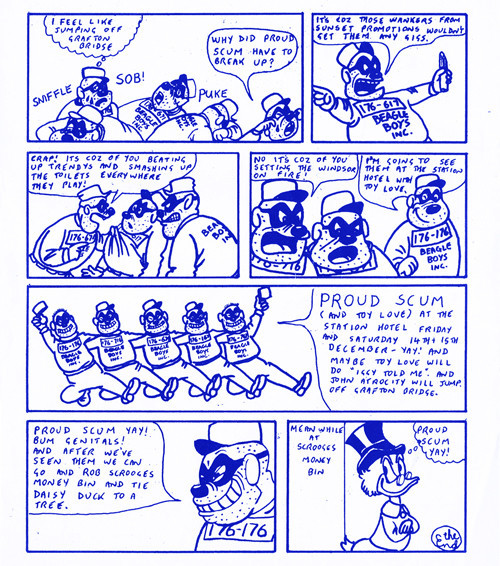 Proud Scum soon joined them in Australia, settling in Sydney after farewell shows at The Liberty Stage in mid-February, and Toy Love weren't far behind in leaving for Sydney in early March after a night that saw The Primmers play their last show.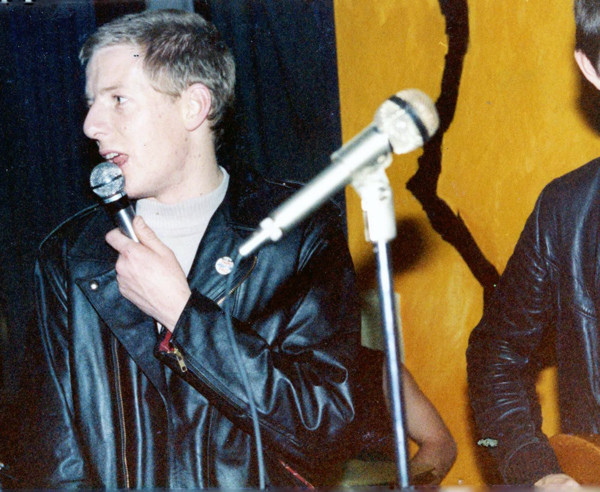 The Spelling Mistakes were regulars at Squeeze in Airedale Street in January and two other new groups assembled by early punks found the stage that month. The Features, nervy punk second wavers looking to get a little loose and jagged in punk's van. Chris Orange had played bass in The Terrorways and Karel Van Bergen gruffed words in The Primmers, two early Auckland punk groups featured on the AK79 compilation, re-pressed that month and marketed as a "back-street compilation of new wave cuties".
The Features' Jed Town and drummer James Pinker had been in The Superettes with Richard Stilwell on bass, whose heart beat quickly but briefly in 1979, playing a string of shows at the Island of Real, HQ Rock Café in Upper Queen Street, Squeeze and The Windsor Castle. Just before they split, The Superettes recorded four songs with Simon Alexander at Harlequin Studios in Auckland: 'City Scenes', 'Rex', 'Get It Right' and 'We Got The Stage'.
Town's itchy feet and mind took him offshore soon after to Los Angeles where he ended up at a Ramones show at UCLA with John Doe of LA punks X, whom he met outside. From there, Town hopped to London where he saw Wire in their Chairs Missing prime.
SOBs (Sons of Bitches) was an intriguing coupling of punk refugees from Wellington and Dunedin and yet more members of punk upstarts The Terrorways. Michael Lawry had been a Normal and a Public Servant in Wellington punk bands and Hamish Kilgour fronted The Clean in Dunedin (who in mid-1979, moved to Auckland). The Terrorways' Peter Mesmer (guitar) and Gary Hunt (drums) rounded out the new group.
The first of the next generation of young Auckland bands energised by the punk movement and excited by what could come next, The Screaming Meemees crossed the Harbour Bridge from Auckland's North Shore as early as December 1979 for shows with The Primmers at Liberty Stage, and with The Flicks, a North Shore punk group, featuring No Tag's Mark Sullivan on bass, at all-ages café Squeeze.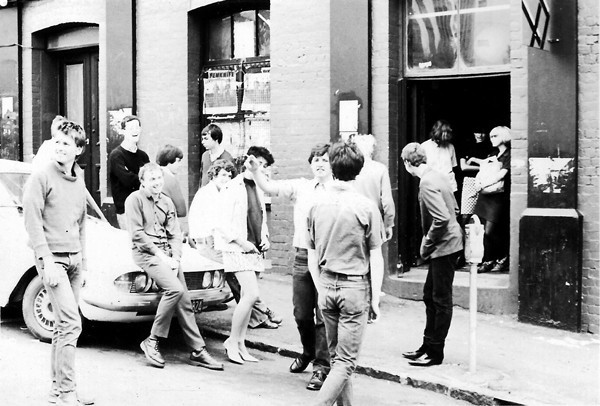 "We used to sneak Pete [Van Der Fluit, bass] out of his parent's place," guitarist Michael O'Neill told Mark Phillips in Rip It Up, late 1981. "We'd say we were at my place studying. Then we'd go and play at Liberty Stage, and when we'd take him home, he'd be pissed!
"The first time we were supposed to play at Liberty Stage was with The Primmers. We couldn't get the car up the drive at Pete's, so we ended up being really late, and The Primmers, who were headlining, had to go before us!"
Formed at Rosmini College on the North Shore, The Screaming Meemees – like many of the groups to come – was an extension of a college band. By January 1980, they were headlining shows at The Liberty Stage, the post-punk hang out in the notorious Edinburgh Castle Hotel at the top of Symonds Street and at Squeeze in Airedale Street. Squeeze also hosted The Spelling Mistakes in January.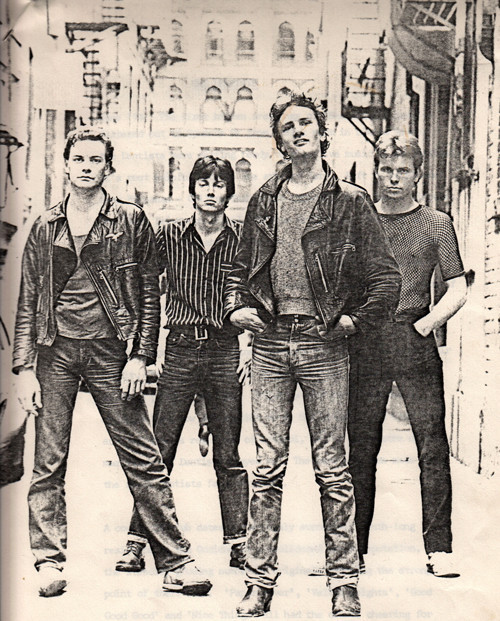 The Dentists were yet more Zwines-era punks, with artist Dean Buchanan singing and William Griffiths, brother of Proud Scum's Jonathan Jamrag, on drums. The Scavengers' sometime sax player Ross Townsend was their guitarist with Mark Boyd on bass. They hitched up with Rank and File at Bottom Line on 11 and 12 January.
January went out in style with the large Sweetwaters festival south of the city at Ngāruawāhia, with Elvis Costello and The Attractions topping a bill that included The Swingers and Toy Love. Four days later Toy Love played The Gluepot in the city and Kicks on the rooftop at Shore City Shopping Centre, Takapuna on the same night.
There were two more gigs at both venues for Toy Love before they headed to Auckland Town Hall on 5 February in support of Squeeze, the quirky British pop group who hit big on the New Zealand charts with 'Cool For Cats' in September 1979.
Toy Love had a second single under their belts by then, having got 'Don't Ask Me' and 'Sheep' down at Mandrill Studios on 28 January with Glyn Tucker Jnr and Todd Hunter.
The Bottom Line hosted Proud Scum, SOBs, The Features and new group The Committee in February before closing its doors for good. The Features joined frequent live partners SOBs at Mainstreet on the 5th and 6th and played in their own right at Liberty Stage on the following three nights. They were preceded there by The Dentists playing their last shows, and followed by The Primmers, who two days later supported Hello Sailor at their homecoming Mainstreet show.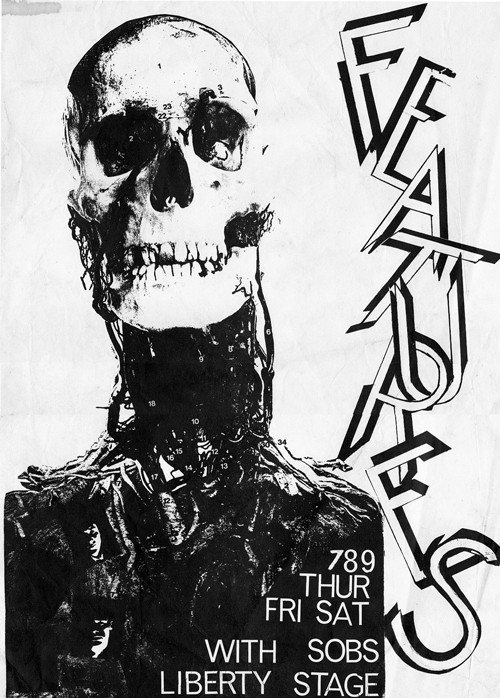 The Features were back with SOBs at Liberty Stage on 16 February, where Simon Grigg caught them for Rip It Up, noting the second group covering ATV and The Archies alongside originals 'Surf Reporter' and the reggae-styled 'Trenchtown Breakdown'. The Features' "inventive jarring guitar sound" was applied to 'Victim', 'Do You Want To Know A Secret', 'City Scenes', and 'You're Gonna Get Done', the latter a Primmers song recorded for AK79.
The next weekend The Swingers were on at Liberty Stage, the pub venue they helped launch in the middle of the previous year. The Screaming Meemees checked in at Squeeze and then Liberty Stage, where they closed out a Leap Year February and saw in March with The Features.
Farewell shows for Toy Love at University of Auckland Recreation Centre and The Windsor Castle aside, the action in March was at The Liberty Stage. The Androidss were up from Christchurch for a triple bill with SOBs and The Spelling Mistakes from the 6th to the 8th, filling in the early evenings before checking in later in the night at Squeeze. The Androidss returned to Liberty Stage the following week with The Features.
A March 15th Spelling Mistakes show at Squeeze, one of at least eight they played there that month, featured "Plenty of good stuff including originals 'Germany', 'I Want You' and 'Feels So Good'. 'Blow Up and Burst' was humorous not vaudeville," decided Rip It Up reviewer Simon Grigg, who would soon sign them to his new indie label. He also caught Christchurch trio The Gordons in the city on the 21st for Rip It Up.
Newer groups Rank and File and The Respectables, along with The Screaming Meemees and SOBs, checked into Squeeze the next Thursday through Friday. Yet another rising band, The Sloth Creatures with Wes Prince and Roddy Carlson, later of Danse Macabre, joined the busy and clearly popular Androidss there from 26 to 29 March.
If you weren't at Squeeze, you were probably at Liberty Stage, seeing the same groups on Saturday afternoon special bills or in the evenings.
Battle of The Bands contests, or in this case, Rock Quest 80, were good ways to fill the bar with rising and just-established groups for little cost, as The Windsor Castle would have known in early April 1980. Eventual winners The Spelling Mistakes took out the studio time prize from a revolving cast that included The Screaming Meemees, The Androidss and new groups The Dum Dum Boys and The Regulators.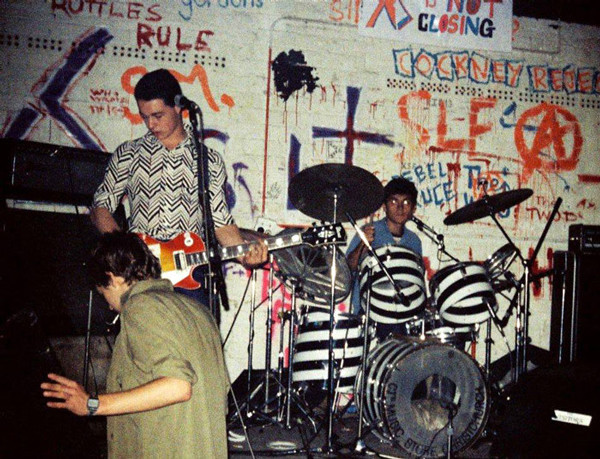 The prolific pop-punk Spelling Mistakes quickly headed into Mascot Studios with The Crocodiles' Fane Flaws as producer to record their first single, 'Feels So Good', on 21 and 22 April 1980.
The North Shore suburbs produced a lot of new groups in 1980 and they usually all knew each other. "Bands like The Ainsworths, The Killjoys, Rebel Truce and us all started at the same time," Michael O'Neill explained to Louise Chunn in the Auckland Star, late March 1981. "We didn't have much gear. Between us, though, there was enough for one band at a time to play, so we all got together and shared the bill at suburban dances on the Shore."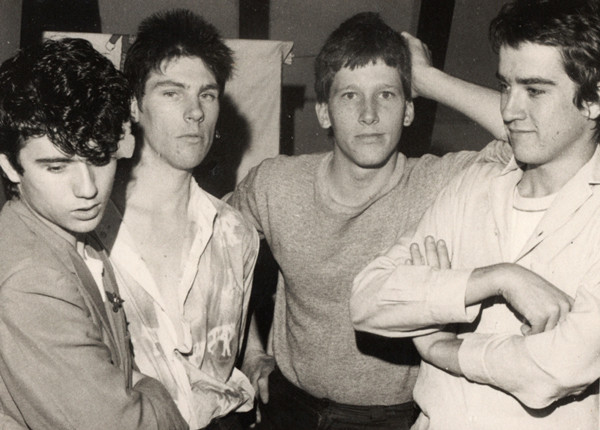 In contrast, The Screaming Meemees found gigs outside their second homes, The Liberty Stage and Squeeze, were hard to get. "Probably the worst time was in the early days when we weren't allowed to play in Auckland pubs because we were a punk band with an under-age following. We weren't even allowed to call ourselves The Screaming Meemees – just The Meemees. Because we were just out of school and a bit silly, we told them we wouldn't play at all," O'Neill told Colin Hogg in July 1982.
The Screaming Meemees kept busy nonetheless. The Androidss didn't let up either, taking their mix of edgy 1970s covers with a sprinkling of originals to Mainstreet with The Whizz Kids and onto Squeeze and Liberty Stage. Rank and File (Bob Morgan on drums, Stephen Boyd singing, Jeremy Dart, and Bob and Tim Werry), who played consistently throughout 1980, checked in on consecutive weekends at The Occidental just off Queen Street in Vulcan Lane.
New groups on the scene in April playing at Squeeze and Liberty Stage included The Sloth Creatures, The Committee, The Secret Agents and The Stencils. The Features, The Androidss and The Respectables could also be found there.
The Features, ahead of a national tour in June, stepped into Mascot Studios in early April to tape their first record, the white hot City Scenes EP. 'City Scenes' was the standout track. Radical in form, it snaps from chatter, guitar discord and stray beats to a distinctive nagging guitar and big bass riff, stalked by Pinker's hi-hat and snare.
"I see the people walking,
I never hear them talking,
There's something going on under the city scenes."
For all their easy observation, Jed Town's words had an edgy undercurrent that is echoed neatly in the cracked Swingers-style vocalisms that follow the opening verses. The music is equally unsettling. It surrenders all sense of structure and heads to meltdown with a mind of its own. The Beatles' 'Do You Want To Know A Secret?' gets the same treatment, fanfared by an intro of smashing glass bottles.
By then, Toy Love had shown The Features that they could again put a single in the pop charts, "Don't Ask Me' rising to No.10 during seven weeks in the Top 40.
April was the month SOBs said goodbye at Liberty Stage with The Sloth Creatures in support. Mooted Christchurch shows never materialised and Hamish Kilgour headed back to Dunedin to help spark The Clean's brilliant final run.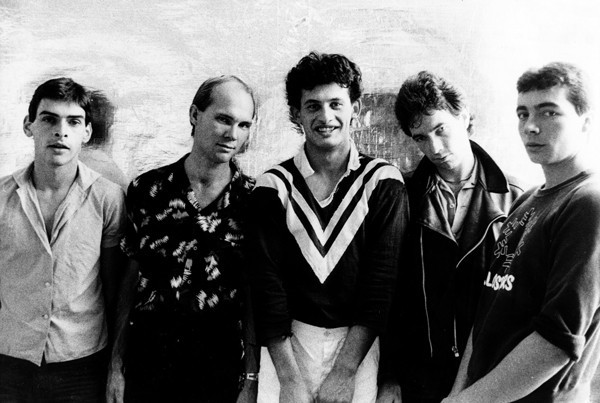 Elsewhere, Sheerlux – who had punk roots, and featured Steve Roach, Jimmy Juricevich and Pete Solomon (all future Techtones) alongside drummer Graeme Schnell – could be heard at Kicks and Mainstreet.
All Over Town
On 15 May 1980, The Screaming Meemees was the first act in at the new teenage venue, XS Café, opened by Ripper Records partner and 1ZM DJ Bryan Staff and his friends. That brought the total number of live spaces available to Auckland's punk and post-punk groups to five. Toss in The Gluepot, New Station Hotel and Kicks and you had a scene of surprising proportion.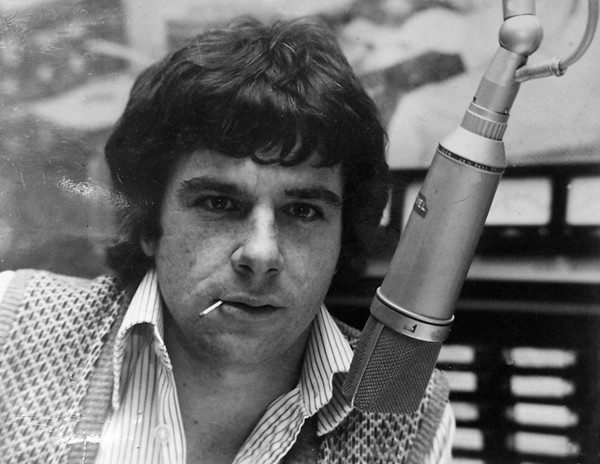 There's no doubt the indie strength on overwhelming display in 1981 was born and nurtured in the middle of 1980. Most of the cast are already present and playing multiple Auckland shows in May 1980. The Features, The Committee, Rank and File, The Androidss, The Screaming Meemees, The Whizz Kids, The Swingers, The Sloth Creatures and The Respectables were joined by The Gordon Bennetts, who had future members of Herco Pilots and Children's Hour on board, and Pop Mechanix out of Christchurch.
Pop Mechanix – who had more great original songs than most – didn't fit easily into Auckland's existing cliques, despite strong performances at Windsor Castle, New Station Hotel on Railway Road, Mainstreet, XS Café, Kicks and The Gluepot.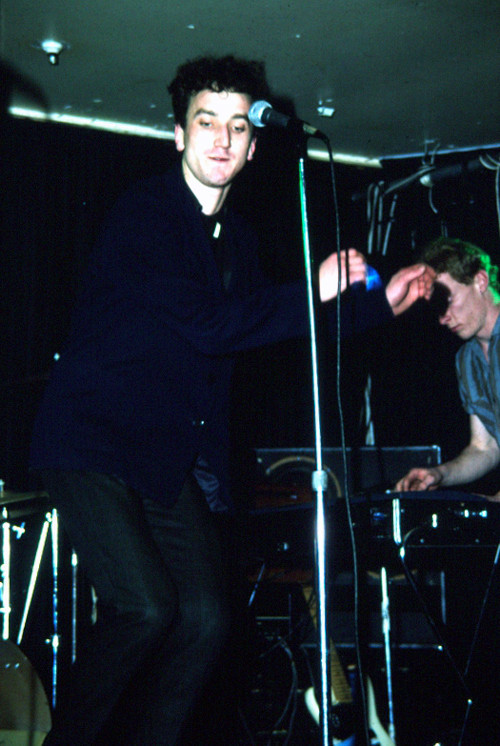 "Mainstreet was great," bass player Paul Scott remembered. "A great venue to go as well as play. We used to hang out there a lot. The Windsor Castle punks! They were snobs! I'm punkier than you! Very funny in retrospect. XS Café was cool. I recall we slept on the floor for a while. They had an open fireplace. That was nice and not a feature you usually find in a venue. The Station was wild. The cops were always there."
The Swingers, who made the cover of February's Rip It Up, were named New Zealand's fourth best group in the May 1980 Rip It Up Readers Poll,after Split Enz, Toy Love and Mi-Sex. Phil Judd was voted the best New Zealand guitarist, Bones Hillman, second best bassist, and Buster Stiggs, number three drummer. AK79 – on which The Swingers had two strong songs in 'Certain Sound' and 'Baby' – was voted Best New Zealand Album.
In May, you could catch The Swingers everywhere. They were at the Windsor Park for three days at the beginning of the month, then out at St Heliers Memorial Hall and Titirangi Memorial Hall, before playing two mid-month nights at Squeeze. There was a three-night showcase with The Whizz Kids and The Committee at Mainstreet and two nights at The Gluepot with The Committee again, in support, before The Swingers capped the month with two nights at XS Café.
It was an incredible run of shows, considering they were all in one city, indicating the breadth and depth of their audience; some would now have the band's first single, 'One Good Reason' b/w 'All Over Town,' released on May 16.
'One Good Reason' – produced by Mike Chunn for Ripper Records in January 1980 and released in a Phil Judd designed picture sleeve – hit No.19 on the NZ Singles Chart during a nine-week stay. A classic seedy video of the track ran on Ready To Roll and Radio With Pictures.
The Features were also in Mascot Studios in May, capturing the Perfect Features Exposed 12" EP for Propeller Records. One of the first of the larger extended play singles that would be released in New Zealand.
The wider post-punk and new wave world arrived in person in Auckland that month. It was about time. They were already present in the country's pop charts. Tom Petty and The Heartbreakers, Gary Numan, and The Boomtown Rats with Wellington's The Steroids in support checked in at Logan Campbell Centre in the Epsom Showgrounds and Auckland Town Hall.
Closer to home, The Androidss and The Respectables took to the sea on a slow boat to Waiheke Island in the Hauraki Gulf for two nights at Ostend Hall.
The Swingers gave their fans "One Last Chance To Swing" at the Gluepot in early June 1980, before packing their bags for Australia. Stiff Records' one-hit wonder Wreckless Eric also hit town that month, for two nights with The Spelling Mistakes at Mainstreet.
June would prove a busy month for The Spelling Mistakes: they played seven nights at Squeeze, as well as three at XS Café with The Screaming Meemees. The Features and The Respectables closed out the month at the all-age venue over four nights.
When The Features' City Scenes EP appeared on 20 June 1980 and climbed as high as No.32 on the national singles chart, weirding up the Top 50 for five weeks, the band was at the tail- end of an erratic, fate-filled national tour.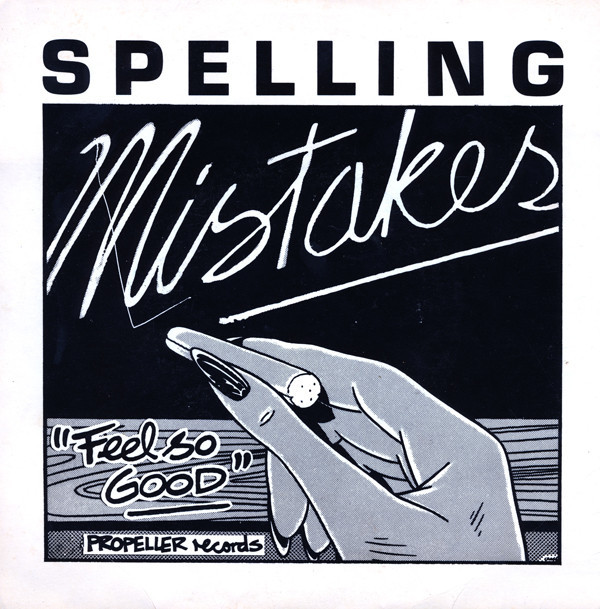 The Spelling Mistakes had ventured south earlier that year and, like The Features, placed their Propeller Records single, 'Feel So Good,' in the Top 40. Both records stayed in the charts for five weeks.
With local indie groups charting strongly for the first time and Auckland's venues open to increasing post-punk traffic, the barricades were down and the scene set for a busy and diverse second half to the year.
--
Post Punk in Auckland - All Dressed Up - the second six months