Talk about an odd couple. Teaming up in 1999 with straight edge North Shore punk and fledgling reissue label head Simon Kay for the first two issues of a New Zealand punk rock history magazine called Mysterex looked a doozy of a mismatch.
I'm from Paeroa, a small conservative town south of Auckland. I came to New Zealand's post-punk era in the immediate aftermath of the first wave of punk rock. My past was a checkered one (although no more than most in the music scene I inhabited), and in recent years I had become a fan of the last great New Zealand indie outbreak facilitated by Xpressway Records. I was a qualified journalist and historian who started out as a writer on an indie fanzine called Ha Ha Ha in 1983 while Simon Kay was a middle class Aucklander who lived at home, never drank, and who lived and breathed punk rock.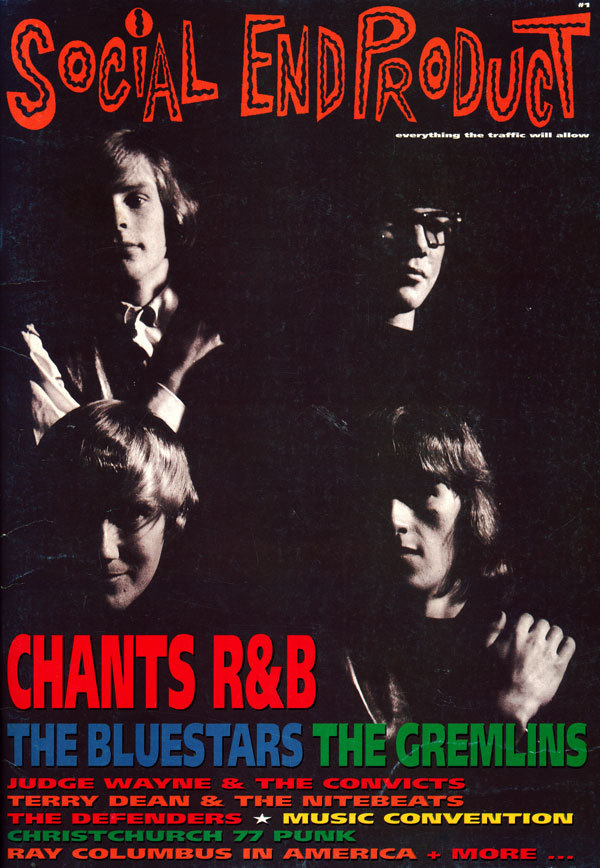 By 1999, with Social End Product (the New Zealand 1960s history magazine I'd written and edited) failing and my interest in 1960s music history waning, I took up an offer from Simon to write and edit Mysterex. We both agreed that New Zealand's early punk rock history was in need of more investigation.
Simon was a long-time friend through Crawlspace Records, my brother's Auckland record shop. He came to punk later than me, but had a collector's zeal and an uncritical love of the whole movement that would hold us in good stead.
Simon had been particularly influenced by the wave of punk groups that emerged overseas and in New Zealand in the mid to late 1980s. He played some quite stunning guitar for Auckland hardcore group Salad Daze, but was no longer performing.
Mysterex1 April 2000
Simon and I thought West Auckland punks The Henchmen had been overlooked and misunderstood here and needed covering in some detail. I had already met and interviewed guitarist Anthony Norman at Karekare where he was living after he returned from overseas. He had stopped playing by then. I was there with John Baker, who was putting together the Hate Your Neighbours bootleg based around the early New Zealand punk era.
Although John had no "official" position in the mag he was still strongly involved in the first issue, contributing the majority of the information (from email interviews with Des Hefner and Johnny Volume) for The Scavengers story and a story on early Scavenger Marlon Hart's time with The Stimulators, information I also worked up into a sleeve note (as Dix Engels) for Xerox Records' Scavengers reissue LP and CD.
The Henchmen were something else. Simon tracked down Jeremy Chunn, who played bass on The Henchmen's We've Come To Play (Cadaver Records LP, 1984). Jeremy was a well-regarded rock journalist in Sydney and contributed a whip sharp gonzo piece on his days in the band. Drummer Billy Williams was cornered by Simon on a trip home from Australia. Singer Tony Collins didn't wish to be interviewed although he had no problem with us doing the story that would eventually grace the cover.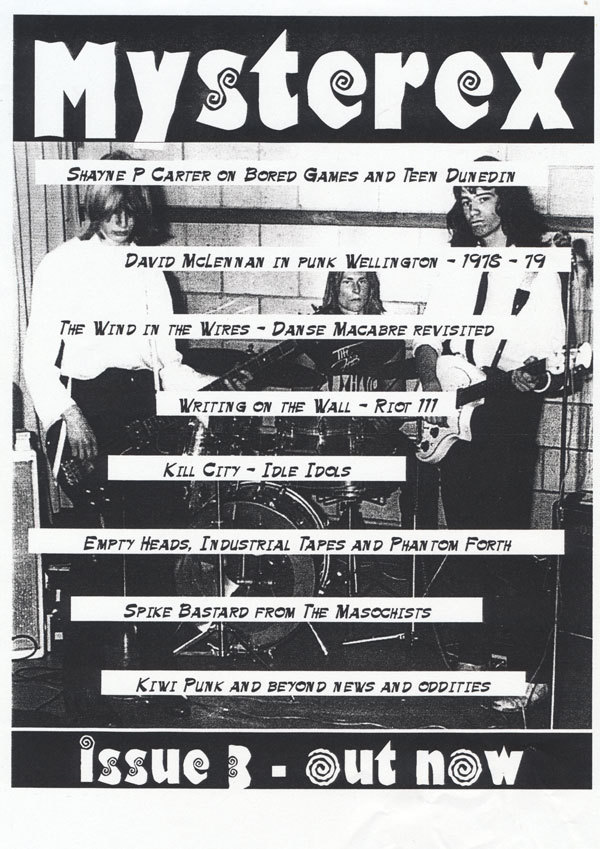 I'm still pretty happy with the story, especially as it gave me room to write about a phenomenal body of work. I believe Reptiles At Dawn's (formerly The Henchmen) Naked In The Wilderness (1986) is our greatest punk rock album.
The Spelling Mistakes were getting the Xerox Records reissue treatment (although Michael Simons would do a better job on them a few years later) and had even reformed for shows. I attended the first triumphant reunion at Luna on Symonds Street.
I'd been carving the night between Paeroa and Auckland ever since my late teens and although my friends fell one by one, I never cut the link. The city's light and movement charged me. Its culture sustained. With Crawlspace Records going great guns, I'd been seeing a lot more of it.
The Spelling Mistakes story was pieced together from a number of sources. My good friend Mac Hodge interviewed Julian Hanson. John Baker interviewed Warwick Fowler. Nick Hanson's perspective was patched together from a surprisingly large body of published stories and a radio interview. The only band member we didn't get to was Nigel Russell, who I intended interviewing about Danse Macabre at a future date.
Then there was Proud Scum, who shared some roots with The Spelling Mistakes. Information was elusive with research throwing up the barest picture.
Simon dug around in his bottomless box of punk memorabilia and produced a live tape from The Dead Kennedys' August 1983 show at Mainstreet in Auckland, around which I constructed a story including my own vivid memories of the show.
That same archive provided a whole swag of New Zealand punk fanzines from the 1980s, which I quickly absorbed. The result was an overview of this type of media, which 10 years later I extended into an academic research essay.
Andrew Boak from No Tag proved a great interviewee so I ran the No Tag story as a Q&A. Boak's memory was sharp and he even rang me from San Francisco. Nice.
Allen Stephenson, Billy Williams and Tony Chandler were the core interviews for a story on the 1980s West Auckland punk scene based around the groups Vicious Circle and Dead Image, a scene that surprised me with its depth and vibrancy (and violence).
Number Nine was my idea. I knew Scott McFarlane who sang on their only album, Nowhere Fast on Jayrem Records on which Kiwi punk anthem 'Cop Cars' appears. I also wanted to bring punk into the 1990s so into the pot went a recreation of a 1994 Nothing At All! (Dion Palmer from The D4's early trio) tour with my punk alter ego Dix Engels narrating.
The magazine sold out quickly and received a strong review in Maximum Rock n Roll, the American punk bible. There was plenty of variety, and some fun smaller pieces, and we had established the layout and format that would follow for the next three issues. Eventually all the stories would find a comfortable and appropriate home on Audioculture. But I'm getting ahead of myself here.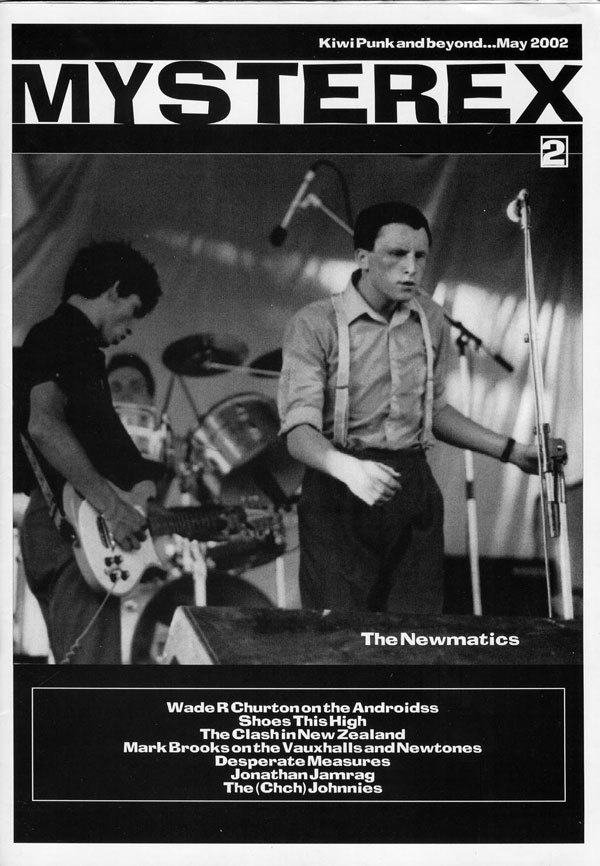 Mysterex2 May 2002
There was always going to be a Mysterex 2. The failed second Social End Product ensured that. But I never expected the overwhelming reaction it got. This was in large part due to the free punk compilation CD, Move To Riot, which Simon assembled to give away with the magazine. He chose the tracks, paid for the project, planned and collated the booklet (which I wrote one story for) and did a fine job of it. Despite being re-pressed it is now a collectors item.
I must admit I was a bit jealous that it was distracting attention from the actual magazine, but that was just stupid ego on my part, the CD was promoting both. The compilation brought to light previously unreleased or unavailable gems such as The Androidss' third best track, 'Plasticine Baby' (jacked up by Wade Churton), The Newmatics' 'Walkie Talkies' and Reptiles at Dawn's version of 'Chinese Rocks'. Just as vitally, it brought a whole swag of New Zealand punk classics back to the public ear, among them No Tag's 'Mistaken Identity', The Johnnies' 'Who Killed Johnny?', Nocturnal Projections' 'Walk In A Straight Line', Desperate Measures' '1984' and Riot 111's 'Move To Riot'.
In many ways the second issue was the real beginning of Mysterex. I wanted to get away from John Baker's rigid definitions of punk as the bastard son of rock n roll. The first waves of punk culture encompassed a much more open-minded and wide ranging set of influences and were adventurous in their use of them. I wanted Mysterex to reflect that.
The Newmatics was a group I'd long wanted to cover. Their mod/ ska/ reggae/ soul/ dub influences were indicative of the wider impact those sounds and ideas had on the Auckland music scene. The hidden story of Auckland's post-punk scene is one of black, and, in particular, Jamaican influences, something Don McGlashan would later point out in NZ literary journal Landfall. And not just the easy seductive and infectious rhythms but also the sonic adventure and cool techy strand of dub. You can hear it Cliff Gravelle's guitar playing, Danse Macabre's 'ECG', the Instigators, The Bongos, Blam Blam Blam and Rhythm Method, among others.
As I wrote at the time, The Newmatics' early mod beginnings were eclipsed when ska, a Jamaican reggae precursor, sparked a new integrated music scene that exploded in England in mid 1979 on the back of the Specials' instrumental hit 'Gangsters'.
Like The Newmatics, The Specials were a product of punk's open mind. They were a black and white ska band once called the Coventry Automatics that contained former punks.
Ska had a strong British chart presence throughout late 1979 and 1980 and The Specials were joined in the Top 20 by Madness, The Beat, and The Selector. The Specials' Too Much Too Young EP produced British ska's first No.1 in February, 1980. The end of year album and singles listings were littered with ska releases.
In May another ex-punk, Kevin Rowland delivered a new take on black soul and dance with the joyous 'Geno', a horn driven blast of soul passion that topped the British singles charts. Sophomore release 'There There My Dear' followed 'Geno' to the chart's upper reaches in August.
Reggae, long a spiritual ally, was also benefiting from punk's new energy. The Clash, whose last chart entry had been the very rock (although it had plenty of ska/ reggae/ dub sounds on it too) London Calling, returned in August 1980, with the dub inflected 'Bankrobber', which rose slowly to No.12 in September. UB40, a more credible act back then, also started their popular ascent.
Despite the release of all the scene's major records locally, ska had a diminished presence in New Zealand. The New Zealand charts filtered the new beat down to five Top 50 appearances for The Specials and odd hits for Madness and Bad Manners. The Specials' 'Gangsters' reached No.20 on the NZ Singles Chart in March 1980, the same spot that their sombre masterpiece 'Ghost Town' would hit in October 1981.
Dexys Midnight Runners missed the charts completely in their Searching For The Young Soul Rebels era. Likewise, The Beat had no local hits.
It was these acts that gave black dance its initial credibility with more progressive punks.
Ben Staples, The Newmatics drummer, was my first point of contact with the group and he provided some cool photos and an upbeat account of the group's time and influence.
When The Newmatics compilation (on which he did a great job) came out it had a track from his recent output on it – an attempt to link eras and remind people he was still a contemporary creative.
Mark Clare, The Newmatics' singer, was one of the most insightful and articulate people I interviewed for Mysterex.
Mark Clare, The Newmatics' singer, was one of the most insightful and articulate people I interviewed for Mysterex. I met up with him at his villa in Onehunga where we sat at a huge rough hewn wooden table before retiring outside to his landscaped backyard. Mark was a landscape gardener and an actor by then.
Clare wasn't interested in the clichés that attached themselves to The Newmatics and the wider post-scene. He was a punk who'd first encountered the Skeptics in Palmerston North while at Massey University and encouraged them with support slots and aided their brief move to Auckland and signing to Furtive Records. He was a dynamic frontman for The Newmatics and a big part of their popular appeal.
Simon Kay and I met Paul Rose, the Newmatics' manager and a label boss at Furtive and Propeller Records, at the Alhambra in Ponsonby, a watering hole for punk era refugees by the looks of it. Midway through the interview Doug Hood appeared and gave the barman something wrapped in a brown paper bag. I wanted to get an idea of the business and managerial side of a successful post-punk group from Rose, who later managed The 3Ds and was then managing The Rialto Theatre in Newmarket. It's a piece of the picture too often left out of music stories. It may be art, but it is also commerce.
Again we weren't disappointed, with Rose providing a full account of how an indie label interacted with the larger labels in the early 1980s and cool anecdotes about the politicised times as well as a few red herrings.
Mysterex2 was heavy on contributed articles, which was a side of Social End Product I wanted to build up. I knew Mark Brooks' father had been a journalist so when he agreed to answer a long list of questions about The Vauxhalls and The Newtones I hoped there would be some inherited writing ability there. There was. His piece added more depth to the first issue's overview of the early Christchurch punk scene.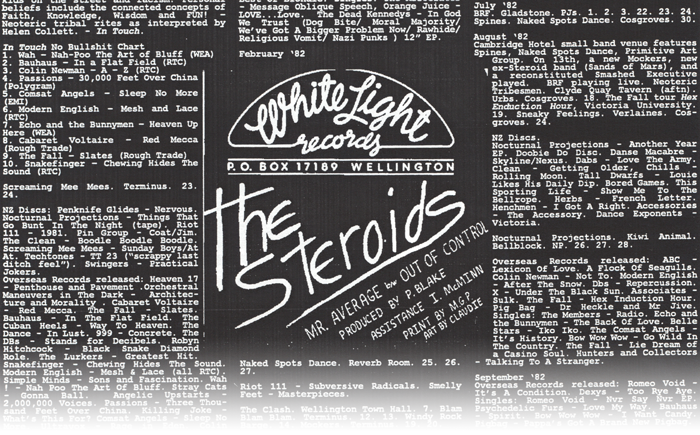 Christchurch's Wade Churton had published his New Zealand punk history, Have You Seen The Children? by then, and he made contact. His mammoth take on The Androidss for Mysterex2 was not only compulsive reading (bar the overly academic intro), it proved prescient as the group subsequently reformed and garnered some long overdue respect for their first musical run.
I was tickled to get a line from Auckland punk's best front man (have you seen the Proud Scum footage from 1979?) Jonathan Griffiths (Jamrag) saying he'd written some short stories based around the late 1970s Auckland punk scene.
We ended up running his funny and well-observed story, based around a fictionalised Proud Scum.
Punk rock's next wave was represented by Christchurch's Desperate Measures. A story based on an interview with their singer Eugene Butcher and bass player Eric Van Der Hoven took place in Valley Road, Mount Eden. Eugene was passing through on a trip home from London, where he publishes Big Cheese, a magazine covering the darker end of rock.
The Clash In New Zealand - 1982 was an oral history, a style then on the rise. I enjoyed writing The Dead Kennedys piece in Mysterex1 and I enjoyed this one. It gave me a chance to tell the fan's tale and print some of the best comment from the time.
Rounding out the issue was a stark and truthful interview with Brent Hayward of Shoes This High, the best he's given on this vital piece of the 1980s musical puzzle. Brent lay back on his double bed in his K Road digs recounting his days in Shoes This High. I was fascinated by the New York type seediness. Simon fell asleep. The interview when I transcribed it was like twine, but once you unravelled it was remarkably clear and accurate.
Press coverage for the mag was widespread with stories and thumbs up from John Russell, The NZ Listener, Netguide, Graham Reid, Murray Cammick, and an interview on National Radio courtesy of Richard Wain. I don't enjoy radio or TV, but this was fun and I even sounded like I knew what I was talking about. Press support for Mysterex would remain strong for all four issues with Grant Smithies also giving it the thumbs up.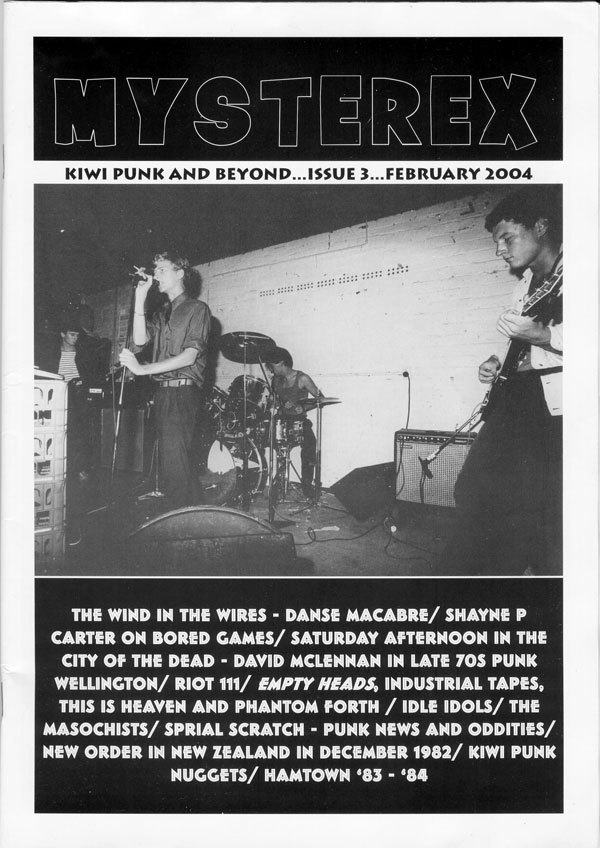 Mysterex3 Feb 2004
2004. Another issue. Another Auckland group on the cover, Danse Macabre, who had released New Zealand's most credible response to Joy Division/ New Order with their sombre synth-driven post-punk sounds. They dented the sales charts and filled new release schedules in New Zealand throughout 1981.
The quartet had a mostly punk past. Wes Prince, the guitarist and principal songwriter, had been in The Sloth Creatures with drummer Roddy Carlson. Nigel Russell was bassist in The Spelling Mistakes although he took a quantum leap from there to synth and vocals. Ralph Crump from Buster Keys replaced Kevin Ryan on bass.
Wes Prince lived just up the road in Mount Eden. He was not long back from Toronto where he'd been studying and teaching at university when I caught up with him and Roddy. Nigel Russell proved harder to pin down but eventually I interviewed him at Valley Road.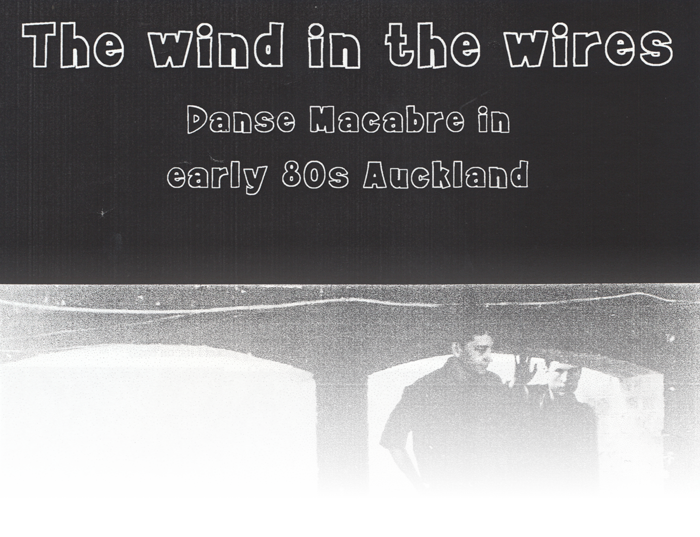 It was one of those stories that started out as promising but ended up way more revealing than I expected. Wes and Roddy had clearly at times lived close to the group's dark soul and Nigel was a genuine pioneer. He worked at Kingsley Smith Music instrument store in Customs Street and then for an importer who was bringing in new sound technology, and he used those instruments effectively in Danse Macabre. Their hit 'Between The Lines' was in retrospect one of the most important of the post-punk era in New Zealand. It surged on Ralph Crump's hooky bass line and Nigel's swell of synth and doomy vocal which, coupled with his modish dress sense and welding goggle glasses left a lasting impression.
Danse Macabre reformed for reunion shows in 2006, accompanied by an Alister Cain-compiled retrospective that combined the gem choked Between The Lines 12" EP and Last Request mini-LP with a clean uncluttered design and the sleeve note I contributed.
There's a wonderful Mike Hosking anecdote about Shayne Carter upending a desk and storming out of a Dunedin radio newsroom during his time as a reporter which I must have read around this time because it sparked the idea that Shayne might like to write about Bored Games, the third key Dunedin punk group after The Enemy and The Clean.
The story was quick in coming in and quite brilliant. A clear-eyed and richly woven tale of its time and place, it is a sharp piece of autobiographical music memoir. A shorter version appeared in New Zealand Herald.
David McLennan's name had stuck in my head since his days as one of the best writers on In Touch, Wellington's early 1980s music monthly. He'd been in touch with some minor corrections to a story in the last issue and I tapped him for a piece on Wellington's art-punk era of 1980 through 1982, another then neglected part of the post-punk story.
Saturday Afternoon in the City of the Dead was an insider's view of a vibrant and colourful scene that took the Wellington punk and post-punk story up to 1981 and demonstrated clearly that McLennan could still write.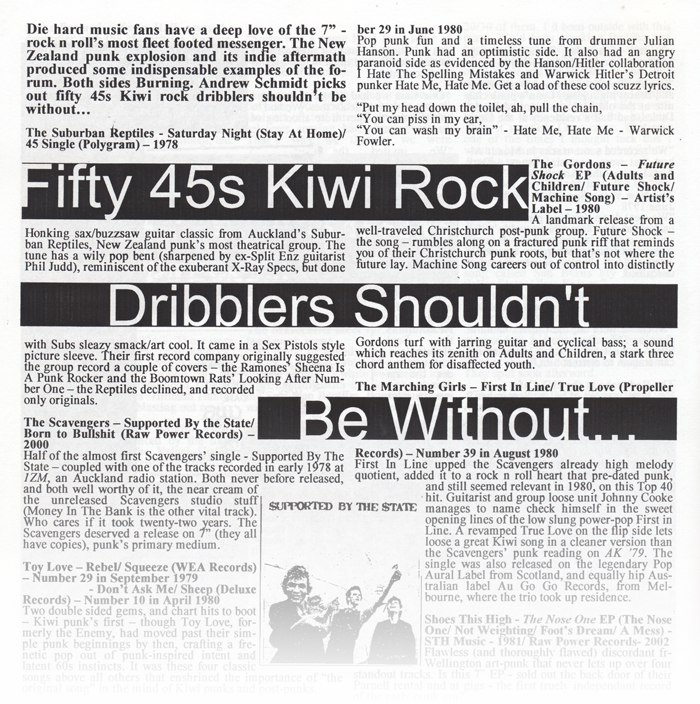 The Q&A with singer Paul Gibbs from Auckland punk pioneers Idle Idols was effectively a third contributed story with Paul providing valuable background, event and insight on a scene from which he'd been effectively dropped from view. There are still too few voices and perspectives heard on this vital period. That Paul, a London based artist, is gay just added to the sense of the picture filling out. Not long after I meet David Herkt, another gay punk from the time, who was back in New Zealand filming his brave High Times documentary on drug use in New Zealand.
Stories on Heavenly Bodies, Paul Luker, New Order in New Zealand, post-punk Hamilton in 1983/ 84 and Fifty Classic Kiwi Indie Singles rounded out what was my favourite issue of Mysterex.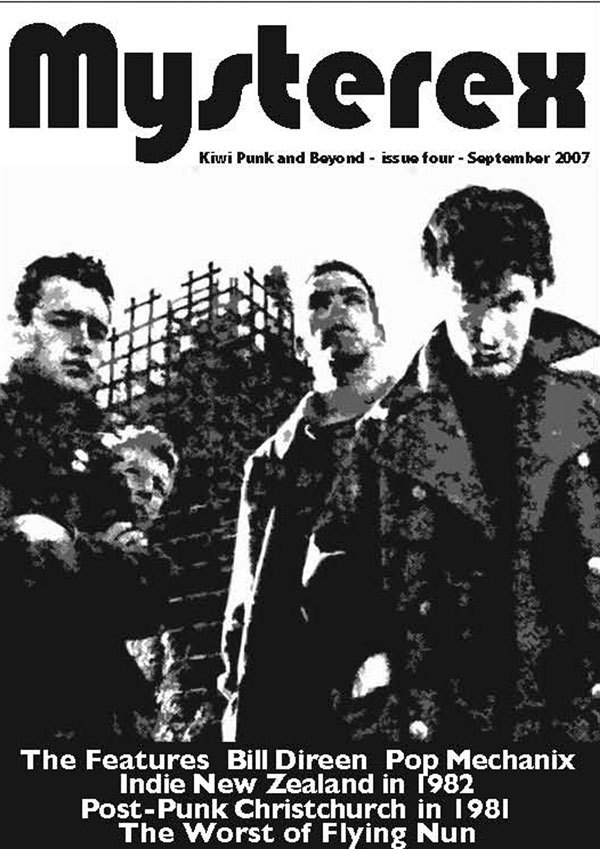 Mysterex4 Sept 2007
With the main punk groups and a good part of the New Zealand post-punk progression examined, the list of groups I wanted to cover was thinning, giving me free range in Mysterex4. I loved Pop Mechanix, their three singles, 'Now', 'Ritz' and 'Jumping Out A Window' contained sharp new wave chart tracks on the topside and songs as good as 'Brains Are Dumb', 'Way I Dance' and 'Private Military' on the flip.
When Failsafe Records released a collection of demos in 2006, the list bulged further. Pop Mechanix had songs everywhere and there's nothing better than a band you love dropping a load of unheard gems.
I had the story nailed by then. Vocalist Andrew Snoid (McLennan) was an aloof but not impolite interview. He had a sharp mind and an honest take on his time in one of New Zealand's finest might-have-beens. I tracked him down after seeing a business feature in Sunday Star Times on his antique toy store in Parnell Village. It was one of the hottest days in the hottest month of a particularly hot summer. After spending money I didn't have on beer in a Parnell bar, we retired to the shop to tape the interview, surrounded by boxes of collectables.
Upstairs on Ponsonby Road was more my cup of tea. That's where original Pop Mechanix vocalist Richard Driver had his documentary production company. I had interviewed Richard about his punk years in The Doomed for Social End Product when he worked at Communicado, but this was way more relaxed.
Driver is one of the nice guys of New Zealand music. He has a precise memory and a documentary maker's sense of dramatic tension and release. By the end of the interview, I was flying on the possibilities. His last anecdote was the perfect send-off, Driver reciting with a cracking voice how the daughter he'd left Pop Mechanix for had recently been in contact, instinctively touching that age-old tension between the pursuit of art and family.
He added to the poignancy by reciting the words to 'Land Of Broken Dreams', a poetic album track about foundering in Australia from Pop Mechanix's only album (as Zoo), Cowboys and Engines, which he hadn't sung on. That was Snoid. The last time I saw Richard was a year or so later, loading his film equipment into a storage unit in Grey Lynn near where I worked. He'd just set up the Documentary Channel.
Richard had a great scrapbook (and some excellent Bryan Staff photos), which together with an email interview with Pop Mechanix creative kingpin Paul Scott, who is based in Sydney, rounded out what is a favourite story of the issue. I found all their records in Real Groovy at a reasonable price. They were not yet collectable. I wonder what Snoid thought about that.
Cover story was The Features, which became a Jed Town "early years" profile. James Pinker, then managing an Auckland art gallery, cried off. Chris Orange was only just back in NZ and I didn't know where he was and Karel Van Bergen was overseas. No worries. Town is a fascinating guy. For all the arty gothic air, he still has a touch of the everyman about him.
It doesn't make it into many stories on Town, but his roots are pre-punk – the early-mid 1970s – when he played in bands such as Forever, who played at the Waikino Festival in the Karangahake Gorge and at the Hillcrest Tavern, among other Auckland gigs.
There was a lot more to his pre-Features punk days than I thought, including studio recordings from The Superettes. For a time Town had a gorgeous acoustic version of his 1979 masterpiece, 'What's Going On', on his MySpace page. The Superettes material has since been reissued, but only in a limited vinyl run.
More surprising was the film of a XS Café performance from Auckland in mid 1980 that Shoes This High's Brent Hayward had lodged at The Film Archive. I viewed it on the month long research trip I took to Wellington in January 2005 on which I also compiled a list of punk and post-punk era live dates and information from the daily newspapers of the main centres and a few smaller ones. Finally I had a fact skeleton to sharpen up my questions and to anchor anecdotes.
I was going to publish it as a piece in its own right with a discography and potted reviews of the essential tracks from each era group when Wade Churton produced a kitchen sink epic revolving around his Christchurch punk epiphany of the early 1980s and the Gladstone Hotel. So I bumped it.
Gene Pool Belmondo, a contributor to Dwayne Zarakov's Jewish Beatle and a long-time Christchurch musician, produced the funniest piece of New Zealand music writing (which mostly lacks humour) that I've read, In Love With These Times - The Worst of Flying Nun Records.
Almost all of the acts (and two of the songs) roasted were long time favourites of mine and I knew it would create controversy with hardcore Flying Nun fans. But there was a wider purpose fully evident. To set a higher standard in the appraisal of this important cultural era and explain why that was needed. Which is why I published it. The writer clearly knew the label's output well. If it had been a factional spat it would never have gone in.
I wanted to sharpen up the critical perception of the Flying Nun era.
I wanted to sharpen up the critical perception of the Flying Nun era. To bring the real value into focus out of the warm fuzzy anecdotes and what-a-great-time-to-be-alive-isms that still plague it. There had only been two satisfactory Flying Nun Records retrospectives before AudioCulture came along – Liisa McMillan's RNZ documentary series and Mitchell Hawkes' TV documentary Heavenly Pop Hits.
There was some negative feedback, including a Dunedin studio radio DJ who emailed me saying he was going to play one great song by either artist, which cracked me up (I could play a dozen), especially as it was a full year after Mysterex came out. But surprisingly most feedback was favourable, including some from artists who had been on the label.
The ultimate message was that framing discussion through Flying Nun Records (the label) and the mythology that has grown up around it is a reductive and poor way to debate what was such a diverse and talented group of artists. Which is why debate and writing on the era remained at an elementary level.
I favour an artist and art-centred approach, which is what I used to untangle the large body of work Bill Direen produced in the late 1970s and early to mid 1980s. Beatin Hearts and Split Seconds are two of the most played albums in my collection and the string of essential EPs that surround them no less so. Yet for all his talent and influence, Bill has been poorly served by music historians. The contributed sleeve notes to his Flying Nun Records 4xCD collection were lazy and substandard with writers relying on hazy memory. This was not untypical of Flying Nun Records reissues.
Historian that I am I wanted to know when the songs were recorded and by whom. I also wanted to look more closely at the words, sounds and images. It remains one of my favourite pieces of writing. Bill also wrote a thoughtful story on the pre-punk generation for the issue.
My college friend Paul Gillespie, who was back from Wellington for the holidays in late 1981, had suggested we attend the New Year's Eve show in New Plymouth arranged by Doug Hood and Brian Wafer, but I bottled out, so I decided to recreate it for the mag. It seemed a pivotal point in the decentralisation of the post-punk movement in New Zealand. A gathering of the clans.
Doug Hood's role has also been overlooked, so, yeah, two birds with one stone. I had some grainy Brian Wafer photos from a mail order catalogue sent to me in 1983, one of which (Tall Dwarfs) scrubbed up pretty well. I was also impressed with the line-up and the attendees, who included Void (Riot 111) and 'arry Ratbag (Herco Pilots).
'arry was by then (and would continue to be) an acerbic and painfully funny columnist for RipItUp and barman about town so I excerpted the best of his columns and added it to a history of his influential post-punkers Herco Pilots and was rewarded with a "thank you" email from the Ratbag himself.
With some money finally in the bank and a graphic design course behind me, I was determined to give Mysterex4 a cleaner, more professional layout (which despite some typos I achieved) although I perversely left the page numbers off.
There was going to be a fifth issue, but tired and broke, I began the Mysterex blog instead, which would run for the next four years. Some people never learn.