The 1980s are notorious for questionable haircuts and local musicians weren't immune from getting on the bandwagon. Though – who knows – maybe some of these styles are about to come back into vogue.
The Crocodiles
Rikki Morris joined The Crocodiles just before the band left for Australia (after which, lead singer Jenny Morris left for a solo career). He was later an 80s pop star and then had another life as a studio engineer (helping lots of North Shore acts get their start including Lorde, The Veils, The Checks, and Gin Wigmore). The reason I mention all of Morris's great work is that I don't want you thinking that I'm just being mean when I say that his haircut in the video below is god-awful. I guess you'd call it a mullet, but even on that scale, it's a particularly egregious example. Dave Dobbyn also makes a cameo in the video, playing Morris's mother so it's an interesting historical document in that respect too!
The Screaming Meemees
The arrival of punk in the late 70s freed up what a cool hairstyle entailed and this opened the door for the new romantics and goths that followed – big and spikey became the order of the day. Meanwhile the mod-inspired fringe also seemed to make a return. The Screaming Meemees managed to cover both looks in one band.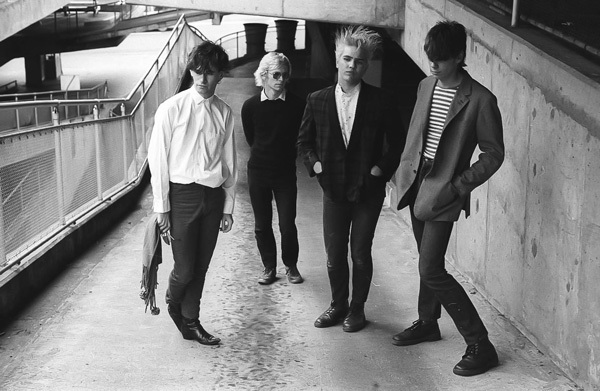 Despite the peroxide-Robert-Smith look of Michael O'Neill, it's probably drummer Yoh (Laurence Landwer-Johan) that is most in need of a trim around the ears – the rest of them could probably go by unremarked in a contemporary issue of NME. I like the way Tony Drumm incorporated a regular hair flick into his dance moves so he could occasionally get a glimpse of the world beyond his own fringe, like a latter day incarnation of Ray Columbus.
The Exponents
When the Dance Exponents started, Jordan Luck had a similarly over-extended fringe and his haircut in the video for 'Victoria' would've looked cool enough if his barber hadn't gotten so carried away with the clippers. It was all very well to reject the sideburns of the hippie era, but I'm not sure if it was a good idea to shave his sideburns so extremely that his hair drew a straight line from the top of his ear to the side of his forehead.
A few years later, The Exponents would also sport a Cure-lookalike in their band – check out Chris Sheehan's curly goth look in this pic from 1985.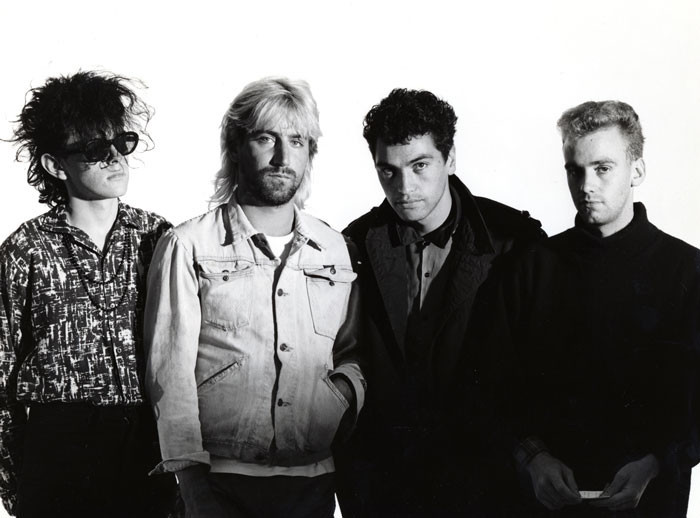 However, I think the highlight/lowlight of haircuts in The Exponents actually sits at the mid-point between these two examples – Jordan Luck outdid himself in the video for 'I'll Say Goodbye (Even Though I'm Blue)'. His hair is fluffed up and has the distinct shine of blonde highlights (a terrible trend of the time, where only the tips of the hair were dyed). Meanwhile, at the back of his head things are getting a little too long for the shortness on top – very close to mullet territory!
Katango
As we get further into the decade, the haircuts get even more out of control. Katango were a band started by Englishman Paul Eversdon and he unashamedly wanted to start a chart-topping pop group. He grew his hair on top and at the sides, then fluffed it up and dyed it blonde so he'd look the part, though in retrospect, he possibly should've worked a bit harder on his singing instead. To get the full effect, you really need to see his interview on music show, Shazam. The quality of this video from 1984 isn't great, but there are excerpts from both the band's singles and we get to see Eversdon's amazing hair up close. Do keep an eye out for the guitarist in the video for 'Pick It Up' who seems to be miming a part that doesn't exist in the song. Readers of a certain age might also be entertained to find that the video was shot at the infamous nightclub, Alfies.
Chris Knox
It'd be nice to think the laidback musicians in the Flying Nun camp were impervious to the terrible styles of era, given that half of them dressed like The Velvet Underground and the rest just wore whatever was cheapest in the local op shop. Chris Knox started his career with what was probably the first mohawk in the local punk scene, but he soon moved on to an edgy, short trim. All very cool, but then what happened in the midst of the 80s? He suddenly got the idea into his head to grow his hair out into a fluffy ball on top and then tie the rest into a ponytail at the back. It was thankfully a short-lived style, but (unfortunately for him) video evidence of this haircut does exist, just scroll one minute into the following clip.
Peking Man
If you asked someone from the era who was the coolest looking pop star of the 1980s, I'm sure a decent number of them would name Margaret Urlich. Most of the decade she spent with short, spikey hair that looked tough and relatively edgy – a look that has aged pretty well. However, when it came time to shoot the Peking Man video for 'Good Luck To You', both her and her brother, Pat, let the hairspray go to their heads. Added bonus for location spotters: the video is mostly set at the original DKD café in the Civic building, Auckland. (Feeling old yet?).
When The Cat's Away
Margaret Urlich joined all-female supergroup When The Cat's Away while Peking Man were still in action (she would go solo soon after). The group included Dianne Swann from Everything That Flies, who already looked like someone who might sing on a Radiohead B-side (which she later did while touring with them with her 90s group, Julie Dolphin). However, it's really the range of mullets on show in this photo that makes it so great, especially since the guy on the far left is one of New Zealand's most prolific drummers in the studio, Wayne Bell (he appears similarly styled in the video below too).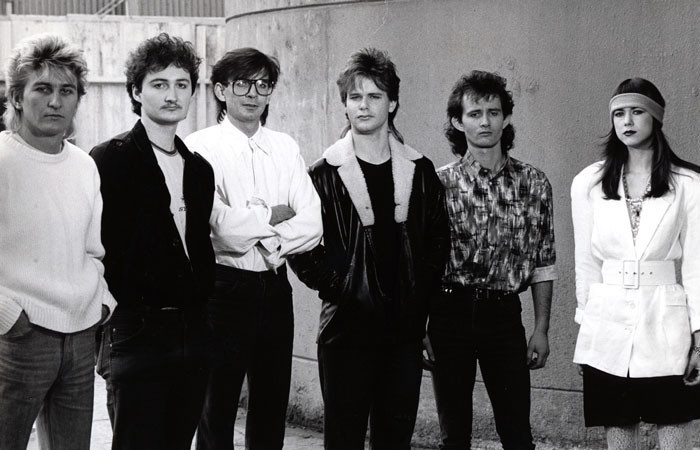 When The Cat's Away played sell-out shows throughout the country and their cover of 'Melting Pot' was a No.1 hit. The accompanying music video didn't have anything too outrageous when it came to haircuts, so if you want to a sense of how pop stars in the 1980s did their hair, it's much better to watch the first few minutes of the documentary that TVNZ did on the group. We get to see Annie Crummer with her hair tied up in a fluffy topknot, Ulrich at her spiky-haired best, and Dianne Swann with another great headband. The other two (Kim Willoughby and Debbie Harwood) just embrace a big curly look – back when giving your hair "volume" was the order of the day.
Sharon O'Neill
Sharon O'Neill's career stretches back to the mid-1970s and when she started out she had quite unremarkable flowing brown hair. All this would change with the turn of the decade, when the "natural" hippie went out the window and everyone got out their hair mousse and colour treatments. Her hair suddenly turned blonde and grew a life of its own, reaching its extreme on the video for 'Physical Favours'.
Shona Laing
Shona Laing first emerged as a popular folk artist in the early 1970s but reinvented herself as a pop star in the late 80s, thus matching O'Neill in the career longevity stakes. She also modernised her look - adding some darker make-up and shaving her hair back at the sides, making her seem a bit more new-wave-esque. On the downside, this pretty much left her sporting a mullet.
Dave Dobbyn
Dave Dobbyn wasn't dealt the best hand when it came to hair – having a curly ginger mop isn't the easiest to deal with – but he did pretty well with it at first. He let it go wild in Th' Dudes and then grew it even longer during his early years in DD Smash. In fact, if you were going to pick out a haircut in that band for scrutiny, it probably would be drummer, Peter "Rooda" Warren.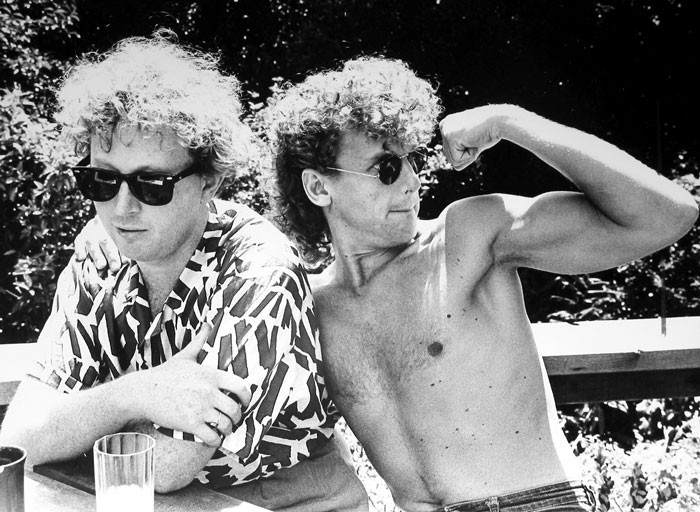 Then Dobbyn went solo and embraced his pop side. For some reason, this led him to trim the hair on top into something more manageable, but he let the curly locks flow down to his shoulders at the back. It even looks like he might've have applied some product to make it look even more shiny and springlike. Oh and don't miss the bass player holding the rectangular, headless Steinberger bass either – if you're going to play an instrument like that then you may as well have a mullet to go with it.
Honourable mentions
I didn't mention Ryan Monga from Ardijah on this list because I already discussed his fabulous look on my Top 10 list of drinking songs – but do check out their video for 'Time Makes A Wine'.
It's also worth giving a nod to the 80s haircut of record label boss (Pagan) and music journalist Trevor Reekie. For most of the past few decades, he's kept up the long-haired rocker look pretty well, though even he couldn't help get caught up in the styles of the era.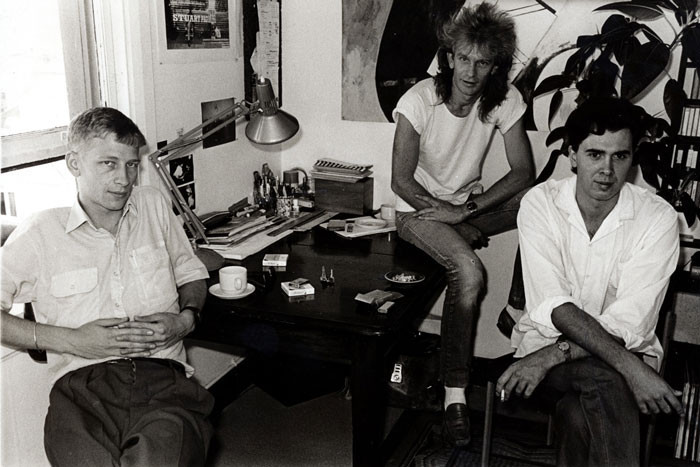 There's also video evidence, though I'm afraid the quality isn't great.
And I'd hate for MD of Universal Music NZ, Adam Holt, to think I'd forgotten about him. For a start, there's this fine pic of him as an 80s rock star.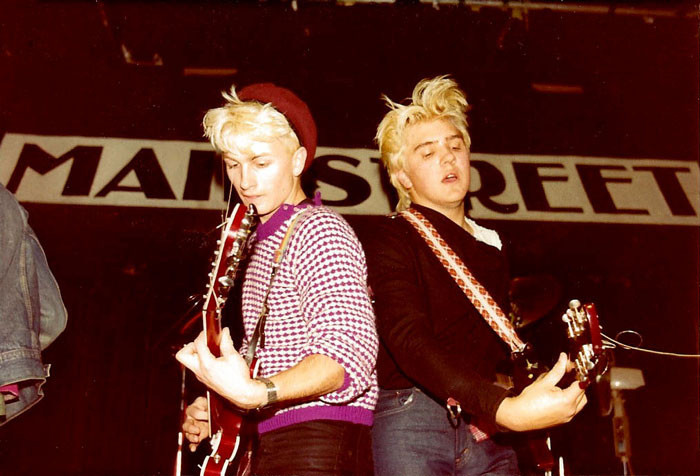 It's a little hard to find evidence of his band at the time, Sons of Jeopardy, though luckily one song is still on YouTube. Adam is the guy in the middle with the blonde hair and check out the bunch of big-haired new wave dudes standing with him – what a great image to end with!
And there's more: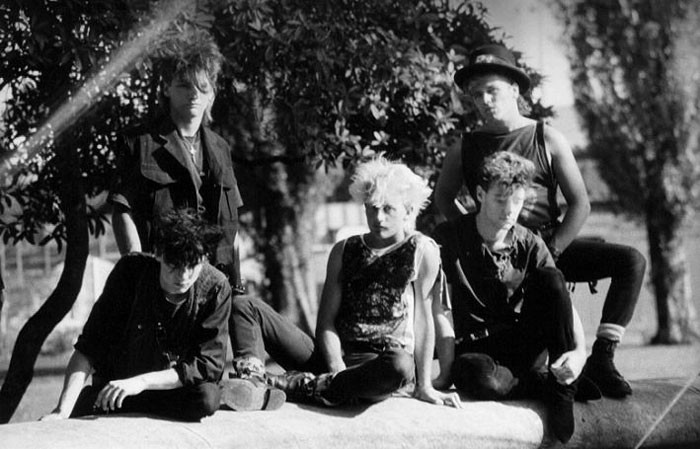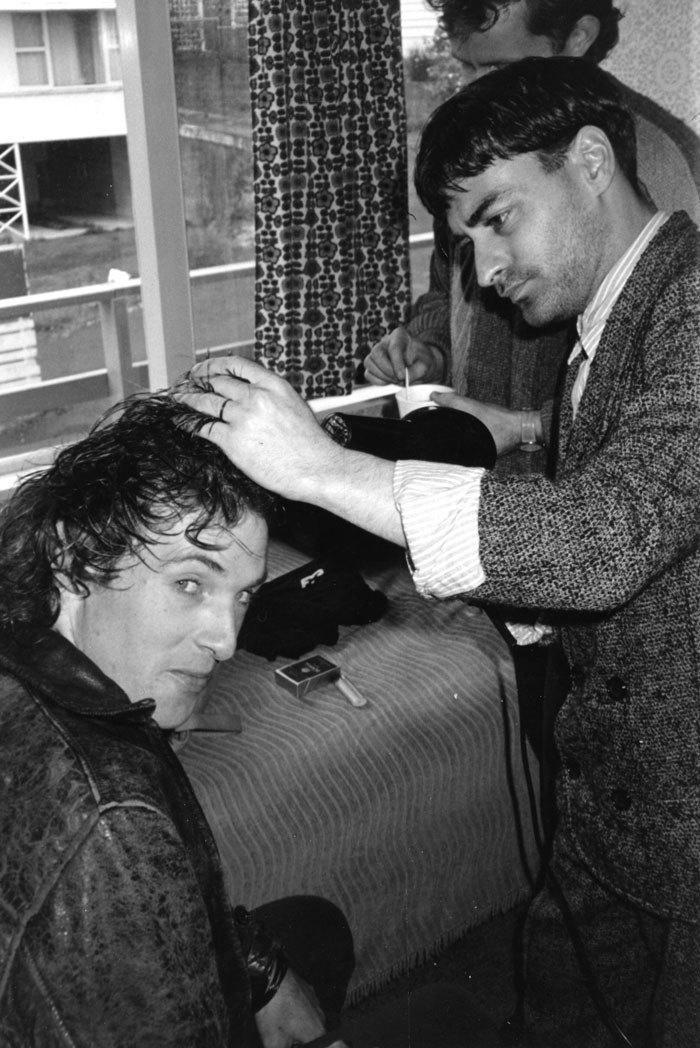 And lastly, if you haven't had your fill of dodgy haircuts, then do check out the "mighty mullet" collection on the NZ On Screen website for more appearances in local music and film.