This story first appeared on Andrew Schmidt's Mysterex blog.
--
Andrew Schmidt talks to Richard Watts about his early to mid 1980s Wellington punk and post-punk groups Condemned Sector, Neoteric Tribesmen and The Resurrectionists.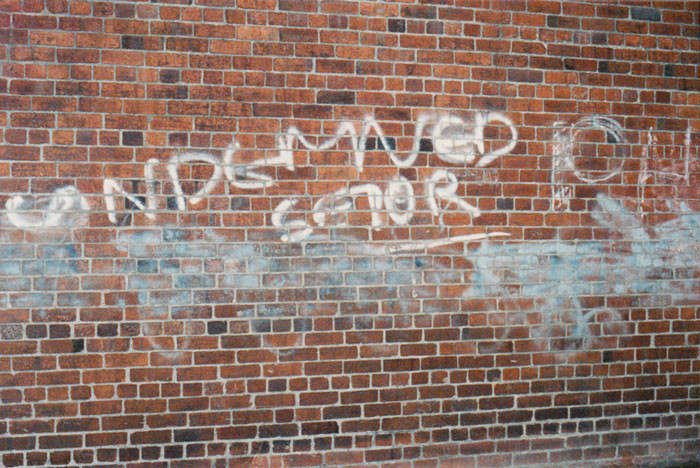 Condemned Sector
Richard Watts - Guitar, Vocals
James Gilberd - Drums
Jenny White - Bass, Vocals
When did Condemned Sector form and who was in the group? What was the motivation – musical and personal?
"Condemned Sector formed in early 1980. James Gilberd and I were at Onslow College together and were in a college band called The Vultures, playing mainly covers. James and I had known each other since primary school and we had very similar musical tastes.
"We thought it would be great to form a band of our own playing our own songs. We didn't go out to form a punk band, it was the type of music that we could play and what was cool at that time.
"We recruited Jenny White, who I believe was at Wellington Girls School, through advertising for a bass player in local music shops. At the time I also auditioned as lead vocalist for The Ambitious Vegetables – Andrew Fagan had recently left – but I decided to stick with Condemned Sector. Peter Henderson, one time AV guitarist, played bass for us at one point.
"Through my friendship with Andrew Fagan we were able to use The Ambitious Vegetables/ Mockers' practice rooms in the basement of Clyde Quay School.
"In about September 1980 Caroline Forsythe joined as lead vocalist. She was my girlfriend at the time and wasn't a member of the band for long, leaving a few months later when we stopped seeing each other.
"She sang for us when we did the infamous Battle of the Sounds competition in October 1980. Radio DJ Phil O'Brien was a judge and got a lot of stick from various people because of his comments about some of the 'less-established' bands taking part. The competition seemed rigged at the time. From what I can remember we weren't given a sound check and played mostly in the dark as they wouldn't turn all the stage lights on.
"Nigel Elder (lead guitar, vocals) joined early 1981. He had come along to a few of our Last Resort gigs and liked what we played."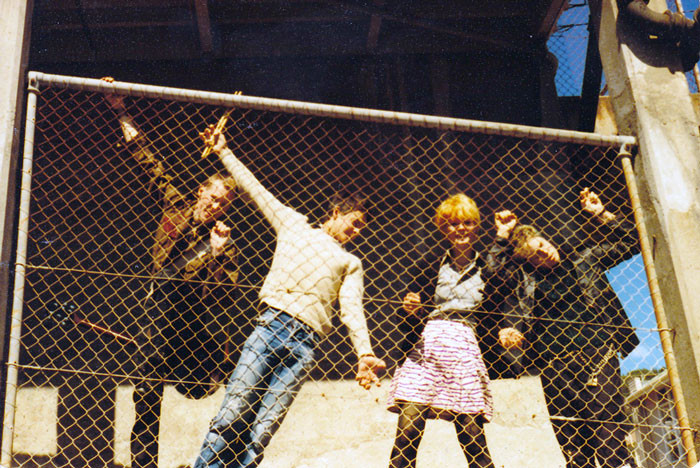 Condemned Sector playing Billy d'Club
"Billy d'Club (or Billy the Club) was a pretty short-lived venue off Vivian Street, which was at the time in the middle of the red light district. At one point I think it was also called the Rock Theatre. I used to go there quite often and meet up with other 'punks', drink and listen to local bands.
"Condemned Sector only played there a couple of times before it shut down. Unfortunately I don't have any posters or other advertising for the gigs so I don't have any dates but I do remember playing once with Domestic Blitz.
"There was a really great atmosphere and there were some great people around. I used to hang around with a group of girls from a local Catholic School who called themselves the 'Larmay Budgies'.
"We always used to end up at someone's flat for a party. We usually walked through Wellington with a police car following us all the way – they used to occasionally stop and search us so we had to be careful what we had in our pockets."
There's mention of Condemned Sector releasing a 12" EP with Domestic Blitz on the other side in December 1980's RipItUp extra. Were these tracks recorded, and if so, when and where? Have any survived? Memories of the sessions?
"The 12" EP never happened. It was too expensive to produce without a record company being involved. We did go into Sausage Studios a couple of times and recorded a few songs which were put out as a tape and sold to friends and through the Colin Morris record shop.
Recorded August 1980, Sausage Studios:
'Private Schools'
'Help'
'Split-up'
'Mutants'
Recorded January 1981, Sausage Studios:
'Bridge for One'
'Stay In'
'Pop Bop'
'Obscene Caller'
'Instrumental'
'Sounds O.B.'
"Sausage Studios was a great place for young bands to record. It was all very 'home-made' and they only had a 4-track so you had two keep mixing things down all the time before adding other parts. It was above a shop somewhere near the Parliament buildings. They had separate rooms for recording each instrument so it was a bit like playing on your own and there were egg cartons and carpet all over the walls.
"In 1980 we also did an interview on the National Radio programme. My Mum knew someone who worked there. It's really funny to listen to now, as we were so serious. Unfortunately the interviewer got our names wrong."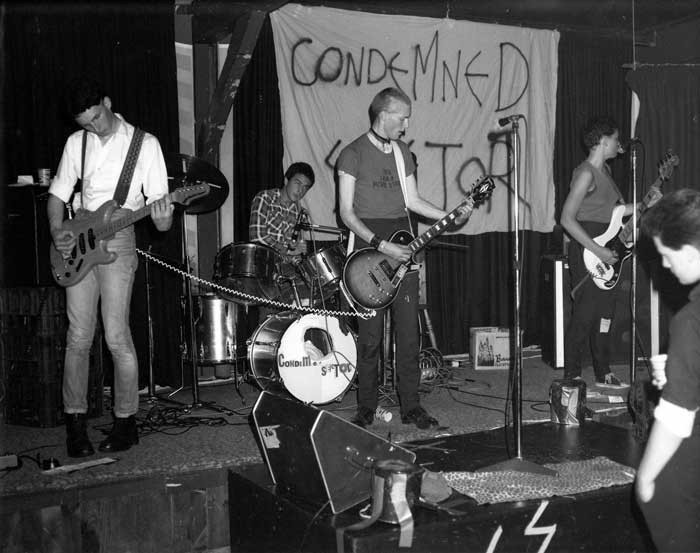 Condemned Sector played at The Subjects' farewell at Last Resort.
"Unfortunately I don't have a record of when The Subjects gig was but I do remember playing at the gig. Not really our kind of audience though as The Subjects were a bit 'jazzy'. Nigel was friendly with the guitarist, so got us the gig.
"We used to play at the Last Resort in Courtenay Place all the time. At one point we were a bit like the house band. The venue was owned by Sue Barlow, who was a lawyer, I think. It used to be a hippie health food café and she turned it into a venue. I think she lost a lot of money with it. It was a great venue to play at and she paid us, which was even better. At one point there was a bit of trouble as the Mongrel Mob got wind of the venue and used to wait outside to pick fights with any punks that came out."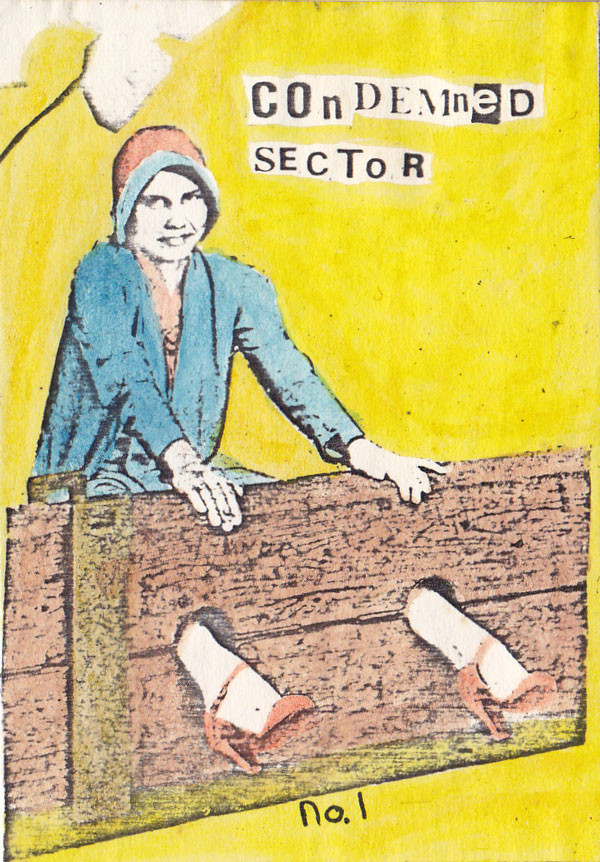 There was a lot happening in Wellington's music scene in 1981, which remained busy into 1982. What are your thoughts/ memories on all or any of this? Why was Condemned Sector's future in doubt?
"Jenny White decided to leave around April 1981. Rather than carry on with the same name we decided to change our name to Neoteric Tribesmen – it didn't seem right to carry on using Condemned Sector as Jenny was so much a part of that band. I switched from guitar to bass.
"It was a great time to be in a band as there were lots of venues and lots of people interested in seeing local bands. There were also a few international bands venturing out to New Zealand around that time: The Cure (their first Wellington concert was excellent), Talking Heads, The Ramones (I caused them to stop playing at one point as they took offence to me waving my umbrella at them – they were a bit full of it)."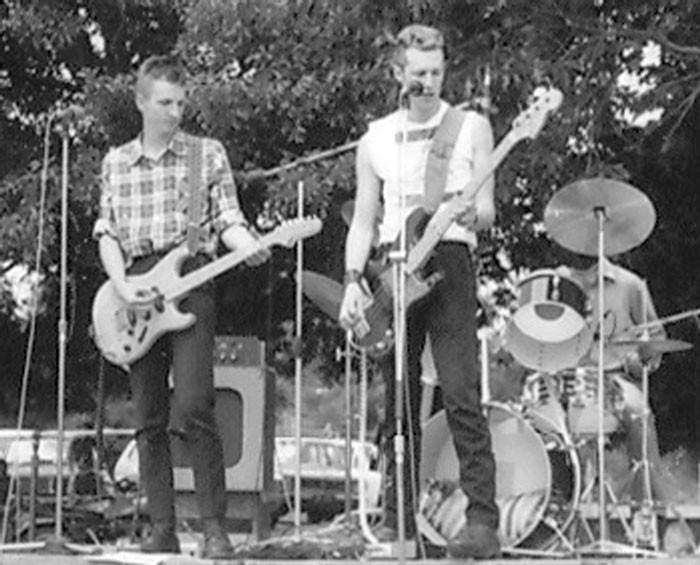 May 1981's RipItUp announces the arrival of Neoteric Tribesmen – the renamed Condemned Sector. Was there a change of sound or new direction? New songs?
"I don't think there was a drastic change in our musical direction. With only one guitar and me on bass, the sound of our songs naturally changed. We were also being more influenced by 'New Wave' bands like The Cure, Echo & the Bunnymen, Killing Joke etc. Nigel also started doing more songwriting and singing.
"There was also a bit of a change in the scene at this time. A small group of us started wearing DMs and calling ourselves boot boys (not skinheads, that came later). The whole boot boy thing came from Auckland where there was a 'gang' calling themselves the Beagle Boys (after the Uncle Scrooge McDuck comic) who wore boots and striped rugby shirts. It wasn't anything too heavy. More of an image thing. None of the other members of Neoteric Tribesmen were really that involved though Nigel used to wear boots."
Neoteric Tribesmen played at Beware House in a vacant warehouse off Cuba Street with Smelly Feet, Second Nose, Naked Spots Dance, and Knives of West Eleven in either late August or September 1981. Any memories of this? Was this when Wellington was having difficulty maintaining a regular venue?
"As I mentioned there was a bit of a change happening in the Wellington music scene at this time. There were still a few of venues around – Terminus Tavern, Aro Street Community Centre, Victoria University, Wellington Polytechnic – but there were fewer band organised concerts. There was a bit more hassle going on and venues were getting heavy about insurance etc.
"Not sure who set up Beware House as a venue (I think it was someone who owned a hairdressing shop – I may be wrong). It was really an old warehouse that was used as a venue for private parties that had bands playing at them (think it was a way of getting around licensing laws etc). We played there a couple of times. Once at a Royal Wedding party on 20 July 81, when Charles and Di got married (they had a TV showing the wedding). And the other time was in September 1981 with the bands above. It didn't last long as a venue.
"We played an outdoor concert at the Masterton Sports Bowl on 12 December 1981 with some local bands, including Cumulus Haemorrage. Nigel's parents lived in Masterton so we stayed with them.
"We borrowed The Mockers' van (which was an old ambulance) and Andrew Fagan acted as a roadie. I remember it was very hot and there wasn't any cover on the stage so we all got sunburnt. There weren't very many people there so it was all a bit surreal.
"We also played at a community hall in Masterton, but had to cut the concert short as Black Power turned up and started threatening everyone. It was a bit like a Benny Hill skit with us packing the van up as quickly as we could and then racing down the road, doors flying open with the Black Power following."
Neoteric Tribesmen played at Terminus on 5 & 6 April 1982.
"We played a few times at the Terminus Tavern. It was a really good venue for bands as you got a reasonable percentage of the door takings. You had to hire your own PA though and have someone on the door. It turned into one of Wellington's long-standing band venues."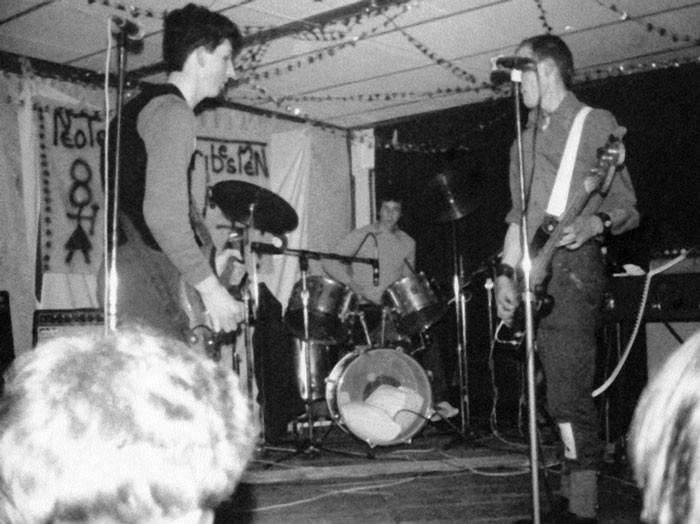 I don't have a copy of the New/ Old tape anymore (although the booklet has survived) so the details of where it was recorded and when plus the release date are gone. Can you remember any of the details and also the wider circumstances in which the songs were written? Was it two sessions some time apart? Were any of the songs played by Condemned Sector? How was it available?
"We recorded the tape in two sessions. The Old was recorded July 1981 at Sausage Studios and included:
'Castaway'
'Everything'
'Machines that Do'
'March of the Flagellents'
And New, recorded September 1981 at Sausage Studios, included:
'Dead Companions'
'The Pawn'
'Folk Tale of the Sun Man'
'Days of Grace'
'Three Tribesmen'
"The Old songs recorded in July were more like Condemned Sector as I wrote most of them. Most of the songs were pretty tongue-in-cheek and started life as either jam sessions or with me sitting in my bedroom late at night writing whatever popped into my head. We tended to come up with the chorus first and then base a song around that.
" 'Three Tribesmen' was a group effect, we wanted an anthem to end our concerts with so came up with the 'tribal' sound. We also started using the three stick figures as our band emblems on our instruments (a bit like Led Zeppelin).
"Tapes were easier to produce than records. We sold the tape through a number of record shops and by mail order – we put ads in music papers."
Neoteric Tribesmen played with Unrestful Movements at Clyde Quay Tavern on 18 August 1982 and with Tin Syndrome at Cosgroves on 3 & 4 September, 1982.
"The Clyde Quay Tavern was another great venue. I knew Unrestful Movements really well as my girlfriend at the time was the sister of Pam, their bass player. Unrestful Movements were an excellent band. I think we played in the afternoon as they had another band in the evening.
"At the time there was a bit of violence happening at gigs between the boot boys and whoever else was around. As I was a boot boy/ skinhead, the other boot boys used to follow the band around. We also got a few bikers showing up at the Clyde Quay Tavern gig as Glen, Unrestful Movements' singer and guitarist, had links with them.
"Tin Syndrome were an odd band for us to play with as they were far more 'commercial' than us.
"I do remember one gig at the Cambridge Arms where someone threw a glass at Nigel (luckily it didn't do any harm). We were playing our version of 'White Riot' by The Clash at the time."
October 1982's RipItUp reported, "Neoteric Tribesmen may disband after violence at Cosgroves show". What happened?
"This was a real turning point for us. I had a shaved head and was wearing boots and braces and hanging out with the wrong sort of people, while the others had 'normal' lives. A lot of the gigs ended in violence of some kind, people stopped going to see bands and pubs etc stopped showing bands. Also, musically Nigel wanted to become more commercial while James and I didn't.
"I have a recording of a radio interview we did on Access Radio in which it's very obvious that there was a lot of friction between Nigel and I. It's quite funny listening to it now.
"I ended up leaving and joining Flesh D-Vice for a while. I played bass on the 12 Inches Of Hard Flesh EP. I never took it too seriously and was only with the band for eight months or so. We did some excellent concerts though – the Golden Showers concert in Newtown was really awesome."
I don't have a release date or any recording details for the single 'Safely Get Away With It'/ 'Apathy'. How many copies were pressed? Any memories of the recording sessions? Any other details? Who drew the cover?
"In 1982 (not sure of the exact date) we recorded 'Safely Get Away With It' and 'Apathy' at Crescendo Studios. It was far more professional than what we had been used to. The sound engineer was really good to us and spent a lot of time helping us to get the best recording – I think he knew that we were a little out of our depth. I remember there being a lot of Steinlager being consumed. Our plan was to find a record company to release it, but in the end we did it all ourselves. It was mainly sold through local record shops.
"We also tried to get on the Radio With Pictures TV show, but they rejected it saying that the song had an offensive word on it. We also tried to play at Sweetwaters music festival, but got rejected again.
"The front cover was drawn by James, the back cover by me."
December 1983 – Neoteric Tribesmen reformed as The Resurrectionists.
"After I left Flesh D-Vice, Nigel approached me to play bass in his new band. The Resurrectionists were a natural progression from the other bands. We recruited Michael Musgrove on vocals and then in March 1984 got Steve Roach on trumpet.
"We played funked-up punk really. Someone once said that we sounded like a mad version of the band Parliament. Michael was an excellent front man, a real showman. We also used to use a lot of extra musicians when we played. Once we had a saxophone player, backing vocalist, an extra guitarist and a guy who played electric violin."
The Resurrectionists at Terminus on 27 & 28 June 1984 is the last mention I can find of the group. When did they split up? Were there any recordings? What did the group members do in the aftermath?
"We played a few times after the Terminus gig, notably at the Band of the Year competition at Victoria University on 5 July, 1984. It was all a bit of a 'fix' and we were one of the only part-time bands to enter the competition. I remember our sound guy being told that he couldn't use all the mics so our sound through the PA wasn't the best.
"We also had a problem with the smoke machine that was supposed to create a layer of smoke from the floor to our knees. Instead it created a layer of smoke so thick that we couldn't see each other on stage. I have a recording of the gig that is excellent.
"The last Resurrectionist gig was at the Clyde Quay Tavern on 22 September, 1984. We had a load of special guest musicians and played some older Neoteric Tribesmen songs. It was billed as a break-up gig and we got quite a big crowd.
"We never did any proper recording or released anything.
"James, Nigel and Steve went on to form a jazz combo and played in various nightclubs around Wellington.
"Early 1985 Michael and I formed a band called Danse With A Stranger (DWAS) with Garth Evans on drums. Even though we only had bass, drums and vocals our sound was very big and pretty unique – I used lots of effects and split my bass sound so it came through two different sounding amps.
"We only played once at the Terminus Tavern on 26 September, 1985. It was an amazing gig, one of my favourites, and the place was completely packed and Michael was on top form.
"Unfortunately DWAS didn't last long as Michael and Garth had a big bust-up. I ended up forming a band called Spader Non with my brother on drums and Peter Jamieson on keyboards. We had a similar sound to DWAS. We went into the studio and recorded two songs, but never released them.
"In 1986 The Resurrectionists reformed for a one-off concert called 'Closer to the Source' at the Electric Ballroom on 29 August. I can't remember whose idea it was, but I think we all missed playing music together. It was a really nice atmosphere to rehearse in – no egos getting in the way. We had all moved on as musicians as well. The gig was great fun and we played probably the best we had ever played. I have a very good recording of it.
"After the gig Nigel and Steve moved away from Wellington. James, Michael and I formed a new band with Peter Jamieson on keyboards called GaGa. We played a few times around Wellington, including the Battle of the Bands contest at Broderick Inn, Johnsonville, and at the Cricketers Arms in mid-1987. In November 1987, I moved to the UK."