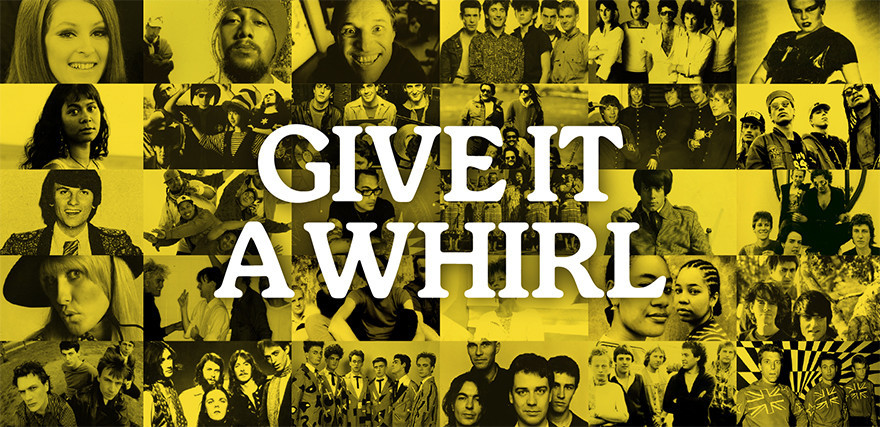 It's coming up for 20 years since the original screening of Give It a Whirl.
Subtitled "New Zealand Rock & Roll Stories", the series was completed and shown in 2003: six television-hour episodes that set out to chart this country's near-fifty year relationship with what Frank Sinatra once famously dismissed as the music of "cretinous goons".
It's full of wonderful footage, from home movies to peeks into the Television New Zealand Archives, plus a slew of interviews conducted especially for the series. There is hilarity and tragedy. Great stories and great music. A few heroes and the odd villain. Wise words, and few foolish ones.
There are even a few flickering frames from the camera of Ron Crabtree, a kind of real-life Colin McKenzie (the fictitious film pioneer of Peter Jackson and Costa Botes's mockumentary Forgotten Silver), who attempted in the late 1950s to make his own rock'n'roll movie; a local Blackboard Jungle.
It is a series that would not be made today, or if it were it would certainly look nothing like this.
For one thing, many of the faces and voices here are no longer with us. Watching in 2022, one can be grateful that pioneers such as Johnny Cooper, Max Merritt and Ray Columbus – not to mention more recent figures such as Dave McArtney, Graham Brazier, Bones Hillman and Jane Walker – were alive when the series was made, and that the filmmakers had the foresight to interview them. Their testimonies are essential to the story, and the raw footage from these interviews will prove even more valuable in years to come.
But perhaps the main reason we won't see another Give It a Whirl concerns the definition of rock'n'roll itself.
The programme centres on the idea that rock'n'roll is the music of rebellion.
The programme centres on the idea that rock'n'roll is the music of rebellion, and by extension, the best, most authentic form of popular music. It is a narrative that can be traced to the early rock critics; boomers who emerged in the late sixties in influential magazines like Rolling Stone, where they laid out a gospel that has become stubbornly entrenched. It begins in the 50s with Sinatra's cretinous goons, carries on through the British-led beat boom of the sixties, the Dionysian rockers of the early seventies and the punks who came to bury what went before but were really continuing the tradition. It's a romantic view, centred on boys with guitars, and can be summed up in the popular catchcry, "sex, drugs and rock'n'roll!" And it runs right through Give It a Whirl.
Some acts fit this narrative more neatly than others. Larry Morris's band were conveniently called The Rebels. Morris gleefully tells sleazy stories of club owners who promised to give the bands a bonus "for every chick we could screw in their office."
Some challenged social mores in other ways. Early punks the Suburban Reptiles made sure they got the hair and the attitude right first. The music would come together later, once Split Enz founder Phil Judd joined the group.
Others had the rock'n'roll life thrust upon them, like Billy Karaitiana (Billy Kristian), who found mid-60s fame with trans-Tasman chart-toppers Ray Columbus and The Invaders. The soft-spoken bass player recalls being chased down Sydney's Castlereigh Street "by a hundred girls, running for our lives in our black satin suits. It was real stuff," he marvels. "Just like the Beatles."
And yet the rock'n'roll thesis is undercut right from the start when we are introduced to New Zealand's first rock'n'roll recording artist, Johnny Cooper. No rebel, the self-styled 'Māori Cowboy' was in fact a western-style entertainer and touring talent quest operator who had already been playing professionally for years when, on the instructions of record label HMV, he recorded an historic if tame cover of Bill Haley's 'Rock Around The Clock', which he treated essentially as a novelty. The musicians who accompanied him on the recording were local jazz players.
It was jazzers again, including the ubiquitous Bernie Allen, who backed up Johnny Devlin, New Zealand's first convincing rock'n'roll star, when he came to Auckland from Whanganui in 1958 to play at the freshly christened Jive Centre, the city's first rock'n'roll venue.
There's no question that rock'n'roll helped provide New Zealand youth with a culture of its own, where it had been expected they would simply follow in the nylon stockings and grey strides of their parents. As singer Carol Davies says at the start of episode one: "All of a sudden one day, out of America came rock'n'roll and our lives changed overnight … We had our own music."
And yet it's clear from the porous musical borders illustrated above that the idea of rock'n'roll as ground zero, a rebellious generation sweeping aside all that came before, is a simplification. Young people would embrace a wide variety of pop music, not all of it conforming to the rock'n'roll archetype.
Moving into the sixties with episode two, Give It a Whirl touches on the phenomenon of Mr Lee Grant, the product of an active local record industry and television programmes such as C'mon. He delivered big pop ballads in the Tom Jones mould, nothing remotely rebellious or rock'n'roll. But he was a fashion plate, with his mod clothes and self-styled haircut – developed, as he reveals in a charming, self-knowing interview, to conceal his inability to grow sideburns. Crucially, his presence triggered teenage riots. In Mataura he was taken to hospital after being knocked unconscious by a frenzied mob of adoring fans.
Other genres are co-opted into the rock'n'roll story when they fit the narrative. Dalvanius Prime is acknowledged for the subversive way he brought te reo to a young generation of Māori by hitching it to the breakdance craze with Pātea Māori Club's massive hit 'Poi E'. But the true extent of Dalvanius's achievement – creating a national Māori language hit in the face of a racist radio market – goes unexamined. (This would ultimately be addressed in Tearepa Kahi's 2016 documentary Poi E: The Story of Our Song.) Instead, we learn how one-time glam rock star Alastair Riddell programmed the drum machine on the track; an interesting rock'n'roll footnote, but far from the most significant aspect of the story.
Reggae and hip-hop, too, are presented as honorary forms of rock'n'roll, on account of their political and social messages and rebellious stances of artists such as Herbs and Upper Hutt Posse – even though, by the time the series was made, hip-hop was on its way to outselling rock as a genre.
But if any group gets particularly short shrift it is women. Ironically, in a programme that keeps returning to the idea of rebellion, the notion that women in a patriarchal music industry may have had even more to fight against than their male counterparts is not really considered. The recurring figures in the story tend to be men, while women come and go. Johnny Devlin's contemporary Carol Davies (who, headlines once declared, "has nearly as many fans as Johnny") appears only fleetingly. Dinah Lee does the blue beat, inspires a generation of young girls to turn their backs on their mothers' wardrobes, and disappears. Allison Durbin's tale of teenage triumph is left in the air when she flies to Australia. The story of Sandy Edmonds is reduced to a sleazy anecdote, more innuendo than detail, involving Larry Morris, Jimmy Page, and a bathtub.
In 1972 Shona Laing wins New Faces and becomes an overnight star. "A million people sat down to watch it so it was pretty effective," she recalls in hindsight. And yet Laing, too, vanishes from the story the moment she leaves New Zealand. While serious analysis is given to the failed attempts of Dragon and Hello Sailor to break into America, and Th' Dudes' half-hearted effort in Australia, there is no mention of Laing's time in London with Manfred Mann, nor the big topical hits she had after her return to New Zealand in the 80s. And Sharon O'Neill, who notched up a string of original hits in New Zealand and Australia, isn't mentioned at all.
Some of the gaps in the original series were consciously addressed in a second series, screened in 2006, which took a thematic rather than chronological approach. One episode was devoted specifically to women and another to Māori, while others focused on the rise of electronica and music videos. But by then it was a case of too little too late.
Histories teach us as much about the period in which they are written as they do about the subject under discussion. They interpret events through the lens of the present, and the eyes of those doing the telling. Watching Give It a Whirl it occurs to me that, whether or not the filmmakers realised it at the time, the series marks the end of an era. It is the last time such a diverse body of music could be labelled rock'n'roll.
Don't get me wrong, rock'n'roll is my favourite music. It changed my life and I still listen to it all the time; after all, I'm a boomer. But the idea that it has continued to be a revolutionary force is questionable. As Tim Finn notes near the end of the series, the rock song has become a classic form, in which mastery now matters more than innovation.
More than a history of rebellion, it strikes me that the story of New Zealand music has been one of struggling to make ourselves heard. When it wasn't a sexist music industry, or a broadcasting environment hostile to local songs let alone ones sung in te reo, it was our far-flung location.
The "tyranny of distance, didn't stop the cavalier, so why should it stop me?" Tim Finn sang in the Split Enz hit 'Six Months In A Leaky Boat'. But the bravado and the jaunty tune hardly conceal an anxiety that, for any New Zealand musician trying to make waves internationally, must have been par for the course. Dreaming of Beatledom in the 1960s, Wayne Mason felt as though his hometown of Upper Hutt was "600 miles away from Wellington". London, New York or Los Angeles might as well have been other planets. Mason nevertheless made the journey to London with his group The Fourmyula, one of many New Zealand pop acts who, having travelled as far as they could in their own country, set out to conquer the world, only to find they were tiny fish in an enormous pond.
To some extent the distance has narrowed in the 20 years since Give It a Whirl with the rise of social media. Shayne Carter's comment in episode five that "the only way you can really make an impact in the Northern Hemisphere is by being there" may still carry some truth, but as the likes of Lorde and Benee have shown, you may now be well on the way to stardom by the time you get there.
The story of New Zealand music can no longer be the Rolling Stone-approved one of guitar-wielding rebels. We were always more diverse than that. We are not, for the most part, cretinous goons. We didn't invent rock'n'roll, or even some world-changing variant of it. But, as Wayne Mason notes near the end of Give It a Whirl, we shouldn't be too hard on ourselves. New Zealanders can write some great and distinctly eccentric songs, across a huge variety of genres. We've been doing it for a long time and will continue to do so. The important thing is that someone is listening.
--