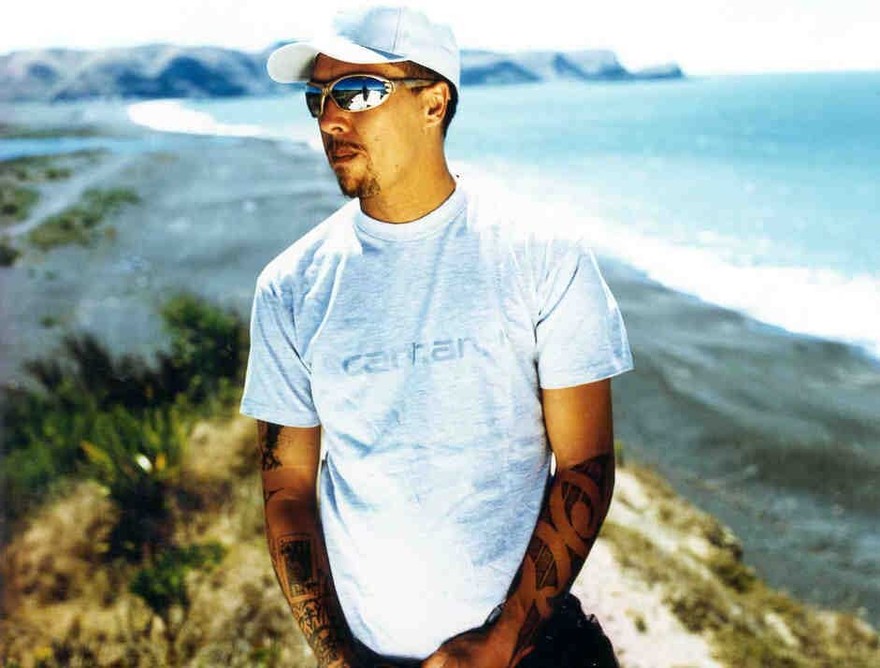 In this interview for 2003 television series Give It a Whirl, DLT (Darryl Thomson) discusses his love for hip hop, the start of his musical career with Upper Hutt Posse, writing 'Chains' with Che Fu – and his early influences, including the music of Bob Marley, James Brown, and Lee "Scratch" Perry. "Stuff that lifted me up off the seat and took me into a jumpy happy state ... when I was a pre-teenager that would have been funk. Whenever I heard it or felt it I was happy. ... in the same way that James Brown lifted me up out of my seat, Lee Perry settled my spirit somehow."
--
Watch below: Full-length interview with DLT from Give It a Whirl (2003) via NZ On Screen (2022).
Watch below: DLT recalls meeting Te Kupu (Dean Hapeta) and forming Upper Hutt Posse. "I'd say easily within three months we were bangin' in the shed ... one of the first songs we recorded, I played a big Steinlager can money box, someone had got it when they scored two dozen."
Watch below: DLT discusses writing 'E Tū'. "We were listening to rap, listening to 'The Message' – Grandmaster Flash and the Furious Five ... If you wipe out the word "Bronx" and things that make it geographical, the story is Flaxmere ... Otara, Porirua."
Watch below: On connecting with the Skeptics. "Maybe if we had recorded 'E Tū' at Avalon with all the trendy gear we might have been a bit more soft about it. We were sent into one of the most hard, alternative sounding bands, [the most] mad full-on dudes that you could come across. And they just embraced us."
Watch below: DLT talks about meeting Che Fu and writing 'Chains'. "I played support for Supergroove's first gig ... maybe second gig ... they went on a national tour; I took a couple of MCs and turntables on the road with them. Che basically jumped in our van and listened to mix tapes between tours ..."
Watch below: On his reaction to 'Chains' hitting No.1. "Yeah, elated. Have been ever since. Because it's like K2 bro, we got there."
Watch below: "E Tū is Aotearoa hip hop. Not scantily clad, shiny shit. Some truths. Not everybody lives in Melrose, a lot of people live in poverty."
--
This interview was recorded for the 2003 season of TV series Give it a Whirl. All audiovisual content is copyright to Visionary Film & TV, and may not be reproduced.
--
Further reading: Nick Bollinger on Give It a Whirl