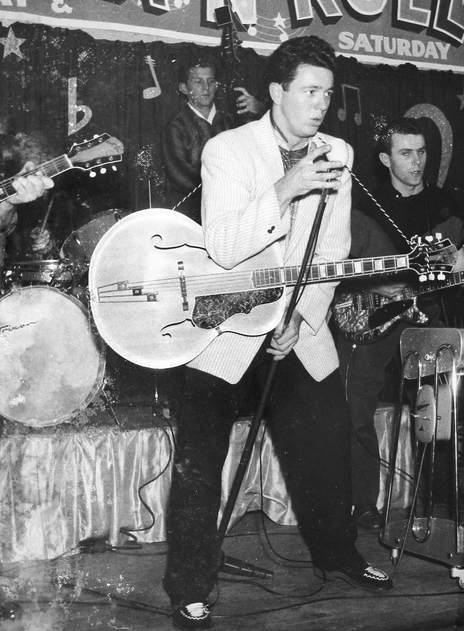 In this interview for 2003 television series Give It a Whirl, Aotearoa's first rock'n'roll star Johnny Devlin recalls learning to perform with his family in Whanganui and other provincial centres, singing in talent quests, and moving to Auckland where he gained a residency at the Jive Centre and was offered his first chance at recording a rock'n'roll song for release. Devlin discusses his lengthy career, including touring New Zealand to promote his first record 'Lawdy Miss Clawdy' and touring Australia and New Zealand with The Beatles. "I lived in Whanganui and spent most of my time hanging around the milk bars, riding motorbikes and generally making a nuisance of myself. I actually started off with my brothers and Mum and Dad singing as the Devlin Family, we used to do all the charity shows around Whanganui and the talent quests and so forth. Then of course when rock'n'roll roll hit, Mum and Dad decided to bow out and my brothers and I continued as the River City Ramblers. I branched off on my own, started imitating Elvis. I probably would have been one of the world's first Elvis Presley impersonators, I guess, in those days."
--
Watch below: Full-length interview with Johnny Devlin from Give It a Whirl (2003) via NZ On Screen (2022).
Watch below: Johnny Devlin recalls hearing rock'n'roll for the first time: "It was 'Rock Around the Clock', it was No.1 on the Lever Hit Parade. And my brothers and I heard it and we said 'wow this is good music, let's get into this …' It was the beat. It was a completely different beat to what we'd heard before."
Watch below: Johnny discusses the start of rock'n'roll fashion and the older generation's view of rock'n'roll: "With the music came the fashions as well, and in those days it was the zoot suits for the guys, and the girls wore straight skirts and pedal pushers. Mum and Dad used to say to us on a Friday night when we'd go downtown, 'Keep away from those bodgies and widgies, they're evil people. If you see them, cross the road and walk down the other side of the road.'"
Watch below: Johnny recounts his move to Auckland and singing at The Jive Centre: "I met a chap called Dave Dunningham who was the proprietor of the Jive Centre, which was held in the old Trades Hall building in Auckland, in Hobson Street. Dave was pretty impressed with what I did, and he said to me, 'Would you like to come up and sing permanently here at the Jive Centre?' I thought about that and I thought, well I've never left home before on a permanent basis, you'd have to get me a job and somewhere to live and all that sort of thing. Anyway, I got a call from him about a week afterwards, after I got back to Whanganui. He said to me, 'I've got everything organised. Do you want to come up?' I said okay, packed my suitcase and went up to Auckland. That's when I started working professionally, full-time, at the Jive Centre for Dave Dunningham."
Watch below: Johnny recalls meeting Phil Warren and recording 'Lawdy Miss Clawdy': "And of course everything happened from there. We were getting huge crowds and the girls started screaming and carrying on. I don't forget the first time that happened, I'd never struck anything like a pack of girls screaming at you. I thought I must've left my fly undone or something so I quickly turned around and checked, and that was okay. I went back and continued on. That must've created quite a disturbance ... One night I was singing there and a little chap was standing in the middle of the dance floor with his hands over his ears. I thought, I'm either singing out of tune or I'm singing too loud or doing something wrong. He just kept standing there with his hands over his ears. When I finished I bowled up to him, I was introduced to him and he said, 'My name's Phillip Warren'. I said, 'What were you doing standing there with your hands over your ears'? He said, 'I was just trying to hear what you'd sound like on tape'. And then I found out that he had his own record label. And he said, 'Well I'd like to record you.'"
Watch below: Johnny discusses the first recording of 'Lawdy Miss Clawdy': "None of us knew too much about recording, I don't know too much about it but I know there was a lot of echo. We couldn't cut the echo out, the instruments were all sort of feeding into each other. That's probably why it sounded a bit scrappy."
Watch below: Johnny recalls embracing the beat of rock'n'roll at the Jive Centre: "Well we had a bit of a problem, actually. I got right into the rock'n'roll beat. It was the same with my band The Devils actually, they were all jazz musicians originally and they used to swing to some of the rock'n'roll songs. I didn't like that very much, it took away from the hard rock'n'roll beat. But eventually with a lot of rehearsals we got it together. Rock'n'roll is a definite sound, it's a definite beat, and you've got to adhere to that. Otherwise it's not rock'n'roll."
Watch below: Johnny discusses his first tour of New Zealand, when he was promoting 'Lawdy Miss Clawdy': "I'd been singing at the Jive Centre for about six months. When I was approached to do the tour just after 'Lawdy Miss Clawdy' had been released, I thought it was a good idea. Phil Warren thought it was a better idea, because we were going to sell records if we went on tour. Every place we went I did record bar appearances. And that's actually when 'Lawdy Miss Clawdy' took off. We used to sell boxes and boxes of records at the record bar appearances, it was nothing for four or five hundred people to turn up."
Watch below: Johnny remembers touring Australia and New Zealand with The Beatles in 1964: "It was exceptional. I regard that as one of the highlights of my career … The Beatles were the hottest act in the world at the time. At first I said I wouldn't do it. I said I'd do it if I could go on first on the show and get on and off again fast. And second, that they doubled the money they'd offered me. They agreed to both those of those terms so I did it. And it was the most electrifying tour I've ever done in my life."
--
This interview was recorded for the 2003 season of TV series Give it a Whirl. All audiovisual content is copyright to Visionary Film & TV, and may not be reproduced.
--
Further reading: Nick Bollinger on Give It a Whirl