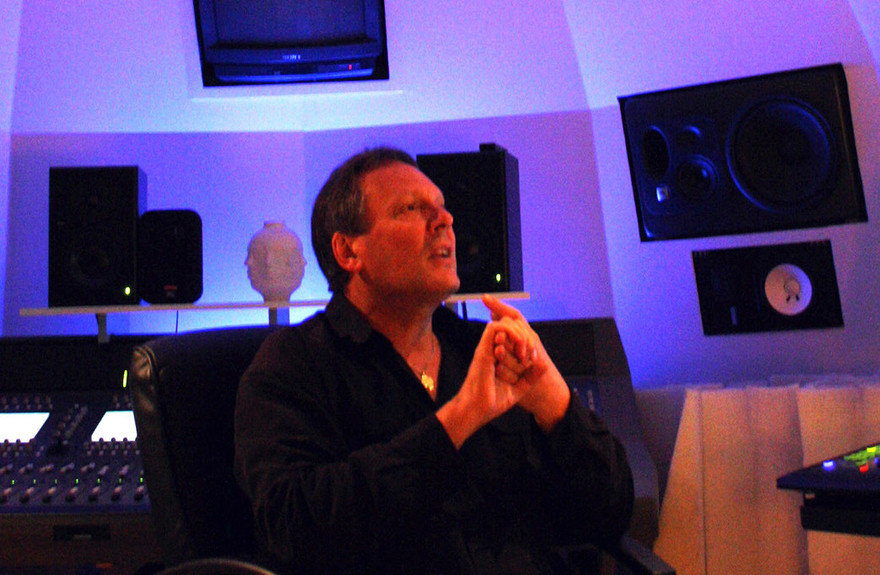 In this interview for 2003 television series Give It a Whirl, Alan Jansson discusses his career as a musician and producer, starting with his early bands The Steroids and The Body Electric, where he first made the switch from guitar to electronic music. He recalls the highlights of his production career, including Sisters Underground's 'In The Neighbourhood' on the ground-breaking Proud: An Urban-Pacific Streetsoul Compilation – which in 2022 was awarded the Independent Music NZ Classic Record award at the Taite Music Prize awards – and his work with OMC's Pauly Fuemana, with whom he co-created the international smash hit 'How Bizarre'.
--
Watch below: Full-length interview with Alan Jansson from Give It a Whirl (2003) via NZ On Screen (2022).
Watch below: Alan Jansson recalls shifting from guitar to electronics: "With a guitar you have to actually play the strings to get the sound. Whereas with electronics it's just an oscillator that oscillates, and you shape it. And I found that far more interesting. It was just far more innovative for me to actually start with just a sound and shape it, as opposed to having to form chords and strum something."
Watch below: Alan Jansson describes the audience reponse to his early band The Steroids in the late 1970s. "It was very funny. We would turn up to places like Nelson and Whakatane and there would be literally hundreds of people – three or four hundred people turning up to gigs. So it was astounding. And yet we'd turn up to places like Hamilton and be lucky to get 50. Mainstream places, you never really got a huge following. Wellington and a lot of the smaller places, it was always a huge turnout."
Watch below: Alan Jansson recalls his early band, The Body Electric. "That was just an experiment really, we were just having some fun. We had a couple of synths and a drum machine and we couldn't really change the knobs quick enough because they never had presets in those days. There was no such thing as MIDI so we used to have to work off a pulse out of the drum machine." And on their hit 'Pulsing' (9.16): "Another big surprise, that was just something where we had a groove going and Gaz came in and wrote some lyrics very quickly ... we went to [the head of ZM]. He listened to it and said 'Congratulations, you're our band of the month ... it's a deal where you get free recording time at Radio New Zealand' ... We spent another $500 and made 'Pulsing' and two other songs there."
Watch below: Alan Jansson recalls buying a Fairlight CMI (computer musical instrument – a synth, sampler and digital audio workstation, first released in 1979). "I went over to Australia and purchased one. Everyone said you couldn't buy one because 'they're outrageously priced', but when we went to Australia and did the pricing on it was about a third the cost of what people here had been telling us. It was quite easy to buy and bring back ... we bought it in 84, by 85 it had paid for itself."
Watch below: Alan Jansson discusses production of Proud: An Urban-Pacific Streetsoul Compilation (1994). "I ended up producing by default. There was no one else that could do the work we wanted. And when I did the Proud thing – again, I came to produce by default, I wasn't really a producer, I was more the timekeeper. They came in with the ideas and I put the ideas to loops and created songs for them, and then made sure I delivered on time."
Watch below: Alan Jansson recalls having a hit with Sisters Underground and 'In the Neighbourhood'. "It was the last song recorded for Proud ... The girls brought me some loops that they liked the sound of, and said they wanted some acoustic guitar strummed over the top of it ... it all clicked. I remember listening to that track and getting goosebumps."
Watch below: Alan Jansson discusses co-writing and producing OMC's international hit 'How Bizarre'. "'How Bizarre' basically evolved from Proud. Everybody got the buzz with Sisters Underground and the strum was there, and I found some beats and by putting them into the Fairlight and pitching them up – I was able to cut them up and separately tune them so they actually played notes. Beforehand they were just beats, just random beats. And then I put an acoustic guitar on top of it and just strummed that along ... then Pauly [Fuemana] came in and he sang the chorus on it. It wasn't exactly [as it is], we had to rewrite it a bit. He came in one day and said, 'You always say "How Bizarre", my girlfriend says it too. Do you mind if I use that?' I said 'Nah, throw it in, we'll see if it works.' And yeah, it did work, really big time. We got quite a surprise actually."
--
This interview was recorded for the 2003 season of TV series Give it a Whirl. All audiovisual content is copyright to Visionary Film & TV, and may not be reproduced.
--
Further reading: Nick Bollinger on Give It a Whirl