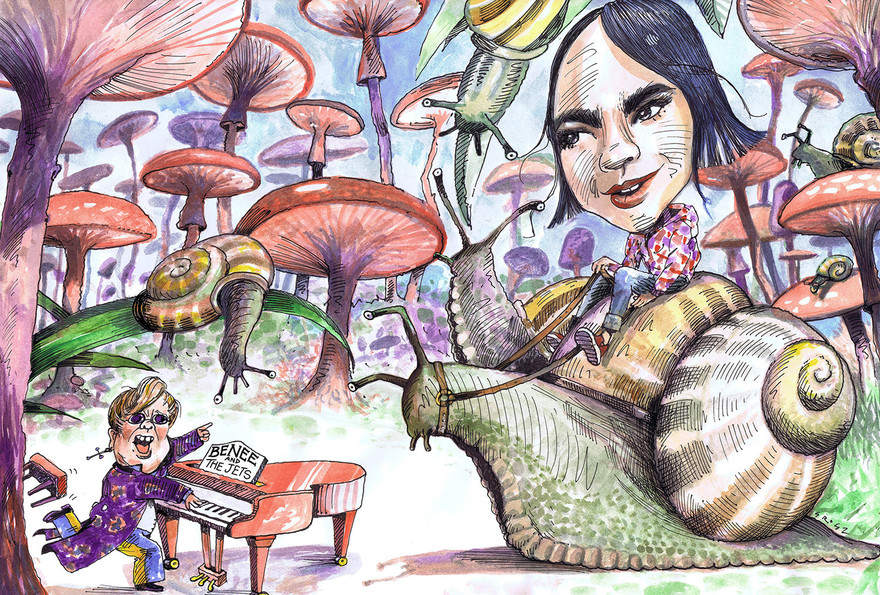 Benee and Elton John
Elton John is no slug. In early 2020 on his Rocket Hour radio show he plays "something exciting from New Zealand … 'Supalonely', a single by Benee. I'm dying to meet her. I'm going to New Zealand soon, and I'm hoping to hook up."
Elton is true to his word, though when his grand tour to farewell the Yellow Brick Road reaches Auckland, his voice lets him down. After nearly two hours he croaks he can sing no longer. It is the 172nd gig of the tour and – despite being diagnosed with "walking pneumonia" – he has been determined to perform.
The hook up with princess Benee has to take a rain check. But within a few days, she is over in Sydney for an in-person audience with Sir Elton on Rocket Hour. Also invited is Matiu Walters of Six60, not as chaperone, but because Elton is "just crazy about Six60".
The Rocket Hour is devoted to New Zealand music, and the rocket man conveys genuine enthusiasm and awareness. Benee is "an amazing young artist," he says, explaining that back home – at each of his homes, goes the legend – his massive record collection includes her EP Fire on Marzz on vinyl.
He put his guests at ease – giving Benee the giggles, but also gleaning fluent explanations about her songs. 'Supalonely' was about a breakup, she says. "It could have been really sad, but I decided to turn it back on myself and make it self-deprecating."
"Always a good thing to do," advises the piano prodigy known for performing in a Donald Duck costume.
The playlist is almost all from New Zealand and chosen by Elton. 'I Got You' opens, 'Weather With You' closes. In between, Benee selects Aldous Harding; Matiu, Fat Freddy's Drop. Elton approves. "Lorde blew my mind … the teenagers are taking over the world."
He asks Benee how she got into music. She was aged 17, and put some songs on Soundcloud. While washing dishes and making pizza she made the decision to try music.
"We've all washed dishes," says Elton. "I'm going to play 'Soaked' off Fire on Marzz …"
Elton then announces "something upbeat from New Zealand – not John Rowles, not 'Love is In the Air' …" It is 'Bliss' by Th' Dudes.
Elton's enjoyment is palpable; he suggests it's influenced by Thin Lizzy. "Tell me guys, this is a big drinking song, right?" His guests laugh, and get very enthused. "Yep," laughs Benee. "We're good at that," says Matiu.
Elton starts singing: "'Nah, nah, nah, nah nah'… and off you go, make mine a double. Everybody must get pissed, as Bob Dylan sang." As 'Bliss' fades he says, "While that was playing everone was going kinda crazy ... it'd be great to use in a movie now. Songs like that, which didn't get much play other than New Zealand, deserve to be heard."
Next up, Benee's 'Find an Island'. It came after an argument with a close friend, she says. The kind who you can't just tell to go away. "So I wrote a song, and 'find an island' seemed a good way to say it."
"It's a great way to say it," responds Elton. You just know that during Benee's upcoming US tour, he plans to be sidestage.
Walking pneumonia he can conquer, but unfortunately a pandemic keeps these fast friends apart.
--
Illustration © Chris Grosz, text by Chris Bourke
This is the seventh of a bi-weekly series about unlikely encounters experienced by New Zealand musicians. Read more about Chris Grosz, musician and illustrator.