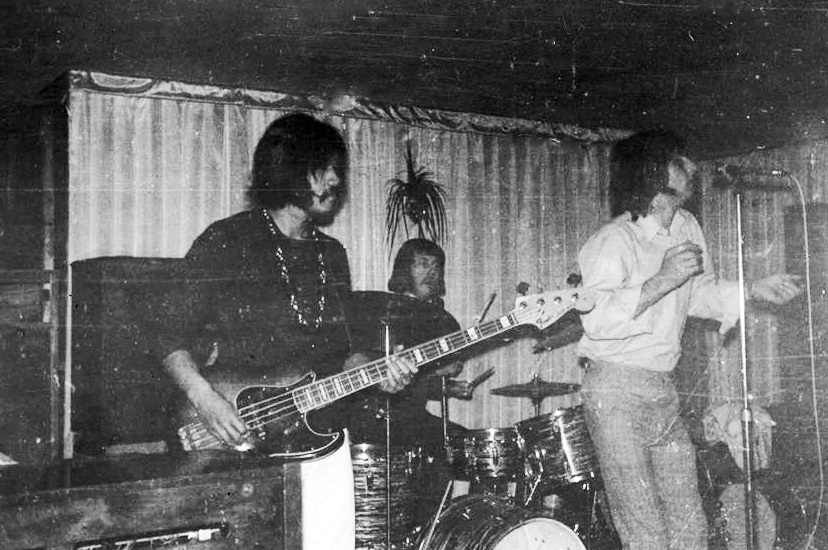 Hamilton meets the Big Beat 1964-1972 (Part 1)
The beat boom peaks
The Hamilton pop boom rolled on into 1969 with The Soul Band Movement anchoring Danceland '69, where Auckland's The Challenge, Wellington's Cheshire Katt and Tom Thumb, The Rebels, The Underdogs, Fresh Air and Sylvester Winch Style added colour and dash.
The Starlight Ballroom was left relying on locals The Disturbance and The Frost and Tauranga's Sons and Lovers to bring the punters in.
In August, Heart n Soul replaced The Soul Band Movement (who became Larry Abbott's Movement) at Danceland '69. They partnered with The Dedikation, Tom Thumb, Classic Affair and The Fourmyula as the franchise expanded, adding a Wednesday night city show. Hamilton groups Quasimodo, Armageddon, Cinderella, Graf Spee and The Breeze also made it onto the bill.
In October, C'mon '69 brought Shane, Classic Affair, Lew Pryme and surf movie Children of The Sun to the region as the beat boom and its sibling, the golden era of pop, finally faded.
An underground emerges
Television went national in November 1969 and Radio Hauraki got its onshore licence in September 1970, leading to the quick establishment of Radio Waikato in November. With pubs open past 6pm since 1967, other new entertainment options were also opening up. Ron Jenkins, far from idle, introduced a "psychedelic teenage light show" to his new club, Electric Garden in the old 3 Musicians premises above the Embassy Theatre. Flagged by a special Wednesday night for 1ZH (formerly 1XH) listeners, The Electric Garden opened for real in late October with Quasimodo and Armageddon.
Jenkins was ahead of the game once more. Single premise clubs with resident bands were in, as was the underground sounds of eastern folk, acid blues and hard R&B. Although that didn't stop Electric Garden failing in mid-1970. Salvaging what he could, Ron Jenkins sold his equipment and eventually returned to Invercargill.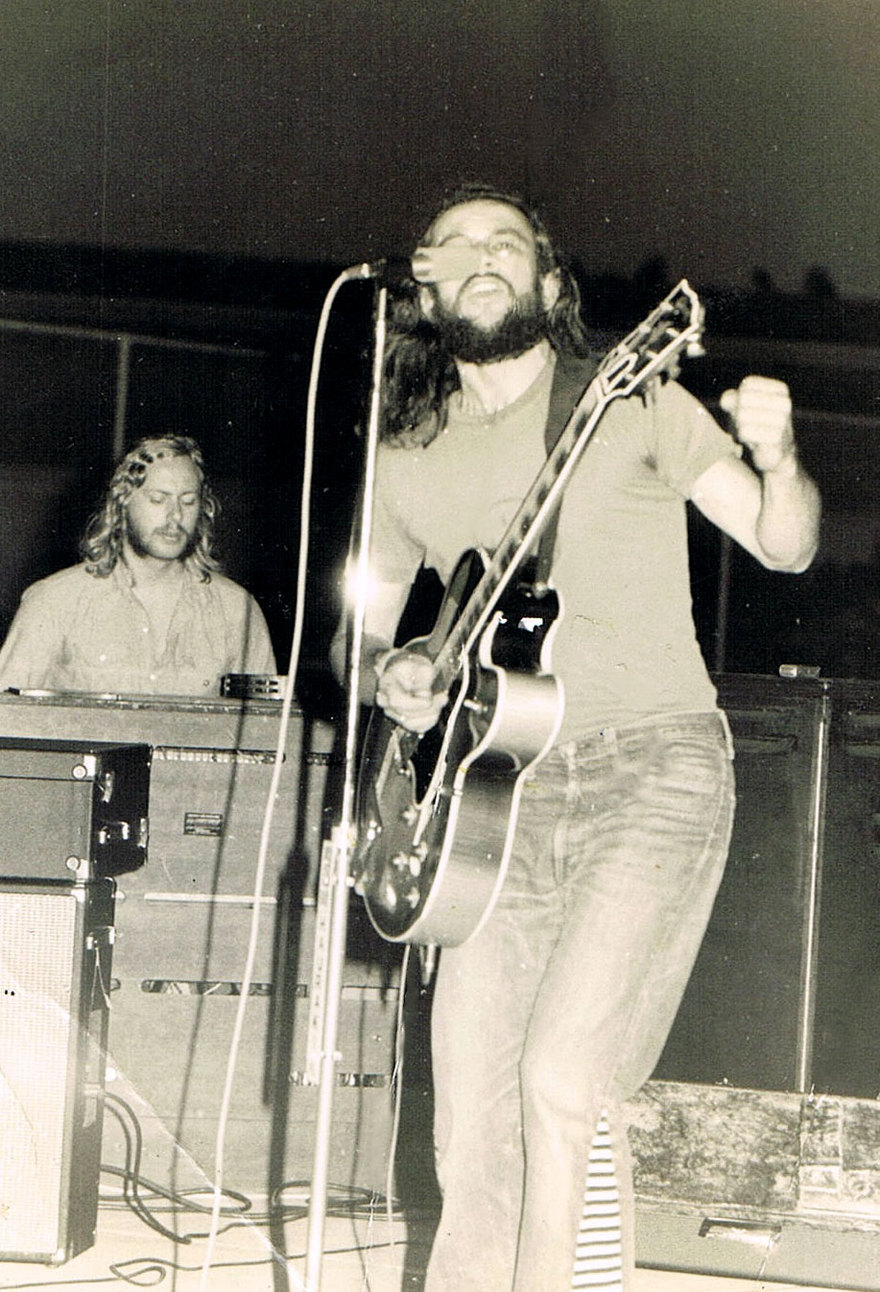 In June 1970, The Chamber (in the Garden Place Coffee Lounge above Pascoe's Jewellers) opened with Movement, followed a week later by The Marquee on the corner of Barton and Bryce Streets with Chris Thompson and Neil Reynolds' Mandrake in residence. "The go set meet at The Marquee. No jeans," stated the ads. Cinderella and The Jacob Manning Group, who covered Jimi Hendrix, Led Zeppelin and Cream, also played there.
Around town, you could catch Corben Simpson and Tony Littlejohn at Pigeon's Coffee Lounge at 100 Clarence St, or Carnaby Blue at the Peachgrove Lounge. Garth Porter was back from Australia in June at the Chamber, which would also feature Todd Hunter's Zeek.
In July 1971, Tabla 2 opened at 30 Barton Street, running from Thursday to Saturday, and becoming the new haunt of the underground.
That year, there were Dragon's Dances in local halls with Carnaby Blue, Graf Spee, Tonk and Mandrake (now with Ivan Thompson on keyboards and Neil Storey on drums). The Hamilton Mobilisation Committee showed Vietnam War documentary In The Year of The Pig at the Teachers College.
Mandrake's six-piece rock show with brass and Hammond organ, and Larry Abbott's Anteapot with Todd Hunter on bass and Ray Goodwin and Don Bedgegood on guitar, took up residencies in 1972 at Tabla 2. The backstreet club also hosted The Human Instinct, Gasex, Backlash, Space Farm, The Shriek Machine, Rasputin (from Christ's College), and Pressed Rat and Warthog. Judge Hoffman, a seven piece, broke the world non-stop playing record of 72 hours at Tabla 2 over Labour Weekend in late October.
We want the world
This was a generation not yet finished with rock. After years of playing the city's halls and clubs, Hamilton's 1960s veterans began to leave town, heading to Auckland, Wellington and overseas. Anteapot became Staff with Graeme Collins on keyboards and Tommy Ferguson on vocals.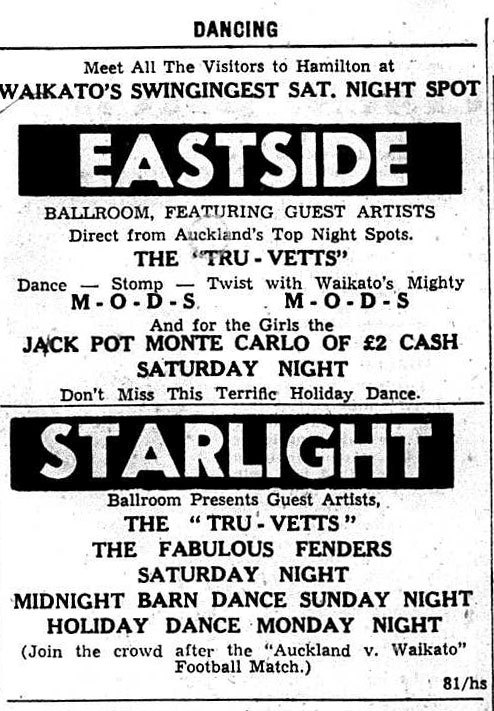 They took to the Great Ngaruawahia Music Festival stage in 1973 as Dragon with Neil Reynolds (ex-Mandrake) drumming before Ray Goodwin, Todd Hunter, Neil Storey (ex-Mandrake) and Ivan Thompson (Mandrake, Kindred Spirit) moved the group to Auckland. Marc Hunter joined for two progressive rock albums, before they jumped the Tasman (minus Thompson) to Sydney, where the group struggled at first.
'Star Kissed', their first Australian single, a Ray Goodwin song, flopped and Goodwin moved on to John Paul Young's All Stars. Neil Storey died tragically after a heroin overdose, leaving the way open for the classic-era Dragon, who would record a string of potent mid to late 1970s pop singles and become one of Australia's top groups.
Swellsfoot Assembly's Garth Porter moved to Sydney in 1969, and joined the mega successful Sherbet, co-writing all of their hits, including two No.1 Australian singles and worldwide smash 'Howzat', which topped the singles chart in Australia and New Zealand and made the British Top Ten in 1976. Stints as a producer and with The Sherbs and a reformed Sherbert followed.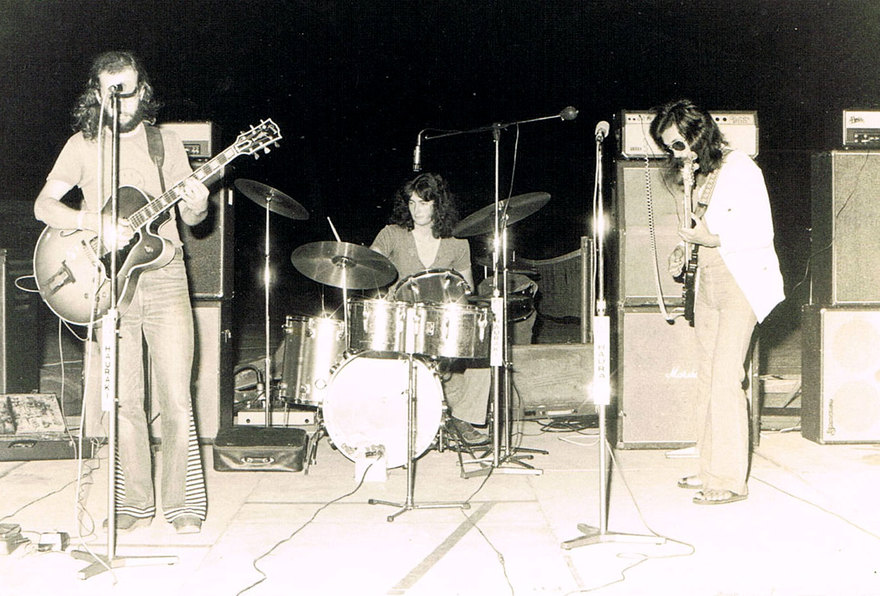 Mandrake guitarist Chris Thompson completed his teacher training and left for London, where he still couldn't leave a good song alone, joining Manfred Mann's Earth Band in 1976, and taking Bruce Springsteen's 'Blinded By The Light' to number one in America. It is Thompson's voice you hear on 'Thunder Child', one of the most recognised songs on Jeff Wayne's War of The Worlds, a massive world wide hit album, which spent 290 weeks in the British album charts. He had two more American Top Forty hits with Night in the late 1970s, and co-wrote John Farnham's massive comeback hit 'The Voice'. He remains, as always, a musician with a huge appetite for performance.
Online
Tony Johnstone of The Paragons remembers the Hamilton beat scene.
Kevin McNeil of The Mods and The Rayders website.
Song and line-up changes for The Satellites.
Hamilton Beat, Pop, R&B and rock releases 1965-1968
The Fenders – 'Don't Leave Me This Way'/'Hi Heel Sneakers' (Phillips Records 7", 1965)
The Mods – 'Love, Love, Love'/'It's In Her Kiss' (Zodiac Records 7", 1965)
The Rayders – 'Working Man'/'In Time' (Zodiac Records 7", 1966)
The Surfires – 'I Can't Wait For Summertime'/'Flying Saucers' (Zodiac Records 7", 1966)
The Mods – 'I'll Be On My Way'/'Hubble Bubble' (Zodiac Records 7", 1966)
The Surfires – 'Friction'/'True Gentleman' (Zodiac Records 7", 1967)
The Music Convention – 'Country Boy'/'Footsteps On My Mind' (RCA Records 7", 1967)
The Surfires – 'Notice Me'/'When Will The Seasons Bring' (Zodiac Records 7", 1967)
The Sound Investment – 'A Whole New Thing'/'Oh Pretty Woman' (Zodiac Records 7", 1968)
Tomorrow's Love – '7 & 7 Is'/ 'What Shall I Do?' (Allied International 7", 1968)
The Music Convention – Children Of The Sun EP – 'Theme From Children Of The Sun'/'Big Green'/'Creaming On A Midnight Wave'/'Belly Board Beat' (RCA Records 7" EP, 1968)
Incoming – Founders Theatre, Embassy Theatre and Claudelands Showgrounds dates 1964 to 1967
1964
30 January, Founders Theatre: Surfside '64 with The Beach Boys, The Surfaris, Roy Orbison, Paul and Paula.
13 July, Embassy: Gene McDaniels, Ben E King Trio, Dee Dee Sharp, Howard Morrison.
15 October, Founders Theatre: Gigantic Jimmie Rodgers Show with Terry Stafford, Dinah Lee, Lou & Simon, The Crystals.
1965
2 February, Founders Theatre: Manfred Mann, The Kinks, Honeycombs.
16 February, Founders Theatre: Gene Pitney, Millie, Peter Posa, Barbara English, Nick Villiard.
17 February, Founders Theatre: Kenny Ball, Acker Bilk.
8 March, Founders Theatre: Cilla Black, Freddie and The Dreamers, Sounds Unlimited, Mark Wynter, Herma and Keil Isles.
6 April, Founders Theatre: Thelonious Monk Quartet.
8 June, Founders Theatre: Dave Clark Five, Tommy Quickly, Ray Columbus and The Invaders, The Pleazers, Lew Pryme.
4 August, Founders Theatre: The Best of Beatside with Gary Reilly, Tommy Adderley, Four Fours, Lew Pryme, Sandy Edmonds, Mike Perjanik.
19 August, Founders Theatre: Sandie Shaw's Shindig with The Pretty Things, Eden Kane, Tommy Adderley, The Chicks, Cham the Man.
2 September, Founders Theatre: Hamilton Pop Festival – Tommy Adderley, Sandy Edmonds, The Mods, The Trends, The Paragons, Christine Barnett.
8 September, Founders Theatre: The Merseybeat - Billy J Kramer and The Dakotas, The Librettos, Billy Thorpe and The Aztecs, The Cicadas, Jim McNaught.
21 September, Founders Theatre: Dinah Lee, Tommy Adderley, Nick Villiard, The Chicks, Judge Wayne, The Defenders, Lonnie Lee and The Rajahs.
1966
10 March, Founders Theatre: Millie, Jackie Edwards, Dinah Lee, Kerry & Allan, Tommy Adderley.
1967
18 January, Claudelands Showgrounds: C'mon '67 – Lou and Simon, The Chicks, Lew Pryme, The Tunespinners, The Surfires, Kevin McNeill, Dynasty Group.
1 February, Founders Theatre: The Big Show with The Yardbirds, The Big O, Walker Brothers, Mr Lee Grant, Larry's Rebels, Sandy Edmonds.
15 February, Claudelands Showgrounds: C'mon Spectacular with Larry's Rebels, Sandy Edmonds.
13 April, Rotorua Sportsdrome: Eric Burdon and The New Animals, Dave Dee, Dozy, Beaky, Mick and Tich, Larry's Rebels, Jamestown Union, Paddy O'Donnell.
4 November, Frankton Town Hall: Big Beat Dance with Larry's Rebels, The Velvet Underground, Shakespeare's Opinion.