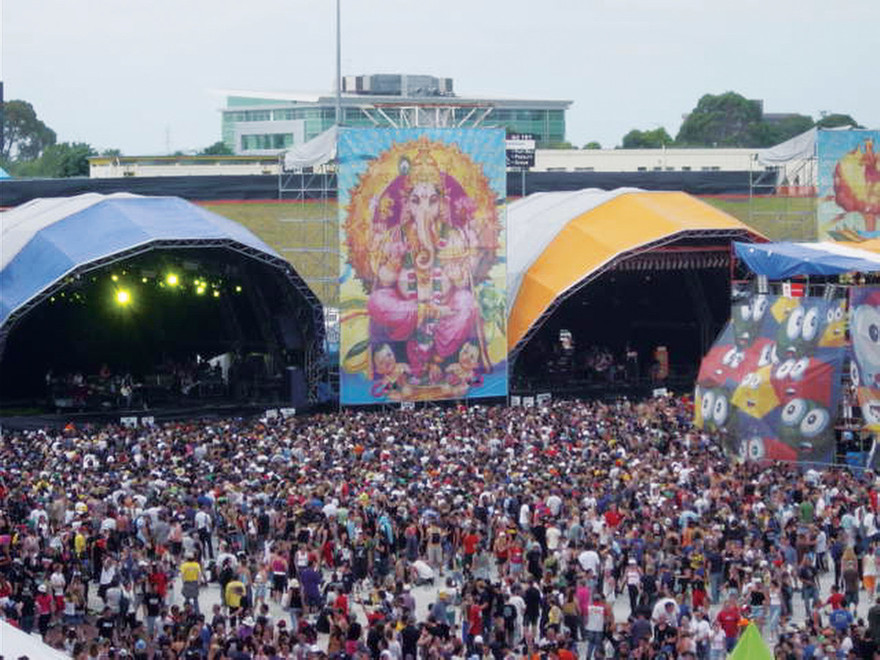 Big Day Out was the biggest annual musical event on the New Zealand music calendar during the 1990s and 2000s. Aside from international superstar headliners such as Tool, Metallica, Soundgarden, and many others, it provided a platform for hundreds of New Zealand acts to perform in front of a large audience. At its peak the festival reached an audience of 50,000.
Founded by Australian promoters Ken West and Vivian Lees, the first Big Day Out took place in Sydney in 1992. In 1993 it toured to other big Australian cities before arriving in New Zealand for the first time in 1994.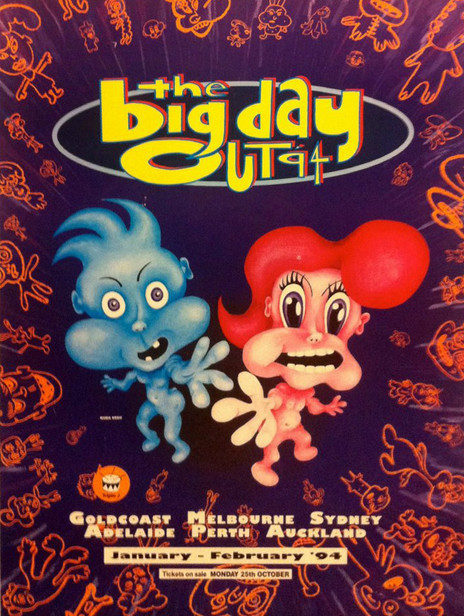 Doug Hood and Bridgit Darby ran the show at Mt Smart Stadium, Auckland. It was held across several outdoor stages as well as the Boiler Room, Supertop tent, and a curiosity called the Lily Pad.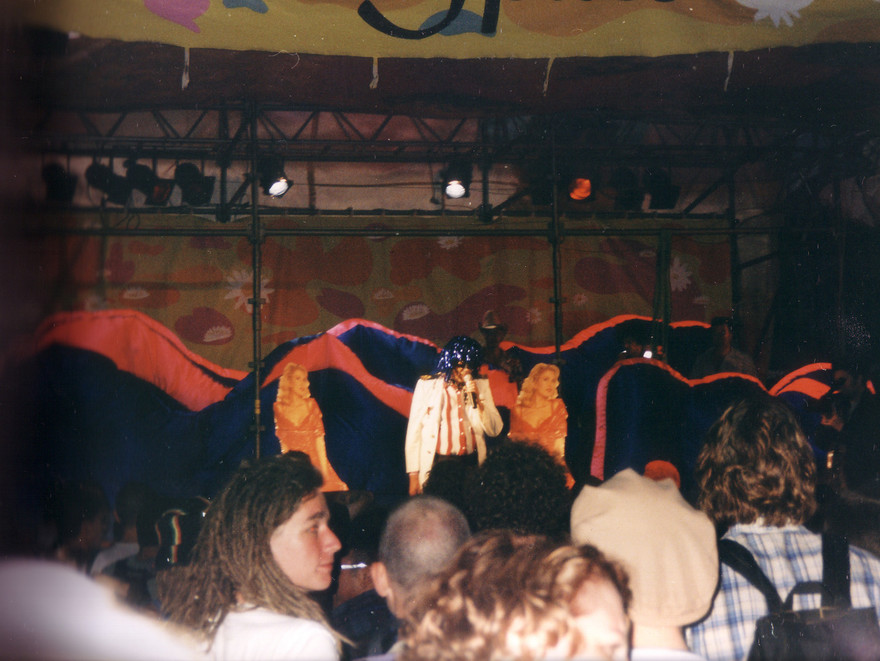 Hood began in the music business as soundman and manager for The Enemy and Toy Love, as well as singing in an early incarnation of The Clean. He became a sound engineer, both live and recording, for many early Flying Nun acts, went to the UK and Europe with The Chills, and booked bands into the Windsor Castle and other venues. Under the name Looney Tours, he began promoting local tours in the early 1980s. His work as a promoter soon included international acts, buoyed by an ongoing relationship with Australian promoters West and Lees.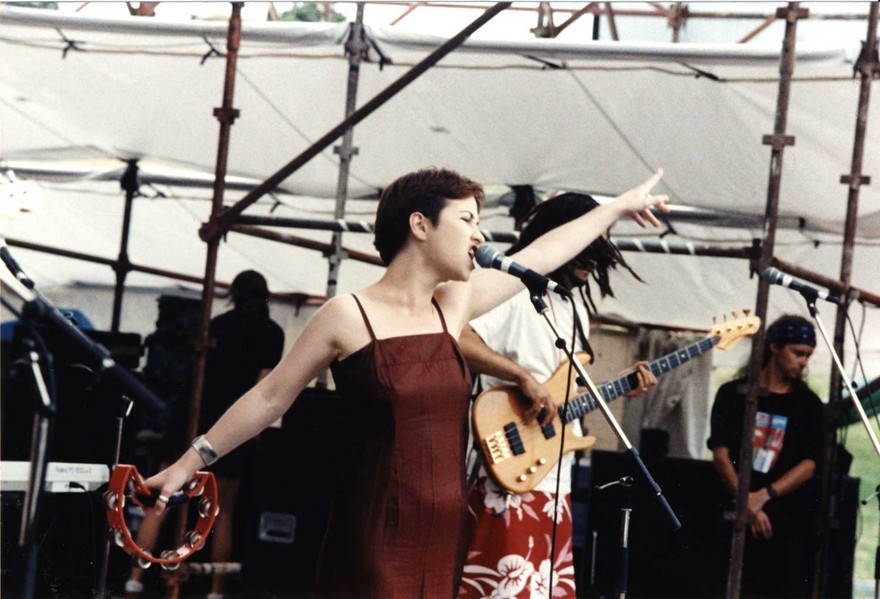 When West and Lees offered Big Day Out to Hood, he'd been working with them for over 10 years and had promoted shows by The Fall, New Order, Hunters & Collectors, the Go Betweens, the Residents, and The Cramps, through to Iggy Pop, Sonic Youth, Pavement – and so many more. The transition to doing a multi-stage outdoor festival didn't faze him.
It was natural for Hood to offer Flying Nun acts support slots for international shows, such as getting The Chills to support Lou Reed in 1985 or The 3Ds to support Nirvana in 1992. This continued with Big Day Out and Hood was often blown away with how they played: "Straitjackets Fits were stunning, just how convincing they were."
Although he stayed involved with Big Day Out, Hood's Looney Tours wound down in 1994 and Darby incorporated a new company, The Sequel Ltd, which ran the event until 2004.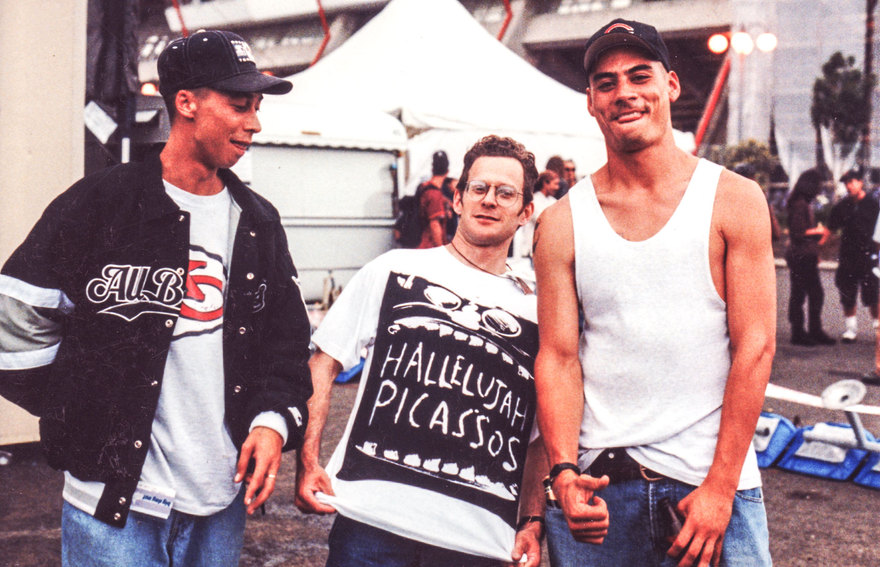 "We get total autonomy over the New Zealand bands that play and we obviously get input into the New Zealand bands that get to tour the Australian Big Day Out," Darby told John Russell for Real Groove's Jan/Feb 2002 issue. "From a site point of view, we get pretty much free rein to produce the show how we want it to look and feel on the day. And that makes Auckland special – like in Australia they wouldn't have a hip-hop stage, and they wouldn't understand why, to us, having a hip-hop stage in Auckland is really important."
In 2005 Campbell Smith's CRS Music Management took over running the Auckland show. It ran successfully for seven more years until a disastrous turnout in 2012. There was no Big Day Out for Auckland in 2013, and the last hurrah was held at Western Springs in 2014.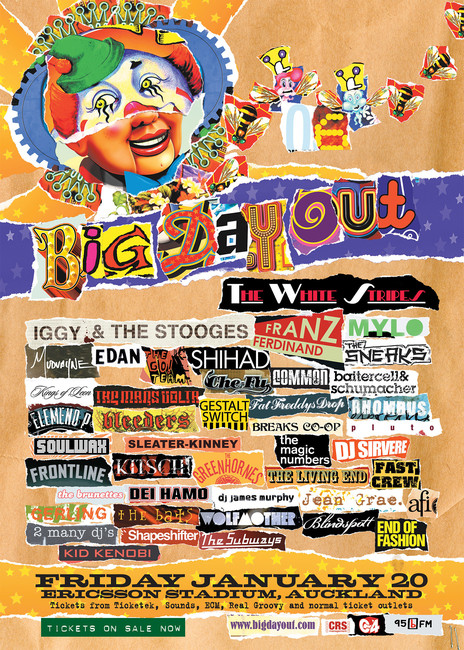 In addition to playing on a big stage in front of tens of thousands of people in Auckland, many New Zealand acts played Big Day Out shows in Australia. The list includes Straitjacket Fits, Shihad, The 3Ds, Garageland, Loves Ugly Children, Supergroove, DLT, Che Fu and the Trueschool Crew, Pitch Black, Salmonella Dub, OMC, Sisters Underground, King Kapisi, DJ Greg Churchill, betchadupa, Goodshirt, The Datsuns, P-Money and Scribe, The D4, Tadpole, Deceptikonz, Evermore, Dei Hamo, Shapeshifter, Cut Off Your Hands, Die! Die! Die!, Ladyhawke, The Naked and Famous, Kimbra, and Kids of 88.
One thing that remained an almost constant for Auckland shows was Shihad's recurring late afternoon appearance on the main stage, so that's where we'll start.
--
Doug Hood
I never had good reason not to get Shihad, they always delivered. Getting Shihad on the Australian BDOs was the most satisfying. It gave them the same status as the other internationals. Ken and Vivian didn't take much convincing, they'd seen them often enough.
Campbell Smith
The New Zealand act that always stands out for me and the one that I feel dominated the Auckland BDO was Shihad. When I took over, I would always put them on fourth from the end. I called it the Shihad slot. Even though I tried not to put bands on two years in a row, sometimes I did with Shihad because they ruled that spot. There was such a great connection between that band and the audience. Hearing them do 'Home Again' at the BDO is one of my defining memories of doing those shows.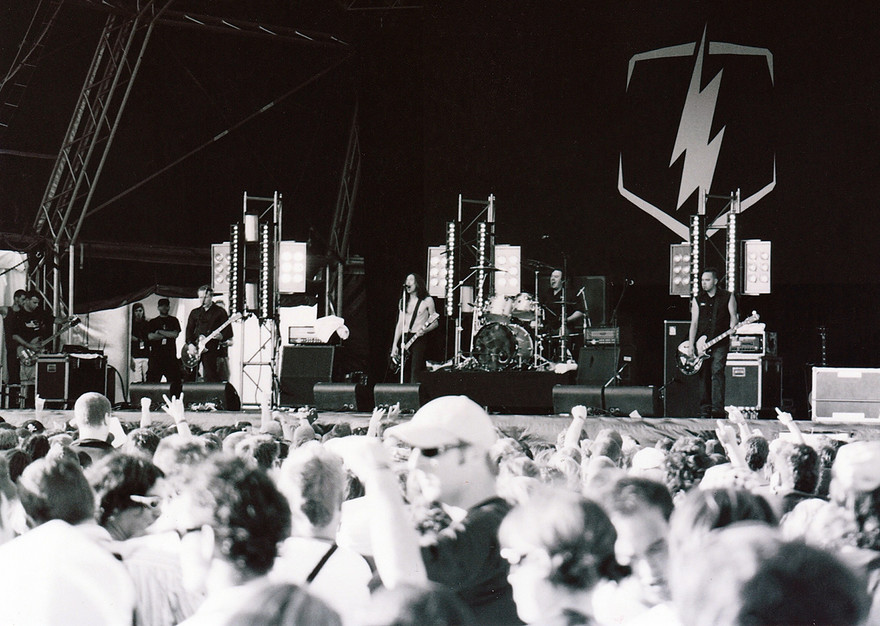 Jon Toogood, Shihad
Playing the BDO definitely gave us confidence and taught us how to project in a really big situation. The New Zealand one was a highlight because that's where we're from and the crowd had a familiarity with our band that gave us a hometown advantage. Fortunately, the temperature in Auckland wasn't so ridiculously hot either – the Sydney and Adelaide shows could literally be around 42 degrees so it was like doing a high-intensity workout in a sauna. We still went as hard as possible because we were playing to all these people, but it was just so hot at times you were basically surviving just trying to get through it ...
Our lucky break came [at the 1999 BDO] because Jason Whalley from Frenzal Rhomb broke his arm. We'd just made the General Electric album and had just done a huge tour of Australia with You Am I, so it was primed for us in Australia. We were going to be on the third stage but after Frenzal Rhomb pulled out we were moved onto the main stage. If we were going to do it, then we knew we had to smash it, so I spent most of my time crowd surfing, showing off, and acting like a hooligan.
Denise Roughan, the 3Ds
The 3Ds played the first New Zealand BDO (1994). We got on well with the Breeders, I especially enjoyed the company of Kelly Deal, Kim's rather more out-there twin. The show wasn't without its problems though. Dave Mitchell had an altercation with Soundgarden's guitarist Kim Thayil at some point during the day, that almost turned into a fist fight.
To add insult to injury, Doug Hood had decided that a New Zealand act should close the show and picked … us. I don't think that went down well with Soundgarden, who were relegated to the penultimate act. They played, and played, and wouldn't get off the stage. We waited while they took a generous chunk out of our playing time. When they finally got off, we had to get on fast and start, and got about 20 minutes of our set out before they shut down the show. Bit of a mess, but a lot of fun otherwise!
In 1995 we got invited to play the whole New Zealand and Australian tour, which was fantastic. Ministry and Primal Scream were headlining, but it was The Dirty Three playing that was the absolute highlight. It was the first time I'd seen them and I was blown away.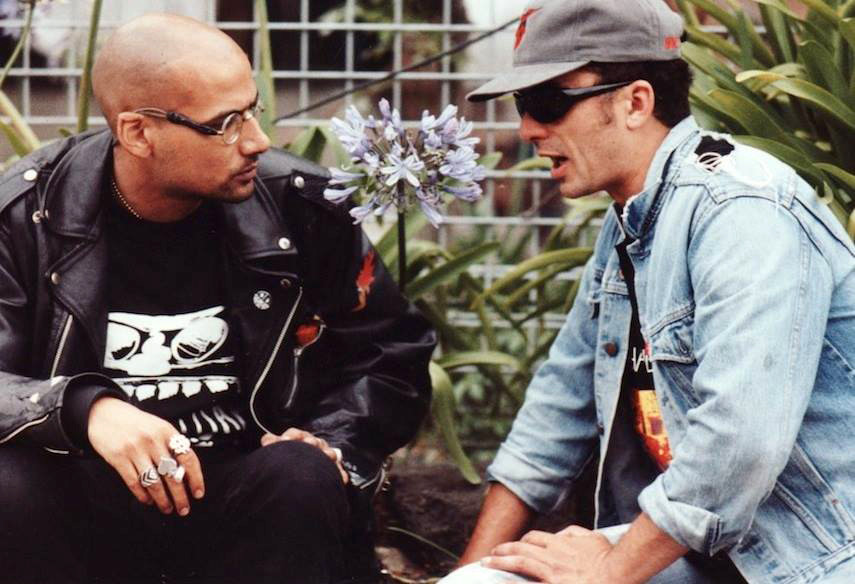 Roland Rorschach, Hallelujah Picassos
BDO 95 was special because we [Hallelujah Picassos] were playing on the same stage as Fun-Da-Mental. I had dinner with Aki [Aki "Propa-Gandhi" Nawaz, real name Haq Qureshi] – Kirk Harding had set it up. When Aki saw me, he called me "Mad Max Gandhi" and I got him to tell me stories about him drumming in Southern Death Cult.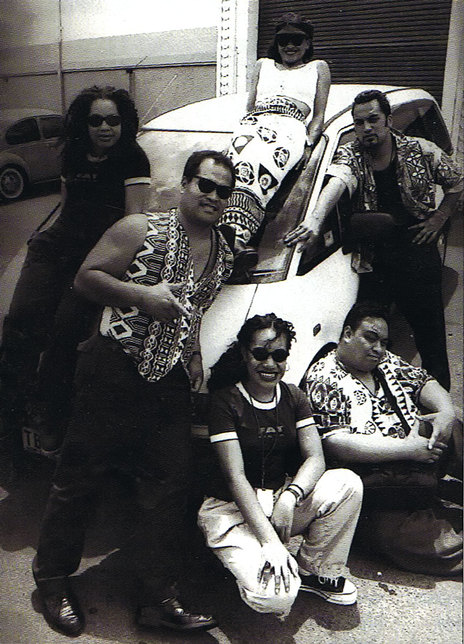 We played in the tent and Upper Hutt Posse were before us. They ran overtime, which meant that our set was cut short. During that time, I was buddies with Pauly Fuemana from OMC, and he'd never seen me play. He came up to me afterwards, saying 'You are quite the showman.' We laughed. He also asked me to be in OMC, I couldn't at the time – though years later I found out that he asked everyone to be in OMC.
Steven Shaw, Martin Phillipps and the Chills
We played about 1pm on the mainstage in 1996, either before or after Garageland. People were still arriving at that time but there was a solid crowd out front, and the sun was still shining.
It was the year the rains came. After the set I sheltered from the initial downpour in a green room under the stands, and Lesley Paris from Flying Nun suggested we go check out Bailterspace from the safety of the main stage.
Things went surreal. I stood just offstage behind Alister Parker's guitar amp. The skies were truly open by now, it was raining so heavily. In true Kiwi DIY fashion, the crowd were holding up hoardings that organisers had placed on the ground as walkways. People were sheltering under them, and other were standing up and surfing on them, while they passed them around over the heads of the crowd. I can still remember this happening while Alister was singing "stop wasting our time..." from 'Splat'.
Lesley introduced me to Alister as he came offstage. He insisted that we had met before and suggested that it was in Dresden. No, I said, I've never been to Dresden. He looked at me like I was lying to him and then told me that extra-terrestrials had visited his window in New York.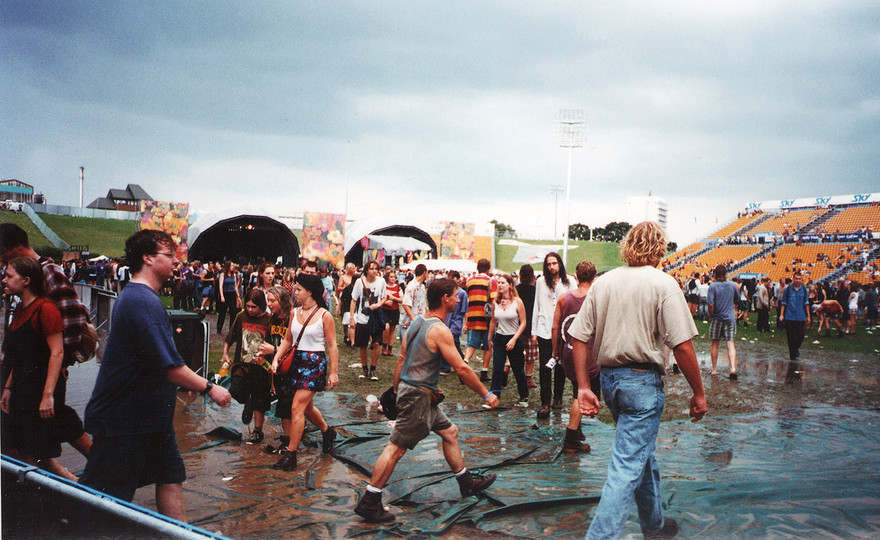 Russell Brown, journalist
That year [1996] must have an entry in the Freak Weather Almanac. I was there in the morning to do Hard News on bFM and we couldn't believe how hot it was at 9am. Cloudless sky. But, it turned out, it was hot enough to trigger a freak weather event. From the Immortals bar you could see the edge of the storm in every direction – with blazing sunshine beyond that edge – and we kept thinking it would surely pass over. It didn't, for hours.
A friend of mine was in the festival office as the rain hammered down and (those were the days) the MetService fax came off the roll. It read "No rain on the radar for the Auckland region." Which was true for everywhere, except the Big Day Out.
Doug Hood
For a few hours it was stressful: convincing the police not to close us down was hard work. The main issue was with the stadium management worried about damaging the turf with the Warriors due to play the next weekend. I told the cops we would have a riot if they closed us down and then that they would have to tell the crowd because we wouldn't, and they relented.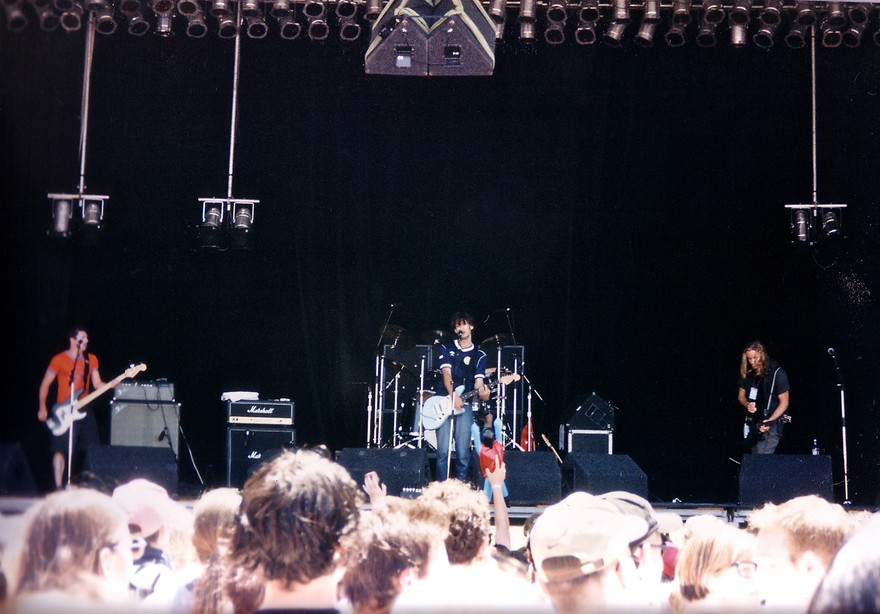 Jules Barnett, Thorazine Shuffle
Thorazine Shuffle played the Big Day Out three times. In 1997, we were the second act on Stage One. That was the year Prodigy played and everyone thought, "oh my god, my band is going to break up because everyone is going to be into this kind of music for the rest of their lives." Playing the main stage was fun. I'm more scared of a smaller crowd than I am of a big crowd, I just don't see them at that scale. It was cool hanging out in the same hospitality area as the international acts and being on the big stage, seeing how they wheel the drum risers out already set up. Though I had shit sound in my monitors and just had to struggle through it.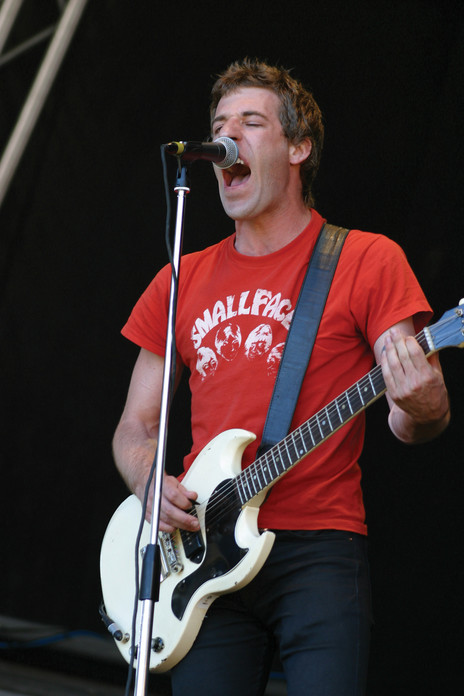 At one of the later Big Day Outs, I remember seeing The D4 and Dion was out on top of the crowd, with people's hands supporting him. They were holding him up, so it was like he was walking over the top of them still playing guitar. That was a great moment.
Campbell Smith
I went to the Big Day Out as a punter early on and then later on because I was managing bands that were playing it: Bic Runga, Garageland, The Chills … It was interesting how the festival went into Mt Smart like water into cracks – it made use of every little square inch of that site, particularly during its initial years while it was still developing.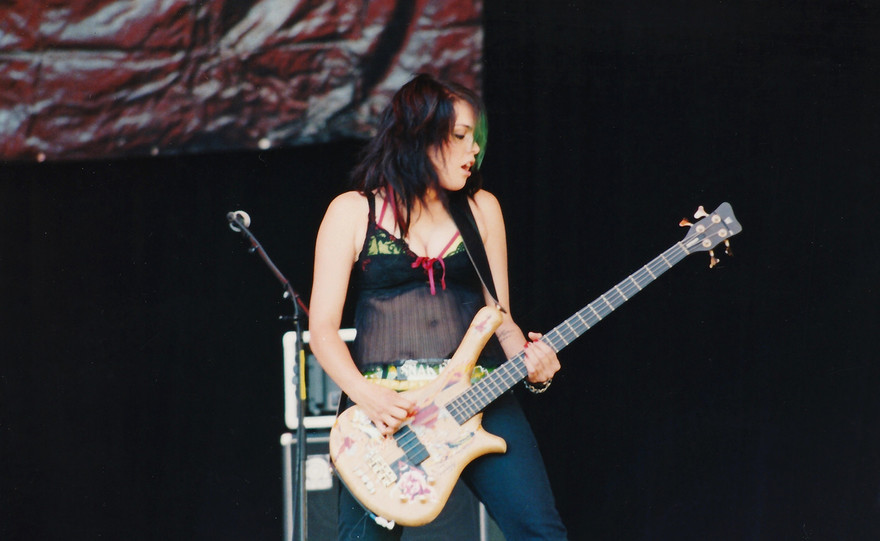 Lani Purkis, Foamy Ed/Elemeno P
I don't have an exact number of how many Big Day Outs I played, but I always think it's 10. It may have been more like seven. I have forgotten my shoes twice and played twice with my fly down – one performance involved both. I have also played one pregnant and another where my breast milk was leaking throughout the set. They were good times. I miss them.
The first BDO I played was in 1999, opening the main stage with Foamy Ed. Hole and Marilyn Manson were on the line-up that year and we got to share a backstage room, not only with Shihad but also with Hole's backline cases, we couldn't believe our luck! Though I don't think Jon Toogood had quite the same feeling towards sharing space as we did.
That day our singer Fleur was asked by Courtney Love if she looked like a "f*cken r*tard" in the toilets. She had a camisole tucked into her underwear and nothing else on. We told her she looked amazing. She's Courtney Love, we started as a Hole covers band, what else were we to say? We also saw her try to punch Marilyn Manson in the face over who would headline. He was too tall for her to make contact, and I guess he won, cause he ended the night. The cool thing about the earlier years was that there was a common room that all the bands hung out in, there were piles of carrot sticks, celery, and bread rolls ... I don't remember any booze, but we got to feel like we were rock stars for a day.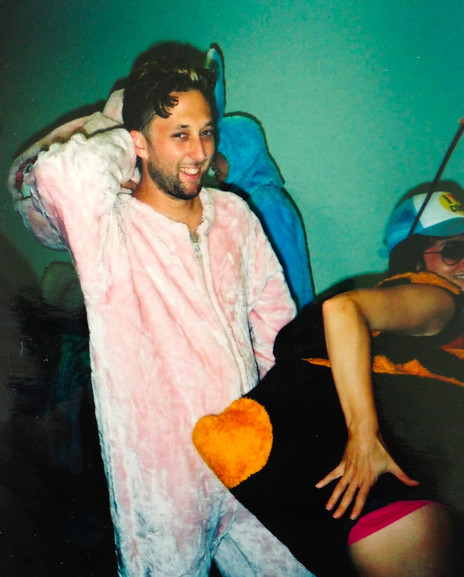 Rodney Fisher, Goodshirt
We opened the main stage when we were still quite new. It felt quite buzzy being alongside the international acts. They had pretty sweet backstage catering and dressing rooms. It was our first time having that and seeing how the other half live.
The catering was a good conversation starter when you were nervous about talking to an overseas band. Talking to the Dandy Warhols about the food: "those brioches are pretty sweet". It was a great feeling, like we were on the same level with those overseas bands.
There were lots of sports backstage one year. Fred Durst from Limp Bizkit and guys from Coldplay were playing gridiron or something backstage, which got us looking at them very strangely.
In 2004 when we also did some of the Australian Big Day Outs, our backstage area was next to The Flaming Lips. They asked who wanted to get onstage with them in costumes, so I got to do that. I ended up dancing around onstage next to Peaches, who kept grabbing my ass and slapping me …
When it came to our own slot, we were nervous as hell that there wouldn't be anybody there. It was a tent where there was only one stage, rather than side-by-side so it did clear out while we were sound checking and we were worried that we'd end up playing to an empty tent, but thankfully people came back in. We had quite a lot of play on Triple J fortunately.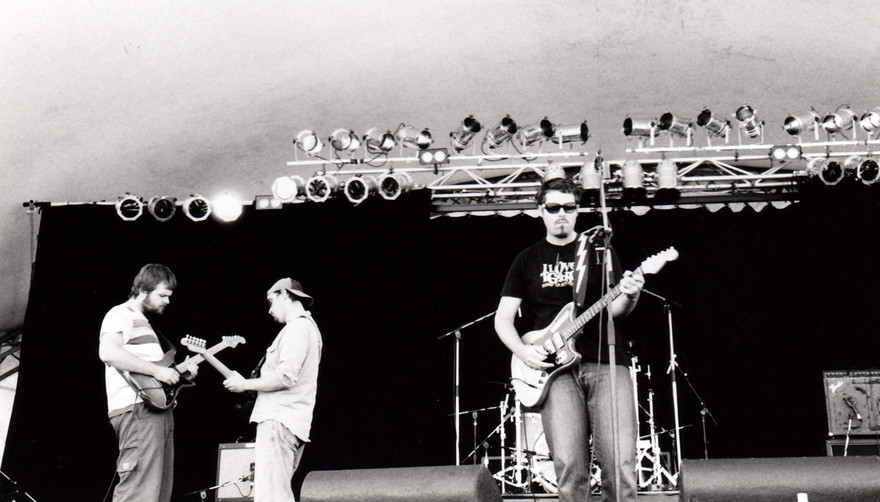 Samuel Flynn-Scott, The Phoenix Foundation
When we first played the BDO in 2004 we had very little festival experience and I'm sure it showed. It was quite overwhelming to be in that environment, famous people backstage, the rush of getting all your gear onstage and trying to quickly get a semblance of a line check before you play to a large crowd of people who probably don't know who you are. But obviously over the years you get more comfortable, you remember to breathe, and more people actually want to see you perform – and aren't just Slipknot fans queueing up in front of your stage because it's next to the signing tent.
Campbell Smith
I was a music lawyer and a manager, not a promoter. It's hugely weird that the very first show that I promoted was 50,000 people at the Big Day Out. I didn't start at The Kings Arms and work my way up, I started at the other end … I came on board midway through 2004. I got involved because I was friends with Vivien Lees, one of the two owners in Australia and they wanted to make a change, so they asked me to take over for the 2005 BDO.
Fortunately, big shows like the BDO are hugely formulaic. Things just go back into the place they were the year before, whether it's the toilets, concessions, flow of people, bars, etc. Hundreds of people worked on BDOs over the years and when I came in as the promoter, the bulk of those people were still there. It was really about integrating myself into those pre-existing procedures. The most critical person in the whole of the Big Day Out was ET – Etienne Marais. He did every single one of them and I was hugely reliant on him in terms of the building of the show. He is a legend as far as outdoor festivals go.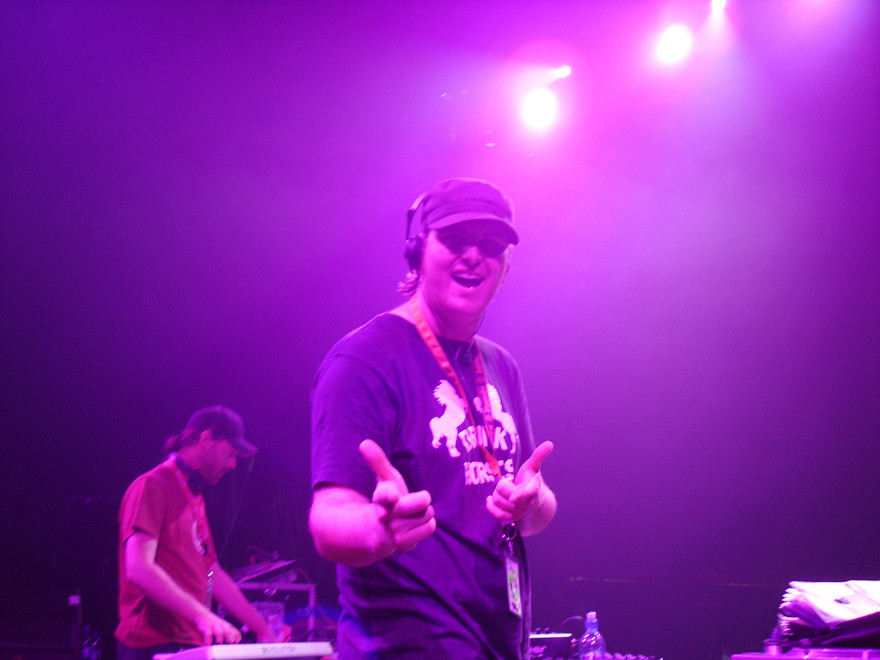 Timmy Schumacher
The Boiler Room was a big sweaty rave in a big sweaty tent with big sweaty beats. The crowd was so broad – that keen bean BDO punter – just up for almost anything. It was the sheer enthusiasm of those people that made that tent pump. Any time you were booked for the Boiler Room it was a chance to get out to a wider audience, to play to a unique crowd made up of dance music enthusiasts and people looking for a new experience.
Campbell Smith
I loved the Supertop, it was great. It was a stinking mess and you ended up with sweat dripping from the rubber tent roof all over you, but that was a particular Big Day Out experience. It wasn't always the dance music tent, but when it became the Boiler Room it really came into its own. There were some kids that arrived at 11am then went into that tent and didn't come out until 11 at night. It was a really important and unique part of the Auckland Big Day Out – that shitty old tent on that asphalt carpark. Shapeshifter, Concord Dawn, and Pitch Black all had great moments in there.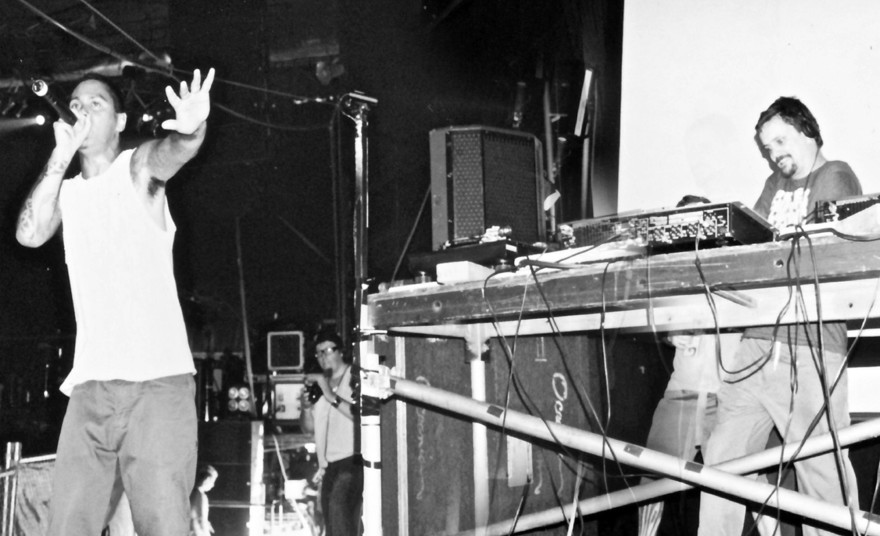 Tiki Taane
The BDO tour is still the most epic festival that I've ever performed at. So many amazing experiences and memories, especially from the Aussie shows which became crazier and crazier every year. I've performed with Salmonella Dub in the Boiler Room and on the main stage, have also mixed Scribe on the main stage. I've MC'd for Concord Dawn, mixed Shapeshifter, performed as Tiki Live in the Boiler Room, and on some of the outside stages too.
So many unreal experiences happened, like hanging out with James Hetfield from Metallica in Melbourne, then him and Lars came to watch me perform in the Boiler Room in Perth. Or the time Tool asked Shapeshifter to support them in Melbourne after they saw Shapeshifter play a smashing BDO set, then Tool took us all out for an epic dinner and drinks to celebrate. I have so many great memories from the BDO and will always look back on those days as the best times ever.
Jon Toogood, Shihad
It was fantastic for a music nerd like me. Even though I was playing with Shihad, which was a pretty heavy band, all of us liked a lot of music from outside that genre. It was a great tour to be on because you got to check out the best of every scene going at the time. You'd inevitably see something in the Boiler Room or come across a band you'd never heard of on the third stage and it would change your world.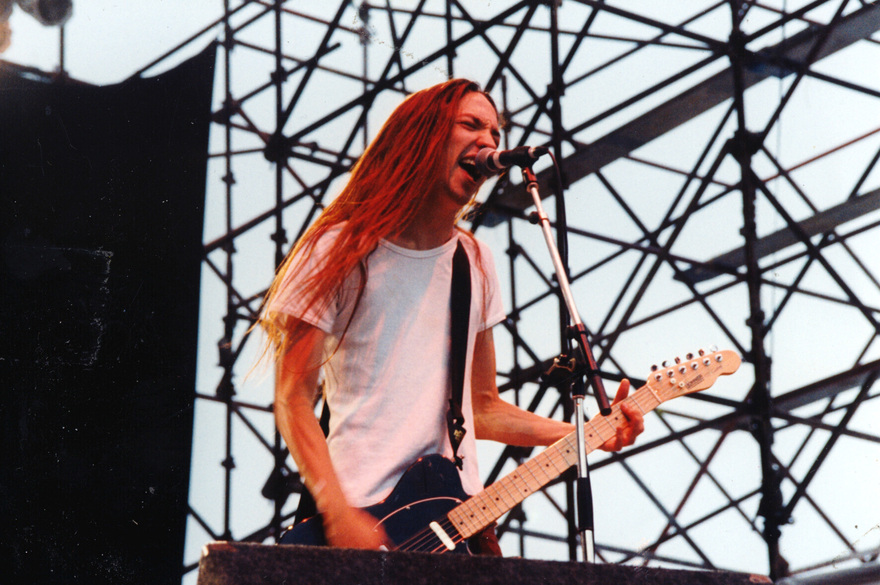 BDO also had the effect of raising everyone's game because you were surrounded by international artists, and you didn't want to look lame in front of them. Also, I'm sure we were all thinking "if such'n'such from that band sees us, they might take us on tour overseas so I'm going to give it my all." Every year there'd be something special for me like meeting Kevin Shields when he was in Primal Scream and asking him when the next fucking My Bloody Valentine record was going to come out. Or taking ecstasy on a beach with Joe Strummer six months before he died and having him say "look at that sky, how beautiful is this universe?" It was a special festival because you got to meet your heroes, you got to play alongside all your heroes, no matter how big you were.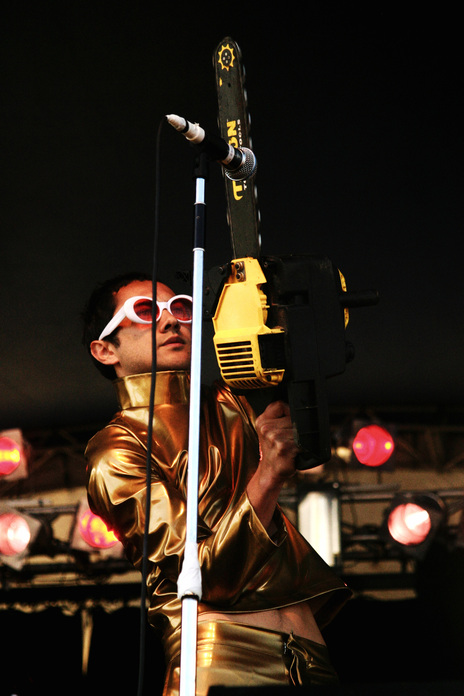 Campbell Smith
At the time, it freaked me because there was a dude on the stage with a fucking chainsaw. In hindsight, nothing went wrong and no one was hurt so it was pretty fucking cool. It was pretty Mint Chicks, you know?
Lani Purkis
I experienced many incarnations of the BDO with Elemeno P, different layouts, riders and ramps but it was always highly functioning and enjoyable, the staff were always kind and the monitor techs always tried their best. I made many good friends and spent many hours in that area above the grandstand. It was a sad, sad day when it ended.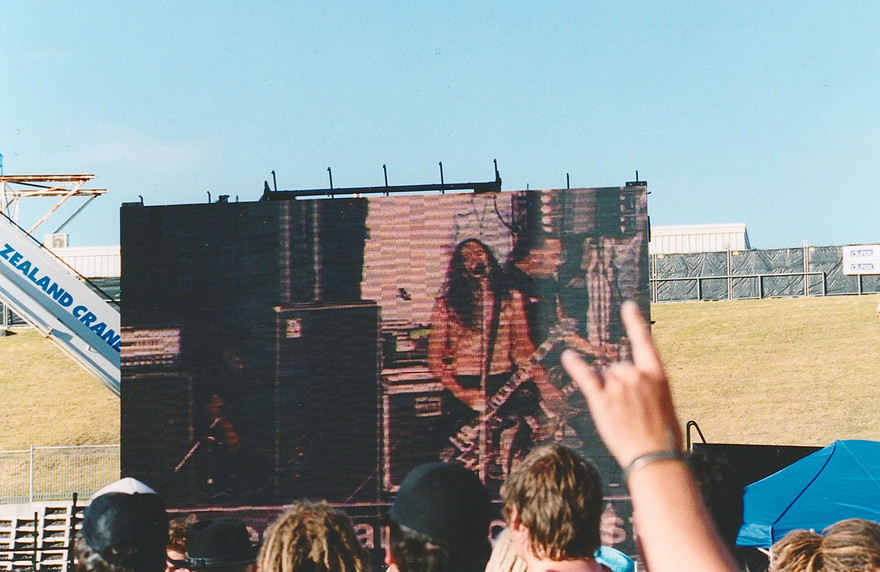 Jon Toogood
I remember doing the last Big Day Out at Mt Smart [in 2012] as The Adults on the third stage and I did a guest appearance with Living End on the main stage, doing 'Breed' by Nirvana which was pretty cool. Though it was a tough show for me because my father passed away the night before.
I'm really conscious of not wanting to be an old guy saying, "festivals were better back in my day" but since the BDO left, the tribes have split into their own festivals and everything's become a bit more fragmented. If you like electronic music, you just go to an electronic festival; if you like rock music you go to Download; if you like alternative you go to Laneway. It's all split up. Whereas Big Day Out was everything, as long as it was good. That's how I tend to look at my record collection. I don't care what genre it is, as long as it's good. That's what the BDO was like but in a festival form, and I miss that as a punter. Modern festivals are usually catered to a specific audience and they're all good, but Big Day Out forced everyone to hang out together and it was a good human experience.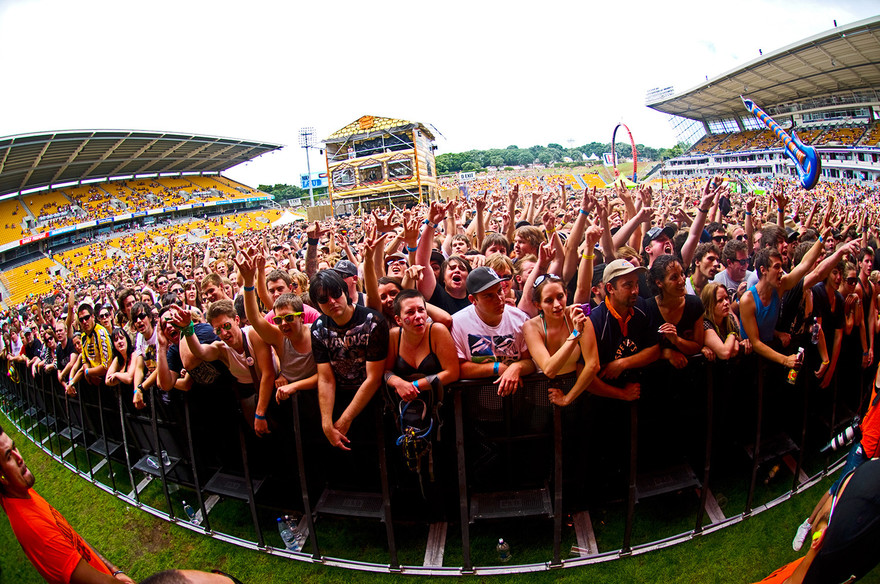 Campbell Smith
2012 was a good reminder that you should never get complacent about what audiences are looking for. In 2011, the Big Day Out was headlined by Tool and we had 44,000 people. Then in 2012 the line-up just didn't connect for whatever reason. I don't think it was the preponderance of other festivals, I just think it wasn't what the audience was looking for, so we had a pretty disastrous year for the first time ever.
When we said that it was the last show we were going to do, we meant it. We didn't do it in 2013 and it still had a strong run in Australia with the Red Hot Chili Peppers headlining. We started talking about why it hadn't worked in 2012. Meanwhile I was living a hundred metres up the road from Western Springs and I kept thinking, that's such a great festival site, if we ever consider doing Big Day Out again, we should do it there.
It was a great way to come back fresh with a central site that was easy to get to, as well as having all that grass and trees. I think we did 40,000 so the show was really successful for us, but unfortunately Australia blew up that year as was well documented in that podcast. It imploded over there, and we never did another one. At least we went out on a high though.
Samuel Flynn-Scott, The Phoenix Foundation
I first went to the BDO when I was 16 and when I think about it there may be a dozen life-changing shows for me over the years. Kraftwerk, PJ Harvey, The Strokes, The Clean, Neil Young. Everyone in the Flaming Lips crowd crying during 'Do You Realize?' Head Like A Hole playing the most incredible show and their set being shut down due to going over time and the crowd going mental. I remember Tom Watson started playing that trumpet intro to 'A Crying Shame' as officials tried to get them off and he had the naughtiest look on his face. I think they turned the PA off or something in the end. It's hard to recall what's memory and what's myth sometimes.
The last time we played at the BDO, in its final year, it felt amazing. A genuinely large crowd and we played great, it no longer felt like we couldn't fit in at a big festival. We finally got to put on some semblance of the kind of festival show we'd been inspired by as attendees since we were teenagers. I think the way the BDO had bands and DJs from so many different genres, lots of local acts, huge internationals, was really special and I can't imagine a festival like that happening again.
Campbell Smith
The BDO was the grandfather to all the festivals that exist today. There were festivals prior to it, but nothing that had that sort of cultural impact over that length of time. It was a rite of passage and a cultural touchstone for generations of New Zealand music fans 60 and under, it was pretty impactful. I have extremely fond memories of it and doing that festival was probably the highlight of my career if I'm honest about it. It was such a fun thing to work on.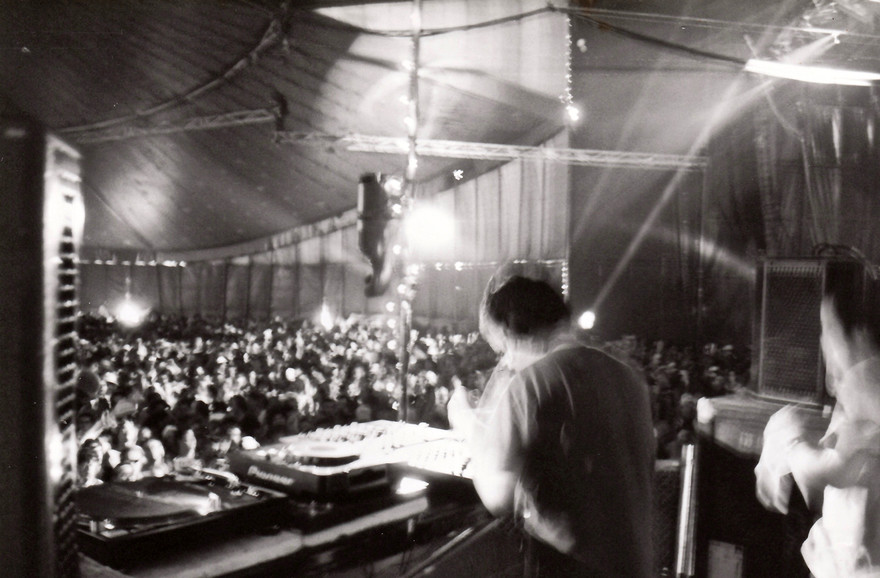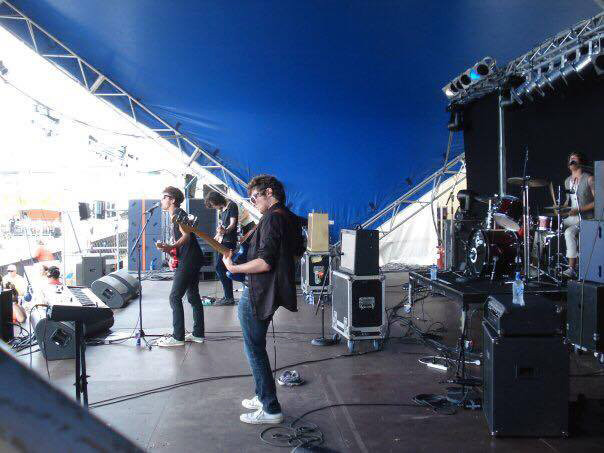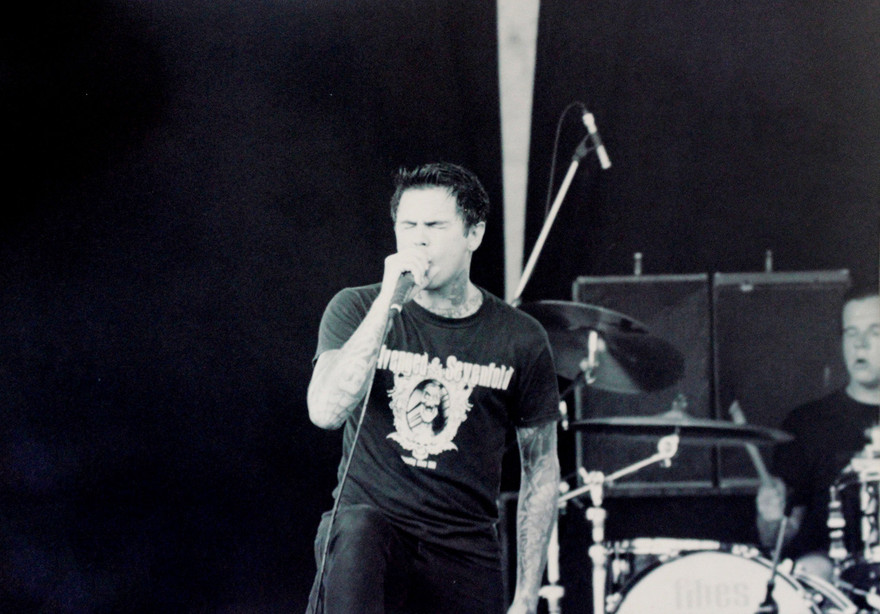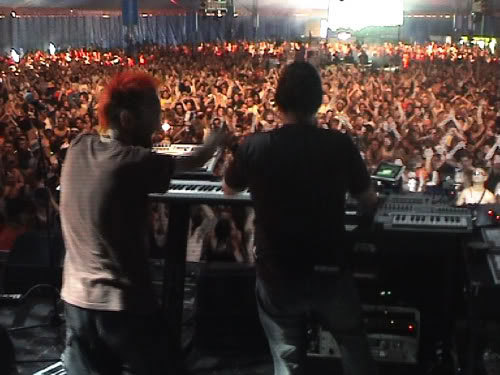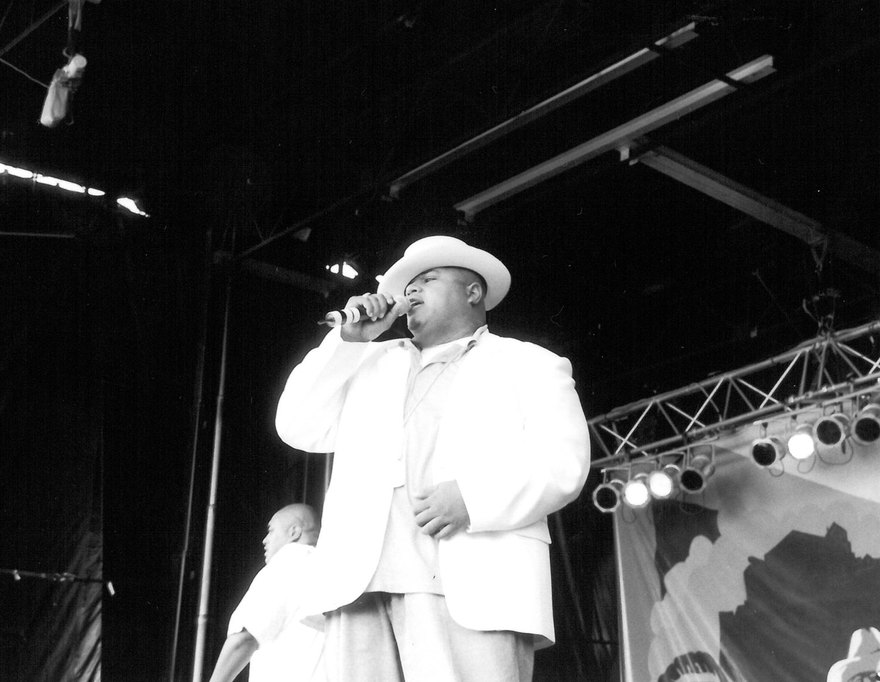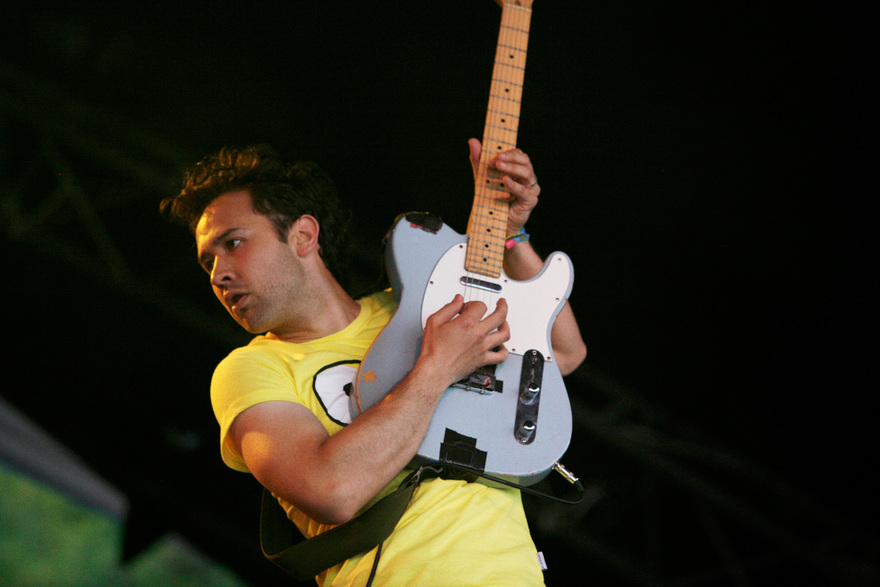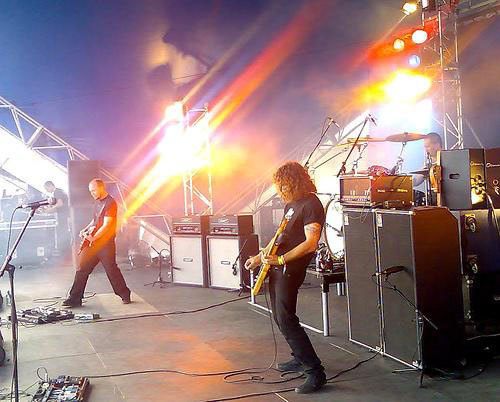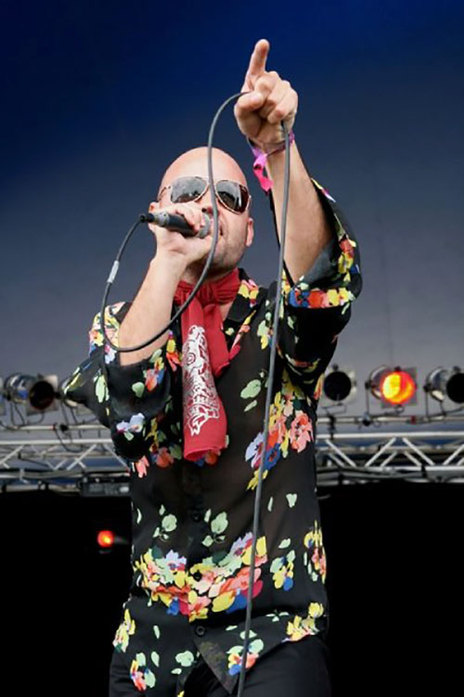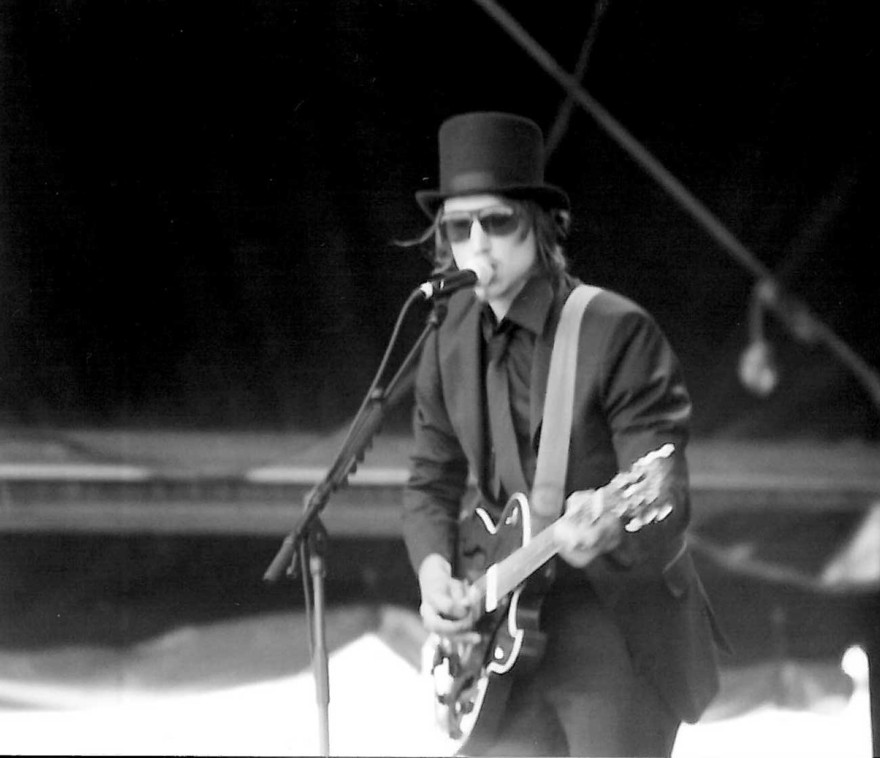 --
Read more: the Big Day Out, a photo album
Read more: New Zealand bands on the Big Day Out bill