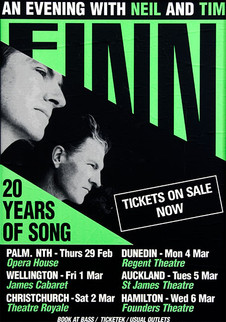 Finn Brothers
Founders Theatre, Hamilton, New Zealand, 6 March 1996
It's a family affair when the Finn brothers' show comes to Hamilton. As the closest city to Te Awamutu, the town where the brothers grew up, it has been a long-standing tradition for Split Enz and Crowded House to finish their tours here. Tonight, the extended Finn family and lifelong friends have turned out in force. So when the district's two favourite sons take the stage in this 1200-seat theatre, Tim Finn quickly admits it's going to be an emotional night.
The occasion makes for a tentative start, but the Enz perennial 'Poor Boy' is greeted with a wave of familiarity. From now on it's a relaxed evening of psychedelic vaudeville, in which the brothers invite you home to witness a family singalong – or a family fight. "We haven't had a decent row on this tour, yet," says Neil, turning to Tim: "... you bastard. "Bugger you", comes the reply. "Up yours", says Neil. The audience holds its breath, but the brotherly banter is all part of the act. In Melbourne, they even offered to take requests.
The theatrical antics of Crowded House and Split Enz aside, the brothers are seen as a serious pair in New Zealand; with this show they've forged new reputations as Eric & Ernie-style musical comedians. As on the album Finn, they risk indulgence, but it pays off. They display their musical vocabulary, using a spellbinding harmony or ear-splitting feedback with equal ease. At the piano Neil reveals his early 1970s influences Carole King and Elton John (quoting 'Crocodile Rock' at one point), plus years of Trinity College exercises. "Neil got grade eight" says Tim proudly while tapping the hi-hat with maracas in an eccentric bouncy style. He drums barefoot.
"I've always wanted to be a drummer who sang," he says, "ever since I saw the Dave Clark Five in this theatre. I went with my sister, and she just lost it. I'll never forget it." Someone cries out 'Glad All Over', and the pair obligingly pump it out.
In their harmonies, their humour, even their dance steps, the pair's interaction has an ease that's only natural. But both Finns have special moments in the spotlight alone: Neil, in response to a request, slowly picks his way through 'Love this Life' on the piano for the first time; Tim, his voice reduced to a raspy whisper, dedicates his achingly beautiful Dublin ballad 'Many's the Time' to his Limerick-born mother.
But the show-stopper is 'Weather With You', when the lights go down and a screen is carried out. It's home-movie time, with scenes from an idyllic country childhood, of Christmases spent at the beach, pedal cars and pet lambs. It's sentimental, and self-aware, but the audience swoons. For the encores, Neil brings out his ukulele, turning 'I See Red' into a George Formby romp. They close to the accompaniment of Polynesian choir and drums. Neil calls the languid feel Pacific kitsch; the song is called 'Paradise'. The Finn brothers are home.

Set list: Only Talking Sense / Poor Boy / Angels Heap / Time for a Change / She Goes On / Glad All Over / Suffer Never / Niwhai / Mood Swinging Man / Where is My Soul / Eyes of the World / Dirty Creature / It's Only Natural / Weather With You / Love this Life / Last Day of June / Many's the Time / Kiss the Road of Rarotonga / I Can't Give You Anything But Love / I See Red / Paradise