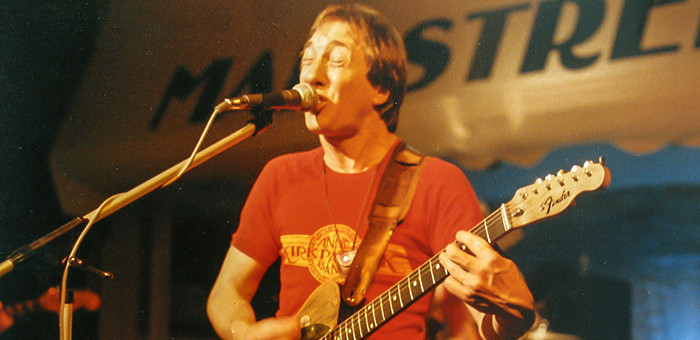 In this full-length interview for 2003 television series Give It a Whirl, Midge Marsden looks back to the early days of his career in music. In 1960s Taranaki, Marsden joined the Blue Diamonds – a backing band for Johnny Cooper's talent shows. The band quickly evolved into HMV recording artists Bari and the Breakaways (and later, The Breakaways). Marsden discusses seeing Max Merritt perform; using money from his paper run to buy a Fender Stratocaster; his love for rhythm & blues records; the busy live scene in Wellington when hundreds of bands were working performers; and the gradual acceptance of New Zealand music on our radio waves.
--
Watch below: Full-length interview with Midge Marsden from Give It a Whirl (2003) via NZ On Screen (2022).
Watch below: Midge Marsden discusses meeting Johnny Cooper and joining talent show backing band the Blue Diamonds, who became The Breakaways. He was asked to join "mainly because I had a Fender Strat, not that I could play the damned thing."
Watch below: Marsden recalls the sudden way that he turned professional – after calling in sick to get a day off work to rehearse with Dinah Lee, his boss spotted him in a newspaper photo. "I got fired from my first job ... my parents were horrified. Once everything settled down I thought 'Hey, I'm a professional musician. Yay!'"
Watch below: Midge Marsden discusses The Breakaways recording for HMV in Wellington and his love for rhythm & blues records that were brought into the harbour on US icebreaker ships. "Our repertoire was rhythm & blues, it came via the Rolling Stones, Pretty Things, The Beatles, Manfred Mann – this flood of British R&B that came into the country ... We would go down to the ships and they would play us all this black rhythm & blues – Otis Redding, Wilson Pickett, Motown, soul ... we'd go home and learn them up real fast."
Watch below: Midge Marsden talks about the quality of New Zealand recordings of the 1960s. "When you listen back to that 1960s New Zealand music now, it sounds so damned good ... when we recorded at Wakefield Street – at HMV Studios – you did all the backing tracks in one take, you'd balance it, then go in and put the vocals on top ... because of that live element, it captured a sound."
Watch below: Midge Marsden recalls the incredible live scene in Wellington during the 1960s. "There were 30, 40, up to 50 venues, all with live bands in them. There'd be 100 or so bands, all regularly working ... you'd play five, six nights a week."
Watch below: Midge Marsden reflects on the growth of original New Zealand music and the gradual acceptance of Kiwi music on radio playlists. "New Zealand original music since the 60s has just got better and better."
--
This interview was recorded for the 2003 season of TV series Give it a Whirl. All audiovisual content is copyright to Visionary Film & TV, and may not be reproduced.
--
Further reading: Nick Bollinger on Give It a Whirl