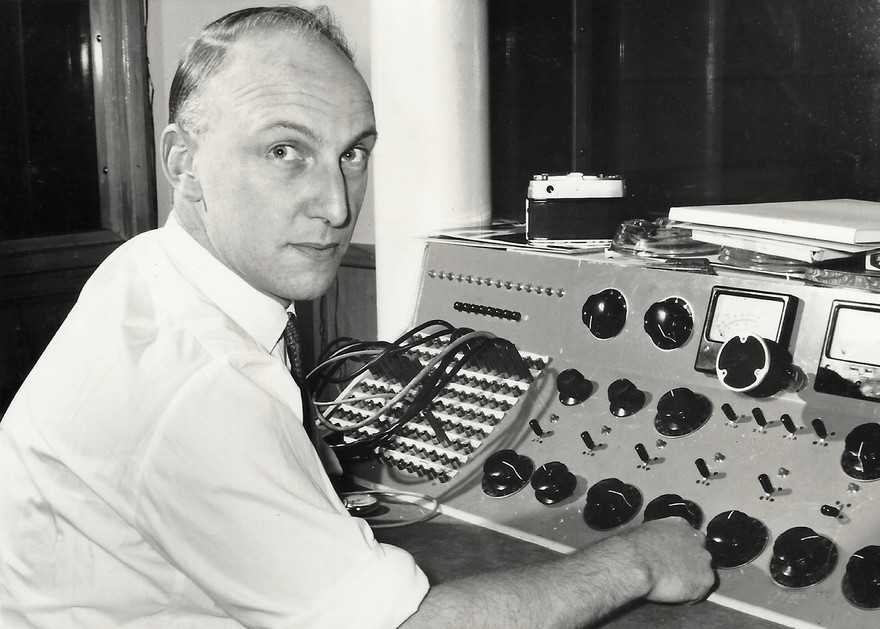 Recording engineer Frank Douglas worked at Wellington's HMV / EMI studios from the day they opened until their closure more than a quarter century later. He recorded everyone from Kiri Te Kanawa to Space Waltz, every genre from kapa haka to punk rock.
He was also a keen photographer and often had his camera on hand.
Frank's photos offer a different sort of record from the kind he made for a living. Here we see a working environment, where the technicians are as much at home as the artists, if not more so. There are headphones, cables, microphones, screens, desks and dials. Some of the pictures focus entirely on the equipment, giving us precise information on the tools of the trade and the ways they were used.
Along with his own photos, he kept a collection of other people's studio snaps, including some of himself. His daughter Sue Watson has made this collection available to AudioCulture.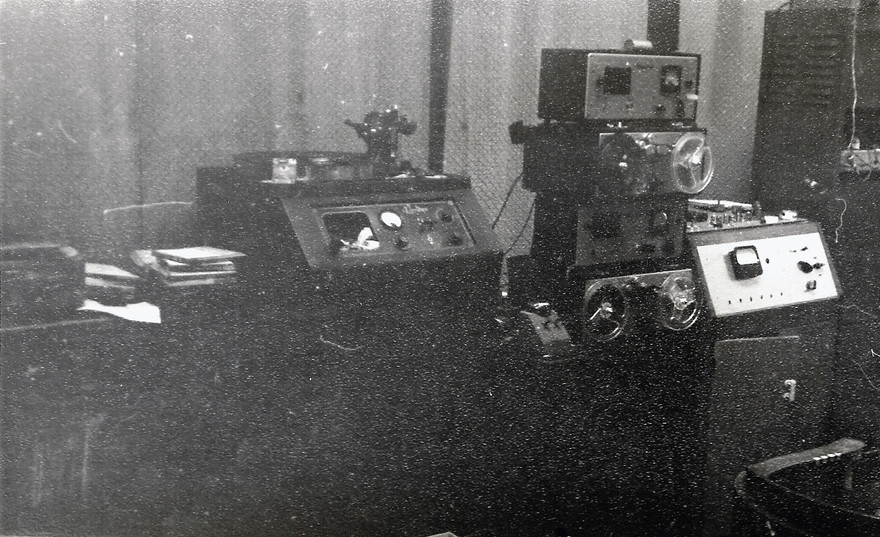 After training in Wellington as a radio repairman for the Radio Corporation of New Zealand, Frank Douglas began working in the company's recording studio, which had been established soon after World War Two, along with the country's first independent record label, TANZA (To Assist New Zealand Artists). A photo from the late 1950s shows the cutting lathe and tape recorders used in what became known as the Tanza studio.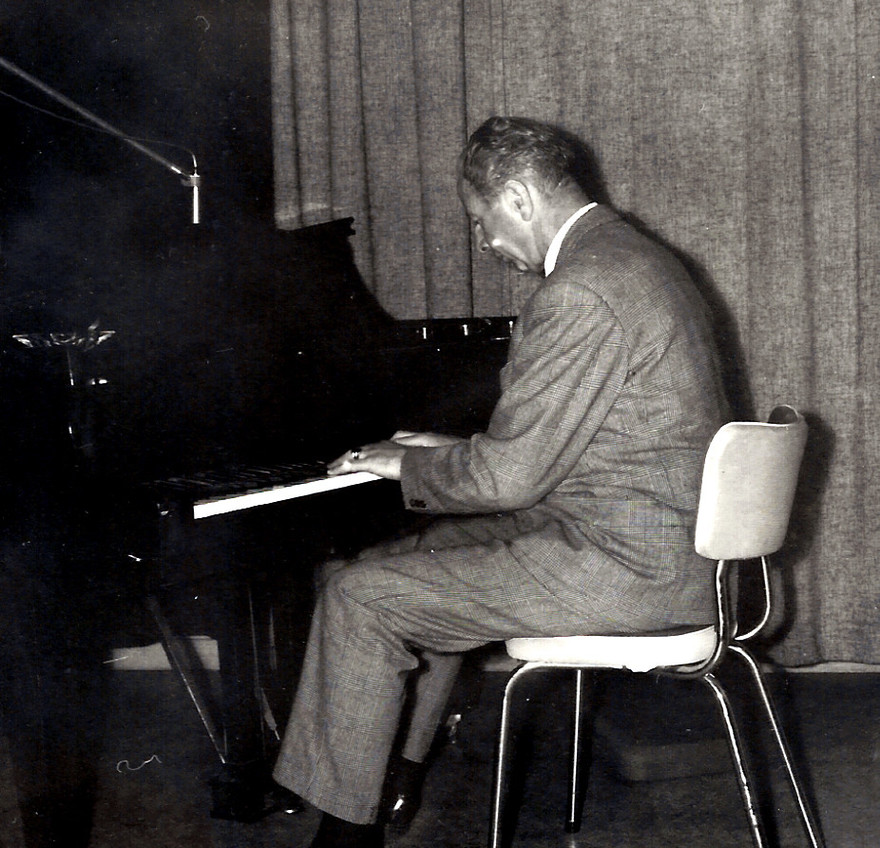 Wellington jazz pianist, arranger, and multi-instrumentalist Bill Hoffmeister records at the Victoria Street studio, formerly the Lotus studio which was bought by HMV (New Zealand) Ltd in 1964. Frank Douglas had helped set up Lotus after leaving Tanza in 1960. This studio would remain the centre of HMV's local recordings until 1966 when the new HMV studio opened in the Wakefield St complex.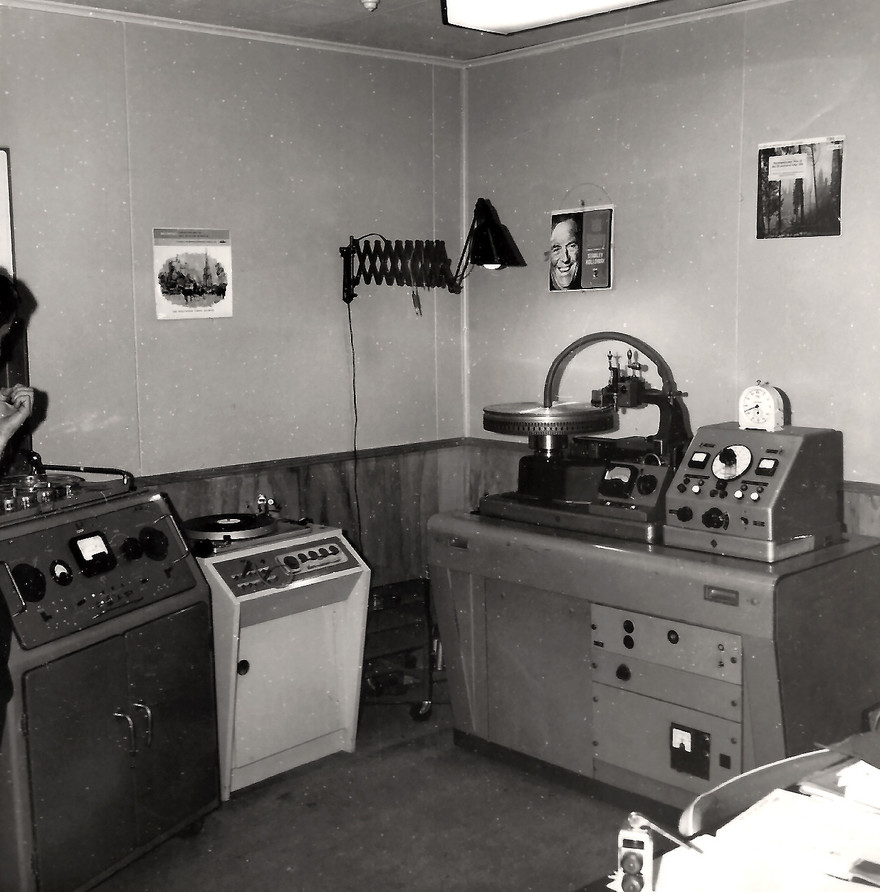 On the back of this photo from the Victoria St studio, Frank Douglas has inscribed simply "Mono". The largest piece of equipment here is a mono Neumann disc-cutting lathe, on which master discs for the mass production of HMV records were made. It was used for both local and international recordings, the Stanley Holloway album displayed on the back wall likely being one of them. Also in the cutting room is a mono 1/4" tape machine and record player.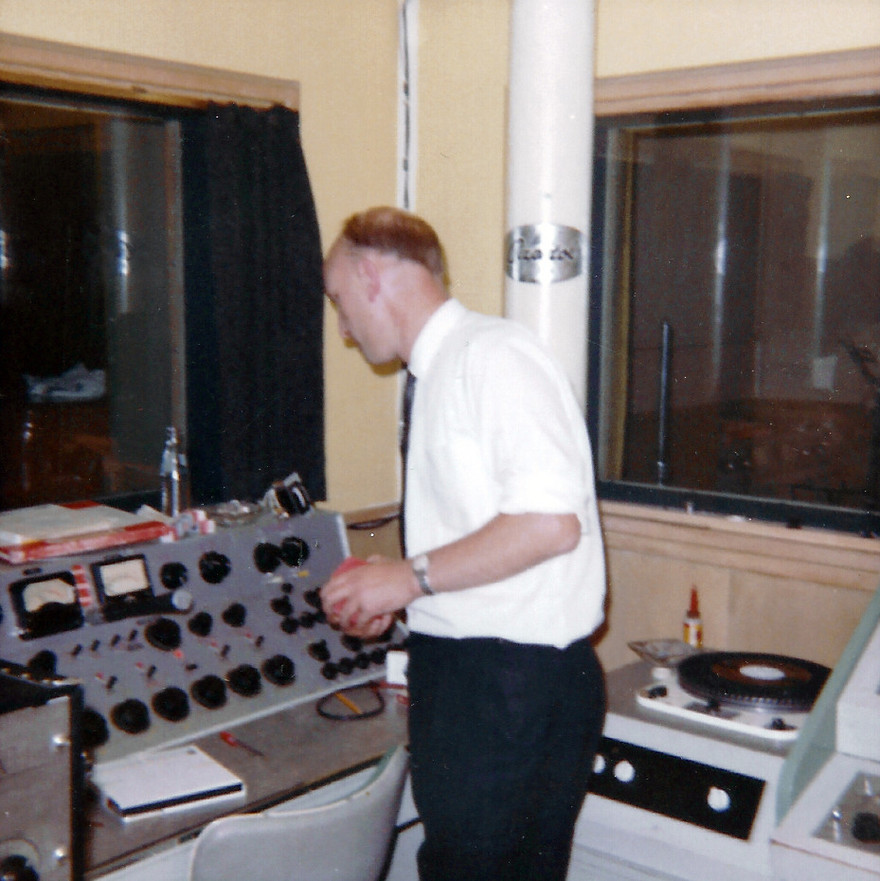 Frank Douglas keeps an eye on the meters at the Wakefield Street studio during a session in March 1966. HMV's Wakefield St studio opened that year, part of an office and warehouse complex on the site of a former Luna Park skating rink and amusement area, hence its sometime nickname "the Crazy House".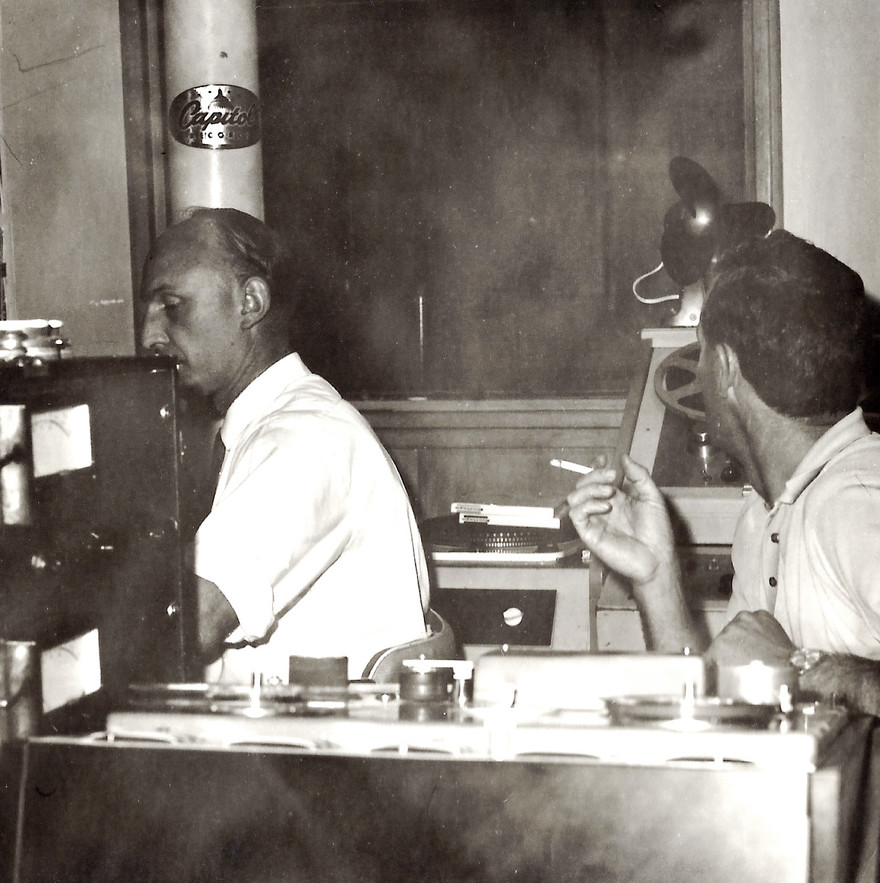 A smoking session. Frank (left) at the dials, while fellow engineer Brian McElwain inhales. Sue Watson, who as a child would sometimes visit her father at work, remembers that "everyone smoked in those days" and that a silvery haze usually hung over the control room.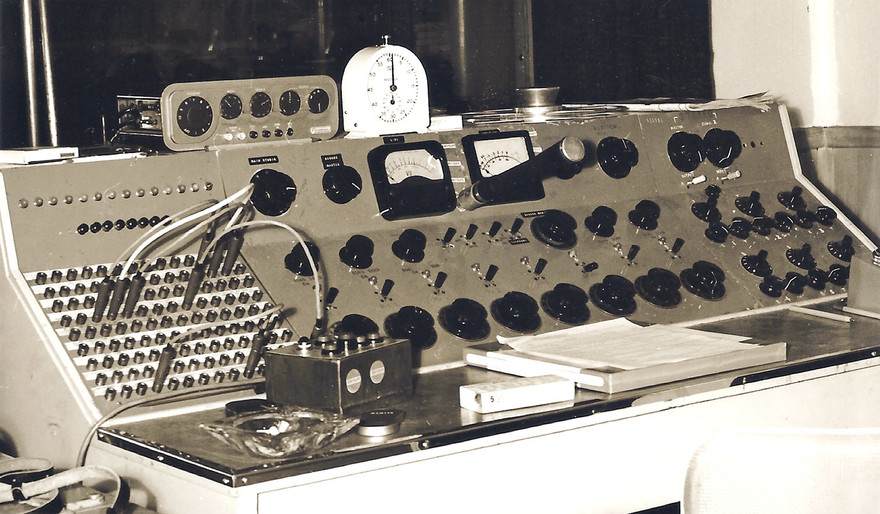 Mixing desk at Wakefield St., mid-1960s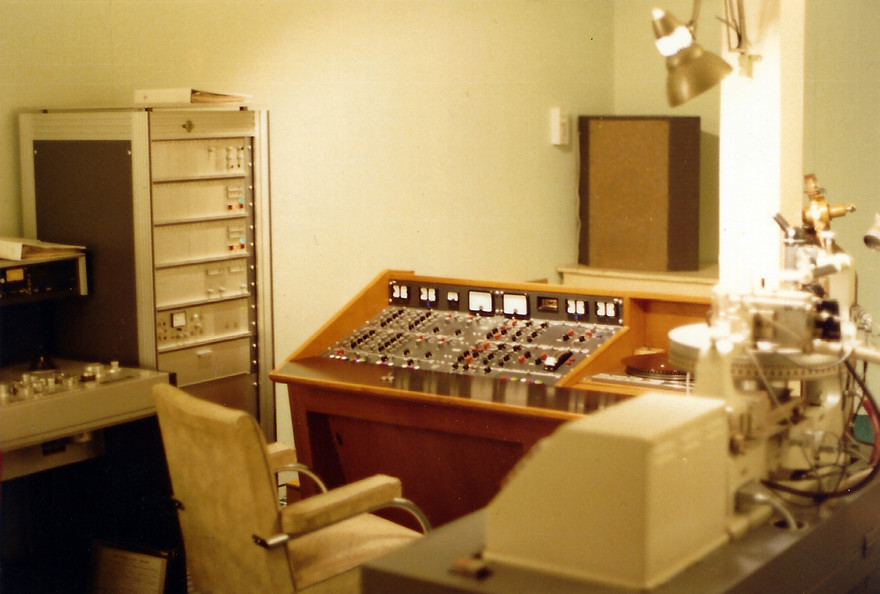 Cutting room at Wakefield St., mid-1960s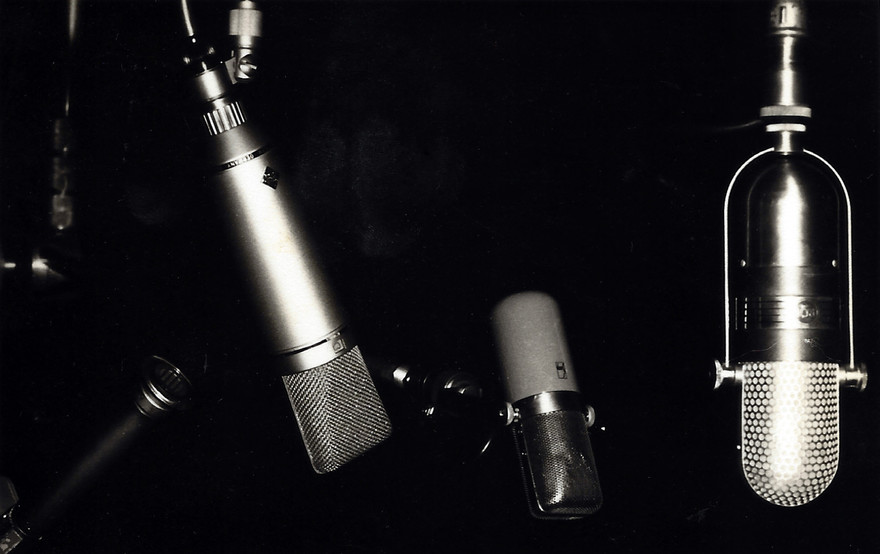 A selection of microphones commonly used at HMV in the 60s and 70s, including a Neumann U67 and RCA 77-DX.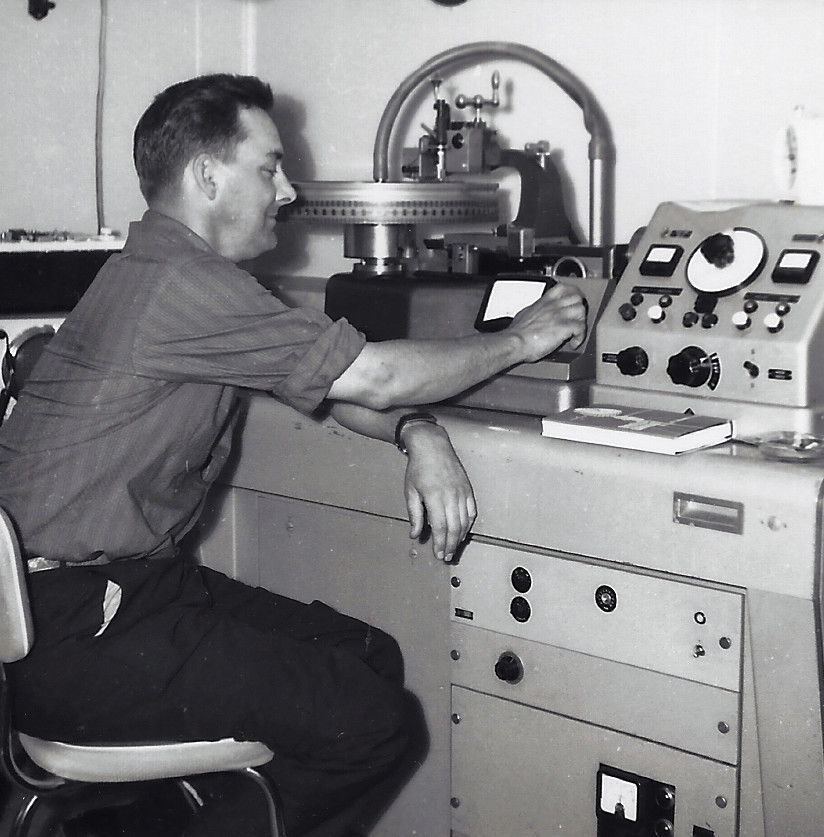 Frank's colleague Brian McElwain at the cutting lathe and in the studio control room.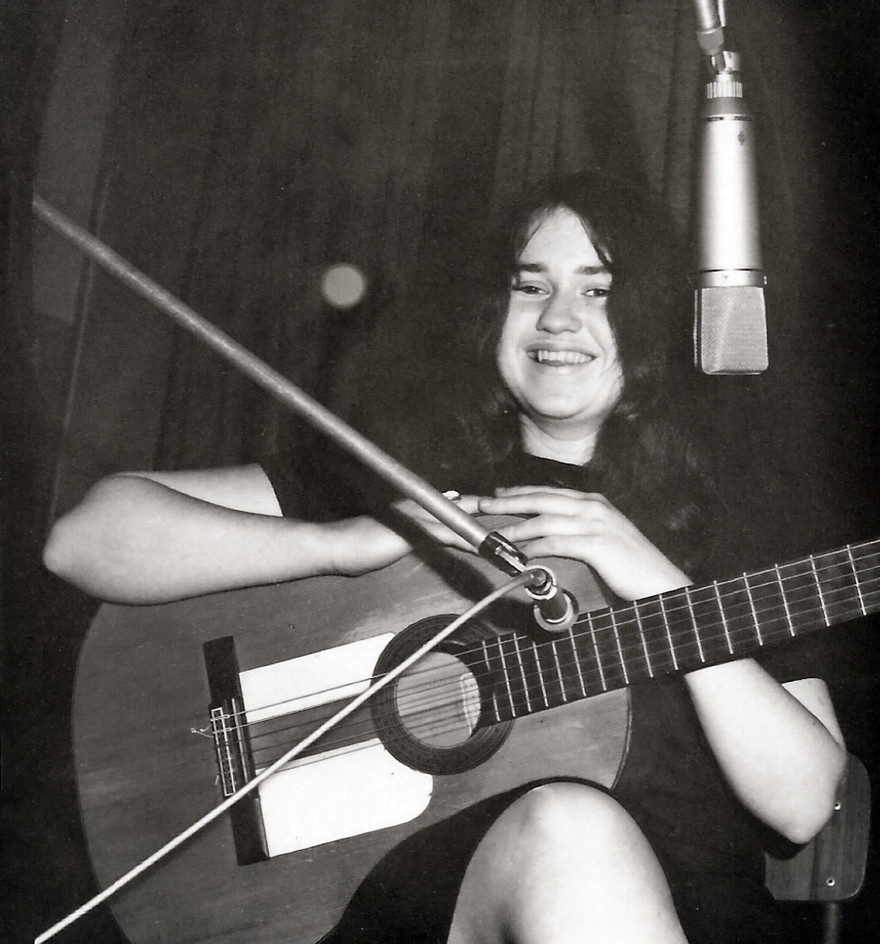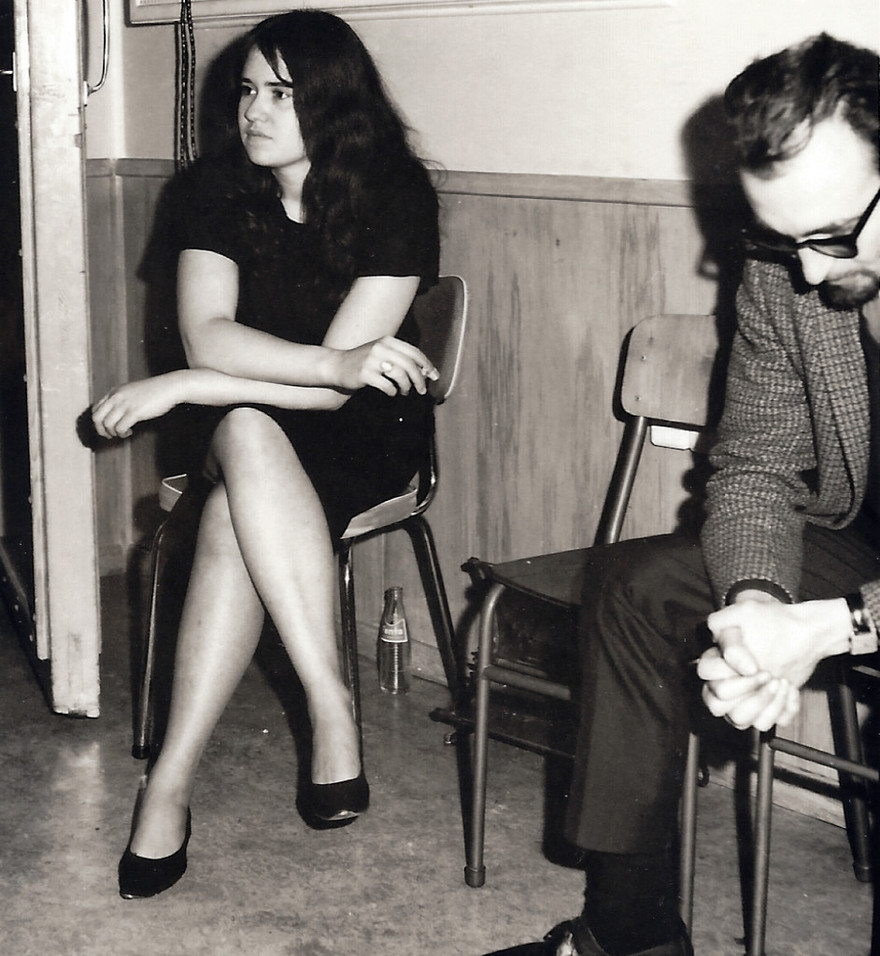 By the mid-60s, international stars like Bob Dylan and Joan Baez had made folk music marketable to a new youth audience, and HMV went looking for local folkies to sign. Twenty-year-old Val Murphy was already a favourite at Wellington's popular Monde Marie coffee bar when she cut the first of two albums for HMV. These Frank Douglas snaps, circa 1966, catch her in the studio between takes, and listening to a playback with producer Nick Karavias.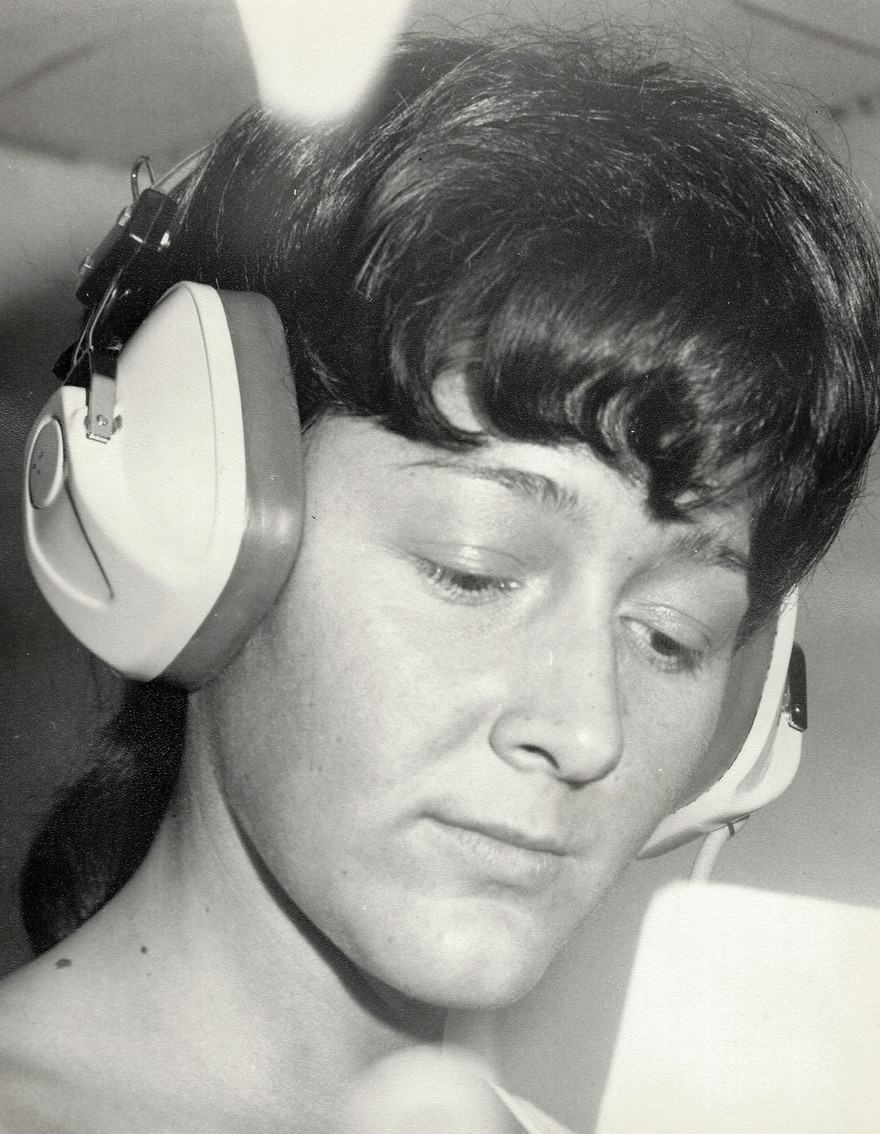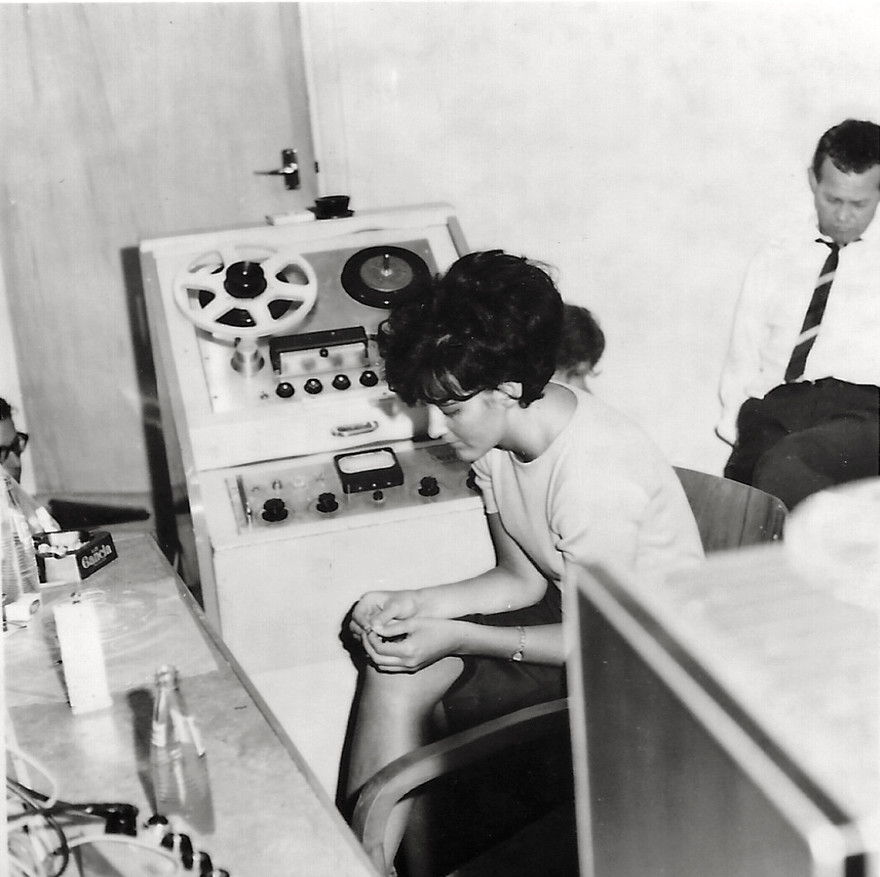 Maria Dallas won the Loxene Golden Disc Award in 1966 for her hit 'Tumblin' Down' and moved to Australia the following year, though she would continue to record for the New Zealand-based Viking well into the 70s. She's pictured at HMV Victoria Street, listening intently to a playback of 'Tumblin' Down', her debut recording (in mono). Also concentrating, in the background is Viking Records producer Ron Dalton.
Just visible on the far left is pianist and arranger Garth Young. Seeing this photo, in 2022 he recalled to Steve Braunias: "That whole morning was very interesting. It was Maria's first attempt at recording and was just a sort of experiment. Jay Epae was also present. At one stage Jay disappeared and it turned out that he had gone to the toilet. Apparently while he was sitting on the loo he got an idea for a song. When he returned he was clutching a length of loo paper (unused) in his hand and he went over to Ron and told him that he had written a new song. Ron got him to sing it to us (Dave Fraser, Kevin Watson, Slim Dorward and me) and really liked it. He then asked Maria whether she could learn to sing it which she did on the spot. Within a short time it was down on tape – with Frank Douglas as recording engineer – and that was the original recorded version which soon became a huge hit. Later on we also did an album with Jay and one of the tracks of course was 'Tumblin' Down'."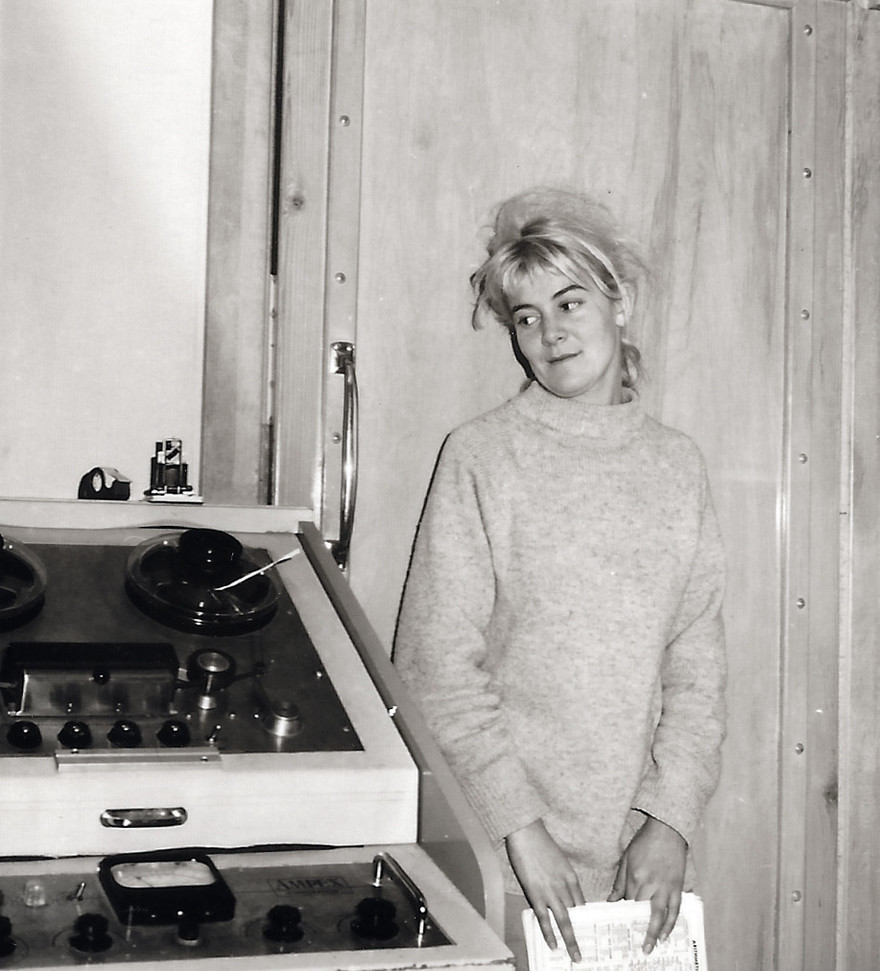 Wairarapa-born Barbara Ewing is internationally known as an actress and author, with roles in 60s cult horror films like Torture Garden and Dracula Has Risen from the Grave, and many successful books including her 2020 memoir One Minute Crying Time. But she also made a pair of records for Viking, both released in 1966 though striking in their differences. One was a jangling pop single, a version of the Lee Hazlewood song 'So Long Babe'; the other was Māori Songs I Love, a full album of waiata, sung in te reo in which she had completed a BA before leaving to study at the Royal Academy of Dramatic Art (RADA) in London in 1962. Barbara is pictured beside the studio's Ampex mono 1/4" machine during one of the HMV sessions, probably listening to a playback.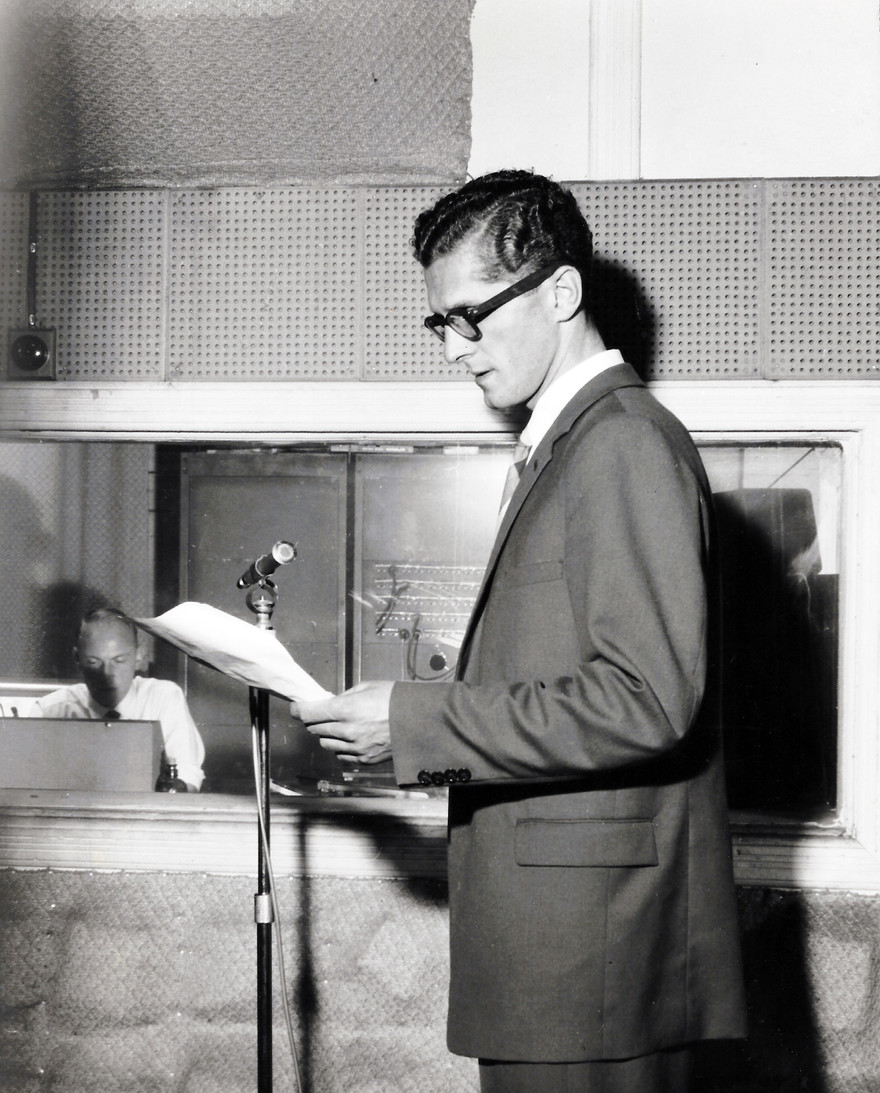 The HMV studios were not only used for musical recordings but also for voice-overs, commercials and readings. Well-known broadcaster and actor Peter Harcourt practises his dulcet tones in the Wakefield Street studio. Frank Douglas is visible on the other side of the glass.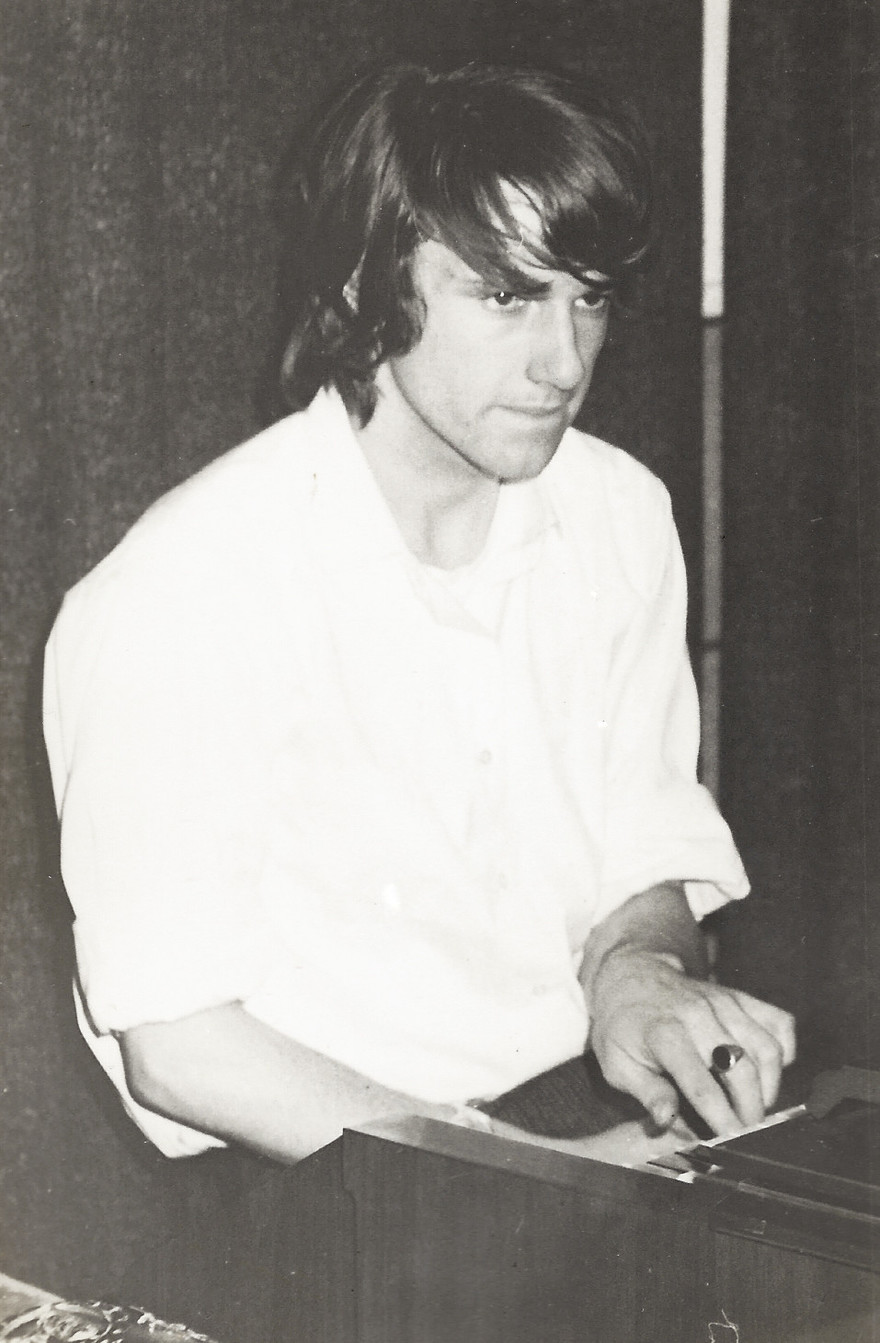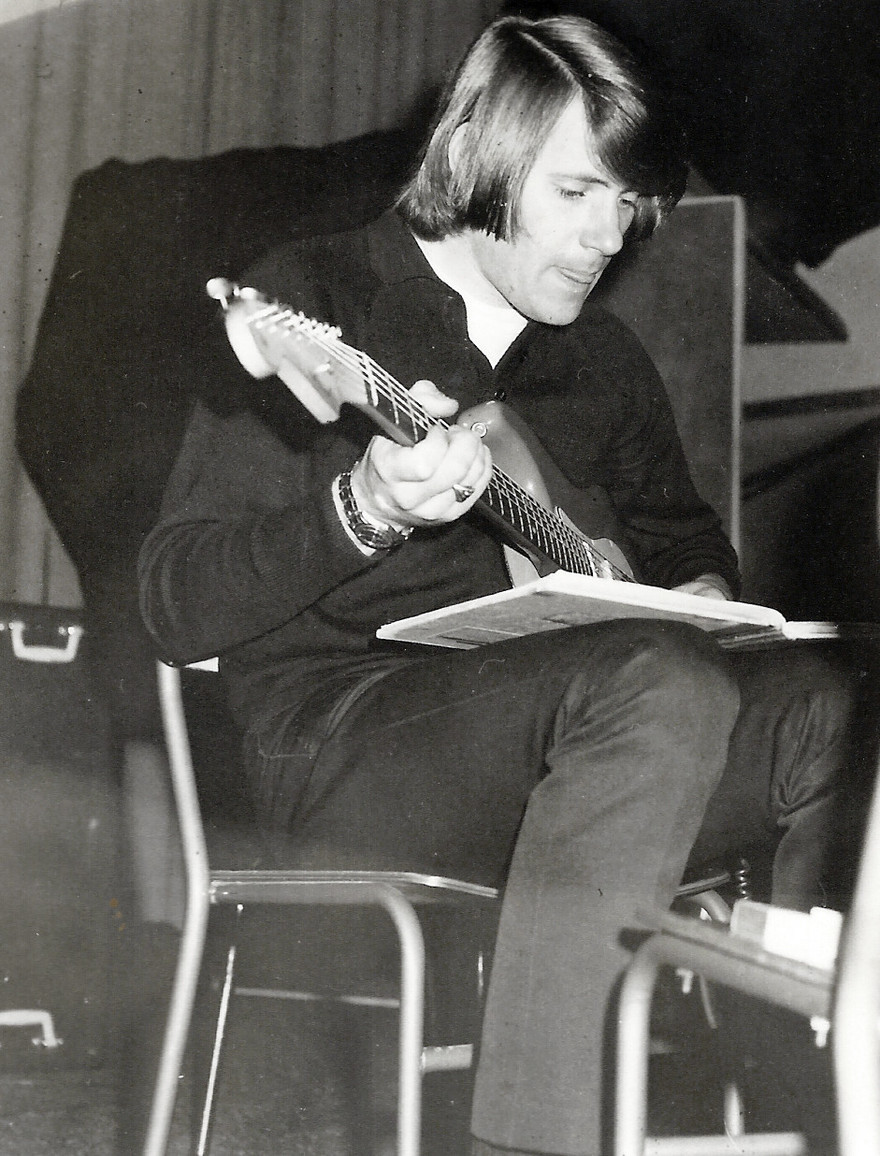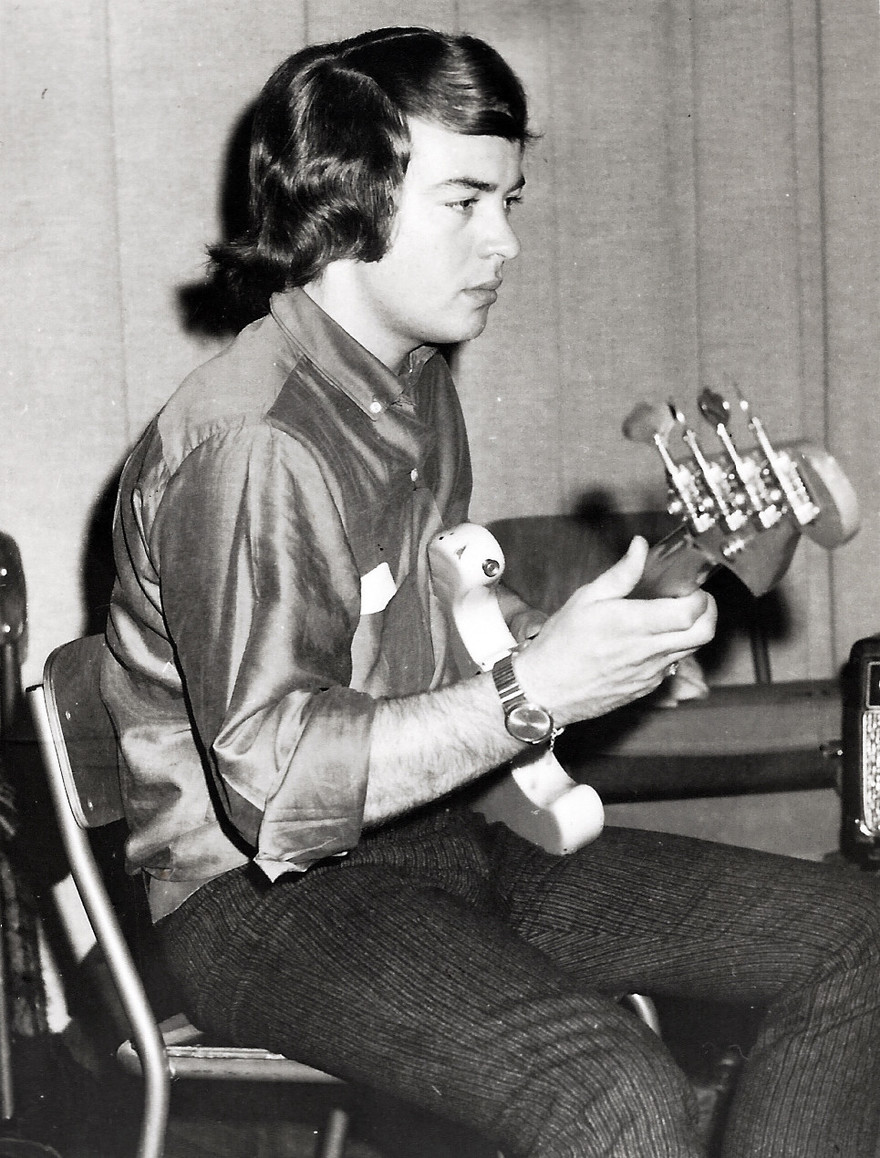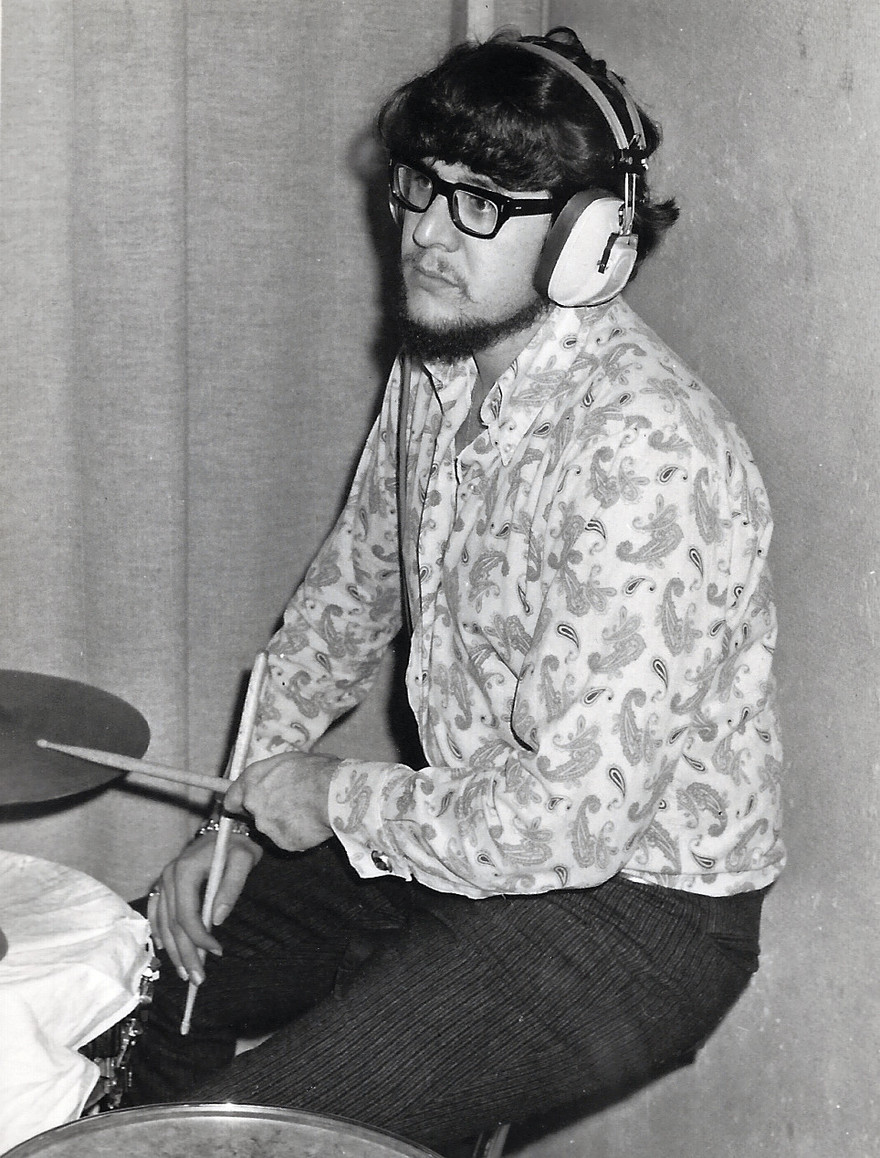 With five top-ten singles in an 18-month period, Wellington quartet The Avengers were one of HMV's most successful pop signings of the late sixties. Clive Cockburn (keyboards), Dave Brown (guitar), Eddie McDonald (bass) and Ian "Hank" Davis (drums), recording at HMV's Wakefield Street studio in 1968.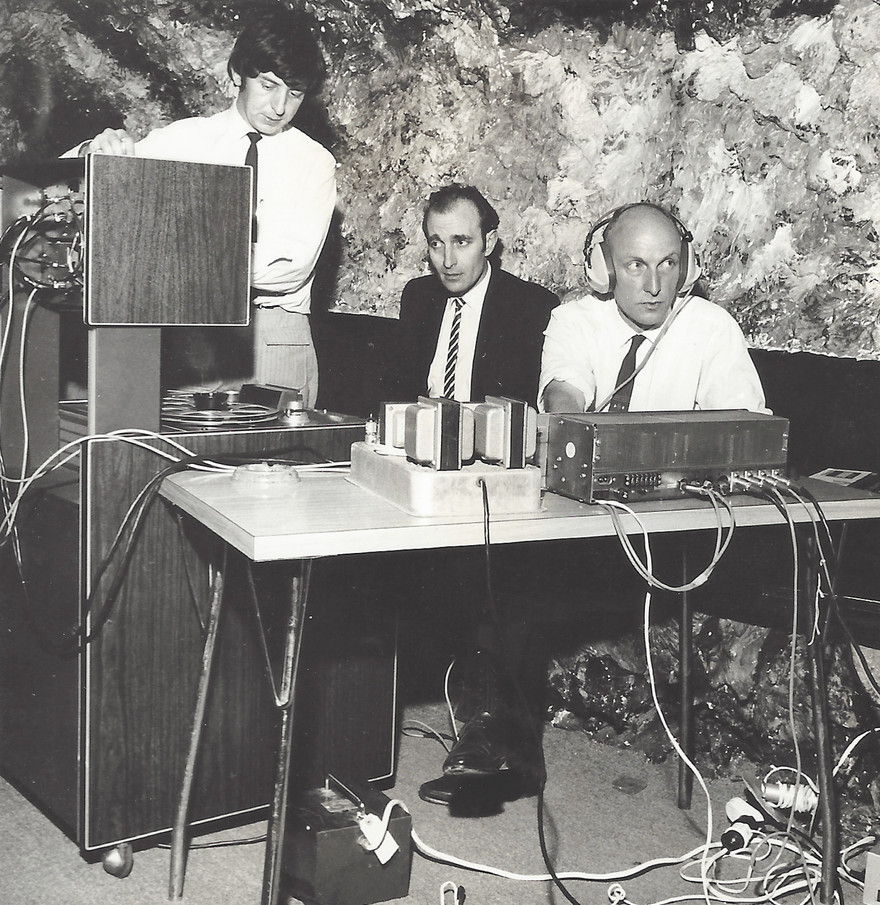 For The Avengers' third album it was decided to capture the band in the heat and excitement of a live performance. The venue was Wellington "discotheque" Ali Baba's on Cuba St, nowadays the popular San Fran. Back then the club's decor replicated in papier mache the interior of a mineral-encrusted cave. Frank Douglas (right, with headphones) installed the HMV equipment among the stalactites. Producer Nick Karavias sits beside him. For the resulting album, the group's hits were relegated to a brief medley at the end of side two, while the set was dominated by current rock and soul covers – 'Hey Jude', 'River Deep, Mountain High', 'Hold On I'm Coming' among them. Alive! Avengers In Action was recorded on 19 November 1968. Photo by Sal Criscillo.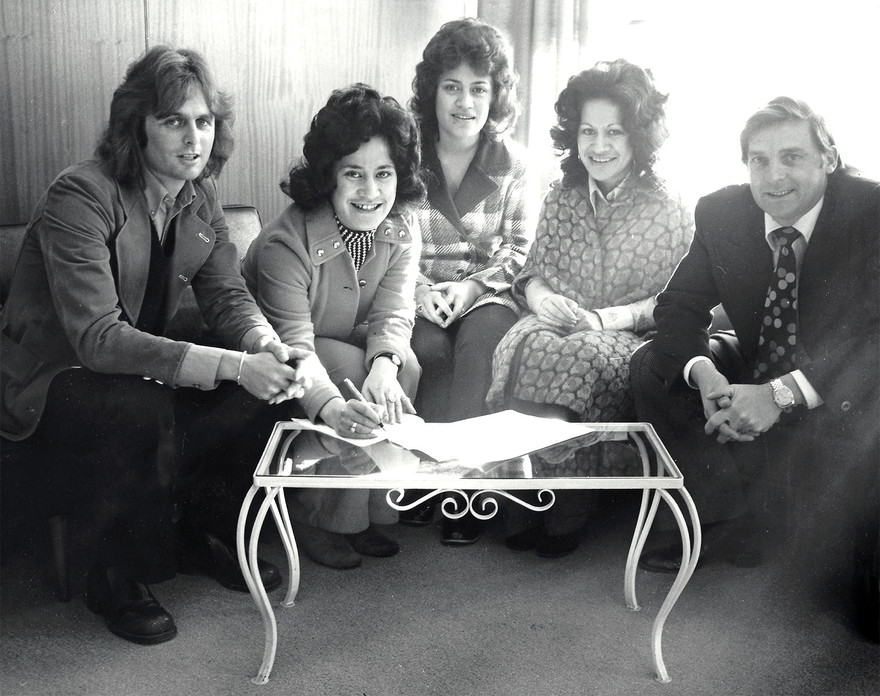 The Yandall Sisters sign up. Having earlier recorded for Bill Sevesi's Armar and Eldred Stebbing's Zodiac labels, The Yandall Sisters signed to HMV (known by now as EMI) in 1974. The Auckland-born Samoan siblings would release two albums and a slew of singles on EMI, as well as contribute backing vocals to numerous hits for the company's other artists. They are pictured signing their EMI contract in 1974. Left to right: producer Alan Galbraith, Adele Yandall, Pauline Yandall, Mary Yandall, EMI managing director Michael Wells.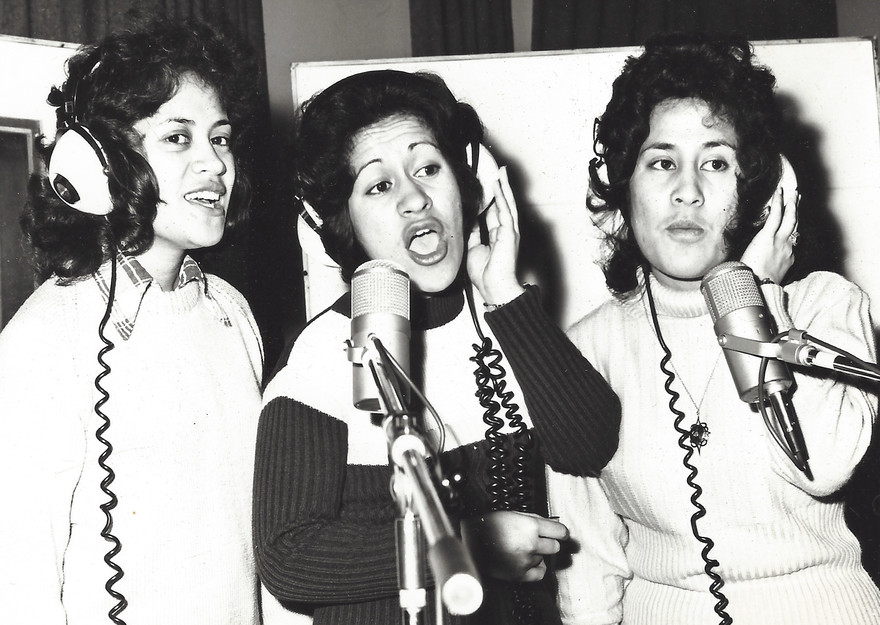 The Yandalls overdub a vocal, either for one of their own records or one of the many by artists from Mark Williams to Space Waltz for whom they sang backup.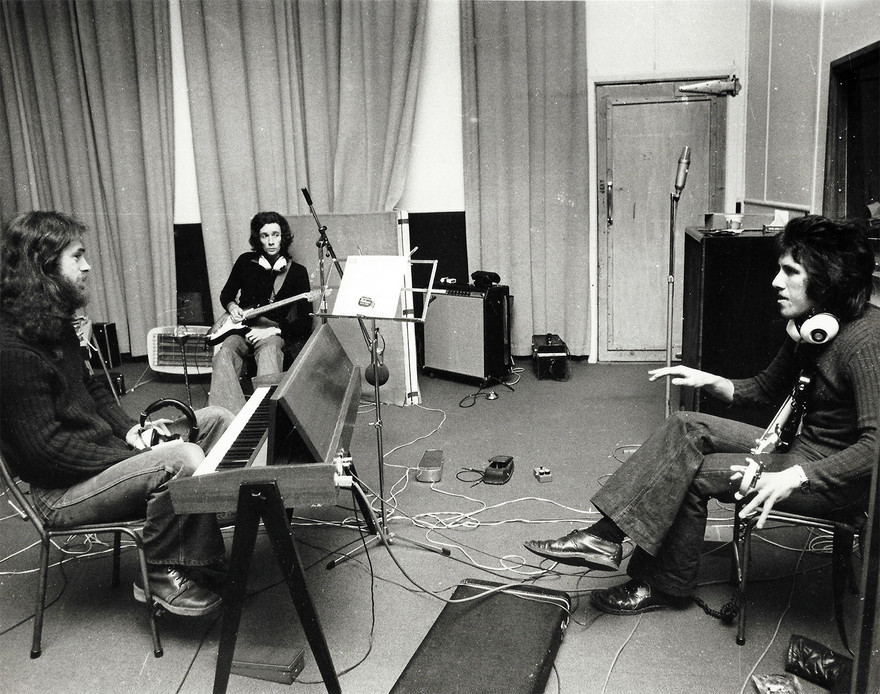 The house band. In 1972 HMV / EMI producer Alan Galbraith returned to New Zealand after a year overseas with the notion to put together a stable of session musicians, modelled on the great house bands in studios such as Motown and Muscle Shoals. The core of his band, who would provide backing for acts as diverse as Mark Williams, Prince Tui Teka, Annie Whittle, and The Yandall Sisters, usually included members of the group Rockinghorse. Left to right: Wayne Mason, Kevin Bayley, Clinton Brown.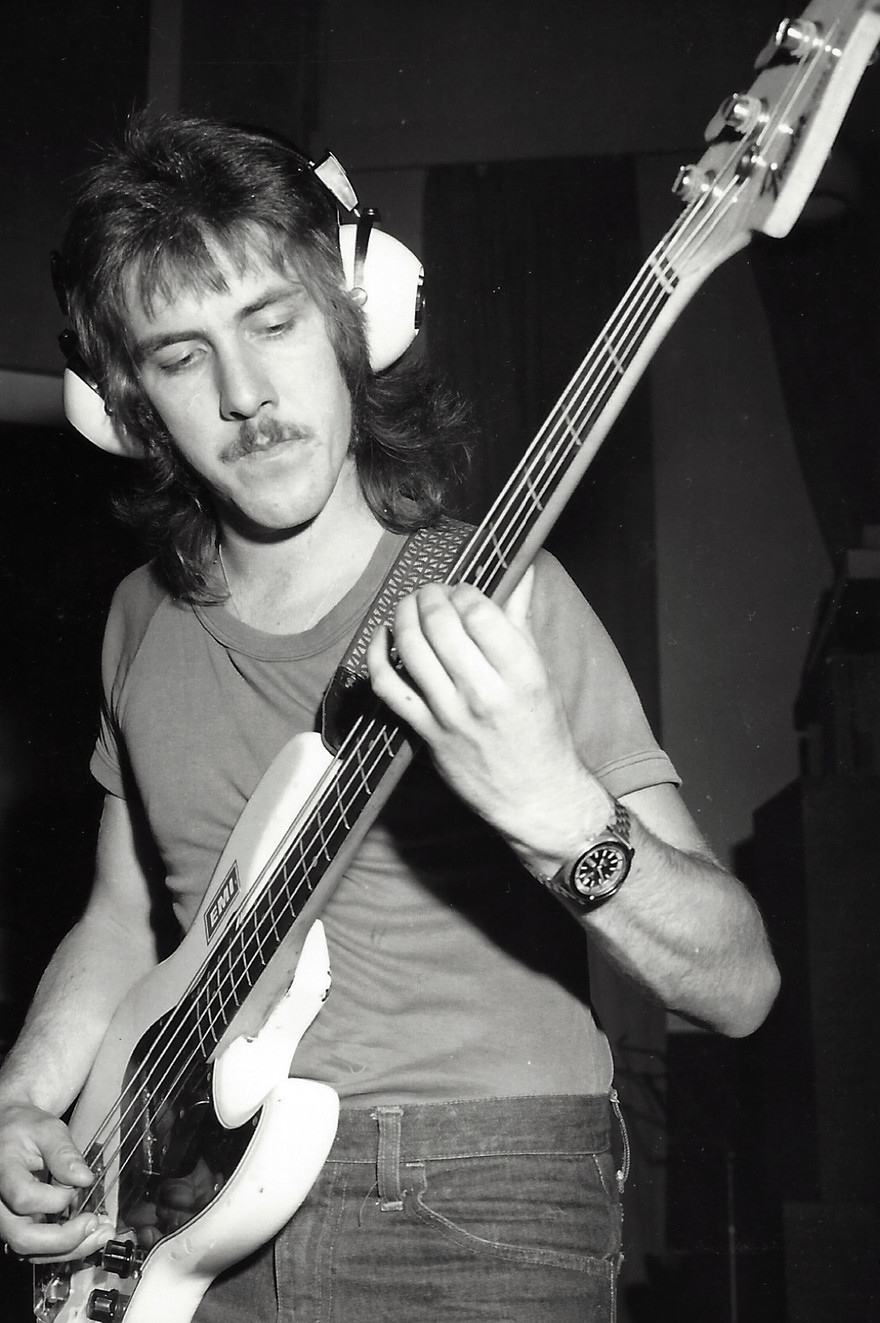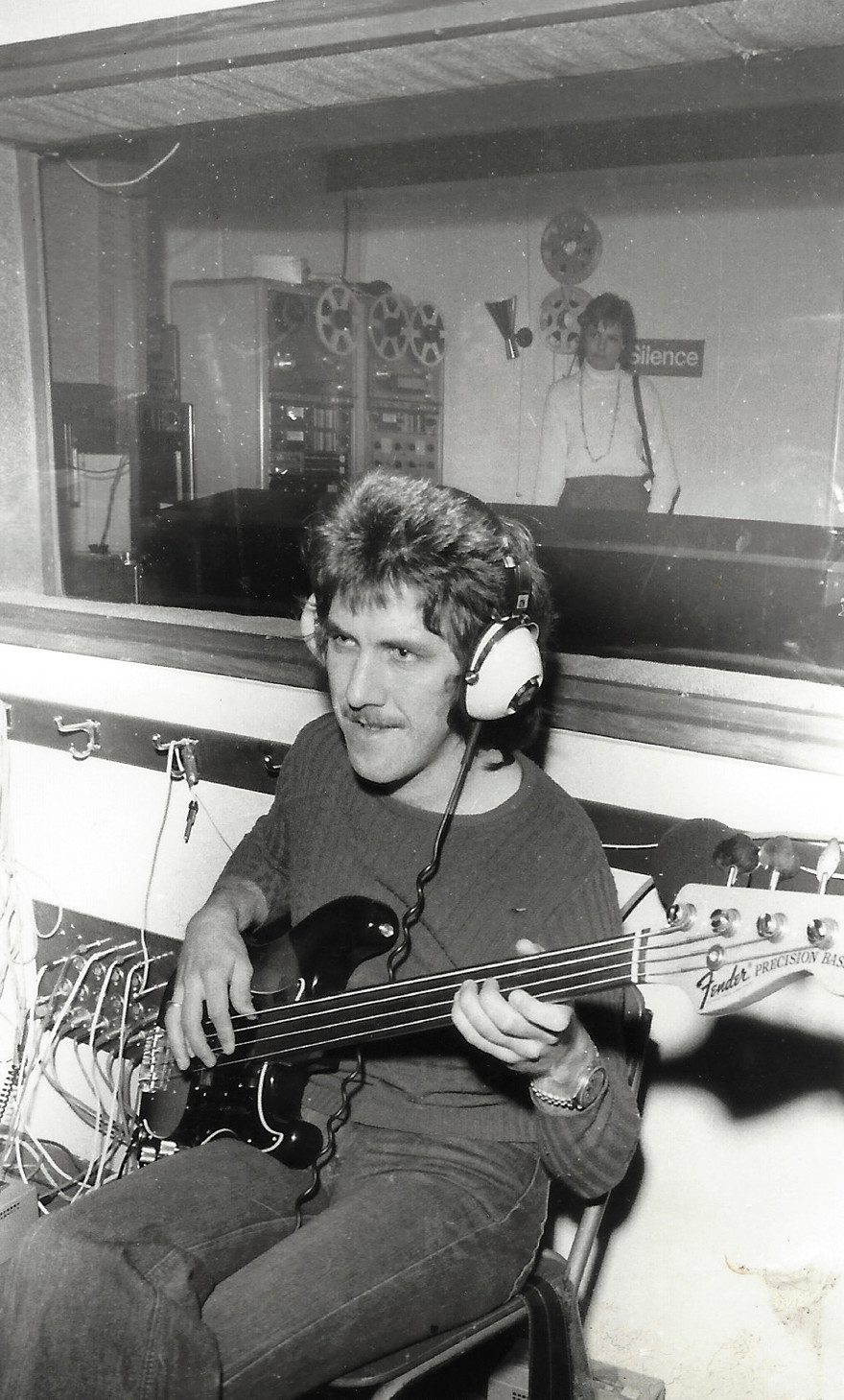 Bass player Clinton Brown had already held down the bottom end for The Society, Tangent, Rebirth, and Taylor, before teaming up with former Fourmyula members Carl Evensen and Wayne Mason to form Rockinghorse in 1974. When they weren't playing their own music, both on and off the road, Alan Galbraith kept them busy in the studio. In one of these shots the adaptable bassist is playing a fretless Precision. In the other, he wields his standard white Fender, to which someone has attached a sticker, perhaps to remind him where his pay cheque is coming from.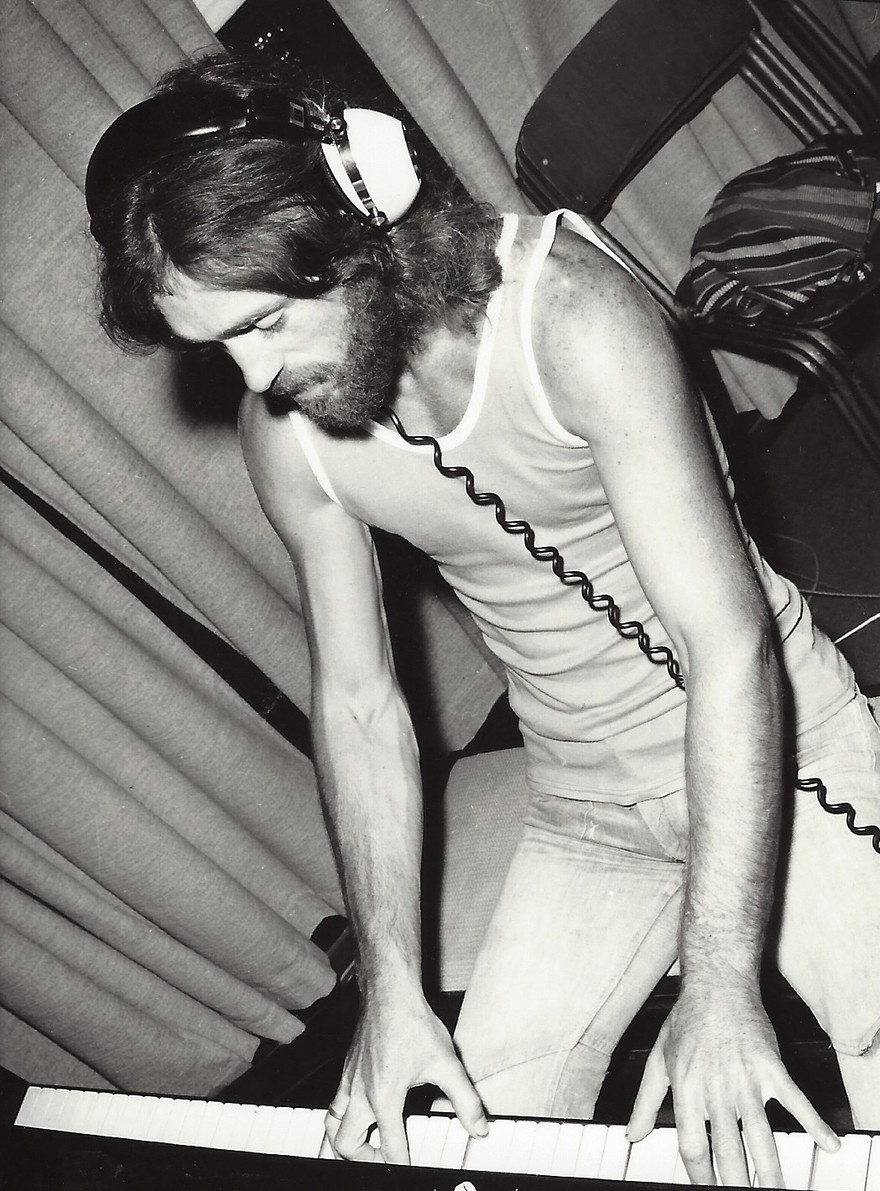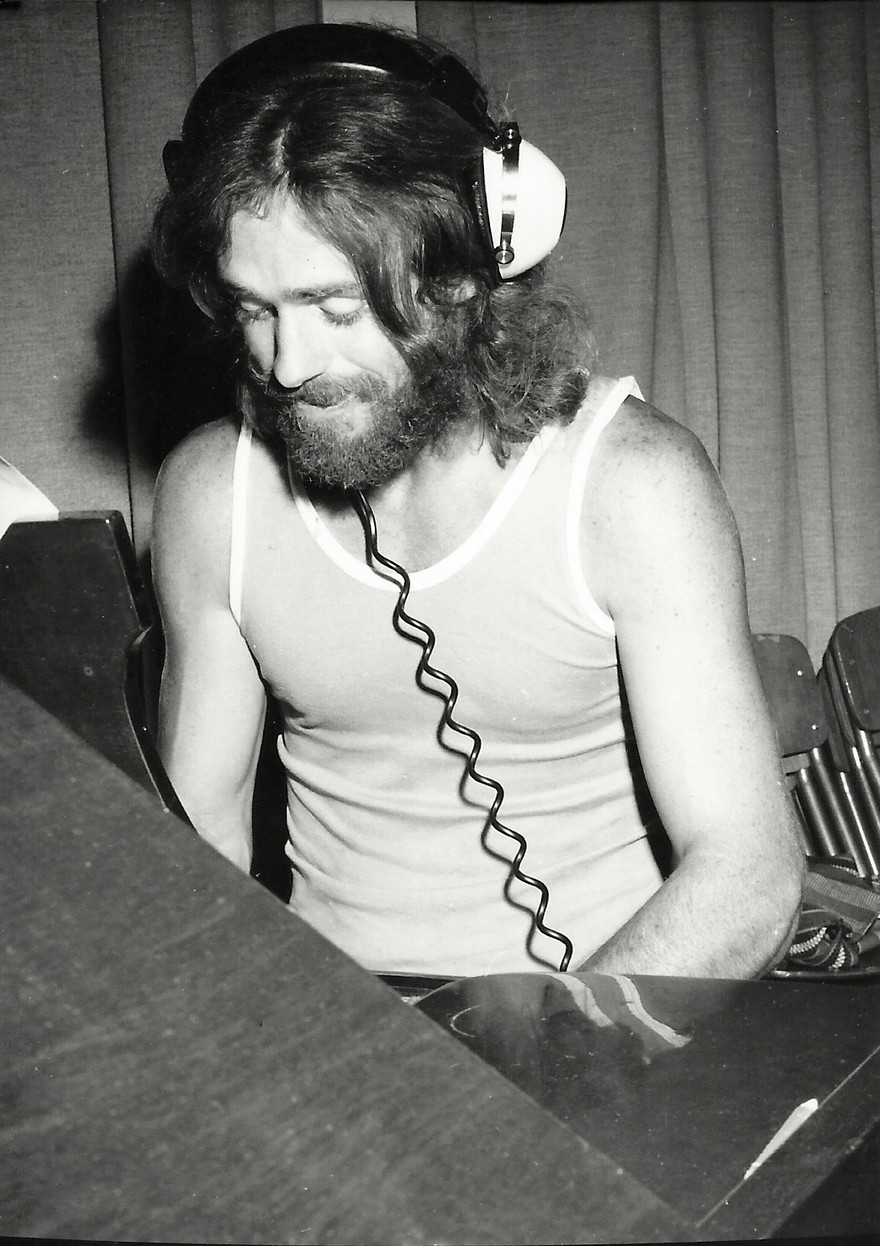 Wayne Mason had been a familiar figure around the HMV / EMI studios since the 60s, when he recorded a string of his own songs there with Upper Hutt hitmakers The Fourmyula. Here he lays down a keyboard part at a session for another of EMI's local artists.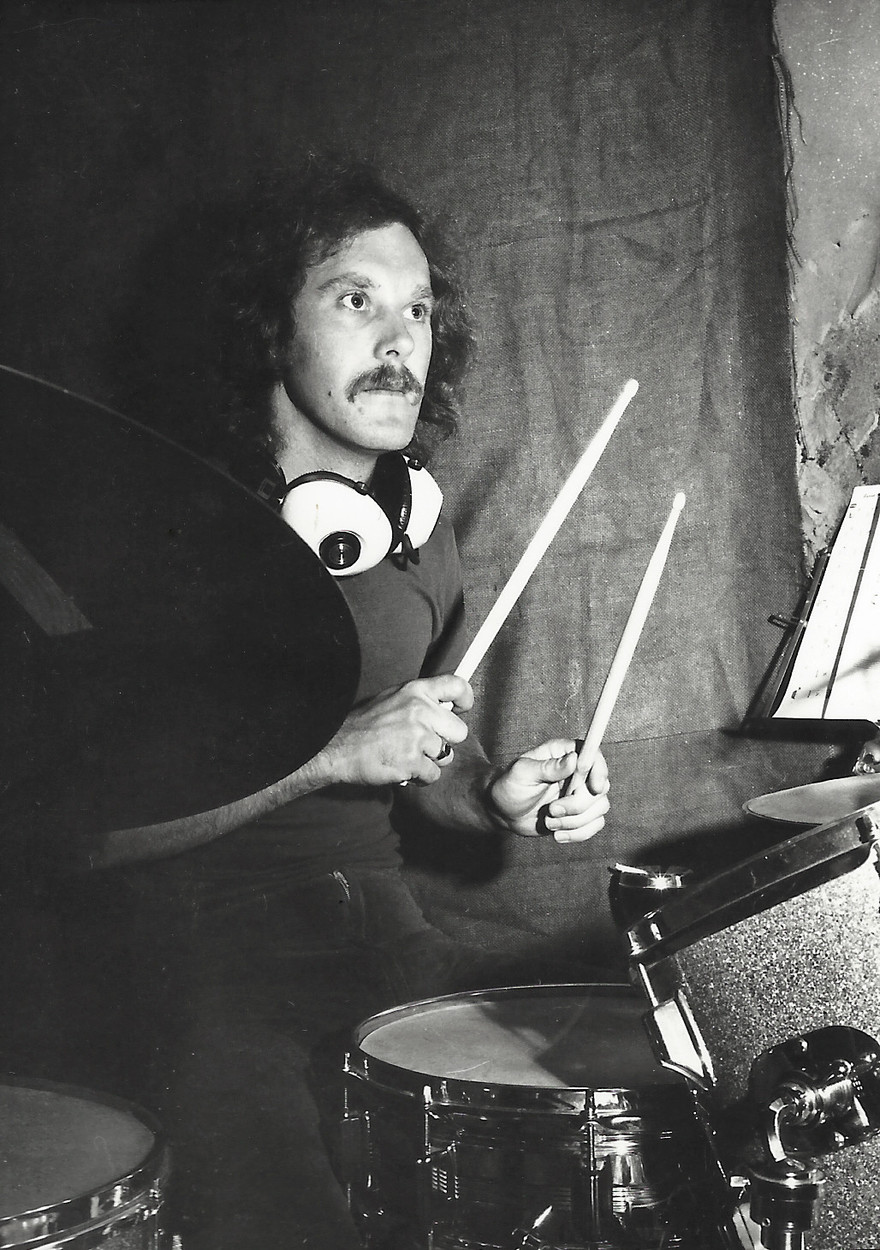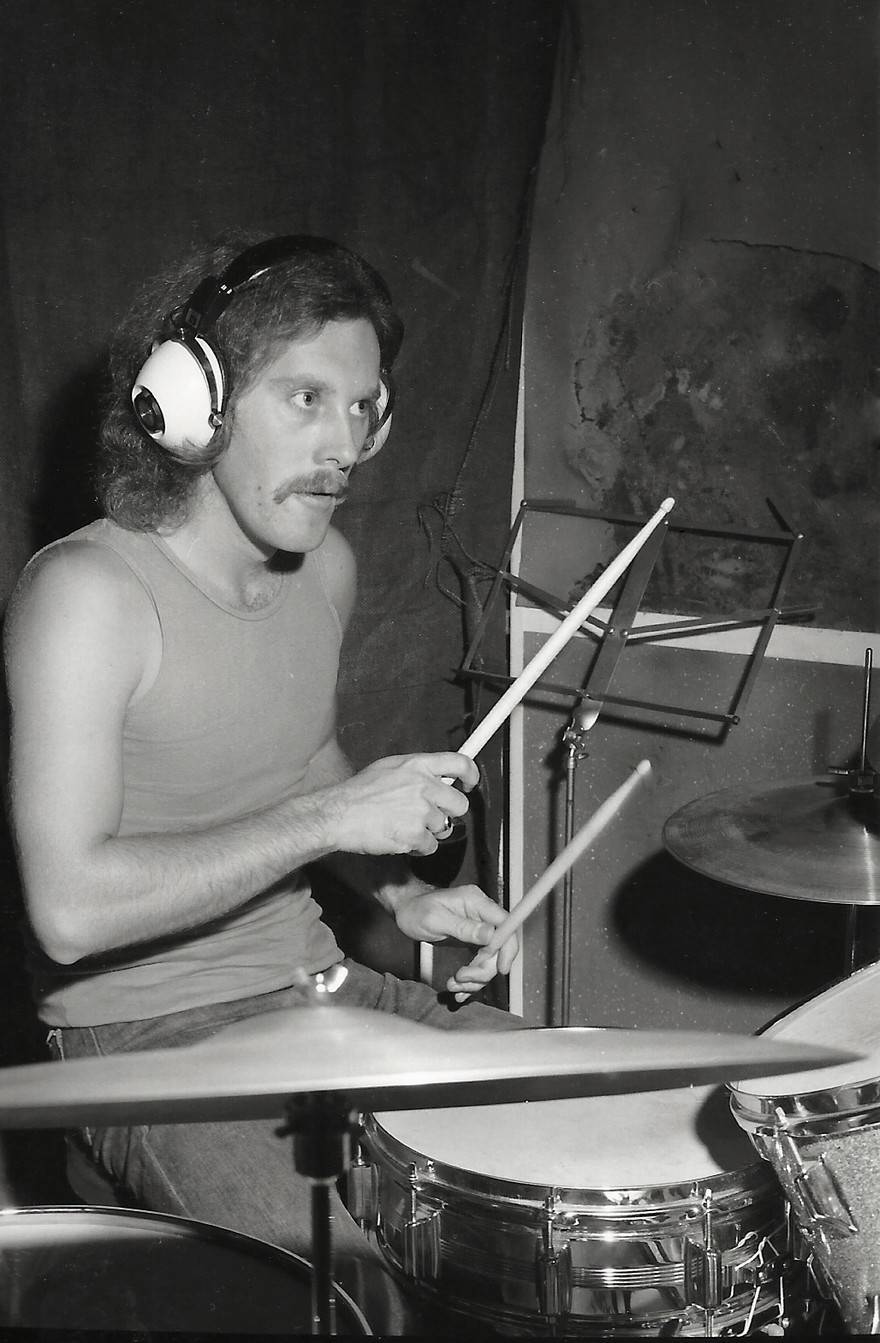 Original Rockinghorse drummer Keith Norris brought his dependable timekeeping and understated groove to numerous sessions at EMI.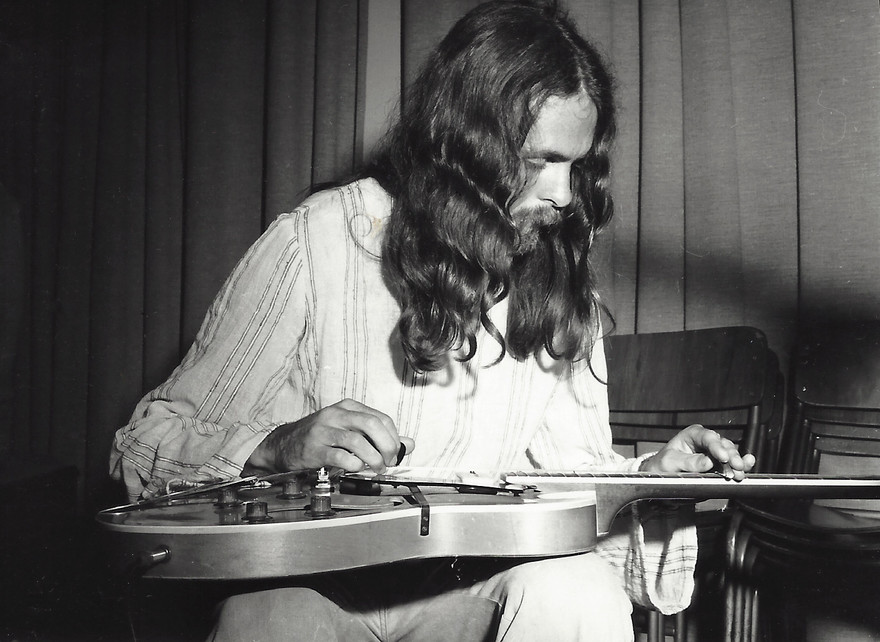 Australian-born guitarist Bruce "Phantom" Robinson came to New Zealand in 1965 with Brisbane club band The Pleazers and stayed on after the group split up. He continued to work closely with Pleazers singer Shane Hales, playing on a number of Shane's solo records for HMV. He became a founding member of Rockinghorse, while his mastery of a wide range of guitar styles made him a consummate session musician. In the photo he appears to be playing slide on an electric guitar laid across his lap, Dobro-style.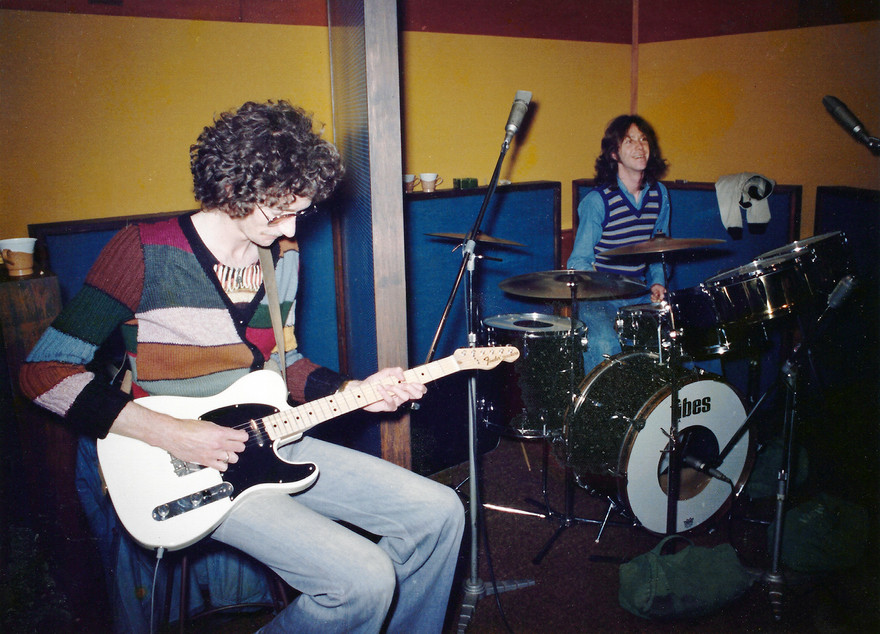 Two more recurring figures on the EMI session scene. Guitarist Kevin Bayley had played in Christchurch group Chapta before moving to the capital to join Taylor. Though Taylor split soon after making their only album, Kevin found session work and eventually joined Rockinghorse, replacing Bruce Robinson. Highway drummer Jim Lawrie also wound up in Rockinghorse after the departure of Keith Norris, before moving north at the end of the decade to join Street Talk and Dave McArtney's Pink Flamingos.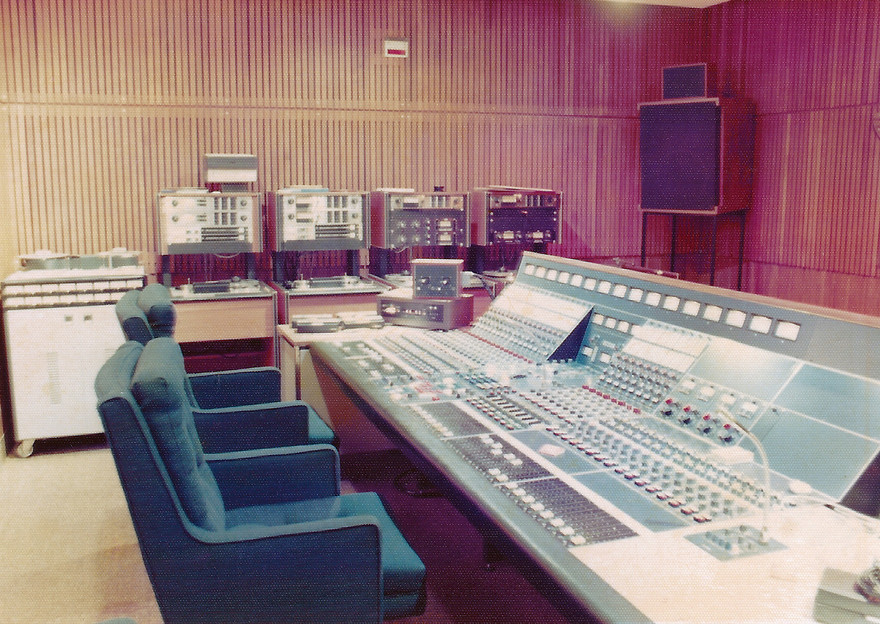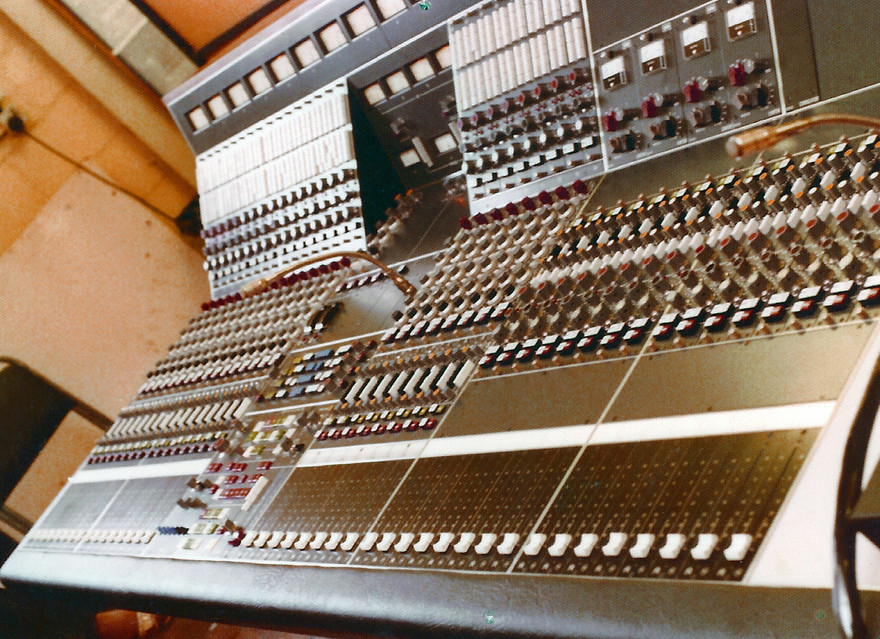 In the early 70s the studio acquired an 8-track Ampex tape recorder and a new mixing desk, enabling more sophisticated use of overdubbing.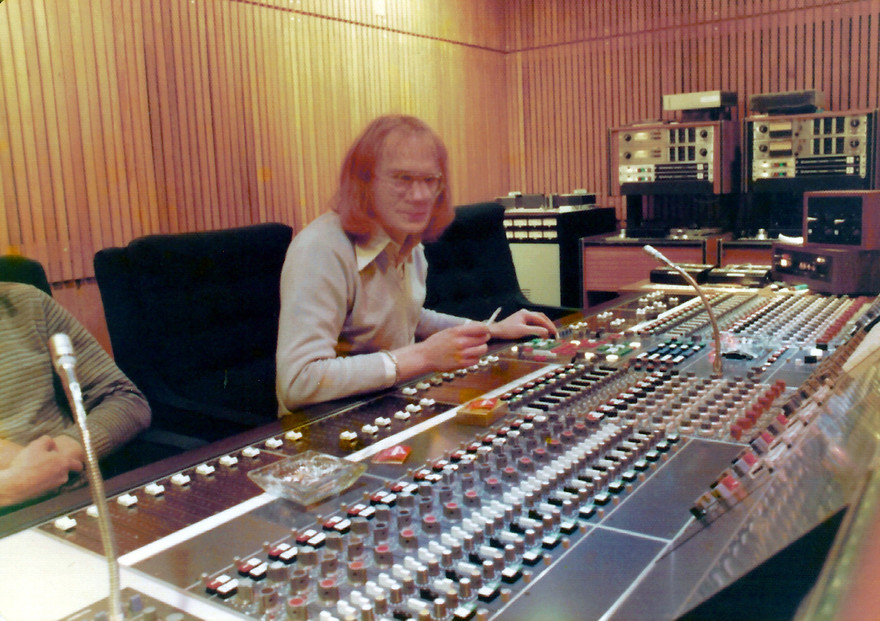 Former Tom Thumb bass player Rick White became one of the house producers at EMI's new Lower Hutt studio, which opened in 1976. He is seated at the console of the studio's newly installed 1974 Neve mixer. In the 1990s this prized piece of equipment would find a new home at Auckland's York Street Recording Studio.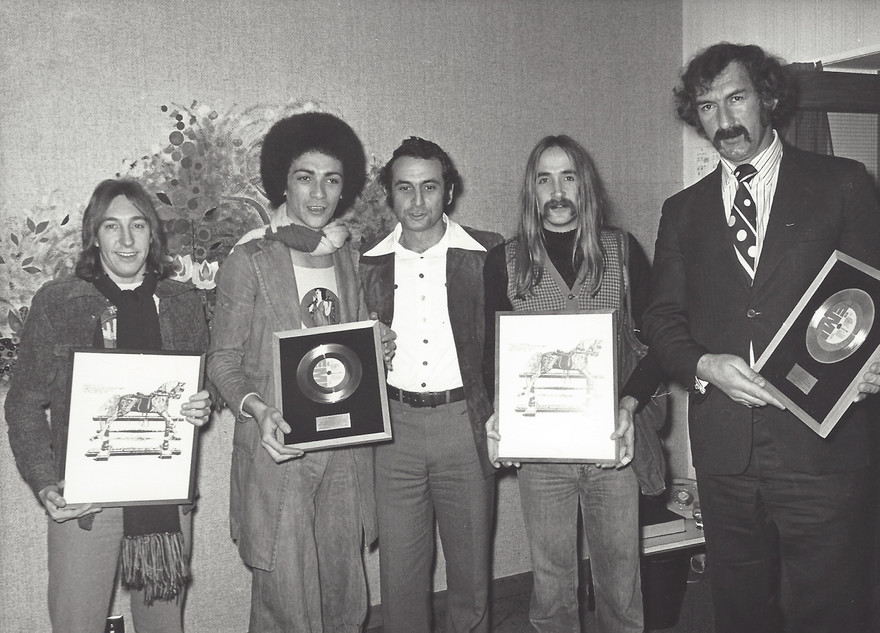 Midge Marsden dropped by the EMI offices to help Mark Williams and Rockinghorse celebrate the awarding of gold discs for record sales in 1976. Left to right: Mark Williams, EMI's Peter Buckleigh, Carl Evensen, and an unidentified EMI employee.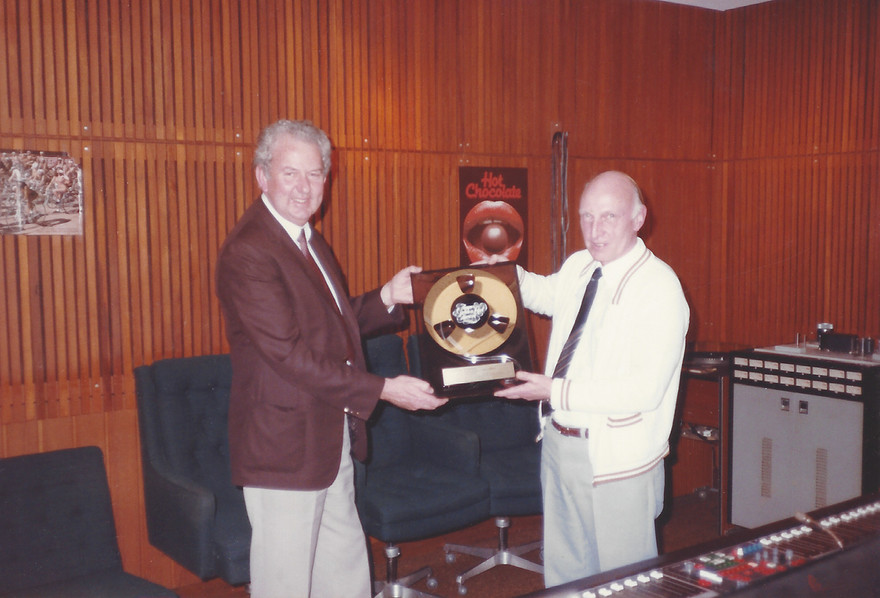 Suzanne gets the gold. Southland songbird Suzanne Prentice earned an Ampex Golden Reel award for her 1982 single 'When I Dream', proudly displayed here by Frank Douglas and a representative from Ampex.