Back from London, Rikki Morris visited the offices of New Music Management at the start of 1986 to touch base. Simon Elton told him three-quarters of The Narcs (Andy Dickson, Tony Waine and Steve Clarkson) were working as 1960s covers band The Vibe Brigade and were in need of a second guitarist to replace DD Smash-bound Gary Verberne.
It was a perfect fit. The band played every weekend for five months at venues like the Mon Desir and Wildlife with special guests such as Ray Columbus, Dave McArtney, Shona Laing, Graham Brazier, Midge Marsden and whoever was in town.
Midyear Morris and Dickson took off to Sydney with a mind to breaking into the scene there. They brought in ex-Dudes bass guitarist Lez White and ex-Tigers drummer Mike Knapp and formed cowpunk band The Hanks, but it was nothing more than a bit of fun and Morris and Dickson were back in New Zealand for the summer reviving The Vibe Brigade as The Rocking Love Gods.
By now Morris had a huge stockpile of his own songs and was adding to it constantly. "It got to the stage where I thought, 'Shit, some of these songs are actually starting to sound pretty good,'" Morris said. He began sending demos to brother Ian Morris, now a partner in the Soundtrax studio set-up in Wellington.
"He rang me – which was very unusual, that Ian would ever ring me for anything – and he was slightly pissed, and he went, 'Fuck, 'Nobody Else'. Fuck, that's a good song. We're gonna record that song. It's a fucking hit record, I reckon.'"
The younger Morris wasn't convinced, but Ian rang back a week or so later and told him to come down and record it over a weekend. After they laid down the basics of 'Nobody Else' with Ian's production ideas and some chord changes, Ian played his brother a cover of 'Game Of Love' he was about to release on Pagan as his alter ego Tex Pistol. The Wayne Fontana remake shot to No.1 in September 1987.
"So, Trevor [Trevor Reekie, Pagan boss] was like, 'What are we gonna do as a follow-up?' Ian played 'Nobody Else' for Trevor and said, 'Why don't we release this as a Tex Pistol song?' Trevor was a bit dubious and said, 'Well, how are we gonna do that if Rikki's singing it?' He said, 'Well, it can be Tex Pistol with Rikki Morris.'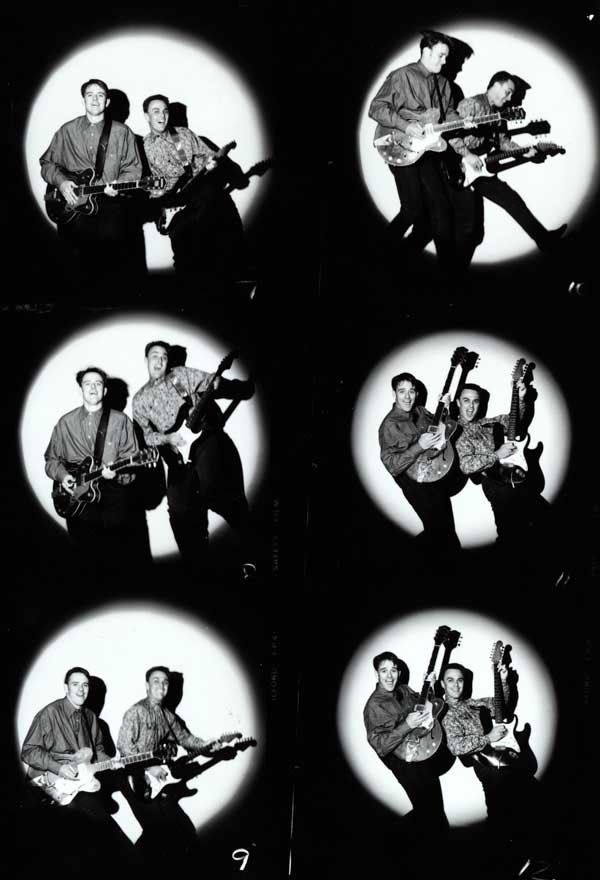 "After we did that session I'd been down two or three times to do vocals and work on some other stuff, but Ian worked on that pretty much himself," Morris said. Released a year after 'Game Of Love', 'Nobody Else' was given the opening slot on Radio With Pictures and began gaining radio play everywhere but Auckland and Wellington.
"From that moment on nothing was kind of the same," Morris recalled. "Once it went to No.1 I couldn't go to the dairy."
Morris had been working as a house painter but by now was managing his father's second wife Jean's florist shop in Hunters Corner. He was having lunch with his father and Jean at Dial A Gift Basket when Reekie called to say 'Nobody Else' had hit No.1.
"From that moment on nothing was kind of the same," Morris recalled. "Once it went to No.1 I couldn't go to the dairy. It was fucking madness. I'd deliver flowers to someone and they'd open the door and they'd go, 'Oh, my God!' Or I'd just get mobbed by schoolgirls. It was crazy."
It was clear he had to leave the florist business behind, so he programmed up some backing tracks and undertook solo support slots around Auckland. On one such occasion opening for another Pagan No.1 act Holidaymakers at The Gluepot, When The Cat's Away were in attendance after rehearsals for their upcoming The Melting Pot Tour. The women had an idea and two weeks later Rikki Morris was on tour opening for When The Cat's Away. He would also feature as second guitarist in their band later in the show.
During the South Island leg, Morris and Debbie Harwood hooked up and moved in together at the tour's cessation. But not before Harwood was the inspiration for Morris to write 'Heartbroke' after his opening slot at the Founders Theatre in Hamilton during the tour.
"We came home and then we extended the tour by a week, and so we were all home for about three or four days," he said. "I drove to Hamilton and things were kind of icy. I came off stage and I wrote 'Heartbroke' in 45 minutes in the band room."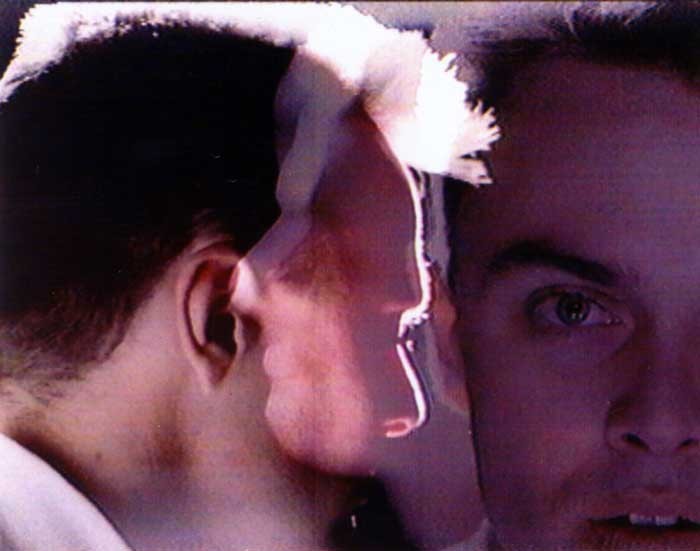 A guest spot on after-school TV show 3:45 Live! turned into an eight-month hosting gig with Fenella Bathfield when original male host Nigel Hurst left. Morris met and interviewed a glut of international and national musical guests including BB King, Roland Gift, Poison singer Bret Michaels, Roxette, and "Weird Al" Yankovic.
The follow-up to 'Nobody Else' was 'Come Back, Louise', which was released in 1989 again as Tex Pistol and Rikki Morris. "Yeah, we came up with a dud, unfortunately, which Ian and I both thought was gonna be a hit, and it was quite clever in a lot of ways. But radio didn't want to know it. They just thought it was way too syrupy and poppy," Morris said.
"I loved that year on TV, but I have to say it probably destroyed my music career because when 'Come Back, Louise' came out people started calling me 'that TV presenter who thinks he can sing'. People forgot real fast, and I started to get a bit resentful."
Morris and Harwood were married at the end of 1989 and their son Marlon was born the following year. Morris released the single 'Heartbroke', which resulted in Ian James signing him to a publishing deal with Mushroom. The family moved to Melbourne, renting a home from neighbours Neil Finn and his wife Sharon. While Harwood toured as a backing vocalist for Jimmy Barnes, stay-at-home dad Morris worked on his demos.
"I thought this was what I was going to do for the rest of my life. I thought I was going to be writing songs for Daryl Braithwaite and John Farnham. That's what I thought I was going to be doing, and that's what Mushroom wanted me to do. I thought all my dreams had come true."
In mid-1991, Pagan boss Trevor Reekie rang to say 'Heartbroke' had been named a finalist in the APRA Silver Scroll and the organisers wanted him to attend the presentation in Auckland. When Morris said it was impossible with Harwood on tour, Reekie retorted, "No, they really, really want you to come back."
After more protests Reekie said, "No, Rikki, you're not listening to me. If you know what I mean, they really, really want you to come back and they'll pay your trip." By now Morris did know what he meant and had to sit through the ceremony knowing full well he had won the award but not being able to tell anyone.
It became clear early on that Mushroom wanted Morris to be the vehicle for his songs. The label had Nick Cave and Kylie Minogue, but they didn't have a Rick Price, who was starting to make waves on Sony (formerly CBS). Gudinski and his right-hand man Gary Ashley were sure Rikki Morris could be Mushroom's Rick Price.
"The guy who actually signed me as an artist was a bloke called Bill Page who Mushroom had headhunted from radio in Adelaide to be head of A&R. He loved me! But he only lasted about 18 months at Mushroom. Once Bill left I was on my own, it seemed. Gary Ashley just didn't get me at all."
Morris worked up new material at Neil Finn's turret studio and sent it to John Farnham's producer Ross Fraser, who loved the songs but didn't have a gap in his schedule for two years. So Morris suggested DD Smash's The Optimist producer Charles Fisher, who had shown interest in The Crocodiles a decade earlier. Fisher produced 'I Can't Give You Anything' but only as far as replicating Ian Morris's production of an earlier demo.
Mushroom weren't happy with the outcome but when Morris suggested he work with his brother, they argued, "No, we're not gonna spend a couple of hundred grand on a jingles writer from Wellington." Rikki Morris dug his toes in and the company relented. 'I Can't Give You Anything' was re-recorded with Ian Morris in Wellington and released on the label.
It did nothing – Mushroom sure it would be a third single in unison with an album that would break Morris in Australia. In the middle of recording that album, Mushroom ran into financial strife and culled half a dozen of their artists.
"Gary Ashley called me in and said, 'We're dropping you from the label.' I went, 'Well, I haven't done anything yet.' He said, 'But we want your publishing because we believe in you as a songwriter.'" So at Morris's request, Ashley shredded his artist contract before his eyes.
It was the moment Morris realised he didn't want pop stardom. The epiphany was reinforced in a discussion with Neil Finn who told Morris that 100% wasn't enough; he had to be willing to sacrifice everything. Morris wasn't and took his family back to New Zealand for good.
For the next few years he gigged around the bars of Auckland. He played solo or in a duo with Wilson Tawhiti and formed The Absolute Bastards with former Red Mole and Coup D'Etat bass player Neil Hannan, former Satellite Spies guitarist Eddie Pausma and drummer Paul Ewing. In 1994, there was another spell on TV hosting health and lifestyle show Alive And Kicking with Jude Dobson.
While playing a bunch of his own songs at a friend's party, Morris caught the eye of recently returned ex-Split Enz keyboardist Eddie Rayner. The men had met briefly in Melbourne but Rayner was floored by the number of quality songs in the Morris back catalogue. He invited Morris to come and demo the songs at his newly set up offices within Revolver Studios.
They demoed 60-odd songs over the following weeks and Rayner slowly whittled them down to 14 to redo for an album. Having been away since the mid-1970s, Rayner auditioned studio musicians for the project and settled on Mark Bell (guitar), Wayne Bell (drums), Clinton Brown (bass), Tony Lumsden (bass) and Joel Haines (guitar).
Morris named the album Everest partly due to a fascination with Mt Everest, partly in tribute to that mountain's conqueror Sir Edmund Hillary and partly as a nod to The Beatles (Everest was a working title for Abbey Road). Rockier versions of 'Nobody Else' and 'Heartbroke' were eventually left off the album.
"We went to all the record companies, but they just didn't know what to do with me," Morris remembered. "They just couldn't quite figure out where I fit in. And Ed was totally confused by all this, because he knew nothing about my history. All he heard was a great album and great songs."
Eventually Morris formed his own label Criminal Records and licensed Everest to Warners, whose managing director James Southgate had only been in the country a short time and also knew little of Morris's past. But Warners were at a loss too. The rocky songs weren't rocky enough for Hauraki but were too rocky for ZM.
The first single 'World Stand Still' charted for one week at No.49 and the second single 'These Dark Moods' did even worse. "Warners hated 'These Dark Moods' so much that they never sent the video to TV. It never ever got played. 'It's too dark.' I said, 'It's a song about depression. It's called 'These Dark Moods'! Of course it's dark.'
"That's the moment where I thought, 'Fuck it, I'm just gonna stop.' And I haven't done anything since. I haven't recorded anything. I haven't released anything. I just thought, 'No, I've had enough of this.' And that's when I started with the studio idea. It was a conscious decision to stop. 'It's obviously not what I'm supposed to be doing.'"
In 1996, Morris scored support gigs with flavour of the month Hootie & The Blowfish and New Zealand and Australian tours with nostalgia act Bread. His six-song set went over well with audiences but Warners weren't interested and there were no albums for sale at shows.
Two years later, he was back on TV presenting a promising show called Get Your Act Together where unknown songwriters would record a song with top producers including Eddie Rayner, Dave McArtney, Joost Langeveld and Neil Hannan and then film a video, all within 48 hours.
Morris and Debbie Harwood leased a recording studio from the Depot Artspace in Devonport, bringing in extra gear to establish The Bus @ The Depot, which Morris ran from 1999 to 2006.
"It was a great concept, but I remember Julie Christie, who ran Touchdown (the production house), coming in and going, 'It's pretty serious, isn't it? Everything seems pretty serious.' And we were like, 'Yeah, we've gotta record a song in 24 hours from demo to finished recording. It is pretty serious.' I think the thing that ruined it was the video aspect. They had to do these corny videos with fuck-all budgets, then the public would vote for a winner each week."
Morris and Debbie Harwood leased a recording studio from the Depot Artspace in Devonport, bringing in extra gear to establish The Bus @ The Depot, which Morris ran from 1999 to 2006. He learned how to use the Soundscape recording software by watching Paul Streekstra engineer there.
One of the studio's earliest projects was the recording of an album by broadcaster Paul Holmes. Warners boss James Southgate brought the idea to Harwood who suggested they record it at The Bus.
"I still look at that album as one of the greatest achievements of my engineering life. We took a guy who basically couldn't sing and made an album with him. Love him or hate him, not one single note was autotuned on that album. But it was hard work. There was one song where we had about 75 vocal takes. Some of them weren't so bad." By the time it came to mixing, Morris was fried and passed the job on to Ian Morris.
Many weekend sessions at The Bus were Devonport teen bands that Morris would record for whatever they could afford. The first was Takapuna Grammar sixth former Finn Andrews and his band Godboy. It transpired Andrews was the son of Shriekback leader Barry Andrews. Morris would continue to record Finn Andrews demos for the next two years, all the while trying to steer him towards Chris Caddick at EMI, but Andrews returned to England where he found success leading The Veils.
A string of Devonport teens followed, including The Checks, Gin Wigmore, The Electric Confectionaires and White Birds & Lemons. Morris allowed them to record at The Bus whenever they wanted, initially using work-experience engineers from MAINZ (Music and Audio Institute of New Zealand) or SAE (School of Audio Engineering) until it became evident the singers and bands were after his ear and experience. He ended up mixing many of their gigs and putting together their production. "All of a sudden I was out doing live sound again. I'd come full circle."
Although, Morris and Harwood's marriage ended, they remained good friends and Morris produced When The Cat's Away and Sharon O'Neill's platinum-selling Live In Paradise album, taken from three sold-out shows at the Aotea Centre in 2001.
As well as recording jingles, Morris engineered and produced Hammond Gamble's Recollection (released 2006) and Graham Brazier's East Of Eden (2004). "That was probably my most favourite recording time ever," Morris said. "I mean, Graham was such a huge hero of mine and a very close friend." He sent his brother Ian Morris some of the Brazier rough mixes and received a long email detailing things to look out for and aspects of the mixes he liked and didn't like.
Morris opted out of the studio in 2006 when the long hours and lifestyle were taking a toll on his health. "I was spending 18 hours a day in the studio and taking substances to make me stay awake, basically. When that all came crashing down and I had to leave The Bus I had to make some pretty serious life changes and choices, which I did, and I kind of pulled right back from everything for about a year."
He cut back and set up a studio at home where he engineered and produced Hammond Gamble's Ninety Mile Days (released in 2008). The rhythm tracks were recorded at the Victoria Theatre in Devonport, which was temporarily closed, and the vocals at the old Bus room and Morris mixed them in his lounge.
In the same lounge two years later, he recorded Devonport 13-year-old Ella Yelich-O'Connor for Universal. She put down a "brilliant" cover of Massive Attack's 'Teardrop' and modern takes on David Bowie's 'Rebel Rebel' and Neil Young's 'Hey Hey, My My'. Universal were underwhelmed with the demos, but persisted with her under the stage name Lorde.
During August and September 2010, corporate clients approached Morris about reuniting with brother Ian in his Tex Pistol persona to perform 'Nobody Else', 'Game Of Love' and a handful of songs. They had performed together live on only a few occasions and the idea was quite appealing.
"The last time I talked to Ian was about one of these gigs – 29 October it was going to be," Morris said. "The money they were offering was quite good, so we thought we might as well. We were discussing whom we would use in the band. Right at the very end of that conversation we were thinking about possibly doing some recording again."
But the Morris family and the entire New Zealand music community were rocked by the news of Ian Morris's death on 7 October 2010. "It was a hell of a shock when he went, but not surprising to me. I mean, nothing ever surprised me with Ian." says Rikki. "Even back in Dudes days he kinda fancied himself as a bit of a Keith Richards. He just had that slight sort of darkness to him."
Rikki admits to "still having a bee in my bonnet" about the lack of recognition afforded to his brother in the wake of his death. "I don't think he's been given the credit within the industry that he deserves.
"There was nothing at the APRA awards the next year, and yet he was probably one of the main APRA earners for 25 years; same with the music awards. There's been nothing given to Ian and I just find it an absolute crime. But it's also indicative of how sensitive we are to suicide. It's just like, 'Oh, it's too difficult to deal with, we'll just kind of sweep it under the carpet.'
"It all seems like a blur now. It doesn't get any easier. It still breaks my heart when I think about it, because I do actually think he had a lot more to offer. He loved his wife and he loved his kids. He was a lovely bloke. I just really fucking miss him."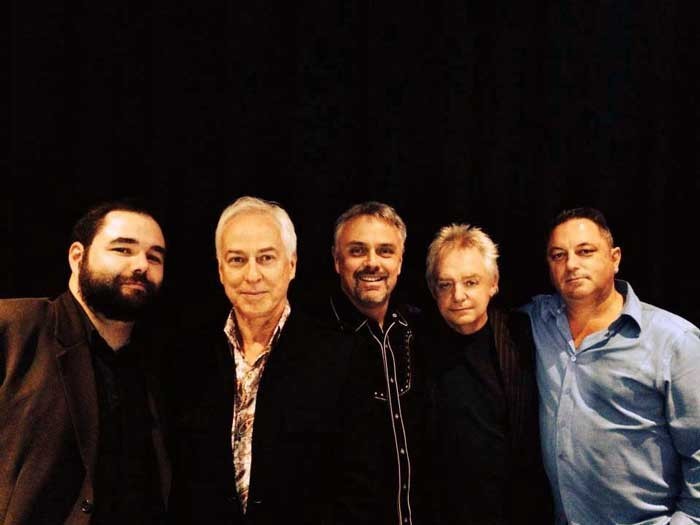 Rikki Morris has continued writing jingles and still performs in the corporate world, but the big percentage of his work now is live mixing. And he's happy with that, experiencing a certain satisfaction that it's his responsibility to make the act sound as good as possible. And he still gets nervous with that duty.
But there's been no quelling a recent increasing desire to record another album. In an approach akin to Everest pre-production, Morris has presented prospective co-producer and drummer Wayne Bell with 79 demos to listen through.
"For the last twenty years, every New Year's Eve I've gone, 'It's gonna be this year I'm gonna do an album,' and I just get waylaid with making a living. But I know it's gonna happen because there's been a big shift and I've opened up to it and I've passed it on to someone now. Wayne won't let it sit, which is great."
--