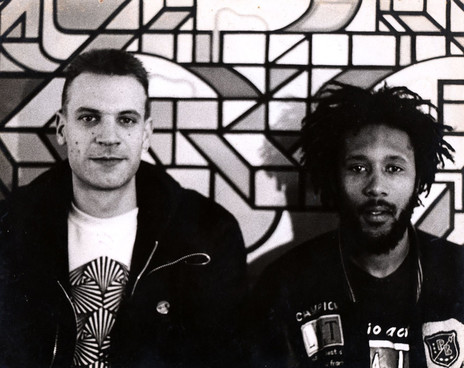 At the same time as Waller was immersing himself within Auckland's nascent 1980s post-punk, gothic rock, and experimental music scenes, he was delving deeper into the Jamaican musical worlds of reggae, rocksteady, dub, dancehall, and ragga.
In 1981, a reggae DJ, singer and MC from Jamaica named Hensley Dyer arrived in Auckland with his son Tuffy Culture in tow. Over the next few years, Hensley established a Rastafarian organisation called The Twelve Tribes of Israel and began throwing reggae dance parties around the city. In 1984, Waller attended a Twelve Tribes dance at the Ponsonby Community Centre with music from The Dread Lion Band and The Jah Love Music Sound System (later the Twelve Tribes Sound System). "I thought, oh my god, there are people in Auckland playing reggae music, and they're good," he said.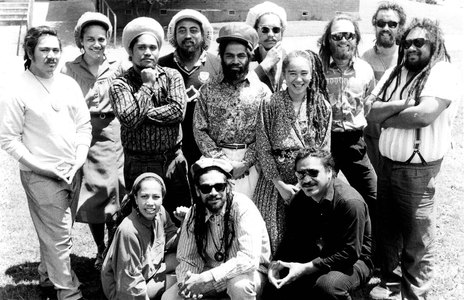 Over the following years, Waller became a regular at Twelve Tribes reggae dances. He was exposed to good Jamaican music and Rastafarian religious principles there and formed a tight-knit brotherhood with Hensley's son, Tuffy. He also became friends with Duncan Campbell, who hosted the Sunday night reggae show on 95bFM. Campbell, a professionally trained journalist, longtime Rip It Up contributor, and experienced DJ, announced his show like a BBC radio presenter. Due to the depth and quality of his selections, he was often invited to come and DJ with the Twelve Tribes. Later, after he became a protege of sorts to Duncan, that invitation was extended to Waller.
Campus Radio (95bFM) and The Rhythm Selection
Although he didn't have his own radio show until 1990, Waller started going up to Campus Radio (95bFM) in the mid-80s while he was playing in The Kiwi Animal. Friends of his from the local skateboarding and music scenes had wrangled their way into hosting shows on the station, and they'd have him come up to put together the odd 20-minute mix of dub tracks. Soon enough, he was volunteering at the station as well. "I'd just hang out at the station and help out with things," he said. "That's the best way to get involved in student radio."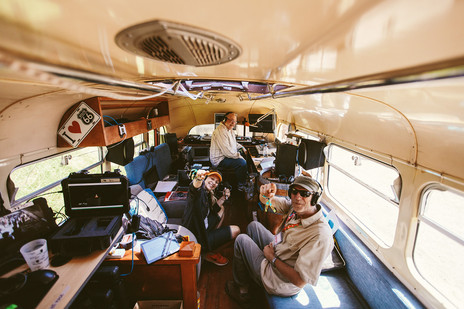 With Campbell losing interest in broadcasting, Liz Tan, 95bFM's station manager of the day, asked Waller if he'd like to start hosting a specialist reggae show. "By this point, I'd been a DJ for seven years and hanging around [95]bFM for five, so I was ready to do it," he reflected. For his first show, Waller asked Campbell to sit in and show him how to work the buttons on the broadcast desk. It was a passing of the torch moment, and within a year, Campbell had stepped down from broadcasting.
For the last 33 years, Waller has continued to host The Rhythm Selection on 95bFM weekly, along the way showcasing a wealth of vintage ska, rocksteady, roots reggae, dub, dancehall, funk, hip-hop, and contemporary music from New Zealand and abroad to appreciative and loyal audience.
Tuffy Culture
By the time he was hosting The Rhythm Selection on 95bFM, Waller's firm friendship with Hensley's son Tuffy had transformed into a musical collaboration. Through being raised in Jamaica and with the Twelve Tribes, Tuffy became a skilled reggae, dancehall and ragga MC. In 1989, Tuffy began joining Waller on stage at shows as his MC. From the moment they came together, they were a dynamite combination. Tuffy trusted Waller's taste and was more than happy to extend his reach beyond Jamaican music, often toasting or rapping over UK trip-hop and US hip-hop instrumentals from the likes of Freakpower and Gang Starr if needed.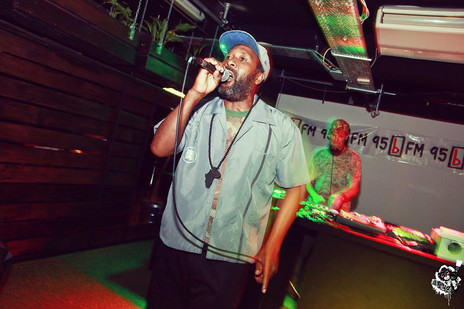 Tuffy taught Waller about Jamaican culture, reggae music, and Rastafarian values and ideas. He had strong feelings about the power of words and encouraged Waller to be mindful of the messages in the records he played at gigs. "He was like, whatever music you play, make sure it's music that you'd be comfortable with a five-year-old version of yourself hearing," says Waller.
"Tuffy did this one thing that sticks in my head forever," says Waller. "It was one of those things that blew me away but really shouldn't have. One day, we were riding around on my motorbike, and he said, 'Pull into the dairy.' I didn't have any money, but he went in, bought a pie, tore it down the middle, and gave me half. It's such a simple thing, but it would have never occurred to me to do that until then. He taught me all kinds of shit."
Stylee Crew, Deepgrooves Entertainment, and Sound Foundation
As the early 90s dawned, things were getting very interesting in Auckland. Stuart Broughton, who later managed Supergroove, was working as the sales manager of 95bFM's Monitor magazine and running a venue called The Dog Club (later The Dogs Bollix). One weekend, he organised a popular gig called Dog Club Stylee featuring Dubhead, DJ Big Matt, ANC Dread (MC Antsman), DLT, MC OJ and Rhythm Slave, Tuffy Culture, and Slowdeck.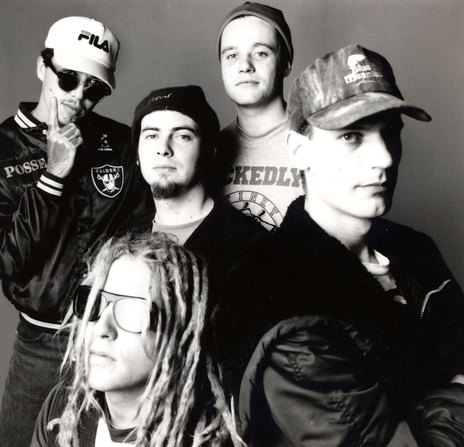 Dog Club Stylee became the foundation of The Stylee Crew, a DJ collective Waller shared with Stinky Jim (Jim Pinckney), Slowdeck (Alex Doyle), DLT (Darryl Thompson), and when they renamed themselves 37 Degrees Crew, DJ Roger Perry. With assistance from vocalists like Tuffy, The Mighty Asterix, Jules Issa, and Teremoana Rapley, they would perform for audiences of hip-hop, dancehall, dub, and reggae fans at inner-city warehouses and venues such as The Blue Tile Lounge on Symonds Street.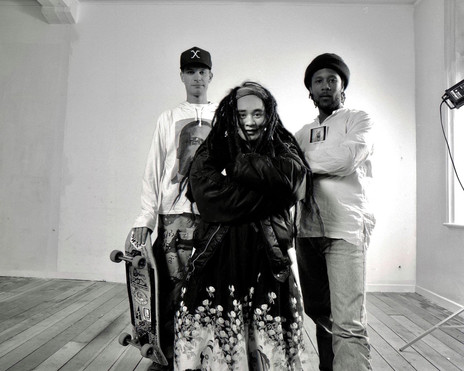 At the same time, music promoter Kane Massey (who had also been involved in Monitor Magazine), Bill Lattimer, owner of The Lab Recording Studio, and sound engineer Mark Tierney (a founding member of Strawpeople) came together to launch the independent dance music record label, Deepgrooves Entertainment. Deepgrooves correctly identified the energy swirling around the inner-city scene and began capturing it through a series of cult releases. "Kane [Massey] was really visionary," says Waller. There was something really different happening, and he captured it."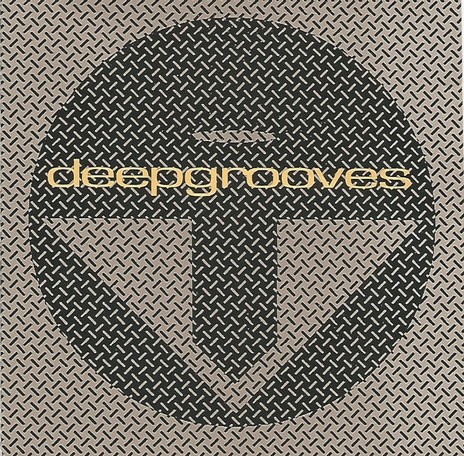 While they were preparing the label, the Deepgrooves team invited Waller to take part in their debut release, the self-titled Deepgrooves compilation (1991). Delighted at the opportunity to once again scratch that reggae studio itch he'd had in the early 80s, Waller headed into the studio with engineer and producer Angus McNaughton and Mark Tierney and recorded a trippy dub groove he titled 'Lethal Dub'.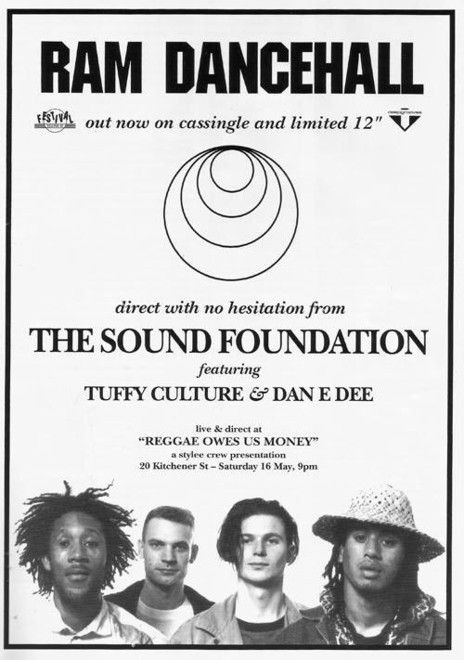 The following year, he returned to the studio with Angus to record a Sound Foundation 12" titled 'Ram Dancehall' for Deepgrooves. At the time, ragga hip-hop and jeep beats, crossover sounds that merged Jamaican dancehall ragga and reggae with hard East Coast hip-hop, were exploding in New York. Waller wanted to do something similar but with a local twist.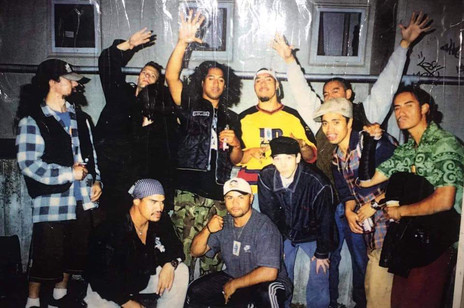 "I thought, I'll get Tuffy and my friend Danny Haimona (Danny D from Dam Native). So you've got the number one ragga MC in New Zealand, who happens to be Jamaican, and the number one Māori rapper, Danny, and put them on a track together." The results spoke for themselves. Releasing 'Ram Dancehall' on a 12" record meant Waller was able to include dub versions and radio edits as well. "Upper Hutt Posse had made ragga songs," he says, "but no one else in New Zealand had really done a ragga hip-hop record like this."
Working at 95bFM
In 1997, Waller had the opportunity to take on full-time employment at 95bFM through a pilot scheme in which the Department of Labour (now MBIE – Ministry of Business, Innovation and Employment) would help place unemployed people in a job and pay most of their wages. Once he was in the office, Waller began working as an assistant to the station's programming director of the day, Bill Kerton. By the time the pilot scheme had wrapped up, Waller had made himself indispensable.
After Kerton finished up at 95bFM in the late 90s, Dubhead felt sure he'd be a shoo-in for the programming director job. Although he was initially passed over, he was able to stay on as an assistant and eventually found himself in the station programming director's seat in November 1999. "I trained under Bill, who was possibly the greatest programme director they've ever had, so I knew what I was doing," he says. "It was cool. I thought it was the greatest job ever."
That said, Waller underestimated the stresses of the role. He spent the first year getting his head around record labels and band politics. "Everywhere I went, people would be bombarding me with questions about the playlist or how to get a show."
Waller stayed in the station programme director role until the end of 2003. During those years, he playlisted early releases from a generation of influential New Zealand musicians that included The Mint Chicks, Opensouls, Sheelahroc, Deceptikonz, Scribe, Phelps & Munro, SJD, Red Eye Society, The Datsuns, and The D4. And as the 95bFM Music Awards went national and became the bNet Music Awards, Waller began selecting bands to perform live at them. "I loved putting unknowns in front of the industry," he says.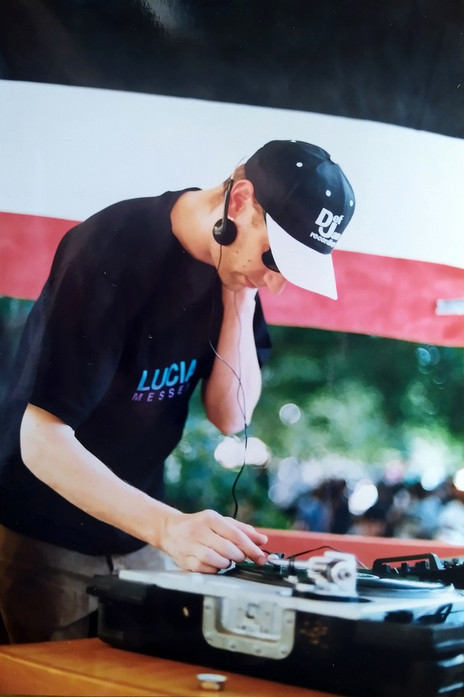 Outside of music programming, something very significant to him was organising 95bFM's New Zealand Music Week live-to-air performances. At the absolute peak, he remembers them having five, sometimes even seven bands a day perform live for them. "We would get somewhere like the Shadows bar next door, put in a PA and backline, get a really good engineer, and book established and up-and-coming bands," he says. "It was like putting on a five-day festival, but it was live on radio, and there was no room for error."
As part of New Zealand Music Week, Waller and 95bFM also made recordings of the live performances. They would make them available to the bands, their labels and publishing companies to release or give away on the proviso that the station could use some of the music for Live And Direct, their own live New Zealand music compilation series. "I did three CDs for [95]bFM, and they were all given away for free."
In 2002, as well as putting together Live And Direct-Vol.3, Waller also compiled Heads Up!!! Music from the 2002 bNet NZ Music Awards. Commercially released through Festival Mushroom Records, Heads Up!!! showcased music from 16 bNet award nominees, including Shapeshifter & Ladi6, Joe Dukie & DJ Fitchie, Ghost Club, The D4, TrinityRoots and Sola Rosa.
Dub Combinations
In 2000, Waller was approached by a small electronic music collective, studio and label based in Kingsland called Kog Transmissions. Having had some success releasing albums from local techno, house, downtempo, and jazz acts including Micronism, Pitch Black, and Mark de Clive-Lowe, they were also issuing a steady stream of compilation albums and wanted Waller to compile one for them focused on New Zealand dub. "I said, 'Yes, I'd love to do this with you guys, but with one caveat, I want to record a track," he remembers.
Between 2000 and 2002, Waller compiled three chapters of the Dub Combinations compilation series for Kog Transmissions, in the process showcasing a range of local dub producers and bands from across the country, including The Nomad, International Observer, Epsilon-Blue, The Black Seeds, Salmonella Dub, Dubwize Sound and Rhombus.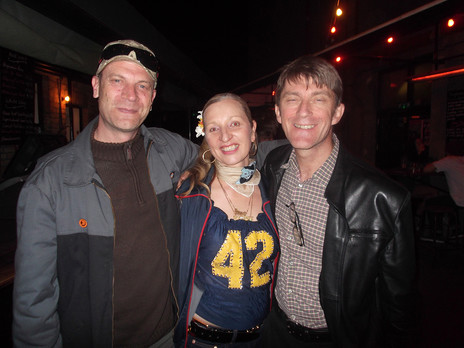 On the first chapter, Waller was able to include his own Sound Foundation track 'Dub Racer', a dub breakbeat dance track featuring Francis Harawira (House of Shem) on bass and Ned Ngatae (The Black Seeds) on guitar. The same year it was released on Dub Combinations chapter one, 'Dub Racer' was licensed for The Ascension Dimension (Second Edition), a compilation album released by German record label Stereo Deluxe. When Waller found out they'd also included it on a 12" vinyl DJ sampler for the compilation, he was overjoyed. "So far, everything Sound Foundation has produced is on vinyl," he said. "I'm really proud of that."
During the Dub Combinations era, Waller had the opportunity to travel to Melbourne to play the Australian launch party for chapter one of the series. 'I was the headliner, but my support act was Australian [reggae, dub, and dancehall] producer Jake Savona, who has gone on to do amazing things with his Havana Meets Kingston album series."
Three chapters in, they called time on the series. "By the time we'd done chapter three, most of the acts we'd put on had gone overground," Waller said. "There was never any need for a chapter four because we'd taken New Zealand dub overground by then. Chapter three even won Best Compilation at the bNet Music Awards by public vote. We never made any money from it, but when it won an award, I realised we'd achieved what we set out to do."
In 2010, Waller returned to the recording studio at the behest of the film and television composer Jed Town (The Features, Fetus Productions). Town had been commissioned to create the soundtrack to director Reston Griffiths' straight-to-DVD family comedy Hugh & Heke. "It's set during summertime, so Jed wanted a reggae track, but he didn't have the feel," Waller said. "So I came out to his studio in West Auckland and helped him out. He was fun to work with."
A DJ's life
After stepping down from his role as 95bFM's programming director in 2003, Waller continued hosting The Rhythm Selection show on the station and began to devote more of his time to DJing. In the 90s, he'd had a taste of working as a touring DJ while travelling around the country with bands including Supergroove and The New Loungehead, and as the 2000s rolled on, he found himself doing more of the same with The Midnights and dDub, the band project of the late Derek Browne.
"I got to know The Midnights through their bassist, Iron Will (then Willie The Kid)," says Waller. "They sound like country reggae, not country music, but reggae from the countryside. Tuffy did vocals on a couple of their songs. dDub started as a folk singer, D W Browne," he continues. "Then he changed his name to dDub, got a band, and started doing reggae music. He was fucking good at it."
Alongside these acts, Waller often shared stages and bills with a generation of New Zealand soul, dub, reggae, and electronica bands and sound systems, including Fat Freddy's Drop, Salmonella Dub, Rhombus, TrinityRoots, Katchafire and Wellington's Roots Foundation. "I've played support for all these bands that I love," he reflected. "I'm a DJ, and I know their music, so I've always been able to play appropriate music that fits their vibes."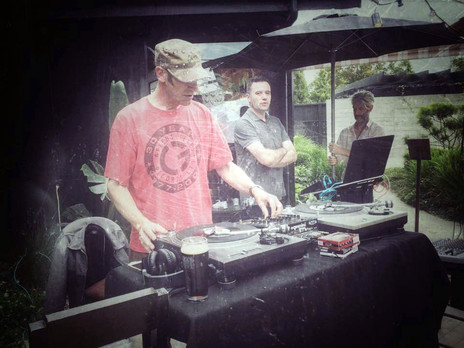 Looking back, Waller considers his pinnacle moment as a DJ to be when he had the opportunity to DJ with legendary Jamaican rocksteady and roots reggae acts Toots & The Maytals and Burning Spear at the Logan Campbell Centre in Auckland. "I got to DJ beforehand and in between both of them," He enthused. "I remember thinking this is it. I always have happy memories when I think about playing that show."
These days, Waller continues to work regularly as a DJ. He can be found playing at venues in the greater Auckland region like the Warkworth Hotel, Hallertau Brewery, Verona, and Ponsonby Social Club, often alongside longstanding DJ friends including Stinky Jim, and Mark James Williams, aka Logg Cabin. In the past Waller used to emphasise playing new, bleeding-edge music, but he now sees himself as a torch bearer for the genius music that came out of the 1960s/1970s Jamaican, US, and UK rocksteady, reggae, dub, and funk scenes. With every set, he continues to remind appreciative audiences of where these foundational musical strands came from, while also illustrating how they've helped shape the architecture of contemporary music across the globe.
--
The 95bFM Historical Society: Patrick "Dubhead" Waller