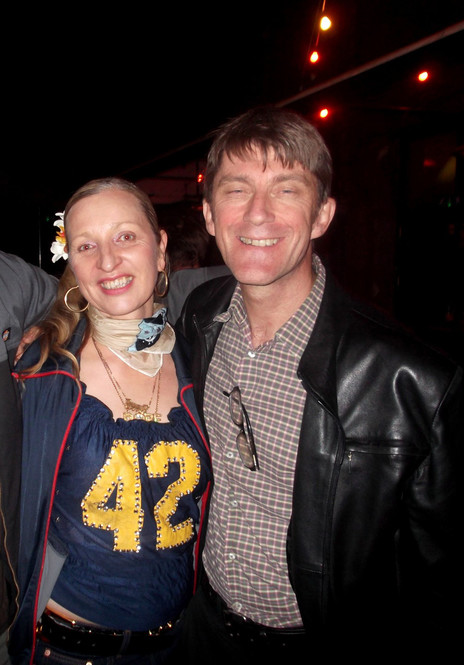 Between 1990 and 1992, former 95bFM staffers Dom Nola and Robert Southon produced three iterations of Crash Hot, a magazine-style New Zealand music radio programme. Syndicated nationally through the student radio network, Crash Hot was distributed internationally to college radio stations across America, Canada, and Europe. In the process, it helped introduce a new generation of New Zealand musicians and record labels to audiences locally and overseas. It also laid the foundations for future projects from the next generation of New Zealand broadcasters and music journalists.
In 1985, Dom Nola was working as a graphic designer and hosting breakfast, drive, and evening radio slots on Auckland student radio station bFM (then Campus Radio). Three years later, she resigned from her graphic design job and joined bFM full-time as the station's programming director. Serendipitously, Truetone Records in Newmarket (formerly Sounds Unlimited) had just started air freighting in the latest US and UK records. Having a good relationship with the store, Dom had access to the newest hip hop, indie rock, post-punk and dance records, the diversity of which was reflected in the station's sound that year. "I wanted bFM to sound exciting, modern, and slick," she explains. "I really felt that the playlist I delivered in 1988 absolutely did that."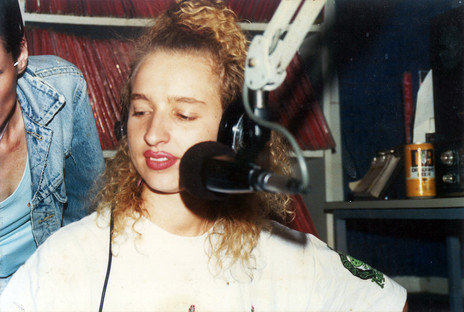 As well as having a passion for presenting upfront music from overseas, Dom was deeply invested in the local scene. In that passion, she found common ground with Robert Southon. During the early 80s, the Flying Nun sound was his entire world. Having been at BFM since 1984 and then completing a diploma in broadcasting at University of Auckland, promoting New Zealand music had become a mission for him as well.
In 1989, bFM decided to split the programming director job into two roles: programme director and music director. Robert became the new programme director, and Dom shifted into the music director role. "She was basically music director, and I was basically handling the rest of the programming and managing DJs and stuff, or we were both managing DJs to some extent," he explains.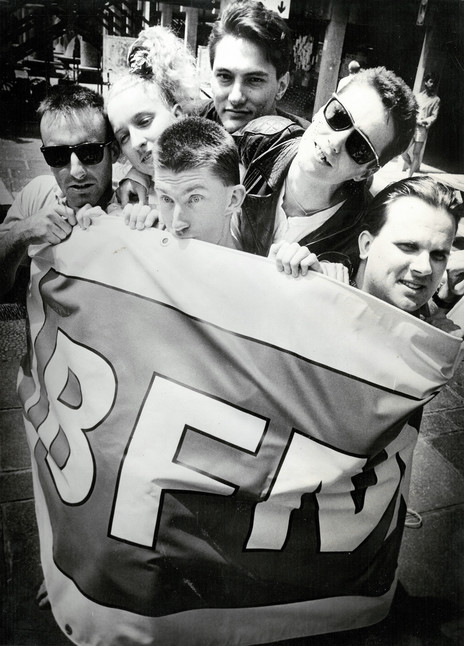 That year, Dom and Robert started thinking more about what New Zealand music might have to offer the world. They had both arrived at bFM in an era where guitar music reigned supreme in local popular culture. Throughout 1988 and 1989, the landscape shifted rapidly with the arrival of first-generation New Zealand hip-hop acts such as Upper Hutt Posse, Total Effect, The Homeboys, Semi MCs, UCD, and Pyrette. "It was moving into a new era," Robert says. "During the 80s, I was so into the Flying Nun thing. As I said, it was just about my reason for living. I found it so inspiring in terms of music and identity. Then in the late 80s, these new things came along with technology, rap, hip hop, and quite a bit of other diverse stuff."
At the end of 1989, Dom and Robert's contracts ended at bFM. Robert started working at Sky TV as an on-air transmission director, and Dom moved into band management. As he puts it, heading into 1990, they both had "a big hole [in our lives] where bFM used to be." Those feelings motivated them to start working together on a new project. "It was this emotional thing of feeling like, this is the best music in the world, and I want everyone to listen to it," he reflects. "When I look back on it, that's not a real thing because there's only ever going to be one percent slightly interested, but if you can reach that one percent, that's a better world."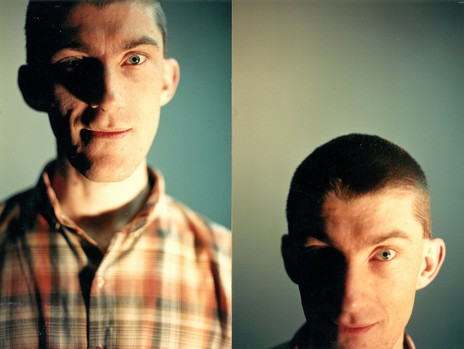 Before his stint as bFM's programme director, as part of his broadcasting diploma, Robert recorded and produced a short radio programme on local bands called It Came From The Practice Room. A mixture of featurette band interviews and music, the programme was aired in full on bFM at the time. "It should have been called It Came Out of The Garage," he says, laughing.
While working at bFM, the pair had also been exposed to an Australian syndicated music programme called The Big Backyard. Financed by the Australian Department of Foreign Affairs and Trade and hosted by Triple J radio presenter Mark Dodshon, The Big Backyard was broadcast by 750 stations worldwide. Robert and Dom got thinking. Maybe they could do something similar on a smaller scale?
In 1990, they received a New Business Investigation Grant from the Ministry of Commerce to record a pilot episode for an ongoing magazine-style radio programme about New Zealand music. After talking through all the bad Kiwiana puns they could think of, Dom suggested the name Crash Hot, which was also the title of a Headless Chickens song. "We wanted to present a platter of different types of local music," she says. Even better, they were able to use it as the theme music, for which they remain grateful to the band.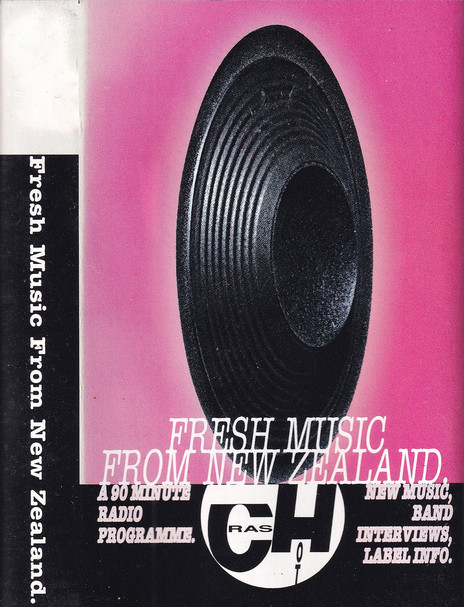 To create Crash Hot, the pair worked closely with bFM's in-house studio engineer Eddie Chambers (of NRA/Nemesis Dub Systems), who assisted them with recording, mixing, and producing the series. After putting together a rough list of New Zealand bands and record labels they wanted to interview, they went on a road trip around the country, recording interviews with a basic TASCAM Portastudio and microphones. "It was really nice to go into people's living rooms and talk to them," Robert remembers. "I hadn't been to the South Island much, and we got to spend time with lots of musicians I'd only seen on stage or talked to on the phone during radio interviews."
Although they had question lists, the pair weren't formally trained journalists. Instead, they opted to record long, often drawn-out conversations before editing them in the studio afterwards. "After a while, people relax, and you get some good stuff out of them," says Robert.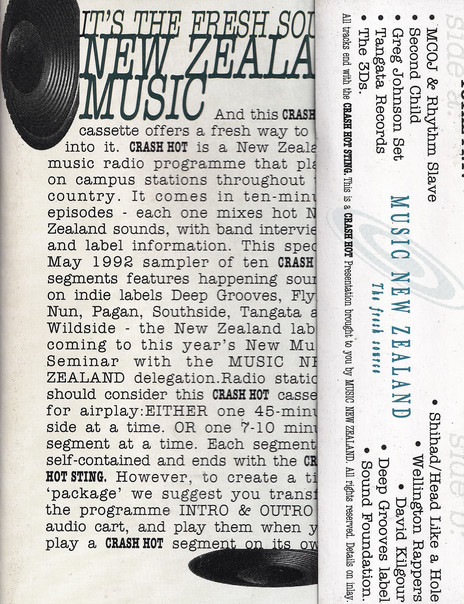 After cutting interviews with Fatal Jelly Space, Strawpeople, Nemesis Dub Systems, Swim Everything, The 3Ds, Tall Dwarfs, Chris Knox, S.P.U.D., Able Tasmans, Emulsifier, Moana & The Moahunters, Don McGlashan, The Front Lawn, Headless Chickens and N.R.A, they had the pilot duplicated on cassette at Auckland's Stebbing Recording Centre. The format was two 45-minute sides, broken into a series of five to 12-minute capsule interviews, often bookended with a song from the featured act. "A theme was asking about the local context," Dom remembers. "We had to frame it for listeners who weren't from New Zealand."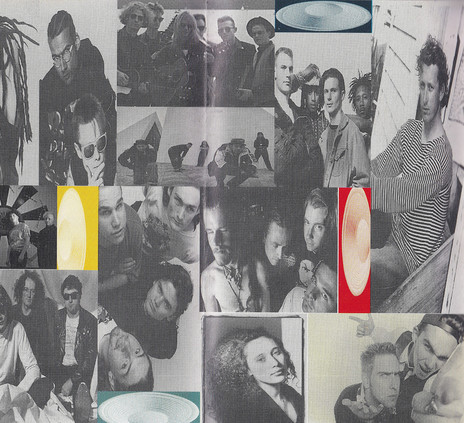 Thanks to some assistance and advice from New Zealand independent record label figures like Roger Shepherd (Flying Nun) and Trevor Reekie (Pagan), they arranged to have copies of the sampler handed out at the 1991 New Music Seminar in New York. At the same time, they spent weeks packaging cassettes and mailing them to college radio stations across America, Canada, and Europe, many of which wrote back to them with positive feedback.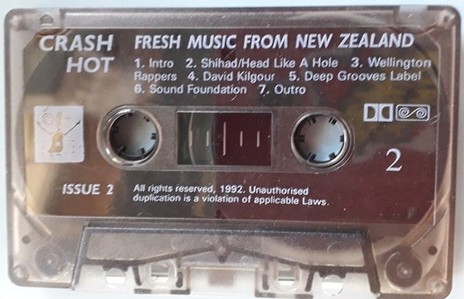 In 1992, Dom and Robert expanded Crash Hot into a six-hour series, which aired nationwide across the student radio network in 1992. That same year, Music New Zealand brought a delegation of local record labels – Deepgrooves, Flying Nun, Pagan, Southside, Tangata Records, and Wildside – to New York to showcase at the New Music Seminar. The pair assembled a second sampler cassette featuring existing Crash Hot interviews with the labels and their artists to support this.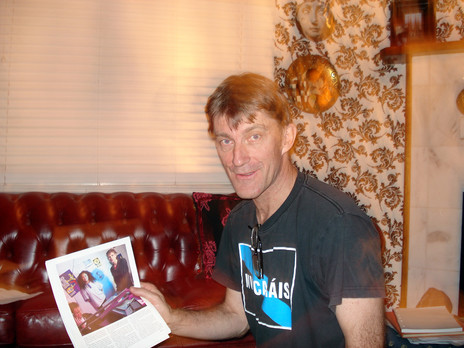 That year, Robert left New Zealand for what was supposed to be a three-month holiday. "In December 1991, my car blew up on my birthday," he remembers. "It had just come back from having some work done at the garage, and it caught fire when I was on my way to work in the morning. That was the day I decided to get out of here." A year later, he was in Barcelona, Spain, where he's lived for the last 29 years. "It was brilliant, and it's still a good place to live," he continues. "It's a part of the world with its own complexities and riches, and I'm lucky enough to have incorporated them into my life."
During the tail end of the Crash Hot experience, Dom started working full-time as the manager of the Christchurch indie rock band the Jean-Paul Sartre Experience. While she was working with them, they took part in several memorable overseas tours, including Beyond the Jangle and Noiseyland, alongside fellow New Zealand bands Straitjacket Fits and The Bats. By 1994, she was working as a driver and production runner on most of the major international concerts in Auckland and hosting occasional shows on bFM.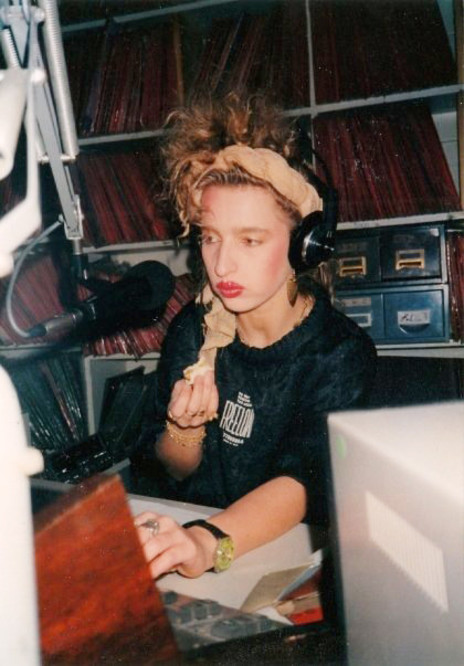 Three decades after Crash Hot, Robert and Dom look back on the late 80s and early 90s as an era when New Zealand's independent music scene looked outwards and started thinking globally. "We had strong labels here at the time," remembers Dom. "We had Deepgrooves. We had Bruce Russell doing his thing with Xpressway. We had guitar bands like Bailterspace and all this great hip hop coming out here. The seeds were really blooming in those golden years. We felt so proud we had all this great stuff happening, and we realised we needed to get it to the world."
These days, Dom is the longest-serving female host still on air on bFM. Since 2014, she's been one of the five rotating hosts of The 95bFM Jazz Show (12-2pm on Sundays). Outside of broadcasting, Dom is also the unofficial club president of the bFM alumni and a vinyl selector. She can often be found DJing at bars, venues and events around the country.
--
To hear a Crash Hot prograrmme from 1992, go to Soundcloud.