In the late 1980s, Semi MCs from Manurewa were one of the most important groups in the first wave of hip hop in Aotearoa. However, as the new decade dawned, they embraced the sounds of New Jack Swing and Swingbeat before recording 'Set Your Body Free' and 'Trust Me', both of which are now highly prized DJ deep cuts. Although the group went their separate ways in the mid-90s, their legacy and influence endure to this day.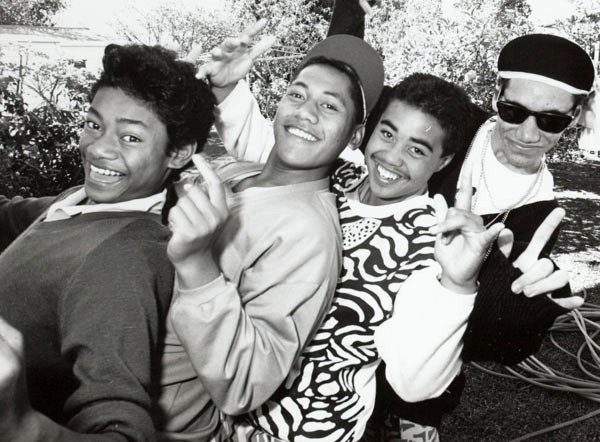 On Wednesday, 16 November 1988, 14 teenage hip hop crews gathered at The Powerstation in Mount Eden for the Campus Radio (95bFM) Rap Competition, the first to be held in Auckland. The winners were Semi MCs from James Cook High School, Manurewa. Their prize was an opening slot at the first New Zealand concert of legendary New York hip hop group Run DMC, held two nights later at the same venue.
"We got a lot of boos, but we took it on the chin," laughs James Waterhouse, aka Semi D, the main rapper in Semi MCs. "We're on stage, and you're not. It was an exciting time for us. We were just young kids, and we got $300 for winning the competition, $75 each. It was like, 'Whoa man, we're rich!' We'd never seen that sort of money before."
Fittingly, the original iteration of Semi MCs – Paul Aumua, Carson Pakinga, Sam Feo II and Waterhouse himself – actually formed to enter that competition. At that stage, the four high-school friends were a rap and beatbox (vocal percussion) group. Between winning the Campus Radio Rap Competition and opening for Run DMC, they caught the ear of DJ Nick D'Angelo, who was working as the station manager of 95bFM at the time. D'Angelo first became involved in hip hop in Auckland by organising breakdancing events in the early 80s. Having spent a couple of years in London, where he'd attended some significant concerts from golden-era New York rap groups, he was keen to see things develop more at home.
The following year, he started inviting Semi MCs to 95bFM's production studio. They recorded two songs – 'Girl We're Through' and 'Duke of Earl' – for inclusion on AK89: In Love With These Rhymes, a compilation album of emerging late eighties Auckland hip hop talent. "'Girl We're Through' was a parody of 'Girl You Know It's True' by Milli Vanilli," explains Waterhouse. "'Duke of Earl' was beatboxing with rapping over it."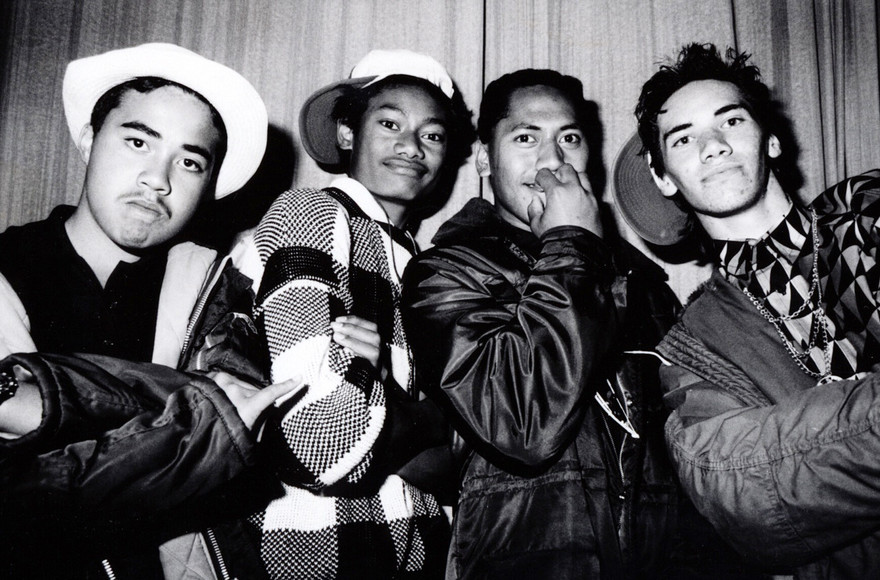 Not long after, Semi MCs entered into their second iteration. Carson Pakinga left the group, replaced by Poni Kingi. Around the same time, something happened that transformed their sound forever.
One day during band practice, a Michael Jackson song came on the radio. Feo II started singing along perfectly: until then, had beatboxed for the group. "It was like, what, you can sing?" exclaims Waterhouse. "Man, stuff the beatboxing. We need to get a keyboard player, and you're going to be our lead singer."
The first keyboard player they connected with was fellow James Cook High School student Hiran Benton. Benton was fascinated by jazz, funk, and, as he puts it, "Latin music as I understood it then." But was also instantly open to the hip hop, RnB and New Jack Swing that Waterhouse and the Semi MCs were listening to. "James [Waterhouse] introduced me to groups like Skyy, After 7 and Guy."
Benton already owned a Roland MT-32 sound module and a two-track sequencer, which encouraged Waterhouse to purchase an Ensoniq EPS sampling keyboard. Thanks to the music department at James Cook, they also had access to synthesisers such as the Yamaha DX7 and the Roland JX-3P. "For a little high school in South Auckland, we had some pretty good stuff," enthuses Benton. "My older brother had a Roland TR-909 drum machine, so I could borrow that as well."
By cobbling together those acquisitions and borrowed gear, Semi MCs recorded home demos, including the RnB slow jam 'Oh Girl', which you can hear on YouTube.
With Feo II singing lead vocals and Benton on keyboards, they took their stage show to a whole new level. This attracted the attention of DJ Andy Vann and Chris Bateup from Voodoo Rhyme Syndicate, who were putting on regular shows at The Powerstation. They took on management duties for Semi MCs and introduced them to their artist roster, which included MC Slam & Jam, Enemy Productions (Johnny and Sani Sagala aka Dei Hamo), Total Effect, Sisters Underground, and a dance troupe, the Syndicate Steppers.
"It was about young people finding an identity for themselves," reflects Vann. "A lot of these kids were like 14, 15 years old. They were trying to find out who they were as people and formulate their identities through music."
"Voodoo Rhyme Syndicate was a brotherhood," remembers Waterhouse. "We all admired each other's talents and helped pull each other up."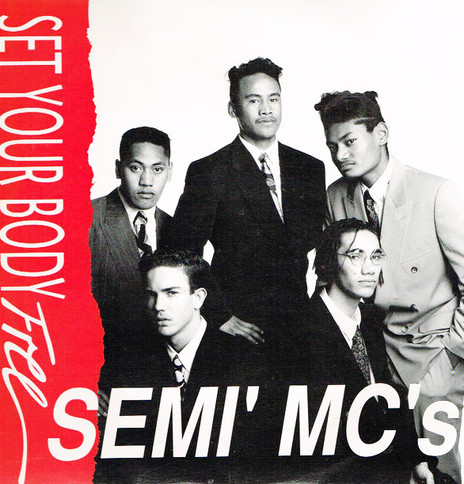 During those years, Semi MCs sometimes performed at talent quests around Auckland. At one competition at Chase Stadium in Kohimarama, they crossed paths with a young keyboardist and producer named Mark de Clive-Lowe. 'Semi MCs were there and they sounded great," says de Clive-Lowe. Having recently been introduced to the New Jack Swing sounds of Teddy Riley's Guy band, he was stunned by the musical commonalities.
Afterwards, they invited him to come and hang out at the Waterhouse family home. "Hiran and Sam and that were there and it was mind-blowing to me," he says. "I'd never had anything around that in my life. People who were really passionate about music that wasn't their parent's music."
For de Clive-Lowe, spending time with the Semi MCs helped set him on a course towards the UK Broken Beat sound in which he later became a key figure, while living in London in the 2000s. "To me, what they were doing sounded like the records I was listening to from overseas," he remembers. "Listening back now, I hear the difference, but it was so remarkably developed and sophisticated for the age everyone was, and the time it was. We were in New Zealand with no internet, nothing. Seeing them do that was so inspiring."
As the popularity of Semi MCs and their Voodoo Rhyme Syndicate peers grew around Auckland, Vann and Bateup were offered the opportunity to establish their own label, Voodoo Vinyl, with distribution through CBS.
Voodoo Vinyl's first record was an anti-graffiti rap called 'Stop Tagging' by Enemy Productions, quickly followed by a remarkable New Jack Swing single titled 'Set Your Body Free' by Semi MCs, both released as 12" vinyl singles in 1990. They even filmed a low budget music video for 'Set Your Body Free', which aired through Pepsi RTR Sounz! on TV2.
Benton wrote the rhythm track for 'Set Your Body Free' on his older brother's TR-909 drum machine, and they tried it out live a few times before putting down an initial home demo. "That was my first foray into programming," he recalls. "In the first version, every bar had a different beat, but we eventually got it ready."
By this point, Vann had connected with the music producer Alan Jansson, who would later work with Sisters Underground, Nathan Haines and OMC. Jansson had established his own recording facility, Uptown Studio, in Freemans Bay, and the Voodoo Rhyme Syndicate artists would bus into the city to record with him.
"He'd make us nice espresso coffees and drive us back to South Auckland afterwards," remembers Waterhouse. "People hear that song, but they don't realise where it came from. We only had basic gear to make a demo, and then we had to go to a studio and swap our draft sounds out for better ones. It was really hard to make something happen then, and it required a lot of time and resources."
That same year, they were approached by the then-fledgling TV3 to perform live in a special the station was producing on the New Zealand music scene. As a result, in lead-up to the 1990 New Zealand general election, they got a last-minute call-up to perform in an election commercial. "They wanted us, but the catch was we had to record and film it that night," Waterhouse says, laughing. He remembers them quickly writing a rap, coming up with some chords and bussing straight into the central city to meet the deadline.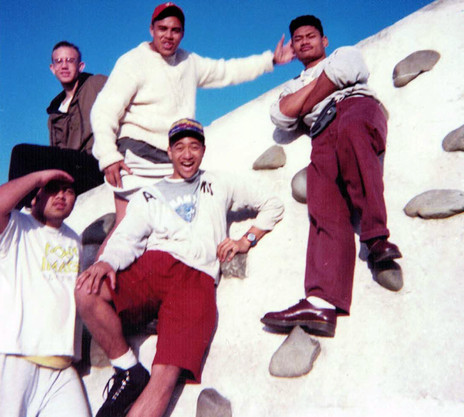 'Set Your Body Free' was good enough that local hip-hop DJs such as Ned Roy started playing it in the clubs. One night, Alan Jansson went out to South Auckland to see Roy play at an all-ages dance in a community hall. What he saw out there changed everything.
"At the time, 'The Humpty Dance' by Digital Underground and 'Ice Ice Baby' by Vanilla Ice were huge," explains Jansson. 'Songs like that would come on, and kids would rush in and go crazy, but it surprised the daylights out of me hearing 'Set Your Body Free'. When Ned Roy put that on, all the kids suddenly rushed in. I was watching about 800 kids all dancing, and I thought, there is something special here, man. We're not getting any radio play, but the kids love it."
From that moment, Jansson's efforts refocused, placing him on a pathway that would eventually lead to him pitching the idea of a compilation album of hip hop and RnB from across Auckland to Andrew Penhallow, the founder of the Sydney, Australia based label Volition Records. That idea would eventually manifest as Proud: An Urban Pacific Streetsoul Compilation and the accompanying Proud national tour in 1994, but a few things had to happen first.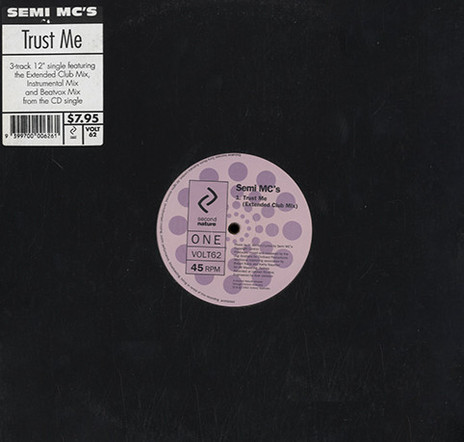 In 1992, Semi MCs returned to Uptown Studio to record their second single, 'Trust Me', with Jansson. However, this time they were recording for Second Nature/Volition, the New Zealand and Australian record label alliance that would later release Proud. 'Trust Me' was a moment. Driven by an unforgettable chorus and accompanied by a music video that caught the New Jack Swing vibe, the song peaked at No.27 on the New Zealand Top 40 Singles Chart.
On stage and in their music videos, Semi MCs wore matching uniforms and suits, which took their performance and look to the next level. They were often handmade by Waterhouse's mother, who passed away in 2020. From his perspective, support like that from their family and friends was crucial to Semi MCs' existence. "When we needed to get a keyboard for the group, she took out a loan to buy it for us," he remembers.
During the 'Trust Me' era, the band entered into their third iteration. This time, Waterhouse, Feo II, Benton and Aumua were joined on stage by singer Francis Tui, DJ Chris Halavaka, and drummer, singer and rapper Hemi Paratene.
As they had in the years prior, Semi MCs continued to perform around Auckland. They also began to tour the country, playing shows in Hamilton, Wellington and Christchurch in the process. At points, they were joined by additional members including Mike Pau (Jamoa Jam), Hayden Kupou, and Frank Elia (Vocal Five).
In Christchurch, Semi MCs became close with the Pacific Underground collective and the team at YCD, the Youth and Cultural Development Society. "They looked after us well and we did some community workshops for them," Waterhouse says. "That was my first real experience of giving back to a community and seeing how music can help the youth."
In 1994, Semi MCs song, 'I Don't Need You', was included alongside 'Trust Me' on Proud: An Urban Pacific Streetsoul Compilation. That year, Benton left Semi MCs for his first and only year at university. The rest of the group went on the road around the country as part of the Proud touring party. However, not long after the tour wrapped up, Semi MCs started to wind down. Waterhouse loved making music and performing, but the club scene and being a celebrity wasn't for him.
After Benton and Waterhouse departed, Sam Feo II befriended multi-instrumentalist, producer and vocalist John Chong Nee, aka Chong Nee. Together, they formed RnB duo a.k.a. Brown, who signed to Phil Fuemana's Urban Pacifika Records. a.k.a. Brown went on to record 'Beside You' with Dave Dobbyn and release the classic Top 40 hit single 'Something I Need' in 1999. These days, Feo II lives in Melbourne, where he remains involved in music.
Post Semi MCs, Benton worked as a piano teacher and studio assistant at the Otara Music Arts Centre (Omac), while playing in the soul/funk band Special Edition alongside singer Leon Wharekura. While he was working at Omac, he also played keys on The First Chapter, the debut album from Jeremy Toomata, Dee Letoa, Alan Togi and DJ Punisher's 90s reality rap group Overdose.
In 1997, Benton followed Wharekura to China to join him as a keyboardist on the Hard Rock Café circuit. He stayed on for a couple of years before crossing paths with a band from Trinidad called Rapture at the Hard Rock Café. Benton joined Rapture in 2001 and spent the next eight years touring Asia with them, from their base of operations in Kuala Lumpur, Malaysia.
After finishing up with Rapture, Benton remained in Kuala Lumpur and befriended drummer Omar Ibrahim, guitarist Yehuda Manusama, bassist Koh Keng Hui, and trombonist/vocalist Marques Young. Together, they formed jazz, soul, hip hop and R&B group Bassment Syndicate, recorded an EP and an album, and opened for US and Australian modern soul and funk greats such as Hiatus Kaioyte and José James.
In 2016, Benton left Kuala Lumpur to spend some time with his father in Melbourne before heading to the Middle East to play in a covers band in Bahrain, eventually relocating to Dubai, where he now works as a session jazz player. "I'm trying to make money before I go home," he explains. "When you've been away for so long, you start to get that yearning. Dubai is nice and flashy, but it's a desert. Back in New Zealand, I could step outside and be in the bush in 10 minutes."
On the other hand, Waterhouse has spent the last six years working as a Chinese language and ESOL teacher at Saint Kentigern College in Pakuranga. In his spare time, he still records hip hop songs as Semi D and quietly uploads them online. As he thinks back 33 years, Waterhouse finds himself awed by Semi MCs' impact on, and legacy within, New Zealand music.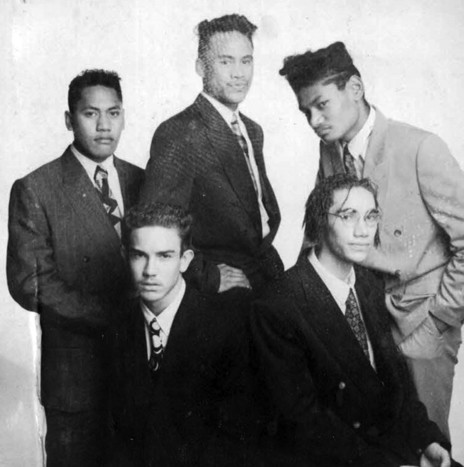 "When I look back at the time, you had political rap groups in New Zealand like Upper Hutt Posse, and you had the funk/soul groups that had their own style like Ardijah and Supergroove," reflects Waterhouse. "You also had hardcore rap groups, but there weren't really any groups that filled the RnB/hip hop or new jack swing fusion genre."
He pauses for a moment, before continuing: "We were one of the first, if not the first group like that, to make it onto the radio. Nowadays, I see all these artists coming out of New Zealand who are so talented. You can see how the music has evolved into something amazing, but then when I reflect on it, if you trace things back, all the way back to the early 90s, we were the stepping stones for the amazing artists that are coming out now. Semi MCs made a contribution, and we helped spark something that continues over 30 years later. It's quite inspiring and makes me feel really thankful."
--
Interviews and research conducted by Phil Bell aka DJ Sir-Vere and Martyn Pepperell
Mai FM: Aotearoa Hip Hop podcast