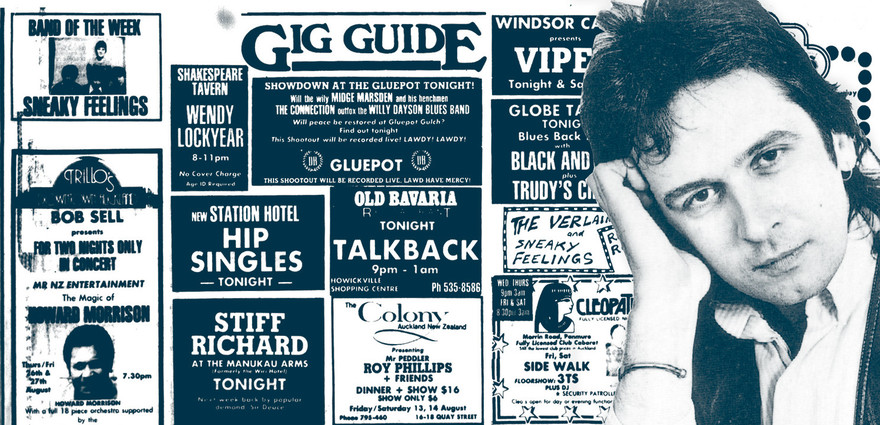 Live music gathered pace in 1982 and it was an eclectic-sounding situation in the various venues of Auckland, though the older styles were on the fade as originality and having a new record out began to mean something.
Commercial radio wasn't playing the records, but that didn't seem to matter as a growing audience for homegrown rock music got their exposure to the new sounds loud and live.
Split Enz continued to be the biggest local band in the land, but younger, poppier bands were on the rise – The Mockers, Dance Exponents, Screaming Meemees, among them.
It was beginning to seem like there was no stopping it ...
--

Sweetwaters '82 at Pukekawa for three days. – February 1, 1982, Auckland Star
If the annual Sweetwaters Festival needed an appropriate theme song, 'Another One Bites the Dust' would fit the bill pretty accurately. Because that's what everyone was doing pretty constantly by Saturday as the vast encampment baked in a swirling sea of dust.
But, despite the crunch in the air, Sweetwaters has settled down into a strange, hot, dusty, happily-temporary sort of rock-food-and-assorted-entertainment city.
People are starting to settle into habits of sorts – like getting up (eventually) and heading out to find something to eat in the tent food town catering to the 35,000 hungry, thirsty souls living remarkably happily together here.
You don't see many beads of condensation on the cans of Double Brown grasped in thousands of hot hands any more – but you can always buy a small bag of very small pieces of ice for a mere $2 if you care about cold beer any more.
*
It must be Sunday because the Instigators are playing. The ground is creaking with the heat and every time a band manages to whip the crowd into a frenzy of dancing they quickly disappear in a cloud of dust.
But, by George, the Great Kiwi Spirit is still holding its own – everyone's still smiling, the toilets are still holding their own (along with everyone else's) and bad tempers seem to have been left at home.
On the main stage, in their early-afternoon spot, the Instigators delivered a healthy dose of their tough, rubbery ska-rock.
*
Sunday night and here come Dave McArtney and the [Pink] Flamingos, the latest in a long line of Australia-conquering rock heroes.
And anyone with doubts about the band's ability to deliver their excellent songs with the necessary firepower to make a mark on the tough Aussie market would have had their doubts blown away after last night's 50 minutes.
Kicking things off with old favourites 'Hungry Night' and 'Chevrolet', they built the tension slowly to a storming and lengthy 'Dying in Public', 'Lonesome Old Star' and an encore of 'Virginia'.
With the ever-tasteful Paul Hewson back on keyboards, the added bonus of Walter Bianco on sax, McArtney's newfound and nicely arrogant stage presence and especially Jim Lawrie's powerhouse drumming, the Flamingos certainly made their mark.
*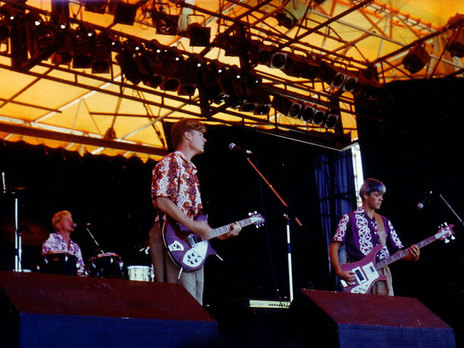 Auckland's Blam Blam Blam hit the stage an hour late at 1am, played it with confidence and skill, throwing in a particularly rhythmic version of 'Thomas is Guilty' for local flavour.
*
Yesterday afternoon, the crowd had started to thin and was definitely moving more slowly. But the Willie Dayson Blues Band still managed to get a good percentage of arms punching the air with their tough brand of sweaty blues.
The crowd thinned further for the mid-afternoon spot by Wellington's Mockers. Obviously, a band in search of a direction, their hard-edged guitar-based songs won out over their poppier obsessions.
First up after dinner were The Narcs who seized their big chance with a grin and played a fierce set of originals. They've got some great pop songs in their bag and last night played them with blister-inducing power, ending with a storming encore of 'Last Train Home'.
And next came the man a lot of people had been talking about – ex-Hello Sailor singer Graham Brazier with his first public attempt to restart his stalled career with a band of his own.
And, for the first few songs anyway, Brazier's Legionnaires were decidedly trembly in the knee area.
'Organisation', one of the strongest songs on his solo album, was treated shabbily. But, five songs in, Brazier's shaky band got the lift they obviously needed with the addition of Dave McArtney on guitar and things took on a raunchy edge through 'No Mystery', 'Enough' and an encore of 'Casablanca Holiday'.
Brazier certainly has the voice, the songs and the stage presence – but whether he has the right band remains to be seen.
--

Taste of Bounty at the Gluepot, last night and tonight. – February 10, 1982, Auckland Star
Hot from playing to a cloud of dust filled with people at the Sweetwaters Festival last Friday, Taste of Bounty must have found The Gluepot a little quiet last night.
At 8.15pm, there were eight of us scattered round the vast bar. By 9, there were 17 and the figure shot up to more than 20 by closing time.
All in all, Auckland turned a fairly deaf ear to the five-piece Wellington band.
Tonight's the last chance to catch them before they head to points south and finally home. You won't regret it.
First up, Taste of Bounty are not a reggae band. They are Polynesian – four brothers and one sister of Samoan/Māori heritage (their father is the sound mixer).
But the music they play is a high-octane mix of funk and rock. They all sing, they write virtually all their songs and they play with a fire and skill that deserves a much bigger audience than the won last night.
Lead guitarist Roy Fuimaono is a fine flashy player, opting for a style that falls somewhere between Carlos Santana and Thin Lizzy. While, down at the bottom, bassist Elliot pushes things along in fine aggressive form.
But the real star didn't make her appearance till the band's second set. Singer Mahia Fuimaono has a great bluesy voice, a strong stage presence and the band comes up with songs to match.
'Stimulating Conversation' is a dead ringer for Rickie Lee Jones on a slow burn, while Mahia's version of 'Ain't No Sunshine' is a spine-tingler. And she had some strong things to say – lyrically speaking – about relations, both inter-racial and inter-sexual.
A fine band. Catch them while you can. They're back at the Gluepot tonight and at Hamilton's Hillcrest with DD Smash tomorrow.
--
The Swingers with the Gurlz and Danse Macabre at Mainstreet, last night and tonight. – April 24, 1982, Auckland Star
In the face of rising prices and falling audiences, $8.50 still buys you nearly four hours of rock-solid entertainment at Mainstreet.
Last night's crowd wasn't exactly wall-to-wall, but in spite of a late start and some bleary eyes as the music rang to an end at 1.30am, there wouldn't have been many complaints about the quality of the package.
First up, and fresh from a support gig at the Gluepot, came the Gurlz, an immensely-likeable five-piece band working in that primal pop area so recently carved out by Los Angeles all-female band the Go-Gos.
Nothing flash, just some hook-filled songs, two strong voices out front and a strong feel – whether born of necessity or not – for rock's primitive roots.
Next came the class act of the night, Danse Macabre, operating from another musical world altogether. Driven by the sharp, dangerous drumming of Roddy Carlson and the awesome rumble of Ralph Crump's bass, Danse Macabre's original music looms very large.
Weston Prince's jagged guitar lines add jabs of lightning to their swirling mix of atmosphere and melody, while, on vocals and synthesiser, Nigel Russell has every reason to look confident.
A very impressive performance.
Which brings us to the stars of this piece, The Swingers. Never the easiest of bands to swallow in concert, any thoughts that the band might be more accessible with the recent addition of singer/organist Andrew Snoid were quickly brushed aside by the band's decision to play a virtually all-new set.
No doubt they were putting the final polish on the batch of new songs they're in town to record for their second album, but the crowd got only 'Counting the Beat' from the "greatest hits" songbook.
However, let's hasten to add that many of the new songs scored high on the pleasure scale and the spectacle of Snoid finally adding a little visual colour to the band is a welcome one.
'Necessary Evil', 'Tunnel of Love', 'Get Up and Go' and especially 'Love Railway' sound as good as anything the band has done, still built on leader Phil Judd's scampering guitar and bassist Bones Hillman's brutal, trebly bass lines.
And, with those two and Snoid often as not singing in angry unison, the sound is even fuller and more aggressive than before.
A perverse touch came for the encore with drummer Ian Gilroy stepping out front as lead voice, Judd playing some wild drums, Snoid on bass and Hillman on guitar.
--

Graham Brazier's Legionnaires at the Windsor Castle, last night and until Saturday. – May 7, 1982, Auckland Star
There have been vicious rumours along the lines of Brazier falling over on stages around the North Island with monotonous regularity. Hard to believe them, though, in the face of last night's roaring performance at the born-again Windsor up in downtown Parnell.
All the supporters of the former Hello Sailor singer were there in force – the bikers, the boot boys and the women.
And Brazier was looking decidedly the worse for wear – but then it was his 30th birthday last night. And, even if he couldn't point both eyes in the same direction at any given time or announce a song with ringing clarity, when it came to singing, there were no problems at all.
And, in 90 minutes, he and the band played an electrifying set of rock and roll – intense, exciting, risky.
Risky all right, with Brazier lurching dangerously at the mike, swallowing anything the tattooed arms from the crowd frontstage were passing up to him. And intense, with the sparse, brutally-effective punch of his three-piece band, led by the always-classy Harry Lyon on guitar and occasional vocals.
And all those great songs – a bit of Elvis, Lou Reed, a touch of Hello Sailor and a lot of solo Brazier, drawn from his excellent album of last year.
His best song came first – 'Organisation', so loud that Lez White's booming bass lines were rattling the spirit bottles behind the bar.
'Seven Seas' and 'No Mystery' followed, rearranged, faster and lifted by terrific solos from Lyon's guitar.
'On the Rox', as a tribute to having an ex-Dude on bass, and 'His Latest Flame', a perfect reincarnation of Elvis. And 'Stupid Girl', the Stones' ultimate female putdown. 'Disco's Dead' and 'Blue Lady' roared in from Sailor days and Lyon took an impressive solo spot with 'You Bring Out the Worst in Me'.
At the end, after a singing birthday telegram man made a surprise appearance, came 'Sweet Jane', from old hero Lou Reed.
And that was it. Brazier may be a man running towards an edge that keeps moving away from him and watching him might be like seeing the whole awful myth of rock decadence uncoiling before your eyes – but the intensity is very real.
Catch him now, before he falls.
--

Save the Whales Rock Concert at the Town Hall, last night. – July 8, 1982, Auckland Star
Eight whales died during last night's concert. But that's nothing. Twelve died during last year's four-hour Save the Whales rock extravaganza in Auckland.
Now these startling facts have nothing whatsoever to do with the volume of the rock bands playing during these concerts.
It's just that, at this time a year ago, a whale was being sent to its maker every 20 minutes. Now, however, the rate is one mighty mammal every 30 minutes. And last year's concert and the money it raised helped make that small but significant progress.
Meantime, the show went on last night again before a capacity Town Hall supporting a very good cause and celebrating the talent of six Auckland bands.
Democratically, each band got around 30 minutes onstage and the organisation was superb. Good God, the show even started on time. And here's roughly how it went:
The Tempos were first and very much the new entrants in last night's fairly stellar company. They performed well. A tight four-piece band, they specialise in strong pop songs, straightforward and sometimes downright catchy.
Dave McLean's Little Criminals provide a winning combination for roughhouse McLean, New Zealand's own Dave Edmunds. Rock and roll as it's always meant to be, done with style, affection, feel and just a dash of bull. Great stuff.
Danse Macabre were the odd ones out in this fairly conservative company. Very 80s rock, big on atmosphere. They were exhilarating, climaxing their set with an angry new song, 'Nexus', and a classic old one, 'Between the Lines'. A powerful band with a big future and a musical sensibility of mammoth proportions.
What was billed as the Other Side of Hammond Gamble opened the other side of the show after a 15-minute interval. In his new duo format with pianist Stuart Pearce, Gamble was probably all set for a trial by fire in the company of all these regulation rock bands. But, minus a rhythm section, he won the crowd over anyway, thanks to the pair's pure and passionate virtuosity.
The Willie Dayson Blues Band have gelled into a formidable unit. With ex-Underdog Neil Edwards on bass, the bottom is as strong as the top – and that top is extremely good, thanks to Dayson's amazingly tasty blues and slide guitar.
Blind Date have no prospect of gelling into a formidable unit – they always have been one. And last night they were in decidedly aggressive form. Of all the bands, they deserved more than 30 minutes. Songs like 'Kiss Goodbye' and 'Peruvian Pogo' sound like the stuff of which classics are made.
I'm not picking any winners out of that lot – except maybe the whales.
--
Roy Phillips and Friends at the Colony, last night and for a season. – August 7, 1982, Auckland Star
Roy Phillips found his groove years ago, flying high and jazzy through new arrangements of old standards and the odd new standard with his old band, The Peddlers.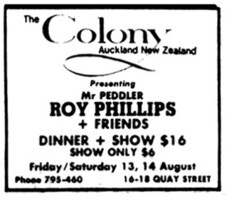 And he's showing no signs of venturing out of it in his two 45-minute brackets at the new and very comfortable Colony.
So, in that familiar voice like chewed tar, Phillips growls his way through 'Last Train to Clarksville', 'I Can See Clearly Nowc, 'This Masquerade', the inevitable 'Georgia' and the equally-inevitable Peddlers standard 'Girlie' – played twice.
His electric piano is often a joy to hear, though the phasing-out of organ in favour of synthesiser works less well.
Behind him, in a format that can only draw comparison with his old band, are electric bass and drums.
Bob Jackson's bass playing fills all the gaps – and more – excitedly bubbling away under the melody lines. Bruce King's drumming seems out of its class in this company, though, merely a timekeeper rather than the driving force it should be.
Roy Phillips' stage patter hangs pretty limply on the line. But the music was just fine as far as the audience was concerned last night.
Though I could have lived without Phillips' emotive musical tribute to his new home, New Zealand – home of the free and land of milk and honey, according to him.
Take a good look around before getting quite so dewy-eyed again.
But, all up, as a night out with a familiar voice, Roy Phillips could safely be filed under P for pleasant.
--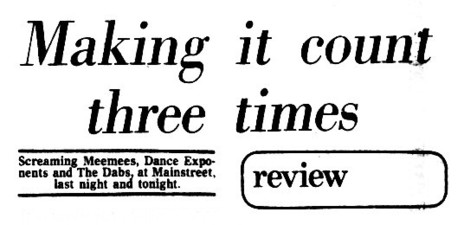 Screaming Meemees, Dance Exponents and the Dabs at Mainstreet, last night and tonight. – August 14, 1982, Auckland Star
If we have to pick winners out of this little bunch, we'll nominate the justifiably excited audience at last night's generous helping of homegrown rock.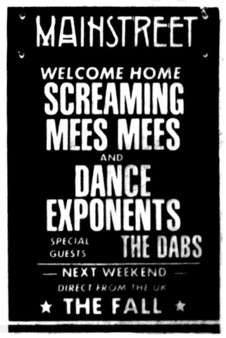 Just back from a successful national tour to promote various records, the Meemees and Dance Exponents were out to make it count for differing reasons.
The former were back playing to a highly partisan hometown crowd, while the latter were making a first appearance in Auckland, still wet from a wave of publicity and a big-selling debut single.
Dance Exponents never looked like losing out for a second. They play it cocky and rocky. Frontman Jordan Luck has a genuine case of charisma going for him and the two-guitars-bass-and-drums band whack out their fast, brittle songs with a frenzied sort of vengeance.
'Victoria', the single, sounded much better live, though it isn't typical of the band's recklessly punchy approach.
First up, The Dabs impressed too. They're a tough, edgy trio with a strong 60s flavour about their own songs and more than a flavour in their covers.
And, taking the midnight shift from about 12.45am, Screaming Meemees sounded revitalised by their tour, punching through a set of old, recent and very new songs. Even 'Louie Louie' was dragged back out of the closet.
Anyone feeling disheartened about the state of the much-maligned rock industry in Godzone at present will quickly lose their cynical sneer should they see fit to squeeze into Mainstreet tonight.
--

Split Enz with the Narcs at Logan Campbell Centre, last night and tonight. – August 21, 1982, Auckland Star
"We're yours. We are Auckland's band. You tell us what to play and we'll try and play it."
A strange and strangely moving moment around the 100th minute of Split Enz's concert at the Logan Campbell Centre last night, as singer, leader, songwriter and guiding light Tim Finn called for requests from an ecstatic crowd.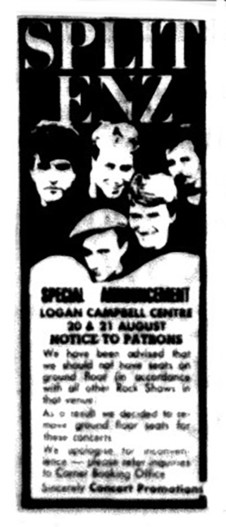 But it was a pretty special sort of show from a pretty special sort of band. And we're not just coming over all nationalistic here, though Finn and the band certainly did last night.
Because Split Enz are truly special. They've grown up from their over-crowded vaudevillian beginnings into a thing of major musical substance. Into that most rare of animals – a rock band with something to say as well as something to play.
There are not many bands around who, with their seventh album, produce their strongest.
And that's what the recently-released Time and Tide is. Like that album, Enz had a distinctly nautical air about them last night. Playing before a stage set of billowing sails and hanging ropes, Tim Finn looked every inch the captain in reefer jacket, while bassist Nigel Griggs and keyboards man Eddie Rayner opted for the crewman look.
The band is closer to its music than it's ever been. With a sound as near-perfect as Logan Campbell has probably ever heard, and a brilliant light show, the band played with skill, intensity and real fire.
Stage antics are now kept to the occasional manic Tim Finn stance and the sudden moves of the footloose Neil Finn.
The emphasis was on Time and Tide – 'Dirty Creature' brought roars from the crowd, but the band skipped back and forth through their now vast repertoire, throwing in some of those "dizzy rhythms" from the past, as Finn the elder put it, with 'My Mistake' and 'I See Red'.
The magnificent 'Six Months in a Leaky Boat' segued surprisingly – and aptly – into 'Kingston Town' and, later in the set, we got splendid readings of the Beatles' 'Oh Darling' and even the Bee Gees' 'To Love Somebody'.
There was even a medley of great moments in Kiwi music – from 'She's a Mod' to 'God Defend New Zealand'.
Strange and moving, as mentioned.
More strange than moving was the idea of matching up the Narcs in the support spot. Blurring the line between hard pop and hard rock, the band's boogie-minded approach was totally at odds with what was to follow.
And, as for putting the seats downstairs back in after protests from peeved patrons – we all stood on them anyway.
--

Whizzkids with Otis Mace at the Gluepot, last night and tonight. – September 29, 1982, Auckland Star
It wasn't a case of Tuesday-night-stay-at-home up at the Gluepot last night.
Indeed, there was a very healthy turnout for the brief return to grace and live performance of the Whizzkids, who split asunder two years back in a business built on splits.
They all went on to greater things – Mark Bell and Tim Mahon with Blam Blam Blam, Ian Gilroy with the Crocodiles, via the Swingers, and Andrew McLennan to Pop Mechanix and the Swingers.
And, with former Swinger Bones Hillman supplementing on occasional bass and percussion, they brought their newer and older music back to the Whizzkids last night.
And the best came first with an array of Whizzkids songs, peaking with thoroughly vicious versions of 'Factory' and 'Occupational Hazard', driven along by Gilroy's propulsive drumming and Mahon's skittering bass runs.
Bell played some inspiring guitar last night, especially during this section, slashing out howling chords. And, out front on St Vitus dance and vocals, McLennan barely stopped grinning all night.
Hillman took over bass for a feedback-drenched 'Dr Who Theme'. And, from there on, it got a bit messier.
Those classic Blams songs, 'Learning to Like Ourselves Again', 'Last Post' and – later – 'No Depression' were pretty rough round the edges, though the addition of sax and trumpet went some way to fill the gap.
First up, a word for Otis Mace. Hard to say what that word should be, though. A sort of cracked-yet-inspired cross between Jonathan Richman and Frank Zappa, he does make you wish he had a band.
--
Dragon with the Legionnaires and Moroccan Roll at Mainstreet, last night and tonight. – October 2, 1982, Auckland Star
Dragon's time seems to have come again.
With the intelligent, melodic pop style they pioneered in Australia enjoying a resurgence there at the hands of bands like Mondo Rock and Moving Pictures, the New Zealand band looks and sounds all set to clean up again.
Not that either Mondo Rock or Moving Pictures means pizza to a polar bear as far as selling records in New Zealand is concerned. Nonetheless, more than three years after the original Dragon split, there were enough long memories and new fans to jam Mainstreet last night with an excited crowd for the return of the old local heroes.
And they probably weren't disappointed. They may be "only a pop band", as singer Marc Hunter told us yesterday, but Dragon is the sort of band to put that particular phrase up in lights again.
Dragon has loads of class. All fine musicians, from Todd Hunter's rock-solid bass guitar through to Paul Hewson's wonderful piano, they might lean on past triumphs, but there's just no knocking songs like 'April Sun in Cuba', 'Still in Love With You' and 'Are You Old Enough'.
'Ramona', a new song, sounds more than likely to restart the string of hits too.
Up first – three hours earlier at 9.30 – came Moroccan Roll. Hopelessly outclassed in this company, they played a too-long and characterless mix of uninspired covers and originals. Sorry, but they just shouldn't have been there.
Not that the Legionnaires managed to blow out all the candles on their particular cake either.
With former Hello Sailor members Graham Brazier, Harry Lyon and Dave McArtney back on deck together, they mixed Brazier, Sailor and McArtney hits and didn't manage to light the spark that many expected.
--

DD Smash with Jon Zealando at the Windsor Park, last night and tonight. – October 23, 1982, Auckland Star
It's never easy unleashing a load of new songs on an audience waiting to be bottle-fed all their old favourites. But DD Smash did it rather well last night.
Sandwiched between two solid slices of songs from their best-selling album, Cool Bananas, they hit Auckland at the start of a national tour with a sackful of new songs from their resident electric elf, Dave Dobbyn.
And they had a hot act to follow in Jon Zealando, who gave the pub's asbestos ceiling a thorough testing with a banquet of fire-eating, followed by a disgustingly convincing line in psychic surgery, which involved a certain amount of blood and simulated guts.
But DD Smash were pretty hot stuff themselves last night, hitting the stage in their expanded six-piece form with a horny Dexy's Midnight Runners-style instrumental entree.
With the talented Scott Calhoun on trumpet and assorted keyboards and some very spirited playing from the Neighbours' saxman [Andrew Clouston], the Smash sounded even bigger and punchier than usual.
'The Gambler', 'Silence', 'Say', Gun', 'Save Yer' and a powering 'White Water' all drew cheers of recognition before the band got down to the heart of the matter – the new songs.
'Itinerary', 'Guilty' (a ballad featuring Dobbyn on piano) and 'Outlook for Thursday' were real stand-outs. And on 'You Got the Love', Dobbyn launched himself into the Otis Redding school of soul, scampering all over his daunting and seemingly-limitless vocal range.
Covers of 'Stand By Me', 'Whatever Gets You Through the Night' and more old favourites like 'Repetition' and what more could you possibly ask. Except perhaps more of the same.
DD Smashing.
--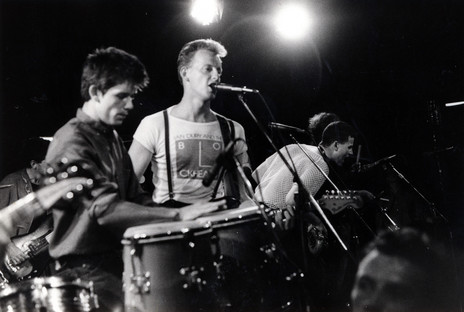 The Big Sideways at the Gluepot, last night and tonight. – November 3, 1982, Auckland Star
There aren't many kind things I'd care to say about our Government and its treatment of culture in this country. But, here, we'd like to make an exception.
If it wasn't for the Government-backed Artwork scheme, financially dangerous and musically exciting experiments like The Big Sideways would never have been conceived, never mind born.
And this is exciting stuff. A big band of up to 10 local rock musicians under the guidance of musical catalyst, innovator and guitarist Ivan Zagni mixing up a brew of some of the most eclectic music you're ever likely to hear on an Auckland stage.
With a line-up big on percussion (up to three players), brass (three saxes) and electric guitars (mostly four plus bass), The Big Sideways play a wild witch's brew of music that boldly mixes funky basics with lashings of rock, jazz and soul.
The performance of various pieces ranged from ragged to stunning, with little ground between, but a fair proportion of the material had been written or rehearsed a matter of days before.
This wasn't slick, polished stuff, but wide-open, energetic and, when in meshed – as it often did – uplifting. The only consistently weak spot was the vocals which, like everything else, were shared around. But the music was mainly instrumental anyway.
Musically, the band's influences range from Marvin Gaye to Billy Cobham to Pigbag to traces of Captain Beefheart. And the crowd – a very healthy one for a Tuesday – lapped it up. Great heavens, they even clapped.
--
The Mockers with Otis Mace at the Rumba Bar, last night. – December 4, 1982, Auckland Star
With a goodly proportion of last night's rock punters up the hill at Mainstreet, the Mockers still managed to pull a healthy and happy crowd to the Rumba Bar.
But bigger venues and much bigger crowds beckon this five-piece. Definitely a band with a future.
The Mockers are a band with a considerable amount of style. They don't shamble on stage and shrug out their songs, as so many bands in these parts are content to.
They set out to connect – to entertain. Which leads us to the big A factor, singer Andrew Fagan, who is that rare thing in New Zealand, a frontman of character.
And, to broaden the visual base, the band was backed by a very effective slide and light show.
All of which would be mere icing if the Mockers weren't equipped with the songs to match the show. I heard at least an albumful last night, much of it new.
Great sound too, now effectively fleshed out with keyboards. Plus a strong rhythm section and some purposeful playing from guitarist Barry Caitcheon.
On the matter of character, Otis Mace made his mark in solo support with his warped and witty songs of tumbler driers and Twizel.
And, oops, I nearly forgot the special guest appearance by a nine-piece act, the police. A mime act who did a 10-minute set around 9.45, suddenly rushing into the bar, turning up the houselights and adopting strange, purposeful poses.
Strange, but it had been quite peaceful until then.
--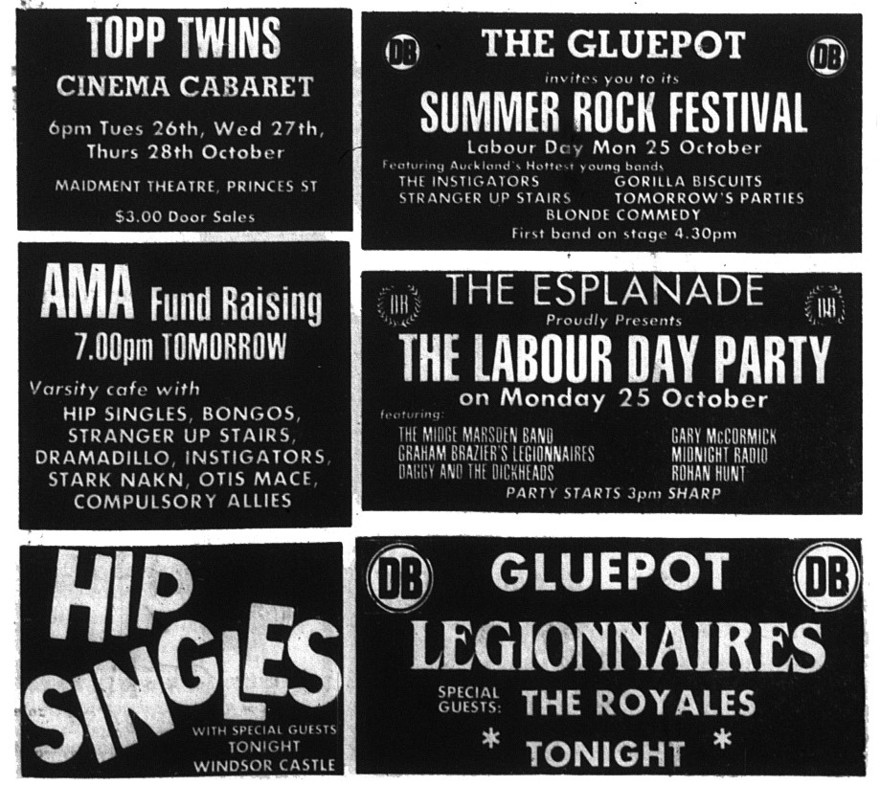 The Legionnaires, Neighbours, Gorilla Biscuits and various house bands at the recreation hall, Pāremoremo Maximum Security Prison, Wednesday night. – December 17, 1982, Auckland Star
There will be no jokes about captive audiences or security becoming ridiculous at rock concerts in this review, Okay?
As soon as the first double set of iron-barred doors clangs shut behind you, bravado seeps out through your socks with depressing swiftness.
Pāremoremo is vastly sobering – a great concrete and steel beast, sitting low, its eyes turned inward on its captive citizens as they eke out their days in a vacuum, "repaying society", as the phrase goes.
But, once past the decompression chambers of those sets of barred gates and into the vast, high-ceilinged recreation hall, you can try to kid yourself it's just another school assembly hall, and ignore the all-seeing eye of the closed-circuit cameras above your head.
The aim of the exercise was to bring in some outside rock and roll type entertainment for the prisoners' pre-Christmas party. Meantime, someone's been hard at work with the Christmas decorations and the soon-to-be-consumed heavyweight supper – a plate with what feels like two kilos of food for everyone, plus coffee and cordial.
The bars here don't serve anything stronger.
The kicks last night were all musical ones – dealt by the three visiting Auckland bands and a series of prison acts.
First up, came Gabe, an acoustic-guitar-and-harmonica singer who has the Neil Young approach down to a fine art.
With just four days of rehearsal, a varying series of inside musicians ran through variations on hard rock, rock'n'roll and bluesy themes. A visit to Jimi Hendrix's 'Red House' brought cheers from the resident section of the mixed crowd of inmates and a scatter of visiting social workers.
The first "outside" band was Gorilla Biscuits, now a five-piece with a sax/flute player in the ranks. A band that has never fully committed itself to live work, it has real potential, especially its songs.
But judging musical performance isn't easy in a hall where acoustic considerations run a sad second to security. At times it resembled a big echo chamber.
Next, the Neighbours set a few pulses racing with their raunchy, soulful approach and, not least of all, because of the presence out front of singer Trudi Green.
A showy combination of brass and class, the Neighbours have gotten their act together to a considerable degree in the last year, with a powerful vocal frontline of Green, guitarist Sam Ford and saxman Rick Bryant.
They've got the soul revue moves down pat – never letting go of the rhythm and stoking the musical temperature from hot to hotter.
The acoustics didn't smile on them either, but Bryant's storming version of 'Everybody Needs Somebody to Love' and Green's lead on 'Love is Never Cruel' were major stand-outs.
And, yes, people were up dancing by then too.
On last, and with time fast running out, the Legionnaires dispensed with preliminaries and merely delivered the knock-out blows.
Not many people get a second shot in the here-today-gone-tomorrow rock business, but these former stars of Hello Sailor have won it with a rare combination of charisma, talent and sympatico.
The two-guitar frontline of Harry Lyon and Dave McArtney fits together like a handshake. And singer Graham Brazier's voice is as rich as ever – maybe more so.
Kicking off with 'I'm a Texan', they roared through a 30-minute "best of", from McArtney's 'Chevrolet' to Brazier's 'Billy Bold' and Lyon's 'You Bring Out the Worst in Me'.
A great show and, in spite of the code of cool among the inmates, you had the feeling that maybe – just maybe – they went back to their "rooms" a bit happier for the experience.
Meantime, back outside, fresh air never tasted quite so good.
--