Reviewers aren't made. They make themselves. Timing helps too. And luck. I got lucky at the Auckland Star in the late 1970s when I somehow persuaded the sweet and elderly editor that the least we could do for all the rock bands who were beginning to advertise their gigs in the paper was to start reviewing their shows.
I was reviewing the big acts who came to town too, and there were loads of those, but in between I got out to the pubs and the clubs and some festivals and, in the process, traced the rise of a golden age of loud, original, Aotearoan music.
This is the first in an occasional chronological selection of reviews from between 1979 and 1989.
--
Split Enz, His Majesty's Theatre, Thursday, Friday nights only, April 1979, Auckland Star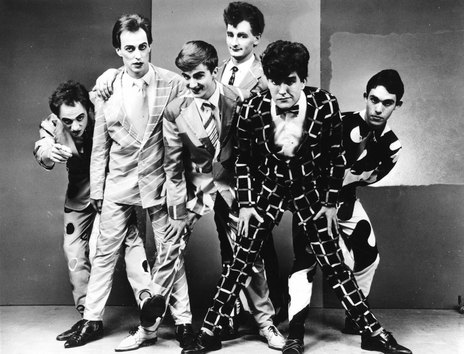 One hundred and forty minutes of frantic rock and roll folly left His Majesty's more than a little frenzied on Thursday night, care of the weird and quite wonderful Split Enz.
Back with a new bass player, a very classy new album and a harder, rockier sound, Split Enz had the capacity crowd at His Majesty's with them all the way.
To a roar of delight, they lurched into 'My Mistake', then immediately sent the adrenalin fizzing with a crazed 'Hermit McDermitt', before slowing things down for a Tim Finn love song, 'Roughest Toughest Game in the World' from the new album, Frenzy.
And Frenzy remained very much the focal point of the evening, with the band airing almost every track from the album… and generally cutting the studio versions to shreds.
One hour into the show, Enz took a break. Fifteen minutes later, they were back, complete with eyeball-searing multi-coloured luminous suits and, as a sea of dry ice welled up around them (and engulfed half the stalls), they tore full-tilt into a frantic 'Frenzy', led by the massed keyboards of Eddie "Phantom of the Opera" Rayner.
And from then on it was all go as, racing to keep up with their superb, power-packed rhythm section, the Enz tore through 'She Got Body', 'Mind Over Matter', a beautiful 'Betty', featuring immaculate harmonies and some impressive guitar from Neil Finn, 'Give It a Whirl' (with Neil taking the lead vocal) and into 'Famous People', led by Nigel Griggs' wall-shaking bass.
Then it was percussionist Noel Crombie's turn to take the spotlight for his informal spoon solo. And on the musical madness went, until 'Bold as Brass' and 'I See Red', which had the fans dancing down front (and the theatre didn't fall down, Auckland Town Hall doormen take note).
Two lengthy encores – including another lovely Tim Finn love song, 'Stuff and Nonsense' – and it was all over.
A great concert. Split Enz are back, stronger than ever. Support them… after all, it is Export Year.
"Rock War", featuring Midnight Oil, Shotgun and Sheerlux, Mainstreet Cabaret, August, 1979, Auckland Star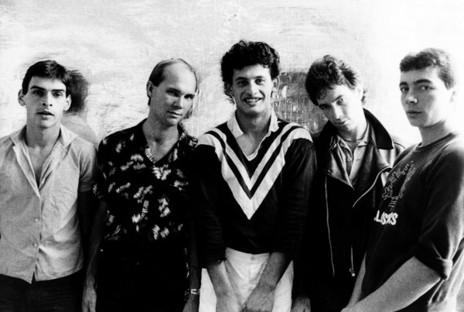 War? ... What war? But if war it was, then we're now a state of Australia – thanks to Aussie's own Midnight Oil.
Sheerlux arrived like a machine gun, Shotgun like a well-oiled tank, but Midnight Oil just came on and blew them both away with sheer energy, sweat and volume.
I've seen Sheerlux in better form … and opening the show in the cold, barn-like atmosphere of early-evening Mainstreet is a bit of a daunting task.
But the lads soon warmed to the challenge and managed to get a bunch of bodies jerking on the dance floor as they stormed through a set that included such old favourites as 'Psycho Killer', 'Satisfaction', their upcoming single 'Lonely Hearts' and – of course – 'Fat Boy'.
Then it was the turn of the all-star veterans' club, Shotgun.
Easing the volume up a couple of notches over Sheerlux, Shotgun gave us a classy taste of "old wave" rock – featuring plenty of guitar duelling, fuelled by the potent rhythm section of drummer Billy Nuku and bassist Neil Edwards.
The band's own 'Love on the Road' had more than a touch of Bob Seger about it and, just to emphasise the point, they proceeded into version of his 'Fire Down Below'.
And they carried off Neil Young's epic 'Like a Hurricane' with more than a touch of couth, before ending their skirmish with Bruce Springsteen's classic 'Born to Run'.
But it was all over bar the white flags as soon as Midnight Oil hit the stage.
With the colossus-like figure of lead singer Peter Garrett, bald head streaming sweat, lurching round the stage like Frankenstein's monster and the stun-gun guitars of James Moginie and Martin Rotsey blasting out of the giant speaker stacks, it was victory within seconds as the crowd leapt to its feet.
Concentrating on material from their recently released debut album, they could do no wrong.
And they literally brought the place to a standstill with a stunning 10-minute version of their own 'Nothing Lost, Nothing Gained', with its soaring guitar solos.
Great stuff. Can't wait for the second assault.
Citizen Band, with Electrabeat, Auckland Town Hall, Friday 28 September, 1979, Auckland Star

"I'm not even 30 – honest sonny," I snapped at the pubescent pop fan.
"Then why are you calling me sonny," he countered.
Sharp these kids. Who let him out of his pram anyway?
These ageing eardrums felt distinctly grey round the edges on Friday night in the midst of a Town Hall packed tight with fevered, fervent and determined-to-have-a-good-time Citizen Band fans.
Luckily, with an average age of around 14, the 2000-odd bodies took up much less space than may have been the case with an older, bulkier crowd.
In fact, the vocal crowd was so determined to have a good time it even gave the distinctly below-average performance by opening band Electrabeat a rousing reception.
The band looks good, sings bad and plays even worse. Most of the guitar solos could only be described as painful. Definitely a case of too much too soon for Electrabeat.
Not the case with Citizen Band.
To a reception bordering on the hysterical – with the stalls audience dancing on top of its seats in anticipation – CB strode on to the strains of 'Just Drove Thru Town', the instrumental title track from the band's new album.
They roared straight into 'City Slitz' and there was just no looking back from that point.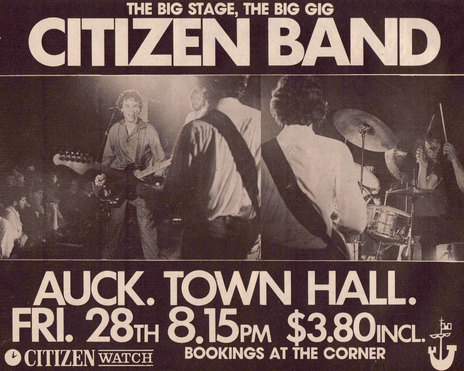 With the audience baying at their heels, the boys thundered – with an excellent sound system creeping toward pain threshold – their way through old favourites and new.
The ecstatic audience sang, shouted and clapped its way through a selection that included what must be the band's most popular live number, 'Julia', the new single, 'Rust in My Car', the stately, melodic 'Acrobats', from the new album, and many, many more.
And not only does the band display unerring taste with its own material – when it comes to a cover version, they have the taste to pick on great material like Graham Parker's 'Protection' and the Flamin' Groovies' rocking 'Shake Some Action'.
Musically, the band was superb, pummelled along by what must be the most powerful rhythm section in the country. Brent Eccles' powerhouse drumming was, as always, impeccable. And even the retiring Greg Clark seemed to be enjoying himself as he fired volley after volley of guitar solos at the crowd.
There can't be another band in the land – and Citizen Band is certainly far from being the most exciting visual experience to grace a local stage – that could fill a venue the size of the Town Hall and fill it with such deafening, floor-shaking enthusiasm.
A great time was had by all.
The Members, with the Swingers, at Mainstreet Cabaret, Friday and Saturday, November, 1979, Auckland Star

Friday night at Mainstreet was the best riot I've ever attended – honest.
Auckland's first taste of real live British punk in the form of The Members nearly blew the roof off the place.
"We didn't know what to expect," said singer Nicky Tesco a couple of songs into their act. But then neither did we.
And I think we were all pleasantly surprised.
Opening band, The Swingers, more than justified their growing reputation as a local band to watch. Led by former Split Enz guitarist Phil Judd, they powered through a selection of originals in the wonderful tradition of power punk trios like the late Blue Cheer.
Judd is an exceptional guitarist and a strong singer, though the vocals suffered in the mix.
But it's the neat little bone-crushing pop songs he writes and the sheer muscle of his guitar, Buster Stiggs' drums and Bones Hillman's bass that really hammer things home.
Naturally, the crowd remained unmoved. After all, it was the Members they'd come to see.
And they certainly delivered.
Kicking off with the Shadows-meet-Marley 'Electricity', the Members roared through their set, riding the crest of the orgasmic crowd that surged around them, on several occasions clambering on to the stage only to be hurled back by a bunch of beleaguered bouncers.
Musically, they were superb, particularly the well-oiled reggae-fied rhythm section of Chris Payne (bass) and Adrian Lillywhite (drums). And singer Nicky Tesco is a tiny fireball, spitting out his songs of sex, drugs, rock and roll and, most of all, social despair.
'Solitary Confinement', chronicling the misery of life in a bedsitter, is a classic. And, for a bunch of white punks, they play a mean bit of reggae, particularly on the stand-out 'Stand Up and Spit' (unfortunately, the crowd took the hint).
A great show and, with three encores, the hefty ticket charge of $8.50 was almost justified – but not quite.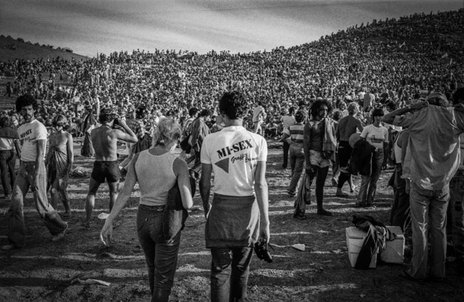 Sweetwaters Festival, Ngāruawāhia, January 1980, Auckland Star
That tough touring experience on the other side of the Tasman certainly showed as Auckland's Citizen Band took the stage after Scottish singer/songwriter John Martyn departed it, to the strains of 'Singin' in the Rain' (in brilliant sunshine).
Kicking off with the now-elderly 'Ladder Song', the band came on surprisingly loud and menacing.
And those often-unsure visual performances of the past seemed forgotten as singer Geoff Chunn summoned up some charisma and stalked the stage convincingly.
But it was the music – despite a bad mix on Mike Chunn's excellent bass playing – that really impressed.
Lead guitarist Greg Clark took the ample space he was given for soloing and gave the happy crowd something to shout about. And they did.
*
Auckland band Sheerlux looked and sounded more than a little vulnerable minus lead singer Paul Robinson, who left the ranks recently.
The band's twin-guitar attack seemed to disappear in the mix – along with the aggressive confidence of old.
Lacklustre.
*
That Split Enz still isn't in the superstar bracket never fails to depress me – particularly after their breathtaking two hours on stage at Sweetwaters.
And the ecstatic reception Enz got from the enormous crowd belies the fact that the band's last (and excellent) album Frenzy, failed to even go gold in New Zealand.
With the sound system firing on all cylinders and outstanding lighting, they soared their uniquely manic way through a strong selection of material, including several tracks from their upcoming album, True Colours.
And they were in fine musical form, with Eddie Rayner's inspired keyboard follies dominating the sound.
But special marks to Tim Finn, whose vocals were nothing short of magnificent – soaring into uncharted areas on oldies like 'Charlie'. Top marks also to Malcolm Green's exemplary drumming.
And the new single, 'I Got You', sounded even better live, with Neil Finn at the mike.
I only hope this year sees Split Enz elevated to the status they deserve. It has been a long time coming.
--
Read more: Colin Hogg, the Tinnitus Years, part two