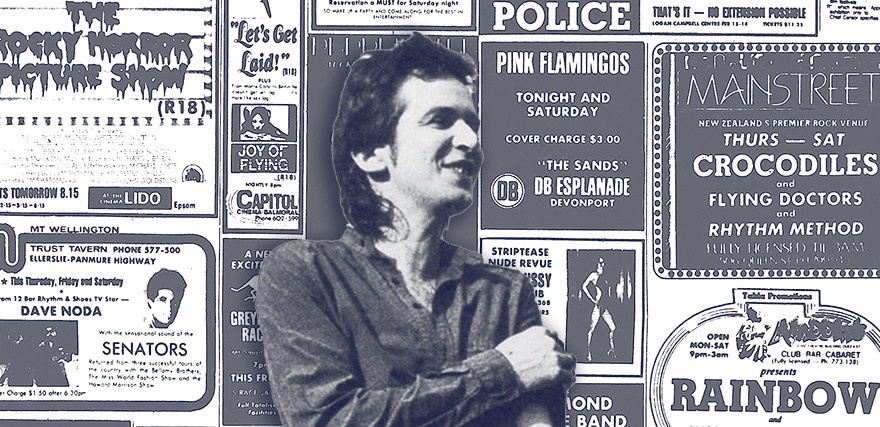 By 1981, live music was in transition. Older musicians had new bands or solo careers and the new sounds in town were coming from Herbs, DD Smash and The Swingers. It was the year Herbs got to play to 30,000 people at Western Springs when headliner Stevie Wonder was rained off the stage. It was a year, it seemed, waiting for something to happen. And there was a rumble of that, late in the year, with the arrival of something unsettling from the south, The Gordons.
But, of course, it started in January with the second Sweetwaters.
--
Sweetwaters Festival, Ngāruawāhia, for three days. - January 1981, Auckland Star
Unlike most bands, who set themselves one peak to climb in a usually short-lived career, Split Enz seem determined to climb a whole range of musical mountains. On Saturday night, they raised their flag on yet another summit.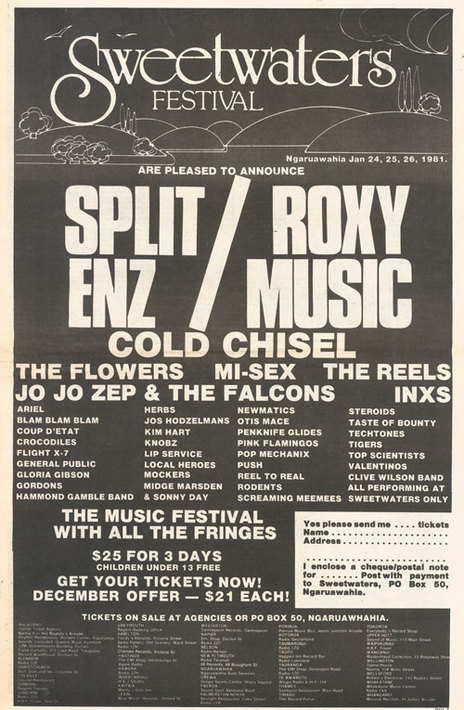 Togged out in snazzy new Noel Crombie-designed threads, Tim Finn and his merry band of maniacs threw themselves with customary vim and vigour into a set that combined the best of days past with what sounded like even better to come.
Songs from the giant-selling True Colours album dominated a set sprinkled with "oldies" like 'My Mistake', the music hall-inspired 'You Can Lead a Horse to Water', featuring the eye-wrenching pyrotechnics of a Noel Crombie spoons solo and – at the end – one of Tim Finn's finest melodic moments, the poignant 'Charlie'.
But a brand-new Tim Finn ballad, 'Ghost Girl' – one of a handful from the upcoming new Split Enz album – had that same, spooky, spine-tingling feel for pure melody.
The sound was as sharp and clean as ice, which seemed to encourage the band to new instrumental heights, led by resident keyboards genius Eddie Rayner and the normally reticent lead guitar of Neil Finn.
And the younger Finn has emerged as a star in his own right, delivering his own songs like 'I Got You' and 'One Step Ahead' with vocal power that was only pipped at the post by the soaring voice of older brother Tim.
Nice one Split Enz – now hurry up and release that album.
The surprise of Saturday night – or should I say early Sunday morning – came with a new, improved and very confident set from The Tigers. Now a five-piece with the addition of keyboardist/guitarist Wayne Mason, lead singer Barry Saunders is free to give the band what they have long needed – onstage personality.
And musically they were a powerhouse too, with their very strong rhythm section taking full advantage of Sweetwaters' magnificent sound system and guitarist/saxophonist Steve Lunn making up for his low-key stage presence with frequent and impressive solo breaks. Maybe 'Heart Don't Stop' – their new single – is a touch too close to Jo Jo Zep and the Falcons for comfort, but it sure sounds like a hit.
Mi-Sex's commercial standing may have slipped a little since last year's Sweetwaters appearance, but the roars of approval as they took the stage on Sunday night didn't sound any weaker. Kicking off with that old crowd stirrer 'Graffiti Crimes', the band quickly established that the accent is now on the music, with the frills and poses cut to a minimum.
The pile-driving metronomic beat of old was still very much in evidence, though the new songs Mi-Sex previewed showed a softer approach. But there was nothing to indicate that Mi-Sex have not already lived through their finest hour.
And, speaking of finest hours … what better way to concoct an immediate encore than to leave 'Computer Games' out of the set?
The Hammond Gamble Band, on the other hand, had an air of musical distraction through most of their set, with Gamble taking his well-established apologetic, vague stage persona a little close to the edge.
They kicked off with a hiss and a roar, but lost the impetus somewhere along the line, even failing to recover it completely with an encore of Gamble's longtime favourite, 'Further On Up the Road'.
Nonetheless, songs like 'Should I Be Good Or Should I Be Evil', 'Singing the Blues in the Rain' and 'Who Did All This to Me', from Gamble's recently-released solo album, sounded just great pumped out at the sort of volume the vast speaker stacks were delivering early on Monday morning.
But really, the set wasn't up to the sort of standard Gamble and the band usually deliver at The Gluepot.
--
Stevie Wonder, with Herbs, at Western Springs. - 11 April 1981, Auckland Star
They'll probably refer to it as The Great Stevie Wonder Disaster of '81. I think it was 9pm on Saturday, standing in the dark, firmly planted in the rising mud, water running down the inside of my shirt, shoulder-to-shoulder with 30,000 angry fools, that I started wondering if liking rock music was actually very good for my health.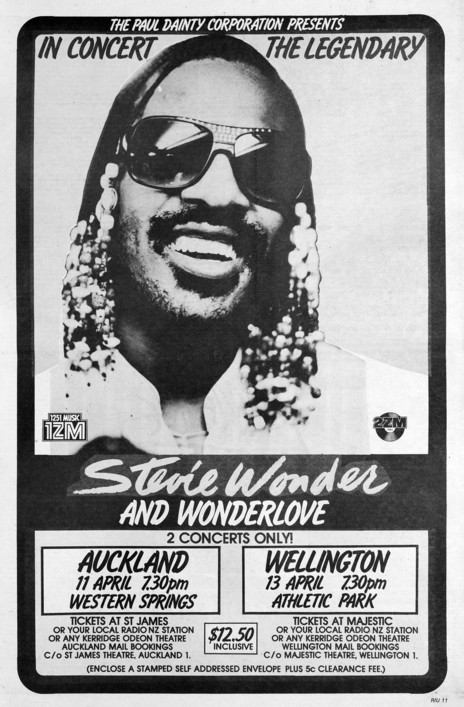 Things got off to a lovely start bang on time at 7.30, ahead of headliner Stevie Wonder, with Herbs, an Auckland band specialising in the warmest, most seductive reggae I've heard in a long time.
Opening with '96 Degrees' and closing with an uplifting version of Bob Marley's 'Exodus', Herbs quickly got the crowd on their side. With a sparse-yet-melodic rhythm section behind their twin guitars and strong harmonised vocals, Herbs didn't put a beat wrong and even took a step into jazz with a lengthy instrumental.
Then the mud hit the fan … but, first of all, the water hit the heads. The heavens opened and delivered onto us a veritable deluge. But memories of tickets bearing the legend "We play rain or shine" kept the 30,000 stoic but damp souls waiting.
Then someone backstage decided that the plastic roofing above the stage, now heavy with hundreds of gallons of rain, must be emptied – onto the wretched souls down front.
And then, more rain and no show – and more rain and nothing and … Stevie Wonder. He's picking up the mic and the crowd's screaming. I mean, he's an hour late, but at least he's here. And he says he isn't going to play. Someone might get electrocuted. "And I don't want to die," he says. "I love you all," he bleats.
So, we're to come back at three o'clock tomorrow afternoon and we'll do it all again. Then it was the long wade – looking and feeling like one of Noah's animals in search of the Ark.
For the many who chartered buses from near and far away, it was tough luck.
Who's to blame? The weather, mostly. But why does the ticket say, "We play rain or shine" and why did the stage fail to do its job properly and why the delay in putting people out of their misery and, anyway, isn't mid-April just a bit late in the years to risk an outdoor concert?
And – a daunting thought – there's Dire Straits in the same awful place in a few days.
--
Coup D'Etat, at the Gluepot, last night and until Saturday. - 6 June 1981, Auckland Star
Coup D'Etat are quickly living down their past reputation as a live act with more crinkles than creases.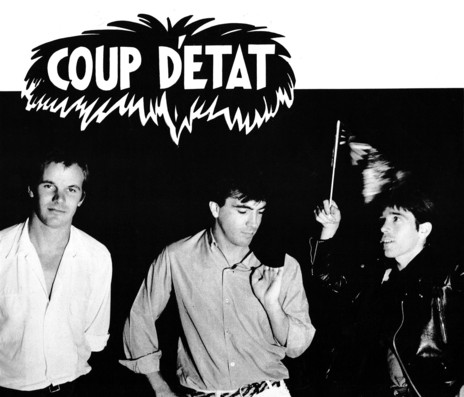 There is life after Jan Preston, the band's former keyboards player, singer and leaping leprechaun. And now the spotlight is firmly where it belongs – on singer/guitarist Harry Lyon, a very stylish performer.
And, across two sets overflowing with new songs, the band obviously has its eyes set firmly on the future. Rock spiced with a liberal dose of reggae got the full-on treatment after a merely-adequate first set last night.
And, along with the new and older band songs like 'Permanent Hire', 'Taxi' and 'Dr I Like Your Medicine', there was a nifty handful of blasts from the past like the La De Da's' 'On Top of the World' and Buddy Holly's 'Every Day'.
New keyboards player Murray Hancox injected just the right amount of flair in the gaps between Lyon's sharp guitar fills and the superb rhythm section of Paul Dunningham and Neil Hannan.
Coup D'Etat definitely sound like contenders.
--
I Unity, at the Gluepot, Wednesday night. - July 1981, Auckland Star
The flag of Ethiopia was flying high at The Gluepot on Wednesday, as Auckland reggae practitioners I Unity made a rare foray onto the stage of an inner-city pub.
And, to judge by the audience reaction, the band brought their fan club with them – many of them decked out in in the obligatory red, yellow and green woolly hats beloved by Auckland's growing Rastafarian cult.
And hardened bar staff – veterans of hundreds of rock bands – reeled in shock as cheers (yes cheers) greeted each new move by I Unity, as they plugged relentlessly their version of Bob Marley's greatest hits.
Bob Marley may indeed live forever (or thereabouts) in graffiti on Auckland walls, but to think that Marley is the beginning and end of reggae is a sad mistake. The man certainly was the greatest thing in reggae – in commercial terms – but there are dozens of others in the same area equally deserving of an ear or two.
I Unity just overdid it. From the Marley songbook, we got 'Jammin', 'I Shot the Sheriff', 'No Woman No Cry', 'Natty Dread', 'Lively Up Yourself', 'Exodus' and, at the end of a clumsy opening bracket, a pretty painful reading of Marley's beautiful epitaph, 'Redemption Song'.
Things sharpened up considerably for the band's second bracket with their formerly muddy sound clearing and a few non-Marley songs getting an airing.
But, at the same time, if I Unity were put in a musical race with fellow Auckland reggae band Herbs and their much sharper, tighter style, they'd run a sad second.
--

Pink Flamingos, at the New Station Hotel, last night. - 23 July 1981, Auckland Star
If the Flamingos had been in the town-painting department last night, it would probably have ended up a fairy watery pink.
For a show advertised as the band's "final Auckland pub appearance", singer/guitarist Dave McArtney and band didn't exactly play with a lot of fire.

The near-capacity crowd eventually made all the right moves, and even danced, but the silence that followed the Flamingos' departure from the stage at 9.40pm was a truer indication of how the audience felt.
Not that the news was all bad. The band's sound is certainly neater and tighter after their recent decision to close ranks and drop a fifth member.
They mixed old with new, featuring seven songs from their album, along with more recent items like 'Divine' and 'Remember the Alamo'. And naturally McArtney's old hero Neil Young got a credit, with a churning, powerful run through 'Powderfinger'.
McArtney does write great songs – especially the album numbers 'Hungry Night', 'The Party' and 'Virginia'. But, live, the band cries out for a touch more drama.
And as for their plans to conquer Australia … After seeing how much Oz bands like Midnight Oil can do with so little in the way of songs, it's a bit distressing to hear how little the Flamingos manage with so much.
--

The Hammond Gamble Band, at the Gluepot, last Saturday. - 7 August 1981, Auckland Star
A final appearance by the Hammond Gamble Band before Gamble packs up his guitar and leaves the country to seek fame, fortune and a big-selling album in the States. And only fitting that the last stand should come at Ponsonby's Gluepot – where, not much more than a year ago – Gamble was playing his last gig with the late Street Talk.
He is undoubtedly a musical phenomenon. He might make an easy target for followers of the newer bands around town, but why should that worry him when he's been filling pubs consistently for six years.
The man loves the blues and wraps that great growl of a voice and his fluid always melodic lead guitar round his old favourites with a warmth and sheer feel that might put a tear in the eye of the hardest soul.
And Stuart Pearce – with him since Street Talk days – ably complements him with his distinctive rolling piano style.
But if there was a case of a band in pursuit of its rhythm section, Gamble and Pearce were it on Saturday. In bassist Bruce Lynch and drummer Frank Gibson Jr, Gamble has stellar sidemen. If only they'd stay at his side.
Gibson's faster-louder-faster approach rolls up and over all but the heavier musical moments and Lynch's relentlessly funky, trebly bass guitar only adds to the rhythmic assault. And their obligatory solos only highlight the problem.
Gamble and his songs survived the play-off, though. Kicking off with a blistering "warm up", 'Five Long Years', he zapped through originals like 'What Happened to Lucy', 'Should I Be Good', 'I'm Kinda Lucky' and, of course, 'Leaving the Country', interspersed with old blues songs like 'Sailing Down the River', 'Further On Down the Road' and a rousing 'I Believe to My Soul', the only time the funky approach really worked.
Gamble was in particularly fine voice and the guitar was exceptional, as always. All he needs now is that hit album.
--

Black Slate, with Herbs, at the Town Hall, last night - 13 August 1981, Auckland Star
Boring isn't a word that should be used lightly. But it's the only descriptive label in line for last night's performance by British reggae band Black Slate.
If justice had ruled last night, the show would have been the other way round – Black Slate opening for local reggae heroes Herbs.
Because Herbs, hot on the heels of the release of their excellent mini-album Whats' Be Happen, were magnificent.
Mixing their strong, melodic original songs with cover versions like '96 Degrees' and Bob Marley's 'Could This Be Love' and an excellent 'Exodus', they displayed the sort of warmth and – more importantly – vitality that Black Slate so sadly lacked.
The Town Hall was packed with Auckland's Rasta and reggae followers, but in spite of singer Keith Drummond's mobile stage presence, the Black Slate approach to reggae was so soft-centred and non-uplifting it begs the label bubblegum, or – in the case of lifeless rendition of their biggest hit 'Amigo' – cocktail reggae.
The best moment came with 'Legalise Collie Herb', from their first album, when the band took advantage of the excellent sound system to turn on the rhythmic power a little.
But the total silence when the band left the stage after 'Boom Boom' said it all. It took more than a bit of rabble-rousing from the stage to bring calls for the encore Black Slate obviously wanted.
I'd have settled for more Herbs.
--

The Gordons, at the New Station Hotel, Tuesday night. - 8 October 1981, Auckland Star
It hits you in the face with a huge roar. The walls buzz with the sheer soni force of it.
And it's causing no end of trouble for the young woman on the cash register selling tickets for the source of all the noise – The Gordons.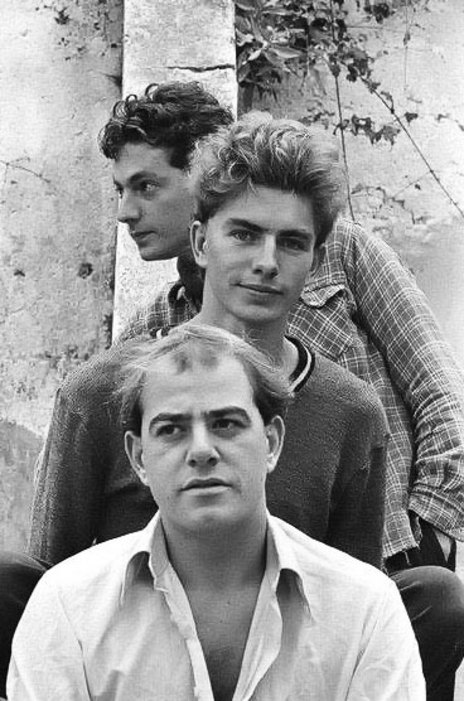 With communication reduced to an impossibility, she employs hand signals and frantic pursuits of those who, in ignorance, underpaid or didn't realise there was change owed them.
The staff behind the bar, meantime, are doing a pretty accurate line in lip-reading thirsty customers.
And, onstage uncoiling another industrial blitz are the three slight and very serious figures who make up the Gordons.
Plagued by feedback and broken strings, the Gordons don't present a particularly vibrant picture on stage. Emanating all the warmth and personality of a dead salamander, they leave the talking to the music.
It talks loudly.
Tuesday's finest moment came with 'Machine Song' which in the Gordons' songbook probably counts as a ballad. Much more than noise for noise's sake, it would be ridiculous at lower volume, dangerous if it was much louder.
It ends and falls like a rock into a silent pond as the audience sits momentarily stunned. Applause would probably shock this band.
The only person looking genuinely concerned is in a moustache and suit, dashing around making worried noises, all out of place in a bar in his own hotel.
The chances of a return engagement look slim, but, for the Gordons, that's become a way of life.
--

The Swingers with Mad Ranks and the Steroids, at Mainstreet last night and tonight. - 14 October 1981, Auckland Star
No one else does it quite like The Swingers and you either love them, hate them or are left a little confused by the whole thing.
The strange thing is that last night an audience that should know and love them more than anyone else, seemed a little of the latter.
Sounding bigger, beatier and louder than ever, and spotlit in a showcase of brilliant lighting, the ex-Auckland band delivered a show as good as anyone could have expected. But they, in turn could have expected a little more excitement from the crowd that filled the cavernous Mainstreet.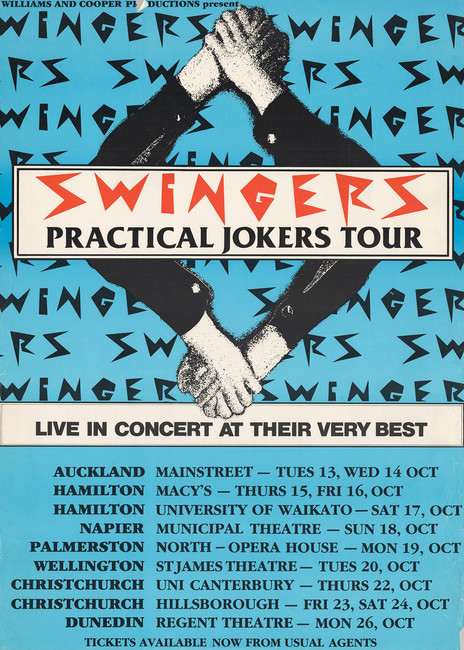 Kicking off with 'One Good Reason', their hit from pre-Australia days, they roared through a set that naturally leant heavily on their new album, Practical Jokers.
In Australia, the band complains, all the audience want to hear is their big hit, 'Counting the Beat'. We got that last night, but it was only one of several highpoints.
And it is the beat that counts with the Swingers. Drummer Ian Gilroy and bassist Bones Hillman play very hard, very together. Over the top, Phil Judd lays his churning, circular guitar motions and his half-yelped, half-yelled vocals.
And the lighting, whether casting giant shadows of the band on their cloud-like backdrop or swirling them into a sort of neon rainbow, was stunning.
With their album firmly under their belts and a sound and character so different it hurts, the Swingers are going to make big waves with their pop music for the end of the world.
--

Labour Pains featuring DD Smash, Broken Dolls, Newmatics, Who Slapped John, Billy Hood and the Furys and the Willie Dayson Blues Band, at the Gluepot on Monday. - 29 October 1981, Auckland Star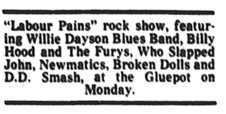 Maybe we're getting too much of a good thing, but six bands for $5 seemed ridiculously good value.
Though not good enough value, it seems, to fill the Gluepot. The place should have been bulging at the seams. It wasn't – even at the bargain-basement price of 85 cents per band, which had to spell a certain amount of financial pain for the promoter.
Anyway, the bands played on – and splendidly too.
First up came the Willie Dayson Blues band, now a five-piece with the addition of pianist Malcolm Smith. The band has loosened up considerably, even throwing in a tasty 'Stormy Monday' for good measure.
Fine playing, especially from Smith and guitarist Dayson, but often it was hard to pick up the solos with frontman Brian Glamuzina going at the vocals and harmonica with a vengeance that often swamped his sidekicks.
Billy Hood, formerly of the Blue Flames, stood in for regular Furys frontman Dave McLean for Monday's set. And, with the band expanded temporarily with the addition of guitarist Steve Hubbard, they sounded particularly tight and rocky.
Hood, though, specialising in a sort of Presley-esque reading of the rockabilly songbook, seemed distinctly ill at ease and came unstuck on 'Stuck on You', when his twitching knee routine got the better of his efforts and floored him.
He never quite recovered.
Who Slapped John never faltered, though. A very powerful three-piece with loads of strong originals in the same vein as English new wave heroes Echo and the Bunnymen, they played a hard and furious set, winning the best reception up to that point.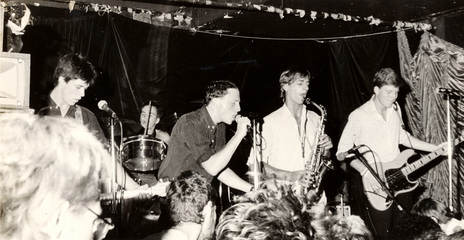 The Newmatics, too, did themselves proud. The seven-piece band has moved far beyond its early jerky ska impressions and, bolstered by their soaring three-piece brass section, they hit high points with their own 'Doobie Do Boy' and a frantic version of 'Land of 1000 Dances' before clearing the stage for Broken Dolls.
And the Dolls got the rough end of the stick for their set, with time fast running out. But, compressed into a shortened set, they seemed to play with more than their usual energy. They've got some good songs and real talent in singer/saxman Dave Spillane. A sad lack of real stage presence remains their only real problem.
Then came the stars of the moment, DD Smash. And, with the usual 5 percent volume increase per band, were they ever loud.
The bass moved the floor, the drummer moved my table, the guitars moved my drink – but the singer moved my heart. Corny maybe, but, in Dave Dobbyn's case, very true. The guy might wear his heart on his sleeve, writing more love songs than you could poke a bleeding heart at, but they've got more sheer feel than a massage parlour.
'Lipstick Power', 'Silence', 'Solo', 'Blue Note' and a powerful version of the Talking Heads' 'Heaven' were just some of the high points in the band's fiery set.
All in all, a notably painless labour.
--
The Neighbours, at the Gluepot, last night and until Saturday. - November, 1981, Auckland Star
There's something radically wrong here. The seven-piece Neighbours are blessed with three stars and a repertoire that mingles solid-gold soul classics and sharp original reggae rockers – and yet it does not work.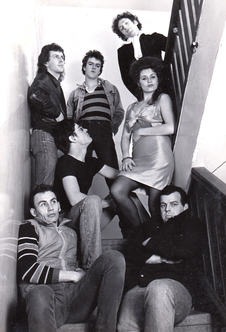 Singer/saxist Rick Bryant and Herne Bay's very own Tina Turner, Trudi Green, are both blessed with big, tough soulful voices and oodles of stage presence. Singer/guitarist Sam Ford plays it lower down the key, but no less effectively with his lead vocals.
However, overall, the band swings with all the co-ordination of a sack of boxes.
When Bryant submerges himself so effectively in his soul fantasies like 'Can't Turn You Loose' and 'Everybody Needs Somebody', the band just wilts around him.
The brass was so far out on 'Can't Turn You Loose' they may as well have been on Rangitoto.
Voices like Bryant's and Green's need to spar with a band than can muster 10 times the punch the Neighbours managed last night.
Green looked and sounded great on the few occasions she was let loose on the small gathering last night. Hand on aggressive hip and only an abrupt mini between the top of her bouffant and her feet, she spat fire as the band jogged along behind her.
It's Ford who fares best with his tight and catchy reggae-tinged songs. And their debut single, 'Love Is Never Cruel', does sound like a hit.
But, without the punch, precision and aggression their songs deserve, these Neighbours may just stay on the other side of the fence.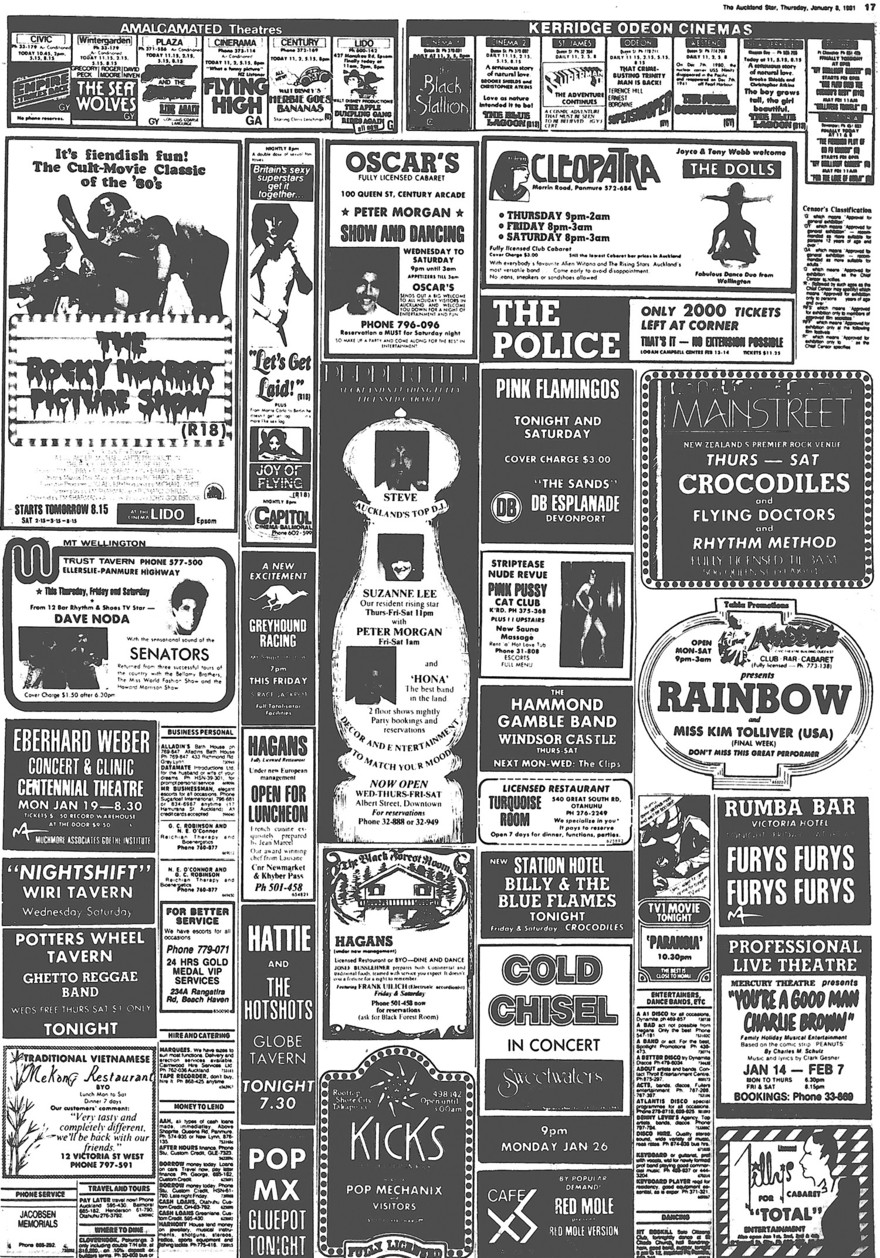 --
Read more: Colin Hogg – the Tinnitus Years, part one
Read more: Colin Hogg – the Tinnitus Years, part two