The history of Christmas songs recorded in New Zealand for commercial release only starts in 1949 after the establishment of Tanza Records. At the time, rampant commercialism had yet to overtake the occasion, not just in New Zealand but the western world in general. Apart from newspapers advertising to households to order their Christmas ham and poultry, and messages from the Post Office advising the cut-off date for sending cards and parcels to the Mother Country, mainstream advertising for Christmas took place in a comparatively small two-week window (compared to the two-month build-up in modern times). It generally started after the first week of December.
Christmas records had a limited period of sales potential before they were relegated to the bargain bin.
Christmas 1949 in New Zealand was fairly similar to all Christmases since the turn of the century. Advertising aimed at the fathers and husbands centred around whiskey, tobacco, tobacco accessories and ties. For women, it was whiteware, Hoovers or lingerie. In 1949 plastic was still a year or two away, so children's toys were either wooden or tin. Teenagers were yet to become an economic force in record marketing and purchasing.
The aforementioned small window leading up to Christmas Day meant that Christmas records had a limited period of sales potential before they were either relegated to the bargain bin or stored away, before being trundled out for the following Christmas. Record companies had to have complete confidence in their Christmas release schedule. This wasn't a unique situation for us in New Zealand: it is interesting to note that the same dilemma existed in the world's biggest market, the United States.
In the US, the lead up to the Christmas 1949 saw few new releases, while popular seasonal releases from previous years still sold well, including Roy Rogers' 'Rudolph The Red-Nosed Reindeer' and Bing Crosby's 'White Christmas'. The latter recording of Irving Berlin's perennial was now into its eighth Christmas, with sales hitting six million just before Santa arrived.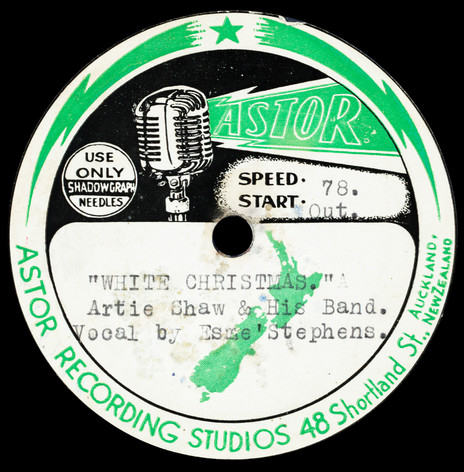 'White Christmas' was recorded in New Zealand six years before the release of 'Blue Smoke'. Auckland singer Esme Stephens was the first known New Zealander to record a Christmas song when her performance at Auckland's St James Theatre in August 1943 was cut to acetate using a landline to a nearby studio. Her accompanists were stars: Artie Shaw's US Navy Band, in New Zealand with the Marines on their way to the Pacific war.
The surviving recording, although not in great fidelity or condition, highlights the distinctive sound and quality of Shaw's band while Stephens shows her world-class talent, even though she must have been very nervous singing with one of the most well-known big bands of the era. (Shaw is not on the recording: he stepped out while Stephens took the spotlight.)
The first recorded New Zealand-written Christmas song is 'Best Wishes', by Sam Freedman (who wrote 'When My Wahine Does the Poi'). As sung by Pixie Williams it was a good seller for the Tanza label after its release in late 1949. Murdoch Riley recalls, "Because of its South Pacific flavour, the song sold well throughout the following year, beyond the Christmas period. It was only because of the problems with the matrix master that prevented a second pressing."
Tanza went on to release another 11 Christmas songs on 78s during the company's eight-year career. All of them were cover versions of overseas releases about snow, sleigh bells, and reindeer with not a beach, barbeque, jandal or pavlova in sight.
Most of the Christmas releases were adequate cover versions of popular overseas seasonal hits. Pat McMinn's version of 'I Want A Hippopotamus For Christmas' was a big seller and remains popular 60 years later, which possibly had more to do with her mature and bouncy vocal style (she would have been in her mid-20s at the time) compared to the original version by Gayla Peevey, whose 10-year-old voice sounds cute but can become rather polarising to most.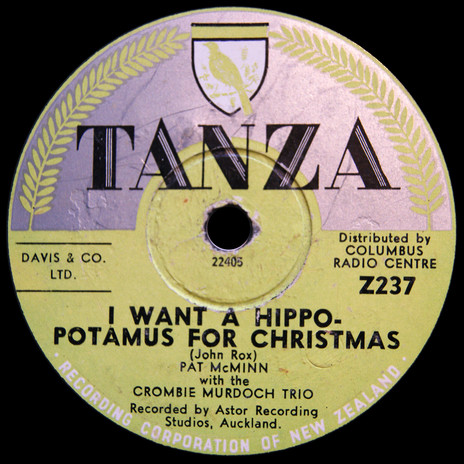 Local themes came late in the decade when Daphne Walker, with Bill Wolfgramm & His Islanders, recorded Freedman's 'Best Wishes' after the original Pixie Williams master couldn't be salvaged. The Tanza album Melodies Of Maoriland (Daphne Walker with Bill Wolfgramm & His Islanders, 1956) also included Freedman's song 'New Zealand's Christmas Tree'. Although the lyrics display the coyness of the period Walker's lilting vocal remains timeless and transports the listener to their happy place.
Each Pohutukawa showing
It's time for misletowing
You will feel a happy feeling
The Christmas bells were peeling
It's a sight that's quite revealing
New Zealand's Christmas Tree
Eldred Stebbing's separate Zodiac and Stebbing labels began releasing 78s in 1951, and there were two Christmas releases that year: Buddy Kaine's 'Jolly Old St Nicholas' and a western swing version of 'It's A Marshmallow World' from Aileen Keyes, whose name has vanished into the mists of time. Keyes was accompanied by Dell Harris and the Synchrotones on the record, who was one of the more colourful characters from the period.
The last local record to be released on both 78 and 45 was Bill Sevesi and His Novelty Five's record 'Christmas Time', released in late 1957. The record is rather pedestrian and was quickly turned over in favour of the other side, 'Go Man Go', which was written by Sevesi after many requests from fans to record something in this new fad called rock'n'roll.
Although the 1960s was to become a decade of major social and cultural change, the first few years were a carryover of the 1950s, with the same small commercial window leading up to Christmas. Longtime music retailer and record company rep Lorayne Tennet confirms, "The lead up to Christmas was still very short, it was risky with local and overseas Christmas records so I was always more inclined to be very careful with what I ordered. In those days there were no returns."
1960 was a hectic year for The Howard Morrison Quartet. As well as touring, they recorded and released a staggering 12 new 45s during the year including two Christmas singles, 'Virgin Mary' and 'Christmas'. The songwriting credit for 'Christmas' is given to American country singer-songwriter Jenny Lou Carson who wrote a song in 1949 titled 'Christmas' – in actual fact the song that the Quartet sing on the record is not Carson's song but 'Santa Claus Is Back In Town', a Leiber and Stoller composition originally sung by Elvis Presley on his 1957 Christmas album. The Quartet's version is poorly recorded and possibly done in one take. Howard sings in his best Elvis voice while the Quartet do an admirable Jordanaires impression as they "ooh" and "aah" behind Howard's quivering Elvis-styled vocal.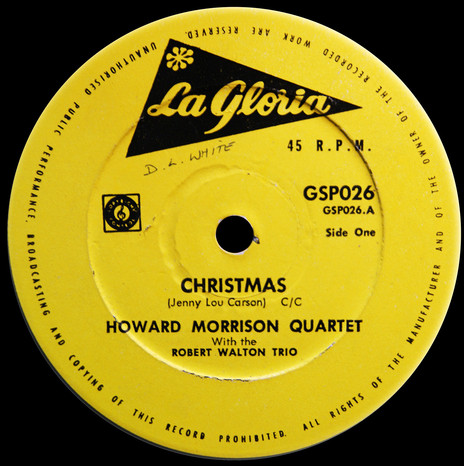 The Q-Tees was a popular vocal group based around the Tawharu brothers from the Manawatu. For the Hastings label Soundex in 1960, the group recorded 'Silent Night' in one of the member's houses: lead singer Nepia Tawharu sang from the hall cupboard while the rest of the group was in the lounge. The group had high hopes for 'Silent Night', but its chances were quickly scuttled when NZBC radio banned the record: the director of programming at the time labelled the doo-wop version as unChristian and bordering on blasphemy. (The NZBC then was "full of church organists," DJ Justin Du Fresne once said.)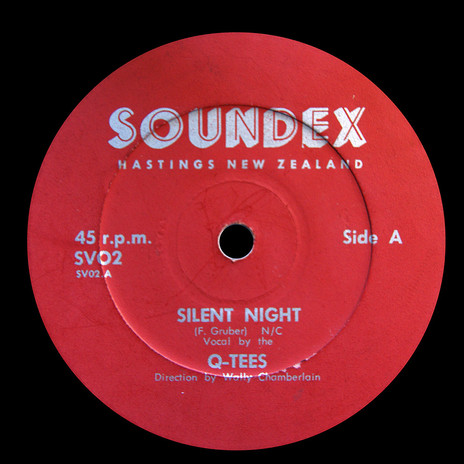 It was a different story for 14-year-old Gisborne school girl Julie Nelson, who charmed the country with her recording of 'Sticky Beak the Kiwi' in December 1962. The song's lyrics were written by Bob Edwards of Gisborne who, up until 'Sticky Beak', was best known for his folk song 'Old Billy Kirk'. By all accounts, Edwards was determined to write a children's Christmas song that would become a seasonal favourite for years to come. Neil Roberts was approached to write the music, which proved to be an easy task as he had a tune already running around in his head which proved to be a perfect match to Edwards's witty lyrics about a Kiwi bird who notifies Santa that he will be taking over the Southern Hemisphere Christmas present run:"Now Sticky Beak the kiwi, that Maoriland dictator, will not allow old Rudolph's nose this side of the equator".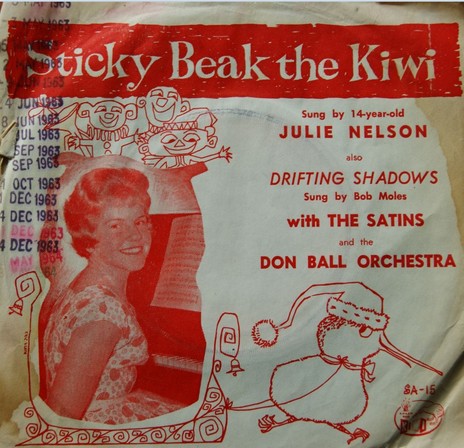 As can be seen by the date stamps on the accompanying battered NZBC picture sleeve, the record was played at regular intervals throughout the year (presumably in request programmes). Nelson went on to record four more singles on the Kiwi record label during the following year until stage fright and shyness curtailed her career at age 15.
Paul Walden returned home from the UK in 1962 after three years away, and resumed his successful recording career with HMV. Walden went on to have several big sellers during the mid-sixties for the label, including the tearjerker 'Molly' and the Kiwiana classic 'No Moa'. By default, Walden became our unofficial Christmas song minstrel from 1965 onwards. For many years his poignant December 1965 single 'Penny Christmas Card' remained a popular seller and a staple radio request item.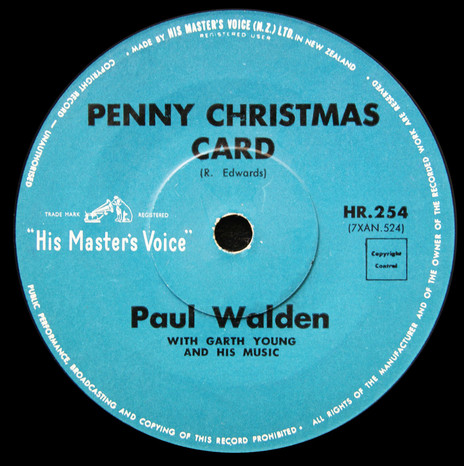 The popularity of 'Penny Christmas Card' was unchallenged by 'Merry Christmas You Suckers', also released that year by Les Andrew. Incomprehensibly, it was the A-side, whereas on the back was Andrews's well-known 'Click Go the Tollgates'. Written by Paddy Roberts, the first verse went:
Merry Christmas you suckers
You miserable men
That old festive season is with you again
You'll be spending your money on cartloads of junk
And from here to new year you'll be drunk as a skunk.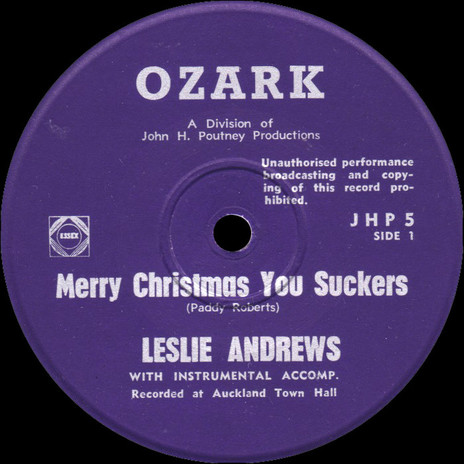 For the Christmas of 1966, Walden's own composition 'Santa Is Crying Tonight' came out on HMV, as well as a duet version with John Hore on the Joe Brown label. (Walden's version featured a copy of Buck Owens's 'Santa Looked A Lot Like Daddy' on the B-side. Walden and Hore also released 'Gonna Ring Santa in the Morning' on the Joe Brown label: this song tells the story of a young boy whose father has locked himself in his room so that he can play with his son's new train set, while the young son threatens to ring Santa.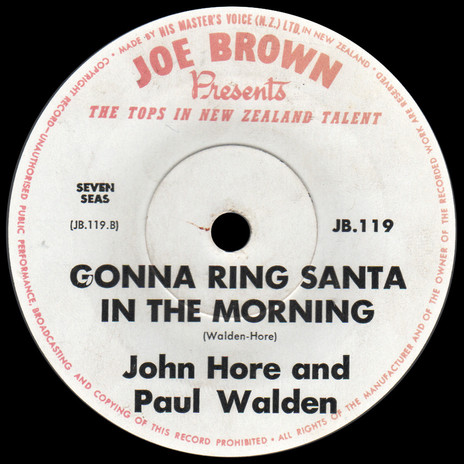 By the mid-60s the teenager was finally being catered for in Christmas advertising with products including record vouchers, summer clothing, portable record players and hair rollers for the young teen mod-ess. Larry's Rebels released an EP featuring five traditional Christmas songs at the height of their popularity in late 1967; the previous Christmas the group had performed Christmas carols at a North Shore church, which received widespread media attention when the church's congregation quadrupled for the service.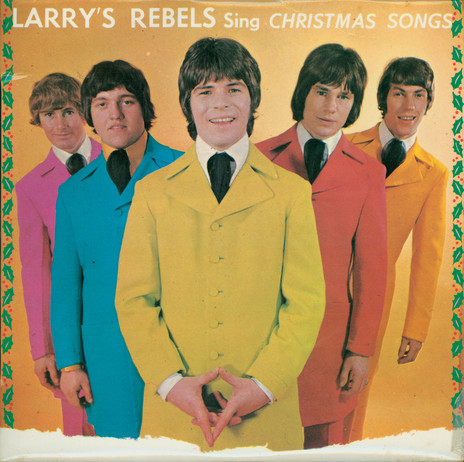 Christmas 1967 also saw the release of popular Auckland band The Dallas Four's falsetto and horn-drenched version of 'White Christmas', which was recorded in a similar style to American group The Happening's hit revival of 'I Got Rhythm' earlier in the year.
The following Christmas of 1968 saw The Fourmyula release their second album, Green B Holiday. The second side of the album opens with a fey little ditty titled 'Mummy Told Me', which is sung by lead singer Carl Evensen in a little boy's voice: he recalls his mother's warning that only good boys get presents from Santa. Overall the song has a certain charm but would be the least popular song in the group's 70-plus recordings.
Also in 1968, The Fourmyula's HMV label mates The Avengers released a fan club record, complete with personal individual messages from the group members, a few snatches of seasonal fun with their version of 'Jingle Bells' and a singalong ode to the delights of Fanta sung to the tune of Eric Burdon and The Animals single 'Good Times'. The disc was bookended with soundbites from their new single 'Days of Pearly Spencer'.
And, from Nick Nicholson and The Neketini Brass, A Merry Christmas: an EP of Christmas songs done in a Herb Alpert style.
The Footsteps was an early 70s Christchurch pop group led by singer and guitarist Neville Barrie. The group's five singles between 1972 and 1975 included 'Christmas Time' in 1973, which became a popular local Christchurch festive hit.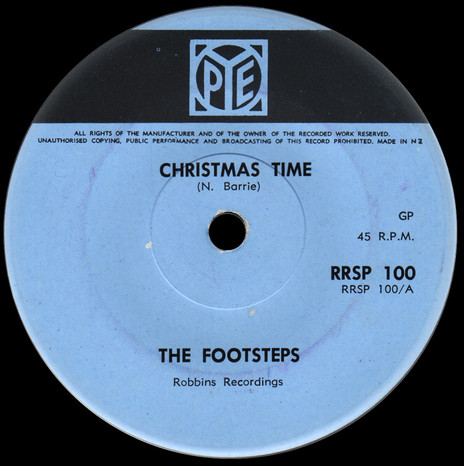 Dalvanius Prime spent most of the 70s in Sydney with his group the Fascinations. In 1973 the group released a four-track EP of Christmas songs on Reprise titled Christmas Time With Dalvanius & The Fascinations.
New Zealand in the 1970s wouldn't have been the same without Fred Dagg: a large section of the population would have received his Greatest Hits album as a present. Had his recording of 'Star of Wonder' been released in the early 1960s, it might have shared the same fate as the aforementioned Q-Tees' recording of 'Silent Night': banned by the NZBC.
The Radio Hauraki Good Guys released their version of 'I Saw Mummy Kissing Santa Claus' and the sobering 'Please Daddy Don't Get Drunk This Christmas' on the Family label in 1975, and returned the following year on EMI with a Mike Harvey original song, 'Boy I Wish We Had Xmas Everyday'. You can't keep a good team down and The Hauraki Good Guys emerged again in 1978 on the Philips Music For Leisure label with their versions of 'White Christmas' and 'Feliz Navidad'.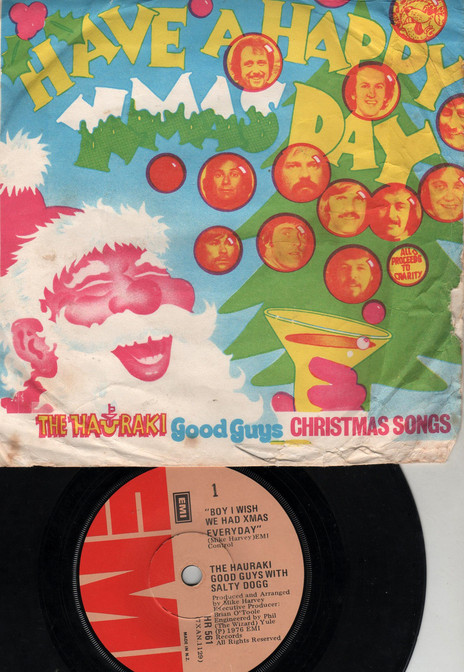 Many of our top stars recorded Christmas songs in the 1980s. Split Enz revived the trend of fan club-only records when they sent their Friends of the Enz fan club members a 13-minute, coloured 7" vinyl disc of personal greetings, skits and their impromptu interpretations of traditional Christmas songs. 'We Wish You A Merry Christmas' comes to a grinding and flat halt when they forget the words. The mayhem continues with a version of 'The First Noel' which quickly degenerates into a fun lament to Paekakariki; the group sings the verse to piano accompaniment and at the end of the verse they sing, "Born is the king of Paikokareke" instead of Israel (Is -Raay- El). While Tim Finn – in a vaudeville-style voice – explains to listeners where Paekakariki is, the Enz sing the "noel noel" chorus. This is followed by a Midnight Oil impersonation, before Neil Finn thanks everybody for all of the presents from fans for two-week old baby Liam, whom he reveals was born with a full stock of hair and has long piano-playing fingers.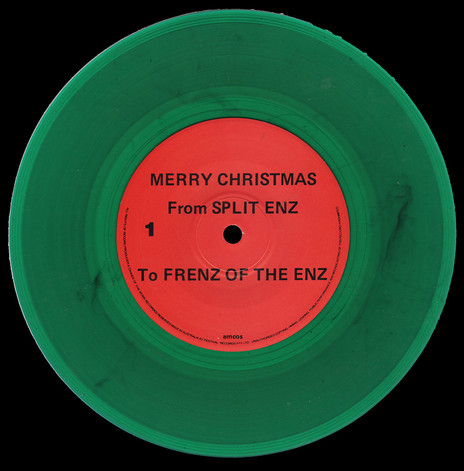 'I've Never Seen Snow (In The Summertime)' was written by Eddie O'Strange in 1981 for a proposed pantomime by a Kilbirnie school with the working title Twank, based around the traditional Widow Twanky character. However, the school decided to produce another one of O'Strange's pantomimes based on Pinocchio instead. In the meantime, the organiser of Upper Hutt's children's choir, the Joy Germs, approached O'Strange to produce a single for fundraising purposes. 'I've Never Seen Snow (In The Summertime)' was recorded at Marmalade Studios and went on to sell 1,000 copies for charity.
Roslynn Mahe was a nine-year-old One Tree Hill schoolgirl when she recorded 'Telephone Mister Santa Claus' in 1983 which was written by local composer Bruce Campbell. Her voice resembled a young Michael Jackson, which adds to its charm. She had appeared on numerous local TV programmes including Stars On Sunday and the 1982 Telethon, and next turned up as a 30-year-old competitor on the Australian version of X-Factor in 2005 before being eliminated in round five, which unofficially placed her in a credible fifth place.
We needed cheering up during December 1985: our dollar was in collapse, plunging below the 50c American dollar mark. Bromhead published a cartoon in the NZ Herald of a Christmas card that said, "You're going to have an un-merry Christmas and a non-prosperous New Year. Love OECD." It was just as well that we had Billy T James: he was coerced by Radio Hauraki disc jockeys Phil Gifford and Kim Adamson to guest on their breakfast session and they cobbled together a song for him to sing. James's 'A Maori Christmas' – to the tune of Jose Feliciano's 'Feliz Navidad' – has remained an enigma ever since. It's a version many of us know without realising that it was never released and was only ever a slice of Radio Hauraki breakfast skit that would be dusted off and played on air for the next few Christmases.
But James put all kidding aside for 2 mins and 30 seconds and showed his almost-forgotten vocal prowess, honed from years of singing with The Maori Volcanics. He delivered a heartwarming and emotional rendition of 'When A Child Is Born'. Originally a hit for Johnny Mathis, James's version was released on his Live At Pips album and as a single (Pagan, 1985). It has remained a seasonal favourite ever since and a subtle reminder that Christmas has a serious side to it.
In the same year Missy Teka recorded a 12" four-track EP of Christmas songs sung in te reo, featuring a star-studded line-up of musicians: Billy Kristian (bass), Stuart Pearce (keyboards), Tuhi Timoti (guitar), Gordon Joll (drums), Merv Thomas (trombone) and the Third Form Choir from Queen Victoria School. Bernie Allen produced and John Yule engineered the sessions at Mascot Studios.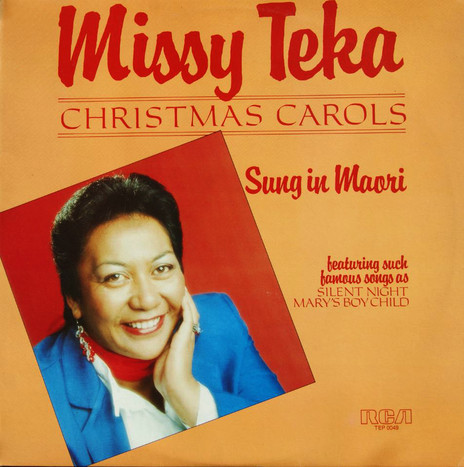 Ricky May recorded an album of Christmas songs in 1986 to celebrate the 20th birthday of his daughter Shani. When she was born Ricky wrote a Christmas song for her, so releasing an album of popular Christmas songs on the eve of her 20th birthday seemed to be a logical step for him.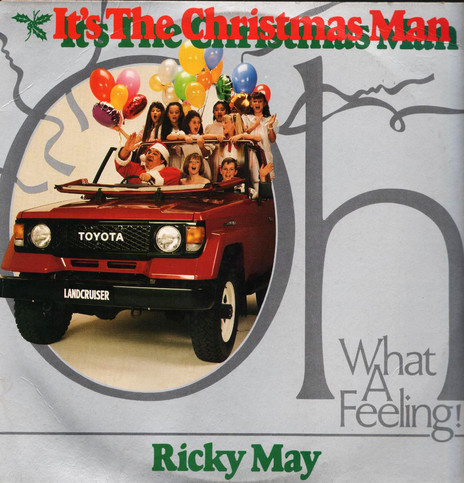 John Rowles recorded his own song 'Christmas All Over the World' in 1989, which manages to incorporate Christmas greetings in 18 different languages (if you include "Gidday from Australia", otherwise it is 17).
Bulldogs Allstar Goodtime Band started off the 1990s with the release of a four-track cassette titled 'Upside Down World' (a fundraiser for Ronald McDonald House). While the song '(Down Under) Santa Gets A Suntan' is not well known, it has all the hallmarks to become the great New Zealand singalong for Christmas. But we don't do that sort of thing, so it will remain a best-kept secret:
Down under Santa gets a suntan
Rudolph puts zinc on his nose …
Tom Sharplin and Shane released the George Thorogood song 'Rock n Roll Christmas' on cassingle as part of an early 1990s Christmas TV special that was shot in the courtyard of Telecom's brand-new office in Auckland's CBD.
An institution was launched in 1994: the Coca-Cola Christmas in the Park, an annual free charity concert held in several cities, with the biggest in Auckland. Sir Howard Morrison debuted tracks from his new album Christmas Collection (BMG) and it entered the Top 20 album chart the week before Christmas.
The stars from C'mon 68 – Ray Columbus, Larry Morris, Suzanne and Shane – regrouped in 1998 and toured the North Island; the reunion became a TV documentary, C'mon: on the road again. At year's end they recorded a CD single, 'I Saw Mummy Kissing Santa Claus' b/w 'Please Daddy Don't Get Drunk This Christmas': the same pairing as released by the Hauraki Good Guys in 1975.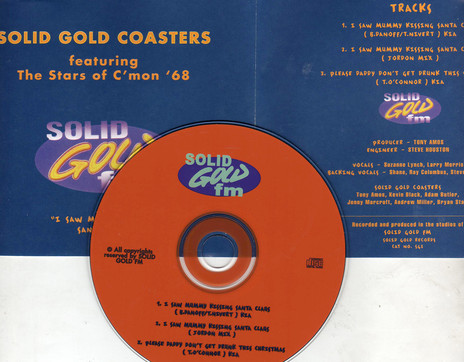 Chris Jones released his popular 'A New Zealand Christmas' single in 1998 and managed to cleverly name check 'Snoopy's Christmas' within his local message. Jones also included 'A New Zealand Christmas' on his 1999 album The Human Dynamo in February 1999 (Wayne Mason appears on the track).
Possibly the strangest collection of New Zealand Christmas songs was Christmas In The Summertime (Zero, 1998), a collection of 20 punk and alternative rock bands and soloists. While the selections are interesting the tracks are mostly poorly recorded, in keeping with the punk ethos.
More traditional – and successful – is the 1999 song 'It's Christmas In New Zealand' by Rosy Parsons, which is more commonly known by Dennis Marsh's version from his 2001 album of that name. The song was revived in 2016 with an all-star line-up based around the news team from TV3's Story, accompanied by a diverse bunch of celebrities including Frankie Stevens, Dennis Marsh, United Future Leader Peter Dunne, chef Nadia Lim, Briscoes lady Tammy Wells and radio host Joe Cotton; proceeds went to the Kaikoura earthquake appeal.
There won't be any snow to make the land look white
The sun won't set down south 'til after nine at night
You won't be needing furs or woolly hats and gloves
It's time for outdoor living in the land we love
Christmas on the Rocks, released in 2001 on the Fast Food label, is a collection of indie bands with Christmas-themed songs from The Datsuns, The D4, Shaft, The Hasselhoff Experiment and others. One notable entry is from The Brunettes, who sing 'Tonight Mrs Claus Sleeps Alone'.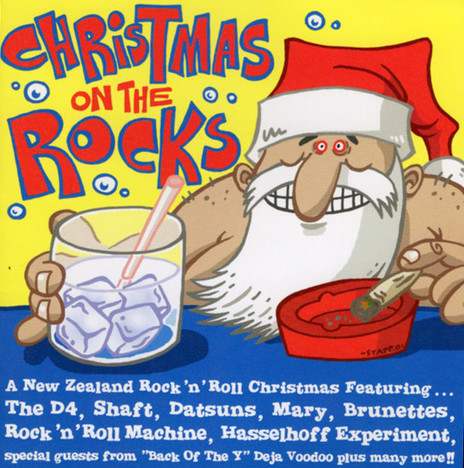 Producer Monique Rhodes put together a fundraising CD for Plunket in 2009, Merry Christmas Baby, that featured contemporary singers Jordan Luck, Hollie Smith, Shona Laing, Op Shop, Nathan King, Annie Crummer and Jackie Clarke singing "new and classic Christmas songs". The CD was a success and reached gold record status after its second week of release.
Rhodes replicated the success the following year with So This Is Christmas, a non-charity CD released through Sony. Again the CD featured an impressive and eclectic list of local artists including The Feelers, Jordan Luck, Peter and Margaret Urlich, The Chills, The Patea Maori Club, Dragon and Sharon O'Neill; it charted on 22 November and, like its predecessor, was gold by the following week.
Christmas 2016 saw the release of A Beautiful Christmas featuring Frankie Stevens and his sister Gina Mills. The project was the brainchild of producer Dick Le Fort, with proceeds going to the Hands Across The Water, a charity to help the countless Thai children who were left alone and homeless by the 2004 Boxing Day tsunami.
In contrast to 1949, the Christmas music industry now starts in early November. Most record shops are now controlled by chain stores, which have sale-or-return policies in place enabling them to buy large amounts of product around Christmas and other annual events such as Father's and Mother's Days, after which they return unwanted stock.
In 2017 "popera" trio Sol3 Mio's CD A Very M3rry Christmas debuted at No.2 on the New Zealand Music album chart on 20 November. Ten days later the premiere of the movie Kiwi Christmas took place; the soundtrack by Tom Lloyd features a song 'You Got My Love' performed by Barnaby Weir.
There are now very few local Christmas singles released physically: in 2016 the Story recording of 'Christmas In The Summertime' was a digital-only release. New Christmas-themed songs are more likely to be heard as homemade clips on YouTube. An example is 'Kiwi Christmas' as recorded at the Depot Artspace by a group called The Kerr Street Crew: if released in earlier times it would have been a certain big seller.
A notable exception to the shift to digital came in 2018, when the Beths released a 7" vinyl single of a guitar-heavy take on the 1940s Yuletide standard 'Have Yourself A Merry Little Christmas'. On the B-side was the demo of their "here comes summer" hit 'Happy Unhappy', and all profits went to Girls Rock! Camp Aotearoa and Women's Refuge.
In May 2019, RNZ afternoon host Jesse Mulligan announced that the station was to run a competition for an original New Zealand Christmas song. With a deadline of eight weeks, contestants had to quickly get into Christmas mode. Nearly 300 entries were received, said Afternoons producer Caitlin Cherry, "Everything from church choirs to Christmas goblins and at least 25 songs about Pohutukawa trees." A selection of 20 tracks were previewed on air in August, and Auckland group Beachware's entry 'Take Away the Tree' was named as the winner.
In 2020, Frenzy Music released a CD of New Zealand Christmas songs. Merry Christmas New Zealand is the first collection of songs that reflect summer Christmases in the southern hemisphere. Songs featuring snow, mistletoe and holly were replaced by songs about beaches, pohutukawa and barbeques. Six of the tracks were finalists in the 2019 RNZ competition, including Beachware's winning song. With a spoken-word passage and lyrics by Dominic Hoey, 'Take Away the Tree' conveyed how challenging Christmas Day can be.
I hate this time of year
But I'm quietly glad I'm here
And mum will see all my tattoos
And shake her head like I'm bad news

But she still wants me around,
Still wants me around
It's Christmas time, we've got our health
We put our differences aside
--
Grant Gillanders compiled the CD Pohutukawas & Pavlova: 60 Years of Kiwi Christmas Songs, released on the Frenzy label in 2012, and Merry Christmas New Zealand: the Best Kiwi Christmas Songs of All Time (Frenzy, 2020)