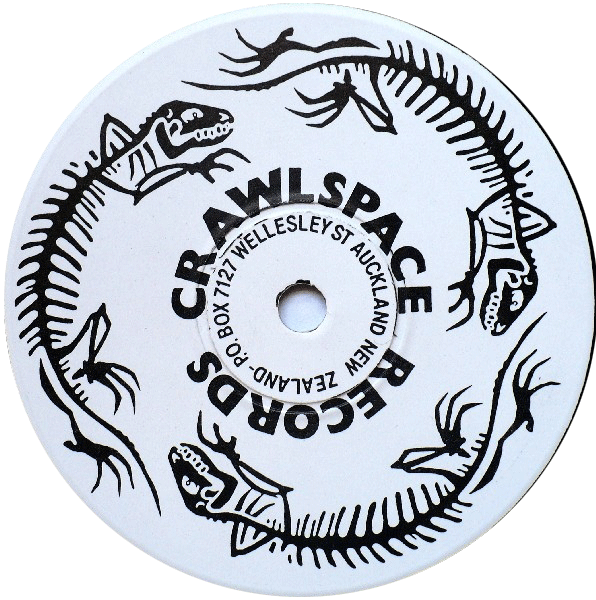 Thurston Moore is standing at the counter of Crawlspace Records in Commerce Street in downtown Auckland with a copy of The Pin Group's Go To Town EP in his hand. He's so tall his head is half hidden behind a roof beam in the low mezzanine space.
I'm trying to reconcile the fan-ish Moore with the untamed Sonic Youth who'd chopped out their noise rock anthems to a crowd dancing and swaying in demonic waves the night before. But it's unmistakably him on the rare record trail, the morning after his band Sonic Youth's 13 January 1993 show at Auckland Town Hall.
The Pin Group is one of New Zealand post-punk's rarest records and few local music fans are aware of it. No matter. Thurston wants the five-song EP. It's in his little blue book. He wanders off, flicks through the bins again and returns with This Kind Of Punishment's Beard Of Bees then opens the book again.
"What about Double Happys' Double B-Side single," he asks, grinning wide and telling us in that soft eastern American gee-whiz twang that his tour manager turned him on to New Zealand's rich-post punk legacy. The pile on the counter swells with the Flying Nun release of Sonic Youth's Sister, Alastair Galbraith and Graeme Jefferies' 'Timebomb' and Alms For Children's Alms Not Arms EP.
Thurston wants The Stones' Another Disc, Another Dollar EP and looks shattered when it's not available. This was no idle infatuation. Moore was clued up on New Zealand's left field sounds. Sonic Youth had The Dead C as support that tour. On their previous visit in January 1989, they requested Bailter Space and got the ferocious S.P.U.D. and The Verlaines.
The American post-punk underground had exploded into the mainstream and mad money was being thrown at the biggest acts from the still thriving scene. Right at the core of that forment was Sonic Youth, who had become tastemakers for a major record company. Even then, I'm surprised at how large the alternative scene had become in New Zealand. The tide had turned that quickly.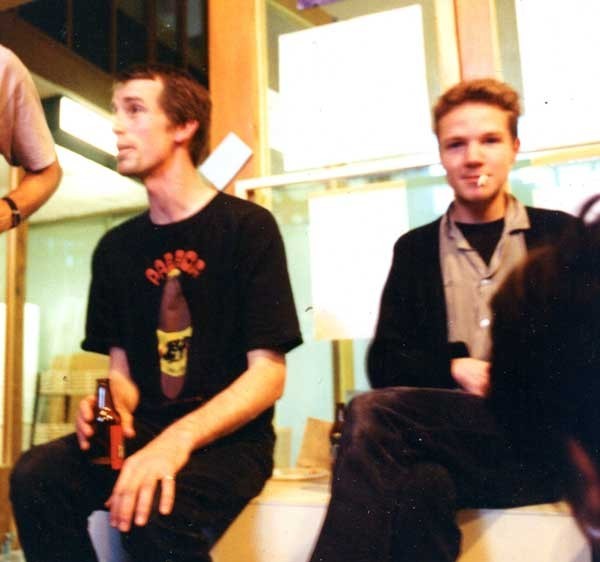 13 Commerce Street
Mike Peters from Ye Old Book Cellar made Crawlspace Records real. Mike had a mezzanine space up the back of his well-stocked comic and bookshop in Commerce Street that my brother Grant (Gonzo) surprised us all by renting in mid-1992 for a new record shop. It was a not untypical beginning or locale for an independent music shop in the 1990s.
The Crawlspace Records that Gonzo managed was an import-heavy independent record store stocking every local release.
The Crawlspace Records that Gonzo managed was an import-heavy independent record store stocking every local release. It was a small personal space for music lovers. My youngest brother Stu, a good listener who'd been around music freaks for years, was the perfect counter guy. He moved up from Paeroa to do the job after finishing up at University of Waikato.
It helped that the live venues for emerging groups were in that part of town: Punch and Judy's was just across the road on Fort Street, and POD opened on the second floor of Imperial Arcade at the lower end of Queen Street. For bigger acts there was Squid in nearby O'Donnell Street and the Pelican Club a short walk away in Elliott Street.
As the 1990s took hold, the American underground pushed triumphantly into the mainstream and alternative music became ever darker and noisier. Bailter Space, Skeptics, Lung, Sticky Filth, Salad Daze and S.P.U.D. and an array of lesser lights satisfied the local need. Touring groups Fugazi, Pavement, L7, Buffalo Tom, The Lemonheads, Shellac, Bad Brains, Dead Moon, Juliana Hatfield, Belly, DOA, Suicidal Tendencies, Butthole Surfers, Kristin Hersh and Mudhoney brought the noise of America's best to New Zealand stages.
The 1990s is one of the least understood and celebrated periods in New Zealand's punk and post-punk history. Which is all the more surprising as it was so full and busy. Masses of independent record labels sprung up across the indie world and New Zealand's charts hosted the most popular groups.
In 1992 and 1993 alone, Nirvana played (twice) and there were tours by Jesus and Mary Chain, Suicidal Tendencies, Sonic Youth, Dinosaur Jnr, The Lemonheads (twice), Buffalo Tom and Afghan Whigs; there were shows by pioneers such as Lou Reed, The Clash, Big Audio Dynamite, David Byrne, Talking Heads (twice), B52s, The Smiths, REM (twice), New Order, Madness and Iggy Pop, a mix of old and new all released chart albums. The hit presence of the local contingent of The 3Ds (twice), David Kilgour, The Chills, Head Like A Hole, These Wilding Ways, The Mutton Birds, Bailter Space, Straitjacket Fits, The Bats, Holy Toledos and JPSE further indicated the fresh surge's popularity. Crawlspace stocked them all.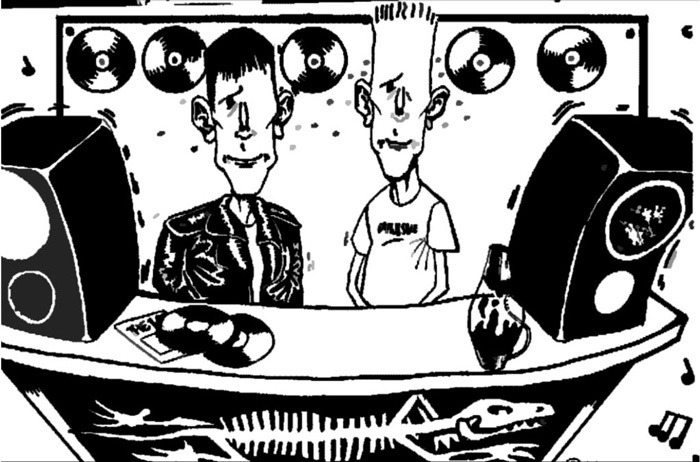 The famous visitors kept arriving. Pavement stopped in as did The Chills' Martin Phillipps, who drew a cartoon fish on the wall beside Thurston Moore's earlier scrawled message – "All the money's gone."
A capping pub-crawl had gone feral and the bottles were raining down.
The Waiheke Island ferry docked nearby and I'd drop into the shop on my way to and from work on College Hill at Metro. I liked the contrast – from upwardly mobile to red light punk. Pretty soon I stopped going into work at all and nestled down in my true urban home.
I didn't even blink when late one afternoon a full-blown mini-riot erupted just around the corner from the shop, on Fort Street outside Park In The Bar. A capping pub-crawl had gone feral and the bottles were raining down. Splinters of glass prickled my legs as I edged around the police bundling students into a paddy wagon, whose new occupants loudly sang the words to Beck's 'Loser' - "I'm a loser, baby, so why don't you kill me". Better than TV.
The Crawlspace plan was always to release New Zealand indie music on 7" singles. But in the early 1990s Auckland had little that was worth releasing. Palmerston North proved more fruitful at first. The Manawatu city was busy with good acts on Yellow Bike Records, whose groups tended to the dark and rock whereas the one that pricked Crawlspace's ears was the full-on folk-strumming Feast Of Stevens, who produced a brilliant seven song CD, Etch, for Christchurch indie Failsafe Records.
Stu and I had caught Feast Of Stevens live with Palmerston North punks Noddy On The Cross and The Lils at the Dog Club in Newton Road on 4 May 1991. If anything, they were better in the raw than on the CD.
The student quartet had already recorded a follow-up album with Nick Roughan at York Street Studios in Auckland in February 1993 so Crawlspace snapped up 'Amsterdam', the standout song, together with 'Neatly' and 'Promise' for the flipside. Three hundred copies were pressed up in Australia. But by the time the upbeat folk rock was released, guitarist and vocalist Hamish Anderson and drummer Glen Fletcher had left the group.
Stu tapped Auckland trio Figure 60 for the second single after hearing 'Rain Is Poison' on their 1993 tape Bludger. 'Rain Is Poison' sounded like Bob Mould's Sugar with simple catchy words that rode the instrumental surge and we wanted it on vinyl.
The group bristled and came back with the noisy twang of 'Six Days On The Road', which they set to a cowboy road lyric written by David Rush, the group's creative pulse.
Figure 60 was a constant live presence in Auckland, first as a trio with bass player Darren McShane then a sometime four piece with Cameron Bain and finally a core duo of guitarist Rush and drummer/ singer Nicholas Clarke. Crawlspace went on to release Figure 60's 'Kraftfirp' b/w 'Neuing Me, Neuing You' lathe cut double 7".
The early 1990s was a strange time for New Zealand's indie music. The folk rock and indie pop end of Flying Nun Records roster were often overseas or had graduated to bigger venues and tours. Our gaze shifted to the groups released by Xpressway Records, who were licensing their music to American and European indie labels and playing in Auckland with increasing regularity.
Crawlspace Records sourced the overseas releases from US distributors Revolver and Mordam. Local product came through tried and trusted letter writing to bands and new labels.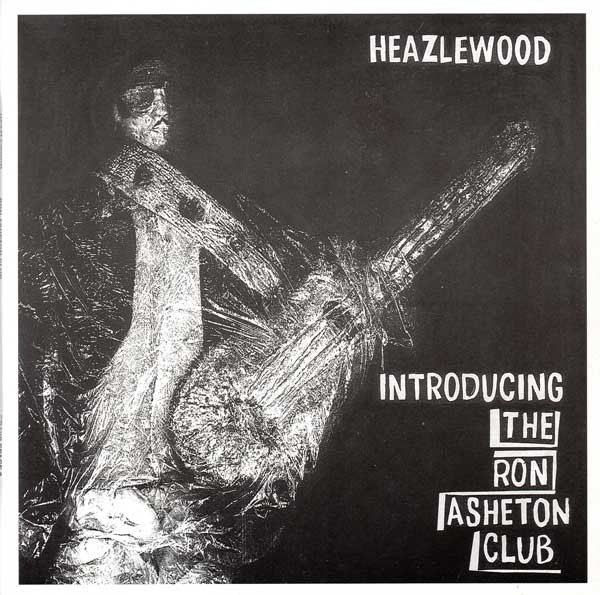 In 1995 Chris Heazlewood stumped up Crawlspace's third single Introducing The Ron Asheton Club. This was pre-deification of Ron Asheton [most thought of The Stooges as primarily Iggy Pop then], when there were only a few tapes and videos and a really bad release on an American label available.
Chris was from Dunedin and had plenty of attitude and energy then. The self-recorded skronky instrumentals pressed in orange vinyl and black vinyl that he housed in a black and white picture sleeve featured some amazing cover artwork from the man.
The shop's hardcore started to appear amidst the record bins. Salad Daze's Simon Kay, Gianmarco Liguori, Andrew Thomas, Mark Chong, Bruce Wurr and Stu Jacobs, among them. Chris Knox popped in one day, sniffed the air and disappeared. Soon after The Pits, a cartoon strip using characters that looked a lot like Stu and Gonzo, appeared in Real Groove.
They were always coming so I guess they should have been expected. Those mad music obsessives who turned up at Crawlspace Records with some regularity from overseas and invariably wanted early-era Flying Nun Records or New Zealand punk rock. Later it would be Xpressway or small run free noise/ jazz releases.
Stu, being the sociable chap, he was, often invited them out for a drink and a show, where I'd meet them. They made you realise that you were part of an international culture. You had to be. They were so familiar in many ways.
With some crazy shit going down in the comic shop and just outside – a bullet hole in the front window, an armed offender squad raid on the gambling den upstairs and unexpectedly chained front doors, Gonzo and Stu decided to shift to Karangahape Rd in October 1995. With the Kings Arms in Newton and Kurtz Lounge (later @Luna) on Symonds St sparking and a mass of small venues featuring new bands opening in that part of town, it was a good place to be.
La Gonda Arcade shop one
A new retail space was located down the end of a long dark corridor next to a socialist bookshop in La Gonda Arcade that was owned by the Methodist Church. For the trip uptown Stu and Gonzo cut down the wall high cartoon mural of The Meatmen's We're The Meatmen And You Suck! album sleeve, painted by Rachelle Burrell from the old shop and now sporting the signatures of local or overseas notables. The bespoke counter painted by Gonzo's girlfriend Connie made the journey up as well.
Crawlspace's new store was a larger space that was more comfortable and sat high above Myers Park.
Crawlspace's new store was a larger space that was more comfortable and sat high above Myers Park. With two decent second-hand record stores in the vicinity, the shop's regulars willingly shifted focus.
Music tastes changed in the Queen City in the mid-1990s. Spurred on by US groups Green Day and Rancid, punk rock became huge in Auckland and Gonzo was onto the new surge early on. He'd always been a huge fan of US Hardcore going right back to the early 1980s when he imported the scene's best records into Paeroa and Hamilton.
With local punk networker Simon Kay in virtual weekend residence, Crawlspace Records became a centre for the spirited Auckland and New Zealand 1990s response to this wave of punk. The shop regularly sponsored shows by the likes of North Shore straight edge punks Balance. Many of the younger customers would remember Crawlspace primarily as a punk shop.
New Zealand's indie scene remained strong with many records from this era coming out on small American and European labels. Groups were often paid in product and they lugged their records into the shop for sale.
There was one local pressing source left. Short-run lathe cut singles from Peter King in Geraldine in the South Island proved popular with bands and collectors. The shop's relationship with King ran deep. Stu's early 1990s Hamilton band Zooper with Marcel Gyde and Steve McLennan had one of the first records cut by Peter, back in 1992.
The new format was perfect for the emerging free noise, skronk and sound-shaping crowd. The limited runs were affordable and had hand crafted appeal. Gonzo and Simon Kay started the Crawlspace Artist Series of 8" lathe cuts in response to the emergence of this scene.
Thela, who had Crawlspace shop assistant Dean Roberts and Dion Workman and Paul Douglas in the line-up, was the new label's first release with a triple 8". A fast evolving trio, they supported Sonic Youth and Foo Fighters at Logan Campbell Centre in early January 1996 and soon had an album issued by Thurston Moore's Ecstatic Peace label.
Following Thela, the run of 8" plastic platters included work from Children's Television Workshop, Pointsman, Casagrante Apparatus, Witcyst, Matt Middleton, Parmentier, The Aesthetics, RST, Empirical and White Saucer. Darren Monk's Drunken Fish label out of San Francisco gathered up some of the early compositions for album release as Fit For Kings: A Compilation Of Peripheral New Zealand Music.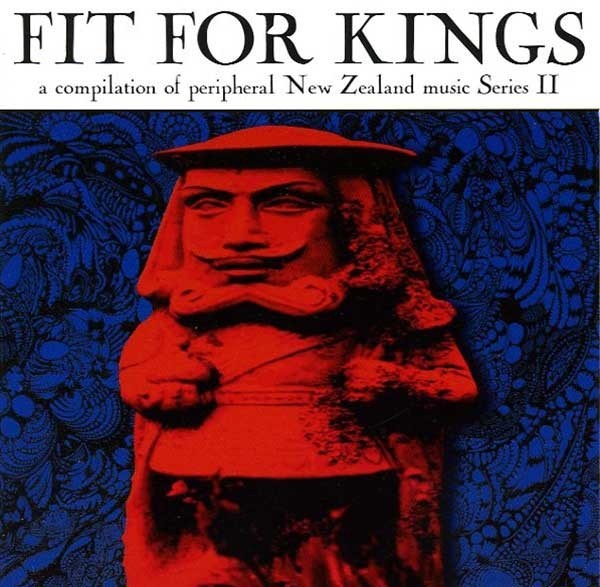 Stu took a different tack. He had the lathe cut Reverberation Records that located small North Island city and town post-punk groups such as Morrinsville's The Crawfords, Gisborne's TK421 and Auckland based Paeroa trio Father Grandieur. Eventually, as a thank you to the shop, Peter King gave Crawlspace Records a copy of every record he ever cut.
Thurston Moore returned with Sonic Youth for an Auckland Town Hall show in early January 1996 with The Aesthetics and Pit Viper and was swarmed in Crawlspace for autographs. Lee Ranaldo and Steve Shelley also popped in.
Jello Biafra, an avid record collector, who along with Thurston Moore would be a regular mail order customer, filled his boots, and was particularly pleased to locate Larry's Rebels' 'Halloween'. Glen Danzig had claimed The Dead Kennedys, Biafra's first punk group, nicked the song title from The Misfits; here was evidence to the contrary.
Nandor Tanczos, the newly elected Rastafarian Member of Parliament for the Alliance Party was looking for some reggae one day and sniffed the shop's air, made fragrant by the illegal pot being grown by an unknown party on the floor below, and said, "Mmmm, I like your incense."
Stu was playing the new Sick Of It All album in store when the Beastie Boys came in one day and added promptly added him and Gonzo to their personal door list for their show at the Bruce Mason Centre on Auckland's North Shore. Supergrass and Tony Conrad also found their way to the shop on New Zealand visits.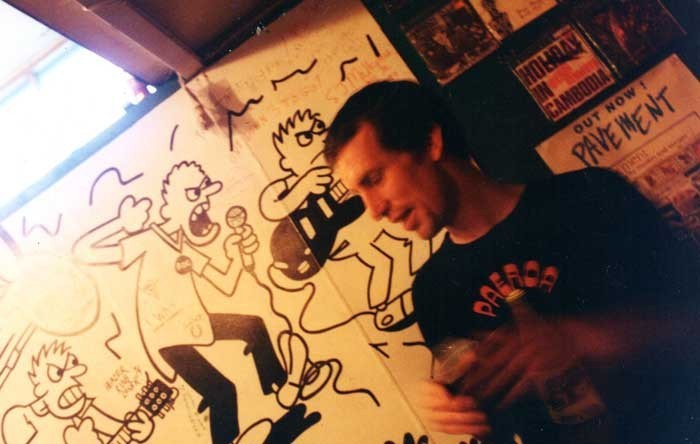 Two new singles appeared on the Crawlspace imprint in 1996. Crude's 'Bionica', 'Triggram Rag-Love Theme 03' and 'Untitled' was South Island skronk from Matt Middleton. A sound Gonzo was mining further for his 8" lathe cut series.
The label reached back to 1981 for their fifth single, a reissue of The Victor Dimisich Band's 'Native Waiter,' b/w 'Walking Slow' and 'Thirteenth Floor'. The first thing you noticed about 'Native Waiter' was the warmth of the sound, which made the tin shed production of the original from The Victor Dimisich Band's Flying Nun retro release in 1984 sound dismal.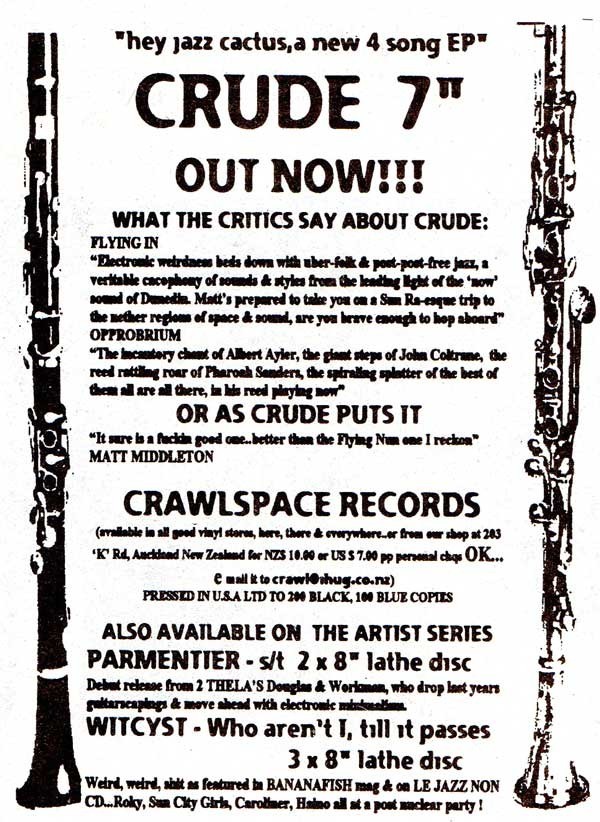 I was opposed to the boys putting out older groups or those who had made their rep elsewhere, but my reluctance was overcome by the vibrancy of this record. We'd been big fans ever since the original record prompted our mate Ray Berry to squeeze the "live at the DB Gladstone in 1981" tape out of Victor Dimisich Band's Peter Stapleton in 1985.
The single's two live B-sides, 'Walking Slow' and 'Thirteenth Floor', were taken from that tape and also stood up well sound-wise. I'd go as far as to say 'Thirteenth Floor' tops its studio version. The record arrived in a wonderful sepia cover sleeve by artist Kim Pieters.
The second store was large enough for in-store performances. The highlight being the Ramonesy pop punk trio of The Scholniks (ex-TK 451), who swapped their instruments often without denting the power of their sound. Crude also did an in-store there.

La Gonda Arcade shop two
The socialist bookshop next door to the shop closed down so Gonzo and Stu shifted Crawlspace Records into its better-lit confines. They now had a display window and a small upstairs office. The new space was ushered in by a Marcel Bear solo performance in the old shop next door and a showing of Miles Gillett's documentary on the mullet hairstyle.
The records just kept coming. Crawlspace's Artist Series issued 8" single by RST, Pahjib, Crude, Empirical, Wayne Gordon, Duncan Bruce, Pit Viper, Lapdog and Sandoz Lab Technicians. Gonzo and Simon again gathered up the best tracks for a vinyl LP release as Fit For Kings: A Compilation Of Peripheral New Zealand Music – Series 2, a double album with extra tracks from Tim Cornelius, Nathan Thompson and James Kirk.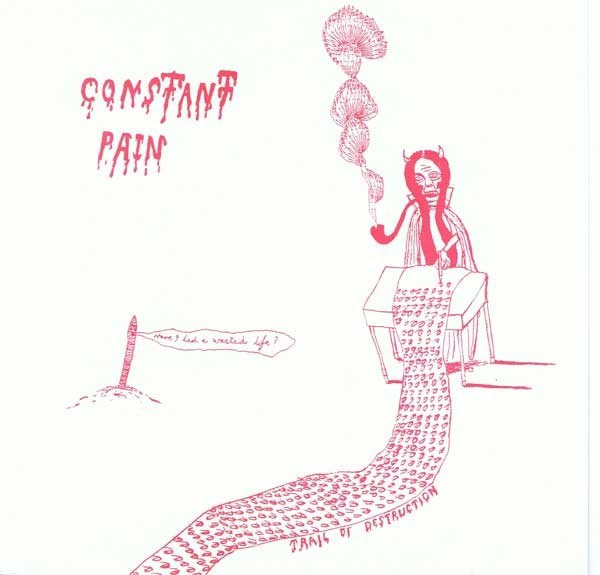 The label proper kicked back to life in 1999 with an unexpectedly brilliant single from Constant Pain. 'Trail of Tears' b/w 'A Million Years' was the unlikeliest Crawlspace single and possibly the best. A fine red on white Saskia Leek graced the cover and set the music off beautifully.
Constant Pain was Roddy Pain and Cameron Bain, an Auckland-based act by then. 'Million Miles' was a glorious psychedelic shiver that prompted the same spaced awe as The Thirteenth Floor Elevators' second album version of Dylan's '(It's All Over Now) Baby Blue'. The flipside 'Trail Of Destruction' rattled along on a trashcan 'Sister Ray' riff with Nicholas Clarke drumming.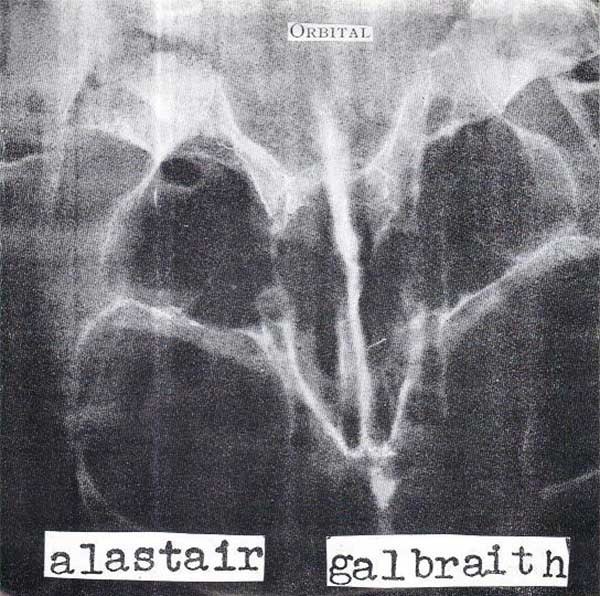 Alastair Galbraith found beguiling two slivers of song for Orbital in 'In The Empire' and 'Head Soup Dream'. "Wrapped in layers of droning claviolines and keening Ebow guitars, Galbraith's half spoken, half chanted intonations come to the swirling surface like bubbles," Bill Meyer wrote of the record in Magnet.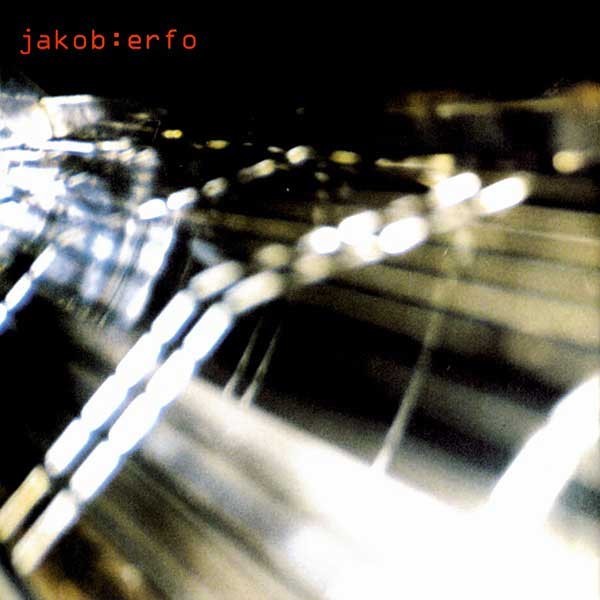 Auckland indie and punk life continued to flash before Stu's eyes.
A third psychedelic single came in early 2000 from rising Napier trio Jakob. Their first CD had been a shop favourite and the two songs on ERFO, 'Anaese' and 'My Brand New Haircut' didn't disappoint. This was surf music for star surfers that didn't so much rock as roll, endlessly. The Kings Arms record release show, shortly afterwards, confirmed the group's talent and promise.
Auckland indie and punk life continued to flash before Stu's eyes. The Rabble brothers deposited a vodka-laced pile of vomit in the corridor outside the shop. As he cleaned it up, promoter Doug Hood passed by and raised a knowing eyebrow.
Female Japanese garage rockers The 5 6 7 8's set up on K Rd outside the shop for a raucous set. The then unknown White Stripes visited before playing a standout Kings Arms show. Crawlspace would be the first New Zealand shop to stock the duo's records. Other store big sellers included Shellac's first album, Operation Ivy and Snapper's late 1980s EP, which Stu always recommended to those new to the nation's indigenous sounds.
The new wave of punk rock that seized teen New Zealand imaginations in the second half of the 1990s was highlighted locally by Balance, Somerset and Kitsch who were playing and releasing their own material and encouraging new bands to play and record. This provided the inspiration for Short Haired Rock n Roll, Crawlspace's new multi-group punk compilation.
The intention was to do a four track 7" single but after placing a notice on the Crawlspace Records notice board for demos, it soon became apparent that four tracks would not be enough.
Representing a vigorous new West Auckland scene, ska punks Missing Teeth and The Rudies put their hand up, as did The Scholniks with the brilliant 'Comic Books'. Suburban Vermin from the North Shore had The Ramones sounding song title 'I Wanna Beat Up Your Boyfriend' while ska was represented by Skivvy and WBC. So to Speak was hardcore with a full on vocal attack. All girl group, the Crass-influenced Toxic Shock Syndrome were ragged and strident. Pugface was from Hamilton. Mum's Dollar were another Christian band with a strong song in 'Gabriel'.
The recordings were dropped into the store in all formats – CD, DAT and a cassette tape. A member of the band or a friend had often recorded the tracks at local music schools like MAINZ. Some were captured on 4-track. The WBC produced a high standard studio recording.
Spencer Fairhurst from The Warners mastered the final CD after getting some of the recordings up to standard at his Rock Bottom Studio in Western Springs. The back cover photos came from an old Auckland Star article and featured young punk, Floss (later of Loves Ugly Children), and her brother. The CD sold out with a hundred going overseas.
Yet more free noise and sound shapers were located for the Artist Series releases by Avotor, Witcyst, Rhonda Pritchard/Kelly Jay/Sophie Lyle and 1/3 Octave Band, some of whom would be gathered up for Crawlspace's Various Mailorder lathe cut EPs.
A compilation EP of a more pop nature, Kiwi Music Sampler on the main Crawlspace label presented the city's musical near future with Plasticine and The Brunettes slotting in beside newcomers Fantababy and Matthew Backhouse.
Finding four worthy tracks for a compilation single required a lot of listening. But I think Stu did pretty well with his selections. Plasticine became The Tokey Tones and a driving force in L'il Chief Records. The Brunettes you may have heard of. The other two have faded back. Fantababy's track was an infectious rocker. Matt Backhouse was just 17, but had a highly effective Smog/ Lou Barlow/ East River Pipe thing going.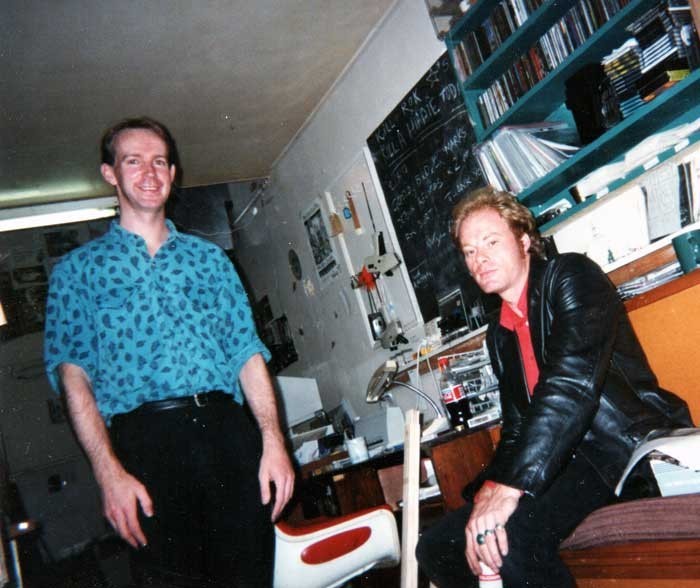 There was one last single before the shop closed in 2001, Snapper's 'Hammerhead' b w 'Dry Spot'. The record came about when Peter Gutteridge was stuck in Auckland and needed money for an air ticket home to Dunedin. He looked so ill that Jane Dodd burst into tears on seeing him in the corridor outside Crawlspace.
Crawlspace slipped Peter some money in return for a single that never arrived. After repeated attempts to get a response from Mr Gutteridge, Gonzo uncovered a well-recorded live track from a Dunedin acquaintance. That was one side taken care of. For the second, he dispatched another friend to Dunedin with the shop DAT to record another song. Side two done.
Neither recording was classic Snapper and some of us were uncomfortable about the semi-legit nature of the release. Never mind. History will be kinder. The lost man of sub-Antarctic pop was chronically under-recorded.
Shortly before Crawlspace Records closed the door one last time in early 2002, Jaquie Brown from TV youth show Space turned up to film an item that was never shown.
Gonzo and Stu still live in Auckland and are no longer involved in the record business, but you can guarantee that if they are out and about at a live show, one of their old customers will soon make themselves known. Crawlspace was much more than just a shop, it was a small, friendly community centre where much of the stuff of life took place.