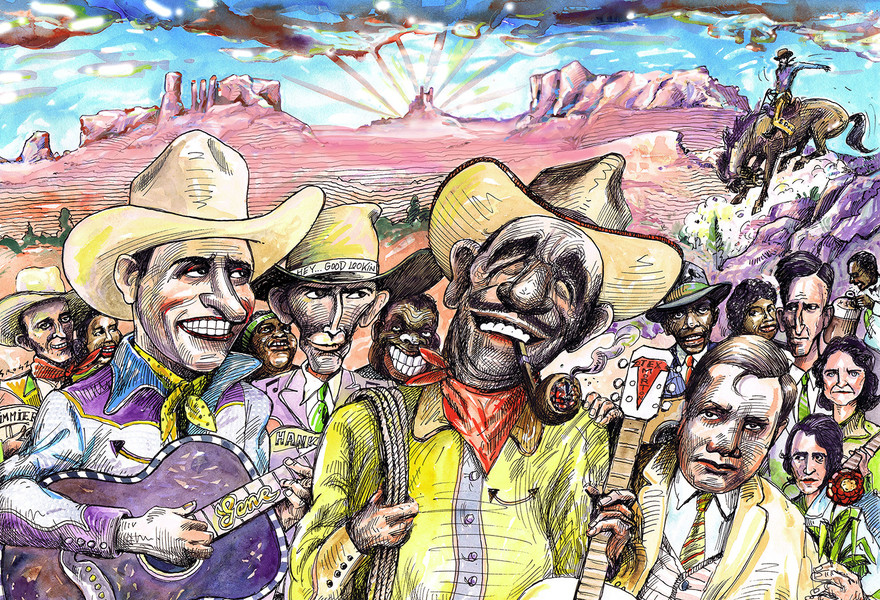 Tex Morton and Gene Autry
When it came to yarn spinning, Tex Morton's aim was true. So many characters populated his colourful life that it's a wonder he is not on the cover of Sgt Pepper.
It can be verified he was born Robert Lane in Nelson in 1916, but beyond that it's hard to separate facts from myths, as the facts seem so mythological.
Besides being a pioneering voice in original country music in Australasia, Tex was a sharpshooter, conjuror, and hypnotist. In his circus days, he was a boxer, wild-animal trainer, trick motorcyclist, and stooge for lady wrestlers.
He first ran away from home at 14, and less than a decade later was selling more records than any international artist in Australia and New Zealand.
Visits back to New Zealand were rare. Among the most productive was in 1949 when he recorded 24 songs in Auckland; legendary US song publisher Ralph Peer was in town. The band included Johnny Bradfield on rhythm guitar and Tommy Kahi on steel. Kahi said Tex arrived late, and drunk, for a session, so he quit and was replaced by Bill Sevesi.
The following year, Tex went to the US and Canada for a sojourn that lasted nearly a decade. His exploits read like Crocodile Dundee rewritten as a musical.
He was met at LA airport by cinema cowboy Gene Autry, and spent six months performing, acting in films, and mingling with Autry's high-spending Hollywood mates, among them Errol Flynn and Roy Rogers.
But US Immigration officers caught up with him, and gave him 24 hours to get out of Dodge. Tex high-tailed it to Canada, where he learnt hypnotherapy, and made the occasional tour south of the border.
Here, the myths become pure horse manure, as it has been claimed that he was Hank Williams's support act; certainly Tex told a story that he used hypnosis to stop Hank drinking. There are two conflicting facts: while Tex and Hank briefly shared a manager, Oscar Davis (who later discovered Elvis), Hank never stopped drinking.
What is irrefutable about Tex is the influence he – and his friend Gene Autry – had on New Zealand country music. Johnny Cooper religiously attended Autry's "singing cowboy" movies in Wairoa, Patsy Riggir's dad Jack sang Autry songs by the campfire, and The Tumbleweeds cut down gumboots to emulate Autry's cowboy boots. Rex Franklin got his start with a mail-order Tex Morton guitar, and the Hamilton County Bluegrass Band became national favourites when appearing alongside Tex in NZBC TV's The Country Touch.
Tex made extravagant claims, and showmanship was his business. His own publicity described him as "the most versatile talent since Leonardo da Vinci". Leo could do a lot of things, but shooting cigarettes out of the mouths of his audience was not one of them.
--
Illustration © Chris Grosz, text by Chris Bourke
This is the tenth of a bi-weekly series about unlikely encounters experienced by New Zealand musicians. Read more about Chris Grosz, musician and illustrator.