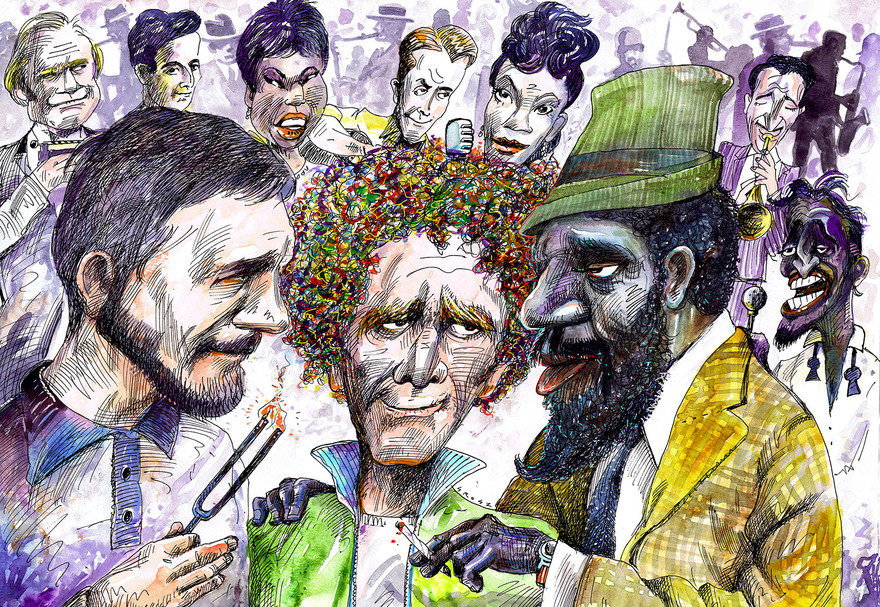 Mike Walker et al & Thelonious Monk
It's around midnight, and Thelonious Monk is looking for distraction. On High Street in Auckland's CBD is the Montmartre, a "coffee lounge" featuring acts backed by Mike Walker's jazz trio.
In April 1965, Walker goes outside for some fresh air. Standing on the pavement at the back of the queue is the legendary bebop pianist Thelonious Monk. Walker, awestruck, invites Monk and his bass player in for a blow.
In walks Monk; his bassist Larry Gales joins the trio for a few tunes. Afterwards Walker goes back to a Parnell hotel and for an hour or two shoots the breeze with the high priest of bop. Totally charmed, Walker leaves a changed man: he finally gets Monk's music.
Monk's New Zealand visitation is like a musical myth passed among musicians and jazz fans for decades; his presence seems like an apparition. But the circumstances of his invitation are oddly familiar.
The Chamber Music Federation (now Chamber Music NZ) wanted – like RNZ Concert to this day – to attract a younger audience alongside the ageing diehards who even complained when solo sopranos and pianists were booked, rather than string quartets.
A list of 10 possible jazz acts was compiled and – with advice from hipsters such as Roger Horrocks – Monk was chosen.
Flying in from Sydney, Monk arrived with suitcases full of zany hats, 14 suits and 17 pairs of shoes. (His wife Nelly had cashed in her collection of empty Coke bottles in Australia.)
In a Listener preview the Chamber Music Federation's acting president, geophysics professor Erick Sagar, spoke of the need to attract new, younger members to "dispel any ideas that chamber music enthusiasts are all 'squares'." Monk was keen to play his "classical jazz" in New Zealand, and the Federation had received messages of approval from the children of its older members (it's not trad, dad).
Monk toured New Zealand cities for two weeks, playing 10 concerts. In the hall at Tauranga Girls' College, teenager Stephen Stratford – an aspiring musician – found that the local beatniks were outnumbered by Brahms-loving farmers' wives and their bemused husbands.
In Auckland, musicians flocked to touch the edge of Monk's titfer. Trombonist Neil McGough gave him a lift in his green Ford Prefect to the Musicians' Club for a welcome by the jazz fraternity.
At a house party on St George's Bay Road, the acolytes included silver-tongued law professor Bernard Brown and modernist artist Pat Hanly. Monk played pieces by Ravel and Debussy, then some duets with David Galbraith, a concert pianist who lived nearby.
Hanly observed Monk, surrounded by young jazzers, asking, "Anyone got a cigarette?"
Instantly, the gaggle of goateed disciples flicked out their Rothmans. Monk, surrounded by a circle of erect filters, looked around disdainfully. "No. I mean a special cigarette."
Hanly said that only one person knew what Monk was talking about – good money says it was bohemian drummer Lachie Jamieson – and procured a jazz cigarette.
More alarming was the experience of the Federation's manager Joan Kerr, later of the QE2 Arts Council. On the last morning she arrived at the hotel to take Monk and his wife to the airport. Half an hour before flight time, she walked into their room and found Monk lying on the floor, bollock naked (no hat?). Beside him were "about 40 suitcases", and clothing was strewn everywhere.
At Monk's request, she ordered him breakfast – four beers and four whiskey chasers – and somehow managed to get Mr and Mrs Monk to the airport on time.
It has been mooted that this incident was the reason that the Chamber Music Federation's venture into jazz promotion was short-lived. A possible tour by John Coltrane was abandoned. The Federation broke even on the Monk visit, but after a lot of heartache, said Kerr. But the organisation "recognised that we didn't have much expertise in this area."
--
Sources: Nick Bevin, Mike Walker, Neil McGough, Stephen Stratford, Gordon Campbell, Robin Kelley.
--
Illustration © Chris Grosz, text by Chris Bourke
This is the eighth of a bi-weekly series about unlikely encounters experienced by New Zealand musicians. Read more about Chris Grosz, musician and illustrator.