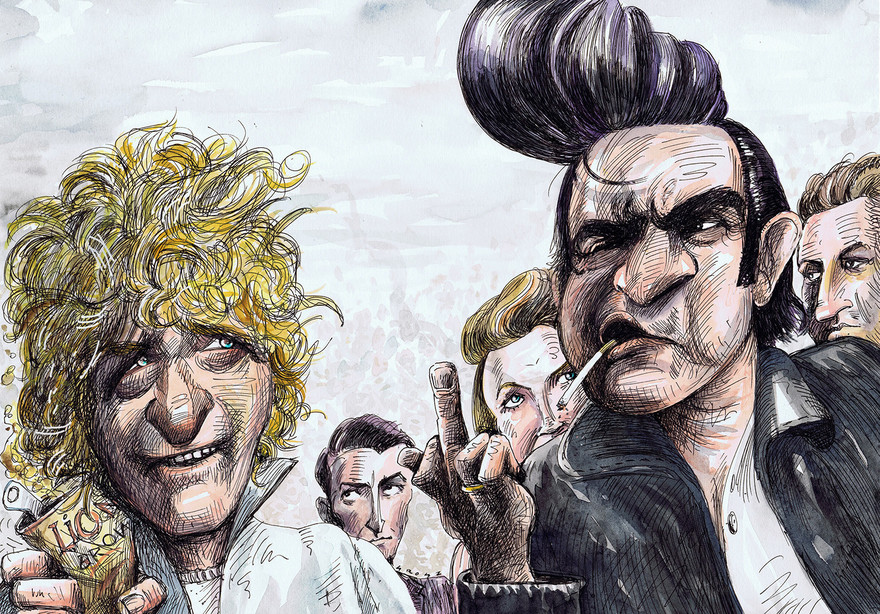 Sam Hunt and Johnny Cash
Johnny Cash was dressed in black, while Sam Hunt drank Lion Brown. It showed.
March 1973: Sam Hunt drives a '59 Ford to Wellington's St James Theatre to review Cash in concert.
At the time, and a half-century on, the encounter is a clash of cultures. From a rock'n'roll viewpoint, any whiff of establishment, religion, or an earlier generation, is to be sneered at; women are figures of fun or disdain. Cash is cool – he duets with Dylan – but much of his fanbase isn't. The review suggests there is little difference between the gonzo swagger of the counterculture's poet and the macho swagger of Barry Crump.
To Sam, the "over-dressed" fans in the queue look headed for church; it's very much a ZB crowd, he says. "A straighter lot of people I've not been among, not for a long time."
In the foyer, some bloke immediately snarls at Sam's hirsute sidekick, "Why don't you get your bloody hair cut, mate?"
Sam is still chuckling as he takes his seat in the stalls, sucking on a cold can, although a "righteous member of the congregation" reports him to an usherette.
The lights dim, the show starts. Opening is Cash's band, a quartet called The Tennessee Three. Next up is Rotorua singer Eddie Low, "part-Māori, part-Scottish, part-blind". The audience loves his three numbers, even the notorious 'Lonely Women Make Good Lovers', which Sam describes as "nasty". It will be his last woke word all night.
Carl Perkins enters to sing his hit 'Blue Suede Shoes', wiggling like he's "jiving for Jesus". A female singer takes the stage, "looking like Diana Dors circa '59", with thick lipstick and "spinnakers" out front. Sam says the "Sheila from the South" has a good, hard, C&W voice; he forgets her name but not her spinnakers.
On strides the Man in Black, launching straight into his gender-challenging hit 'A Boy Named Sue'. He holds his 12-string guitar like a prop or a weapon.
Cash walks the line, of course, but the audience is more 'Okie From Muskogee' (red neck) than 'San Quentin' (blue prison denims).
Sam approves. "Magnificent," he writes. But the moment doesn't last after Cash drawls, "Ah'd like to introduce ma wife … June Carter."
Suddenly, the encounter jumps the rails. Sam finds the love of Cash's life a pain in his Byronic regions. The romantic gaze between the duetting couple causes a loss of control that is less than poetic.
"Take off your top!" Sam shouts from the stalls, choosing the paeonic metre, if not those exact words.
"Cash gave a mean and nasty scowl into the audience," he writes. "I had visions of him chasing me down Courtenay Place for insultin' his fine lady wife. Good publicity for all, perhaps."
Sam's review appears in the short-lived New Zealand edition of Rolling Stone magazine, published by Alister Taylor of Little Red Schoolbook fame. The counterculture capitalist is always remembered for staying two steps ahead of his creditors. So it's odds-on that Sam's two free tickets were his only reward.
--
Illustration © Chris Grosz, text by Chris Bourke
This is the fourth of a bi-weekly series about unlikely encounters experienced by New Zealand musicians. Sam Hunt has recorded and performed with Mammal, Enzso, and David Kilgour. Read more about Chris Grosz, musician and illustrator.