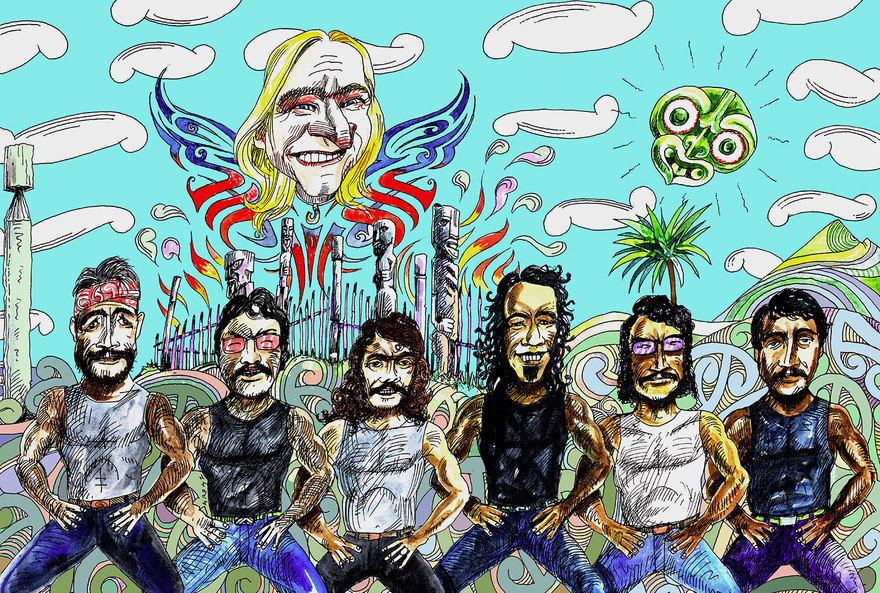 Herbs and Joe Walsh
Life in the fast lane takes its toll. Joe Walsh of the Eagles could hear the bell tolling in the late 1980s, but was struggling to combat the cause. Trapped by addiction to alcohol and drugs, he needed to check out of the Hotel California and into the Betty Ford Clinic.
Instead, he came to Aotearoa. With the Eagles being WEA NZ's favourite sons, its golden goose, Walsh's visit was surely a personal project of Tim Murdoch. Matchmaking him with Herbs, whose Warrior label was distributed by WEA, is the kind of idea cooked up over a crayfish barbecue with Hugh Lynn.
Walsh was on a journey to Hell, before it froze over; he wasn't drinking on the sly, he was the star attraction.
In Auckland, he was recruited to produce Herbs' Homegrown album, and played with them for much of 1990. Pacific reggae took a back seat. "It was time for us to become rockier," said Dilworth Karaka afterwards. "There's still reggae there, but not in comparison to the past. It's still Kiwi music." Walsh's mantra in the studio was "to commercialise your music isn't to prostitute it."
"It's a good thing to stretch out," said Charlie Tumahai. "You can always come back."
In Hawke's Bay, Herbs and Walsh were welcomed onto the Waiohiki marae; from there, social activist and intermediary Denis O'Reilly took him to the ancient pā site of Otatara. On Hikurangi, the upper pa, the panorama swept from Māhia to Te Matāu a Maui (Cape Kidnappers). As the sun set behind them, the vista was brilliantly coloured.
O'Reilly recalled: "There were no heavenly trumpets or observable tohu from the tipuna that surrounded us, but, as we were all to learn later, in or around that moment Joe Walsh experienced some sort of epiphany, a spiritual awakening. In retrospect it was probably the impact of a hundred encounters he had experienced in Aotearoa, Māori welcomes, expressions of aroha from people who had little in material terms but who were rich in spiritual wealth and were generous with it."
Twenty-five years later, it was payback time. Walsh returned to Aotearoa in 2015 and spoke on marae and at Parliament about addiction: that it was an illness that needed treatment, not imprisonment.
At Te Aho a Māui (the Eastern Institute of Technology), Walsh stood in a hall before the community and his family and shared his journey. He spoke slowly, fluently – and with heartbreaking humility. "It was here on a visit many years ago, up on the hills, that I had a moment of clarity. I don't understand it, but I reconnected with my soul, and I remembered who I used to be … I admitted I had problems and I had to do something about it. It was the beginning of my recovery from my addiction to alcohol and drugs … It was the hardest thing that I have ever had to do, but it can be done."
After an intense haka gave everyone goosebumps, Walsh picked up a Maton acoustic that had been presented during a wero, and carefully began to sing: "Desperado, why don't you come to your senses …" A local children's ukulele orchestra replied with 'Hotel California'.
"New Zealand is very special to me," Walsh said later. "And the Herbs were a great band. I remember them, I love them … I'll never forget the moment when I was standing on the marae with the members of Herbs and I realised that I needed to get clean. That will stay with me forever."
Walsh had checked out of addiction – "I have a wonderful life" – but part of him would never leave Otatara.
--
Read: The Sinners Tour, by Denis O'Reilly
Watch: Joe Walsh speaks at Te Aho a Māui, 2015
Read: Herbs, Homegrown
Illustration © Chris Grosz, text by Chris Bourke
This is the twelfth and final column of a bi-weekly series about unlikely encounters experienced by New Zealand musicians. Read more about Chris Grosz, musician and illustrator.