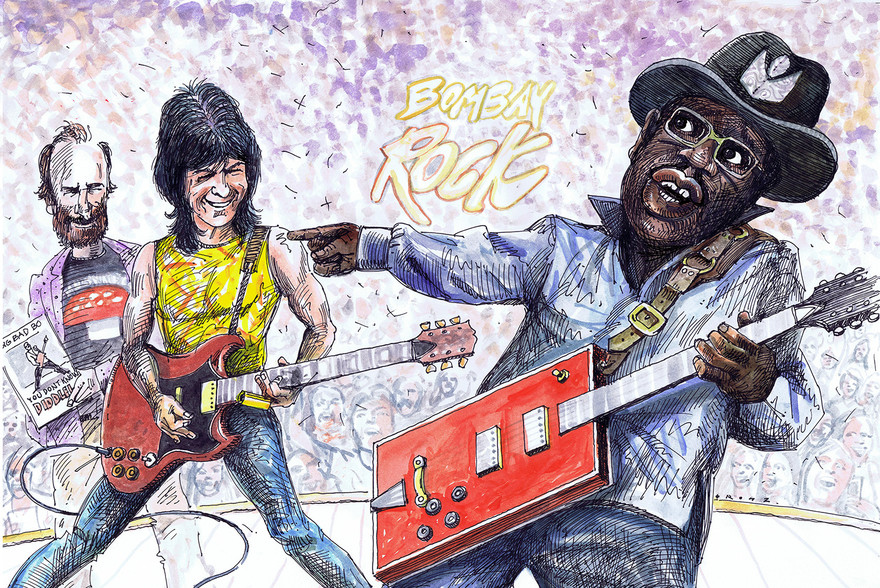 Kevin Borich and Bo Diddley
Jamming with Bo Diddley could have been death in Brunswick.
West Auckland, late 1950s: a young Kevin Borich is introduced to R&B by his hip aunt Joni. At the Kumeu picture theatre, he sits in wonder as Fats Domino, Little Richard, and Chuck Berry lip-synch to rock, rhythm, and jazz.
But Bo Diddley is spellbinding: the oblong Gretsch guitar, the irresistible rhythm aka The Bo Diddley Beat. Shave and a haircut, two bits.
On the veranda at home, with a tennis-racquet guitar, Kevin performs to the back yard like it's a packed house. Then his parents buy an actual guitar, and he practises like a demon. A nun at school warns, You're going to burn in hell … fingers first!
The Chicks come over the fence to sing backup. His schoolfriends get together and they form The La De Da's, New Zealand's leading teenage R&B group.
By the mid-70s, Kevin is entrenched in Australia as a guitar hero, often invited onstage to jam with visitors. Among them, over the years, Carlos Santana, Ritchie Blackmore, Joe Walsh. In Melbourne in 1975, the music cognoscenti gather at the Bombay Rock club for after-hours gigs.
Headlining is Bo Diddley, and the room is shaking. Kevin, awestruck, takes in Bo's beat, his jive talking, his sideman's slide work in an open tuning. Michael Gudinski stage-whispers in his ear: Kev – you should get up and jam. It's more an order than a suggestion.
No way, says Kevin. You can't just walk on stage and grab a guitar. Gudinski ignores him, goes backstage, then says, it's all organised. Go.
Kevin floats onto the stage, like he's walking into the screen back at the Kumeu fleapit. Bo's guitarist hands his piece to Kevin, who slings it on and smiles. "Hi Bo – love you, man."
Diddley gives a quick grimace then blurts, Hey! You better tune that guitar boy!
"Nah, it's cool, Bo – I know it's in open tuning."
No! says Bo. You gotta tune that guitar!
"It's fine, Bo, I know."
Bo gives Borich the "stupid whitey" look and blasts into his Bo beat with a not impressed expression on his face. He's expecting a musical clanger from this stage invader.
But the sound was pumpin', bumpin', Kevin recalls. "The crowd's rockin', I'm vampin' in support. Bo's ignoring me. Then in a quick break in his vocal, I shoot a stinging lick that cuts so deep in the right place. His head snaps around, and he looks at me with his pearly whites flashing in approval. He's loving it, and we go to it, whipping that crowd into ecstasy.
"We're having a ball as the vibration heads into the red."
Bo is mighty relieved. As Sonny Boy Williamson once said, "These white boys want to play the blues so bad – and they play it so bad."
--
Illustration © Chris Grosz, text by Chris Bourke
This is the second of a bi-weekly series about unlikely encounters experienced by New Zealand musicians. Read more about Chris Grosz, musician and illustrator.