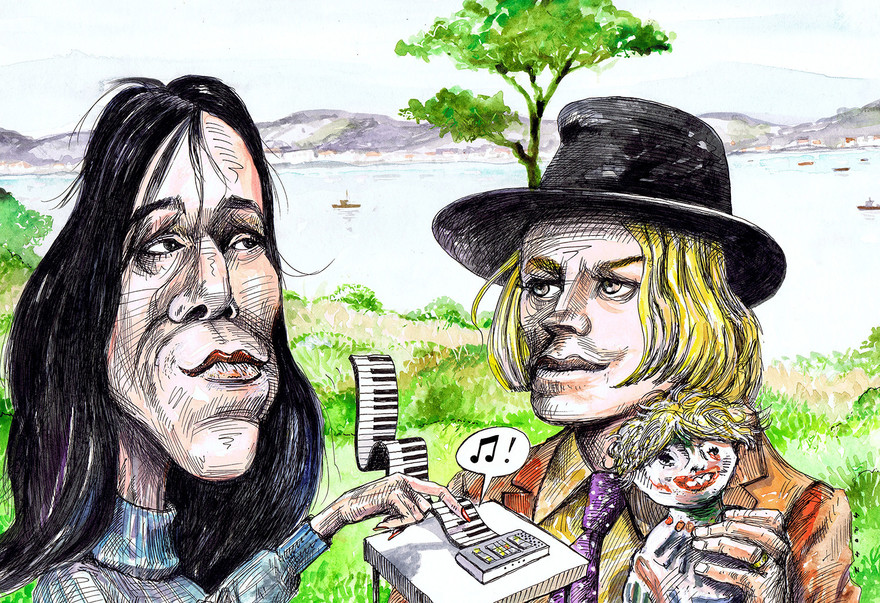 Connan Mockasin & Charlotte Gainsbourg
Looking like Brian Jones' love child, Connan Mockasin is a musical imp from Te Awanga, coastal Hawke's Bay. His charming creations and personal vibe have led him to become an international social butterfly. David Byrne, Anna Calvi, John Cale, Radiohead, Fatboy Slim, and Neil Finn are just some of his phone contacts. He seems to glide effortlessly through life.
Charlotte Gainsbourg is Parisian royalty, daughter of Anglo-French double act Jane Birkin and Serge Gainsbourg. She was born almost in front of the camera, be it paparazzi or cutting-edge cinema.
Someone from Charlotte's web got in touch with Connan after she heard his first solo album, Forever Dolphin Love (2011). Charlotte was struggling with her songwriting while mourning the tragic death of her half-sister, Kate.
At Charlotte's request, Connan wrote 'Out Of Touch' for her album Stage Whisper. Incongruously, when the call came through from Paris, he was in Te Awanga (pop. 768). He checked out her music, and soon they met in a Parisian recording studio. "We got on really well," he said. "She was funny and good to hang out with."
Her sultry, breathy singing style suited his sly, funky rhythms. The bedroom murmurings, about wanting to revive a romance, could be a prologue to her parents' steamy classic 'Je T'Aime … Moi Non Plus'.
On Stage Whisper Connan's song sat alongside others by Beck, Jarvis Cocker, and Bob Dylan ('Just Like A Woman', naturellement).
After 'Out of Touch' Connan and Charlotte stayed in touch, and spent time writing together on a small island off the coast of Brittany. "He had the patience to sit with me, with a guitar, and wait until I figured out my words." She delved into her diaries for ideas and although some of the songs "didn't make sense", her writer's block was broken.
Gainsbourg's record company decided not to release the results, but Connan regards the songs as "something I'm proud of … we've just got different tastes [than] the record label."
Charlotte's 2017 album Rest features two songs co-written by Connan, alongside 'Songbird In A Cage' by Paul McCartney.
Connan's 2018 hit single 'Charlotte's Thong' has no connection with his occasional collaborator, he says; it was just a working title that stuck. The slinky groove has more meaning than the lyrics, and Iggy Pop loved it.
Between them, Connan and Charlotte could write a duet called 'Namedrops Keep Falling On My Head'.
--
Illustration © Chris Grosz, text by Chris Bourke
This is the fifth of a bi-weekly series about unlikely encounters experienced by New Zealand musicians. Read more about Chris Grosz, musician and illustrator.