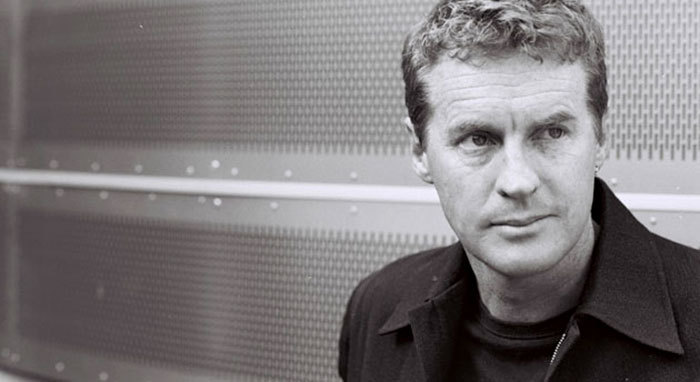 In this full-length interview for 2003 television series Give It a Whirl, Don McGlashan looks back on his musical career, recalling how he grew up around an assortment of musical instruments, eventually playing brass for The Plague with Richard von Sturmer, and meeting a wide circle of performers through the cross-pollination he experienced between theatre and musical performers. He discusses his time with Blam Blam Blam and The Mutton Birds, and how songwriting ideas can sometimes come from dreams.
--
Watch below: Full-length interview with Don McGlashan, from Give It a Whirl (2003) via NZ On Screen (2022).
Watch below: Don McGlashan recalls his awareness at a young age of the New Zealand music scene, coming not so much from a record collection but mostly from bands like The Avengers, Space Waltz, and The Fourmyula's hit 'Nature', later a hit for The Mutton Birds. "It made me think it was possible to do it."
Watch below: "Once the Blams started, sure, we were influenced by the Anglophile vibe that was going on, we listened to The Clash, Monochrome Set and the Young Marble Giants ... But it was The Swingers and [Split Enz] that really made us want to be in a band."
Watch below: He acknowledges that his songs are often told from the perspective of an outsider looking in, and his songwriting encompasses "a sense of unease about what's just outside the lights ... I've got a lot of songs which run along those lines ..."
Watch below: On feeling the support of his writing influencers: "Certainly when I was in the UK, if I got stuck I had this little fantasy of all these writers I really respected standing behind me saying, 'go on, you can do it, have a go' ... It would be people like Robert Scott, Chris Knox, David Kilgour ... people whose writing I really liked and cared about ... I think it helped me to hang on to this place [New Zealand]."
Watch below: "Back when the Flying Nun bands were starting, and up in Auckland you had the Propeller bands – the [Screaming Meemees], Newmatics, and the Blams, there was a sense that we were kind of inventing everything ... if there was a sort of managerial, agent group of people, they weren't controlling anything, they didn't have any experience ... they were flying by the seat of their pants in the same way that the musicians were ... "
Watch below: Don discusses The Mutton Birds' success outside New Zealand, staying in the UK longer than anticipated, playing festivals there and in Europe, and being signed to Virgin Records. "We nearly got there."
Watch below: Writing songs that sit on the dark side of society, peripheral vision, and how songs like 'White Valiant' can emerge from dreams.
Watch below: "When we first formed the Mutton Birds, we got together and talked about it, we all kind of agreed we wanted to do something that felt like it had always been there. Do a kind of music and write songs that felt like they had been around as long as the hills, you know?"
Read more about Don McGlashan, Blam Blam Blam, The Front Lawn and The Mutton Birds.
--
This interview was recorded for the 2003 season of TV series Give it a Whirl. All audiovisual content is copyright to Visionary Film & TV, and may not be reproduced.
--
Further reading: Nick Bollinger on Give It a Whirl