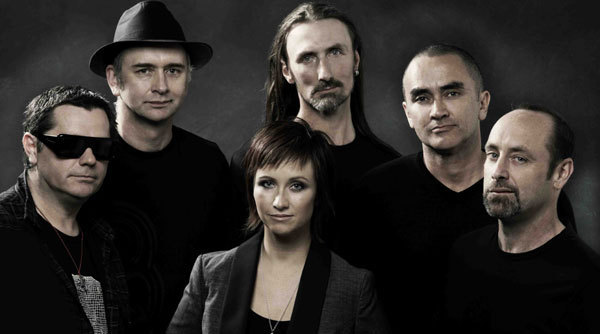 In this full-length interview for 2003 television series Give It a Whirl, Headless Chickens members Fiona McDonald and Grant Fell look back on their musical careers. Among the topics discussed are: the band forming with various members from earlier act Children's Hour; Headless Chickens winning the Rheineck Rock Award in 1987 and the backlash from local radio that followed; deciding not to chase commercial and international success and focusing on the experimental side; favourite songs, from 'Gaskrankinstation' to 'Juice', 'Cruise Control' and the 1994 No.1 single 'George'; and winning over live audiences in Australia.
--
Watch below: Full-length interview with Fiona McDonald and Grant Fell of Headless Chickens, from Give It a Whirl (2003) via NZ On Screen (2022).
Watch below: Grant Fell remembers the local music landscape of the early 1980s. "There was a really vibrant scene at the Windsor and the Gluepot. There was even good infrastructure, with managers ... Bands like Hello Sailor had set up a working environment, which sort of crashed down in the 80s."
Watch below: Grant Fell and Fiona McDonald discuss how the Headless Chickens merged rock and pop music. "When Fiona joined the band we suddenly became a rock and pop band. It was more about the songs as well but at that particular point all that came together." – Grant Fell. "If Chris [Matthews] had sung 'Cruise Control' alone it wouldn't have been as poppy as introducing a female vocalist with a very pop voice, which I have." – Fiona McDonald
Watch below: The benefits of a band with many strong opinions: "From the very beginning we all had opinions about things, right from Children's Hour. Very strong opinions about things." – Grant Fell. "There's also a base of respect and trust ... you learn how to argue, and which battles to fight. And that did make for interesting music." – Fiona McDonald
Watch below: Fiona McDonald on Michael Lawry's contribution to the Headless Chickens sound. "He's probably the most unacknowledged force in the Chickens as far as the sound ... Chris [Matthews] is definitely the writing person, but it was Michael who really brought to it the weirdness."
Watch below: On how Fiona McDonald joined Headless Chickens. "Funnily enough the Headless Chickens were my favourite band ... I was walking down Ponsonby Road one morning ... Chris [Matthews] came said 'I've been thinking about you, I have a song that's in the wrong key for me, would you like to come and sing it?' I said 'Yessss.'" – Fiona McDonald. "For a long time I think we'd been needing that to happen ... To hear a song like 'Cruise Control' suddenly come to life with Fiona singing it ... was wonderful." – Grant Fell
Watch below: On overseas markets and breaking into Australia through repeat touring. "The lack of potential to sell overseas meant that you might as well do the music you really want to do ... Maybe there was a freedom in that." – Fiona McDonald. "Australians progressively grew to really love us. There was something about the band that really clicked with them ... A lot of the wildest gigs were in Australia." – Grant Fell. Fiona: "You know you've become an Australian band – like Shihad became 'the Had' – well we were the 'Chooks'. So when you get your name abbreviated, you know you've made it."
--
This interview was recorded for the 2003 season of TV series Give it a Whirl. All audiovisual content is copyright to Visionary Film & TV, and may not be reproduced.
--
Further reading: Nick Bollinger on Give It a Whirl