Known for his musical talent and songwriting skills within classic New Zealand groups The Clean and The Bats, as well as solo work and side projects (including the wonderfully folky Magick Heads), Robert Scott is truly a New Zealand songwriting legend. AudioCulture is delighted to present Robert's picks for Songwriter's Choice.
--
Damn the Dam – John Hanlon
One of the earliest New Zealand protest songs, a Top Five hit in 1973. Written by John Hanlon, originally as a jingle for a home insulation ad! A memorable if slightly cloying ditty protesting against the proposed damming of Lake Manapouri. Straightforward in its chord pattern, the most notable change being the G / B7 / E in the chorus and the nice resolve at the very end of the song, Am to E. Some pretty corny lines pervade the song, "I have grave reflections, reflections of a grave ..." and "the Kauri tree surveys this grand domain, and for miles and miles around him a sea of rolling green, tomorrow all this beauty won't remain. The song also features chirping birds and a nice electric piano break, otherwise it's pretty much standard early 70s pop/rock. This song is all about the message and the chorus certainly delivers that: "Damn the dam cried the fantail, as he flew into as he flew into the sky."
Farewell to the Gold – Paul Metsers
A school teacher at Hutt Intermediate, Paul Metsers wrote this song in 1969 after a school trip to the West Coast and Central Otago. Inspired by what he had seen he wrote a tale about an old prospector and a young man searching for gold in the Cardrona Valley around the time of a flash flood in 1863. Paul drew on an old chord sequence first written by Johan Pachelbel in 1680 entitled Canon in C. One of the best known of many versions – and Paul's favourite – is the one by English folkie Nic Jones (Bob Dylan once covered it, live). Paul's percussive fingerpicking suits the song perfectly and his traditional vocal delivery delays the vocal slightly behind the chord changes. 'Farewell To The Gold' appears on his wonderful album from 1980, Penguin Eggs. It is quite an ear opener hearing a local song sung in such a traditional English folk style. I love the melody and mood of this song and it never fails to move me.
Words – Sharon O'Neill
A song about songwriting! The words and notes jump off the page and the piano keys. "Words just a breath away from my hands, breaking into tiny pieces ..." The opening lines of the song are referring to new fresh words being brought into the world: "let me out, like a new blood at the slaughter, I've been dying to get out here for a long time now." Quite a start to a song, I thought it was about the freezing works. This is a New Zealand pop classic, recorded in 1979 by Nelsonian Sharon O'Neill, self-taught and a prolific writer from an early age. She started off writing poetry and reading it to her mother. The production of the song is classic late '70s LA style, big snare (Ross Burge on drums) layered keyboards and guitars. It does have a nice chord structure that swings along at a good pace. I really like the cheesy breakdown section: "When I lie down and think of you, I'm already there."
Mysterex – The Scavengers
A true punk anthem, this came out in 1978. At this stage The Scavengers comprised Ronnie Recent (Brendan Perry), Johnny Volume (John Cooke) and Des Truction (Des Hefner/Simon Monroe). Original singer Mike Lesbian left just before this, inspiring the band to write the song. The band felt betrayed by his leaving and there is real venom and bile in the delivery of the song. Overall the song is pretty much standard punk fare with strong pop overtones and a great chord structure carried by the two-string bass riff, the snarling guitars and clattering drums complete the sound. Depending on the key it's D / G / A in the verse changing the feel by bringing in a C in the chorus [ G / C / D]. At well over three minutes, it seems quite long. The feeling of the song is summed up in the opening lines: "And to think you have the nerve to sing about hating nine to fivers, well you're a bloody hypocrite, just a dirty social climber, nine to fiver, social climber, oh yeah."
The Nose One – Shoes This High
Shoes This High comprised Kevin Hawkins (RIP), Brent Hayward, Jessica Walker and Chris Plummer. Based in Wellington in 1979, they broke up in Auckland in 1981 after this song was recorded, an outstanding outfit from the Capital's post-punk scene. Stop-start agit pop – think Gang of Four, Wire, little bits of Magazine, Joy Division and the Buzzcocks – so quite English sounding to my ears. A wonderful bassline by Jessica Walker anchors the song, synching with Chris Plummer's clipped, precise yet ramshackle drumming, it never sounds too slick. Kevin Hawkins's guitar scrawls haphazard colours across the song, weaves in and out of the bass and sometimes even plays definite parts, even climbing patterns. A staccato vocal delivery from Brent Hayward is perfect for the song: punky and snarly, sometimes bordering on a pop melody. "I just follow my nose, I don't care about my clothes ... I close my eyes I fall asleep, nothing I don't see nothing, nothing nothing ... " I love the ramshackle nature of the song and sometimes it sounds like a perfect pop song too.
Turn of the Century – Beat Rhythm Fashion
As soon as the song starts you know who it is, otherworldly, austere even. Metronomic drums chug alongside the low bass, but of course it's the phased guitar of Nino Birch that makes the song so distinctive.Nino's brother Dan sings this and plays bass; he wrote most of the lyrics in Beat Rhythm Fashion, including this slightly chilling vision of the future. "There are no dissidents in the homeland." "It's a long project, with no prospects, but I'd still like to see the turn of the century." It's actually a catchy pop song, it's just that it's cloaked in Closer-era string synths and of course that phaser. It has a great melody in the chorus and this is echoed by the synth to great effect. This is the second of three singles they recorded at Marmalade Studios in Wellington in 1981; they also had two songs on the wonderful **** (Four Star) Wellington compilation. The brothers with their posh English accents stood apart from the rest of the Wellington Terrace Scene – they were just passing through. RIP Dan.
Out On The Street – Space Waltz
New Zealand's answer to David Bowie, Alastair Riddell sings about hanging out with a friend in the wee small hours, going down to the 24-hour dairy and watching the transvestites. At the same time it was cynical view about growing up in a supposed free-living era. Space Waltz exploded onto our screens in a 1974 talent show called Studio One, they got through to the final and EMI quickly signed them up. 'Out On The Street' was released within weeks and made it all the way to No.1. "Watch out young love ..." ushered in the song, the verses are crammed with words, almost overflowing. It builds to a wonderful hooky chorus, the beat locks in and it sounds like a key change in there too. True to the time it features a lovely breakdown after the second chorus with very tasteful distorted lead guitar. "Don't ask this one for guidance, don't ask for strength or glory … don't follow her directives, till you've heard her tell the story." Some pretty good lyrics in this song, and the outro: "It's hard to be brave when all the breaks are against you." A great example of a local one-off hit from a unique talent.
Russian Rug – The Builders
One of Bill Direen's stranger songs, and that's saying something. This was recorded in Christchurch at Nightshift studio in 1982, with Arnie Van Bussel. Previously Bill, Charles Heyward and some other friends were discussing recording when someone said what if we put a monkey in control of the mixing desk. Bill had studied electronic music with Douglas Lilburn in the 1970s for six months and had also worked for Radio New Zealand so he obviously had skills in this area and was keen to go down the path of cutting tape as an editing process. Arnie the engineer said at the time in reference to these edits, "Are you sure that's what you want to do?" With Malcolm Grant on drums and Alan Meek on keyboards they had a great groove going on in the song, it would be fascinating to hear the raw original track. What we end up with is a chopped up track that jumps and moves all over the place, one minute it's guitar and drums playing the main riff, then dropping away leaving just a vocal or muttered words. Swirls of organ punctuate the song but it does revolve around a central guitar riff and "Lie down deep in the Russian rug." It's trippy, disconcerting and wonderful, a real crazy diamond. It came out on the Schwimmin in der see EP on Flying Nun.
I Will Be Home Again – The Maori Quin Tikis
South Seas slide guitar to the fore, the Quin Tikis paint a lovely story of longing. Letters sent and waiting to be received, "the promise in your eyes, will see me through ... there'll be brighter skies, when I come back to you." I think of waves lapping on the shore and a warm breeze when I listen to this tune. I love it when the band stops at the end of a line and the vocals lead the song back in. Featuring Weasel Tairoa on lead guitar, the band also featured Eddie Low before he went on to a solo career, and backed Howard Morrison for a while. This song was written in 1944 by Ray Leveen and Lou Singer in the US and Elvis did a version. On my CD copy it is credited to (Murphy), maybe he is the arranger. A wonderful rendition of a lovely old song, sentiments interwoven with that lovely South Pacific feel. From the 1968 album The Fantastic Maori Quin Tikis Showband.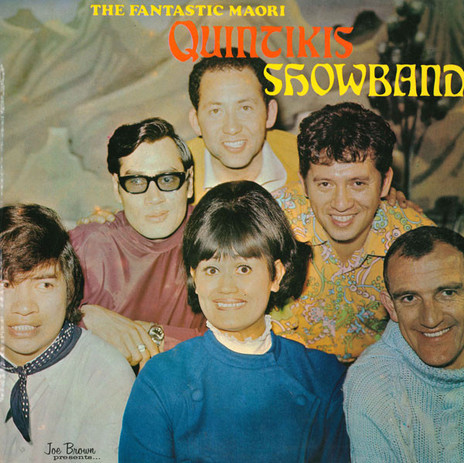 Breathe – Jean-Paul Sartre Experience
I have many wonderful memories of hearing and seeing this song live on the Noisyland tour across the USA and Europe, they always played it well and the crowd loved it. It was produced by Mark Tierney and is a classic '90s production, with pared-back verses and a full sounding chorus. There is a nice little sample at the start of each verse. The rhythm guitars are fuzzed out and woozy with what sounds like phaser on them too; a lovely three-note hook covers the song as well. Dave Yetton sings it, though it could have been any one of the three JPSE vocalists. Gary Sullivan's drumming is minimalist and propulsive at the same time: a great feel, as he always has. The song was described by the legendary US mag Trouser Press as "glamorous ennui" – a wonderful description. Released in 1993, it is a classic JPSE song and sums up what they do so well: this should have been a bigger hit than it was. I still miss the great Jim Laing to this day.