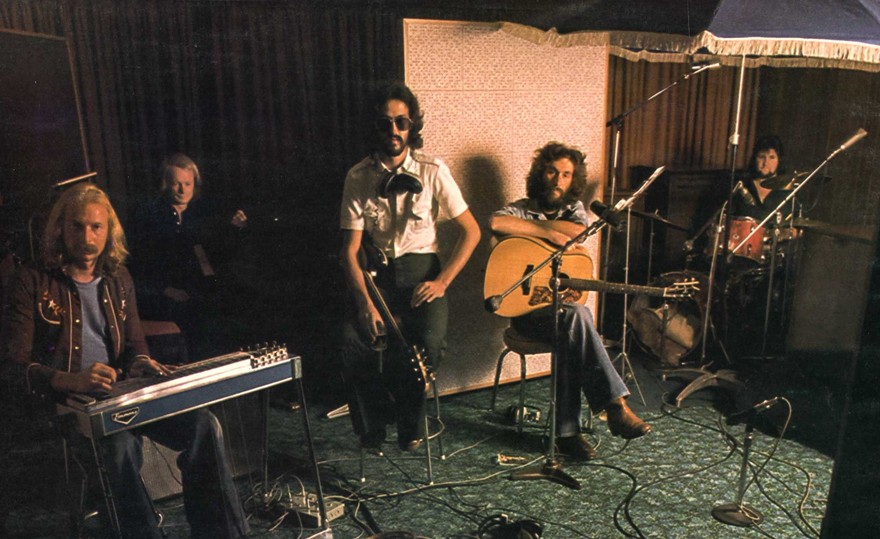 Pedal steel guitar has become synonymous with country music since Webb Pierce's 1954 hit 'Slowly', in which Indiana native Bud Isaacs had the audacity to push down on the pedal of his Paul Bigsby-built steel guitar while notes were still ringing.
The ensuing result of strings bending up into existing chords, creating harmonies with other strings, started a revolution in the genre that was only enhanced when pedal-steel builder Zane Beck added reliable knee levers to lower the pitch of certain strings.
Evolving from the Hawaiian steel guitar style of the late 1890s, the electric lap steel found its way into country and western and western swing through the likes of Noel Boggs and Leon McAuliffe with Bob Wills' Texas Playboys. Sometimes up to four necks were added to attain different tunings.
The incorporation of pedals was experimented with from 1939 but with not much success until motorcycle builder Paul Bigsby's design of a mechanical linkage in 1948. It was one of his creations that Bud Isaacs played on 'Slowly'.
Bigsby and Buddy Emmons added a second pedal, as did Jimmy Day, and in 1957 Emmons and Harold "Shot" Jackson formed Sho-Bud, the first company devoted solely to the manufacture of pedal steel guitars. Over the years, more strings, pedals and knee levers have been added.
In the US, the instrument has also found its way into jazz and sacred music, as well as appearing in rock and popular songs such as 'Teach Your Children' by Crosby, Stills, Nash & Young, 'She Came In Through The Bathroom Window' by Joe Cocker, 'Tiny Dancer' by Elton John, 'Best Of My Love' by The Eagles, and 'All I Wanna Do' by Sheryl Crow.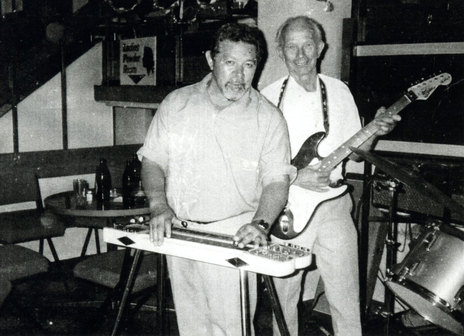 New Zealand had its fair share of steel guitarists prior to the pedal steel revolution. Bill Sevesi and Bill Wolfgramm were making waves in the Auckland dance scene in the 40s and 50s and, in 1949, Sevesi recorded with country and western pioneer Tex Morton. Jim Carter was the steel guitarist on the hit song 'Blue Smoke', and Taihape panelbeater Bunny Milne was building lap steels for Commodore.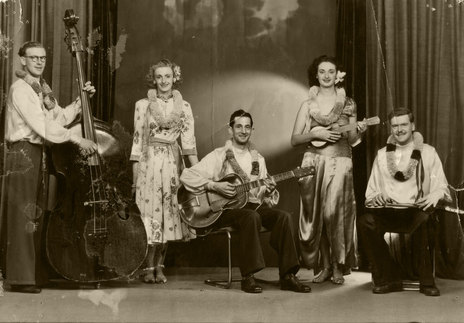 The New Zealand country scene featured lap and console steel guitarists such as Colin McCrorie with The Tumbleweeds, Horace Hartley with Rex Franklin's Ruahine Ramblers and Les Thomas with The Southern Ramblers. But the first instance of pedal steel guitar on a commercially available New Zealand album is thought to be by Les Thomas on the Peter Posa record My Kind Of Pickin', released in 1966.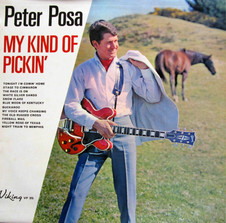 Ten years later, South Pacific Television engaged Canadian Ollie Strong as pedal steel guitarist and co-ordinator for their new series Touch Of Country. Trouble with the NZ Musicians' Union was averted when it was agreed Strong would provide pedal steel lessons while in the country.
Another Canadian, Jim Molberg, was vital to the burgeoning pedal steel scene in New Zealand. While teaching telecommunications at Auckland Technical Institute, Molberg also played in bands, taught pedal steel and offered advice to anyone with a passing interest in the complicated instrument. Most importantly, as the holder of an import licence, he brought in pedal steel guitar strings and instruments, including the custom-ordered double-neck Sho-Bud, played by Paddy Long on That's Country.
Complicated? Long explains the intricacies of his current double-neck set-up: "The left foot pushes the pedals on the floor and, for the right foot, you've got a volume pedal. When you're playing the front neck, that's the E9 Nashville tuning, the first four pedals work on that neck and there's a cluster of knee levers on that left knee, plus two on the right knee – they work on both necks but you've got a switch where you can switch one neck off while you're playing the other one.
"The back neck is the C6 tuning that evolved from the Hawaiian tuning, so it's more of a jazz or Western swing type of sound. The other five pedals work on the back neck, and there's another cluster of knee levers in the middle of the guitar, so you've got to take your left leg out and put it in between those knee levers to play the back neck. And because both necks are tuned differently, you've gotta approach the back neck a little differently because it's laid out a little differently musically as well."
Meanwhile, California-born Glenn Ross Campbell is a dedicated single-neck player. "If you can believe it, they had double-neck pedal steels," he said. "It boggles me, you'd have to be a real schizophrenic to really put that to its total 100% use." He is currently contemplating selling one of his two pedal steels because most of his work now, including with Dave Dobbyn, is on Weissenborn slide guitar.
Here are 10 New Zealand-based pedal steel guitarists and some samples of their playing.
--
Les Thomas
Les Thomas's first album session on the pedal steel was in the 4ZA studio in his home town of Invercargill for internationally renowned New Zealand guitarist Peter Posa in 1966. The resulting LP, My Kind Of Pickin', remained one of Thomas's favourites.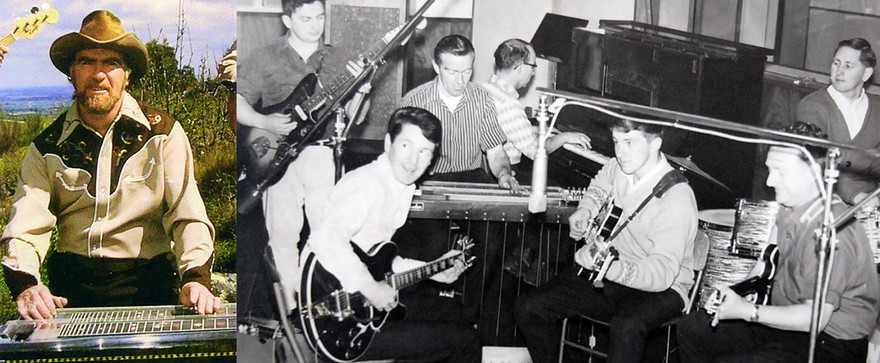 Earlier, Posa had partied and jammed with Thomas's band The Tunesmen and recommended them to Mosgiel-based impresario Joe Brown. Brown hired them as backing group for his popular country & western and Miss New Zealand tours that featured recording acts such as John Hore (John Grenell), Howard Morrison and Paul Walden. Later, when The Tunesmen were unavailable, Thomas was drafted into The Quin Tikis for another dozen or so Brown promotions.
Thomas had started out on a homemade lap steel and joined The Southern Ramblers, who performed live on radio station 4YZ for the first time in 1953, when Thomas was in his teens. The live broadcasts would continue for the next two or three years until Thomas eventually formed The Tunesmen.
He played pedal steel in the backing band at the New Zealand Gold Guitar Awards in Gore from 1974 until 1981, as well as backing overseas artists Burl Ives, Susan Raye, Slim Dusty, Rex Dallas and Jean Stafford.
In 2015, Thomas told writer and musician Chris Chilton that he'd played on plenty of albums that hadn't impressed him too much but the best and most satisfying was Noel Parlane's gold-selling Trucks & Trains. Les Thomas and The Countrymen's Steel Guitar Country was released on Music World in 1979.
Murray Charteris
Having released a single under his own name and an album as a member of The Beachcombers with his wife Averill and brother Logan, Murray Charteris's progression from Hawaiian steel guitar to country pedal steel guitar was a natural one.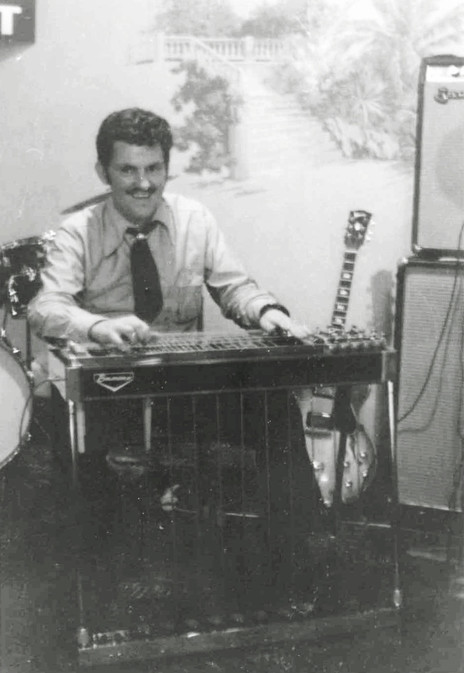 Just months after its 1959 American release, the Santo & Johnny steel guitar instrumental 'Sleep Walk' was released by Charteris with backing by The Trisonics on the Peak label. Three years later, The Beachcombers released a single on Fidelity and in 1963 the album South Seas Serenade on HMV.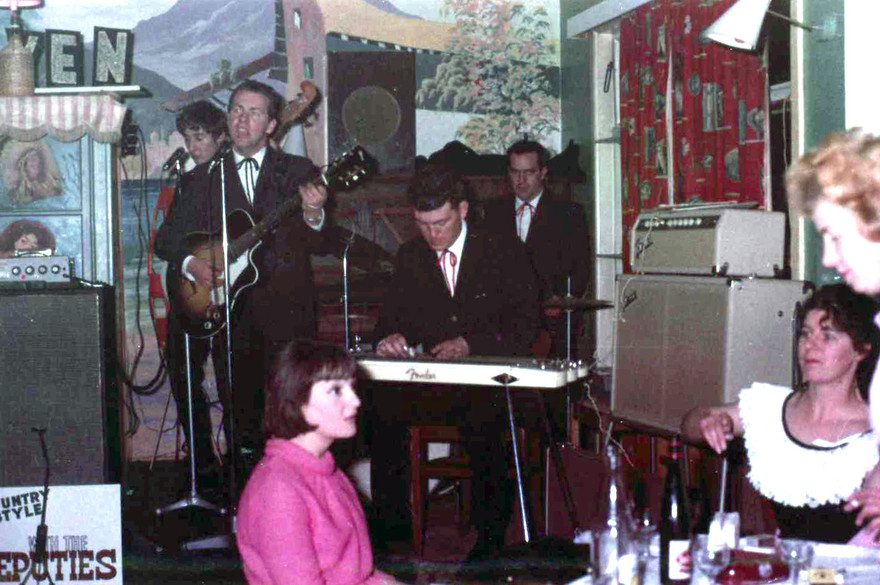 By the later 1960s, Murray, Logan and Averill Charteris were in country bands in Christchurch that came to the attention of ambitious record man Hoghton Hughes. Producer Hughes first used Murray Charteris as a steel guitarist on Brendan Dugan's debut album Country's Greatest in 1967.
That was followed by a succession of sessions for Hughes' Master and Music World labels backing the likes of Danny McGirr, Max McCauley, Patricia Lennon and Suzanne Prentice on her first few LPs. Often Charteris was credited as musical arranger while the band was billed as The Country Troubadours, The Last Exit or Santa Fe.
In 1979, Averill Charteris & Santa Fe released the album Truck Drivin' Woman on Music World, but Averill quit playing live in the mid-1980s when her and Murray's daughter Susan was about seven. The little girl would lovingly refer to her father's Emmons pedal steel as her brother because of all the attention he gave it. Murray Charteris passed away in 2009.
Red McKelvie
New Zealand's most-recorded pedal steel guitarist for the 20-year period between the mid-1970s and the mid-1990s, Red McKelvie became enamoured with the instrument after hearing Pete Drake on the late 1960s Bob Dylan albums John Wesley Harding and Nashville Skyline.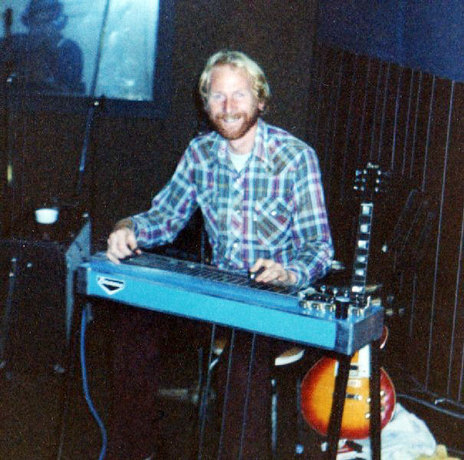 Already an established session guitarist on both sides of the Tasman Sea, McKelvie purchased a Sho-Bud in Auckland in 1974 just before embarking on a seven-week Miss New Zealand Show tour for Joe Brown. He took the new instrument with him and called in on every pedal steel guitarist he could find, including Les Thomas in Invercargill.
McKelvie's pedal steel credits include albums by Red Hot Peppers, John Grenell, Larry Morris, Eddie Low, Murray Grindlay, Toni Williams, John Rowles, Wayne Roland Brown, DD Smash, Gray Bartlett, Michael-Roy Croft, Sneaky Feelings, Hello Sailor, Derek Lind, Jodi Vaughan, The Topp Twins, Jan Cooper, Glen Moffatt, Tami Neilson, and his most enduring musical partner Patsy Riggir, for whom he was a trusted arranger and musical director.
In 1978, McKelvie contributed his own instrumental track 'Disco Steel' to the RTC compilation album Auckland Music. Whenever it was brought to mind, he would impart, "Yeah, the demo was much better."
His pedal steel and lead guitar were an integral part of The Al Hunter Band, who ruled the roost in Auckland through the late 1980s and early 90s, but ironically he never played pedal steel on any of Hunter's albums. Neon Cowboy, recorded in Sydney, featured Australian Kenny Kitching, while Glenn Ross Campbell played pedal steel on The Singer and Cold Hard Winter. Red McKelvie passed away in April 2022.
Kevin Bayley
As part of Chapta and Taylor, Kevin Bayley had already had his guitar and vocals committed to vinyl before taking up the pedal steel around the same time he replaced Bruce "Phantom" Robinson in Rockinghorse in early 1975. He was unaware until much later that Robinson had also played pedal steel.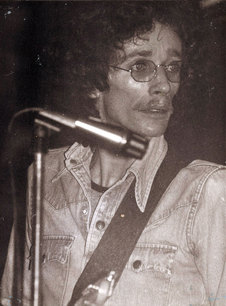 Living in Wellington with bluesman Midge Marsden, Bayley bought a Sho-Bud and set about teaching himself to play it with the aid of issues of Guitar Player magazine and Marsden's immense record collection. "Midge's record collection was a great help," he said. "One bedroom wall was completely filled with LPs. It was like a library."
Bayley told AudioCulture he picked the instrument up as he went along through trial and error. He was particularly enthralled with the jazz players of the 1950s. It remained secondary to his main gig as session guitarist and leader of his own bands such as Short Story.
Short Story came about in December 1978, shortly after the demise of Rockinghorse, and included Bayley's younger brother Colin and latter-day Rockinghorse drummer Steve Garden. They released singles 'Julia' and 'Halfway To Paradise' but album plans came to nothing. Colin Bayley joined Mi-Sex in 1983.
Besides his playing on the Rockinghorse LP Grand Affaire, Kevin Bayley's pedal steel can be heard on recordings by Redeye, Dennis O'Brien, Sharon O'Neill, Jan Cooper and Jodi Vaughan. Moving to Australia in 1986, he added pedal steel to albums by Slim Dusty and Olivia Newton-John.
Paddy Long
With Red McKelvie unavailable for series two of TVNZ's That's Country at the start of the 1980s, musical director Murray Wood called on pedal steel guitarist Paddy Long. Long aced the audition and remained with the show until its demise in 1984, opening the door to a recording career that continues to this day.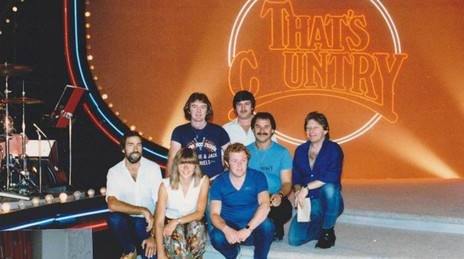 Joining the Royal New Zealand Navy straight from school in 1967, Long had been drawn to the sound of the pedal steel but never saw one until anchored at Hawaii and spending a night at a country music bar. "That's when the penny dropped," he said. "I'd always heard it and thought it was some guitarist using a clever stomp box or something to make those noises."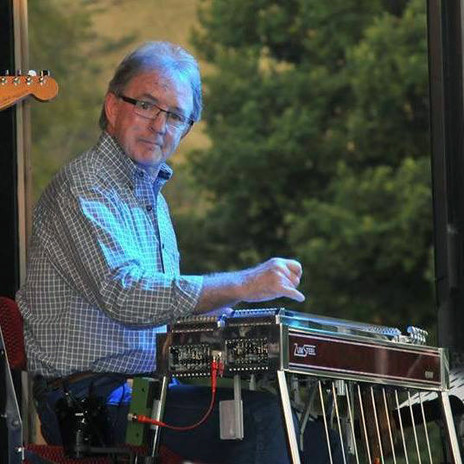 Back in Christchurch in around 1978, Long bought a Sho-Bud instrument and a copy of Winnie Winston's Pedal Steel Guitar, which came with music tablature and a corresponding 7-inch flexi disc. Slowly but surely he introduced the pedal steel into his band's repertoire, one song at a time, until he was confident enough to perform an entire gig.
Long says the best thing he ever did for his playing was attending Jeff Newman's Jeffran College of Pedal Steel Guitar in Nashville, Tennessee, not long after he scored the That's Country job. "I learnt more in, like, 10 days than it would have taken me another 10 years to flounder around and discover."
In the following decades, Paddy Long has played on upwards of 250 sessions and appeared on 170-plus albums, including releases by Suzanne Prentice, Brendan Dugan, Jodi Vaughan, Noel Parlane, The Gypsy Pickers, The Coalrangers, Delaney Davidson and Marlon Williams. In 2012, he released solo album 50 Ways To Love Your Lever, co-produced with guitarist Brian Ringrose.
Joe Martin
Payment for Joe Martin's first recording session on pedal steel guitar included a pot of bones and watercress. Producer Deane Waretini was strapped for cash and the offer was snapped up. It was an inauspicious start, but Martin has gone on to play on around 40 albums, including his own Lonesome Steel Guitar Blues in 1992.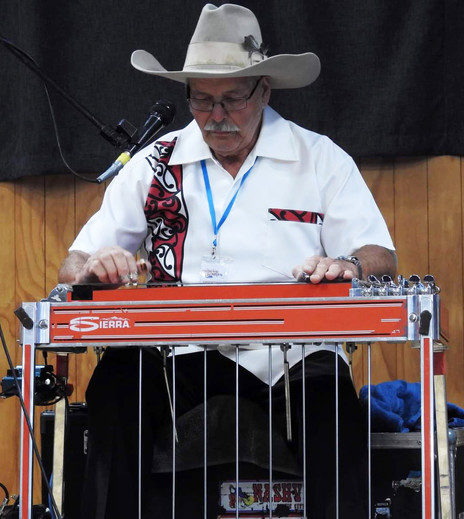 Born and bred and still resident in Pukearuhe, 45km north-east of New Plymouth, Martin started out playing guitar in a family band. He was gripped by the pedal steel when he saw Les Thomas playing with The Quin Tikis on a Miss New Zealand tour in the late 1960s.
Buying a Hawaiian steel guitar in the early 1970s, he still hankered for that Nashville sound, purchasing a 10-string, three-pedal, one-knee-lever Sho-Bud Maverick pedal steel in 1975. In the late 1970s he bought a twin-neck, 12-string instrument with 10 pedals and six knee levers.
Martin benefited greatly from meeting Auckland player Sonny Manahera, who had played pedal steel on the JD Blackfoot LP The Song Of Crazy Horse, and was a member of Al Hunter's Rootes Group. "He showed me a hang of a lot of tips on getting started," Martin said. "Sonny and the likes of Jim Molberg. Jim also was a mentor of mine, too."
Joe Martin's pedal steel playing has appeared on albums by the likes of Eddie Low, Rex and Noelene Franklin, Joy Adams, Kylie Harris, Ross McNab, and Alan and Janet Muggeridge, and he has toured with such acts as Low, Patsy Riggir, Toni Williams, Brendan Dugan, Allison Durbin, Maria Dallas, Howard Morrison, Johnny Devlin and American star Kenny Dale. His pedal steel remains set up in his lounge ready for when inspiration strikes.
Errol Shute
A blacksmith and farrier by trade and a former stockman, wrestler and prison guard, Errol Shute can thank the sale of an anvil for his sole appearance on record. Eagles guitarist Joe Walsh, a blacksmith hobbyist, was in Auckland in 1989 working with Pacific reggae band Herbs when he bought the iron block.
While at Shute's, Walsh noticed his host's pedal steel guitar in bits and pieces and the two men set about assembling the instrument and swapping stories. A couple of hours and a few tunes later, Walsh invited Shute to Mascot Studios to add pedal steel to 'Way I Am' on the Herbs album that would become Homegrown.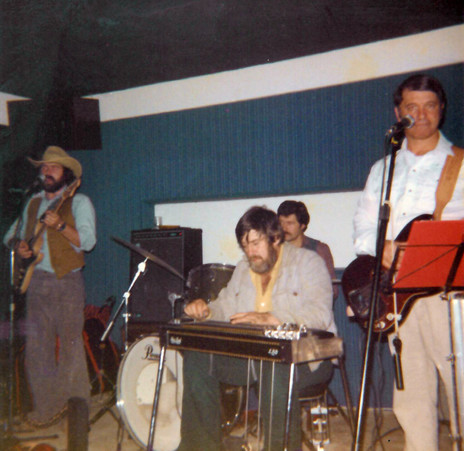 "Shooter" to his musician mates, Shute was a friend of Jack Riggir, and his family spent time on the Riggir farm in Putaruru and at the South Waikato Country Music Club. Shute was a traditional country fan until discovering the outlaw movement led by Waylon Jennings and Willie Nelson in the mid-1970s.
Around that time he answered a classified placed by Jim Molberg, advertising lessons for steel guitar, lap steel and pedal steel. Shute bought a pedal steel and the Buddy Emmons Learn To Play The Pedal Steel LP, practising solidly, before joining a country music club in South Auckland and eventually meeting his mentor Red McKelvie. The two would deputise for each other in Auckland country bands.
During the 1980s, Shute spent time in Gentle Annie and several combinations with well-known Waikato musicians Ritchie Pickett, Dave Maybee and Sid Limbert. His pedal steel career ended abruptly in the mid-90s when he crushed his hand while making ringbolts in his workshop. He passed away in April 2020.
Glenn Ross Campbell
Steel guitar wunderkind Glenn Ross Campbell was barely 13 and playing in a club in Riverside, California, when he met his pedal steel hero Curly Chalker in the late 1950s. Bored with the youngster's questions, Chalker told Campbell if he could answer a handful of music theory questions he would give him 10 minutes of his time. Campbell got them all right and soaked up the resulting pointers.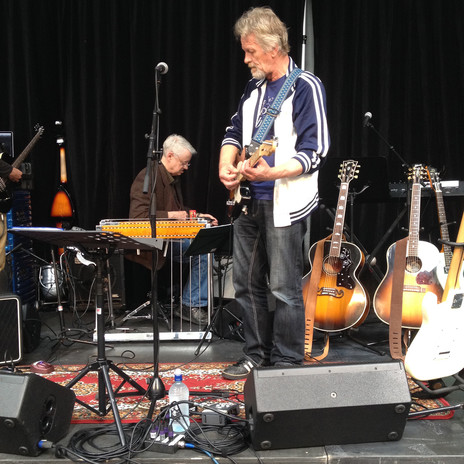 He had taken up steel after hearing the instrument on The Spade Cooley Show on television. Campbell's mother – a promising classic pianist until slicing her hand – took him for a free guitar lesson with a Navajo Indian who had the unlikely name of Pat McGill, but Campbell tried to explain that wasn't the sound he had heard. McGill offered another free lesson and then ongoing tutelage once discovering it was in fact steel guitar.
In his late teens, he cut his own surf instrumentals 'Strike' b/w 'Gutterball' with The Goldtones on A&R Records and was part of The Misunderstood that went to England in 1966 and signed to Fontana Records. When they broke up he formed Juicy Lucy, releasing three LPs, before touring the States as part of The Chris Stainton Band, backing Joe Cocker in 1972. Back in Riverside in the 1970s and 80s, he played pedal steel in a series of country bands.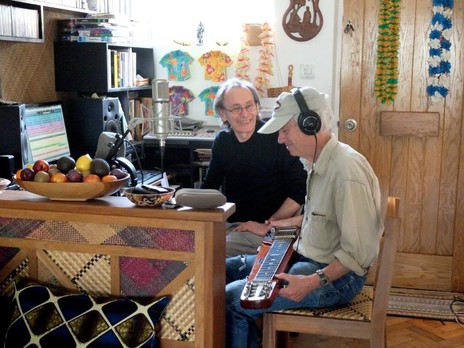 Campbell moved to Auckland with his New Zealand-born wife Barbara in 1987, eventually joining and becoming the pseudo-musical director and pedal steel guitarist in Tim Werry's unwieldly and wildly popular country swing outfit The Waltons. He replaced Red McKelvie in The Al Hunter Band when McKelvie left to pursue an interest in Cajun music. Campbell appears as pedal steel guitarist on albums by, among others, Hunter, Barbie Davidson, The Topp Twins, Glen Moffatt, OMC, Roger Tibbs and Guy Wishart.
Winnie Winston
When it comes to pedal steel guitar, New York-born-and-raised Julian "Winnie" Winston wrote the book, quite literally. Just 18 months after taking up the instrument and as one of the only steel players working in the folkie scene he was approached to write an instruction manual.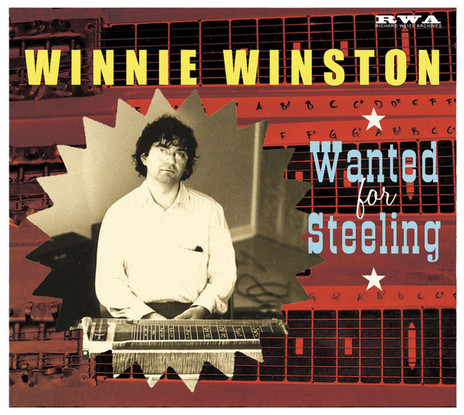 Although initially turning the publisher down, he relented and Pedal Steel Guitar, written with Bill Keith, was published in 1975. It went on to sell more than 30,000 copies – one of those to Paddy Long in Christchurch. Five years later, Winston compiled and edited Pedal Steel Guitar: A Manual Of Style.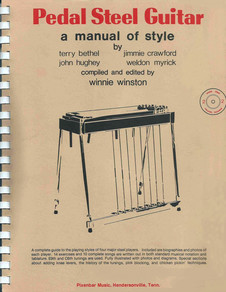 A champion banjo player, Winston took up pedal steel after moving to Philadelphia in 1971. A trip to New Zealand in 1992 resulted in him meeting his future wife. They married in 1994 and settled in Tawa the following year.
While still resident in the States, Winnie Winston recorded with major folk acts Steve Goodman, David Bromberg, Rosalie Sorrels and Mary McCaslin and Jim Ringer, as well as releasing solo albums Steel Wool and Cloud Dancing. In New Zealand he appeared on recordings by Roger Tibbs, When The Cat's Been Spayed, and Barry Saunders, as well as soundtracks and jingles. Produced by David Long and Nick Bollinger, Winston's final album, Misty Morn, was released shortly after his death in 2005.
Buck Croydon
Toronto-born Janek "Buck" Croydon was a commercial photographer when he moved to New Zealand in 1988 to work for an Auckland studio. He set up his own business in 1989 and later was the first commercial photographer in New Zealand to import and use a digital camera.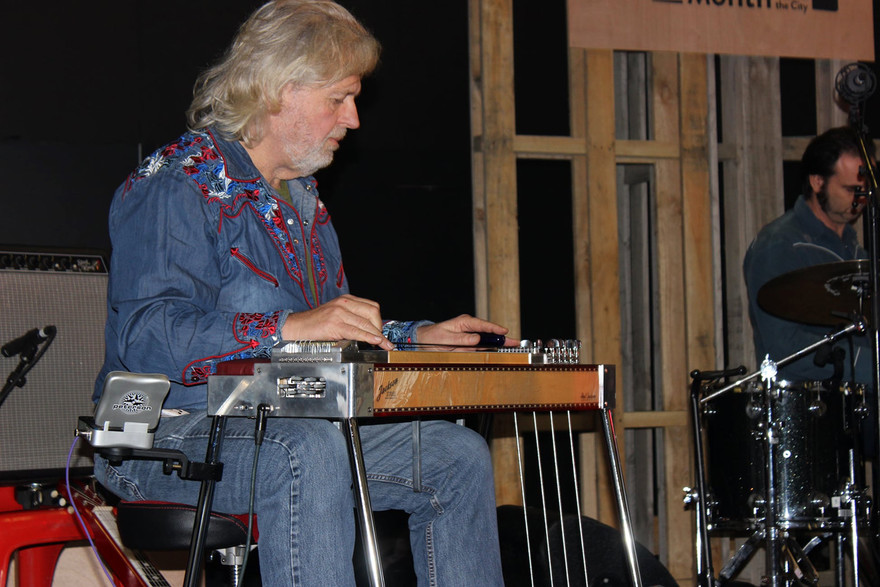 At the same time he started Heywire Music, importing guitars and musical gear, and built Hill Street recording studio in Onehunga. He kissed the photography business goodbye in 2008 and concentrated on music.
Croydon's friend since high school in Toronto, Don Rooke, a lap steel player himself, recalls The Flying Burrito Brothers' "Sneaky Pete" Kleinow and Poco's Rusty Young being influential for Croydon. "I remember he also had the Nashville Bar Association record and loved Buddy Emmons, especially the record with the rainbow, Steel Guitar," Rooke said.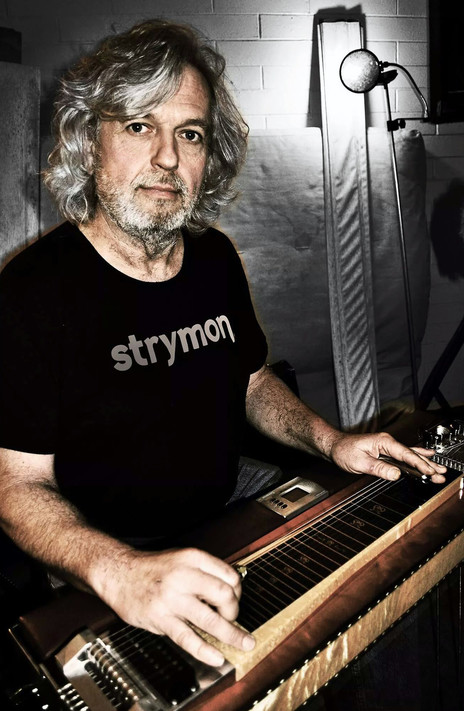 Also proficient on piano, dobro, lap steel, Weissenborn and acoustic guitar, Croydon played a Fender 1000 double-neck pedal steel dating from the late 1960s before taking possession of a custom-made Jackson SJC around 2013.
He appears on recordings by, among others, Caitlin Smith, Goldenhorse, Lorina Harding, Donna Dean, Cat Tunks and Aly Cook, and appeared on stage with Tunks, Bernie Griffen and The Flaming Pearls, Nigel Gavin, Sarah Spicer's band The Blue Riders and a host of others. He passed away in May 2021.
--
Read more: Country Aotearoa timeline, part one, 1935-1981
Read more: Country Aotearoa timeline, part two, 1982-2017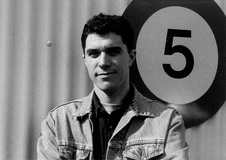 Glen Moffatt has been a fan of the pedal steel guitar since hearing Buddy Emmons on the (other) Glen Campbell's mid-1970s hit 'Ocean In His Eyes'. Moving to Auckland in 1991, Moffatt gigged extensively with Red McKelvie, has recorded with Glenn Ross Campbell, worked with Paddy Long on Norfolk Island, and spent an afternoon in Winnie Winston's lounge before the pair of them performed two otherwise off-the-cuff shows in Wellington. Photo by Billy Lawry.