The first staging of the New Zealand Gold Guitar Awards in Gore in 1974 was just hours old when it encountered a stumbling block. The country music talent quest's sole North Island entrant had missed her audition time due to a flight delay at Hamilton.
Fog had held up the 28-year-old checkout operator's departure, and her first time on a plane had made her sick. By the time she had made the 64 kilometre drive from Invercargill, Patsy Riggir was too late to perform for the judges.
But the new competition's organisers, farmers and country music promoters from Southland and Otago, were well aware of Riggir's father, former Zodiac and Tanza recording artist of the 1950s Jack Riggir. They put their heads together and decided that after all the effort in getting to Gore, letting her compete with the other 37 contenders was the least they could do.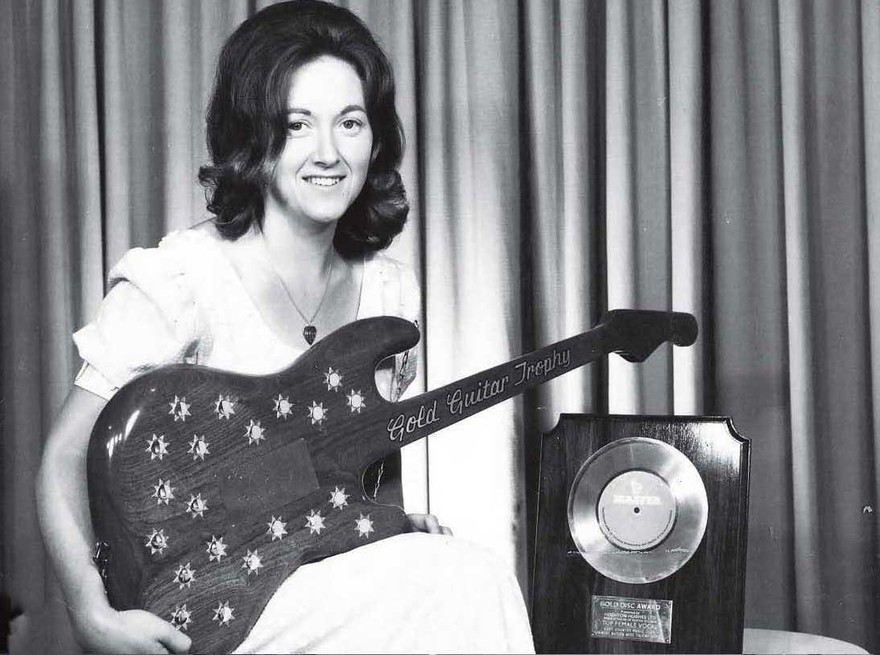 What could the South Island singers have thought when the latecomer's versions of Marie Osmond's 'Paper Roses' and country standard 'Once A Day' saw Patsy Riggir outscore her rivals and be crowned the inaugural winner of the Gold Guitar Trophy? The proof was in the pudding when Riggir became one of New Zealand's most beloved recording acts of the 1980s and 1990s.
Country music shows were huge in the South Island in the days of the six o'clock swill. Crowds would flock to country halls and woolsheds to see Max McCauley, Dusty Spittle and their bands. Tours were organised by rural workers such as the Abernethy brothers, Richard Tutty, Ray Ferguson and Country and Western Spotlight editor Garth Gibson, all under the guise of Country Style Promotions.
But since the introduction of 10pm closing in October 1967, not to mention the musicians getting married and settling down, the touring had slowed down. When Country Style Promotions finished up in 1970 its profits were put into a trust and then offered, along with a carved Gold Guitar Trophy to the fledgling Gore Country Music Club for establishing an annual talent quest.
Country music clubs were springing up all over New Zealand. Amateur singers could turn up and perform with a band of varying abilities, grab a cup of tea and a biscuit and open their ears to hitherto unheard material. Some clubs were running their own annual competitions.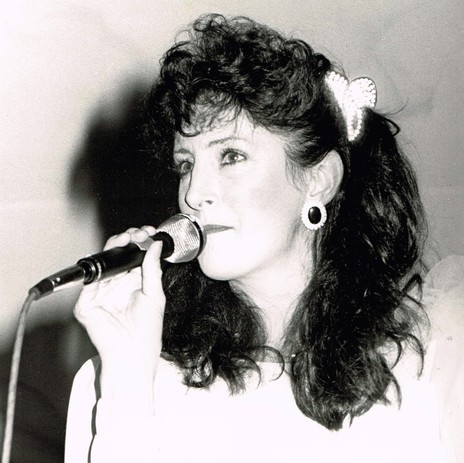 The New Zealand Gold Guitar Awards have been held every year since 1974, except for the cancellation of the 2020 event due to the Covid-19 pandemic. The Queen's Birthday Weekend contest has grown to include, at times, a country hoedown, a professional showcase, line dancing, busking, a Miss Gold Guitar pageant and a Hands of Fame induction.
Various sections have been introduced including traditional, country gospel, instrumental, country rock and yodelling. Alongside the overall Gold Guitar winner, there was also a junior/intermediate winner. A 40-plus award was added in 1996, junior/intermediate were separated in 1999, and a 60-plus category was added in 2010.
The weekend has hosted international guest artists such as Connie Smith, Bobby Bare, Freddy Fender, George Hamilton IV, Johnny Rodriguez, Gary Morris and Ricky Skaggs, many contacted by Max McCauley during his time on the committee.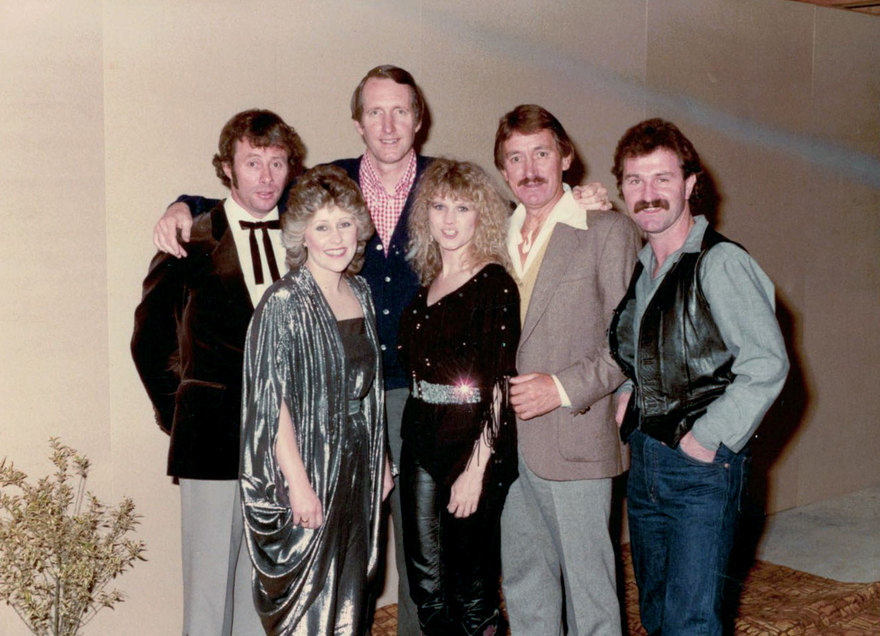 According to McCauley, Queen's Birthday Weekend was chosen because many of the initial committee members were farmers and there was less farm work in midwinter. McCauley served 11 years on the organising committee, his wife Coral served more than 20, as did former convenor Phil Geary and Cathy Murphy.
There were other country music awards held during Queen's Birthday Weekend in Auckland and Hastings. The Auckland event was moved to April around 2005 when it became evident more people were opting to travel to Gore. The Hawke's Bay Country Music Stars Awards folded some time ago.
In 1978, a wagon was erected to the north of Gore announcing the town as New Zealand's capital of country music. Two years later the Mataura Licensing Trust Songwriting Award was introduced, won by Jeff Rea with his song 'Life On The Road'. Soon after, Rea would become a regular on TV show That's Country before trying his luck in Nashville.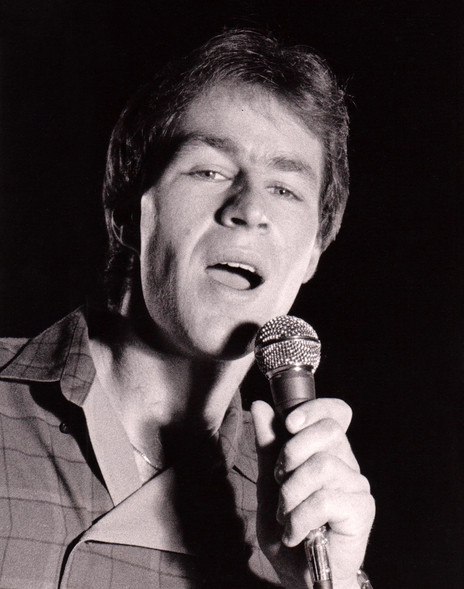 When country music in New Zealand was a primetime staple, part of the awards' overall prize was an audition with Music World Ltd. Four of 1978 recipient Noel Parlane's five subsequent Music World albums were certified gold. Banjo queen Jenny Blackadder, the winner in 1980, also released big-selling records on Music World.
Long after the demise of That's Country, 1990s Gold Guitar winners Kylie Harris and Camille Te Nahu used their success as a springboard overseas: Harris to Nashville after two albums for Eldred Stebbing, Te Nahu with a career in Australia and, in 2020, a move to Nashville with her guitar-picking husband Stuie French and family. The winner in 2007, Kaylee Bell, has also travelled to Nashville and went on to become a digital singles success story with upwards of three million streams.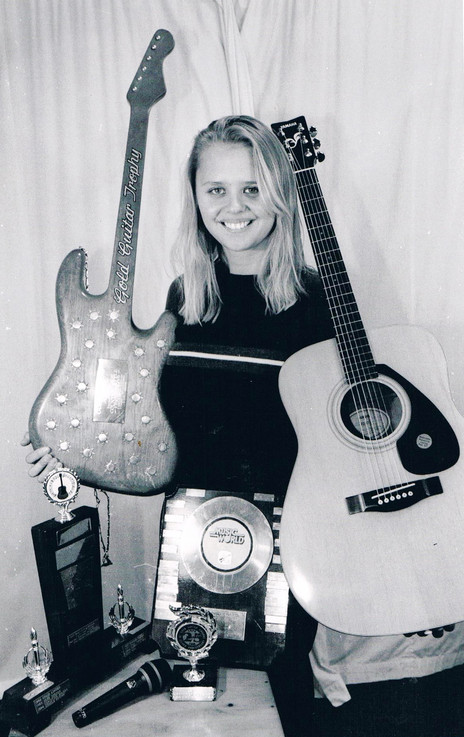 Three weeks out from the 2004 Gold Guitar Awards, the town's serial arsonist torched the Gore Country Music Club rooms, burning the building to the ground. Memorabilia covering the competition's 30 years was destroyed, including the wooden guitar trophy itself. The awards still went ahead.
That hasn't been the only setback. Organisers had been taking handprints in cement since 1992 for a Hands of Fame installation which was finally unveiled in 2005 after more than a decade of battling with the Gore District Council. Among the inductees were the inaugural winner Patsy Riggir, New Zealand stars such as John Grenell, Brendan Dugan, Suzanne Prentice and Tami Neilson, pioneers including The Tumbleweeds, The Plainsmen and Max McCauley, as well as overseas superstars Kenny Rogers and Glen Campbell.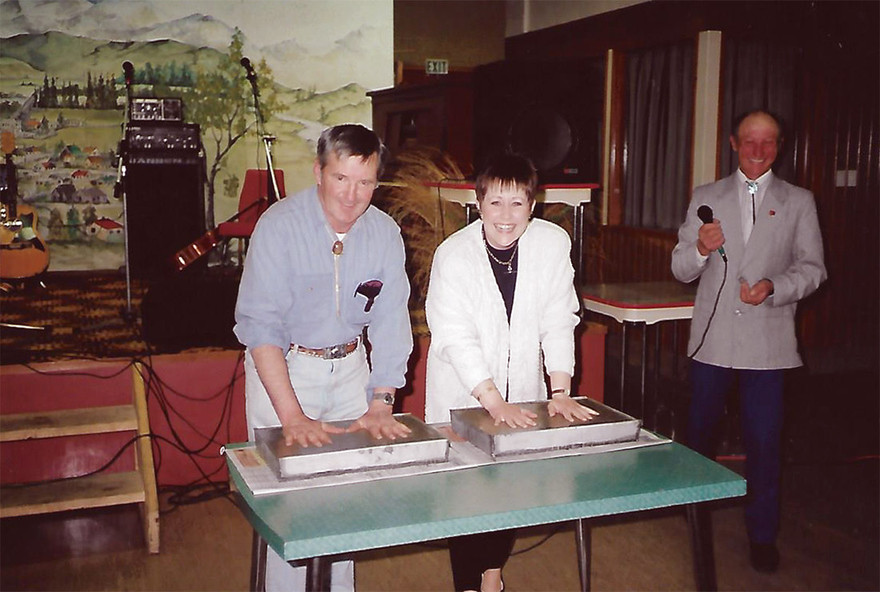 By 2019, entries had grown to more than 700 and the prize package included $3000 cash, a Martin guitar, a fully produced single recorded in Brisbane, flights, accommodation and single publicity, a Shure SM58 microphone, and an invitation to perform on a New Zealand showcase at the Tamworth Country Music Festival.
Taking a leaf out of the Tamworth book, it was announced in September 2019 that the Gold Guitar Awards would expand to introduce Tussock Country, New Zealand's Country Music Festival. Festival chairman Jeff Rea told Stuff the event would run for eight days and conclude with the awards. However, plans were scuttled by the coronavirus pandemic.
Gore-born, Rea was instrumental in the Gold Guitar Awards absorbing the NZ Music Awards country categories in 2004. The APRA Best Country Song of the Year and RIANZ (now Recorded Music NZ) Best Country Album of the Year have been presented at the Gold Guitar Awards ever since.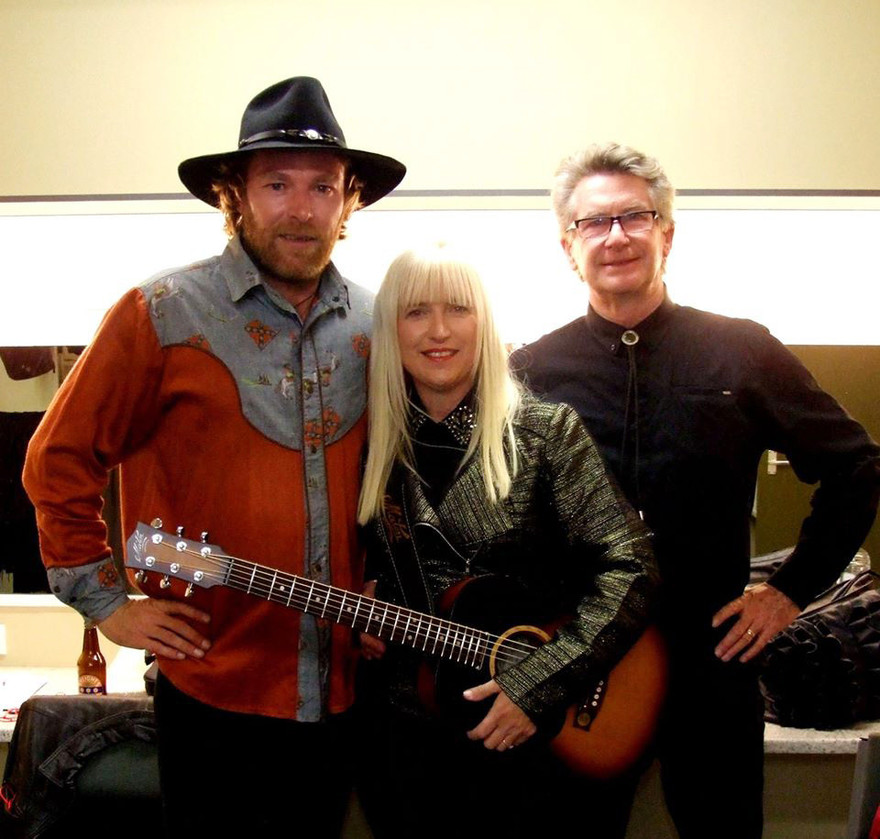 In 2011, the NZ Songwriters Trust formed a new relationship with RIANZ and APRA that saw the New Zealand Country Music Awards and the MLT Songwriting Awards combined into one event.
I went to the Gold Guitar Awards just once, in 1983. It was the 10th year of the competition and many of the event's former winners were returning as guest artists, along with Dolly Parton's little sister Stella Parton. "It's like a religion out there," she was quoted in the NZ Listener of 2 July 1983. "Whole generations of kids are being brought into it."
My memory of attending the awards is that in 1983 it was quite old-time. I was 12 and after two years of competing and winning in the Hawke's Bay Country Music Stars Awards, held the same Queen's Birthday Weekend, my parents had decided it was time to venture to the New Zealand capital of country music. Plus, my dad grew up in Waikaia and we had family in Gore.
A note in my tatty boyhood scrapbook reports that I made the final concert singing Johnny Cash's 'Folsom Prison Blues' and my sister Sharlene and I were highly commended performing the Rodney Crowell-penned 'Leaving Louisiana (In The Broad Daylight)', although our rendition had more to do with Napier band Ramrod than Emmylou Harris or The Oak Ridge Boys.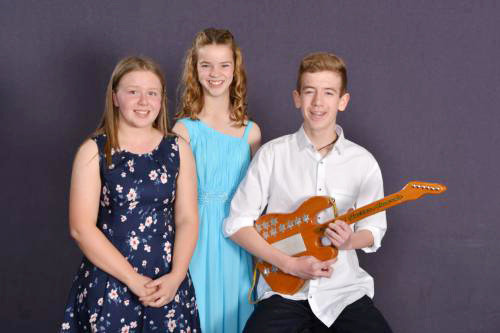 I was probably exactly what New Zealand country music pioneer Dusty Spittle was referring to when he told Christchurch journalist Bruce Ansley: "I'm a bit worried that the Gold Guitar [sic] is trying to promote local talent but many of them are trying to imitate American singers to such a degree they're copying American music." Didn't stop me getting his autograph.
To tell the truth, my most vivid recollections are the look of disdain from a teenaged adversary and her mother when the head of my cheap Hondo II guitar got too close and the end of my D-string tore a ladder in her stockings. Oh, and my late grandfather Roy Moffatt, three sheets to the wind, belting out his favourite 'Nobody's Child' over some poor soul's audition while gliding up the aisle of the James Cumming Wing.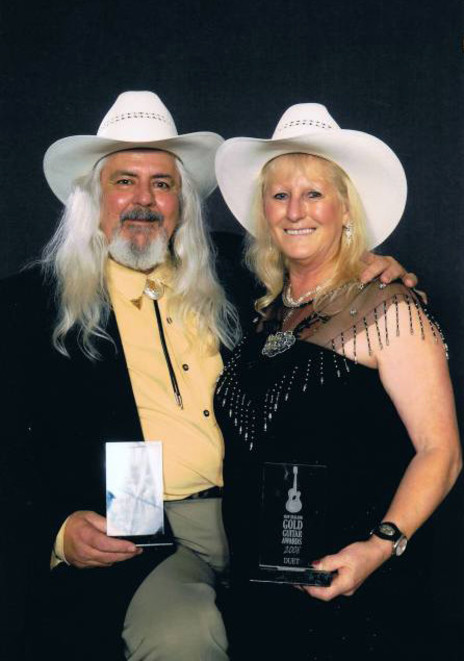 While now an institution, The Warratahs had not yet released an album when they turned up at the Gold Guitar Awards in 1987. The band's pianist Wayne Mason told Rip It Up in February 1988 that their arrival "was like the classic movie of a gunfighter coming down the street, with everyone peering through their curtains."
The Warratahs won Best Street Performance and Best Group but were surpassed for the Gold Guitar Trophy by Marianne Stephens. The highlight for The Warratahs came when they performed with 1950s Tanza recording stars The Tumbleweeds. Before the end of the year The Warratahs had released their debut album The Only Game In Town and constant touring soon made them known in all corners of the country.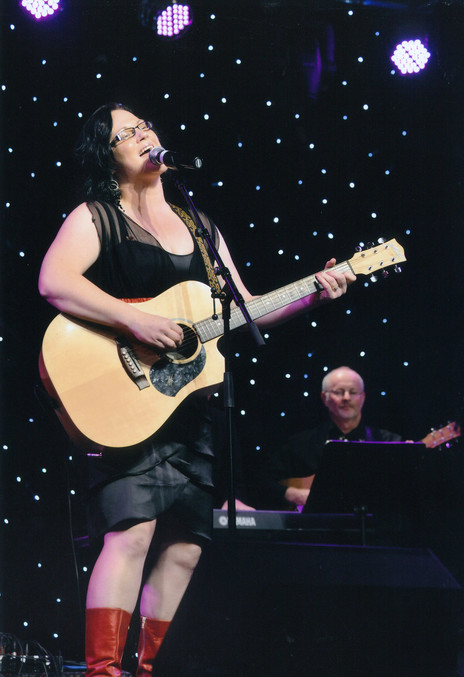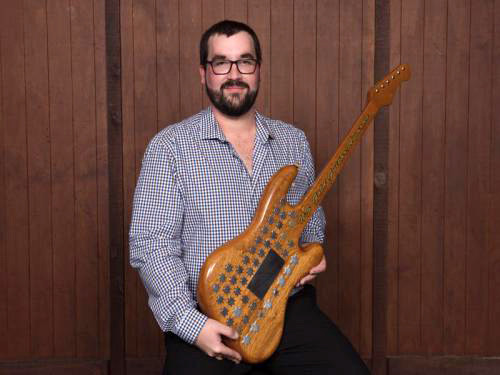 The Topp Twins had been trying to get to the Gold Guitar Awards for 10 years by the time they appeared as guest artists with Eddie Low in 1995. "We love traditional country, certainly more than this modern stuff which we call 'suburban and western'," Jools Topp told writer Roy Colbert in Southern Skies magazine.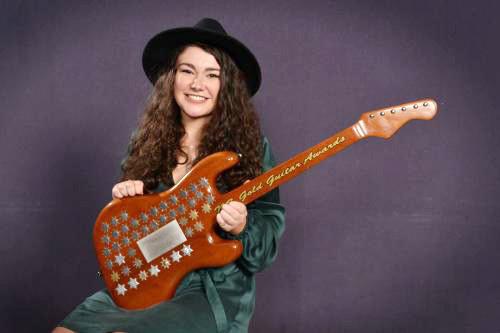 Gore singer/songwriter Jenny Mitchell had crowd-funded album The Old Oak behind her when she won the Gold Guitar in 2017. Her 2018 follow-up Wildfires was recorded in Sydney with esteemed Australian producer Matt Fell and won the 2019 Tui for Best Country Album. It went on to be nominated for Alt-Country Album of the Year at the 2020 Australian Golden Guitar Awards.
When Mitchell competed in TV's New Zealand's Got Talent, shop windows all around Gore urged locals to "Vote for Jenny!" She told NZ Musician in January 2019 that being based in the New Zealand country music capital was part of her success.
"I've grown up with and always listened to country music, so it seems all quite normal to me. It's not the same as the Auckland or Wellington scenes, but I think making music in a rural country town has really helped me," Mitchell said.
There's no doubt that rural country town will see another aspiring singer's dreams realised when the New Zealand Gold Guitar Awards come back with a vengeance in 2022.
--
Official website: www.goldguitars.co.nz
Tussock Country: New Zealand's Country Music Festival