"Music provided a rallying point for the counterculture, and helped project its ideals into the mainstream," writes Nick Bollinger in his book Jumping Sundays: the Rise and Fall of the Counterculture in Aotearoa New Zealand (Auckland University Press, 2022). Here he provides an accompanying soundtrack of New Zealand music created during the era, which began with folkies warning of a nuclear apocalypse, spawned many local Hendrix devotees, and concerts "could be informal psychedelic communions".
--
Chants R&B - I Want Her
In the mid-1960s, the Stage Door, a basement club in Christchurch's Hereford Lane, was an early meeting point between as least two strands of the burgeoning counterculture: music and politics. Too hairy for television and too raw for radio, resident band Chants R&B played their frenzied rearrangements of rhythm'n'blues songs to what guitarist Mike Rudd described as "dissolute kids, schoolgirls, the unemployed and the unemployable". Above the venue was a coffee bar. A teenage Richard Hill (who later became a well-known historian) frequented both. Downstairs he would join his mod friends and revel in the exuberant din of Chants R&B, upstairs he would encounter his first debates on the Vietnam War. This Chants' original combines anarchic drumming with slashing chords and traces of eastern melody.
Lew Pryme - Gracious Lady / The House of Nimrod - Slightly Delic
1967's Summer of Love brought a plethora of pop songs celebrating flower-power and – in veiled and not-so-veiled terms – the wonders of LSD. The nearest New Zealand got to its own flower-power pop song was a single released in 1968 by local peroxide pop star Lew Pryme. 'Gracious Lady Alice Dee' (try saying the name aloud) was written by Bryce Peterson, inspired by "the most beautiful day" he had spent in the Auckland Domain on his first LSD trip. Opening with the lines "We wandered through the multicoloured flowers, not knowing where the world might be", the song evokes the dazed and naive wonder of the newly turned on. In spite of Peterson's abbreviating the title to 'Gracious Lady', the NZBC refused to play the record and police reportedly removed copies from stores. Peterson would further exercise his psychedelic visions and irrepressible sense of wordplay in a later single by his own band House of Nimrod, titled 'Slightly Delic', though it would fare no better.
The Human Instinct – Stoned Guitar
The influence of Jimi Hendrix on guitarists in this country was profound. Within weeks of his first single release – 'Hey Joe' backed by 'Stone Free', recorded in late 1966 and available early the following year – local musicians were striving to replicate his fluid fretwork and wildly overdriven electric guitar. While early adherents included Reno Tehei (of the Joyful Crye; he would also mimic Hendrix's stage act and even his fashion sense) and the mystically inclined Doug Jerebine. The most famous was Billy Te Kahika, popularly known as Billy TK and sometimes called The Māori Hendrix. Originally from the Manawatū, where had cut his teeth playing 'Shadows' and Everly Brothers covers, he joined The Human Instinct just as they were evolving from a psychedelic-tinged pop group to a fully Hendrix-ified power trio. In a 1970 review in Craccum, Bruce Cavell described "his fingers, these really nimble fingers flitting up and down, pausing as he eases a long long feedback note out, but then they group into chords, big powerful rich chords, hard chords, and then he textures them with the fuzzbox …" 'Stoned Guitar' was the title song of the Instinct's classic album, and it is a showpiece for Te Kahika. The first three minutes consist only of guitar, though it is not necessarily identifiable: using feedback and echo effects Te Kahika manipulates it to sound like whales, seagulls and messages from Mars.
Doug Jerebine – Reddened Eyes
Like a number of musicians who came through the counterculture era, Doug Jerebine saw his quest as a spiritual one. He was known as one of this country's top session guitarists, playing on records by sixties stars such as Tommy Adderley and The Chicks, but by the start of the next decade he had left music to pursue the life of a Krishna monk, eventually moving to India where he would live for the better part of three decades, translating scriptures from Sanskrit. While living in Britain in 1969, he recorded a bunch of original songs. Though these recordings would remain unreleased for more than 40 years they would be much bootlegged. They also provided The Human Instinct with material that would be covered on several of their albums. 'Reddened Eyes' displays Jerebine's superlative guitar playing and a little of his philosophy, as he contemplates civilisation, liberation and the other side of time.
Ticket – Country High
"Getting it together in the country" was a catch-cry frequently heard in the early 70s as urban boomers, seeking a life closer to nature, fled the cities to establish communes, ashrams and rural crashpads. When Ticket wasn't entertaining a mixture of local hippies and American servicemen at Christchurch nightclub Aubrey's, members of the group would sometimes head to Diamond Harbour where they might drop acid and watch the sunrise. 'Country High' was partly inspired by such experiences. "There were lots of those days," remembers singer Trevor Tombleson. "And there's a lot of country around Christchurch, before they put the houses up." But drummer Ricky Ball adds: "I don't think it was all about acid. When you read the lyrics it's also a nature song."
Space Farm – Infinity Way
It was in San Francisco, the crucible of the counterculture, that the original Acid Tests took place: a series of parties where psychedelic music was played and LSD was handed out like a sacrament. In New Zealand the scene was more D.I.Y. "When Space Farm played, people knew we would be tripping on acid so they would do likewise and take the magic carpet ride with us," recalls bass player Billy Williams. When the group took the stage at the Wellington Town Hall one night in 1971, the second act in a double-bill with Ticket, all four members were tripping. Bass player Billy Williams recalls: "We had been fasting and abstaining from drugs for a month before that gig, so when we took a cap of mescaline each while Ticket were playing it took effect very quickly. Walking out on stage was surreal." Yet even when under the influence of powerful hallucinogens, Space Farm could be a remarkably disciplined unit with guitarist Harvey Mann and drummer Glen Absolum displaying an almost telepathic connection. 'Infinity Way', from their sole self-titled album, is typical of their tight, guitar-drum interplay while the lyrics suggest different kinds of cosmic exploration.
Mammal / Sam Hunt – Beware The Man
In the early 70s Wellington band Mammal provided the soundtrack to many a countercultural happening. They rarely played in pubs, where their long hair and raggle-taggle appearance failed to meet the dress codes, instead taking their psychedelic funk– along with the trippy light shows of Peter Frater – to student unions, rock festivals and provincial halls. Often they shared a stage with the poet Sam Hunt. Their sole album, 1972's Beware the Man (Red Rat), interspersed Hunt's own readings with settings of his poems by Mammal's Tony Backhouse and composer Ian McDonald. Though the album was not entirely typical of the band, the title song would become a staple of their live repertoire and perfectly catches the us-against-them mood of the times, with Hunt's lyric cautioning listeners to "beware the man who tries to fit you out in his idea of a hat … he's fitting you for more than that."
BLERTA – Freedom St Mary's
With their painted bus and convoy of musicians, actors, filmmakers, partners, children and assorted hangers-on, BLERTA embodied the counterculture's freewheeling communal ethos. Their first single 'Dance All Around the World' represented the children's show that was one facet of their travelling carnival and snuck them into the finals of the 1972 Golden Disc Awards. But the B-side was for the grown-ups. The body of the tune is a riff played by pianist Chris Seresin on an electric keyboard hooked up to a wah-wah pedal, and it tumbles like a moving carriage along the high-speed railway line of Bruno Lawrence's drumming. Meanwhile guitarist Kemp Tuirirangi trades Hendrixoid licks with Geoff Murphy's minimalist, Miles-inspired trumpet. The music was conceived in a Catholic hall somewhere on a South Island tour, hence the oblique title. The lyric, which begins "You know how it feels when you live without a care" was scrawled down by auxiliary member Bill Gruar as a parody of the prevailing hippie philosophy, though vocalist Corben Simpson delivers it with the conviction of a true believer. But wide-eyed wonder gives way to wistfulness as the singer looks further down the road, and when he sings "it's sad to say, the more things change the more they stay the same" it might be an elegy for an era.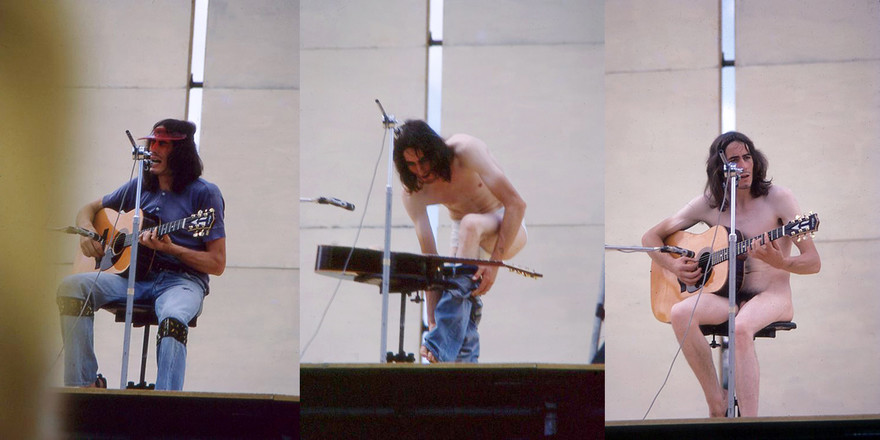 Corben Simpson – Running to the Sea
Corben Simpson, BLERTA's erstwhile frontman, provided the local counterculture with one of its iconic moments when he opened what would be the closest thing to Woodstock ever witnessed in the Waikato: 1973's Great Ngāruawahia Music Festival. It was a hot day in January so, as his hour-long solo set progressed, Corben kept cool by gradually shedding his clothes until eventually he was wearing nothing but his acoustic guitar. The symbolism was clear: we are in the Woodstock Nation and straight society's rules do not apply here. His song 'Running To The Sea', from the following year's Up With the Sun album, echoes this message. "Cast away your morning clothes and fly away with me," he sings. But though most attendees agree that the three-day festival was close to idyllic, society's rules nevertheless caught up with Simpson who was charged with, and convicted for, "wilfully and obscenely exposing his person".
Jenny McLeod – Earth and Sky
Jenny McLeod's classical background may have been a long way from the rock'n'roll that would be the counterculture's dominant soundtrack, yet the composer embraced the movement's spirit of enquiry, love of spectacle and sense of scale. First performed in 1968, her Earth and Sky was a musical and theatrical happening centred on the Māori creation story, and involved hundreds of musicians and performers (act one, scene one, is performed here by the original Auckland Festival cast). She followed its success with Under The Sun, an even larger-scale undertaking for which she added a rock band to her instrumental armoury. By the mid-70s McLeod had taken leave from the classical world and her job as professor of music at Victoria University to play full-time with her own band. By this time an interest in Asian spirituality had led her to the Divine Light movement, to which she belonged for several years. She would eventually return to classical composition.
--