The death of Max Merritt on 25 September 2020 brought to a close one of the most remarkable stories in New Zealand music, and the hundreds of social media posts and tributes are testimony to his long-lasting popularity.
Living out of a suitcase
Eating from a stand
I've got nothing in my pocket
Except a photo of the band ...
– 'Find A Home' (Max Merritt, 1975)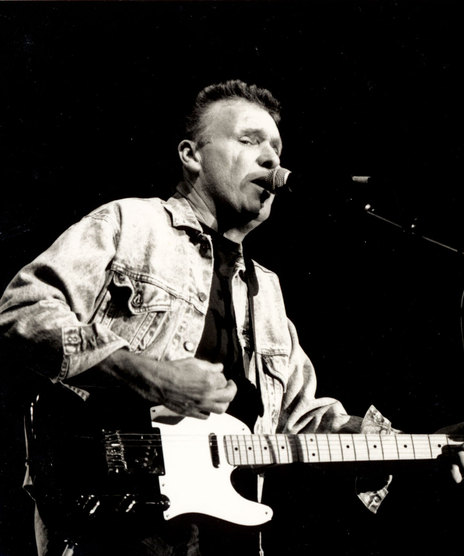 Max Merritt didn't run away from challenges and often took the hard road, without looking back. He formed Christchurch's first rock'n'roll band and became a local institution before he was out of his teens. He then took his band to Auckland, where they epitomised the changing times, on to Sydney to struggle with every other band on the make and, once conquered, shifted to Melbourne – repeat. Next they were off to London and more struggles before signing a three-album deal and scoring a genuine hit record down under with 'Slipping Away'. Finally, in 1977 he shifted to the USA, settling in Los Angeles.
Max Merritt was my teenage hero, the coolest white man on the planet. After we became friends in the 1980s I felt forever humble and privileged in his presence. Max was a genuine good guy, friendly as, always with a smile and an infectious laugh, a great companion.
I was proud of the Meteors reunion I organised in 1990. It was Max's first New Zealand performance in 24 years, and we hooked up whenever he returned home – the millennium concert in Christchurch, quiet visits to see his sister Pam, the 2007 national tour with Dinah Lee. Following that tour I received a phone call from Max in Brisbane. He was stopping over in Auckland for 18 hours, en route to LA. Did I want to hang out for the day? Are you kidding? – Max Merritt!
We spent the day cruising and yarning, a couple of beers and a curry to finish before hitting the airport. I never saw Max again. Two days later I received a phone call from his manager, Wal Bishop, in Melbourne. How was Max when I dropped him off at the airport, he wanted to know. Fine, why? "He's in critical care in LA." Max was later diagnosed with Goodpasture Syndrome, the rare condition which put him on thrice-weekly kidney dialysis but did nothing to deter his enjoyment of life.
Max told me later that he started feeling unwell shortly after the flight took off and he put it down to the curry he'd eaten. It was Max's little dig at me. "Do not go for a curry with John Dix," he would tell friends, "you'll end up in hospital."
There were occasional scares along the way but Max Merritt survived with Goodpasture Syndrome for 13 years, applying the same resilience to his health as he had to his musical career.
To further acknowledge Max Merritt's enormous importance in New Zealand music, AudioCulture approached his fellow musicians and contemporaries to share some of their memories.
Pete Sowden
I first met Max in late 1956. He was 15, I was 16. He arrived at my house one day and asked me to join a rock'n'roll band he was forming. It would be called the Meteors and play on a Sunday afternoon at a club his parents were forming (the Christchurch Teenagers Club). The original Meteors was a Jerry Lee Lewis-type band consisting of Max, a piano player and me on drums. In those early days I would bike to his place on a Friday and Saturday night, we would walk into the city, go to a movie and then walk back to his place, both dreaming of becoming rock'n'roll stars. Max made it, I didn't, but I still have such fond memories of those wonderful days and the good times we shared.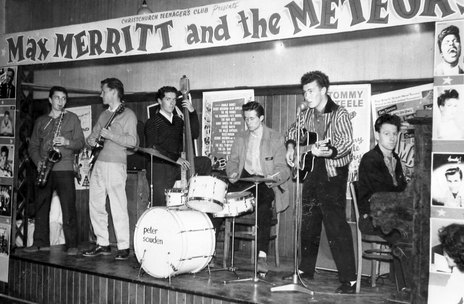 We would tune in to Sydney radio stations (short wave) and record the latest American songs on Max's Grundig tape recorder, which we would then rehearse and play at the club on the following Sunday.
The Meteors went on to play many other gigs and had several line-up changes over the next few years; I held the drum seat until 1963. Following a North Island tour the band was offered a residency at a new Auckland night club called the Top Twenty and after much thought I decided to hang up the sticks and stay with my regular job at Air New Zealand.
Max and I continued to remain friends and stay in touch. In later years, when his ill health prevented him from travelling, I was very fortunate to be able to catch up with him on many occasions when my job with the airline took me to LA. Great times and wonderful memories.
Peter Williams
I used to go and see Max at his dances, me and my dodgy mongrel mates, and the Meteors was the first band I heard that actually sounded like the records, so accomplished. Max had a head start in Christchurch and he was already a pop star when I started out. I was getting lessons from Tommy Kahi, the best guitar teacher in Christchurch, and Max asked Tommy who his best pupil was. Tommy told him it was Jenny Blackadder (later a renowned banjo player and country music stalwart) but Max didn't want a girl in the band so he got me, second best.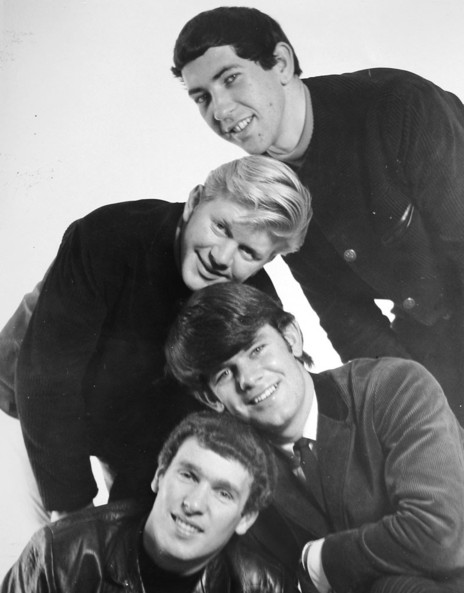 I also think that Max was a little concerned about his voice. He always had a natural gritty voice and he wanted to rest it a little. Even after we became a top band in Australia, Max always allowed me to sing lead vocals on a few songs, he was good like that.
Billy Karaitiana/Billy Kristian
I was playing in a pretty good band called Saki & the Jive Five and Max grabbed me for, I think, Thursday nights at the Hibernian Hall, playing piano. One night Max and Ian Glass, the bass player, had an argument and Ian stormed off, leaving behind his bass, one of those electric upright basses. Max asked me to give it a try. I'd never really played bass before but I took to it real quick and that was it, the bass became my instrument.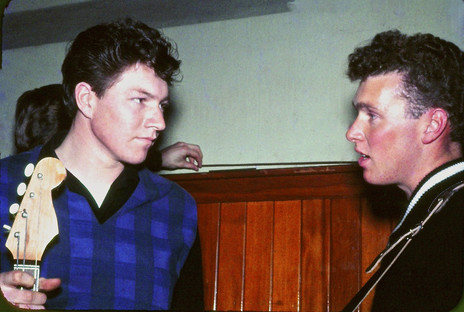 Auckland was a real eye-opener when we arrived in 1963. Christchurch had teenage dances in hired halls and there were ballrooms still but no nightclubs. Auckland had heaps of nightclubs, it was so vibrant and Max Merritt & the Meteors were very much part of that vibrant scene. We played all the main venues plus we had a residency at the Top 20, earning very good money, long hours but very good money, much more than a normal day job.
My second stint with the Meteors came in 1966 after Billy Thorpe had stolen Max's rhythm section – Teddy Toi and Johnny Dick – so me and Jimmy Hill, fresh from The Invaders, flew to Sydney to join up. Jimmy didn't last long but I hung in for about 18 months. It wasn't really my scene, to be honest. The music was great but the boozing and carrying on wasn't really me and Max and I had a bit of a dust up at the end. Despite this, we always remained friends and I will always be grateful for the start he gave me in music.
Ian Saxon
My first memory of Max was when the Meteors and the Invaders hit Auckland. Both bands had matching Fenders, whilst most young Auckland musicians had never seen a Fender. It was like a changing of the guard. Previously, the Māori showbands and groups like The Keil Isles had reigned supreme. I was working at the Shiralee as resident MC and singer and both Christchurch bands played there. When the Meteors shifted to Sydney in the mid-60s, I followed. They were tough times in the beginning. The Aussie bands recognised that the Meteors were a force to be reckoned with and didn't exactly welcome them with open arms. Because there wasn't a great deal of money coming in, it was difficult for Max to hold onto players so there were regular line-up changes, although Pete Williams remained as a constant. The only other constant was that any new members were always great players. Max always had great players.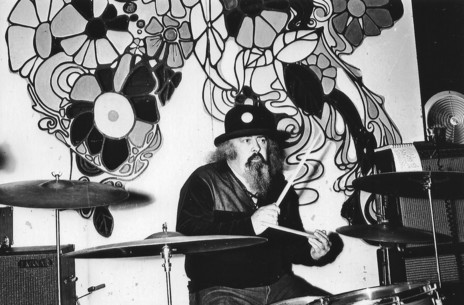 Max put in the hard yards at pubs like the Rex at the Cross, then later at great venues like the Canopus Room at the Manly Pacific Hotel, where they cultivated a huge loyal following. They settled into a residency at the Hawaiian Eye in downtown Sydney, packing the place every night with an interesting assortment of gangsters, music fans, dancers, radio jocks and other colourful identities. At this time I was performing at the Latin Quarter with a quartet that included Stewie Speer and Bob Bertles, who would later become part of the Meteors with the addition of Yuk Harrison. I first saw this line-up at Bertie's in Melbourne and I was stunned. I always believed that if this band had gone to the USA anything could have happened. Of course they did go to London and I saw them there in about 1973 with Dave Russell on bass. He acquitted himself well, of course, but I felt the visual feast wasn't the same without Yuk's madness.
When Max did settle in America, it was too late. Although typically, he took it in his stride and did whatever was necessary to feed his family. I saw him in Australia in the late 80s when an advertising agency flew him down to sing some commercials for a beer company. He told me that he had been under a house covered in dust when the call came through. That was Max and he was well qualified for such work, he'd been an apprentice bricklayer and had learned other handyman skills from his dad. In LA he built a recording studio for Billy Thorpe and built sets for music videos. He could have easily settled back in Australia, played gigs at RSLs and football clubs, but he wasn't prepared to do that. He had a family and a life in LA and I believe he felt that he had a legacy to protect.
Hugh Lynn
I was working at the Top 20 when I first met Max Merritt. I remember when [Top 20 owner] Stan Blinkan asked me to go somewhere, I think it was Parnell, to get something from Max. When I got there what screamed out to me about this man being different was his car, a Jaguar XK150. I mean, I was in with lots of bands at the time and they all sounded good to me but that motor car just screamed success. That was my first impression of Max Merritt.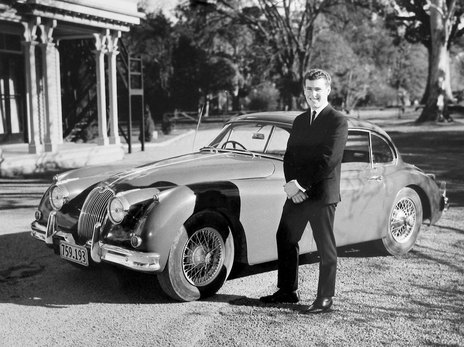 Jimmie Sloggett
I arrived in Auckland from Australia in early 1963. At the Top 20 I met Max for the first time, and his band, The Meteors – Peter Williams, Billy Karaitiana and John Dick. Max loved having a real rocking sax player and that's where our wonderful professional and personal association commenced and went forever ... and we went forever. Many years later he made me feel extremely proud when he told me that I was his favoured sax player.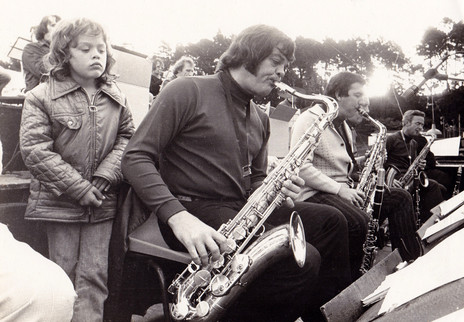 He became my closest musical friend. We had many great nights performing but this one stands out. Max loved to prolong my sax solos and added more as we were belting out songs like 'Roadrunner' and 'How Sweet It Is'. He would keep saying, "Go again, go again," and I did, to the point of nearly falling over. On this particular night, after going around about seven times, he lovingly yelled out to me, "Is that all you fuckin' got?"Of course the audience loved it and I rose to the call.
Max loved his band to play hard, solid and full on and we often laughed about this night. He knew and appreciated that I could push myself and I always did. Max Merritt and I were soul brothers and inseparable whenever we got together.
Dinah Lee
In 1963 the Meteors had a residency at the Top 20 in Auckland and when the band went on tour, Max suggested that my band, the Playboys, replace them for I think two or three weeks. A few months later Max was touring again and I think it was either Lyn Barnett or Kim Krueger who was on the bill and took sick and again it was Max who suggested me as a replacement.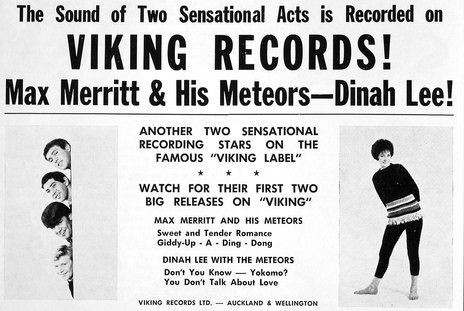 I joined the tour in Taumarunui. I had just changed my appearance to the mod look with the bobbed hair and clothes, which was so new and different, and the audience was laughing at me. Max kept saying, "Don't worry, just keep going, you're doing great." He was always so supportive. That's where I really got to know him and the boys on that tour.
Back in Auckland, Viking produced my early recordings like 'Don't You Know Yockomo', 'Do the Blue Beat' and 'Reet Petite' with the Meteors backing me. There were other tours with Max, so much fun. Max kind of protected me, always a gentleman, called me sweetheart. He never changed, he was always Max, a legend and icon from that era, loved and admired by so many people. Dear Max, I will always miss him.
Bobi Petch
I first met Max when I came back from Sydney in 1963. Me and Jackie Holme, who became Max's girlfriend, were models in lunchtime fashion parades at the Top 20. They were sponsored by the Casual Shop, the beginning of mod fashion in New Zealand. I also met up with Max and the band when I moved back to Sydney with Dinah (Lee) in 1964, we saw a lot of each other during that period. He's always remained a friend and he's never changed, always been a gentleman and an affectionate friend who I could converse and relate to.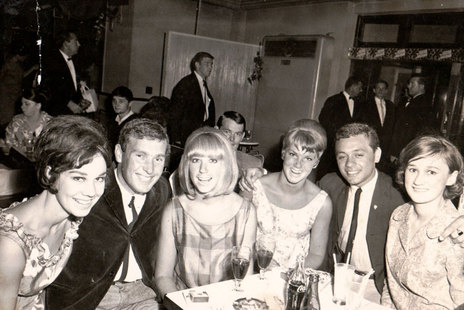 Kevin Borich
Max was so cool, the soul-man lessons we'd get when I used to drive in from Huapai to watch Max and the Meteors play in Auckland at the Shiralee/Galaxie Club in Customs Street. That line-up with Johnny Dick, Teddy Toi and Peter Williams – fantastic.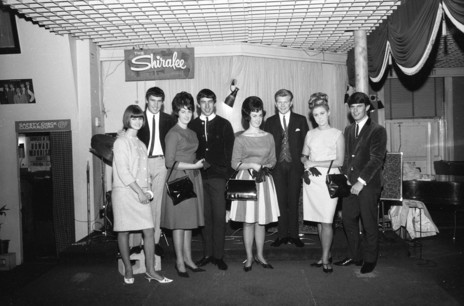 I didn't meet Max in those days, I met him in Australia when he had Stewie Speer, Bob Bertles and Yuk Harrison, and I saw them play many times in Sydney and Melbourne, always a great show and killer vibe.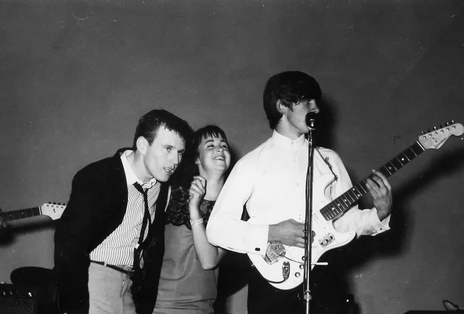 I had great chats with Max when we were both on the Long Way To The Top tour [2002], many after-show parties that ended up with singalongs around the hotel piano. He was always friendly, great company, and a shining light for me.
Michael Chugg
I first met Max in Tasmania when I was starting out organising dances and things but I didn't get to know him until I moved to Melbourne. They were a powerful force that band, all of Max's bands actually. The first line-up I saw was with Teddy Toi, Johnny Dick and Peter Williams, the line-up that Billy Thorpe stole, well Teddy and Johnny anyway. In the space of a week Thorpie stole Max's band and Max's girlfriend! And yet they remained lifelong friends.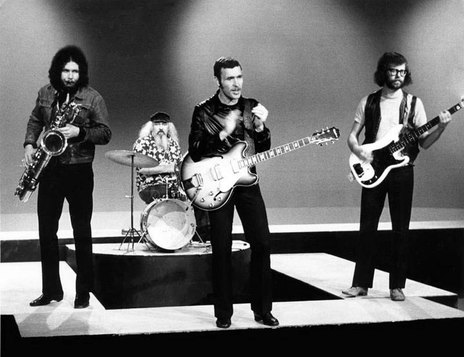 I saw a lot more of the later line-up with Yuk, Stewie Speer and Bob Bertles. Man, they were something else and I saw a lot of them, at Bertie's and Sebastian's, those Melbourne late night clubs. I spent time with Max in London and hung out with him when he came back to headline the first Sunbury Festival and I put together that big tour which came after 'Slipping Away' was such a huge hit. When we were putting together the Long Way To The Top tour, Max was one of the first acts I contacted.
I always looked up Max in LA and he always remained a great friend. He will always be remembered as one of the absolute giants of Australian and New Zealand music.
Bob Bertles
I first met Max in 1958/59 when the Meteors supported Johnny O'Keefe in Christchurch. I was playing sax in O'Keefe's band, and then in 1966 I joined the Meteors for what would be six-seven years, with Stewie Speer on drums and Yuk Harrison on bass, later replaced by Dave Russell. There were gigs big and small, from every club in Australia and half the pubs in London to a performance on the steps of the Sydney Opera House and headlining the first Sunbury Festival.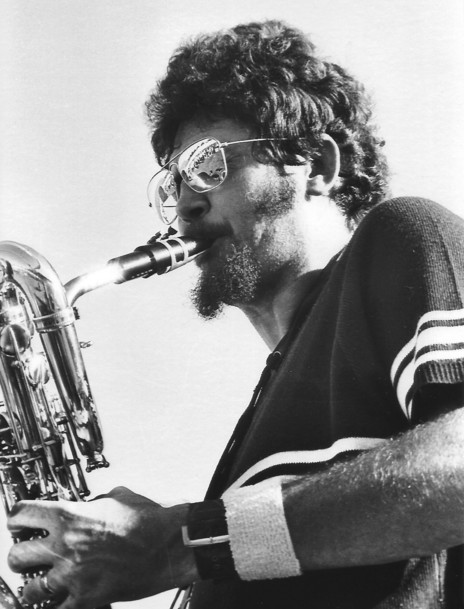 But I guess the strangest gig would have been when we were living in London. We were brought out to perform at an outdoor concert in Brisbane. We arrived in Sydney, where we stayed for a week, then flew to Brisbane where our performance only lasted about 15-20 minutes before the power was turned off as the show had gone overtime. So we had flown from London to Sydney, stayed a week in Sydney, flown to Brisbane for a 20 minute gig and then back to London.
It was great to see Max and to play with him again in 2002 when he came out for the Long Way To The Top tour. That was the last time we played together. Playing with Max was great musically and it was a great lifelong friendship.
John 'Yuk' Harrison
I'm as detached from all of that emotional stuff as a fella can be, but I gotta say that Maxie's passing knocked me on my arse. Weird really because our time in the musical limelight with Bob and Stewie was 50 odd years ago, and had a huge HUGE impact on my life. Suffice to say I loved and respected Max Merritt both as a musician and as a human being. The most focused dude you could ever wanna meet and the absolute best of the best bandleader and musical companion.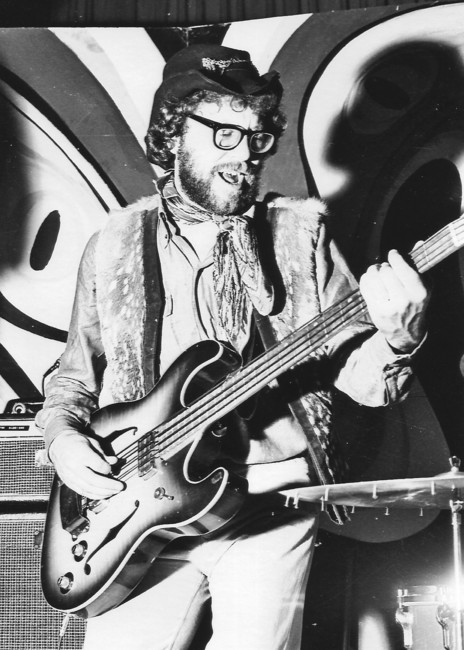 John Highlands
I was the Meteors' roadie for about six years. I met Max after the band had the accident in 1967 and we got along well from the beginning. Max's professionalism, musicianship and drive was infectious. I will never forget the trust, respect and faith he had in me to look after the band's needs. He always treated crew with respect and I am left with wonderful memories of a man I loved and respected dearly and a friendship that lasted 50 odd years.
Dave Russell
Max has been in my life for 61 years. We both attended Linwood High, although I was a few years behind him. At 15 I went to the local dances that Max's mum and dad ran at the Hibernian Hall on a Wednesday night and later the Teenage Club on a Sunday arvo. I was a Max Merritt fan and he was a big influence on me. Max was a great musician, always had great players around him and knew how to draw the best from his bands with his enthusiasm and professionalism. Max always gave 110% at every performance and my time as a Meteor with Stewie Speer and Bob Bertles is a treasured time in my musical career.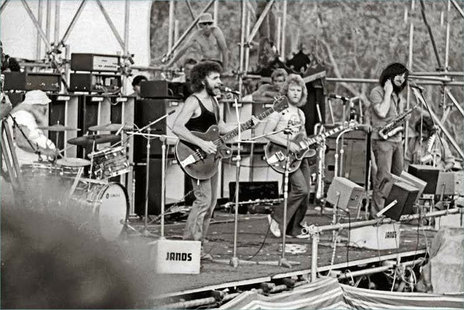 When I got my Meteors call-up I moved to Melbourne to join the band with my young family. We played and worked hard, playing three or four nights a week, sometimes multiple gigs. Many a Saturday it was four shows – starting in the morning we would sometimes play a tune or two on [music television show] Uptight and in the afternoon it could be the Village Green Hotel with a thousand punters. Then it might be a "private function", anything from a uni gig to a high school ball, finishing the day at the Thumpin' Tum or one of the many late-night Melbourne clubs.
In 1970 we made the big move to the UK where we shared a large manor house south of London. Between us we had four kids and a baby, 10 adults. We weren't just a band, we were family. Gigs initially were sparse but we did several student gigs, even the odd disco, and we did the famous Marquee and the cool and the groovy Speakeasy.
During my three years based in the UK with the Meteors we played with Slade at the Rainbow Theatre, made several trips to Europe, played a couple of massive rock festivals in Germany, supported the Doors in Amsterdam and Brussels and the Moody Blues in Paris, and we performed on a TV music show in Holland. Max was always on form, giving his all in a mix of funk, jazz, bebop and everyday rock'n'roll. The band wasn't just about music but just as much about friendship, long-term friendship.
Mike Rudd
Although we both hail from Christchurch, I'm a little younger so I didn't get to see Max Merritt's early career and he was already a legend when I was just starting out back in the early 60s. I first saw him when he came back on tour, around 1965-66, which was a pivotal experience in my life, actually, and then a little later we were both based in Melbourne. The Meteors were huge in Australia, which was a revelation to me – to survive at that level without lots of hit records. Max wasn't ever-present on the charts but he was a highly respected musician, particularly in musical circles, and I think the public recognised him as a fascinating presence in the scene. You have to have stickability in music and Max certainly had that. He had a very strong personality and he was a joyful man to be around.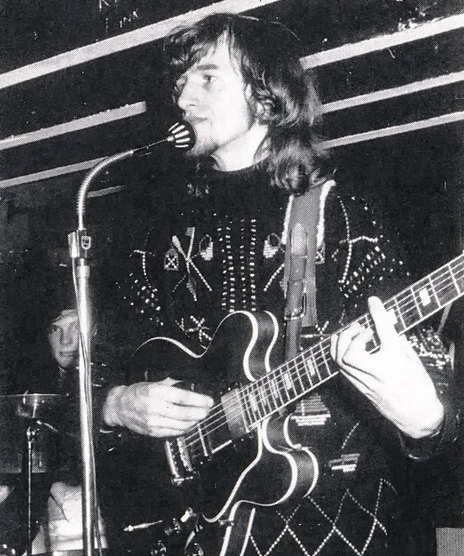 My connection was tenuous and we didn't really get closer until 2002 when we both toured with the Long Way To The Top show. Max Merritt was a fearless individual voice who inspired me to follow my own course in music and life. In 2011 Max generously lent his voice to 'Soul Man', my personal tribute to him, for which former Meteor Jimmie Sloggett arranged the horn parts.
Doug Parkinson
I was saddened to the deepest part of me when the news came through. My dear friend, a man who influenced me in ways nobody will ever know. He could make me laugh, and I could listen to him sing all night. Touring and sharing the stage with Max was a career highlight. The laughter never stopped but his professionalism always shone through, an extraordinary showman. [When I was] a young singer, Max Merritt was the guy I looked up to and admired and this never changed as long as I knew him. I will miss him forever.
Midge Marsden
I followed Max's career after seeing the Meteors in New Plymouth around 1965. Our paths never crossed, unfortunately, and the only time I met Max was about five years ago in LA, I wrote to him on Facebook, asking if we could meet up. I had an amazing day, he took me on a tiki tour of his favourite haunts, and lunch at his local English pub for his monthly meet up with Australian music industry friends. It seemed that this music family social club (Los Angeles Debonaires) was a big part of his life. It was one of the best days of my life, a memory I'll always cherish. There's been a great outpouring of grief and love from so many people who worked with, or knew Max. It's a very sad time for all, he was a wonderful man, an Australasian music legend who leaves one helluva legacy.
Larry Morris
Baby, I've been watching you
Watching everything you do
And I just can't help but feeling
Someone else is stealing
You away from me ...
It was 1985 and I was with Max Merritt at his studio in the San Fernando Valley. "Why only a verse and chorus, Max?" "I was too heartbroken to write anymore, mate."
Today I feel the same myself, writing these words about Max. We have lost a true giant of music, a proud Christchurch soul whose timeless song, 'Slipping Away', will live on forever.
Wal Bishop
In the 1980s I was coordinating all of Brian Cadd's Australian tours. In 1985 when Brian suggested that we put together a double-bill tour with Max Merritt I jumped at the chance. Both Brian and Max were living in Los Angeles. I flew Max out to Australia and I met him for the very first time and from that time on, I proudly looked after Max's personal management. He was always a joy to work with, a really good buddy.
Gavan Anderson
A real highlight of my playing career was getting to play guitar for Max Merritt and I remember all those gigs with great fondness. My heartfelt condolences go out to the family and I'm sure I speak for all of us who had the privilege of working with him. R.I.P. Maxie mate.
Glenn Suckling
Max Merritt was my teenage hero and then he became my boss and then he became a good mate and a real friend. At 14, seeing Max Merritt and the Meteors at the Coburg Town Hall, I was blown away and it changed my world forever. Then a dream come true, I got to work with Max and they were the best times possible. Max did all the hard yards and all the work to make my time – 10 years as a Meteor – easy. As a boss he was the best, as a friend he gave me license to be myself and not take no for an answer, and as a mate he was real, no bullshit, 100% real.
John Kempt
I first met Max Merritt in 2011, propping up the bar of the White Harte pub in Woodland Hills, California. I had come to interview him for NZ Musician magazine. Max lived at the place, and everyone there loved him, especially the women. After we became mates he would often shout me bangers and mash there.
We performed together with my band Helicopter at the Sagebrush Cantina and Max was in great strong voice. We also recorded at his house in his well-decked-out basement studio. He was a fan of classic gear and old [Fender] tweed amps, and a good engineer who knew how to get produced sounds.
He was always strong and resilient, considering he had already started regular dialysis treatments on a weekly basis. Max Merritt was a hard man, a true tough Kiwi.
Andy Anderson
I first saw Max Merritt and the Meteors at Wellington youth clubs and concerts. I was drumming in a few bands but never got to meet Max. Later, in Sydney and Melbourne, I was in the Missing Links and other bands and Max was on the scene, always pretty classy. We'd cross paths but the memories are blurry. The line-up with Stewie, Bob and Yuk was a force to be reckoned, they played up a storm and they looked like a gang of bandits. I do recall an after-gig ride in a band van when Max brought it to my attention that I was being a twerp. He was probably right and I got out at the next set of lights.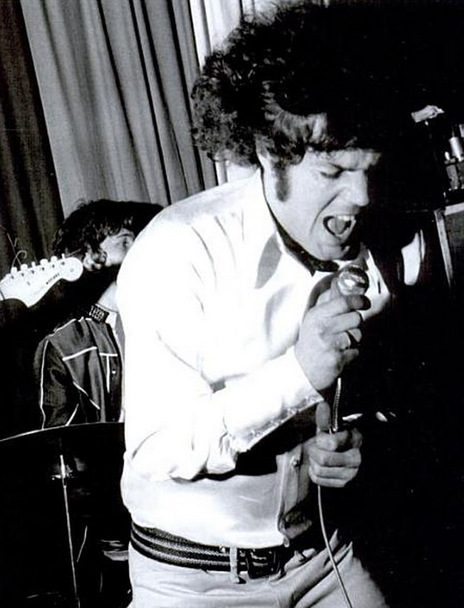 I only got to know Max a few years back when I was hunting for some acting work in LA – at the Debonaires' hoolies, the get-togethers with a bunch of Kiwis, Aussies and Brits. Max had his health issues but I never heard him whinge. I'd had an aneurysm clipped and was fragile, we'd swap notes. He played me a demo of a song he had been working on and it was brilliant and he was supportive of my album demos. We jammed and it was a blast to play drums behind him. I felt right at home but then mangled the drum fill on 'Slipping Away', fucking up a classic! He laughed and brought it back in the right spot. There were other musos there, like Colin Hay of Men At Work, and Paul Barrere and Kenny Gradney of Little Feat.
Max was a gent, an inspiration, a welcomer, a stalwart musician, a truth teller, and a straight shooter who never gave anything less than everything he had. It has been said by others that he never lost his composure, that he was a rock. I only know what I experienced in my short time with him, and that he was an example of how to face ageing and death with acceptance, courage and humour.
--