Part I
Nineteen Fifty-Seven meant big changes for Christchurch. It was International Geophysical Year and the United States Navy had arrived in town. And there were symptoms of local discontent. Young people were beginning to push against New Zealand's puritan patriarchy, they didn't want to be young adults, they just wanted to be allowed to be young. In March, there was a "skirmish" between large numbers of military trainees and teddy boys in Cathedral Square. Trouble started with the exchange of verbal threats, the trainees declaring they would "throw the teddy boys out of town". When a trainee's hat was flicked off, feelings started to run high. The discontented groups moved down Colombo Street, past the Tivoli Theatre, and into Chancery Lane. An egg was thrown but it smashed on a shop window "without injuring anyone's feelings". As the noise and numbers grew, among them by now several teenage girls, the mob moved via Gloucester Street to the Avon where an open fight developed.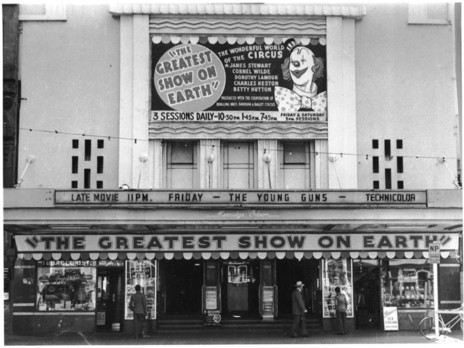 Police were alerted by a taxi using radio telephone. When six of them arrived, they defused the situation by fragmenting the large group. Seventy-two trainees were then marched to the train-station by two military policemen, accompanied by a mob of 40 teddy boys and their 14- and 15-year-old girlfriends. After the train to Burnham departed from Moorhouse Avenue, the locals returned in triumph to the centre of the city, The Press reported on 4 March 1957. The ruckus meant they missed the first of "TWO WHITE-HOT SHOCK-THRILLERS" showing that night at the Tivoli cinema: the weird, fantastic Tarantula!:
A city SCREAMS in TERROR!
Experiments in Atomic Research that got out of hand
brought the TARANTULA
a GIANT SPIDER 100-feet high like a savage merciless beast
of some primeval jungle.
But they were in time for the second:
THE CREATURE THAT WALKS AMONG US
Nerve-tingling action as
THE BEAST
breaks loose to wreak a terrible vengeance
Expert at creating these advertisements was cinema manager Trevor King, who told me in 1998: "I was the youngest theatre manager in New Zealand when I joined Kerridge-Odeon ... I was always interested in movie books and going to movies. When I left high school I wanted to be a theatre man, mainly stage shows and I'd worked at the Theatre Royal taking tickets at the door. I was an ice-cream boy there and I've kind of had no other job ... I've managed every theatre in Christchurch – started at the Tivoli and finished at the Avon ..."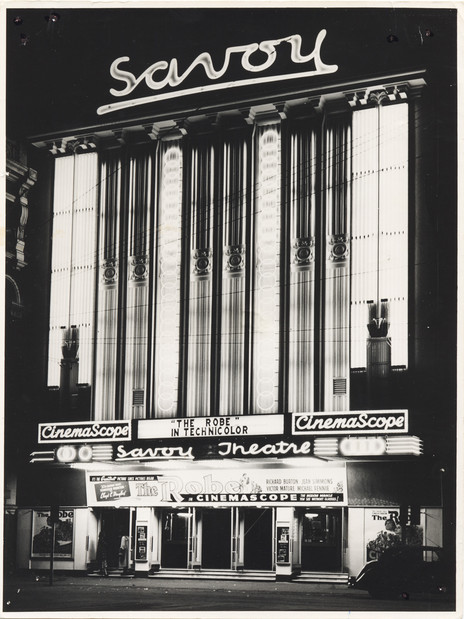 Down the road, at Amalgamated Theatre's Savoy – which advertised itself as "the Showplace of the South" – another beast was breaking out: Mr Rock'n'Roll himself was starring in the story "he was born to play ... rocking, rolling, swaying, singing ... as Clint, the youngest and deadliest of the ruthless raiders – the Reno Brothers ..."
The ONE and ONLY
ELVIS PRESLEY
ELVIS PRESLEY
In his FIRST starring SINGING
motion picture ... the GREAT
ADVENTURE of the notorious
RENO BROTHERS .. and the
girl they fought for ...
'LOVE ME TENDER'
'LOVE ME TENDER'
'LOVE ME TENDER'
He loved his brother ... but also
loved his brother's girl ...
"Packed," said King, "double-billed them I did, hoardings above the theatre, change it every week ... not 1 but 2 Elvis Presleys! – and we'd put a band on stage with them ... that's where Ray Columbus and those others came in ... I'd paste all the magazine covers with Elvis on them outside the theatre ..."
Perhaps because of Cold War paranoia, sibling warfare was a common theme in the movies whose titles and stars were splashed on 24-sheet hoardings around the Square. The Crystal Palace, for example, was offering "the magnificent story of King Arthur's Court in Technicolor ..."
BROTHER v. BROTHER
'Kill you for a Woman?
... Never'
PRINCE VALIANT
PRINCE VALIANT
PRINCE VALIANT
Amalgamated Theatres' Crystal Palace, one of 12 fiercely competitive city cinemas, was now managed by the peripatetic Trevor King. He had left school at 15 wanting to be in "theatre" and started out as the ice-cream boy at the Tivoli. Two years later, he was New Zealand's youngest theatre manager. In the morning paper that carried the report of the skirmish, he had placed a slightly different one, right under the masthead:
Wait for it!!
THURSDAY, APRIL 11th
Enter now ... it's Free for the
Biggest and Brightest Talent Quest
ever held in N.Z.
AMALGAMATED THEATRE'S
£300 TALENT SEARCH
£300 TALENT SEARCH
£300 TALENT SEARCH
Produced by TREVOR KING
Entry Forms giving particulars
are available now at 3ZB reception desk,
Sedley Wells Music Store,
D.I.C. Booking Office,
Crystal, Savoy, State and Mayfair Theatres ...
King: "We were looking for new stars ... there were three boys there, The Wild Cats ... I'd been out on the road with The Tumbleweeds, I was a good friend of Cole Wilson's. I left them to go with that hypnotist, Andre Roland ..."
Talent Quests were very popular in New Zealand. Before the advent of television, they attracted up to 2,000 people a night. Johnny Cooper had run such events in the North Island since 1953, and they continued unabated into the 1960s ...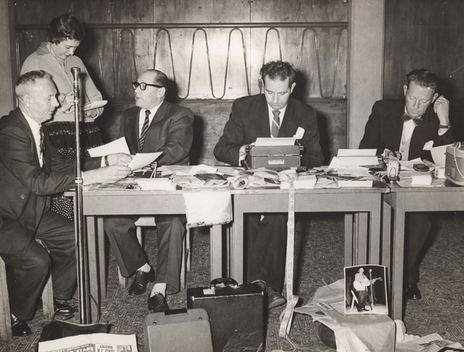 "Joe Brown rang me and he said I've got the money ... so he said I want you to handle Christchurch and Wellington, Saturday night in Christchurch and Thursday night in Wellington ... 'Wellington?' Yeah! ... I've got a man called George Tollerton to do Auckland and Hamilton ... and another man in Dunedin and Frank Stapp in Invercargill ... I went with him for seven months ... great talent: Don Linden, Joe Nathan, The Wakefield Brothers. In Wellington we had so many entries, Johnny Cooper called me up. He had a record, 'One By One', he said I'll come down and help you. They were queued up. The prize was a trip to Australia and £1000 cash ... we got them from everywhere ..."
King had experimented with high-school bands onstage during intermission at the movies but in 1957 he was going looking for style, someone who had "teen beat". There was no shortage of diversion for Christchurch's adults. There were bands of floating musicians everywhere: Les Kinsman's orchestra, Cliff Helm's six-piece band, the Del Rio Orchestra, the Hughie Evans Orchestra, bands led by Colin Campbell, Bob Bradford, Andy Dale; Arthur Birman promised music "from Cha-Cha to Charanga"; the Mellotone Band promised "Mixed Dancing" and "Ballin' the Jack". For even more desperate fun, there was "New Zealand's greatest drummer, Stan Ivey, in his own sensational novelty act."
And if these acts failed to offer intellectual stimulation, religious groups offered entertainments too:
Distinguished Overseas Visitor
Leonard E. Buck
Colour Slides of New Guinea
YMCA Concert Hall ...
Mr Buck was one of a series of Australian evangelical missionaries using primitive multi-media to pull provincials into the new fundamentalist churches. For teenagers, the pubescent "baby boomers", there was not much else to do except the Coca-Cola Bottlers' Club run out of the Civic Theatre. Trevor was looking for a sound to entertain them; a voice, a combination of American rhythm and New Zealand inflection. Sam Phillips had heard a voice in Memphis, Tennessee, just a couple of years before, when 18 year-old Elvis Presley walked into his recording studio to make an acetate for his mother's birthday. Trevor was riding the global zeitgeist.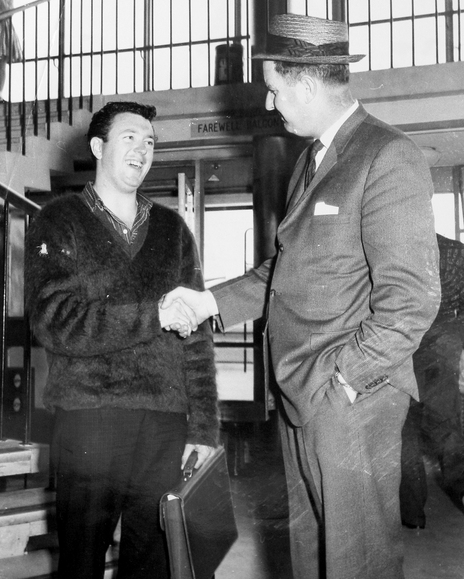 Part II
Nationally, there was a referendum on capital punishment and price controls were lifted from dried figs, currants and prunes and all forms of macaroni, spaghetti and vermicelli. Locally, price control was lifted from the Carlton Hotel and there were eight naval ships in Lyttelton Harbour: frigates, ice-breakers and supply vessels. The Americans had been planning an Antarctic program, allegedly for scientific investigation, since 1950. In January, 1955, Air Development Squadron (VX-6) was formed to conduct operations in support of it. In June, the US made a unilateral declaration that it intended to establish a base in the southern polar region. VX-6 flew to Christchurch in November. On 19 December, it left for Antarctica.
The Dakotas (R4Ds) had to turn back, but the aeroplanes that did make it unloaded the foundations for what would become Little America, 400 miles to the east of McMurdo Sound. New Zealand had acquiesced to the de facto American occupation of its Antarctic dependency. A new international airport was hurriedly planned at Harewood so that the US Navy's huge Globemaster aeroplanes could land. Paul Pascoe, architect for the terminal, called for tenders before Christmas. He also warned against allowing houses too close to the airport because aircraft noise made it an offensive industry. Also announced were plans for an "aerial vehicular ferry over Cook Strait." Road transport and other commercial interests formed air charters to do the work!
With Operation Deep Freeze 2, the US made the South Pole, 31 October 1956. When the Commander of Operation Deep Freeze, Rear-Admiral George Dufek, stepped down from the Navy's R4D (called Que Sera Sera after the Doris Day hit song) he was the first to stand there since 1912. It was 90 degrees below. The snow was so hard they had to use an ice axe to make a hole for the flag. "It was like stepping on to a new world. We stood in the centre of a sea of snow," Dufek said. There was no more "new world" left after this for the US to play out that apocalyptic fantasy. This was their last frontier. Christchurch was its St Louis. The City Council committed half a million pounds to the new airport at Harewood to keep Operation Deep Freeze based in their city.
By June 1957, the beginning of the 18-month long International Geophysical Year, the Americans already had seven bases scattered across New Zealand's Ross Dependency. The New Zealand government was ambivalent about the situation. New Prime Minister Walter Nash wanted the polar cap placed under United Nations protection but the Russians had established a base on the ice too and it was rapidly becoming clear that the Americans had no intentions of departing at the end of IGY. For one thing, they were planning a nuclear-powered reactor down there.
This move towards the USA was determined by new geo-political realities. The 1956 French-British military incursion into Egypt in an attempt to return the Suez Canal to their control – after Egypt's President Gamal Nasser had unilaterally nationalised it – meant that the traditional trading route to our major market could no longer be defended by the old imperial power. Not only was nationalism on the move as the European nations faced the decay of their empires but Russia, feared in New Zealand as a source of infection since the 1890s, had moved brutally into Hungary to crush that country's bid to jump the Iron Curtain. The outgoing National Government in New Zealand had called urgently for a White Paper to address new defence policies. Labour, which won the election at the end of that year, let go one election promise and continued the enforced military training of young men. One of the biggest camps for these trainees was at Burnham. New Zealand began its slow creep into the Cold War paralysis of the American nuclear umbrella.
Cultural consequences of these affairs were not long in reaching Christchurch. "New Zealanders seem to waste too much time over their morning and afternoon teas, and the use of many unnecessary utensils and dishes on the dinner table wastes more time when washing up," commented John Groberg, a visitor from Idaho. Other visitors arrived on celluloid. The film censor had refused three times to permit the screening of Marlon Brando's film The Wild One in case it encouraged antisocial behaviour, but Rock Around the Clock, the biggest box-office success of the 50s, was released in September 1956.
Although the film caused teenage excitement in other centres, Christchurch maintained an outward serenity. On Friday nights, at the Wintergarden, there was Pat Kane's Orchestra; there was "Mixed Dancing" at the Caledonian Hall with The Serenaders. At the Latimer in Latimer Square, Merv Coburn and his orchestra provided tunes for adults to mingle to. One of the most elaborate of the weekend dances was at the Union Rowing Club Hall where Martin Winiata and the Moonmen offered a "Cabaret de Dance" followed by a "Supper de Luxe". Despite this musical balm, however, the Other was coming to town.
While never reaching the 15,000 who roamed Auckland when the "Great White Fleet" called in there in 1925, the number of US Navy personnel in Christchurch grew rapidly to service American polar ambitions. "Entertainments" were started for them at the Carlyle Street Hall. Then, on December 14, the first refugees arrived from Hungary. The Christchurch Press reported the event alongside a slightly more frenzied story it headlined BIG STOCKS OF CHRISTMAS CARDS IN CITY SHOPS. The city's monocultural "Englishness" was starting to show scratches on the surface. So was city's economic base in the rural hinterland: farmers were panicked by an outbreak of ill-thrift disease among hoggets that led to thousands being slaughtered.
A few days after Trevor's ad for the Talent Quest had been published, his telephone went. At that moment, was he looking at The Press's major local story – Girl falls off bike – or was he checking the bookings for upcoming concerts by "THE SINGING BOYS OF MEXICO", advertised as the equal of the Vienna Boys Choir, who he often managed on their New Zealand tours?
He doesn't remember, for the call was from Eileen Merritt in Linwood and she wanted to enter her son in the Talent Quest. Max Merritt was only 15 but he had been studying guitar for two years with Miss Elaine Moody. He lived with his parents and his interests were movies, stock-car events and record-collecting, especially Elvis Presley. His school-friends called him "Fuzz". He did not smoke or drink, said Eileen, for both she and her husband were teetotallers. Her husband, Jack, had emigrated from England 30 years before, and worked as a bricklayer. Their son, Max, was a strong boy who could look after himself: already he was 5'11" and weighed 11 stone. He used to go down to the street corner phone booth and sing, over the phone, to his Mum and Dad. He had played at a youth dance in Winton Street.
At 15, Max Merritt's interests were movies, stock cars and record-collecting, especially Elvis Presley.
King sent entry forms out to Linwood. A few weeks later, Max, dressed in a white sports coat and a black bowtie, and performing with his brother-in-law, was among the Quest's three finalists. He sang American music. No surprise since 97 percent of New Zealand's Top 20 singles that year consisted of US imports. The ups and downs of the chart, especially those of Bill Haley and the Comets, were carried to teenagers by Selwyn Toogood's nationally broadcast Lever Hit Parade.
Locally, on 3ZB radio personality Happi Hill enlivened the mornings with the occasional rock and roll record. "I can remember two things he said, around 1959," recalls Peter Williams. "He said, I think we're going to get an invasion from Mars because astrologers say something will happen with the moon at the end of this decade, and Nostradamus and all that, I remember Happi Hill saying that. And the other thing I heard was, I'm going play you a record now by a guy who earns as much money in 15 minutes as could keep his Mum and Dad for a year. I thought he was going to play Lonnie Donegan but he played 'Heartbreak Hotel' by Elvis Presley ... this would have been where Max got his 'Oh yeah!' ..."
The Talent Quest, scheduled to run six weeks, went for 16. Among the contestants was an Elvis-imitation trio, The Wild Cats (one was Danny McGurr who became a South Island c&w star); another was Ashburton's Garner Wayne, The Canterbury Kid, famous for songs like 'The Mainlander', 'The Canterbury Plains', 'Whispering Pines' and 'I Love The Land' ... "to wander by the winding river / and hear the swamp hen's happy cry."
The monoculture was aware that "something different, something nobody counted on" had arrived. The City Council was alarmed by an increase in anti-social acts it labelled "vandalism". The Police were alarmed at the "menacing" of their officers by "large groups of half-drunken youths". They declared they would take extensive and immediate steps "to curb the persistent cluttering of public thoroughfares with motor-cycles, power cycles and souped-up old vehicles on Friday and Saturday nights."
Superintendent Sugrue admitted that perhaps some young constables were "a little timid when confronted by large groups of hooligans." From this point, he cautioned, he would use older constables who were "heavier and more experienced" and advised against calling disaffected youths teddy boys, milk-bar cowboys or bodgies as such terms made them "reek hero worship".
"Street waifs — that's all they are," sniffed another officer. Many of the leaders of the gangs, he added, were "of lower intelligence" with adopted names like Butch, Harry the Creep, and Big Shot. "There have always been gangs but these are bigger and more vicious. We are aware of the serious problem, and will take immediate steps to safeguard the public from nuisance of any type," said Superintendent Sugrue. Calling for civic plans to assist youths by providing week-end entertainment, he then concluded: "If some of these youths were treated the same way as union leaders treat their members from a discipline point of view, there would be some fine work done." Added Inspector Hay, "This increasing problem will be met by us with every available method."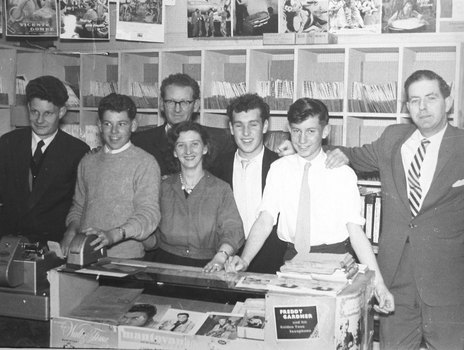 Max was out in front of the civic reformers. Since the Talent Quest he had formed a band, Max Merritt and The Meteors, and opened the Teenage Club in Sydenham; with its new banner, the Railways Hall in Carlyle Street was open on Sunday afternoons from 3 o'clock to 10 o'clock. Max's Dad was at the door, taking tickets. Eileen Merritt oversaw a group of other mothers who made tea and cheese scones – tea, scones and sausage rolls but not Coca-Cola – which were free with admission. The band played for 40 minutes and then everyone had a cup of tea. When not playing, Max made sure no one was sticking chewing gum to the furniture.
He had left Linwood High School and was working as a brickie for his father. His final school assembly had been addressed by Ngaio Marsh. Refusing to use the school's microphone ("That thing" she said, "has done more harm to the language than any other invention in the last 50 years"), she enjoined the students to never forget their heritage as the descendants of another island people and instructed them to keep their English "pure" and to avoid using "commercialese jargon" and "girly-girly affectations". The disdain of "high" discourse was doubtless as lost on Max as was its provincial insecurity.
Max was one of 6,800 teenagers who left Christchurch high schools that year after only three years. Ngaio Marsh's fear the American culture would destroy New Zealand's connection to its "origin" was well-founded but her dread came too late. Republican values were emancipating the working-class into its own sense of style: mannerisms, haircuts, posture, clothes and music were affects the young vanguard of the workers would exaggerate to define themselves and their difference.
The Teenage Club ("behind the Railway line") managed these affects so exactly, it would be the most successful of all youth clubs. Soon, there were 400 young people in attendance every Sunday. A year later, the Committee – joined by Trevor King – added Wednesday nights at the Olliviers Road Hall to the roster. The Club was advertised at the movies and, in return, members got discounts to the movies. Within two years, there were 900 members at an annual fee of 2/6. The police were represented by Sergeant Paul Simmonds of the Sydenham station.
When Max Merritt and The Meteors entered the 1958 Talent Quest, they were again among the three finalists; once more Trevor took them out on the inevitable jaunt around the South Island, this time including towns like Ellesmere and Leeston: the "brightest vaudeville show to visit in years," claimed the tour posters. It opened, as always, with 'God Save The Queen' and then Peter McMullin – billed as "New Zealand's own Elvis" – sang a few numbers, followed by the Lyman Brothers. The Meteors, consisting of Ross Clancy (saxophone), Peter Patene from Hungary (piano), Ian Glass (bass) Pete Sowden (drums) and Max (guitar and vocals), closed both halves of the show. Before the interval, they followed the rollerskaters, and in the second half came on after the contortionist for the finale. There were 30 performers on the road, in two buses. First they went south and then up the West Coast; they played civic centres and small halls in different towns each night for three weeks. But it had turned into a routine and Trevor, under pressure from North Island promoters eyeing his territory, wanted to do something big to confirm his control of the territory.
In January 1959, Coca-Cola was sponsoring the national rollerskating championships at King Edward Barracks. Trevor decided to do a show there with the Meteors, before the temporary stages erected for the championships were demolished. He scheduled it for Monday 12 January. That same night, a national phenomenon was due to wrap up a three-night season at the St James Theatre. Johnny Devlin, a bank clerk from Gonville, Wanganui, had been discovered two years before at a Johnny Cooper Talent Quest in Palmerston North. In 1955, Cooper himself had found a measure of fame after recording 'Rock Around The Clock' for HMV's A&R man Dave Van Weede, in a converted dairy in Island Bay, Wellington.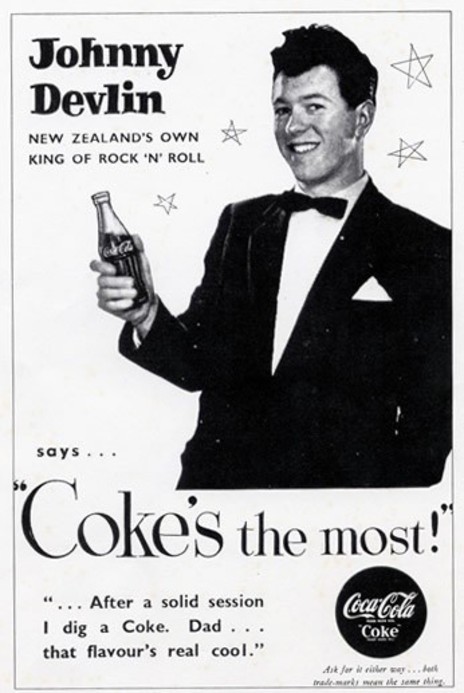 Cooper had groomed Devlin through appearances in Dannevirke, Marton, Foxton ... but in Auckland, the 18-year-old star was taken up by wilier promoters Robert Kerridge and Phil Warren. His records – among them 'Lawdy Miss Clawdy', 'Wild One' and 'Crazy Baby Crazy' – were huge hits and he attracted crowds of 10,000 to outdoor shows in Auckland and Hamilton. He was rumoured to be earning £165 a week. When he travelled by train, people gathered at country stations to see New Zealand's King of Rock and Roll in his burnt-orange suit with its leopard skin lapels. He was sponsored by Coca-Cola, whose advertisements alleged him to say, "After a solid session I dig a Coke dad ... that flavour's real cool."
Devlin's last show at the St James was "sensational". An hour after it finished, as he made his way through 300 screaming teenagers at the stage door, two policemen were knocked to the ground and their helmets crushed. Devlin was with Mabel Howard, Member of Parliament for Sydenham and Minister of Social Welfare. Devlin's manager had known Howard's press secretary and suggested they get their two "acts" together. Miss Howard went along for the publicity. In Devlin's pink Cadillac, they drove to King Edward Barracks.
There were 2,400 people inside – and 3,000 outside. Martin Winiata played. Tommy Kahi played. Max met Johnny. Miss Howard, in fur stole and evening dress, was photographed by the press. Max played; Johnny and Mabel left together in the Cadillac.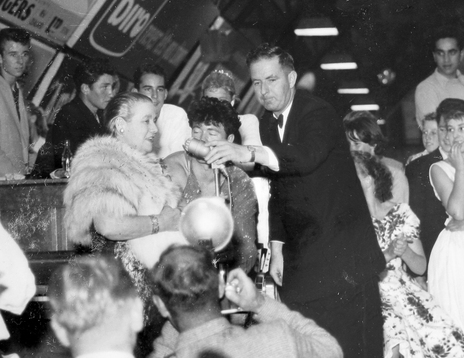 Soon afterwards, Johnny left for Australia as the opening act for the Everly Brothers; in 1958 'Bird Dog' had been their biggest hit in the country, their only No.1.
And Max discovered an idea called "America". Partly because a major political problem between New Zealand and US military forces occupying Antarctica – the question of legal jurisdiction – was resolved in 1959. The Antarctic Treaty, signed that year, called for the internationalisation of Antarctica and joint administration of the whole polar cap; its hopeful conclusion was that there would be no more territorial claims. The immediate result was that the number of American sailors increased as the US tried to isolate the Russians. The sailors spread out in Christchurch, singing Lloyd Price songs like 'Stagger Lee', from their Bird Dog club at the airport to Max's Teenage Club.
Williams recalled in 1998, "I reckon where they had a strong influence on the rock and roll scene, not just the music, was in clothes, because we all wanted that Ivy League look, all that buttoned-down colour sort of ... and Pete Sowden and myself and Bill, we used to go down to Lyttelton and we'd hang around the docks and try to get the seamen to sell us their Levi jeans ... it was like the visual American thing that we wanted to catch. We bought these groovy powder blue suits off the ships and when we arrived in Auckland we were like just the coolest ..."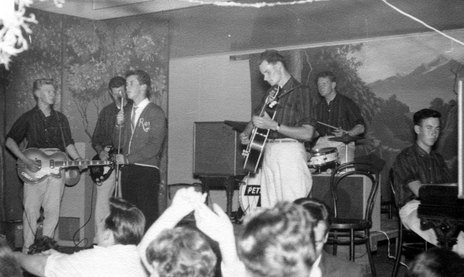 The Americans were met by young hopefuls too, from places like Nelson or Blenheim; among them was a local, Ray Columbus, who followed them back to Harewood. "I would see these black American guys at the Bird Dog," he says, "dancing at the jukebox all on their own, because women weren't allowed in there, and I would get down there, and groove with them. I learnt all these hand jives and things I had never heard of, and found it quite natural to stand there on your own and have a good time."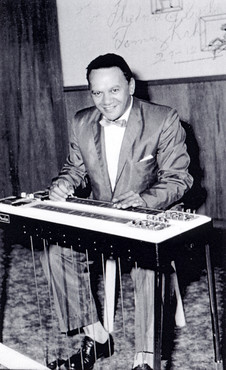 Tommy Kahi was always approached by Max when the band needed a new instrumentalist. His students learnt on f-hole Astorias. That's how Peter Williams came to join the Meteors (Kahi's best student, a girl, declined the honour). Instruments and amplifiers were subject to import controls, "... so here's me with my little radio at the first rehearsal and the guys cracked up," says Williams. "The desirable amplifier was a Pye, very hard to get, it was just a head. You had to build your cabinet and put in your speakers. All the guys around Christchurch had similar amps but then guys would get flash and make their amplifiers on angles, but all of them had these same screw-on legs ..."
--
Hey Bird: part two - a meteoric rise
AudioCulture profile of Alan Brunton