My book Sweet As: Journeys in a New Zealand Summer has had many positive responses, not least from a young woman who emailed me saying her aunt used to manage Dinah Lee – my search for a very rare Lee 45 is one strand of the book – and if I ever wanted to meet said aunt she would be happy to chat on her days as Dinah's first lady. Of course I was interested and while back in Auckland in March 2013, I visited Bobi Petch at her home in Parnell.
At 69, Bobi is a warm, articulate individual with a remarkable memory. It's been said that if you can remember the 1960s you weren't there, but Bobi disproves this with her startling recall of places and people. And she really was at the heart of the NZ, then Aussie pop explosion of the 1960s.
"I was born Robyn Nicholas in Cheltenham, Devonport. My family lived in a state house – now it's funny to think of a state house existing in Devonport – and both my sister and I began modelling in our late teens. I was always a big music fan, and back then Auckland had a very small music and fashion scene so it was easy to get to know everyone."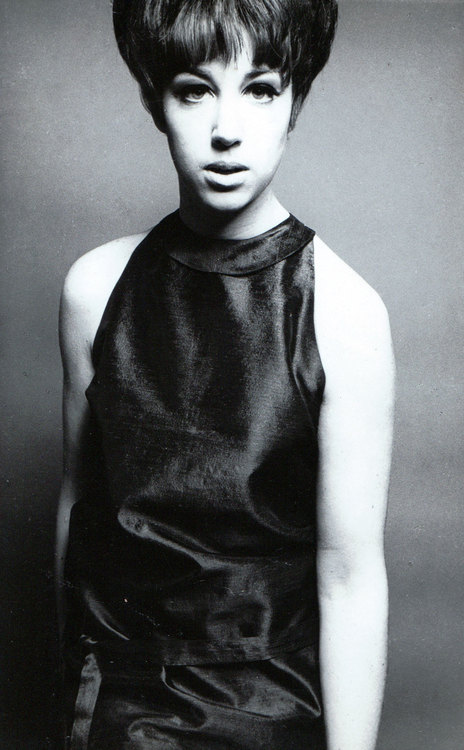 Bobi shows me advertisements from 1963 when she was modelling for the NZ Wool Board. She is dressed in elegantly modish clothing with long blonde hair and one of the advertisements is pure Kiwiana: Bobi and three other female models stand tall staring at the camera while a hunched-over shearer shears a sheep.
The Surfer Stomp
Bobi sailed to Sydney in 1962 and while there she learnt to dance the Surfer Stomp – a hip dance that accompanied tunes by The Beach Boys and other surf music. Returning to NZ in September 1963 she had her hair cut into the Vidal Sassoon crop a few days later by Jackie Holme – a fellow model who also worked at the Casual Shop, Auckland's first boutique. Jackie cut her hair with dressmaking shears, and they were the first two to have this cut in Auckland.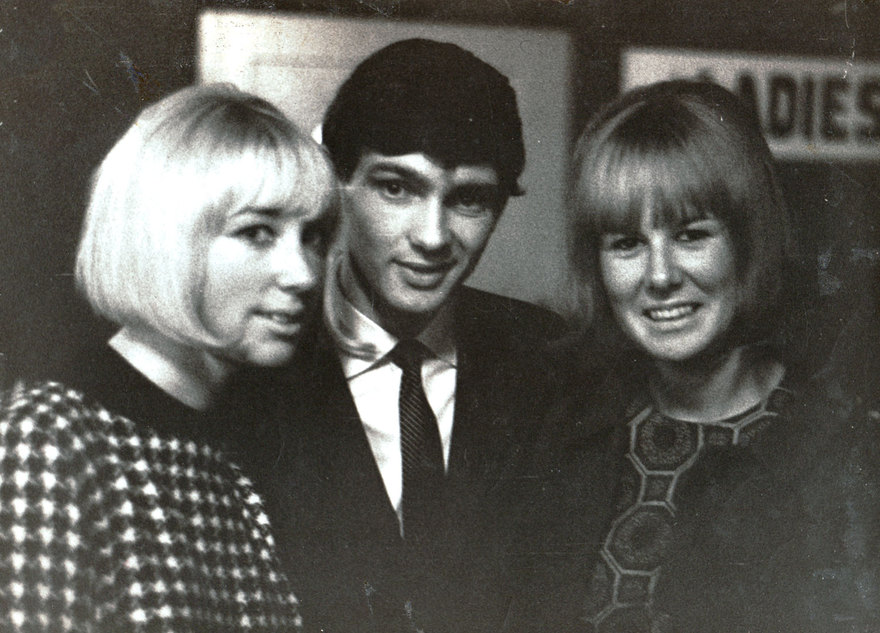 Bobi celebrated Christmas at Mt. Maunganui with girlfriends. Lee Mount dance was the place to be, with Sonny Day and the Sundowners providing great music, and before long, everyone was doing the Surfer Stomp. Bobi and a friend were asked by the dance's promoter, Dave Dunningham, if they would demonstrate it nightly and soon they were dancing in front of holiday makers from all over New Zealand. She shows me an entire page cutting from the [Saturday night Auckland sports results newspaper] 8'O Clock with the headline "2 Young Australians Demonstrate The Stomp" – the photo shows Bobi and another young woman dancing with their hair flying in front of a packed audience. Bobi recalls that they were asked to pick the nightly dance winners – winners would receive packets of cigarettes!
Back in Auckland, she was hired to dance the Stomp at the Peter Pan Cabaret. "The Peter Pan Cabaret was held on a Saturday night, usually at the Trades Hall in Hobson Street. Dave Dunningham also ran that dance and a lot of great Māori groups played there as they were great singers and dancers too. They even did the Stomp too and had a good time."
Flicking through modelling photos of the time Bobi points out a change in appearance: "I had my hair cut into a beehive (or petals as it was often known) on my 21st birthday" and it is this look that she wears in many of her early-1960s photos. Being at the centre of the Auckland pop scene meant Bobi soon got to know a rising star from Christchurch.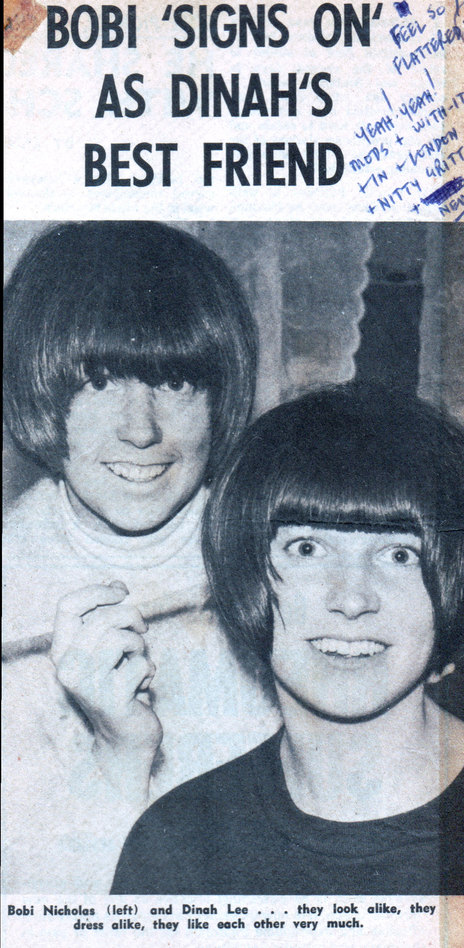 Meeting Dinah Lee
"I first met Dinah in Auckland on Queen Street with my friend Jackie Holme who had cut Dinah's famous mod bob. She was new to Auckland then, having just shifted up from Christchurch. One Friday evening we were in Vulcan Lane and she came running across the road ­– shouting. Not long after I saw her and she called out to me 'Bobi, I've got a new name!' That was when she changed her name from Diane Jacobs to Dinah Lee. Apparently they drew the name Dinah Lee out of a hat that day. I'm sure it was Ron Dalton from Viking Records who pulled out the name."
"I first saw her sing at Montmartre, the jazz club opposite the Embassy Theatre. She was backed by Mike Walker on piano, Frank Conway on drums and Les Still on slap bass. That was probably the first time I ever got to smell something strange in the toilets – not that I knew what marijuana was back then!"
Bobi then returned to Sydney.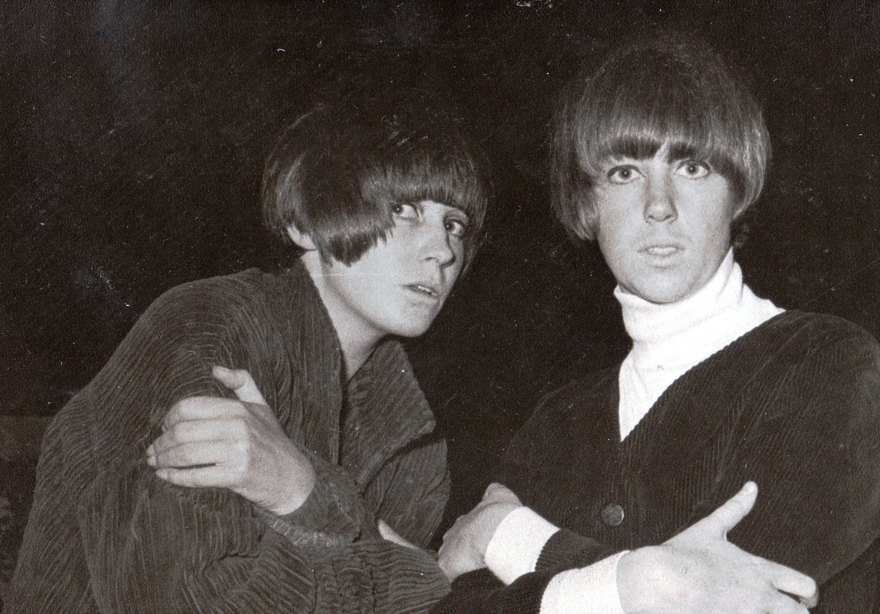 Fast times in Australia
"I moved back to Australia as a Department Store model for six months, before moving on to The Casual Shop when they opened in Sydney. All the clothes were made in New Zealand. This was June 1965. The Casual Shop was the most mod boutique making only one off designs and where Dinah always shopped. She was the Queen of the Mods. She had really good taste and looked sharp. We were so mod! Even in Sydney we set the trend. I would wear all sorts of colours, minis and all kinds of hair styles – I had my hair cut really short like Mia Farrow and permed like Jimi Hendrix, petals, you name it I did it. Back then we were very much the cutting edge of English fashion in Sydney and very mod. Dinah came to Australia with her manager Jim Haddleton and his family. We were already friends and so we spent lots of time together. I recall us going to see The Rolling Stones' afternoon show – I had a Brian Jones pageboy haircut at the time – and that evening we met Mick Jagger at a party."
"Jackie Holme and I were flatting in the Florida Apartments in Victoria St at Potts Point. Max Merritt was living in the building. Billy Thorpe moved in, Tommy Adderley and his wife Colleen as well. Dinah moved into the same apartments – as there was one available – so we were neighbours. And there were also a few gangsters living in the building. By then she had topped the Australian charts and Jim Haddleton had her booked up for a year in advance."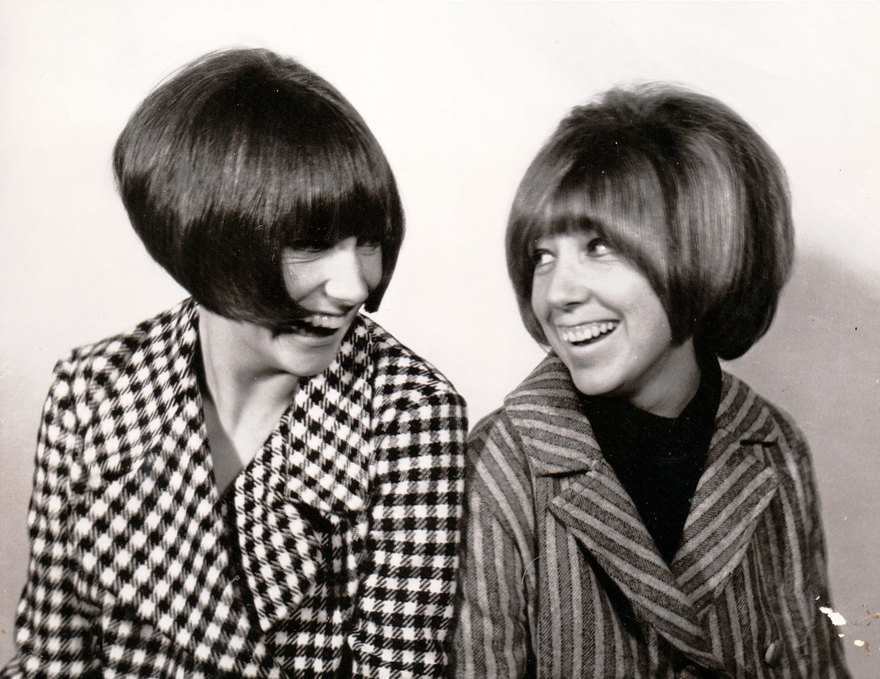 "A lot of Dinah's concerts were in the Miller pub circuit in Sydney. She'd do the Manly Pacific early show, then Brighton Le Sands late show – six nights a week. I would go out on jobs with her to help her out and, on Christmas day 1965, I was invited to dinner and asked by her manager Jim Haddleton would I like a full time job as Dinah's Girl Friday/private secretary? I agreed and gave The Casual Shop 10 days notice. I then shifted into Dinah's apartment. After that, for the next three years, I was working with Dinah. It wasn't a difficult job to adjust to, as I knew the pop world and at the fashion parades quite often they would have leading DJs as comperes and I had met them when we visited the radio stations. We would go to the beach with Max Merritt and watch Shindig! every Saturday at my friend Shelley's place. They were fun times."
"My first official job with Dinah was to accompany her to Melbourne, which was such a different scene than Sydney's club/pub/RSL one. Melbourne had a young dance scene to perform to, plus restaurants, so we had different bands to rehearse for gigs at different places. Dinah had her music charts written, including brass section. Mostly the musicians were great but quite a few couldn't read music."
"There was always TV when you travelled interstate. Melbourne had Johnny Young's Go!! Show and Kommotion where everyone lip-synced to the latest tunes, and In Melbourne Tonight. Usually the TV station provided the flight tickets and accommodation and meals. I did Dinah's hair. She did her own makeup. I'd cook meals, pack suitcases, rehearse the bands: At the time Dinah was travelling alone so I would have a suitcase with the music charts and I'd make sure the band could run through them before Dinah arrived. Some of the musicians were great and some were awful. Quite a few couldn't read music – I'd give them the charts and they would put them on the music stand upside down and pretend they were reading!"
Bobi hands me a feature on Dinah and her from the Australian Woman's Weekly titled "Bobbi 'bosses' her boss". It focuses on how Bobi keeps everything flowing around her pop star employer.

"Dinah's manager Jim Haddleton never went on the road with Dinah so another of my jobs was to collect the money. I became more than a Girl Friday/private secretary, I was literally the tour manager and had to oversee all kinds of things. Dinah was always a pleasure to work with – she was a consummate professional and never behaved like a diva. We always had a lot of fun together – she really has a great sense of humour and loved to laugh. It really can be a lonely life at the top when you are the singer, therefore we would head out after our work together to check out the new and latest bands in town and around."
"Bob Cooper, who worked for EMI Records Australia, was a really good guy and he would provide Dinah with new overseas singles and LPs to listen to in case she wanted to record any of the songs. We would go through the records Bob gave us and see if anything suited Dinah. Bob would ring up and invite us to the launch parties EMI was holding for its international artists when they visited – Tom Jones, Herman's Hermits, The Shadows and more. Dinah had a Mini Minor with only second and third gear working in it and we would drive everywhere in that. I remember us getting Hank Marvin of The Shadows in that Mini one night and driving him around Sydney and all of us laughing like mad because the Mini only had second and third gear!"
"Dinah was one of the biggest pop stars in Australia at the time, scoring three or four number one hits and knocking The Beatles off the top spot."
– bobi Petch
"Back then our routine was a week in Sydney and then a week somewhere else – say Brisbane or Adelaide and playing the country towns. We would almost always fly. I remember Dinah driving us to Newcastle in that crazy Mini – laughing all the way! Dinah was one of the biggest pop stars in Australia at the time, scoring three or four number one hits and knocking The Beatles off the top spot. Female-wise she was the biggest. She had her own voice. Dinah, Queen of the Mods."
"We went to Tahiti and New Caledonia as she was popular there and sold records there. Jim booked us through Gilbert Tong who looked after us in Noumea, and booked us at the Hotel Taaone, Tahiti. Dinah had to perform two floorshows a night for hotel guests. The French tourists loved Dinah and we had a great time there. In New Caledonia Dinah bought EPs by popular French singers and we listened to them. I recall us liking Francoise Hardy's records. Again, Jim – Dinah's manager – didn't accompany her, he preferred to stay in Sydney. So I had to look after business. He would book the jobs and I'd go with Dinah and collect the money. In places like Melbourne where Jim thought the promoters might be a bit dodgy our rule was half the fee in advance and half when the show was over. Most places we were paid when the show was over."
"Dinah and I lived and worked together and difficult as this may be to believe we got on brilliantly. She never had any diva moments. She was always available and she always did a great show. She worked really hard and would sweat through all her stage clothes and I would always be sending them to the dry cleaners. Her shows always lasted an hour or an hour and a half. For the first year she worked seven days a week. No, she never took amphetamines to keep her going. She would have a drink before going on stage but never drank heavily. She was not interested in hard drugs and allergic to injections. In 1968 she was about to go to Vietnam to sing to the troops and she went and got her smallpox inoculation and we walked into a dairy and she just fainted and fell into the shelves, knocking everything onto the floor!"
"We were happy. We had a ball the whole time. She had more than enough songs to change her repertoire when she wanted to. Barry Hind wrote her originals. Dinah would always dress for the gig and take a towel along as it was hot work, especially in the summer. The pubs she sang in were not rough ones. There were never fights in them. If you stayed for the second floorshow you had to take a meal and be properly dressed. We did the RSL clubs on a Sunday and the league clubs on a weekly basis."
The face of Yardley
"She enjoyed the work while emphasising that she had to perform a lot as she kept a manager – who took 25% of her earnings – a guitarist and me. The guitarist and I were on $50 a week each. For example, Yardley cosmetics – who were like Max Factor – used Jean Shrimpton as their face in England and Dinah in Australia. We would turn up at a department store to do a promotion and they would literally roll out the red carpet to the taxi and we would walk down it to do the presentation. Different cities had different responses to the music. In Melbourne it was a dance scene and very different from Sydney, a younger scene. We'd do promo in stores during the day and concerts at night. Dinah was always confident and good with the public. The only thing that scared her were scary movies on TV. She would run out of the room and hide!"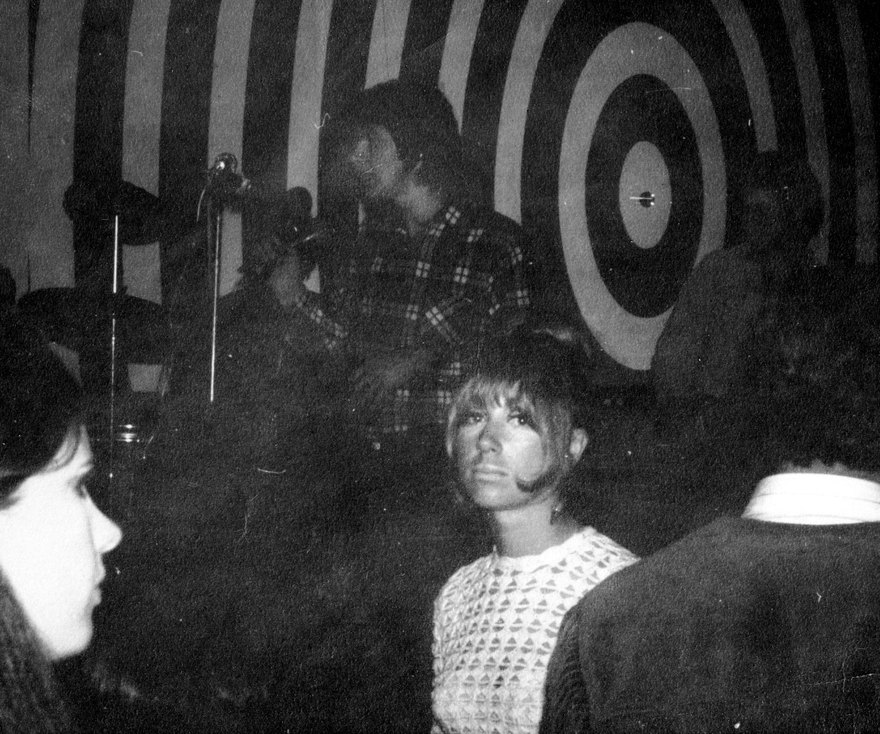 "Music: We only had a little battery operated record player. I know it sounds crazy but we did not spend a lot of time listening to records. When we did it was often so Dinah could search for new songs to sing. Then it was always black music – Smokey Robinson and groups like that. Of course, we listened to The Beatles and The Stones – everyone did. We were so busy – going to the beach, the hairdressers, photo shoots, interviews, working. Any female singer who came to Sydney, we would go and see. Generally, we went to Chequers – we saw Lulu, Liza Minnelli, Jackie DeShannon and others. I remember us going to see The Shadows and taking Kevin Borich and Dave Russell along – Hank Marvin was their hero! We met The Small Faces, who were really little guys, so cute, with hand-painted psychedelic boots. They were in Australia with The Who, who we only got to see in a nightclub. They were sitting around a table and none of them were dancing. The clubs were smoky back then but it seemed normal as everyone smoked. Even Dinah smoked a bit. Benson & Hedges was one of our sponsors so they would give us free cigarettes!"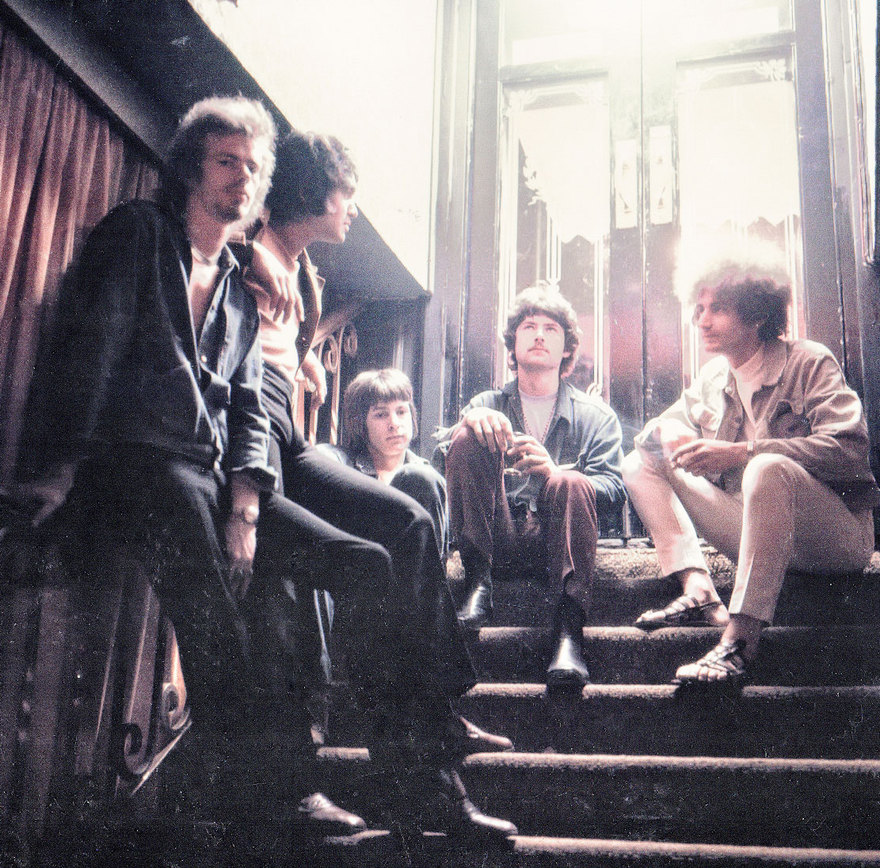 Tour memories
"Dinah was touring New Zealand when The Beatles visited in 1964. I went to The Beatles' early Auckland concert with Roly Kerridge – the son of Sir Robert Kerridge – as he had front row seats. You couldn't hear the music as the screaming was so incredibly loud but they were great fun. I toured New Zealand with Dinah in 1966. It was a great tour that also featured Millie Small, Jackie Edwards [who wrote the hits 'Somebody Help Me' and 'Keep On Running' for The Spencer Davis Group], Tommy Adderley, Keri & Allen (a Māori boy and an Aussie girl). The concerts were packed out everywhere. It cost two pounds to get in – I can still remember being paid in two pound notes. Once back in the hotel room I was standing in all these two pound notes – we seemed to have thousands of them! Everyone on the tour got on fabulously – Dinah had flatted with Millie in London when Chris Blackwell was trying to launch her there and I think Jackie Edwards, who was a Jamaican songwriter who worked for Chris and had an album out on Island, got added to the tour due to that connection. I'm sure he was not expensive as he was not famous. The tour started in Auckland – Dinah and I stayed at my parents' house in Cheltenham that night – and then went up north before heading back to Auckland and taking off south and not stopping until Invercargill. There was a concert pretty much every night. We travelled in a coach all the way beyond taking a flight to Christchurch (I think) and then returning to Wellington via Nelson on a small plane. I think we played the west coast of the South Island. We seemed to play everywhere. It was a great tour. A lot of dates. It went on for something like six weeks. Bruce King, the drummer in the band that backed everyone on the tour, has film footage."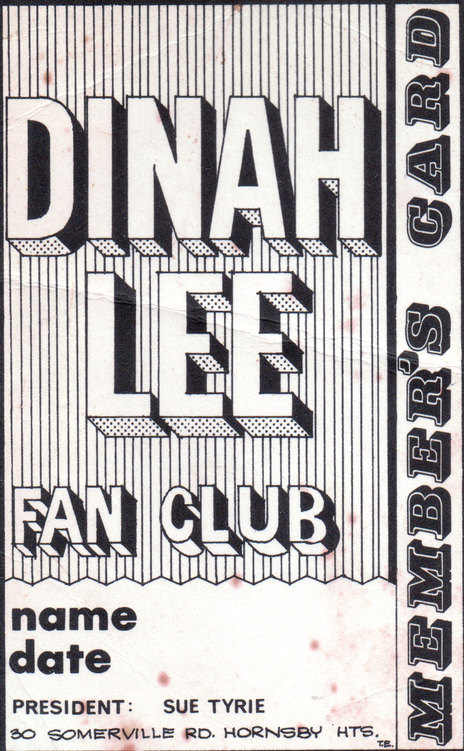 "In 1967 Dinah employed a guitarist from New Zealand called Gary Bayer. He lived with us – by now we had endured a few moves around Sydney due to our habit of throwing big parties and getting evicted. One of the people sharing a house with us was a singer called Eden Kane, (the brother of Peter Sarstedt), whose single 'Boys Cry' had hit No.1 in Australia and New Zealand. The house that we were sharing had upstairs bedrooms and Eden got back one night and was locked out and couldn't wake anyone by knocking on the door so he decided he would climb the drainpipe. Well, he was drunk and rather than climbing it he pulled it down and it flooded the house! I can still remember Dinah running around the house trying to mop up all the water! After that debacle we moved into Barry Livingstone's house – he was the hairdresser to Sydney's beautiful people and pop stars."
"In 1968 Dinah went to London. This was her second trip there. Her first trip had been four years earlier when Chris Blackwell of Island Records tried to launch her in the UK. This trip was simply for her to check out the new music and fashions. The changing trends, as they used to say. Dinah took Gary the guitarist and there weren't the funds for me to also go over so I stayed in Sydney. For me, it was time to move onto new things – a door closed and a new one opened when Lee Dillow happened by Barry's house the same week to tell me of a job running the new booking agency, Cordon Bleu Promotions. Harry Widmer managed The Executives, one of Sydney's great groovy groups, and decided to open the Agency."
"Cordon Bleu became one of Sydney's leading booking agencies with our own recording groups, and our dances too, for them to play at. Jim Haddleton met The La De Da's on a flight from Auckland to Sydney and introduced them to us and I got to know Kevin, Phil, Trevor, Bruce and [Brian Harris, then Keith Barber]. The La De Da's were very popular with the university crowd and Cronulla Surf Club's Friday nights. I watched the group grow the crowds wherever they went. It was interesting booking them as I watched their concerts going from everyone turning up to dance to people turning up and sitting down to listen to the music. Partly this was due to drugs – everyone was starting to smoke marijuana and take LSD – and also their music was changing. For example, Kevin started playing sitar."
Close friends
"To this day Dinah and I remain really close friends. She is a wonderful person and remains a great entertainer. In Australia she plays stadiums as part of oldies shows."
Bobi pauses then recalls being told that she was missed at the funeral of Australian rocker Billy Thorpe. "My friend said to me, 'Bobi, you should have been there – you were the missing link'" and I'm sure this is true.