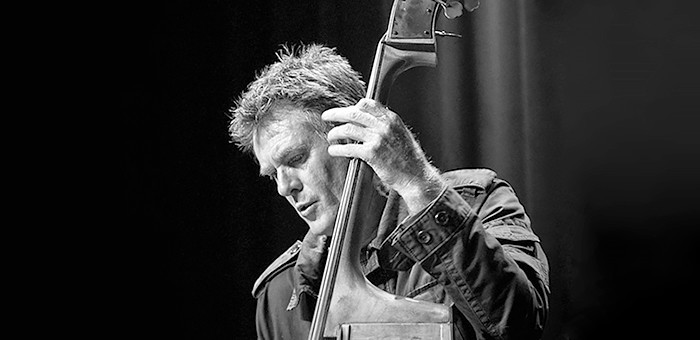 In this interview for 2003 TV series Give It a Whirl, bassist Bones Hillman (Wayne Stevens) recalls the emergence of punk in 1970s Auckland. Growing up in Avondale, he began his music careeer in neighbourhood band The Masochists before joining Suburban Reptiles. He describes the clubs, pubs, and street fights of the punk scene in the late 70s, the formation of The Swingers with Phil Judd and Buster Stiggs, and how their hit 'Counting the Beat' was the beginning of the end for the band. "When you look back at it now, it seems like a really full-on time. But it wasn't. [There was] a lot of waiting in between. Lots of time to polish your Doc Martens, you know?" Bones Hillman went on to have a long music career as bassist in Australian band Midnight Oil.
--
Watch below: Full-length interview with Bones Hillman from Give It a Whirl (2003) via NZ On Screen (2023).
Watch below: Bones describes joining the Suburban Reptiles. "The band I was in – Masochists – were meant to support them. So I turned up, and the Reptiles' bass player didn't turn up ... and the rest of my band didn't turn up. So they got me up on stage. It was really easy actually, they said 'well everything's in the key of E, just play really fast.'"
Watch below: Bones recalls the arrival in Auckland of Dunedin punk band The Enemy, fronted by Chris Knox. "I think they were the better band, they had great original songs. Auckland was influenced by what was going on in the UK. But they came up and it was 'woah'. A good thing to happen to New Zealand music, actually."
Watch below: Bones discusses the early days of The Swingers with Phil Judd and Buster Stiggs, their year of shows at Liberty Stage in Auckland, and selling merch off a car bonnet in Parnell on Saturday mornings. "We rehearsed for about six months before we did our first show – we had about 18 original songs ... when we came to Australia, that's when it started to fall apart." He also describes how band gear was transported to gigs in the early days of The Swingers: "I'd rock up to a car yard on a Saturday morning with this beaten up old Vauxhall Velox, and pretend I wanted to buy a van. 'Can I take it for a test drive?' The guy would say 'yeah, leave your car here'. I'd whip around, we'd pick up all our gear, drop it off to the gig, take the van back and go 'I'll give you a call.'"
Watch below: Bones recalls the lure of Australia. "Michael Gudinski from Mushroom came and head-hunted us, he watched us play. We eventually signed – we were with Ripper before that. He promised us 'bigger and better things'. We came across to Melbourne – probably the worst thing we could have ever done."
Watch below: Bones discusses the lasting impact of 'Counting The Beat'. "We recorded 'Counting the Beat' and that came out and stormed up the charts. That changed everything from there ... It was the biggest, fastest-selling single in Australia since 'Eagle Rock'. Everyone wanted you, and then everyone wanted something from you."
--
This interview was recorded for the 2003 season of TV series Give it a Whirl. All audiovisual content is copyright to Visionary Film & TV, and may not be reproduced.
--
Further reading: Nick Bollinger on Give It a Whirl