When you look for key patrons of the Aotearoa music community, one loud Australian, Michael Gudinski, is a top contender. The founder of Mushroom Records, who died on 2 March 2021, aged 68, signed many of New Zealand's biggest acts to his independent label. Among them were Split Enz, Mother Goose, Dave Dobbyn, The Swingers, Dance Exponents – Gudinski even partnered with the Flying Nun label.
In 2001, when APRA members voted for the top 30 songs written by New Zealanders, seven of the Top 10 were either recorded or published by Mushroom, an Australian company. This crazy high percentage was due to Gudinski having an ear for music with commercial radio airplay potential, and the cheque book or the hustle to pay recording costs.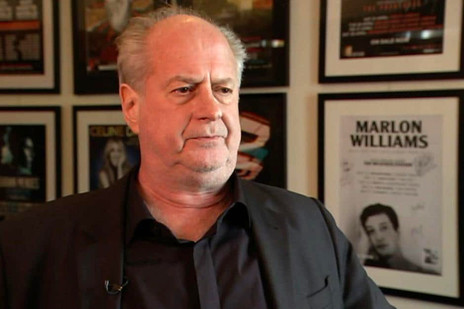 When punk, new wave and disco disrupted the music world in the late 1970s, the big record labels backed away and indie labels emerged to record the new generation. In Australia, Mushroom was the leader of the pack, with an array of attention-seeking young men in tights and make-up including Skyhooks, Mother Goose, and Split Enz.
The Melbourne group Skyhooks put Mushroom on the map with massive sales and headline grabbing titles like the album Straight in a Gay Gay World or songs like 'You Just Like Me Cos I'm Good in Bed' and their radio-unfriendly swansong 'Why Don't You All Get Fucked'. Not exactly punk, but music with a fiercely independent spirit that gave the record label and its founder Michael Gudinski instant infamy.
Split Enz bassist Mike Chunn recalls arriving in Australia in 1975: "They had a hugely buoyant music industry and it seemed that Skyhooks were way at the top but there was as much talk about Michael Gudinski, the owner of their record company Mushroom records. We talked about getting a record deal with him."
"Luckily for us Red Symons from Skyhooks came to see us at the Coogee Bay Hotel and he went back to Gudinski and said 'You have to sign them,' so Gudinski said 'Take me to them,' so Gudinski and Symons turned up. We had a record deal in front of us within a fortnight."
Tim Finn: "Michael immediately wanted to sign us to Mushroom. That kind of maverick impulse is the lifeblood of rock and roll. When Michael got you, he got you for life. His complete loyalty to artists, good times and bad, is why I love him."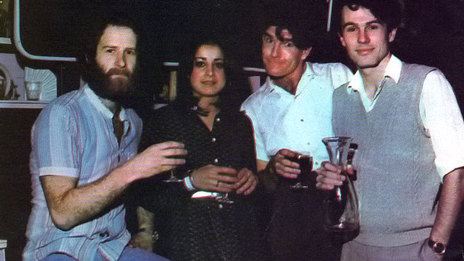 Gudinski spoke of his commitment to signing Split Enz: "We brought them [from Sydney] to play in Melbourne at a Festival Hall concert before 5000 screaming Skyhooks [and AC/DC] fans and they got booed off stage. People in my office said, 'Are you sure you want to sign this band?' I said, 'A reaction like that is a great reaction'. Reaction is what it is about, good or bad. I remember having a car accident on my way to their hotel to sign the contracts."
Listening to Gudinski's logic, as chronicled above, one could think the man was "a little bit mad". When the music mogul died on 2 March 2021, Australian songwriter Paul Kelly had those four words in his tribute: "He was a friend. A great inspiration and mentor to many. Passionate, enthusiastic, loyal, fierce and, like all true pioneers, a little bit mad."
From day one of Mushroom Records, Gudinski wanted to have releases and success in the Northern Hemisphere. The eye towards the old countries may have been because he was a "true" Australian: a son of immigrants, from Russia in his case.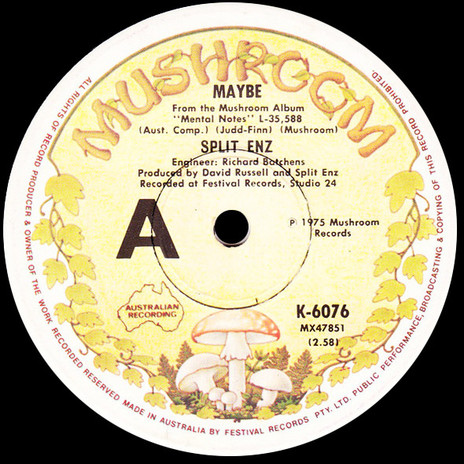 Gudinski promptly supported Split Enz in their ambitious move to base the upstart group in London. When Rip It Up magazine started in June 1977, Split Enz conquering the world was an exciting prospect for New Zealand music, something to write about. The first record company to take the editor Alastair Dougal and myself to dinner, was Australian: Mushroom, of course. Michael Gudinski and his business manager Gary Ashley were in Auckland and they took us to their waterfront hotel restaurant. Gudinski was effervescent about his plans for his recording artists but he was also genuinely excited about the arrival of Rip It Up and I ended the evening more enthusiastic about publishing Rip It Up than I was before I met him. The man's energy was inspiring.
There was a worldwide explosion of indie record labels; in the UK, Virgin was followed by Stiff, Factory, and many others. In New Zealand, indies such as Ripper, Propeller and Flying Nun soon emerged.
"I first met Michael shortly after I started the Propeller label," says Simon Grigg. "He wished me success and offered any assistance he could. A year or so later, with a few hits under my belt, he rang me and asked if Mushroom could represent us in Australia and beyond – become our partner so as to speak. I declined because I'd already done a deal with Festival, so he flew me to Melbourne to discuss a publishing partnership, something we did after one of his infamous 'negotiating' sessions that lasted until the early hours. It gave us working funds and allowed to keep on recording both The Screaming Meemees and Blam Blam Blam albums. He also offered us access to proper contracts and legal advice, neither of which really existed in New Zealand at the time."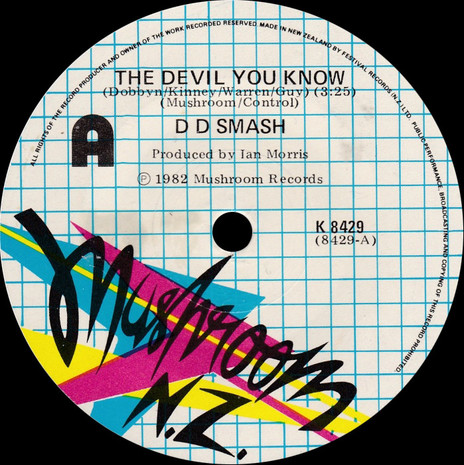 The least written-about New Zealand indie label is called "Mushroom NZ," yet this label is crucial to Mushroom scoring seven out of 10 in the APRA poll.
Mike Chunn recalls the label's genesis: "I rang Michael in 1981 and I said you should have a Mushroom Records New Zealand label. Two days later he turned up with the artwork for that label and said, "Who are you gonna sign?" I said, "DD Smash."
After signing Dave Dobbyn's DD Smash, the label added the youthful Dance Exponents, scouted by Christchurch venue booker Jim Wilson. Mushroom had the budget to record these groups in Auckland's 24 track studios, Harlequin or Mandrill, which gave them a chance to get their on commercial radio. Mushroom was indie but not low rent.
Mushroom NZ was based in Mike Chunn's sunny Brighton Road, Parnell home and Debbie Harwood worked on promotion alongside distributor Festival Records. "Mike Chunn and I lived and breathed the musicians and their songs," she says. "Gudinski was 100% no bullshit, take no prisoners, make it happen, and such a pleasure to be around – if you could pin him down for a few minutes.
"DD Smash's album [Cool Bananas] was our first release to reach No.1 in its first week. Then the Dance Exponents' 'Victoria' and 'Airway Spies' burst through at a time when New Zealand music was buried."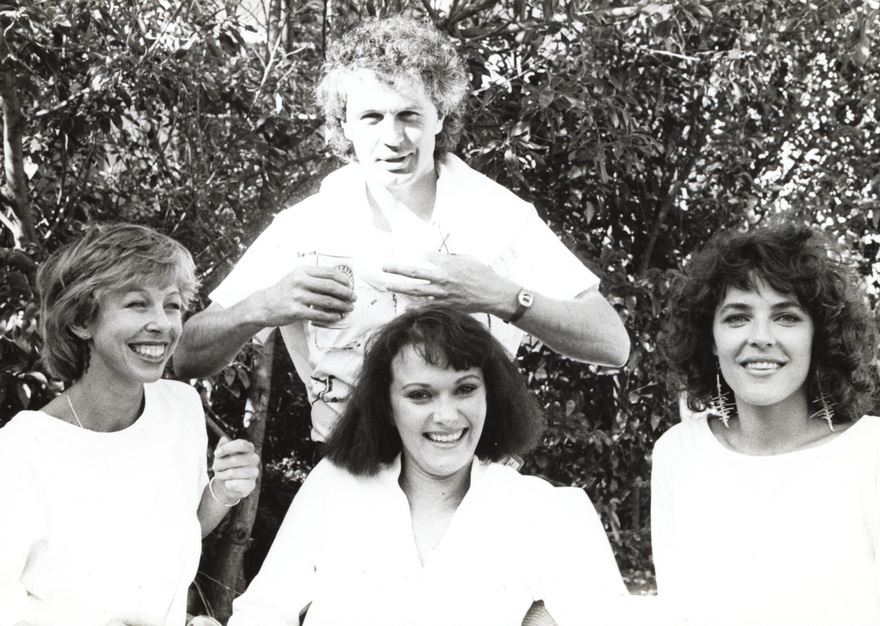 Mushroom NZ scored a local No.1 in December 1982 with the Monte Vidéo (Murray Grindlay) novelty hit 'Shoop-Shoop, Diddy-Wop, Cumma-Cumma, Wang-Dang'. Mushroom negotiated the release of the single in the US and Europe on Geffen Records.
In 1983 the label achieved a No.5 hit single with Coconut Rough's 'Sierra Leone' and released two albums recorded live at the legendary Auckland venue, Mainstreet: DD Smash's Deep in the Heart of Taxes and a shared release with Dance Exponents on one side Graham Brazier's Legionnaires on the other.
As Gudinski's Melbourne-based music empire grew in size, there was criticism of his very competitive business practices, and his trying to have a finger in every pie. He would quite happily have his artists signed to one of his companies for each facet of their career: recording, song publishing, touring, merchandising and management. There were exceptions, such as the Split Enz tours of New Zealand, which stayed with their long time promoter Ian Magan.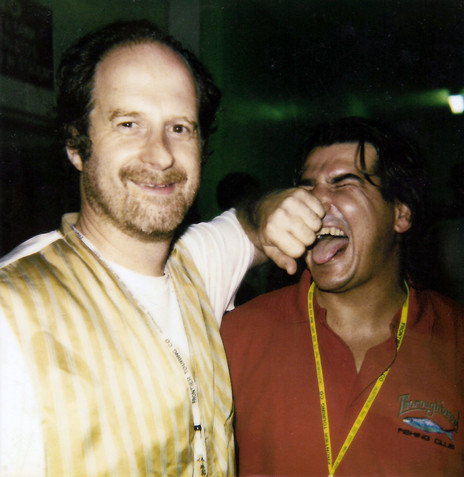 Gudinski's Frontier touring company had its biggest early success at Auckland's Western Springs, in November 1983, when David Bowie had a capacity crowd of over 80,000. Gudinski's local business partner at the time was Hugh Lynn, who also managed the group Herbs with Will 'Ilolahia. "Mushroom released the album Long Ago in Australia," said 'Ilolahia. "In 1985 we toured – 40 gigs in 45 days – Adelaide to Brisbane." Mushroom continued to release Herbs albums in Australia.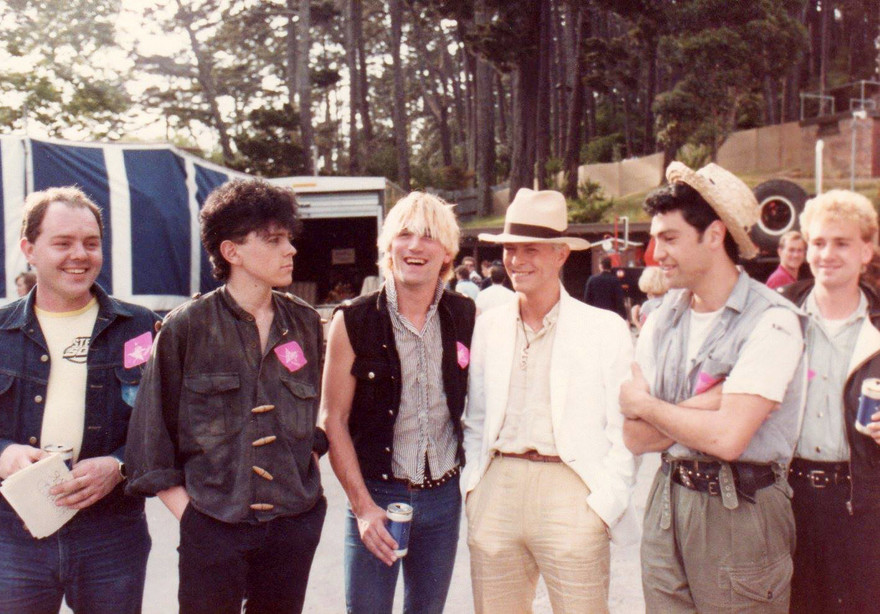 Gudinski's finger in the Aotearoa pie, or pies, was welcomed by the local music community. New Zealand lacked entrepreneurs willing to invest in recording music.
Roger Shepherd's Flying Nun label gained the attention of Mushroom Publishing and a deal was made to sign publishing rights with the label's musicians, with modest upfront advances. Then discussions took place for an investment into the recording label and in 1990 Mushroom purchased 50% ownership of Flying Nun.
Both label owners liked music and sport but they had different styles. "Michael Gudinski and I never had much in common", recalls Shepherd. "He was a brash Australian and, well, I was rather timid in his company. He was a music man who ran all of his businesses with music at the central core. So we did have music in common, but completely different kinds of music with very little overlap.
"That overlap proved to be important. When Mushroom owned a chunk of Flying Nun he pumped a huge amount of money into the label. This money went both into the more established artists that he kind of understood and was trying to kick on, overseas. It also went to the smaller bands, the ones he never understood, back in New Zealand via the established Flying Nun set up. The money was spent making new records that would otherwise never have seen the light of day. Virtually none of Flying Nun's 1990s recorded output would have been possible without his investment."
Michael Gudinski lived life at a frenetic pace.
Michael Gudinski lived life at a frenetic pace and he was known for having "no attention span". In a social situation I recall having several one-minute conversations over the course of an evening and I asked a mutual friend, "Is there something wrong?" The friend replied, "No, that means he likes you."
In 1997, when Rip It Up celebrated 20 years of publishing and covering New Zealand music, I travelled to Melbourne to interview Michael Gudinski. The Monday interview time was cancelled as he was a no-show at the office – St Kilda won a crucial Australian rules game – and some partying had required his attention.
The interview was rescheduled to Tuesday. The phone is ringing and Michael is buzzing. "You're not in a hurry are you? You'll get a bit of ambience. I'm in a good mood today, my footy team is really kicking arse."
At his personal assistant's request I was asked, "Murray, how long are we gonna need? – no pressure, no pressure." We establish a minimum time and Michael lies on the couch but immediately jumps up. Michael has found the missing cork to a wine bottle and must tell Mary, his long-time PA. He's found something and he wants to tell somebody – this sort of sums up his life in the music business.
He returns, the answerphone is turned on and the phone ringing is replaced by loud rain. Michael is enthusiastic about the rain. "Melbourne needs it."
Michael loved Melbourne, loved Victoria (the state), loved Australia, wanted to conquer the world and he respected New Zealand.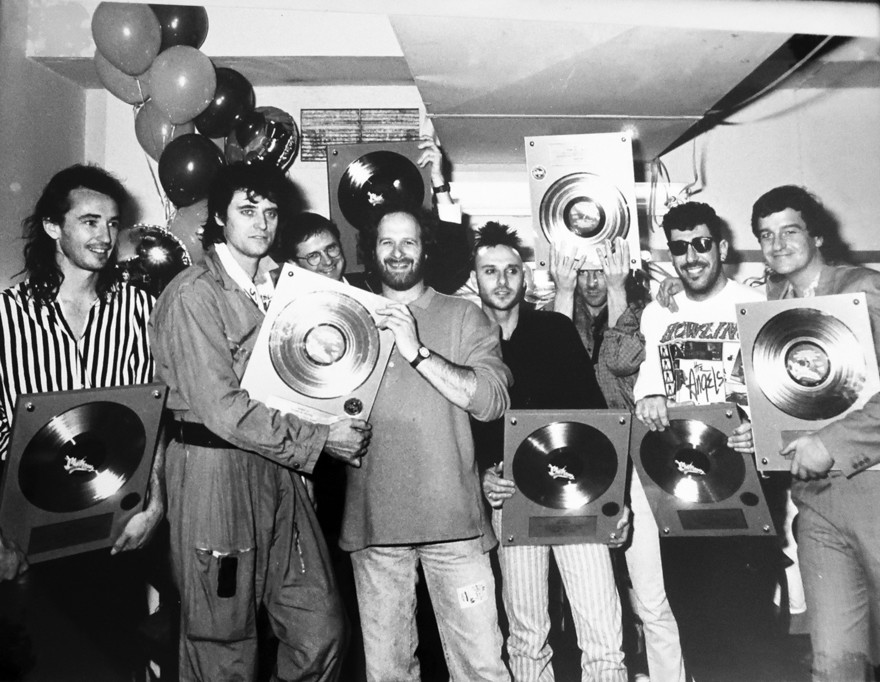 "I came across New Zealand musicians before I even started Mushroom. I managed a band Freshwater from New Zealand. I was the Melbourne agent for The La De Da's. I was very aware of great New Zealand musicians."
By March 1997 Mushroom had completed their purchase of 100% of the Flying Nun label. A few months prior to my speaking to Gudinski, Rip It Up had interviewed Roger Shepherd, after he resigned from his UK Flying Nun role.
"I read the interview, he was diplomatic. I have great respect for Roger, he gave it a great try. We put a lot of money in. I noticed he did not talk a lot about it and I hope I am not talking too much about it to piss him off, but truthfully the label has lost a hell of a lot of money and it had to be restructured and re-looked at.
"By 1997 Mushroom had broken Garbage, Peter Andre and Ash in the UK and the label had incurred multi-million dollar losses in the process. In the UK we went from extremely cold and financially fucked, to extremely hot and finding our way back financially.
"With Garageland we've taken a Flying Nun band to England and toured them and put money behind them, certainly more than any other Flying Nun act ever. We've got a big deal for them now in America. They're touring America now."
Whenever I spoke to Michael he'd rapidly speak about his latest deal that he had for a Mushroom act to break through in the US. In 1997 he was brutally honest. "Half the reason I'm frustrated about America is not that my artists have failed there. We haven't even seen the light of day there."
"Why 'Counting the Beat' wasn't a huge international hit I'll never f***in' understand."
In the 1980s when Mushroom dominated the Australian rock scene, it was the groups that were not signed to Mushroom – INXS, Midnight Oil and Crowded House – that broke through in the US. Split Enz got close with the A&M label release of True Colours and 'I Got You'. At a later date, Michael admitted that Mushroom should have found the money to pay "independent promoters" to schmooze, hustle or buy greater US airplay for 'I Got You'. That was probably his big chance to have success in the US and he blew it. (In his speech at Apra NZ's 75th anniversary function in 2001, he expressed another long-lasting frustration: "Why 'Counting the Beat' wasn't a huge international hit I'll never f***in' understand.")
It was probably the buzz for Flying Nun music in the US music business that had encouraged Mushroom to get in deeper and deeper with the New Zealand label. Mushroom had also developed its own cool alternative music label, known as "The White Label".
In 1989, Simon Baeyertz left Festival Records NZ to work in Melbourne's Mushroom office and run Flying Nun Australia, a label to which Flying Nun's high-profile bands were formally signed, so that they could receive bigger recording budgets and more promotion beyond New Zealand. Baeyertz also looked after some of the White Label artists and liased with some of the foreign alternative artists or labels that Mushroom distributed via their Liberation Records.
Although Gudinski was the master of old school "artist friendly" behaviour, Baeyertz was better with the more reserved new school, down with the kids vibe and he was the conduit between Mushroom and all facets of Flying Nunnery. He did that job from 1989 to 1994, and in the words of a colleague, "he lived and breathed Flying Nun, day and night".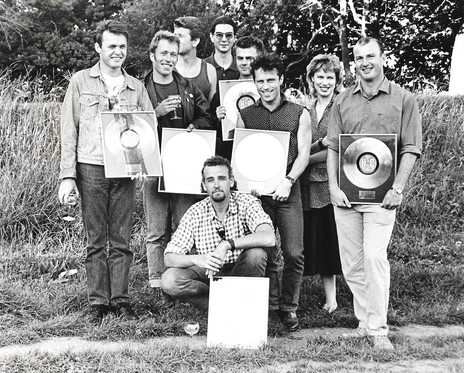 During this time Straitjacket Fits albums Melt and Blow were released on Arista in the US; Headless Chickens released Body Blow and had success with the single 'Cruise Control' in Australia; Jean-Paul Sartre Experience released Bleeding Star on Matador in the US; there was a multitude of Flying Nun releases in Australia. There were many tours and Straitjacket Fits played the Big Day Out circuit in 1994.
Bayertz grew tired of the demands of running a label and coping with the careers of 20 recording artists. He moved to New York as manager of the White Label group Frente.
Baeyertz is one of many New Zealanders who worked for Mushroom Records in the Australia head office; the majority of these expats have been women.
Roger Shepherd wrote in his book In Love With These Times, "the Mushroom offices in Melbourne were full of employees with the usual music industry gender split – guys running things and women doing all the work."
Aucklander Janet Dawes – who rose to general manager of Mushroom Records – responded: "Everyone at Mushroom worked hard. Mushroom was known for having smart women in good jobs at a time when the industry was more male, especially in Australia. The women executives were astute, top of their game, highly respected in the Australian music industry and internationally in most cases.
"I loved Mushroom for our culture and work ethic. I think Michael knew, identified with, and attracted music people and that's the thing that was his Mushroom DNA. Michael trusted and respected and promoted and put resources in to develop people."
Dawes started as Mushroom's manager in New Zealand in 1986, working from the Festival Records office in Auckland, and she moved to Mushroom Melbourne in 1990. She was Mushroom general manager when News Ltd purchased Mushroom in 1998. Dawes notes that Gudinski, "loved working with Grant Fell and Rachael Churchward" on releases by Flying Nun's Headless Chickens.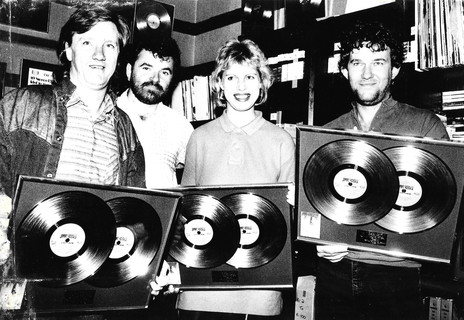 At a time when Gudinski had more women than men in senior positions at Mushroom, his distributor Festival Records did not allow women employees to have company cars.
I had always assumed he liked to be surrounded by women. Another who crossed the Tasman to work in Melbourne was Jane West. From 1989 to 1998 she worked in Gudinski's artist management company MGM, primarily as a manager with Jimmy Barnes but also with Daryl Braithwaite, Supergroove and Annie Crummer. Before and after her decade in Melbourne, West did PR for Frontier Tours in New Zealand until 2003.
West has a theory: "Michael operated with a good dose of intuition and I think he recognized that trait in women. His respect for New Zealand and women was unspoken but it meant a huge door of opportunity was open." West recalls that sometimes Michael was referred to by the nickname "God".
Glenda Law joined Mushroom in the early days, when she was known as Glen Tabuteau. "I was head-hunted by Michael Gudinski when I was at Festival Records, Auckland. In 1976 I moved to Melbourne to the promotions department. Michael was 24 at the time and I was older than him. The manager Gary Ashley was 18. Michael stopped at the doorway to my office one morning and said 'How are you getting on with everyone? You're probably not used to being told what to do by an 18-year-old.' I said, 'I'm getting used to it'. He said, 'Never judge people by their age, old or young. Judge them by what sort of person they are and what they are capable of doing and then trust them to do the job.' I have always remembered that. Those years were some of the happiest in my life."
Gary Ashley was never the face of Mushroom but it was his idea to sign Neighbours stars Kylie Minogue and Jason Donovan, a move that put cash in the Mushroom coffers. Ashley was running Mushroom London when Garbage were signed and he left Mushroom in 1996 and died in 2017, due to cancer.
Many New Zealand women have worked for Mushroom in its Melbourne office over the years in key positions.
Mushroom Publishing company has been very active in New Zealand over the years, with Flying Nun's roster and also songwriters whose recordings were released by other record companies. They represented Supergroove's publishing at the peak of the group's success.
Other local recording artists they have represented include Aaron Tokona (Weta), Anika Moa, Anna Coddington, Bic Runga, Cairo Knife Fight, Chris Knox, David Dallas, Die! Die! Die!, James Reid (The Feelers), Kody Nielson (The Mint Chicks), Lawrence Arabia, Liam Finn, Module, Paul McLaney, Reb Fountain, Salmonella Dub, Scribe, Shapeshifter, Shihad (since 2019), SJD, Thomas Oliver, Unknown Mortal Orchestra, Mitch James, and Villainy.
Ian James ran Mushroom Music Publishing for 32 years, retiring in 2019 with Linda Bosidis taking over as managing director. James is familiar to the New Zealand music community due to his being a regular attendee and presenter at New Zealand's annual APRA Awards nights.
When Gudinski's Liberation Blue label had success with a series of acoustic albums by Australian legacy acts, they expanded the series to New Zealand and released Hello Sailor's When Your Lights Are Out (2006), Hammond Gamble's Recollection (2006) and Midge Marsden's Travel 'N Time (2007).
Many New Zealand women have worked for Mushroom in its Melbourne office over the years in key positions. Jackie Dennis (then known as Jacqui Dennis) had her first stint at from 1981 to 1984 in promotions, then in music licensing. She returned to Mushroom Music Publishing in 1993 as creative director based in the Sydney office. She became general manager at Mushroom Pictures (Chopper) in 1999 but continued to look after New Zealand songwriters for Mushroom Music. Dennis returned to Auckland in 2005 and opened an office for Mushroom Music and Mushroom Pictures, remaining there until 2009. Since 2017 she has been executive director at Script to Screen.
New Zealand women currently working at Mushroom in Melbourne include Reegan Stark (Mushroom Group chief marketing and communications officer) and Sarah Stewart (MMP operations manager). Both women joined the company in 2000.
A few decades have passed since Debbie Harwood worked for Mushroom NZ in 1982. She fondly recalls Gudinski's "air-punching that accompanied his catchphrase 'Let's Do It'." Harwood went on to found When The Cat's Away and when she was based in Melbourne in the early 1990s she toured as a backing vocalist with Jimmy Barnes.
Former employees of Mushroom, when referring to working with Gudinski, often use the word "family". Harwood attended the Australian Open in 2017 and just as she found her spot, a voice yelled, "Debbie Harwood! Cat's Away ... do it!!" It was Michael Gudinski. "In a 15,000 seater stadium the Mushroom Group were right next to me – we had a great chat between Nadal/Federer sets. I recognised at least half of the group from the 80s and the 90s: a testament to his loyalty."
--