New Zealand rock'n'roll performances were pretty hectic right from the start. Our version of Elvis, Johnny Devlin, was backed by The Devils, who always pushed for their share of the limelight — drummer Tony Hopkins would often play standing, while double-bass player Keith Graham fell to the floor during moments of high excitement and managed to keep playing even when saxophonist Claude Papesch lay across him. Given he was blind, how Papesch achieved this feat is anyone's guess. Things would only get crazier from there on in.
Before we get started, let's also give an honourable mention to legendary New Zealand country musician, Tex Morton, whose show included the stage trick of shooting a cigarette out of an audience member's mouth.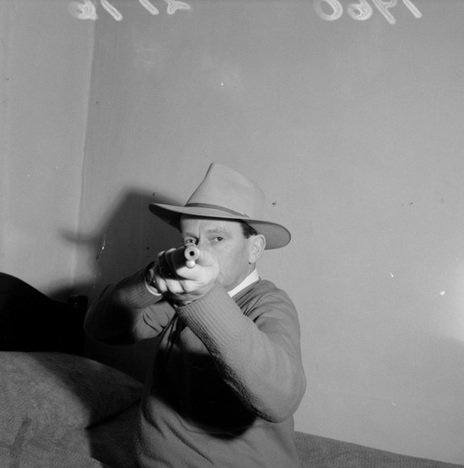 Chants R&B
Acts like Johnny Devlin, Ray Columbus & The Invaders, and Max Merritt & The Meteors certainly proved that New Zealand bands could rock'n'roll. But it was only with the next wave of beat bands and heavy R&B acts that things really began to get hectic. Chants R&B took things the furthest, inspired partly by seeing The Pretty Things when they brought their scandalous live act to Christchurch in 1965 (the band received a lifetime ban from New Zealand when their drummer started a fire on an airborne plane). One thing that Chants R&B had going for them was a two-year residency at The Stage Door, where they pushed the limits of what they could get away with. The centrepiece of their show involved drummer Trevor Courtney climbing onto the rafters, while a friend of the band took over the beat (during the novelty song 'They're Coming To Take Me Away Ha Ha').
The band also had strobe lights (an idea they had taken from The Pretty Things) and employed them near the end of the set, when it was time to do some serious damage: smashing tambourines and nailing still-plugged-in guitars to the floor of the venue. Feedback screamed and the stage was left in a ruin of broken instruments. Fortunately their loyal audience would proffer up more cheap instruments week-after-week so the show could go on. You can get a sense of the band by checking out the trailer for the documentary made about them, Rumble and Bang.
Chants R&B eventually moved to Melbourne, where lead guitarist Mike Rudd had a long career in the local scene. His music might have changed to 70s art-rock, but if this pic of his band Ariel is anything to go by, there was still a bit of danger to his shows.
The Underdogs
The Underdogs started out by performing rough sets of heavy blues-rock at parties at their flat in McGee Street, Otahuhu. They set a car on fire to liven up one event, but soon found themselves having to answer to firemen and police. Original vocalist Archie Bowie was the leaseholder but left the band/flat suddenly and moved to Wellington after a flatmate smashed all the windows (in response for a prank where they carried his bed, with him still sleeping on it, out onto the street).
Given all this, you can imagine how crazy The Underdogs were when they played. Allegedly, the main instigator was bassist Neil Edwards — his party trick at McGee Street was to put a can of fly-spray in the oven then turn it on, so that when it was time for the band to play, the can would explode and shoot the door off its hinges. The band later got a residency at The Galaxie, where Neil purportedly lit his farts on stage with a cigarette (creating a nice blue flame). The venue was unlicensed and filled with youngsters who brought confetti to the shows and the band got their revenge by shooting their fans with water pistols.
Here's what the band chose to wear for one performance.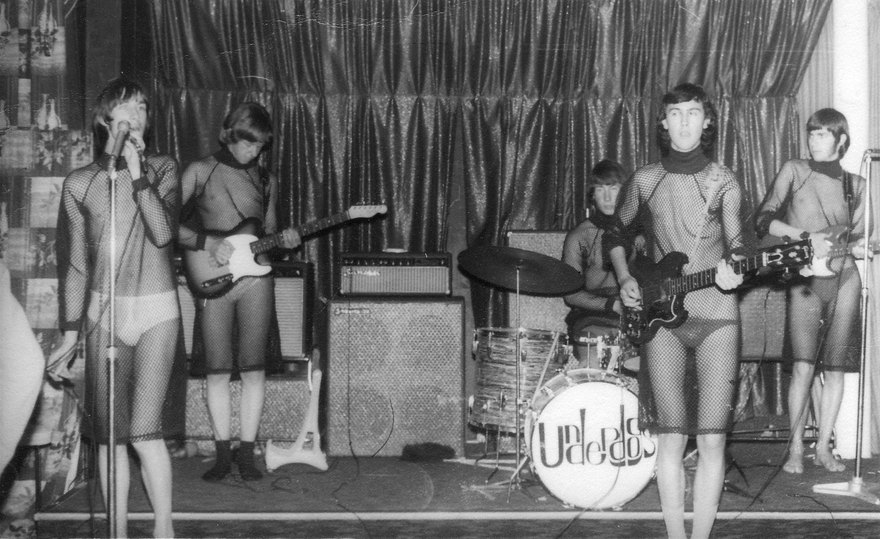 And here's what the stage at the Galaxie often looked like after they finished playing.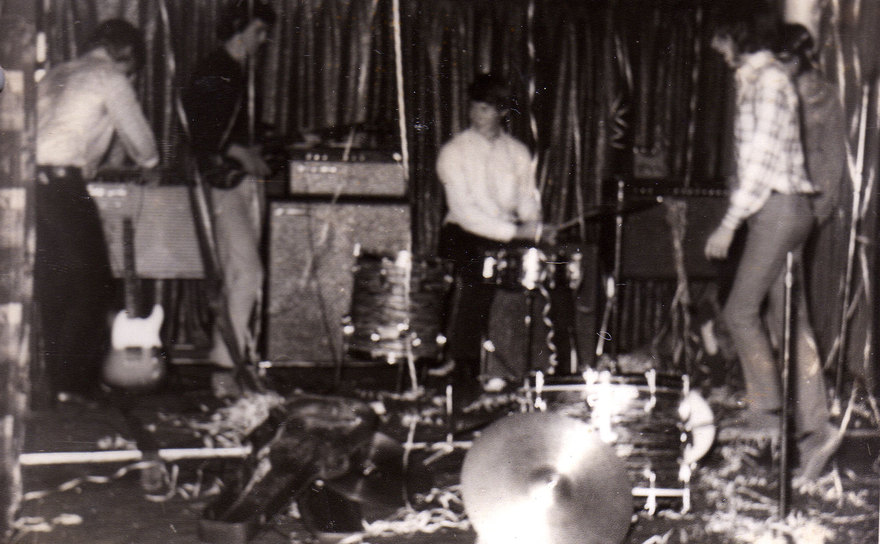 Chris Knox
The garage bands of the 1960s eventually faded and, in the first first half of the next decade, bands showed more interest in complexity and musicianship than stage antics. But then punk came along and a mini-eruption took place. When you think about this era, it's hard to go past Chris Knox. He was a little bit older than his peers in Dunedin and this gave him the courage to go all in from the very start.
When he introduced his first group, The Enemy, to Auckland, he was seen as a challenger by the local punk bands and they were all set to jeer these upstarts from the south. In response, Chris went wilder than ever, throwing himself around the stage like a madman. For their next show, he upped the ante even further, cutting his arms with broken glass mid-set. Pure id unleashed.
You may have thought the move toward indie pop with the addition of keyboard player Jane Walker to his next band, Toy Love, would mark a change in direction, but Chris remained as joyfully unhinged as ever.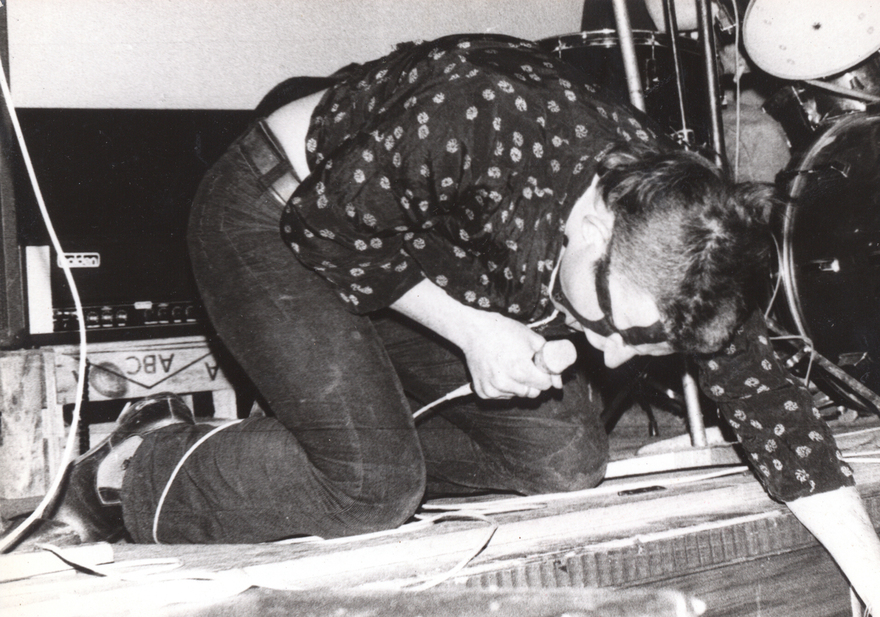 Proud Scum
Proud Scum appeared in 1979, during the second wave of Auckland punk bands. They attracted an audience of skinheads and boot boys, who would wreak havoc at the venues (fighting and setting fire to things). The band embraced the chaos and put on increasingly demented live shows, with band members jumping all over the place, bassist Rabbit wearing a prisoner's T-shirt, and lead singer, Jonathan Jamrag, drinking spilt beer off the stage floor.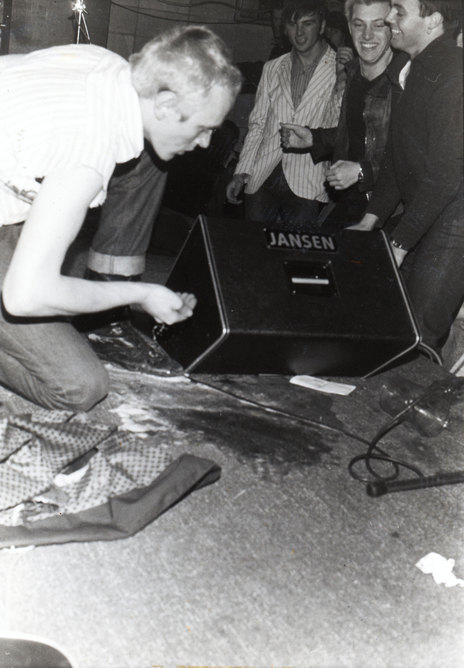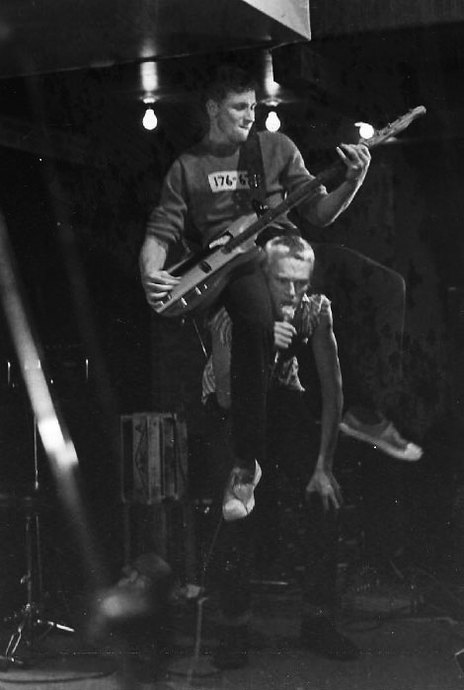 Gradually they were banned from every venue in Auckland and took up the name Beagle Boys, so they could surreptitiously book shows. Nonetheless, the band lasted only two years before imploding.
Head Like A Hole
Grunge arrived in the early 1990s and inspired another wave of bands to unleash their animal side. Shihad were the biggest live act to arrive during that era, but despite some impressive leaps and lunges by frontman Jon Toogood, their primary approach was stand-and-deliver. If you wanted a truly manic band, then you'd have to look to their brother act, Head Like A Hole.
HLAH played naked for a start, but this didn't stop them throwing themselves around (despite the danger to their nether regions). Wildside Records relied on outrageous headlines in the Truth newspaper for extra coverage in those days and HLAH were also a band that could deliver good tabloid fodder: "Naked Kiwi rockers make Split Enz look like Mormon Tabernacle choir!", "Masters of Insanity — oral sex on stage … and on tour all sleep in the same bed" or this headline that followed a tumble that guitarist Nigel Regan took after trying to swing from the rafters at venue, The Building.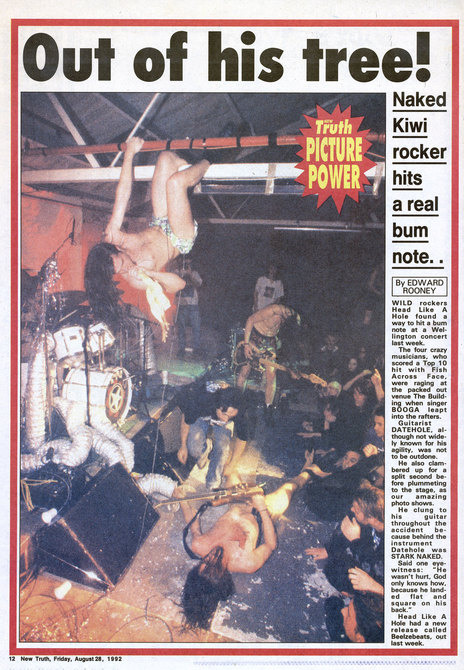 Of course, there was a downside of the thrill-seeking behaviour of the two Nigels who fronted the band and their off-stage drug use eventually saw the band fall apart (as shown in the 2017 documentary, Swagger of Thieves). But this shouldn't dim our view of the band's live powers in the early days. Take for example, that time they leaped around so much that they broke a hole in the stage.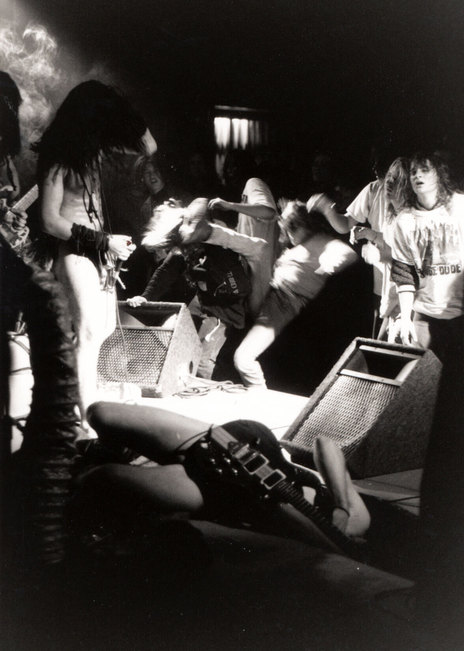 The Datsuns
By the turn of the millennium, it felt like rock had perhaps done its dash with the rise of hip hop, pop, dance music, and electronica. Obviously word didn't reach Cambridge, because The Datsuns came out firing — apparently driven by the belief that a guitar solo sounds better when you play it on your knees or from the top of a stack of speakers. If you made a list of local bands who were made famous by their live show, then The Datsuns would certainly be near the top.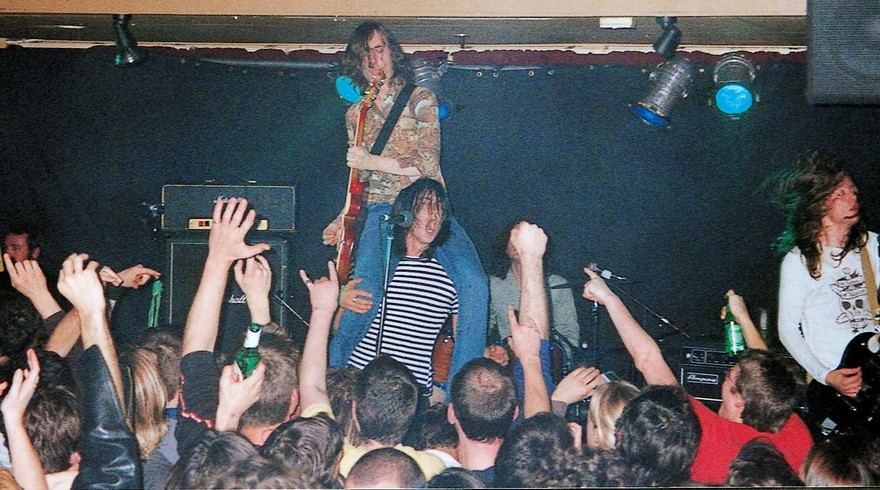 Fortunately there was a similar resurgence of classic rock taking place in the UK, so The Datsuns timed it perfectly to turn up and blow everyone away (and The D4 weren't far behind them). Those days might be long behind us, but even now The Datsuns could easily pack shows across the UK and Europe any time they liked; even more than a decade later, their live reputation holds fast.
Cortina
If you saw Bek Coogan in recent times you might be surprised to see her on this list, as her main musical output over the past half-decade has been as part of the Wellington Ukulele Orchestra (with whom she has toured the world). However when Coogan first became involved in music around 2004, she fronted wild art-rock band, Cortina, whose music combined heavy metal guitar (courtesy of Ace Hurt aka Matt Hunt), odd synth noises and bizarre lyrics ("ILLUMINATI! JENNY SHIPLEY!").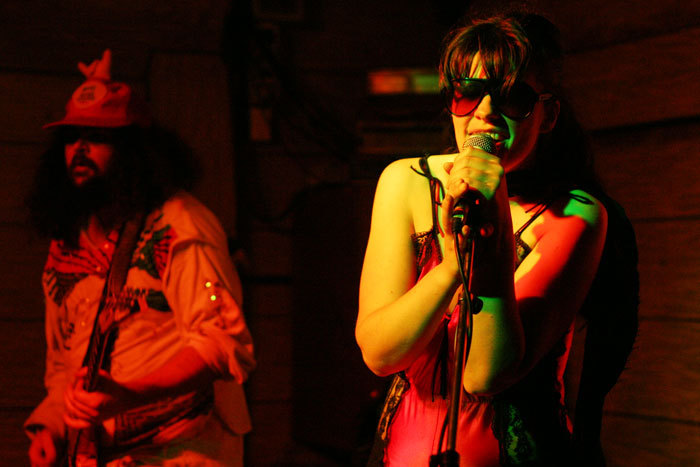 Coogan dressed like an insane, but stylish 80s housewife: tight jumpsuits, tinted sunglasses, and headbands. At one show at Bodega, Wellington, she squeezed a pie out of the slit in the front of her satin/lace one piece jumpsuit and began scooping out pieces to feed to the crowd. One another occasion, she was recovering from a car accident and completed a national tour wearing a neck brace with "fucked off" scrawled across it.
Luke Rowall (Disasteradio) toured with Cortina on an early Low Hum tour and recalls: "I remember Bek playing a bassline and doing this kind of left-right shimmy, but out of nowhere it turned into a right-right shimmy all the way across the stage, and out the side door, where she just continued playing bass backstage for most of the tune, with just the odd peep of headstock out the stage door. She was always breaking down the hierarchy between performer and audience."
In 2013, she kept up her knack for the unusual by forming Fantising with fellow art-agitator-musicians Sarah Jane Parton, Claire Harris, and Gemma Syme (Diana Rozz, Trimasterbate, 47 Diamantes), plus performing solo as Sheville or Oona Verse and being a member of Full Fucking Moon (who toured Germany in support of Bonnie "Prince" Billy). Her subsequent band, Gorge, also does a killer cover of Max Merritt's 'Slippin' Away'. Even within the Ukulele Orchestra, Coogan pushes the limits — crowd-surfing when the mood takes her, even the audience are seated (or should that be lap-surfing?).
The Coolies
The Coolies first turned up on the K Rd indie rock scene around 2000, playing raw punk tunes that took the simple pop hooks of 1960s girl groups, but delivered them with spiteful attitude over raucous, distorted guitars (sample lyric: "We suck, but we suck good!"). The addition of drummer Fiona Campbell saw them take on a new ferocity, while bassist Sjionel Timu started experimenting with playing an insanely distorted synthesiser for some songs which freed singer Tina Pihema to put aside her guitar and scream at the audience unhindered.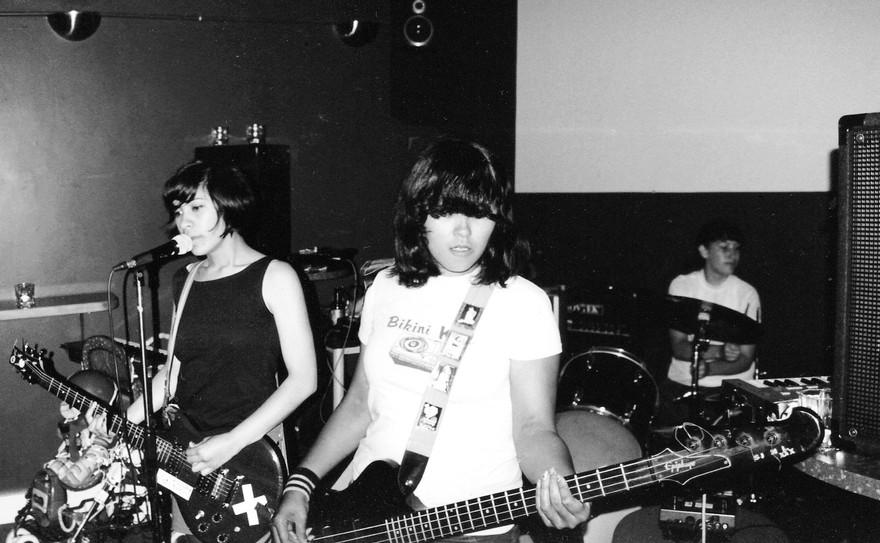 Campbell eventually moved to the US to play in garage bands Coasting, Vivien Girls and Chain & the Gang. Her place at the drum seat was taken by experimental musician Stefan Neville (Pumice) who coaxed The Coolies further into the territory of noise, with punky numbers descending into feedback squalling and yelled vocals, though the melody would usually rise up again before the song thunder to a close. Punk the way it's meant to be: riotous, loud, and in your face.
The Mint Chicks
Shortly after the wave of garage/classic rock bands that propelled The Datsuns to the worldwide stage, came a new era of post-punk bands. Yet while the bands had post-punk rhythms and guitar sounds, their live shows were pretty much just pure punk. Wild acts were in abundance: Die! Die! Die had a singer who often let his guitar hang loose screaming feedback while he took the mic into the audience, and the frontman from Shaky Hands/Cut Off Your Hands regularly disappeared on top of the PA stacks mid-song (including an impressive climb high above the crowd at the Big Day Out).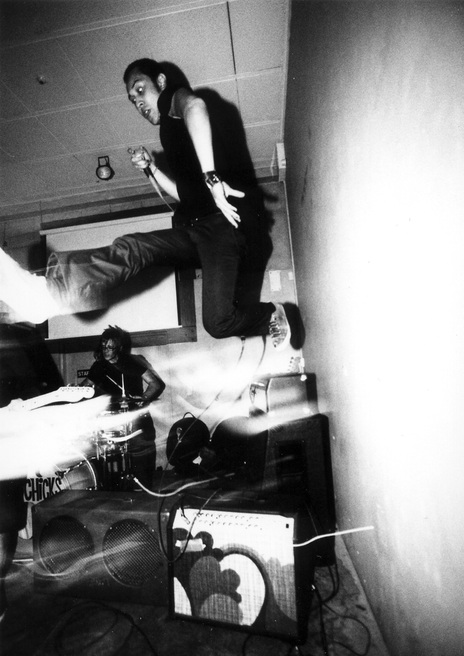 But if getting wild was back in vogue, then no one's act was more frenetic than The Mint Chicks. The weird thing was that Kody Nielson actually came across as pretty shy in person, but once he got onstage he just exploded.
Oh yeah and let's not forget that time Kody took exception to the advertising covering the lip of the stage at the Big Day Out and decided to chainsaw it down.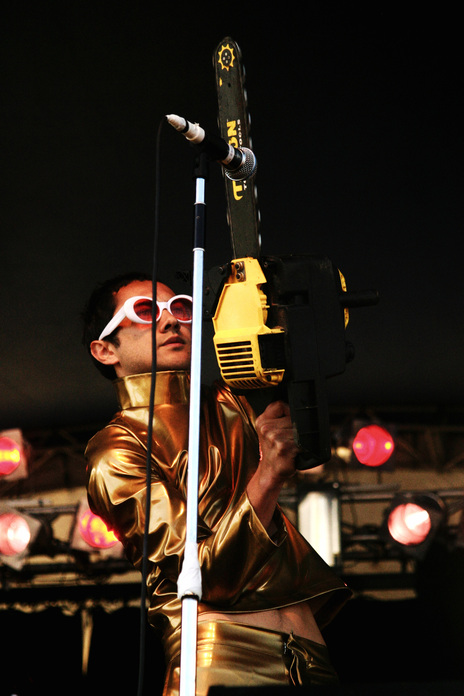 The DHDFDs
Once you get to the era from 2005-2015, it gets pretty hard to decide what acts to pick out for a list like this. The Auckland scene in particular was overwhelmed with bands pushing to outdo each other on this score, whether it was the shirtless boys from Rackets on a rampage, the screaming noise of Bandicoot, the grrl fury of The Coolies or The Checks playing loose house parties.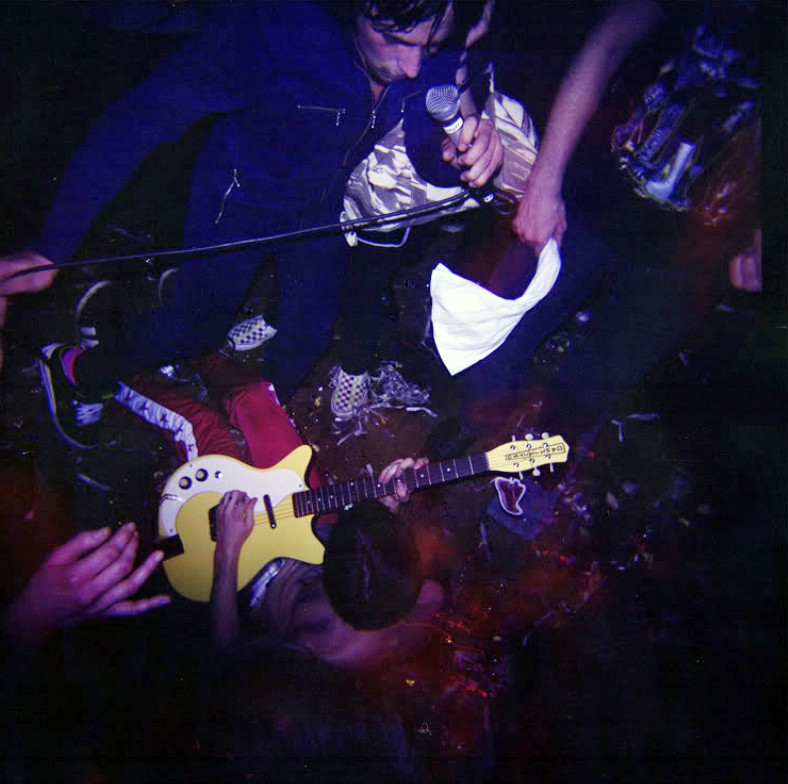 In the end, I couldn't go past post-punk act, the DHDFDs — if only for their singer, Scott Brown, who was constantly in motion and seemed to spend half of any concert somewhere in the audience. At one show at the King's Arms, they were set up at the far end (where the pool tables usually are) and he climbed the arches over the doorway, mic slung over his shoulder, then finished the song up there. Most of their early sets seemed to end with a total cataclysm of band, audience, and equipment. Punk attitude taken to the limit over helter-skelter rhythms, right until the chaotic end.