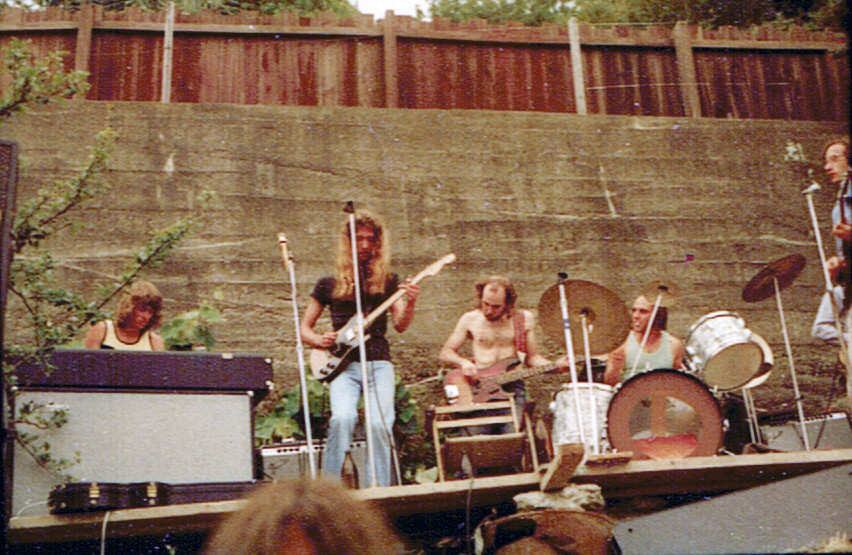 The engine of any band is its rhythm section. These aren't the people you usually see singing and strutting at the front of the stage, playing the flashy solos and generally drawing attention to themselves. You might not even notice them at first, yet it's the rhythm section that ultimately determines whether the music will splutter or soar.
What is a rhythm section? Essentially it is whoever is providing the rhythm. That might include a pianist or guitarist, or various type of percussion. But there is never a rhythm section without bass and drums.
There are many ways to divide up the rhythmic tasks, but a good section always works as a unit. The bass player has to be aware of what the drummer is doing and vice versa. That way they know what to put in and what to leave out, when to lay back and when to change up a gear.
In the studio, the rhythm section can make the difference between a dull recording and a great one. An average song can be elevated by a well-sprung rhythm part, just as a great song can sound oddly flat if the rhythm section isn't firing on all its cylinders. And when a great song meets a great rhythm section you're on the way to making magic.
New Zealand music can claim its share of great rhythm sections. Some have worked together for decades, cementing their bond through touring and live performances; others came together only for recording dates and left the evidence in the grooves of a disc.
Here are a few of my favourites, and a few of the places you can hear them.
--
Billy Karaitiana and Jimmy Hill
Wiremu Karaitiana and Jimmy Hill were South Island boys born during the Second World War; Karaitiana in Christchurch, Hill in Mataura. By the time Karaitiana left high school he was playing bass with Max Merritt and The Meteors, while Hill was drumming with Invercargill group The Flares. In 1964 they were both recruited by Ray Columbus to join The Invaders. With Ray they established themselves as the tightest rhythm team in the country, lighting the fire under the trans-Tasman scorcher 'She's A Mod', and several dozen more sides. Early in his Invaders days Karaitiana took a new name, after an Auckland landlord told him "We don't let to Māoris". For the next few years he called himself Billy Kristian, and told landlords he was Norwegian. In 1966 he rejoined the Meteors, who were by then based in Sydney with Bruno Lawrence on drums. But the following year he was back in New Zealand and reunited with Hill in the house band for television pop show C'mon. You can hear the pair swinging hard behind Ray Woolf on the opening song in the final episode of the show's first season, with Bobby Davis on the Joe Tex hit 'Show Me' at the end of Pt 1, or in an ensemble doing 'Shake Your Tail Feather' at the finale.
In 1971 they joined forces behind Tommy Adderley in Headband. Hill's country singalong 'Love Is Bigger Than The Whole Wide World' became one of Headband's biggest hits, while the Karaitiana original 'Headband Grooving', from their first album, finds them funking up the classic Bo Diddley beat. After Headband, their paths diverged, with Hill moving back to Sydney where he died in 2000, while Karaitiana played with international session stars including pianist Nicky Hopkins and drummer Rick Marotta in the Los Angeles-based supergroup Night, before coming home to eventually settle in the far north.
Bruno Lawrence and Mark Hornibrook
Before he became one of the country's most recognised screen actors, Bruno Lawrence was one of our best-known – and most recorded – drummers. Not just a member of top bands like Max Merritt and The Meteors and The Quincy Conserve, he also spent much of the 1960s and 70s as a session musician. During this time he worked with many different bass players, but there was a special magic when he got together with Mark Hornibrook. Mark had trained as a classical trumpet player and was a member of the National Youth Orchestra, dabbling in bass on the side. One night during a jam session at the Wellington Musicians Club he found himself on stage with Bruno, who told him unequivocally: "You're a bass player." In 1973 he joined Mammal, and later played with The 1860 Band, Tapestry and many other Wellington institutions, while Bruno would spend much of the 70s leading BLERTA, with bass players Corben Simpson and Patrick Bleakley. But the pair were reunited by the irrepressible Fane Flaws as the rhythm section for the debut of his art-pop juggernaut, The Crocodiles. On 'Tears', all their strengths are on display. Bruno punctuates the pauses with simple emphatic fills while Mark shows how bass can be both rhythmic and melodic, filling the gaps between Jenny Morris's vocal phrases with an ascending figure worthy of Paul McCartney.
Marika Hodgson and Treye Liu
Marika Hodgson and Treye Liu both come from the far north. As a bass player, Hodgson has brought her deeply funky feel to the jazz of Nathan Haines and the soul of Hollie Smith, not to mention her solo work as Sorrento, while for several years Liu's drumming drove rock-soul trio Thee Rum Coves. More recently they have worked together behind fellow Northlander Troy Kingi, whose project to produce 10 albums in 10 years, each in a different genre, has seen them stretch from funk to reggae to rock. Catching them live with Kingi on his tour to promote The Ghost Of Freddie Cesar, his venture into Superfly-style funk, Marty Duda on his 13th Floor website was moved to exclaim: "It was the band doing the cooking, propelled by drummer Treye Liu and bassist Marika Hodgson. They didn't just cook, they almost boiled over!" Though any track from Holy Colony Burning Acres (Kingi's deep roots album) would suffice as an example of their artistry, try 'Mighty Invader'. Liu and Hodgson don't boil over here, so much as sustain a constant bubbling simmer.
Karin Canzek and Earl Robertson
American-born drummer Earl Robertson first came to New Zealand in the early nineties to tour with The Chills and has stuck around ever since, working with local acts across a wide range of genres, from the South Pacific soul of Grace to the roots rock of Jesse Wilde. Croatian-born Karin Canzek established her garage rock credentials holding down the bottom end for Auckland bands The Rainy Days and The Rock and Roll Machine. In 2020 the two well-travelled musicians joined Reb Fountain to lay down the rhythmic beds for her for her powerful, mysterious songs. Listen to 'Samson' (from Reb's self-titled 2020 album) where the verses empty out to leave Canzek's bass the sole accompaniment. Or try 'Lacuna' from 2021's Iris, where bass and drums build with a gradual but inexorable force.
Ricky Ball and Paul Woolright
Ricky Ball and Paul Woolright have a working partnership that spans more than half a century. Both Auckland boys, they cut their teeth in the sixties in British invasion-style bands, Paul with The Entry, Ricky with The Challenge, crossing paths when their groups shared bills at various Auckland nightclubs. By the end of the decade they were seeking to expand their musical horizons and, inspired by the riff-oriented rock of Hendrix and Cream, they teamed up with a fiery Christchurch guitarist called Eddie Hansen and a spirited vocalist, Trevor Tombleson, and formed Ticket. In the mid-70s Paul headed overseas while Ricky took up the drum seat in Hello Sailor, playing the distinctive drum parts on hits like 'Gutter Black' and 'Blue Lady'. Returning to New Zealand during Sailor's 80s hiatus, Paul joined Dave McArtney's Pink Flamingos, but he and Ricky would eventually reunite in the 2000s as the rhythm section of a reconstituted Hello Sailor. For a taste of the two in full flight, try 'Reign Away' from the first Ticket album, Awake. While Tombleson sings of travelling the world on a sunbeam and other sentiments typical of those psychedelic times, Paul and Ricky provide the propulsion, with soaring riffs that start out Hendrix-like and wind up somewhere closer to the syncopated funk of Sly Stone. 'These Furs Were Hers' finds them still rocking 40 years on, in a Graham Brazier lament from Hello Sailor's 2012 Surrey Crescent Moon album.
Jol Mulholland and Stefan Neville
Around 2005 Chris Knox was preparing to make another solo album in his patented DIY fashion, but his homemade rhythmic loops were beginning to bore him. The solution to his ennui, he decided, was to form a band – his first since Toy Love. Not that the bass player and drummer he chose were your traditional rhythm section. Jol Mulholland was primarily a guitarist, though Knox had seen him on bass in The Reduction Agents and been impressed, while drums were just part of the armoury multi-instrumentalist Stefan Neville marshalled in his solo performances as Pumice. But joining Knox as The Nothing, Mulholland and Neville nevertheless made a dynamic team. Jol's bass was bustlingly melodic while Stefan's drumming could be crisp when required yet ready to explode into big expressive fills. Though the only times they played together were on the two Nothing albums and a handful of gigs, they helped make some of the most expansive and generous music of Knox's diverse and prolific career.
Tom Larkin and Karl Kippenberger
Bass player Karl Kippenberger is the most recent member to join Shihad, New Zealand's most enduring and celebrated hard rock band, and that was 30 years ago. During that time he and drummer Tom Larkin have refined their role to something akin to that of a Panzer tank. Not that the power wasn't there from the start; listen to 'Screwtop' from their 1993 debut, Churn. And time hasn't mellowed them, as their 2021 album Old Gods proves. Yet after all these years they can still surprise, not just with the brutality of their sonics but with the way they deploy them. On the title track, Kippenberger maintains a deceptively simple pulse in a growling low octave while Larkin splinters the beat with precisely timed detonations.
Julien Dyne and Chip Matthews
Julien Dyne and Chip Matthews are another dream team who have maintained busy schedules, both separately and collectively. Dyne has drummed with Ladi6, Fat Freddy's Drop and Hollie Smith among others, while bassist Chip Matthews has been the go-to guy for everyone from Che Fu to The New Loungehead. I first heard them together with the Auckland soul combo Opensouls, and it was a revelation how effortlessly they could slide from old school 70s-style funk to MPC-era hip-hop. There's more of the latter on their first album Kaleidoscope and a truckload of the former on the follow-up, Standing In The Rain. But whether looping beats and basslines behind MC Bjorn Petersen or channelling the spirit of Motown with singer Tyra Hammond, the effect is never less than kinetic. Alternatively, you can hear them lay down a feather bed of funk behind the rhymes of Tom Scott on 'Old Dogs' from Avantdale Bowling Club.
Cass Basil and Bic Runga
King Sweeties isn't a band with a rhythm section; it is a rhythm section. Bic Runga may be one of the country's most accomplished singer-songwriters, but she can also lay down a mean groove on the drums, her first instrument, which she began playing at age eleven. Cass Basil established her reputation as both upright and electric bass player with Hollie Fullbrook's Tiny Ruins. In their down time, Bic and Cass make rhythm-driven pop together, naming themselves after a variety of capsicum. On 'Lydia' angelic vocals float in a pool of reverb while synths sweep and bleep around them, but it's the bass and drums which occupy the foreground. Cass's bass is fat and dry and bounces along on a solid Bic drumbeat. The vocal is more prominent on 'Let's Just Stay In Bed', and is shadowed by a synth that occasionally cuts loose for its own featurette, but again its bass and drums to the fore.
Kieran Monaghan and Chrissy Butler
Though their lineup has occasionally stretched to horn players and Balinese metallophones, Wellington-based Mr Sterile Assembly usually perform simply as a two-piece – drummer Kieran Monaghan and bass player Chrissy Butler. But their musical and visual energy, along with the political and social messages, gives an audience more to think about than most bands twice their size. For more than 20 years they have played all over this country as well as places no New Zealand band has been before. Their song 'Othering Heights' is cut to a collage of images from their tours of Britain, Czech Republic, Thailand, Malaysia, China, South Korea, and Japan.
And here they are at Valhalla in Wellington, New Zealand in 2018.
Let's turn it up to 11 ...
Lez White and Bruce Hambling
It's hard to imagine a drummer less flamboyant or more dependable than Th' Dudes' Bruce Hambling. Where a different rhythmist might have splashed out with the occasional fill, Bruce just digs deeper into the beat, leaving room for the elegant, compositional bass lines of Lez White, who does much more than just hold down the bottom end. His parts are as intrinsic and tuneful as the guitars, if less obvious. Take them away and the song would sound mysteriously incomplete. This distinctive combination formed the bedrock for Th' Dudes' sound, and had changed only in subtle ways when the group reunited to tour in 2006, 27 years after their last studio record together.
Compare two versions of 'Walking In Light', perhaps the most majestic of their anthems. Though it had always been obvious which side Th' Dudes would be on in if it came to a showdown between rock and disco, the original 1979 recording nevertheless has a touch of the mirrorball; a nod perhaps to Blondie and the Rolling Stones, whose recent hits had combined a four-on-the-floor dance beat with a rock'n'roll attitude. But by the time of reunion, the song had turned back into sheer, stomping rock'n'roll. (Bonus clip: watch Lez White unravel the 'Bliss' bassline, 2020.)