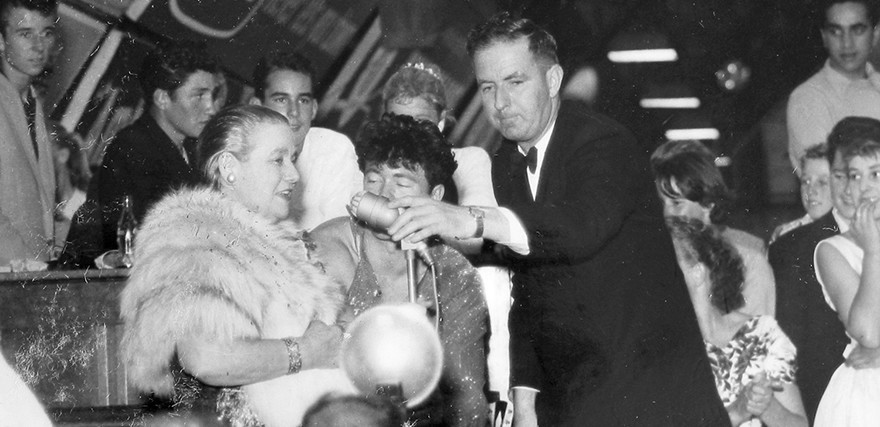 Gaining the attention of the media is crucial to any musician or publicist – after all, there's little point in releasing music if no one knows it's been released. This has led some to concoct their own newsworthy events, even if they were sometimes based on false pretences. Here are 10 examples to inspire more imaginative skulduggery in the next generation of music makers.
Johnny Devlin's shirts
Johnny Devlin was Aotearoa's Elvis Presley and he gained headlines from his mere existence at a time when rock'n'roll was still considered a dangerous influence on New Zealand youths. It seemed like a golden opportunity to Graham Dent, who was managing the Point Chevalier picture theatre where Devlin had performed. In 1958-59 he arranged for Devlin to tour Kerridge-Odeon cinemas throughout the country, sponsored by Coca-Cola.
Graham Dent knew how to press the media's buttons. He exaggerated the number of singles that Devlin had sold and the income that the young star was bringing in. Dent was friends with Geoffrey Caine, the press secretary for Member of Parliament Mabel Howard, and the pair arranged a meeting. What newspaper could turn down a photo of the nearly-retirement aged MP jiving with the young rocker? They even drove away in a pink Cadillac.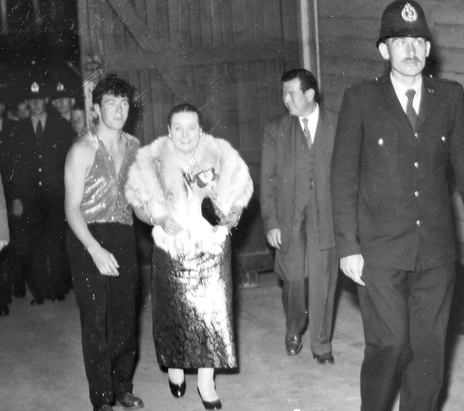 Devlin's band was called "The Devils" but Devlin himself was a practising Catholic who went to church every Sunday. This created a promotional opportunity when he appeared in a photo with visiting US evangelist Billy Graham and Prime Minister Walter Nash.
The master stroke was Devlin's shirts. The stitching in the sleeves was carefully unpicked in advance, so they would come apart easily. After every show, Devlin would leave through the crowd and the lightest tug from a fan would rip the shirt apart. The message was clear – Devlin drove the fans wild!
Larry Morris saves Miss Auckland
Larry's Rebels had a similarly inventive manager, Russell Clark. He took advantage of a fashion shoot that was arranged to feature reigning Miss South Pacific, Jill Wellford, and singer Larry Morris, who was dressed in a suit imported from Carnaby St, London. Clark warned them both about what he had in mind, then sprang into action, as Morris later recounted.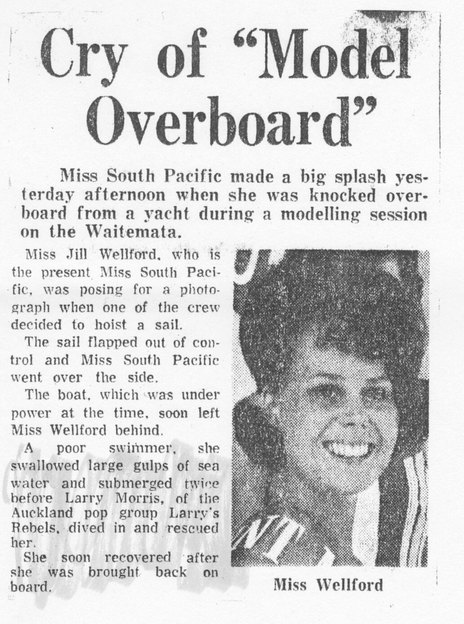 "The next thing, he pushes both of us in the water and he yells out, 'Save her, save her.' Fuckin' save her? My elephant corduroy suit became this lead weight, and I started drowning. I was trying to struggle out of this bloody jacket and some guy from the boat put a boat hook over and hooked me up. I'm half out of the water and Russell yells out again, 'For God's sake Larry, put your arm around her.' "
The NZ Herald ran the story the next day and Morris became an overnight hero.
The music industry takes flight
Dave Dunningham first became known to Auckland music fans in 1956 as the man behind the city's first rock'n'roll club, The Jive Centre. He came up with the idea with his partner Lee Brassey (the person that supplied Devlin's shirts) and jazz drummer Frank Gibson Sr.
Over the next decade, Dunningham became well known as a tour promoter and music industry stalwart. He became the chairman of the Entertainer of the Year Awards. In 1972, he hired a NAC 737 so that he could announce the award nominees while airborne. Tickets were $15 and included champagne aboard the aircraft and entry to a cocktail party afterwards. Singer Bunny Walters was the eventual winner of the main prize.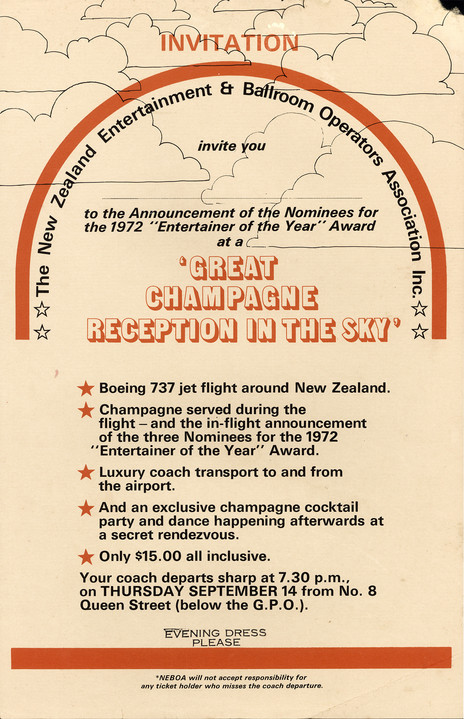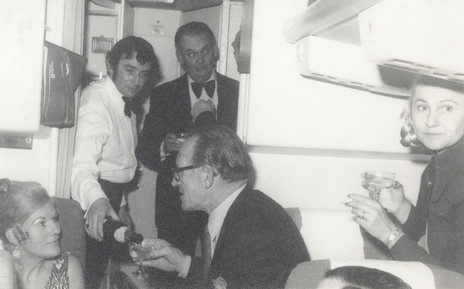 In 1977, the Entertainer of the Year Awards gained headlines for a less salubrious reason. Cross-dressing singer Noel McKay refused to take the award that was presented to him by Prime Minister Robert Muldoon. It wasn't a political statement; McKay was offended at being presented with one of the second-tier parchment scroll awards rather than the main prize! The "Benny" was instead won by Max Cryer.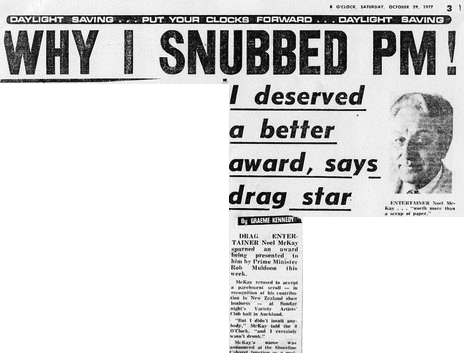 Auckland punks tour to Wellington
When punk first arrived, it was as contentious as rock'n'roll had been 20 years earlier. Suburban Reptiles were art school kids who dove immediately into the fray with the assistance of their manager, Simon Grigg. The band first hit the headlines when they played a school ball at Catholic school Marcellin College. Staff pulled the plug and had the band escorted out of the venue by the police. Grigg immediately rang the Sunday papers, who lapped up the drama.
However, the band needed to get beyond the tabloids and into the mainstream media. In August 1977, Grigg arranged for the Suburban Reptiles to perform at the Student Arts Festival in Wellington, and their friends The Scavengers went along with them. This came at a time when there were still only a few dozen punks in the entire country. The press had already been primed by the Marcellin College story and now they searched for new outrages to titillate their readers.
While in Wellington, The Suburban Reptiles were put on the bill of an Elvis Memorial Party gig which was being held to mark his recent passing, but singer Zero spent the whole time mocking the king of rock'n'roll, and a fight broke out in the audience.
Then came the infamous Student Arts Festival gig. The soundman was having a bad night with the PA and was also horrified to see one attendee had brought her young daughter with her. He caused a fuss and drummer Buster Stiggs took out his frustrations by tossing his sticks into the audience. One of the sticks hit a young woman in the forehead, though fortunately didn't injure her badly.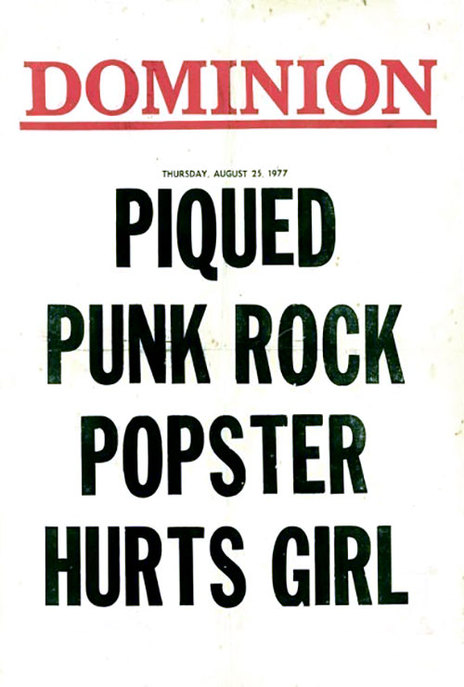 Every day that week, the visiting punks found themselves on the cover of one of the local newspapers, the Dominion and the Evening Post (if not both). It made them famous, but it also put a target on their backs and the punks found themselves being trailed by carloads of hooligans yelling abuse. It came to a horrible conclusion when Scavengers guitarist Johnny Volume was dragged into the bathrooms at Victoria University and beaten by a gang of thugs.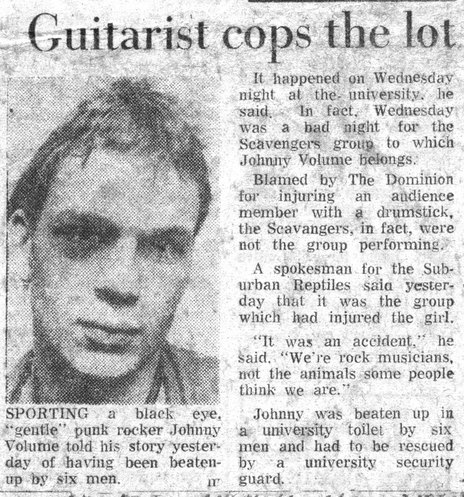 The Knobz, Mi-Sex, and Muldoon
In 1975, the Labour government increased the sales tax added to records from 20% to 40%. The reasoning for this change was never clearly articulated, though some later commentators have speculated that it might have been misguided protectionism, driven by the misapprehension that records were pressed overseas. In fact, even records by overseas artists were usually pressed within New Zealand at the time.
When the National government subsequently took over, PM Robert Muldoon got involved in the dispute when he claimed that most of the music being released was garbage anyway. The Knobz released their caustic response as their second single 'Culture?' in 1979 and brought in Muldoon impersonator Danny Faye for the music video. It was perfect media fodder. The single went to No.5 and stayed on the charts for 16 weeks, making them a remarkable one-hit wonder.
The following year, Mi-Sex managed to get a few more newspaper inches out of the situation by inviting Muldoon to their Wellington concert and posing for photos with him afterwards. In 1984, Labour cut the tax back to 20% and in 1986 an across-the-board goods and services tax (GST) of 10% was introduced.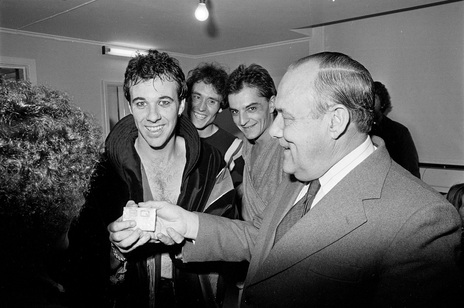 Herbs go to Ruatoria
Most of the "media stunts" on this list were light-hearted larks, but Herbs' decision to launch their 1987 album Sensitive To A Smile in Ruatoria was a heartfelt attempt to reach out to the community. In the mid 1980s, there was friction in the town between a group of Rastafarians who lived on the outskirts and the wider community. They were a unique sect, who had their own set of religious tenets that alienated them, even from other Rastafarians in Aotearoa. The tension was increased by a run of 30 arson attempts, which caused a fair amount of property damage.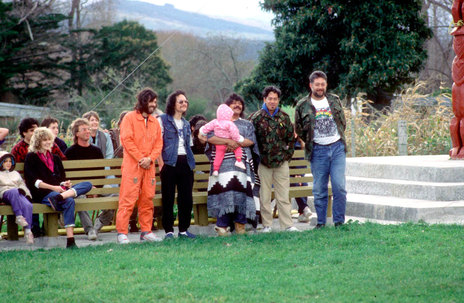 Herbs arranged a weekend of free performances and brought with them a throng of reporters, including a documentary film crew. The hope was that having a celebratory event in the small township would help bring people together and the shows successfully drew in some local Rastafarians.
Perhaps the greatest effect was on the band themselves. Herbs were given an official welcome by Ngāti Porou and spent a great deal of their time at the marae, where they were welcomed like whānau (despite not having direct iwi affiliation). Bassist Charlie Tumahai had returned to Aotearoa after 17 years overseas, including many years in Be Bop Deluxe, who had hits on the charts in the UK and US. He later recalled, "What came over me during the weekend was a spiritual thing. All the things I'd talked about with people in the year-and-a-half I've been home came true that weekend. I remember my grandmother talking to my other grandmother, saying 'Something drew me home.' I said, 'Oh no, I don't think I came home for those reasons.' But having time to think about it, she was pretty well right!"
Wildside bands in the New Truth
The tabloids remained as susceptible to ginned-up stories in the 1990s as they had been in the era of the punks. Murray Cammick was a journalist himself and had co-founded music magazine, Rip It Up. He brought this knowledge with him when he launched the record labels Southside and Wildside.
The breakthrough act for Wildside was Head Like A Hole (HLAH), who managed to gain some early notoriety through their propensity to play shows while naked. Cammick got in contact with journalists Edward Rooney and Neil Reid, regulars at the New Truth newspaper, and it led to a long run of salacious, often highly misleading headlines.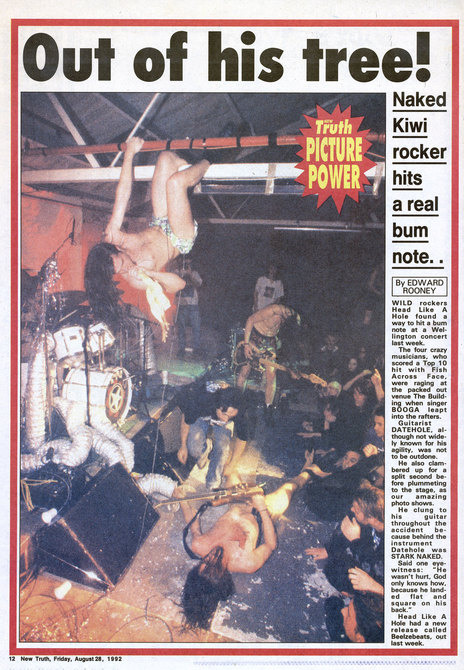 When Head Like A Hole had a female fan rush the stage in Sydney, it led to multiple headlines: "Kiwi rockers oral sex on stage shock", "Head Like A Hole Masters of Insanity – oral sex on stage – and on tour all sleep in the same bed?, "Naked Kiwi rockers make Split Enz look like Mormon Tabernacle choir!"
The headline writers had to be more inventive when it came to Wildside's other bands. A minor altercation at a Dead Flowers show led to "Flowers fly off stage to plant one on punchy fan." There was even less to another story that followed singer Bryan Bell taking medication for his vocal cords: "Kiwi rockers on Steroids! Flower Power."
Yet the headline that stretched things the furthest was one that related to Shihad's decision to use some out-of-focus publicity photos: "NZ rockers hide their faces from fans."
The Sneaks take a gamble
NZ On Air funding was started in 1991, set at a figure of NZ$5000. The number was somewhat arbitrary – Brendan Smyth asked Pagan Records owner Trevor Reekie to estimate the most money and least money his bands had spent on videos, to which he replied '$10 and $10,000' so the figure was set between these two numbers at $5000.
The funding level was still the same in 2007 when indie band The Sneaks used the money itself as a key part of their funded music video for 'I'm Lame'. Working with production company The Downlow Concept, they filmed themselves receiving a giant novelty cheque from NZ On Air and then taking it to a racecourse so they could bet on a horse. This section was filmed in lo-res, handhold mode. Their horse won its race and the band celebrated. Finally, the video cut to a high-budget shot of the band performing in ridiculous costumes backed by fireworks.
The NZ Herald's Time Out magazine picked up the story and unleashed a heated debate, both in the press and online. Did they really gamble away the money or was it a hoax? The band refuses to say to this day. The members later formed the core of Lawrence Arabia's UK line-up, then singer/guitarist James Dansey became the drummer for Hang Loose and Thee Golden Geese, while drummer Dan Ward played with Cate Le Bon overseas before returning home where he currently plays in both his own group Droor and seven-piece garage boogie band Magic Factory.
Annabel Fay's island getaway
NZ On Air's headaches weren't over. When Annabel Fay started a career as a pop singer, she immediately had a target on her back as the daughter of billionaire businessman Michael Fay. Musicians who had struggled to get funding in the past were horrified when she used the money to fly to Cuba to film a video. But she was signed to EMI and eligible for funding like anyone else, so initially the vitriol could be written off as sour grapes.
Then came a listening party for her debut album at her family's hideaway on Great Mercury Island. Guests were flown by helicopter to the island and presented with a full spread of drinks and food. Most were radio DJs and media, but among them was NZ On Air's music manager. It all seemed a little cosy, given that Fay's record label had recently received $50,000 funding for her album. What had been intended as a way to get her music in the papers and onto radio, led to a far more negative run of stories.
NZ On Air commissioned the Caddick Report soon after this, which led to a major overhaul of their funding model. Annabel Fay was perhaps unfairly caught in the middle of controversy, and she quit making music soon afterward. Here's her Cuba-based video for 'River'.
Kelsy Karter's fake tattoo
US-based New Zealand-born singer Kelsy Karter launched her career with a deceptive but ultimately successful attempt at getting media coverage. She began circulating a photo of herself with a garish tattoo of Harry Styles covering the majority of one cheek. This happened to coincide in 2019 with the release of her new single 'Harry', credited to Kelsy Karter and The Heroines. The tattoo looked awful, which made it all the more appealing to the media. She scored an interview on The Edge radio station with afternoon hosts Jono Pryor, Ben Boyce and Sharyn Casey, then an article appeared on the Stuff news website.
It quickly became clear it was a fake tattoo, but the fact the story had been reported by reputable news media became the story and soon the hoax itself was being covered by the BBC and NME in the UK. Fortunately for Karter, her song 'Harry' was a pretty decent pop-rock song and it was soon racking up millions of streams. Her album Missing Person (2020) did good business too, though it was clear she had moved on from her infamous breakthrough single. 'Harry' didn't feature on the album.