Natural-born guitar picker Red McKelvie describes his progression from wine bar performer in Sydney in the late 1960s to one of New Zealand and Australia's most in-demand session musicians of the 1970s and 1980s, as a series of happy coincidences.
"Everything just sort of dropped into place," he recalls. "I just happened to be a bit lucky sometimes, you know. I guess when you don't have to go to a day gig every day you can do all these things because you're available. I was just so lucky, man. I had so much luck."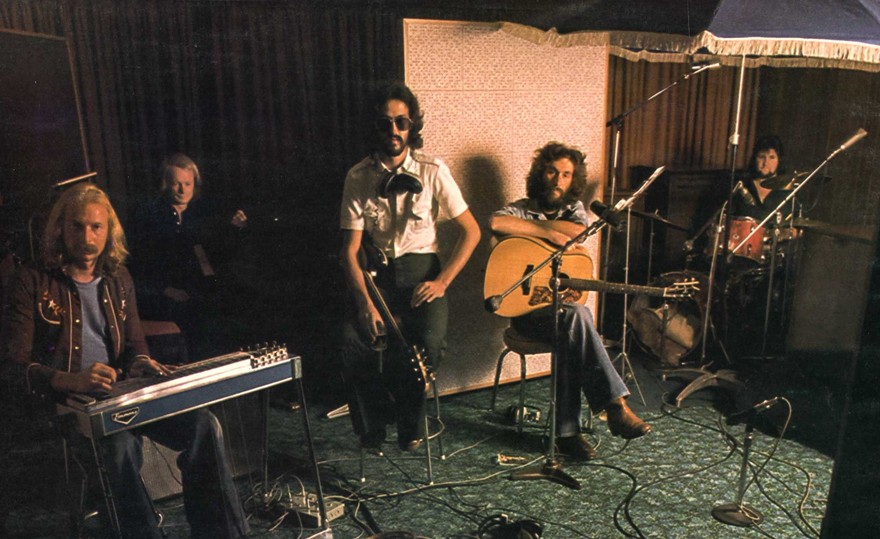 His first studio experience was with engineer Wahanui "Wyn" Wynyard at the Astor Studio in Auckland in 1964 as part of The Chelsea Beats, recording three-chord incidental music for a road movie he doubts anyone would now remember. "It was about these two guys hitchhiking down to Wellington and they got in the car with this guy and he had a heart attack or something and they drove the car," he said. [The film was John O'Shea's Runaway, starring Colin Broadley later of Radio Hauraki fame.]
Over the next 30 years, Red McKelvie worked for some of the top producers in this part of the world, including Col Joye, Peter Dawkins, Richard Batchens, Mike Harvey, Rob Aickin and Ian Morris, on recordings by artists as diverse as Richard Clapton, John Hanlon, Patsy Riggir and DD Smash.
McKelvie moved to Sydney in 1967, playing gigs in the wine bars of Taylor Square, on the border of Darlinghurst and Surry Hills, but it wasn't until he did a spot at the Oxford Hotel with The Starving Wild Dogs that his career got a push in the right direction, when bass player Terry Wilkins invited him to join.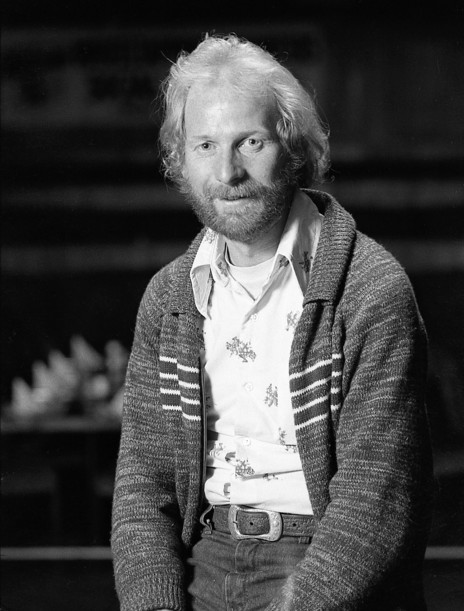 After a brief trip to England the following year, McKelvie and Wilkins formed Quill before Wilkins and then McKelvie joined bubblegum-group-turned-country-rock-band The Flying Circus. McKelvie was only to have been a temporary fix when leader Doug Rowe was unable to tour early in 1970, but was soon a fully-fledged member.
"They asked me if I would join and I did. But I probably shouldn't have, you know, because they worked on this thing where they banked all their money and only paid themselves a small wage. And I was already sort of like nearly married then and [son] Chris was coming along. I used to earn a lot more working around the Cross and all that stuff."
The Flying Circus had already released singles, an EP and a self-titled album and had begun work on the LP that would become Prepared In Peace, produced by Mike Perjanik. McKelvie sung his own 'Israel', which was the B-side of the first single 'Giselle', and added guitar and mandolin.
"I got booted out of that band eventually, as I probably should have been, but through going with The Flying Circus I got to go to a lot of studios."
And he'd also caught the attention of Festival Records, which released two solo singles – 'She's So Fine' b/w 'Papa Joe' and 'Another Country Town' b/w 'Surry Hills Sunshine' – on subsidiary label Infinity in 1971 and 1972. The tracks were written by McKelvie and helmed by house producer Richard Batchens.
McKelvie's introduction to charted sessions came on 2UW radio personality John Laws' trucking LP Motivatin' Man, released on RCA Victor. Although McKelvie couldn't read a note, another New Zealand session guitarist, Dave Donovan, was an accomplished reader.
"I did the first track on lead, 'Motivatin' Man', but after that it got too hard for me, so I just switched back to rhythm and he finished it off," McKelvie recalled. "I just played rhythm instead and he did all the lead parts."
When hit-making New Zealand record producer Peter Dawkins arrived at EMI Australia in March 1972, Red McKelvie was one of the first session musicians he called to record demos 'Lady Love' and 'Have You Seen My Rosie' for young singer-songwriter Simon Heath in EMI's Studio B in Sydney.
"I had a funny relationship with Peter," McKelvie recalled. "He was really strict." Dawkins and EMI initially planned to release the demos, but decided to re-record them in Studio A – in McKelvie's absence – and the single did nothing. Dawkins later admitted to Heath the label should have released the demos.
Through meeting guitarist Grahame Lister, McKelvie played electric guitar on singer-songwriter Mike McClellan's self-titled debut album. It was recorded at pioneer pop star Col Joye and his brother Kevin Jacobsen's ATA Studios in Glebe and released on their ATA Records. The LP failed, but McClellan had major success two years later with his EMI follow-up, Ask Any Dancer, produced by Rod Coe.
"ATA was hard-case because the brothers had built their own 16-track machine," McKelvie said. "But if you recorded there you couldn't take the tape anywhere else because it wasn't compatible."
Lister and McKelvie formed Lariat and for a while, they were the house band on the ABC TV show GTK. As well as performing on their own, they backed McClellan, soon-to-be-superstar Rick Springfield and others. Renaming themselves Third Union Band, they released the single 'Hyway Ryder' (McKelvie/Lister) b/w 'Movin' On' (McKelvie) on Infinity.
Infinity producer Richard Batchens put McKelvie together with new signing Richard Clapton for tracks 'Southern Germany' and what would be the singer-songwriter's first single, 'Last Train To Marseilles'.
But by the time sessions began for Clapton's first album Prussian Blue, McKelvie had taken up a nightclub contract in Bangkok and La De Da's guitarist Kevin Borich played lead guitar on the remainder of the tracks. "I wish I'd been around for that album because I really liked it," McKelvie said. "It was like a Dylan album."
After McKelvie strayed from the Top 40s format and was sacked from his Bangkok residency, his father paid for him, his wife and two-year-old son's fare to New Zealand.
He hooked up with former Underdogs singer Murray Grindlay – with whom he briefly had a band with in Sydney before joining The Flying Circus – in a revamped Cruise Lane and played guitar on his early jingles at the Stebbing Recording Studio in Jervois Road.
He had recently become infatuated with the pedal steel guitar upon hearing Bob Dylan's increasing use of the instrument on his albums. One day former Invaders guitarist and Meteors bass guitarist Dave Russell told him Begg's had Fender pedal steels in stock. Although the price tag was too much, McKelvie settled for an almost-half-the-price Sho-Bud from Kingsley Smith.
As guitarist in the Mike Harvey-led Miss New Zealand Show band for a seven-week national tour, McKelvie took the new instrument with him. He visited every pedal steel player in the country, culminating with an enlightening few hours in Invercargill with Les Thomas, who had played steel live or on recordings with Burl Ives, Peter Posa, Howard Morrison and Slim Dusty.
All the advice and practice paid off when just a few months after the tour Mike Harvey called McKelvie in to add pedal steel to singer-songwriter John Hanlon's breakout album, Garden Fresh.
In August 1974, the McKelvies decided to give Sydney another crack. Only a week or so back in Bondi Junction, McKelvie was visited by Richard Clapton with a tape recorder and a copy of new song 'Girls On The Avenue' for McKelvie to play lead guitar on.
"So I put it on the bed and turned it on and listened to this song, and I played along with it for an hour or so, and a couple of days later I went in. [Producer] Richard Batchens said to me, 'Look, this is Richard's last chance.' I don't know what they thought I was gonna do."
What he did was give 'Girls On The Avenue' its instantly recognisable guitar hooks – 12 overdubs in total – but the humble McKelvie was quick to deflect any praise. "The band track was superb. It's the best band track I've ever heard in my life. It was just phenomenal. It was a terrific band track and the parts just wrote themselves, you know.
"I didn't even have an amplifier because I'd come back with bugger-all, but Festival had all these amplifiers, really good ones. I didn't use any effects whatsoever, I played all my parts just straight sound, straight through this amp, nothing – just maybe a bit of reverb, I guess. But all of a sudden Richard [Batchens] had this thing sounding like a million dollars."
McKelvie played lead on the rest of the Girls On The Avenue album, although in hindsight didn't believe he was the right man for the job. "They really should have got another guitar player for the album. It really wasn't my cup of tea much, the rest of that album."
McKelvie's mother died while he was midway through a Richard Clapton tour of Australia in 1975, and he moved his family back to New Zealand, where he found a permanent spot in Murray Grindlay's blossoming jingles empire. "Murray sort of saved my bacon when I came back from Richard Clapton," he said. "I was with him for 22 years, I think it was."
There was almost immediate success with McKelvie playing acoustic guitar and singing the harmony line to Grindlay's lead vocal on the long-running Great Crunchie Train Robbery campaign.
"I knew Red would be great for the jingles," Murray Grindlay told AudioCulture in 2015. "You know, he's that sort of style of guitarist, he's got that great knowledge of country rock and he sort of knew all about ska and reggae and all that stuff."
"Murray was a hard taskmaster," McKelvie recalled. "He was probably doing the best of the jingles writers. He knew what he wanted. Sometimes it would have been better if he'd played the rhythm because he actually had some really interesting rhythms and things."
When Grindlay recorded his eponymous LP, he used his hot jingles band with McKelvie adding electric and acoustic guitars, mandolin, pedal steel and even piano accordion, for which he'd had some tutoring as a child. The track 'Blue Baby Blue' was written by McKelvie.
Alcohol played a large part, particularly in the jingles world, where advertising agencies would ply the musicians with beer as an incentive for greater effort. For early-morning sessions, McKelvie would arrive with home brew to tide them over till The Gluepot opened.
"We used to start drinking at nine in the morning and still be there in the afternoon. There was always lots of booze and there were always lots of lunches. I was drink-driving nearly every day of my life." He even drove home under the influence after demoing an anti-drink-driving jingle with Grindlay.
On one session Grindlay ordered McKelvie and bass guitarist Neil Edwards from the studio for rolling on the floor making drunken birdcalls during a strings overdub. On another McKelvie clandestinely shook up a can of beer before passing it to Peter Woods and watching it spray over Stebbing's fabulous grand piano, all mic'd up and ready to go. McKelvie gave up the booze in 1995.
In 1980, Red McKelvie struck upon his second-most-enduring studio relationship when he played on country singer Patsy Riggir's debut album True Country Music, produced in Wellington by Dick Le Fort.
When Riggir was let go by EMI after its release, Eldred Stebbing snapped her up and McKelvie became her virtual arranger and musical director on a string of LPs produced by Rob Aickin and Ray Columbus and recorded at Stebbing.
Riggir's own songs benefited greatly from McKelvie's involvement and his acoustic, electric and pedal steel guitars were integral components on such standout tracks as 'Beautiful Lady', 'Lay Down Beside Me' and the chicken-pickin' of 'You'll Never Take The Country Out Of Me'.
As far as producer Rob Aickin was concerned, McKelvie was "the best studio guitarist in New Zealand at that time. He was unique and versatile, the only guy in New Zealand who could play real country pedal steel.
"He helped me achieve some great successes with me producing and Red as musical director for Patsy – two gold and two platinum albums – not to mention gold again with Toni Williams (for the 1977 album The One I Sing My Love Songs To)."
It was not only country music producers who sought out Red McKelvie's pedal steel prowess in the first half of the 1980s. Hello Sailor's English producer, Liam Henshall, used him for just the last 37 seconds of the everything-but-the-kitchen-sink remake of 'I'm In Heaven' on the poorly received comeback LP Shipshape & Bristol Fashion. "I actually did it in the control room at Harlequin, and all he wanted was zooms and glides. It was sort of interesting in a way."
Producer Ian Morris had a long history with McKelvie through his work at Stebbing and was much more sympathetic on the DD Smash track 'Blue Note' from Cool Bananas, as were Phil Yule and Flying Nun band Sneaky Feelings on their B-side, 'Wouldn't Cry'. Morris once described McKelvie as "Australasia's greatest pop guitarist".
When Murray Grindlay invented alter ego Monte Video in late 1982 with the hit song 'Shoop Shoop Diddy Wop Cumma Cumma Wang Dang', McKelvie was the first musician on the track and the first one whose part was scrapped.
"I just put on a simple sort of strumming electric thing. Everyone took a play and once they'd got enough stuff on it, he got rid of it. They didn't want anything that was normal; they wanted it to be sort of really ridiculous, you know. And I could understand that, I was a professional. It didn't worry me if they used my bit or not.
"It was the first time I'd ever seen anyone build a drum track with one of those (ARP 2600) synths. Bruce Lynch had one of them where you'd plug in things like a telephone exchange. It took hours just to build a drum track, and I was getting bored shitless," McKelvie laughed.
In the 1980s, he produced covers album Country Giants for Auckland singer-songwriter Rick Steele and singles for Michael Roycroft ('Married Women'), Gentle Annie ('The Devil Went Down To Auckland') and Jan Cooper ('Won't You Stay A Little Bit Longer').
He also produced Lynne and Celine Toner's 'Crying In The Rain'. "That single got more airplay on 1ZB than probably any other single's ever had, and you know why that was? Because it was only about two minutes long and they used to play it before all the news breaks – you could just fit it in."
He played pedal steel and acoustic and electric guitars on Michael Roycroft's RCA debut LP Holding Things Together, but Roycroft's follow-up Slow Burnin' was a joint affair between EMI New Zealand and EMI America's Nashville office. McKelvie laid down acoustic guitar at Mandrill, but session players in Nashville handled the lead instrument overdubs.
Roycroft says, "Of all the brilliant musicians I had the pleasure of working with, including those in Nashville, Red was the one I used to love working with the most. He was just great to watch. I was totally in awe of him, almost to the extent of wanting to bow every time I met him."
In 1988, McKelvie added pedal steel to John Hore Grenell's 25th anniversary album Silver, which was produced by American multi-instrumentalist Wayne Goodwin, a one-time member of Emmylou Harris's Hot Band. Originally on Ode, the album was unsuccessful, but when re-released by CBS with the addition of the massively successful Grindlay-produced jingle 'Welcome To Our World', which the album was also renamed, it was a big seller.
The long association with Grindlay at Stebbing Studios meant McKelvie and the musicians got to work with international stars such as Texan guitarist Stevie Ray Vaughan, TV presenter Alan Whicker, comedians Benny Hill and Harry Secombe and 'Margaritaville' singer Jimmy Buffett and his hot touring band.
It was a bizarre experience setting up at Mandrill alongside the legendary session players in Buffett's band, including guitarist Tim Krekel, bass guitarist Tim Drummond and drummer Russ Kunkel. During a quiet moment with Kunkel sitting on the floor beside his drums, McKelvie took his chance.
"Oh, Russ," he uttered, "did you play sticks or brushes on the start of James Taylor's 'Fire And Rain'?" Kunkel removed the fat cigar from his mouth and drawled, "Brushes." Later when all the musicians were at their instruments and Grindlay started the count through their cans, Kunkel interrupted, started his own count and launched into 'Fire And Rain', all the while staring at McKelvie.
On another date, McKelvie arrived early at Stebbing to find Stevie Ray Vaughan shivering outside on Jervois Road. Once inside Studio A, confronted with four guitar amplifiers and asked to take his pick, Vaughan exclaimed, "I'm gonna use them all, man!"
By the 1990s, a burgeoning interest in Cajun music led McKelvie to learn the button accordion. He featured on the instrument on Midge Marsden's 'Little Ray' from Burning Rain, the Murray Grindlay jingle 'You Make The Whole World Smile', sung by Hammond Gamble, 'Still Just A Fool' on Sam Ford's Unhinged and 'Talk In This Town' on the album Everyday Distortions by the Greg Johnson Set, whose guitarist was McKelvie's son Chris.
Although he was part of Auckland king-of-country Al Hunter's top-notch band from the mid-1980s, McKelvie only appeared on Hunter's second album, The Singer, for which he also received a co-producer credit with Hunter and Pagan boss Trevor Reekie. McKelvie took care of the guitars while former Juicy Lucy and The Misunderstood member Glenn R. Campbell played pedal steel.
In the middle of the 1990s, sessions and live work were becoming scarce. "After a while, Murray said, 'Look, I probably won't use you as much now.' This was about when he moved over to Revolver. And I just said, 'Look, man, thanks for all those years.' I didn't really mind at all. He got Martin Winch and all those sorts of guys, you know. He wasn't doing that sort of country, soft stuff much anymore."
McKelvie moved to Canterbury in 1997 and a decade later released his own album Ridin' On Trains – Songs Of New Zealand And Australia, playing guitars, mandolin, accordion, organ, dobro and harmonica.
"I finished it and threw it in the drawer for a year before listening again," he said. His instructions to SDL Music's Neil Hannan, who was mixing the album in Auckland, were, "Make me sound like John Denver doing a live gig with a great band."
He landed a role as pedal steel guitarist at the Gore Gold Guitars Awards and when that ended he was enlisted in the band for the concurrent Mataura Licensing Trust Songwriting Awards, where he met Canadian-born singer/songwriter Tami Neilson.
"The last four years I was there, Tami featured every year. She was head and shoulders above everybody. So, I got to know her by playing live on her stuff, and then she asked me would I come and do some overdubs in Lyttelton. I really like her songs – they're bloody good." McKelvie appeared on pedal steel on Neilson's albums Dynamite! (2014) and Don't Be Afraid (2015).
Other sessions during Red McKelvie's heyday from the 1970s to the 1990s include recordings by Johnny Ashcroft, Annie Whittle, The Red Hot Peppers, Malcolm McCallum, Wayne Roland Brown, Derek Lind, Rutherford Brookes, Gray Bartlett, Brendan Dugan, The Topp Twins and Glen Moffatt.
--
Pye Isotronic TVC featuring Murray Grindlay and band including Red McKelvie, 1975