One of Dunedin's great assets is its stock of historic buildings – from the gothic elegance of First Church, to the Christmas cake trimmings of the railway station, to the more utilitarian warehouses bunched on its wharves and waterfront.
In the 1980s they could be something of a depressing reminder of the passing of the city's glory days – the late 19th century, when fattened on gold wealth from Otago's hinterland, the city rose in grand style, in landmarks of stone and strain-glass.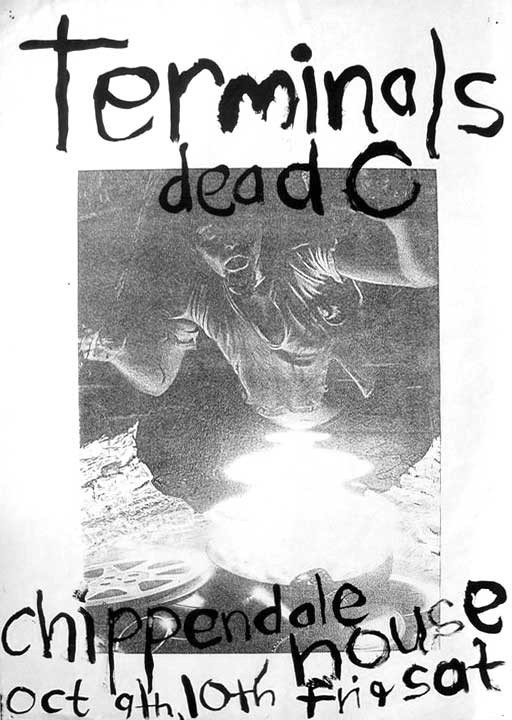 At the very least, in its days of decline, it gave the city a romantic look – and what other city had the statue of a poet slap-bang in the centre of town? There is the noble head of Robbie Burns looking out over the Octagon under a crust of pigeon shit, doused and washed by rain.
This was the sort of place that might inspire artists and musicians and poets who could find themselves places to live and create in these often-vacant and cavernous spaces.
They could provide band with places to practise, and even record. And near freeze-to-death.
The Enemy practised in one such building in the central city. Cromwell Chambers overlooks the greenness of Queens Gardens – Queen Victoria stands across the street in stony rectitude as the traffic flows by.
The Clean, from that very same building, blasted their beginning noise out over her as well. And that was the way you did things in Dunedin then, by thumbing your nose at the past, and occupying its once fine commercial spaces to create something new.
Gigs and events would spring up inside warehouses – one of the first I remember was run under the banner of a collective called Super 8. It was held inside a large and otherwise empty warehouse on a one-way street system close to Otago Harbour.
This might have been a place where they once stored wool for export. Now poets were reading – David Merritt I remember clearly.
I visited musicians who lived in these places – the late Peter Gutteridge, Chris Heazlewood, and Alastair Galbraith. They made coffee on clattering old stoves or gas rings set in otherwise giant empty spaces. They spent a great deal of time in sleeping bags. They recorded music on the few possessions they had – a 4-track or a cassette recorder.
One of these old buildings – a plain one at the southern end of town and a short walk up Stafford Street – became an established venue: Chippendale House.
Before a gig you could stop in for a beer at the pub just down the hill – The Provincial – there was no bar at Chippendale.
And if often paid to drink something more warming than beer, especially in winter. A potbelly stove glowed white trying to keep the place warm.
It was a venue started by artists for artists – an amazing array would play, perform, and show their work there from 1985 until the end of 1987.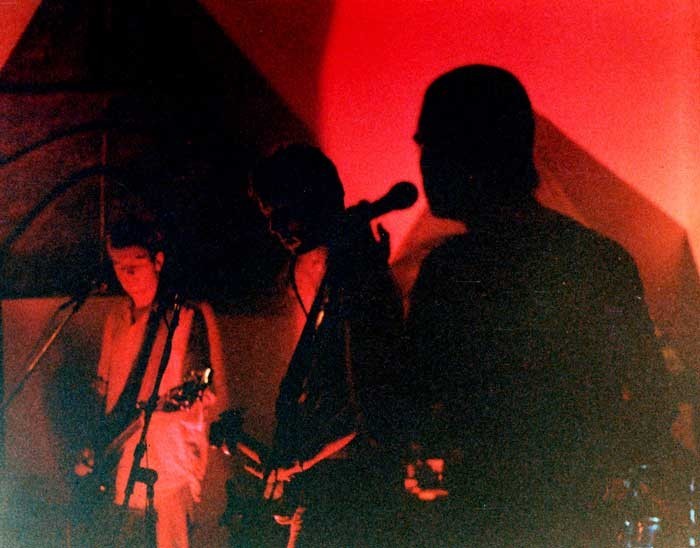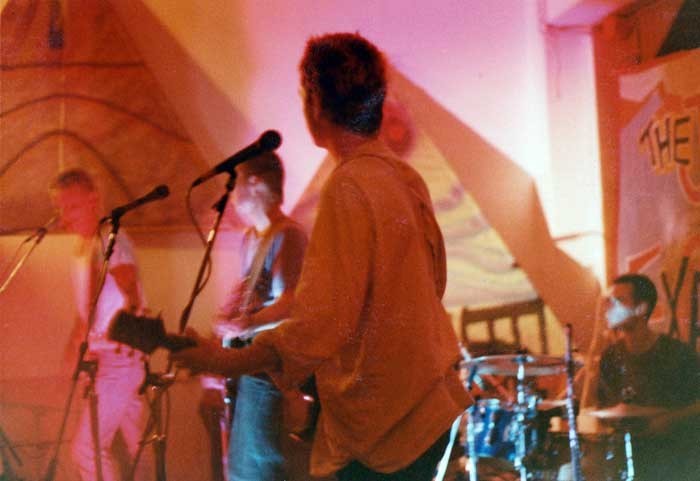 The collective which ran it issued a calendar in its final days – as well as featuring pictures of bands and artists from the time, it listed who'd graced the space – from poets, to painters, to theatre groups, to bands.
Among the visiting musicians – Tall Dwarfs, Roy Montgomery, AXEMEN, Jean Paul Sartre Experience, The Terminals, Not Really Anything, Goblin Mix, Pterodactyls, and Otis Mace.
There was theatre from Warwick Broadhead, Stalker Stilt Theatre, Moonbeam Theatre, and poetry from David Merritt, Cilla McQueen, David Eggleton, Sandra Bell, and Brendan Lee. David also gave "a state of the nation speech" in early 1986.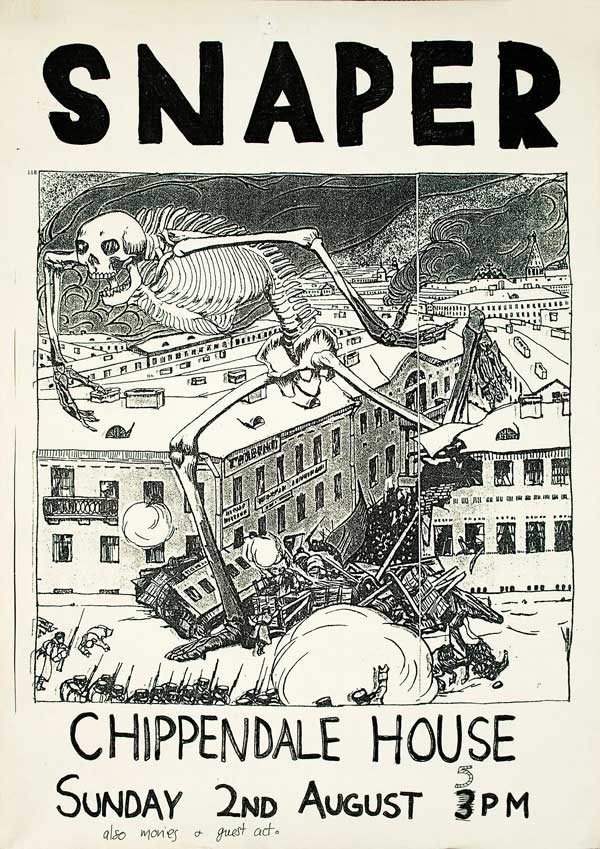 All the well-known names of the Dunedin scene played there.
Musicians who also painted exhibited their work – Michael Morley and Alastair Galbraith, Robert Scott, and the Kilgour brothers. Their "Feedout" show featured the David Kilgour painting later used on the cover of the Vehicle album, as well as some of the most memorable images of the band taken by photographer Craig McNab (besides good composition and locations, he had the added gift of breaking through their natural reserve).
All the well-known names of the Dunedin scene played there – Snapper, Bird Nest Roys, Look Blue Go Purple, Sneaky Feelings, The Bats, Straitjacket Fits, The Chills, and The Verlaines. Graeme Downes was even married at the venue in July 1987, showing that it was part of an arts community as much as a performance space.
The Alpaca Brothers launched their EP Legless there in June 1986, and there were plenty of gigs by less widely known bands: The Puddle, The Rip, The Weeds, In A Circle, The Moas, Electric Blood, Trash and Gaumanche.
Two of the standout gigs I saw were The Terminals and The Dead C. This was in 1987 when a decidedly more experimental edge was staring to emerge in Dunedin.
The Dead C and others who coalesced around the emergent Xpressway label, were some of the chief proponents.
As someone weaned on verse-chorus rock and pop, I couldn't quite get a bead on The Dead C – I couldn't quite figure out whether they were taking the piss or just having a hell of a time subjecting people to long improvised jams.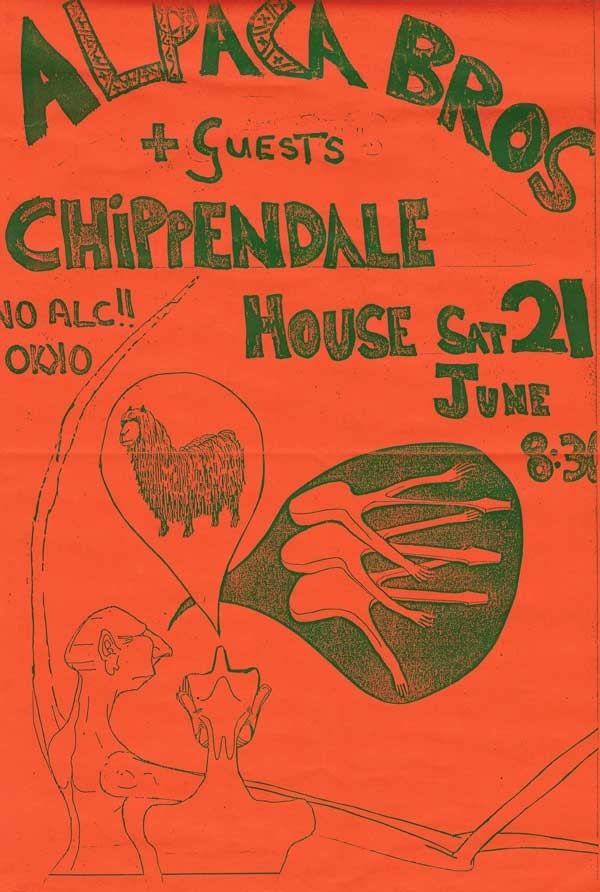 They did have one exception; a throwaway called 'Bad Politics', delightfully odd and spirited but it was recognisably a "song" (it's on their 1988 Sun Stabbed EP on Xpressway).
But for some reason that particular time I saw them at Chippendale I finally got what they did – and I don't think I was stoned, or not that stoned.
Bruce Russell, who "played" and bashed at a guitar, would often delight in telling me: "Oh, I can't play!" But he could do something, and he had intent. Years later he was challenged by Kim Hill on Saturday morning radio when she said to him: "I could do what you do."
"Yes, you could," replied Bruce, "but you'd be ten years behind me." Touché!
Some of The Dead's C's performances at Chippendale House from August and October of 1987 are on their initial cassette recordings issued by Xpressway.
But the most well-known recording to come out of the venue is 'Randolph's Going Home', recorded by Shayne Carter and Peter Jefferies in early November 1985. Thirty years later Shayne Carter said he could still recall the echo of his vocal up the stairwell when he sang it. It's a record with that sort of power.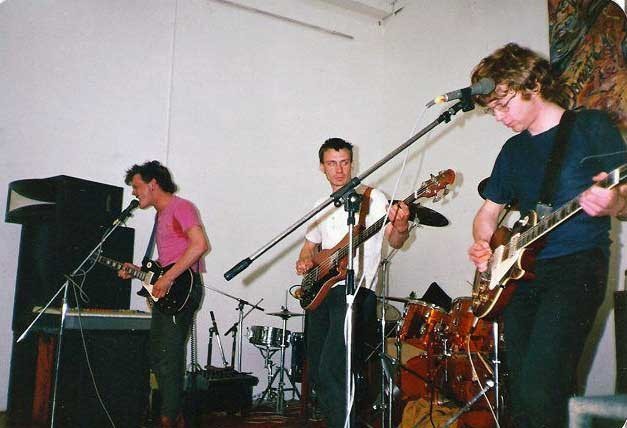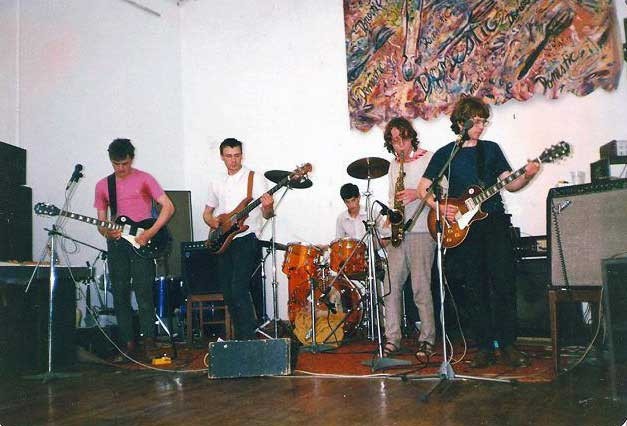 Chippendale's problem was always money, not performances. It started with an Arts Grant from the QE II Arts Council of $10,000, and the likes of Michael Morley, David Kilgour and Stella Corkery were employed under a PEP scheme to organise and run the place.
But there were no alcohol sales to generate income as with other venues. Gigs had to be staged to raise cash to keep the place afloat – to pay basic bills – the rent and the gas bill. As is often the case with such venues, the energy to keep it going eventually ran out.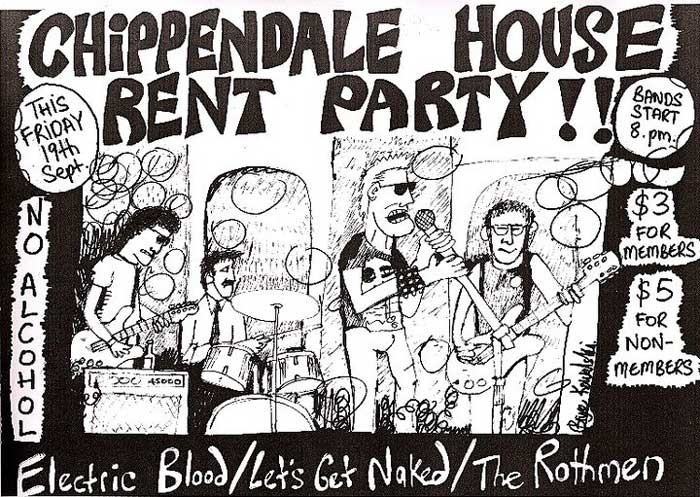 The calendar records: "Lease terminated on building January 14th, 1988."
But not before Chippendale House had taken its place among those old buildings and warehouses that have helped house artists – and provided them with a space to carve out the city's reputation for creativity.
Its walls still echo.