Near the end of 2003, the Samoan-Australian poet, rapper and singer Lucia Ablett, aka Emcee Lucia, became the first woman in Aotearoa New Zealand to release a full-length hip hop album, On The Cusp. At the time, amid marquee releases from Mareko and Scribe, the significance of her accomplishment flew under the radar. Eighteen years on, Ablett's music and story are both richly deserving of reillumination and critical reappraisal.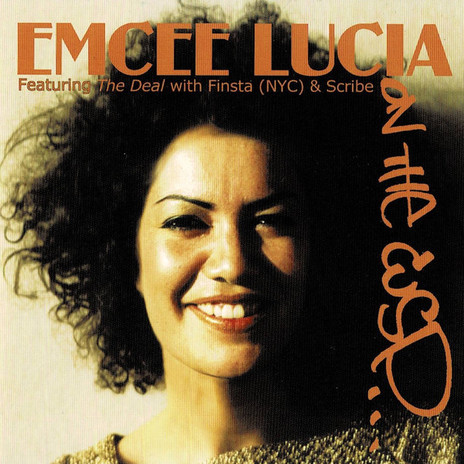 Born and raised in the Wellington suburb of Strathmore, Ablett grew up in a household where the radio and record player was going 24/7.
"My parents had a really cool record collection," she remembers. "I went through it at a young age, and I was just mesmerised by The Beatles, Diana Ross and The Supremes. Music was always there for me."
As a child, she learned classical guitar and wrote poems to help herself process what she saw in the world around her. When hip hop arrived in New Zealand during the early eighties, she was a teenager, and the genre's rhymes and beats spoke to her on a profoundly personal level.
"I'd already heard stuff like 'Rapture' by Blondie, but the first real hip hop record I heard was 'The Haunted House Of Rock' by Whodini," she explains.
Her brother Chris, who was three years older, loved The Beastie Boys and would breakdance in the hallway at home. Soon enough, she was rapping along to records from US acts such asThe Fat Boys, Run DMC and DJ Jazzy Jeff & the Fresh Prince.
"I learned to MC by rapping along to Will Smith," she reflects. "Those records taught me about flow, and I loved the music."
That said, it would be a long time before she'd rap in public.
In 1991, after finishing high school, Ablett started a course at Wellington Polytechnic and moved into a flat in the nearby suburb of Kilbirnie. Within a year, she was living with a group of skateboarders in a warehouse on Halleys Lane in the central city and going out nightclubbing regularly. "We had a half-pipe for skating in the warehouse," she says.
"I learned to MC by rapping along to Will Smith. Those records taught me about flow, and I loved the music."
The early 90s Wellington nightclub scene was where she first encountered the Samoan rapper, street dancer and graffiti artist Kosmo Faalogo, aka K.O.S 163, who had spent time in two first-generation local rap groups, Noise N Effect and Rough Opinion. By the time Ablett met Faalogo, he was in the early stages of forming his next group, Footsouljahs.
"He was this super-confident stocky dude with an afro, and he was just so easy to talk to," she remembers.
Faalogo welcomed her into his world. They became regular nightclubbing buddies, often going out together to see hip hop DJs like Rhys B and Raw play.
As she puts it, "Kos led the conversations and created the vibe. It was about making our own unique version of hip hop that was specific to the Polynesian experience in Wellington."
At the end of a night out, Faalogo would invite everyone up to his flat on Blair Street, and they'd spend the early hours freestyling in his kitchen. At that stage, Ablett was still too shy to rap in front of the guys, but she remembers the experience as formative.
"Kos was so inclusive," she recalls. "He would rhyme in the moment – about what was going on – while feeding on the energy in the room. He'd include everybody there in his rhymes and bring us all together. It made you feel good, so good."
When he wasn't rapping, they'd have deep conversations about hip hop culture, and he'd play her records by underground conscious rappers and political hip hop groups from the US such as Big Daddy Kane, Paris, Brand Nubian, Onyx and the Wu-Tang Clan. "He always played the dopest music," she says.
In 1995, Ablett quit her hospitality job at Diva Bar & Cafe on Dixon Street and went to Samoa for a three-month holiday. After she returned, she decided to move up to Auckland for a fresh start. Within two days, she had secured herself work at the iconic Karangahape Road café, bar and restaurant, Verona. "When I rang them up, the owner Janet had just had a baby and called her Lucia," she remembers. "She said, okay, come in. I had a trial that evening, and then they gave me a job."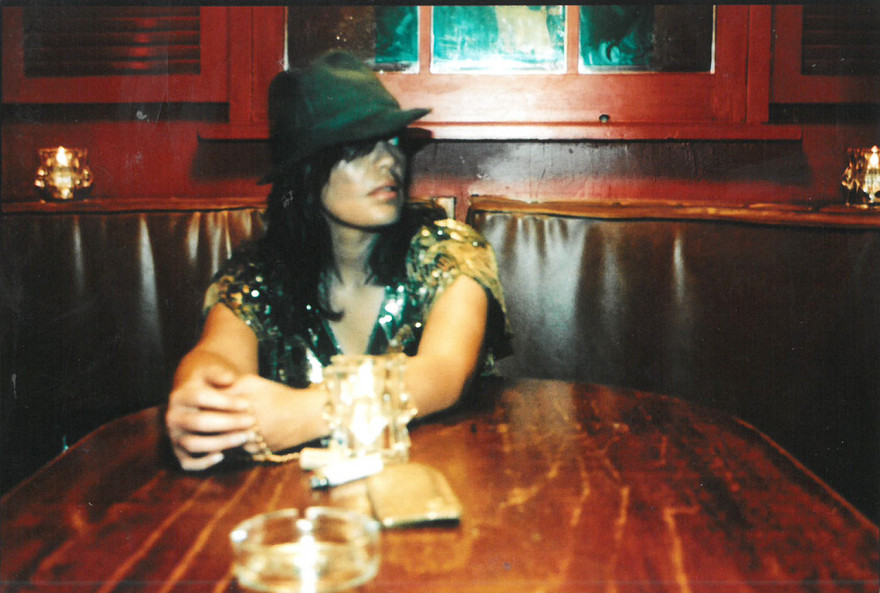 Verona was where Ablett spent what she considers her seminal years. At the time, it attracted a diverse inner-city crowd. While working there, she befriended Rob Lundon, a guitarist and songwriter who was heavily involved in the local 90s experimental rock scene through the bands Celine and Pit Viper. Lundon would figure heavily in her story.
Verona was a well-loved party spot, but if you wanted to see hip hop, the action wasn't on Karangahape Road. You had to go downtown. Outside of work hours, Ablett quickly became a regular at Bass Bar on Victoria Street East and Cause Celebre on High Street.
"A month after moving to Auckland, I got on stage and freestyled at Bass Bar in front of a packed room," she enthuses. "That was truly a magical experience. I floated through the club for hours afterwards. I got so much from that performance, and I was off."
Aside from Bass, Cause Celebre also hosted regular open mic hip hop nights. "They always had cool live music down there," she says. 'It was the place to be." Ablett would head down to the club with a couple of friends, wait in line with the guys, and have her turn on the mic.
At the time, the culture wasn't particularly friendly to women rapping, but the negativity gave her the vehemence to prove them wrong out of spite. "You had to be really internally driven," she admits. "Not many women would have bothered."
Although she built a buzz and started getting booked for gigs, Ablett struggled to make any real connections within the Auckland hip hop scene. Instead, she found community in the Auckland skateboarding scene through her boyfriend at the time, Stefan Neilsen. Stefan was close friends with veteran skaters Levi Hawken, Chey Ataria, and Secombe Watene, who sadly passed away in 2016. "As well as skating, they were all rapping and doing graffiti," she says. "I found them a lot more open-minded than the rappers and DJs."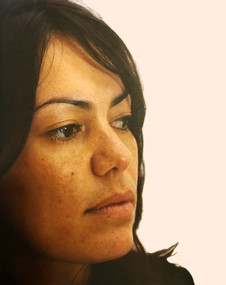 In late 1996, things started to shift for her. As well as co-hosting The World Famous True School Hip Hop Show on 95bFM with Mark James "Slave" Williams and Bass, DJ Sir-Vere and DLT were hosting a hip hop video show called True School TV on the Auckland music channel Max TV. When MTV arrived in New Zealand as a free to air channel, they jumped stations to host a similar nationwide show, Wrekognise. As they were making the shift, DLT asked Ablett to take over hosting True School TV alongside Johnny Sagala, the brother of Sani Sagala, aka Dei Hamo. "I did most of the interviewing, and Johnny was the funny guy," she says. "I felt honoured that DLT asked me."
It didn't stop there though.
In the wake of the success of 'Chains' (featuring Che Fu) and The True School album, DLT had the opportunity to take a group of hip hop artists on the road around the country for the 1997 National University Orientation True School tour. As well as the likes of Che Fu, The Mighty Asterix and Slave, he invited Ablett to join them for the shows.
"I was just an MC. I didn't have a crew or any original beats," she admits. "I was just rhyming over 12" vinyl instrumentals, but the audiences were awesome." She pauses before continuing with a laugh. "They were very drunk, but they were awesome."
Twenty-four years later, DLT remembers Ablett's performances fondly. "Fuck yeah, I love Lucia," he says. "She has mad skills, beautiful shit, but no one could see it because she wasn't a bro."
After their Wellington show on that tour, she finally freestyled with her old mentor, Faalogo aka KOS 1.6.3. "It meant so much to have him give me his respect," she says.
By this stage, Faalogo's new group Footsouljahs was in full swing. He had teamed up with DJ Raw (formerly of Gifted & Brown) and several other rappers, including a young Fiso Siloata, aka MC Flowz. "Me and Fiso grew up together in Strathmore," Ablett explains. "Our families were really close. I remember it being odd when he started turning up at Kos's, but he went full-on. He became Kos's protege and got good really fast."
That same year, she also won 95bFM's live freestyle competition at Calibre nightclub in Saint Kevin's Arcade (now Whammy Bar) and entered the Wrek Rap competition organised by DLT and DJ Sir-Vere as part of Wrekognize. The premise was simple: aspiring MCs from around the country mailed in home videos of themselves spitting short raps to be graded by the hosts. DLT was so impressed with Ablett's entry that he created a special prize of studio recording time for her. "I never ended up using it," she laughs.
Ablett spent the next few years slugging it out in the Auckland scene. As well as hip hop, she was captivated by jungle/drum and bass music, where she teamed up with Niki Smith aka DJ Niche, one of the few women DJing in that scene at the time. Through Verona, she also met musician, producer and mastering engineer Angus McNaughton, Jim Pinckney aka DJ Stinky Jim, and Singaporean DJ and producer Keng, with whom she later recorded a song titled 'Worldwide'.
By 2000, "The music was changing. It wasn't as cultural or conscious anymore, and it became degrading towards women."
However, by the time the year 2000 rolled around she'd had enough. The audiences were getting younger, she was getting older, and hip hop was going mainstream. "The music was changing," she says. "It wasn't as cultural or conscious anymore, and it became degrading towards women." Fed up, she moved to Kumeū and took a job in Titirangi.
In 2001, her old friend Rob Lundon came looking for her. Lundon had teamed up with the experimental visual artist Daniel Malone to establish a small label, Aotearoa Records. They were working in a studio space out the back of Cyberculture, an electronic music culture hub situated in a basement space on Karangahape Road. Lundon and Malone were in a production group called Wrong White Crowd with Dale Cotton, the audio engineer who would go on to record Wellington metal band Beastwars. They were already working with the then-emerging rapper Jess Hansell aka Coco Solid – who would go onto, among many other things, become a 2019 Arts Foundation Laureate and create the animated television series Aroha Bridge – and her sister, Hayley. Wrong White Crowd recorded a bunch of abstract hip hop tracks with Ablett and the Hansells, some of which were released as radio singles at the time.
That same year, New York rapper, DJ and producer Finsta (of 90s underground group Finsta Bundy) visited New Zealand to play some shows. On his final day in the country, he played a gig in the garden of a café in Ponsonby. Ablett attended that show and impressed him with her skills during the open mic section of his set. Afterwards, he had his promoter invite her to his farewell dinner, and the two clicked. "We hung out all night talking about hip hop and DJing," she remembers. "Finally, I had connected with someone in hip hop, and they just happened to be from New York."
Before Finsta Bundy, Finsta was a founding member of the golden-era US hip hop group Black Moon. His credentials were impeccable, and Ablett wasn't going to let this opportunity pass her by. "I offered to fly him back to New Zealand," she says. "I said, you can stay with me, make some beats for me with your MPC (a sampling music workstation), and do some more gigs to make money."
Finsta was going through some difficult challenges in his personal life, so he took her up on the offer. Six months later, he returned to Auckland for three months.
"I had a vinyl collection, so he taught me how to party DJ and asked me to pick my favourite songs out so that he could sample melodies from them and make beats for me," she says.
Together, they ended up assembling the skeleton drafts for what would become her debut album, On The Cusp. Outside of what he was doing with Ablett, Finsta also recorded vocals for DJ Manuel Bundy's remix of 'Misty Frequencies' by Che Fu and rapped on 'NZ To The BK' by former Cuba & Gizmo member Dean Godward's Del Rey System producer project.
While this was going on, Lundon and Malone proposed that Ablett finish On The Cusp with them and release it through their label. She agreed and employed the studio skills of producer-engineer Angus McNaughton. Nine songs long, alongside Ablett's vocals, On The Cusp, showcased guest raps from Finsta and a pre-fame Scribe on a guitar-fuelled song titled 'The Deal'.
When it was released in 2003, NZ Herald's Rebecca Barry described the album as "a fresh, melodic trip through sweet vocals, laidback rhymes and soulful, jazzy production" while also noting that the Sisters Underground style tracks 'Subscribe 2 Me' and 'All This Time' were "bittersweet numbers that combine her ability to rap with singing." Fittingly, both of those songs found favour with Auckland student radio station 95bFM. Alongside this, director Kirsty Cameron filmed a music video for 'All This Time'.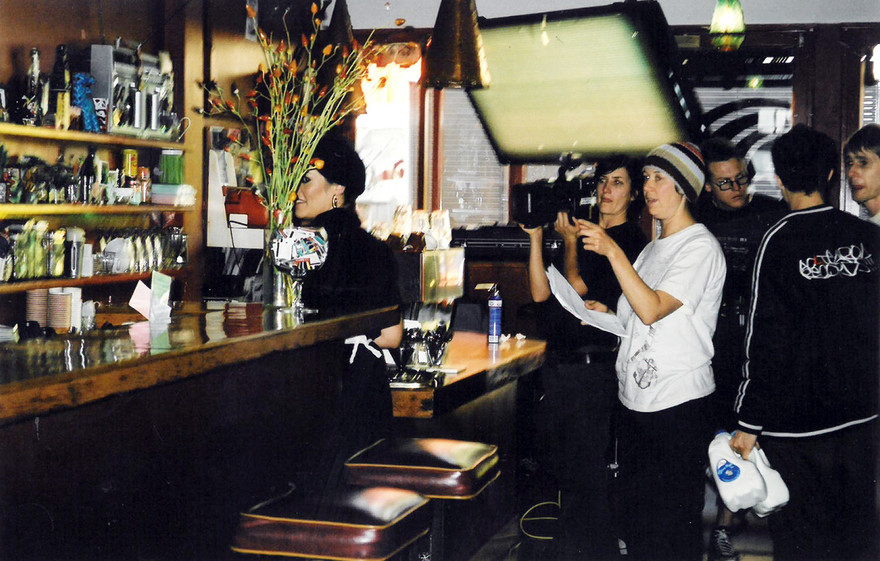 It sounds good on paper, but the process was marred with difficulties. By the time Lundon and Malone started working with Ablett, she'd been fighting to be heard for close to a decade.
"I just hadn't had the support," she admits. "I would have meetings with people like P-Money, but I never really found a solid crew. I was the archetypical artist. I was my own worst critic, bad at promoting myself, too humble, and I wasn't interested in business."
From her perspective, Lundon and Malone were looking for an artist to launch their label. They had a direction they wanted to take things in, but she wasn't interested in going that way. While she was parting ways with Aotearoa Records, Ablett connected with Olivier Gaston aka DJ Nukles, a music producer from Montreal, Quebec, and DJ and music manager Toni Cooper. Ablett recorded some tracks with Gaston at his Queen Street studio and began working with him and Cooper.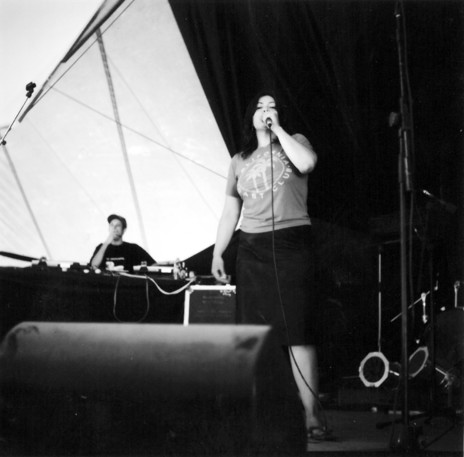 Between 2003 and 2004, she was on a tear. Ablett played the Auckland Big Day Out and opened for US and UK hip hop/RnB artists such as Kelis, Missy Elliot, Rodney P & DJ Skitz. She also appeared on New Zealand's Top of The Pops TV show, performed at the Alpine Unity festival near Christchurch with Malone, and was nominated for Best Hip Hop Release in the 2004 bNet Music Awards. "I did so much in those last two years, but I was so burnt out," she reflects.
But before things were done, she had her full-circle moment. In the early 90s, Ablett attended an Upper Hutt Posse concert at the original Bar Bodega in Wellington. On the night, she was floored when she saw Teremoana Rapley on stage. "She was rapping and singing, and she was so hot," she enthuses. "I was just buzzing about it." Between the influence of that performance and those late nights spent in Faalogo's kitchen, becoming a rapper was inevitable.
"I realised how far I had come when Teremoana, who was doing some journalism at the time, approached me after the 2003 Aotearoa Hip Hop summit in Aotea Square and said, 'Do you know you are the first female MC to release a hip hop album in New Zealand?'" she recalls. "I was totally shocked and at the same time blown away that the very woman interviewing me was the first woman to inspire me to do it. I've always respected her for coming up to me and saying that."
Despite feeling fortunate to have been able to record and release On The Cusp, Ablett's heart was telling her that she was at a crossroads.
"It was a time when I was stuck in a rut and on the verge of something weird and life-changing," she explains. "I was 30 at that point in 2004, and hip hop had changed. It was one of the hardest things I have done, but the day before I was meant to perform at a gig, I sat at Verona and wrote my resignation letter to hip hop."
After chasing the dream for close to a decade, Ablett was done.
Two years later, she enrolled in Wellington's Whitireia Bachelor of Applied Arts Degree, where she majored in scriptwriting before reaching another crossroads and pursuing a career in education. These days, she is the teacher in charge of Food Technology and Hospitality and the Year 9 Dean at Matamata College. Where one door closes, another door opens.
--
Interviews and research conducted by Phil Bell aka DJ Sir-Vere and Martyn Pepperell
Mai FM: Aotearoa Hip Hop podcast