Most venues in New Zealand happen to be bars, so it's no surprise to find that plenty of local musicians have penned lyrics on the subject of drinking. While it might have been more suitable to collect a dozen, I've gone ahead and just listed 10 of the best.
--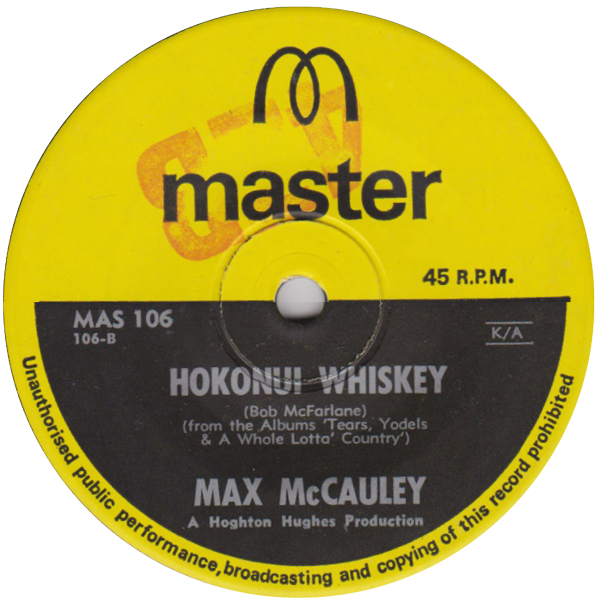 Hokonui Whiskey
Max McCauley (1970s)
You may not realise it, but you've probably already heard at least one Max McCauley song. His yodelling features on the drink driving advert where an old fella stops some young guys from driving drunk (the man gets behind the wheel then changes the radio station and McCauley's music is playing). McCauley is a bit of legend in the local country scene and was a co-founder of the Gold Guitar Awards. Hokonui Whiskey is still available in selected wholesalers, but I couldn't find much information about this song online, so I asked the man himself, who told me: " 'Hokonui Whiskey' was written by the late Bob McFarlane for me about 40 years ago. It's about illicit whiskey brewing done in the Hokonui hills at the back of Gore township, where I live. He researched the story and did a wonderful job of it."
Bliss
Th' Dudes (1980)
This song was originally written to mock the boozy audiences that Th' Dudes encountered when they toured Australia, but has since become a drinking song in its own right. Such was the modesty of the time that the chorus was originally "drink yourself more piss" but it had to be changed on the insistence of the band's record company. When I see this video I can't help marvelling at Dave Dobbyn's hair and feel a pang at seeing the sadly departed Ian Morris (AKA Tex Pistol) in his younger days.
Time Makes A Wine
Ardijah (1988)
The metaphor of this song is that wine takes a long time to develop and so does love. Betty-Anne Monga might've looked the star of the video when it first came out, but looking at it now, my attention is more strongly drawn to the funky, super-processed bass sound and mullet-with-ponytail haircut of her bass playing husband, Ryan Monga. Legend! I did expect more wine-related imagery, but they do get around to smashing a wine glass near the end.
Six Pack
Loves Ugly Children (1997)
This song hardly mentions alcohol – the singer only mentions having "a spiritual sex-trash craving and a six pack of beer." However by calling it "Six Pack", Simon Maclaren makes it clear that we're hearing the ramblings of a drunk guy at a party, who (to no surprise) is struggling to impress his love interest by coming on way too strong. The video is a nice reminder of why Loves Ugly Children were one of the coolest bands on the local scene.
My Ship Is Sitting Low
Greg Johnson (1997)
Greg Johnson certainly isn't shy when it comes to recording songs about alcohol. In fact, his jazz group, Bluespeak, recorded a whole album of drinking songs (The Drinking Set, 1995). As for songs he wrote himself, there are plenty to choose from, including titles such as 'Hangover from Hell' and 'Just Another Drink'. However, this song is one of my favourites from his repertoire and has a surprisingly chirpy chorus despite the depressing lyrical content. "My ship is sitting low, so I got loaded about an hour ago ... I'm going to get more drinks, I'm going to disappear." Hey buddy, I've been there – just have a glass of water and go to bed instead!
You Drink The Water, I'll Drink The Wine
Dead Flowers (1998)
The prospect of listening to a ballad from a long-haired nineties rock band might seem diabolical, but this song actually stands up pretty well almost 20 years later. However, as Robyn Gallagher from the 5000 Ways blog has already pointed out, the video is moody in a totally nonsensical way and the super-fakeness of policemen's moustaches makes any suspension of disbelief impossible. Given that Dead Flowers never quite managed the success of their Wildside labelmates HLAH and Shihad, perhaps they should've drunk the water rather than the wine after all.
Beers
Deja Voodoo (2004)
As the story goes, Matt Heath was at the Big Day Out and asked another musician for a beer, only to be told that the other guy "only had six" and therefore couldn't spare one. For most bands, this notion wouldn't be enough for an entire song, but fortunately Deja Voodoo were able to fill things out with killer lines like, "I like songs that always rhyme/ That's why I made this one rhyme."
Sake Bomb
The D4 (2005)
The D4 were fans of Japanese rock from the start (Guitar Wolf and the 5678s in particular) and within two years of forming they toured Japan. By the time this track was released, the band were signed to Sony Music in Japan and wrote this song about their habit of getting bartenders to drop a shot-glass of sake into their beers while in the country. They even went as far as recording a second version in Japanese.
Moonshine
Savage feat. Akon (2005)
This is the only No. 1 hit single on the current list (the now-iconic 'Bliss' by Th' Dudes only managed to reach No.25) and 'Moonshine' even dipped into the top 10 in Australia, helped by the guest appearance of US star, Akon. The gist of the song is that Savage's girlfriend is his moonshine, though it's apparently not an entirely positive relationship given that he says, "I love you so much it makes me sick to my stomach and I love it how I can vomit and you think nothing of it." The lesson: just like alcohol, love can be fun but it isn't always pretty.
Whiskey And Kisses
Tami Neilson and Ben Woolley (2015)
It's the end of our list and time for a tune that'll have you crying into your shot glass. This is a sad tale of a woman who just wants a drink and a good time, much to the disappointment of the man who loves her. Tami Neilson is ably accompanied in this duet by Ben Woolley, yet another fine-voiced musician to emerge from the Lyttelton music scene. So wipe those tears away, the bartender doesn't care where you're sleeping tonight, but you can't stay here any longer …